Ep. 64: Blue Giant Volume 5-6, by Shinichi Ishizuka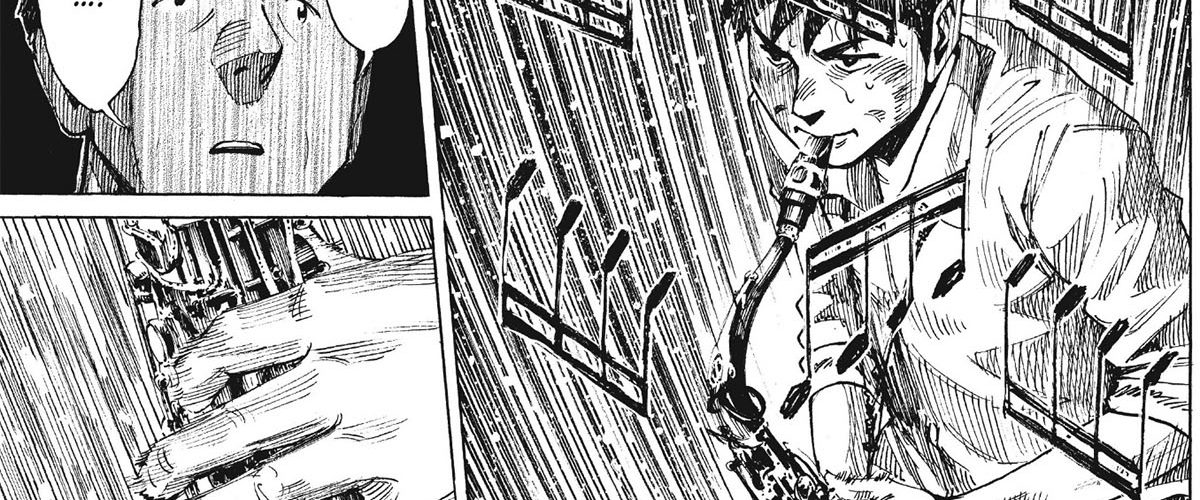 This week the team dives into their very first music manga, the jazz odyssey that is Blue Giant, by Shinichi Ishizuka! They're also reading their first-ever series where they don't start from the first volume, instead they're diving straight into volume five! Does it work? Does any of it work? Listen to find out on this episode of many firsts on Mangasplaining!
Powered by RedCircle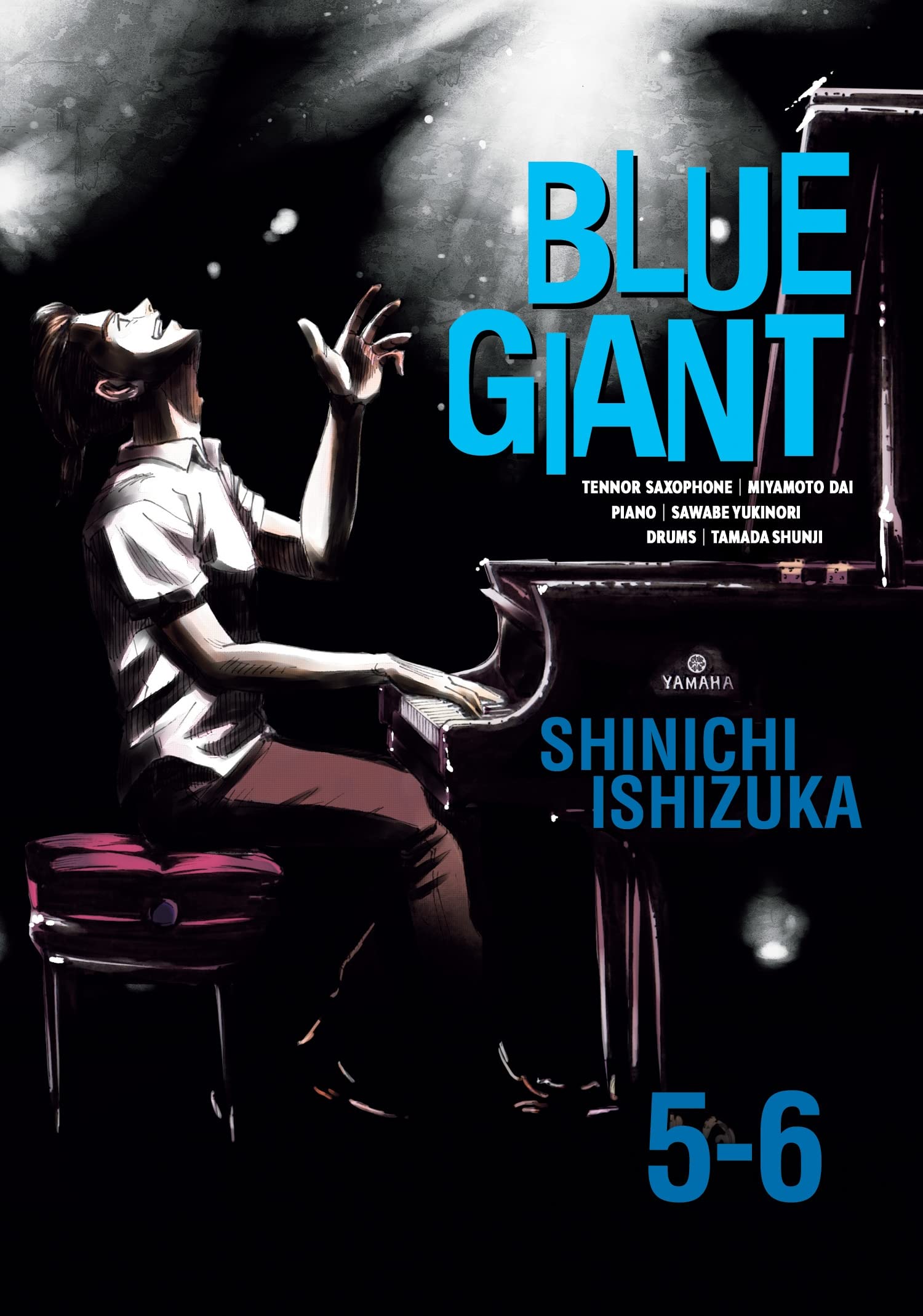 Blue Giant Volumes 5-6
By Shinchi Ishizuka
Translated by Daniel Komen
Lettering and retouch by Ludwig Sacramento
Edited by J.P. Sullivan
Published by Seven Seas (Print/Digital)
Audio editing by David Brothers. Show notes by Christopher Woodrow-Butcher and Deb Aoki
Before We Get Started: A few items!
First up: This episode (and our upcoming Dai Dark episode) were recorded before The United Workers of Seven Seas workers formed their union to demand better working conditions. We're fully in support of the Union and wish them the best of luck as they fight for better working conditions for their staff and freelancers. To find out more for yourself, visit https://www.uw7s.com/.
Next: As Deb says (and as we've said a bunch!) we're starting at volume 5 for Blue Giant, not volume 1. All will be revealed in a moment.
Finally: If you've got two different devices handy, you can listen to a playlist of jazz music that Deb curated for his episode, based on songs that are mentioned in volumes 1 through 10 of Blue Giant.
[Deb:] Need a bit more jazz in your life? Here's an official Blue Giant Explorer playlist, from Universal Music Japan:
About Shinichi Ishizuka
Born in 1971, Ishizuka is from Ibaraki Prefecture. He studied in a university in the United States and became obsessed with mountain climbing after he was invited on a hike by a roommate. After he came back to Japan, and worked at a company, then at age 29, he decided to become a self-taught mangaka.
In 2001, with This First Step, he won the 49th Shogakukan Shinjin (Newcomer) Comic Award for General Manga. In 2002, This First Step debuted in the extra edition of Shogakukan's Big Comic Original seinen manga magazine.
In 2003, Ishizuka started drawing his first series, Gaku – Minna no Yama, which was about mountain climbing. In March 2008, Gaku won the 1st Manga Award, and the 54th Shogakukan Manga Award in the General Category in January 2009. Gaku was also adapted as a live action feature film in 2011.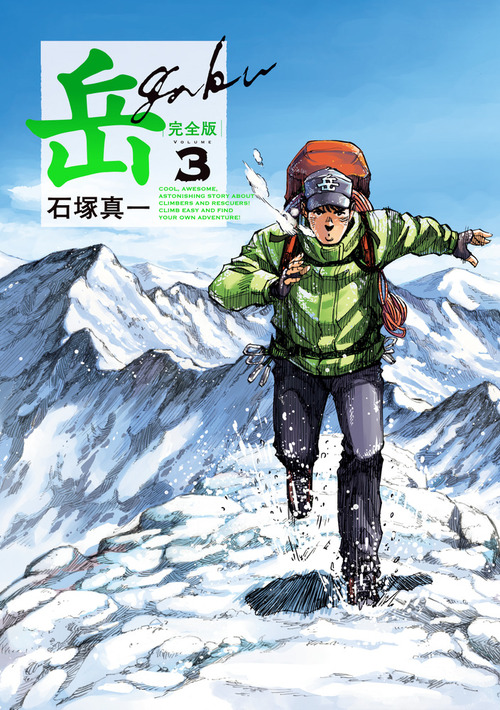 Blue Giant started in 2013, and the current arc, Blue Giant Explorer is serialized in Big Comic Magazine.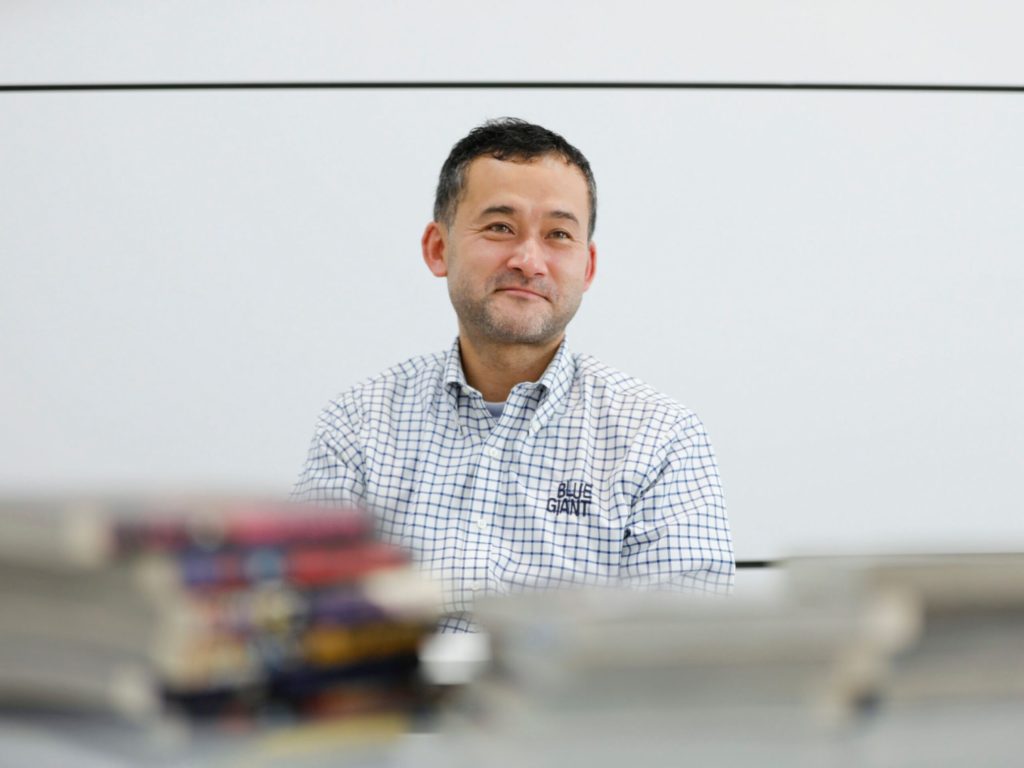 For more on Ishizuka, we recommend this great interview with him that appeared (in English!) in Tokion magazine:
https://tokion.jp/en/2021/02/26/shinichi-ishizuka-creative-expression/
You can find more about Blue Giant at the official website, https://bluegiant.jp, and the official Blue Giant Twitter account: https://twitter.com/bluegiant_bc. And get ready for the Blue Giant anime coming sometime in 2022 – https://bluegiant-movie.jp/
One of the things that you may be starting to understand is that this manga is a big, big deal in Japan. Here's a promo video for Blue Giant vols 1-10 from publisher Shogakukan.
[Deb:] Fun Fact: Blue Giant is created by Ishizuka in collaboration with his editor, who is credited as "story director" under the pen name "Number 8." This is a fascinating tidbit that harkens back to one of Ishizuka's manga heroes, Naoki Urasawa. Urasawa frequently collaborates (and credits) his editor Takashi Nagasaki on some of his manga series, including Pluto and 20th Century Boys.
Nagasaki also writes manga with other artists – a recent example is King of Eden, which is out now from Yen Press.
1:08: David covering for Chip is very nice of him, and also just the saddest thing in the world. Heh. Go listen to our episode on Tezuka's Phoenix volumes 1 & 2 to get the whole scoop.
1:45 It's true! We released it last week (so you might've missed it), but Deb wrote up a clear synopsis of the first four volumes of Blue Giant, to get us set up to start at volume 5. As she mentions in that article, Deb chose to start at volume 5 to give us all the best chance at enjoying a series that she herself loved.
We've had issues with some pretty beloved books that we've read on the podcast, where starting at volume 1 just didn't yield the results that starting at a later volume might have. Even expert mangaka sometimes need more than a volume or two to really get going, and with Blue Giant volume one starting in the lead character Dai's last year of high school, and volume five starting with him graduating high school, moving to Tokyo, and starting his adult life… Well, it's pretty clear that Deb made the right choice. Though reading this article now, I am pretty intrigued to go back and read those stories at some point in the future.
So alllll of that said, I can honestly say that, even if you haven't read vols 1-4, you get caught up in just under a chapter of volume 5. Jump right in! Or read Deb's article! Or… just keep listening to this episode of Mangasplaining! 🙂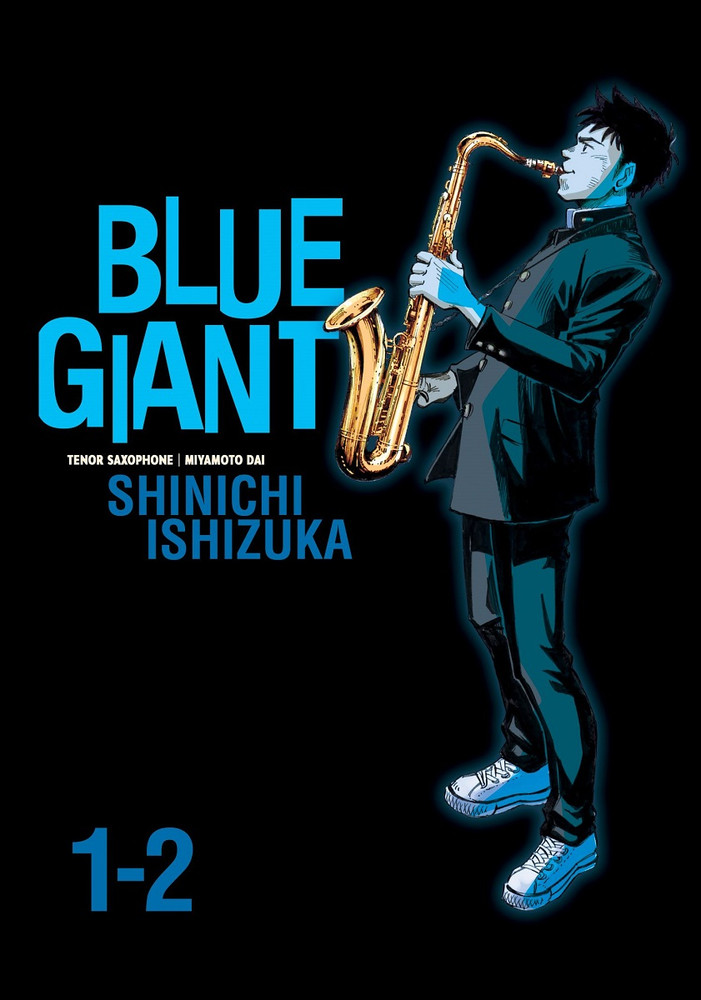 2:10 Here's the description of Blue Giant from Seven Seas:
Series Description: Dai lived a normal high school life in Sendai: a city of hot summer days and rainy nights. Between basketball, part time jobs, and an uncertain future, something was missing. And that thing was music. With his days in senior year running out, Dai swears a heartfelt vow: "I'm gonna be the best jazz player in the world." But what do you need to be the best? Talent? Effort? A lucky break? Or maybe just a deep, pure love for music, and too much stubbornness to know when to quit.

Volume 5-6 Description: At long last, Dai finally forms his own band. After months of practicing alone in Tokyo, Dai meets a brilliant pianist named Yukinori. In some ways, the two of them couldn't be more different: Dai's all about passion and inspiration, while Yukinori values perfect technique. It'll take some adjusting for Dai to appreciate Yukinori's feelings about music…and to find a third man for their group.

Winner of The Shogakukan Manga Award and the Japan Media Arts Festival Grand Prize

-Seven Seas website
8:40 As Chip says, the difficulty of showing music on the printed page is something that comics creatives have been struggling with for a long time. Not just wanting to have a music staff and notes on the page (which we mention at the verrry end of the podcast), finding ways to show what makes these characters special at playing music is really interesting. Because like Chip says, you can show loud, and you can show playing with a left hand, but the rest is done really well too.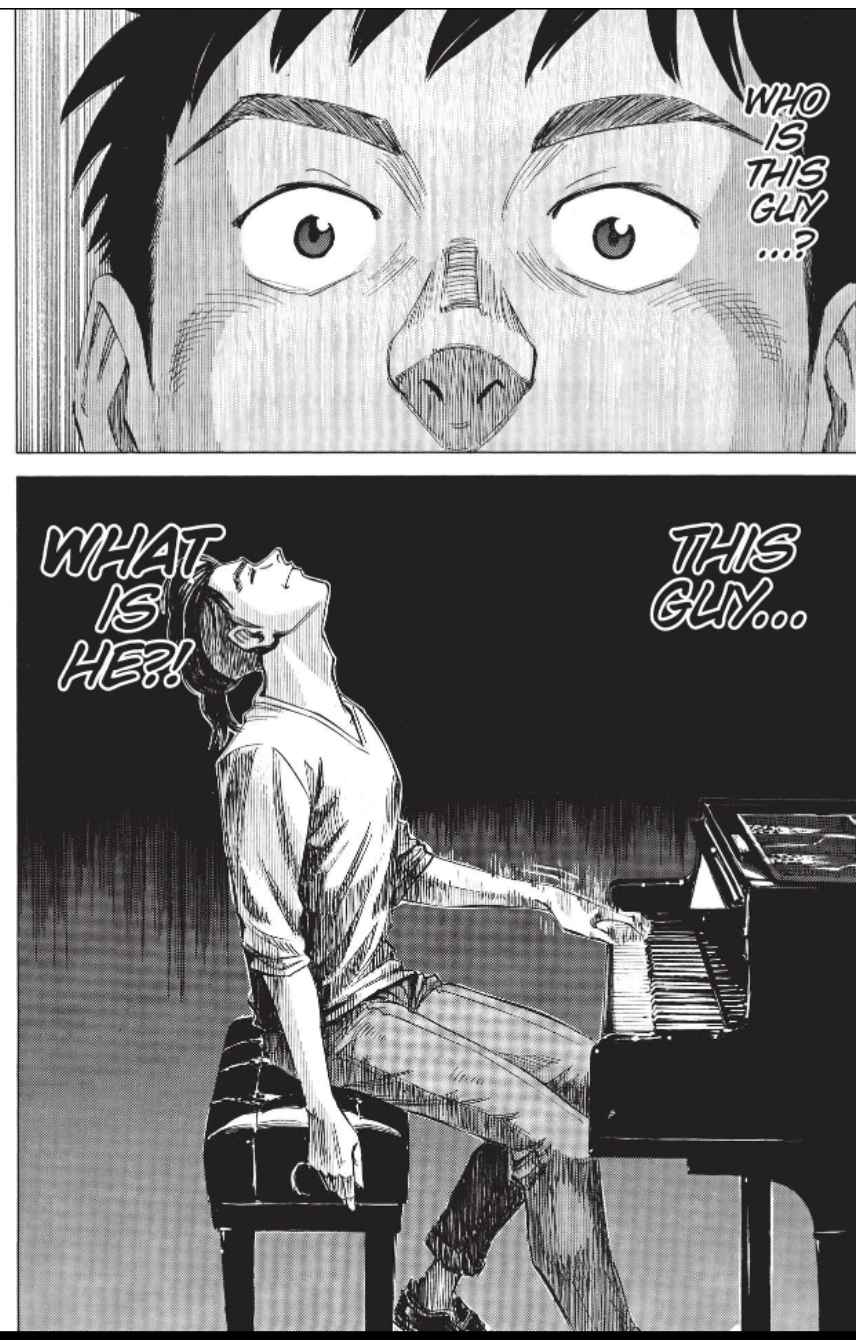 9:26: Yeah, foreshortening something like this is tough at the best of times, but someone should've given Ishizuka some photo reference for this one. Here is, The Finger In Question, and a situationally ironic couple of word balloons to go with it.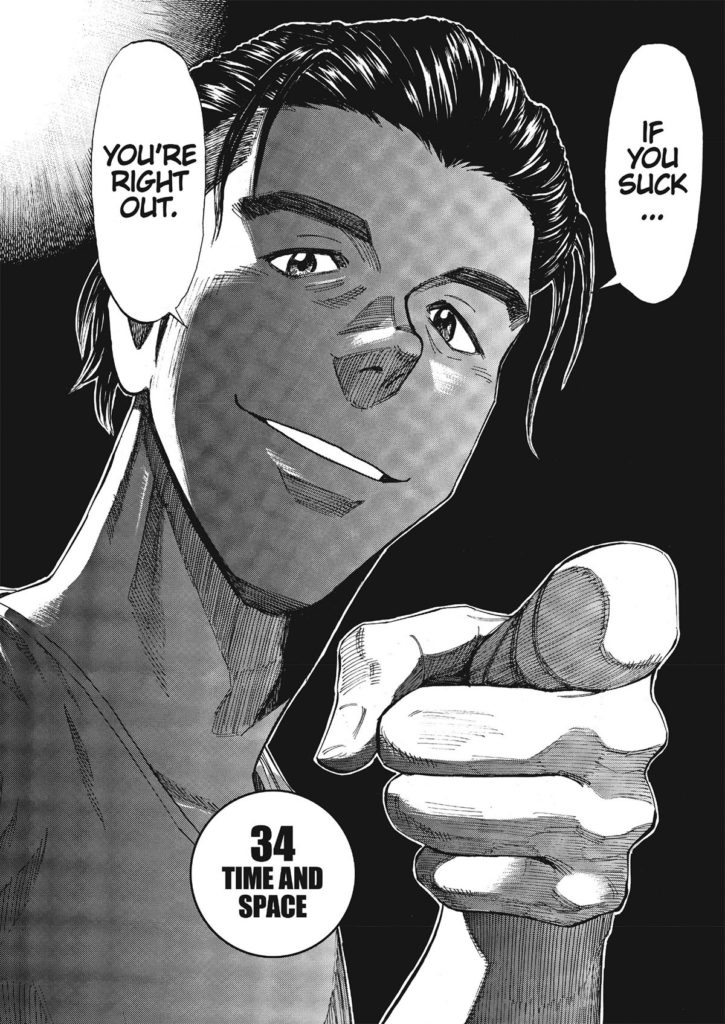 9:44: There's amazing art too, where the professional trumpet player Percy Brown is playing the trumpet trombone trumpet at So Blue nightclub.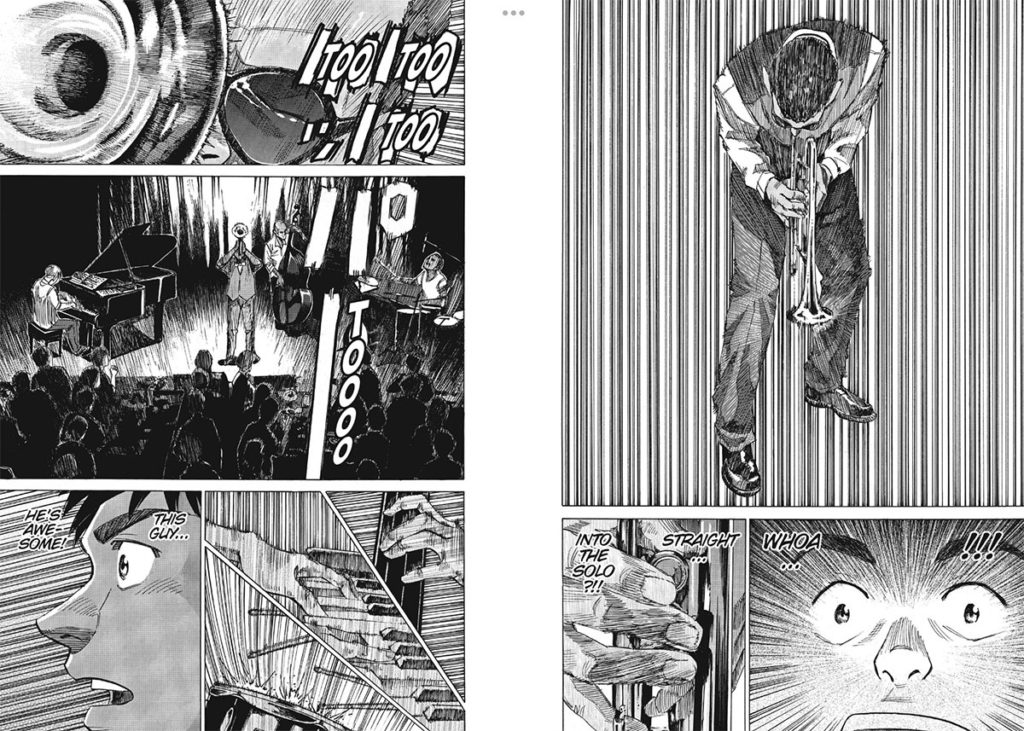 10:10: And then back to an image that doesn't quite work, where Dai is playing with Tamada by the riverside at night.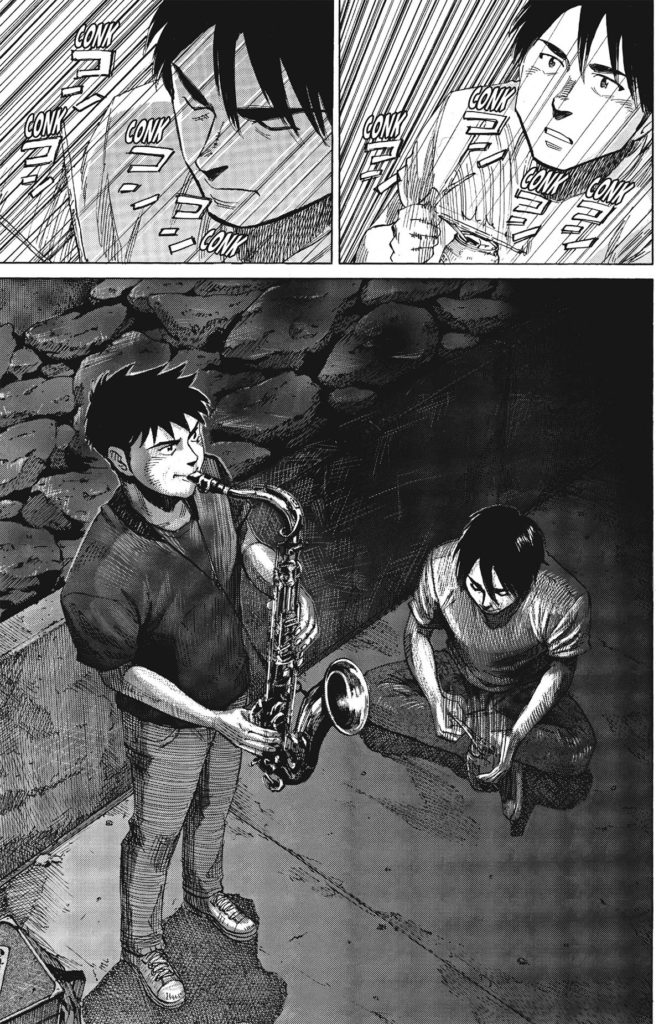 It's interesting, because even between volumes 5 and 6, the art does get noticeably better, but there are still real art errors too. I think we've made our point though, no reason to belabour it. 🙂
10:44: Huh! He liked it! "I want to continue this!" is high praise from the Chipper!
11:20: I really did like starting this volume in a shitty little bar/club/live-house (music venue), I've been to bunches of them in Japan, and it really resonated with me in terms of setting a scene perfectly. Although there is a Japanese aspect to this, I think anyone who's spent time in little jazz clubs or dive bars will probably immediately get where this is too. Though, frankly, I kind of can't believe they have a washroom big enough to contain two urinals AND a stall, but that's nitpicking. 😉
Which is to say, this bathroom joke is hilarious.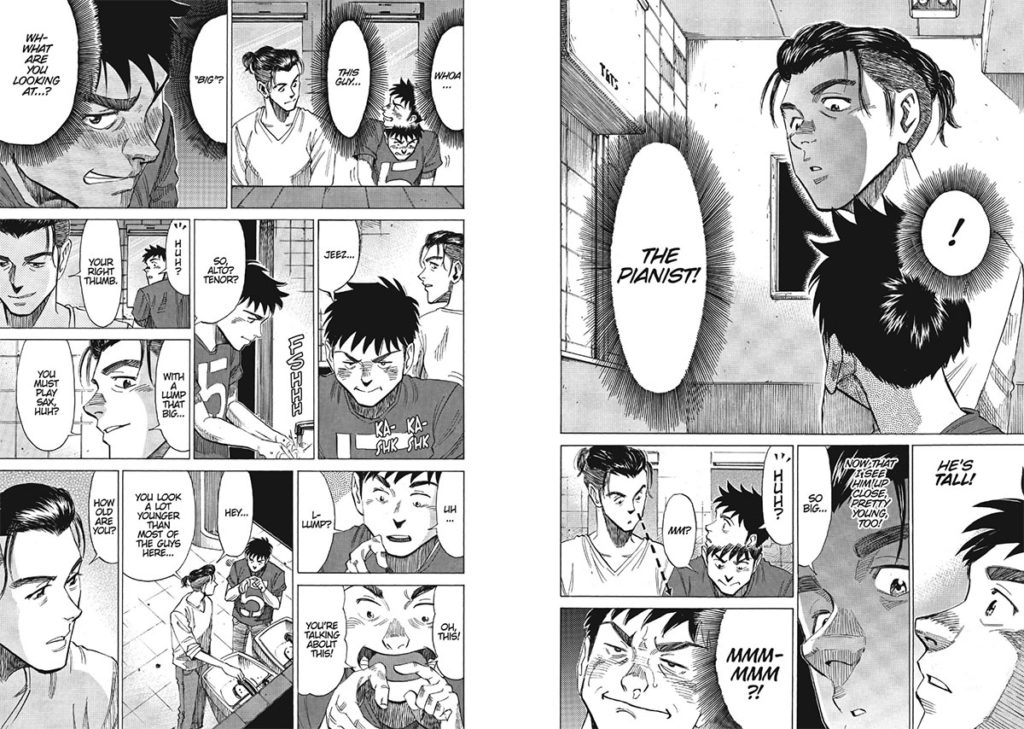 13:50 The characters being drawn like Naoki Urasawa characters… is true! I didn't know the stuff that we put up at the top when we went into this episode. One of the many reasons that the show notes and the research we do are valuable for us, I think! We get stuff wrong during the podcast sometimes, we try to fix it in the notes, and thanks to all of you reading we've even updated the notes at times with new/better/more info, too!
15:40 This was an incredible explanation of a 'frame' in playing live jazz and jamming together. Jazz isn't everyday life for most people, so this manga does teeter on the edge sometimes of being more of an 'explainer' manga, but I think the fact that it worked for all four of us as a story, with just enough jazz info being given out to drive the story, rather than stop it dead in its tracks, means that it probably stays out of that category…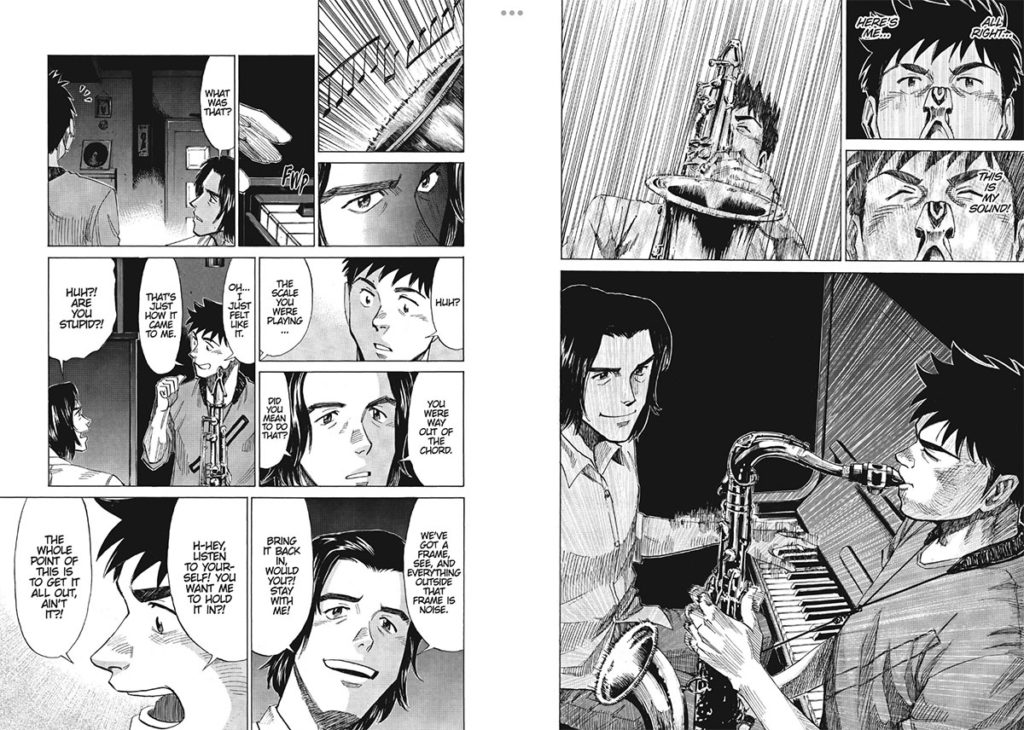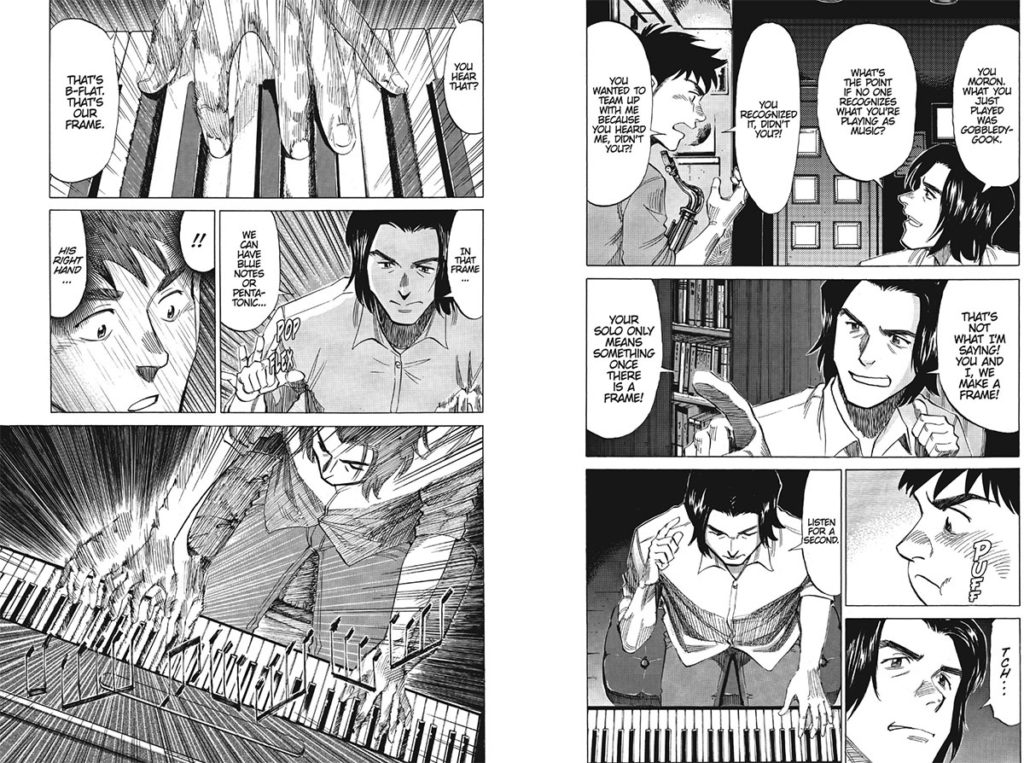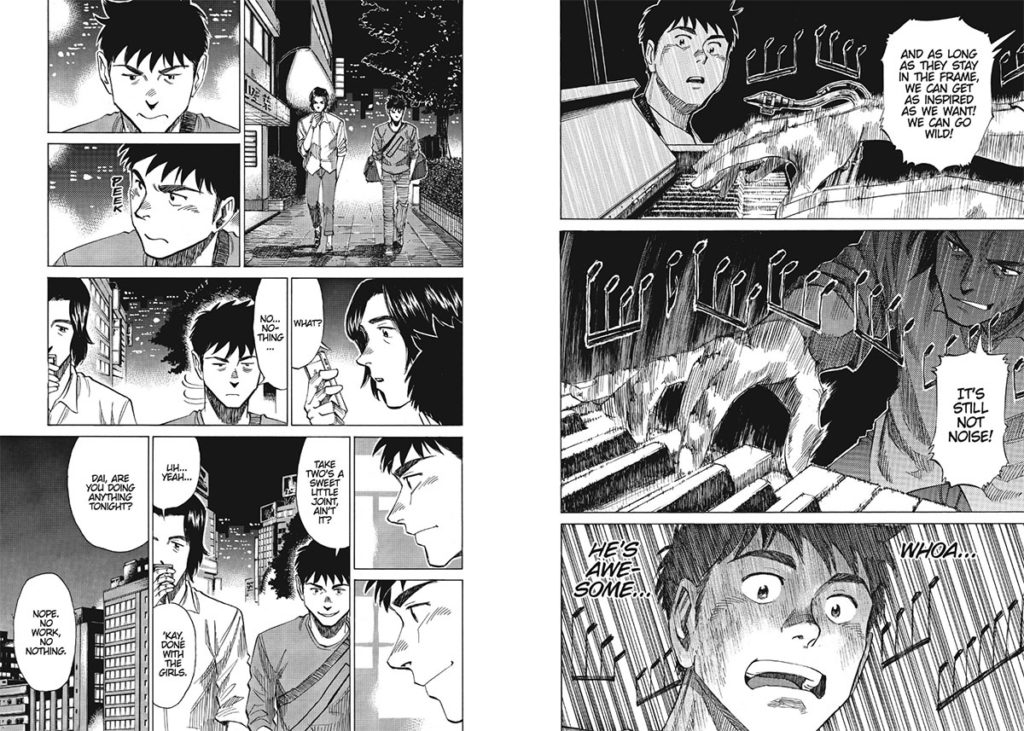 16:10 Deb is right to bring up Chapter 42 as being particularly great. It's a silent chapter that shows how different people interact with the act of playing music, spent entirely inside a musical instrument store.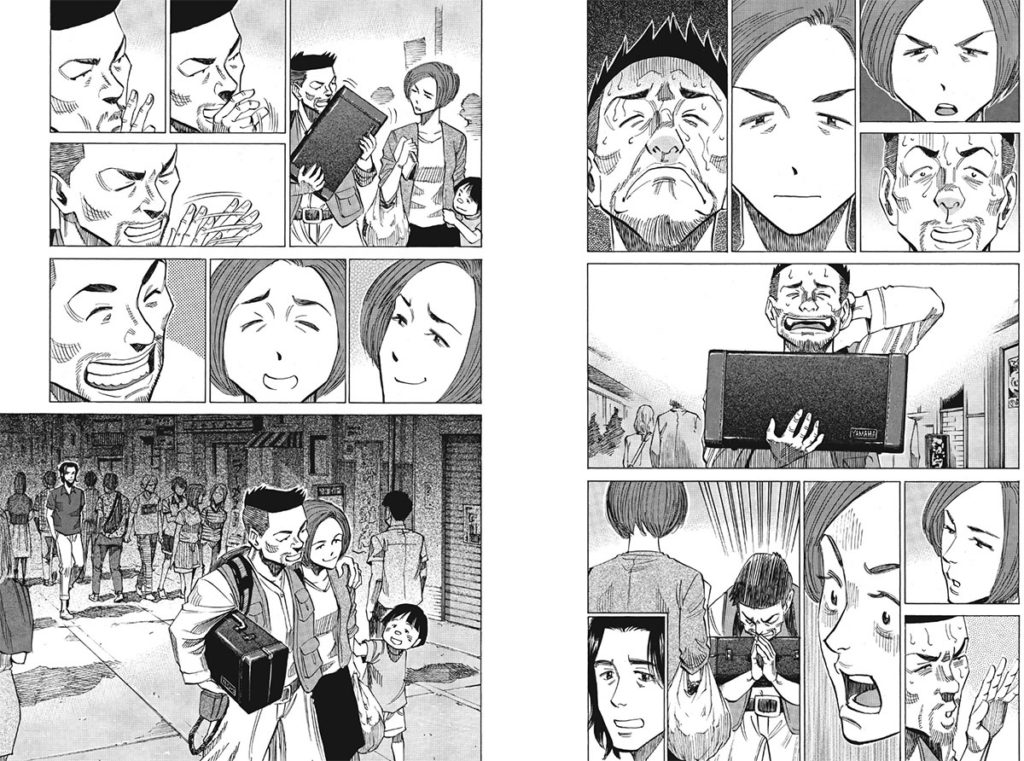 Likewise, at the end of this volume there's a silent "bonus track" chapter (originally included in a jazz compilation CD put out by Universal Music Japan) featuring Dai practicing along the riverside, and seeing different people in their day-to-day reacting to that music that's quite good.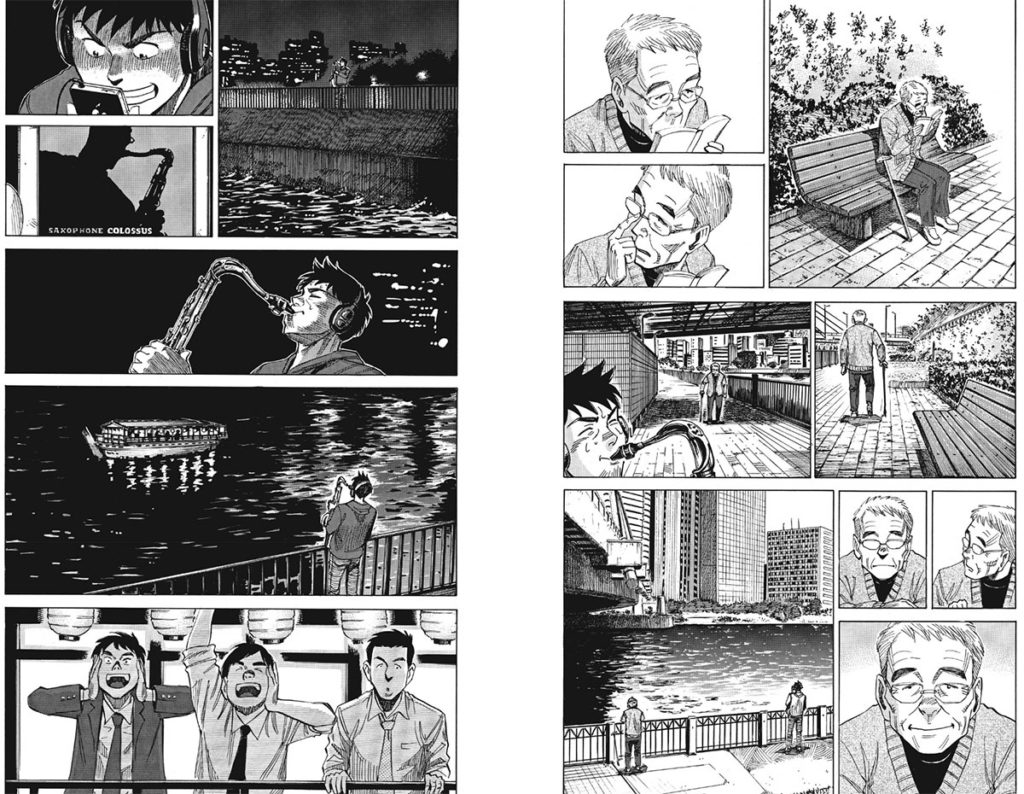 It's another way of effectively communicating sound. It's also endemic of the approach that the author is taking to this series, which is to not be afraid of having lots of little short stories, different storytelling styles (like the interviews we talk about in a moment), and bonus material, to round out the world and the ideas that he's trying to communicate. The plot is always there, you can skip the 'bonus' material, but doing lots of differently-formatted things helps build a whole world around Dai and his quest for musical greatness. It's good stuff.
17:10 Deb's background info about the mangaka is really interesting! Here's a link to that Tokion interview again, for your enjoyment.
[Deb:] In this article, Ishizuka mentions that while he was going to college in the US, he had a friend who took up archaeology. When he asked his friend about his choice of college major, his friend replied that he was influenced by Naoki Urasawa's Master Keaton, a seinen manga series about an archaeology professor / former special forces op who moonlights as a globetrotting insurance investigator – kind of like Indiana Jones, but without the whip and the Nazis.
"…the fact that a manga has changed someone's life impacted me strongly. Since then, I had been thinking that one day, if I find something that sparks me to share with others, I want to present it in the form of manga"

-Shinichi Ishizuka
Master Keaton is available now in 12 volumes from VIZ Media: https://www.viz.com/master-keaton
The interview also reveals how Ishizuka took up being a manga artist at age 29, and explains that he was inspired by Urasawa, and by another Mangasplaining fave, our-much-loved salaryman manga about climbing the corporate ladder, Kosaku Shima by Kenshi Hirokane (which is only available in English in a few bilingual Japanese-English editions from Kodansha).
18:30 Yeah, it's been a rough couple of years. The drummer Tamada dealing with his disappointment over playing poorly really hit home. Effective storytelling, and given a looooot of space to breathe too, which made it even more impactful.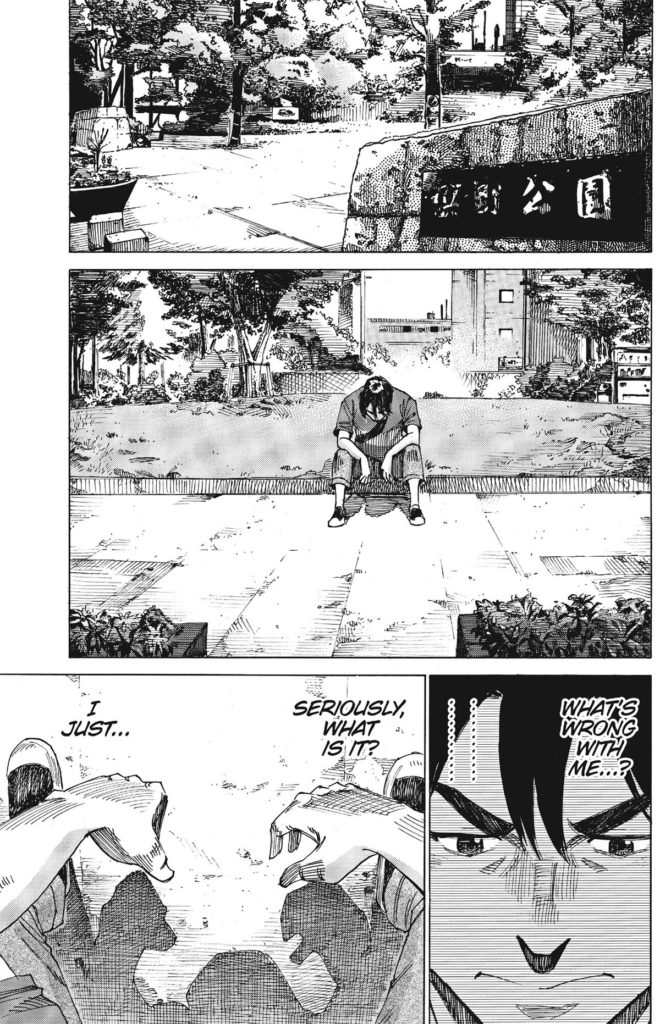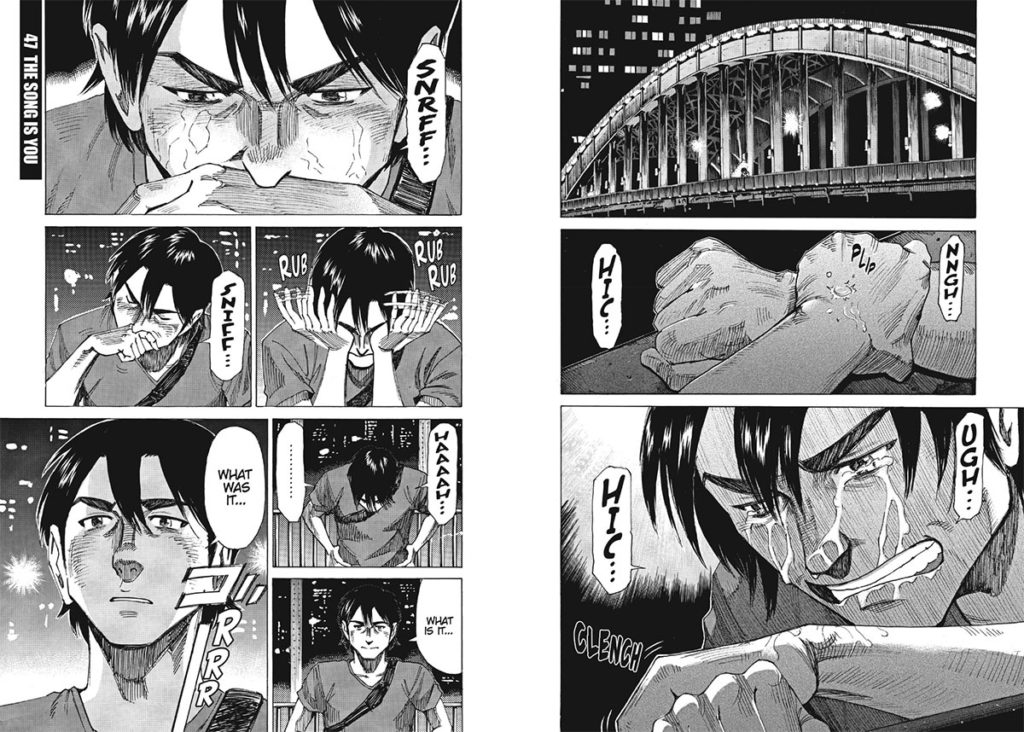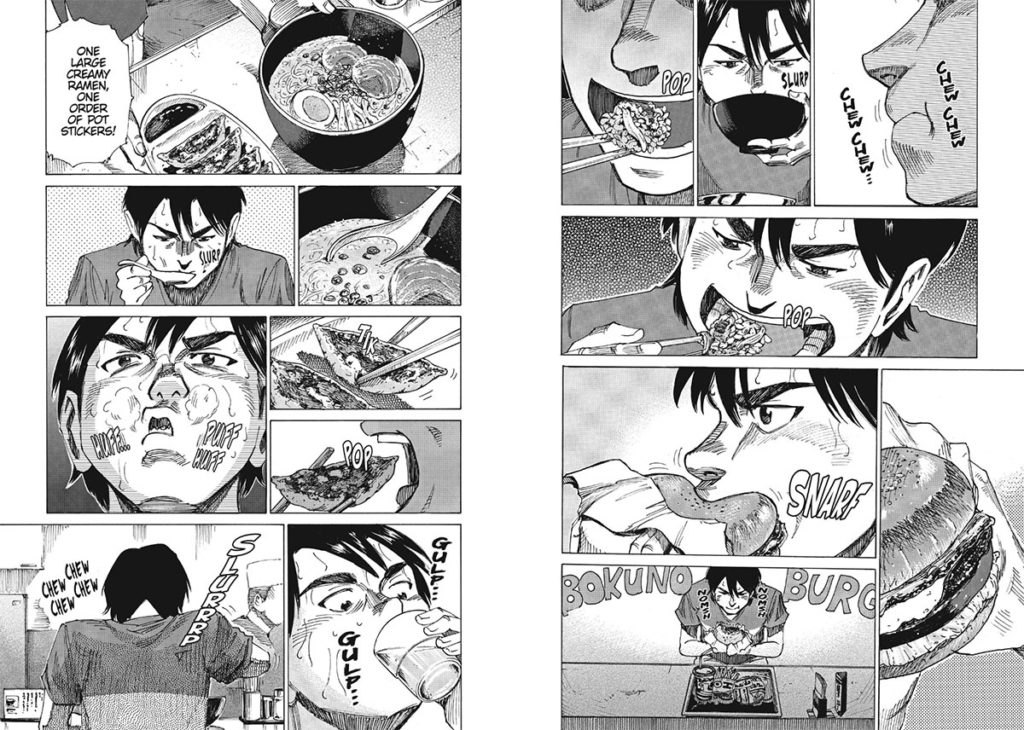 19:00 "You left him behind." We have to win together. I think this might be one of the most casually revealed controversial Dragonball Z opinions of all time.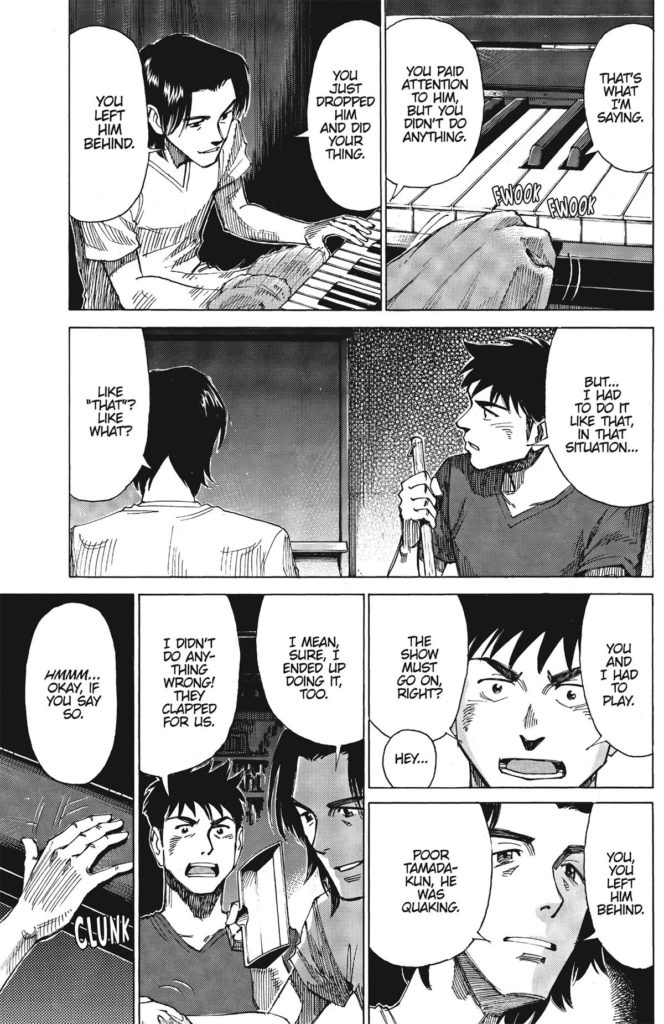 19:50: Just backing up what Chip and David are saying here, but I couldn't find a good scene to paste. But the subtlety of the plateau in his playing is quite good.
20:45 The humor and the pathos are both delivered really well in this series. Tamada's whole first professional drum lesson is pretty great, specifically the pay-off of the little girl reacting to Tamada's drum playing at his lessons is a huge change that mirrors his response to playing poorly. It's good stuff.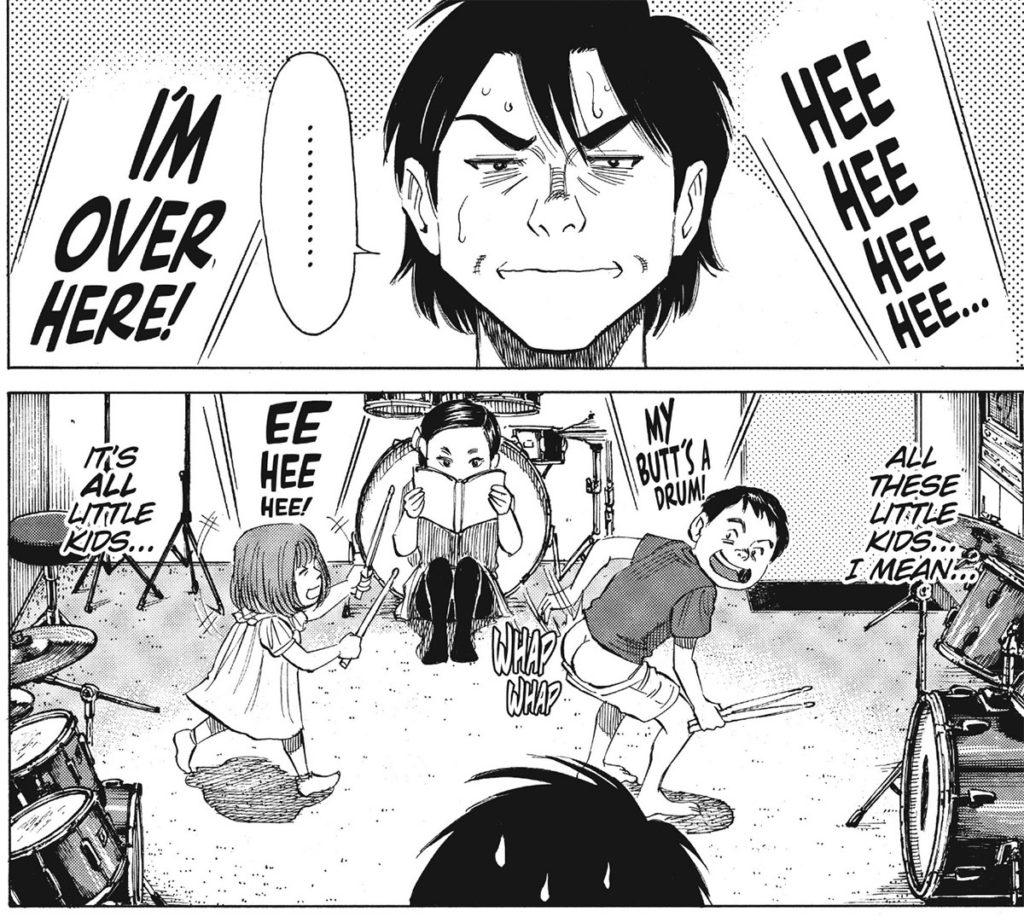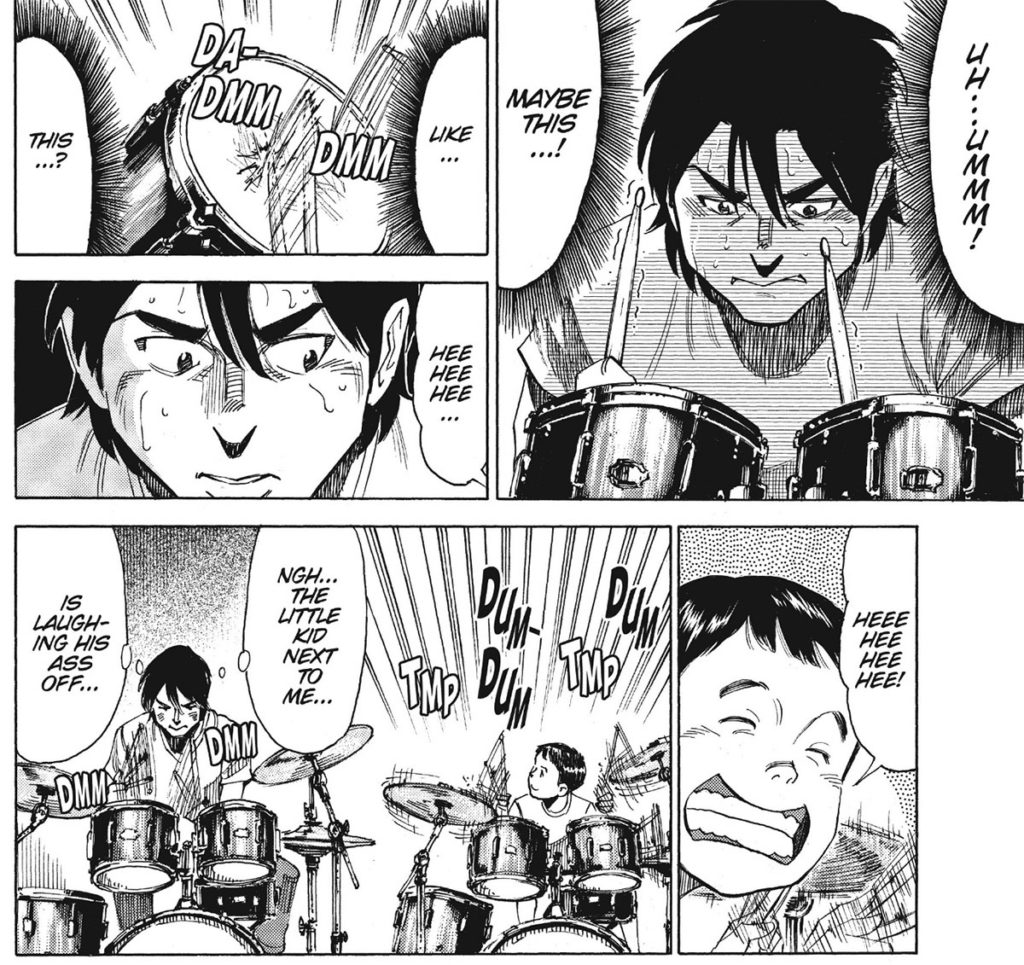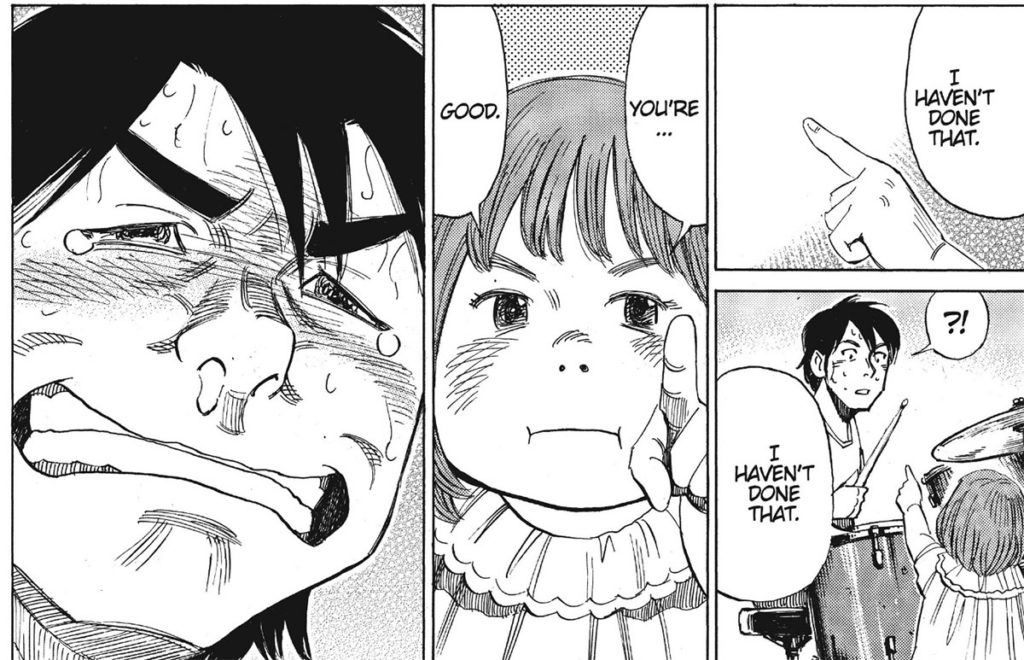 22:15 We could have had a musician Chip Zdarsky instead of a comic book Chip Zdarsky? Mind blown.
25:10 I think I still disagree with Chip on this one, I think you would need Tamada, or a character like him, to be a reader entry-point. The author MIGHT find another character, or another way to communicate with the uninitiated members of the audience (several books we've read use a variation on a Greek Chorus)… but they didn't, so this makes him integral to this story, IMHO.
Specifically to give the reader a clear entry point to scenes like this, Dai brings Yukinori home and then the two have a heated (jazz) nerd conversation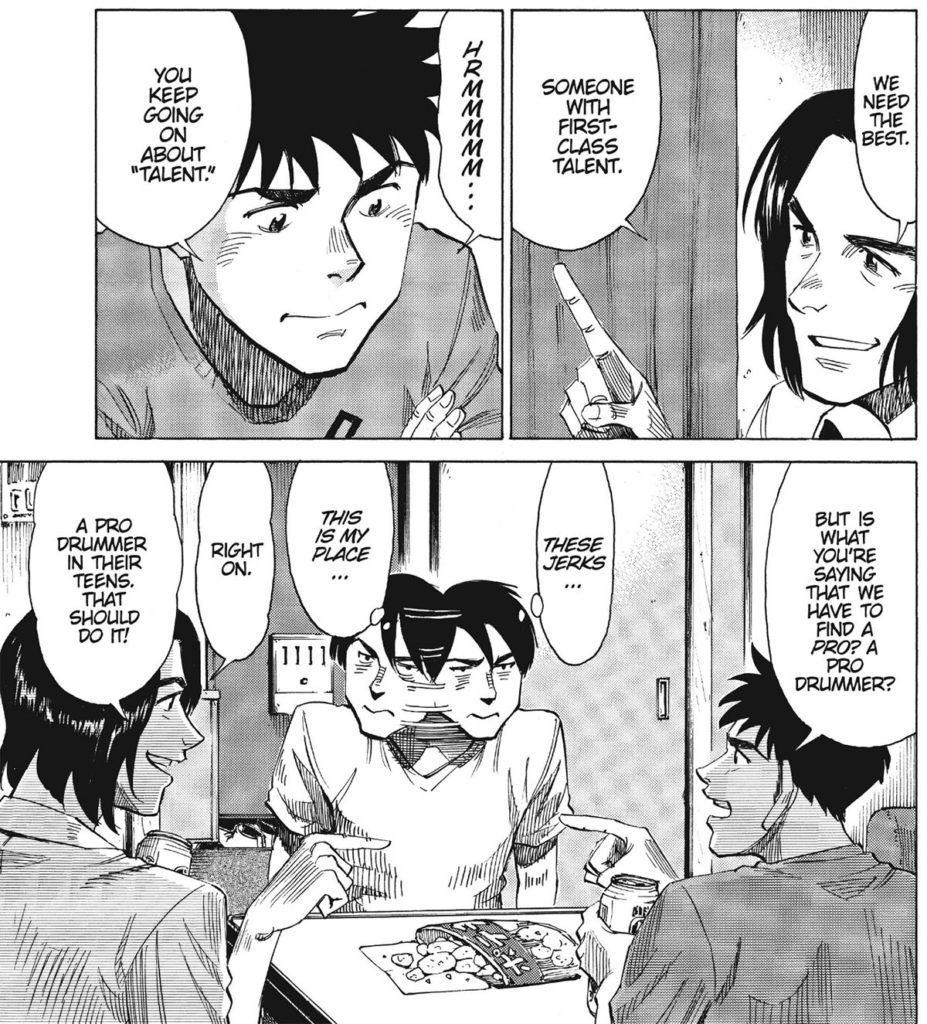 27:10: Deb points out that Ishizuka goes out of his way not to make the arrogant, self-important pianist Yukinori Sawabe totally irredeemable, he's just driven. The moment where he realizes that Dai is not only good, but better than him, and that Dai has a spark he doesn't have, is a big deal. It shows Yukinori's human side that he doesn't often show to others.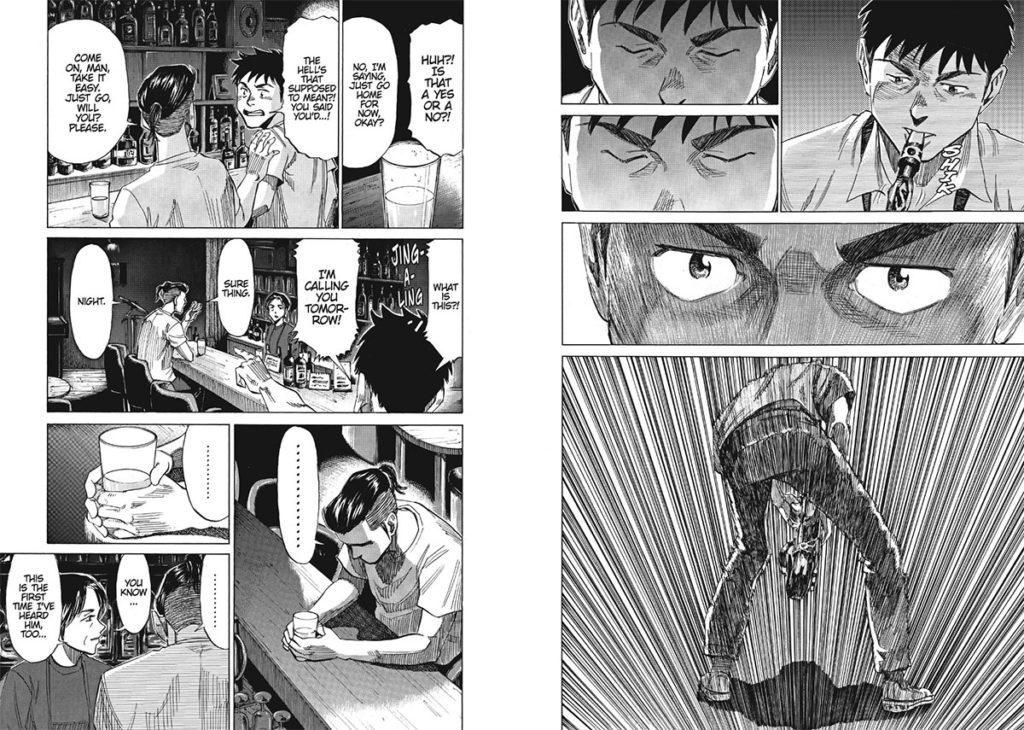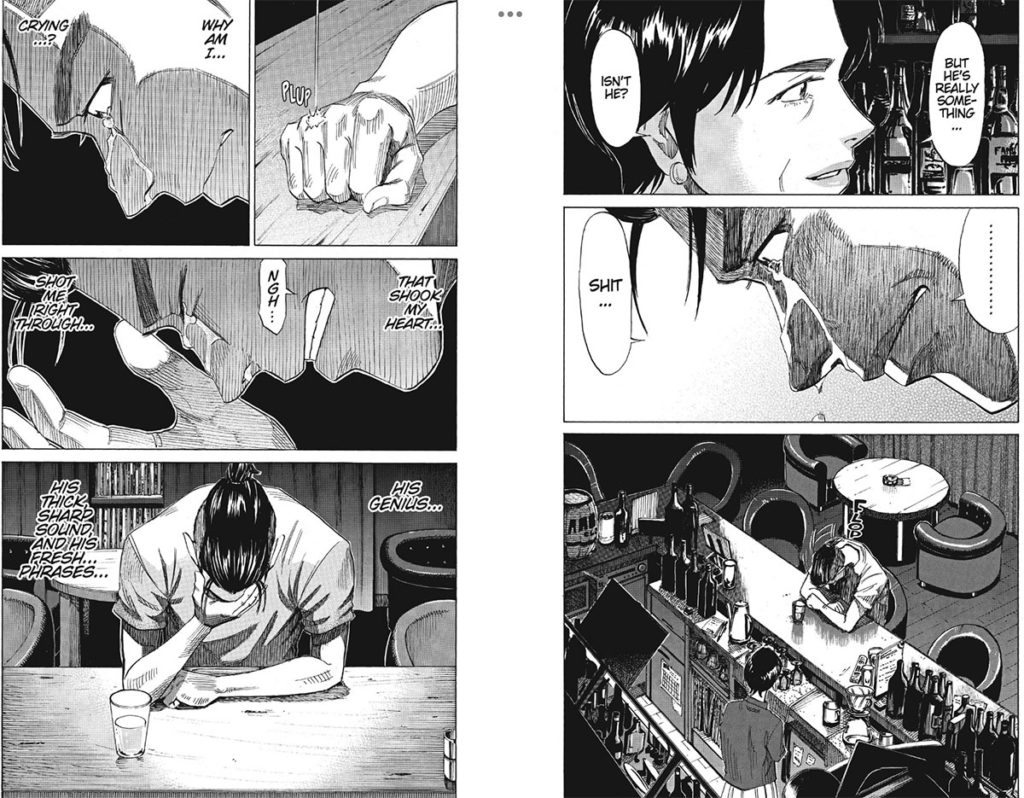 29:20 It's interesting that volume 6 ends on this note, the line that Deb and David are mentioning, "There's one thing that people who go on winning have in common…" bit. Because it's set in the future, it's unsure if it's a condemnation or a celebration. All we learn, eventually, is that whatever this commonality is, pro musician Moto Kawakita isn't into it [anymore].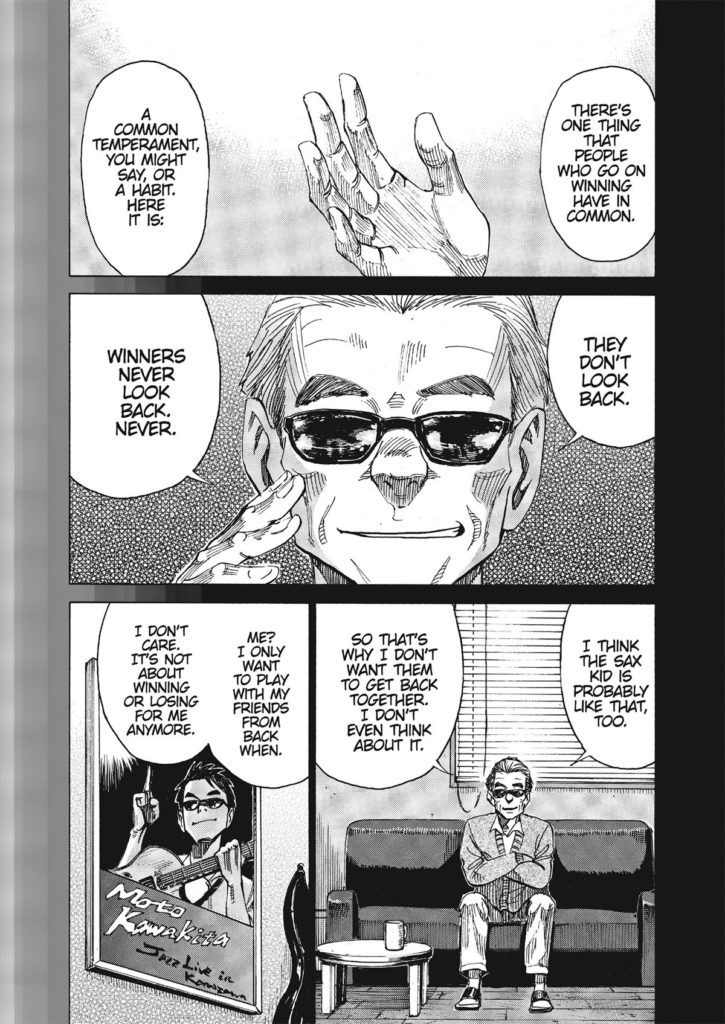 30:30: "I'm gonna go get my ass kicked." Such a great cliffhanger to end volume 6.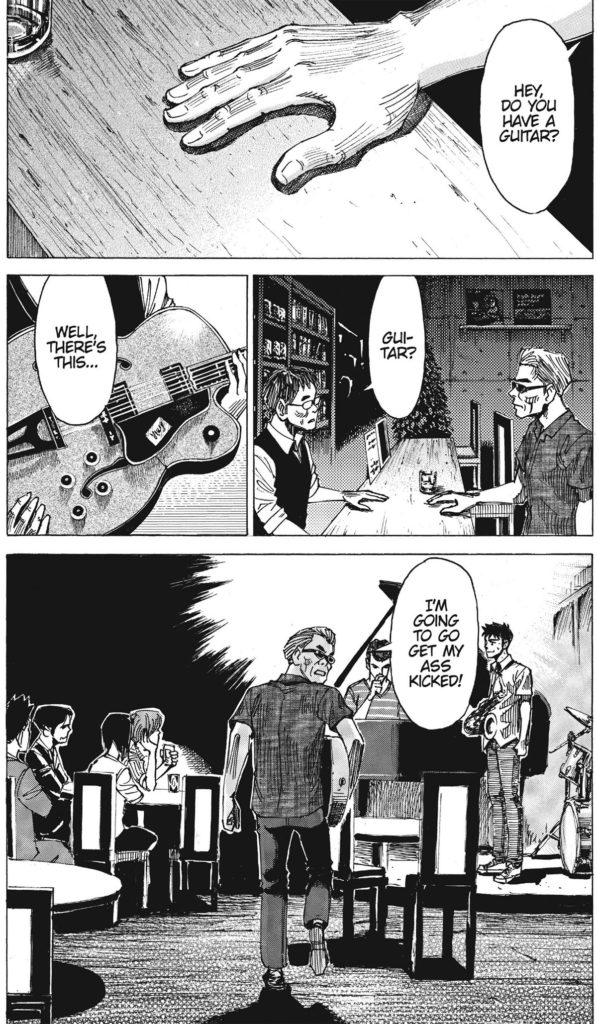 31:10 As mentioned above, with the 'commonality' quote, there are big time jumps in Blue Giant, with the last bit of story in every chapter flashing forward 10 to 15 years. It's a little jarring at the end of volume 5, because it was more properly introduced as a storytelling device in volume 1 and then you'd just be 'used' to it.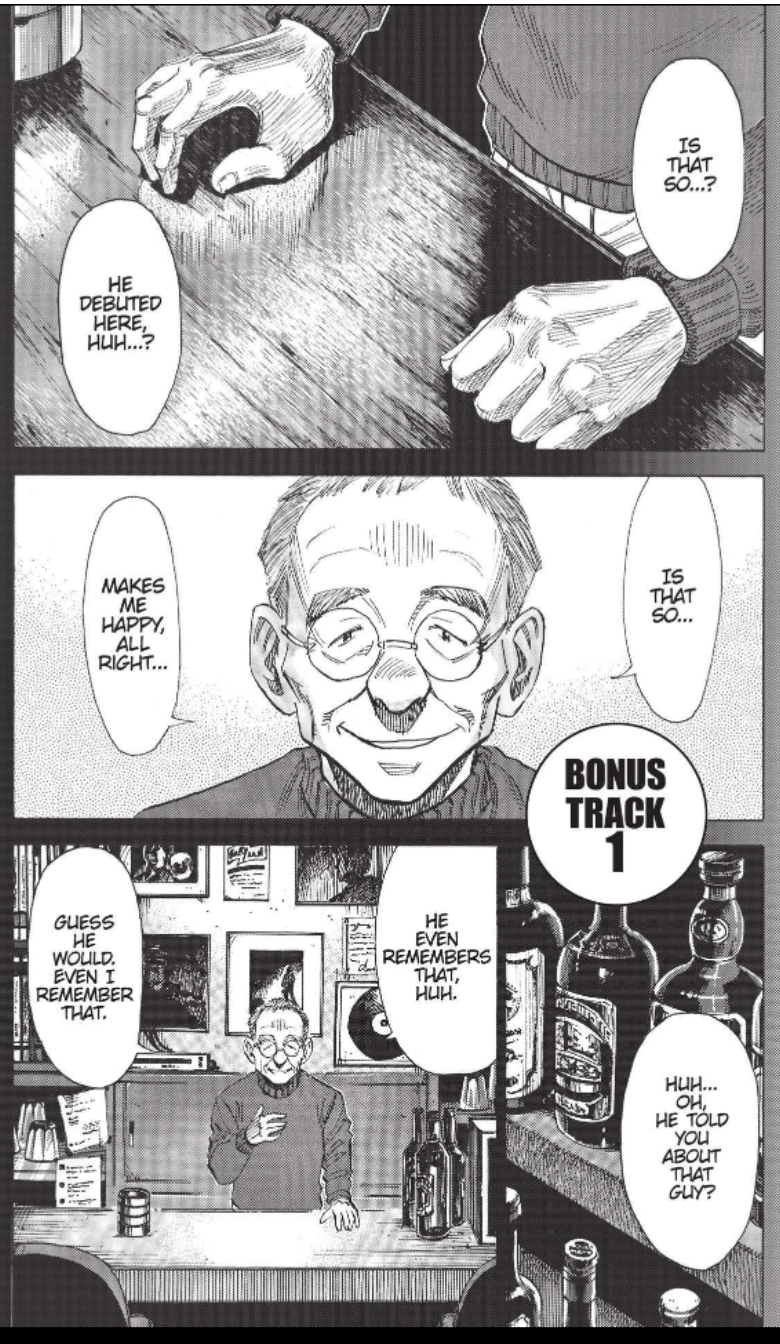 Chip mentions Better Call Saul, which I haven't I actually watched. I was thinking about how the future interview about a musician and discovering where they came from is the framing device for the film Velvet Goldmine, which we last brought up during our Paradise Kiss episode.
33:10 That's some Dead-ass weird usage.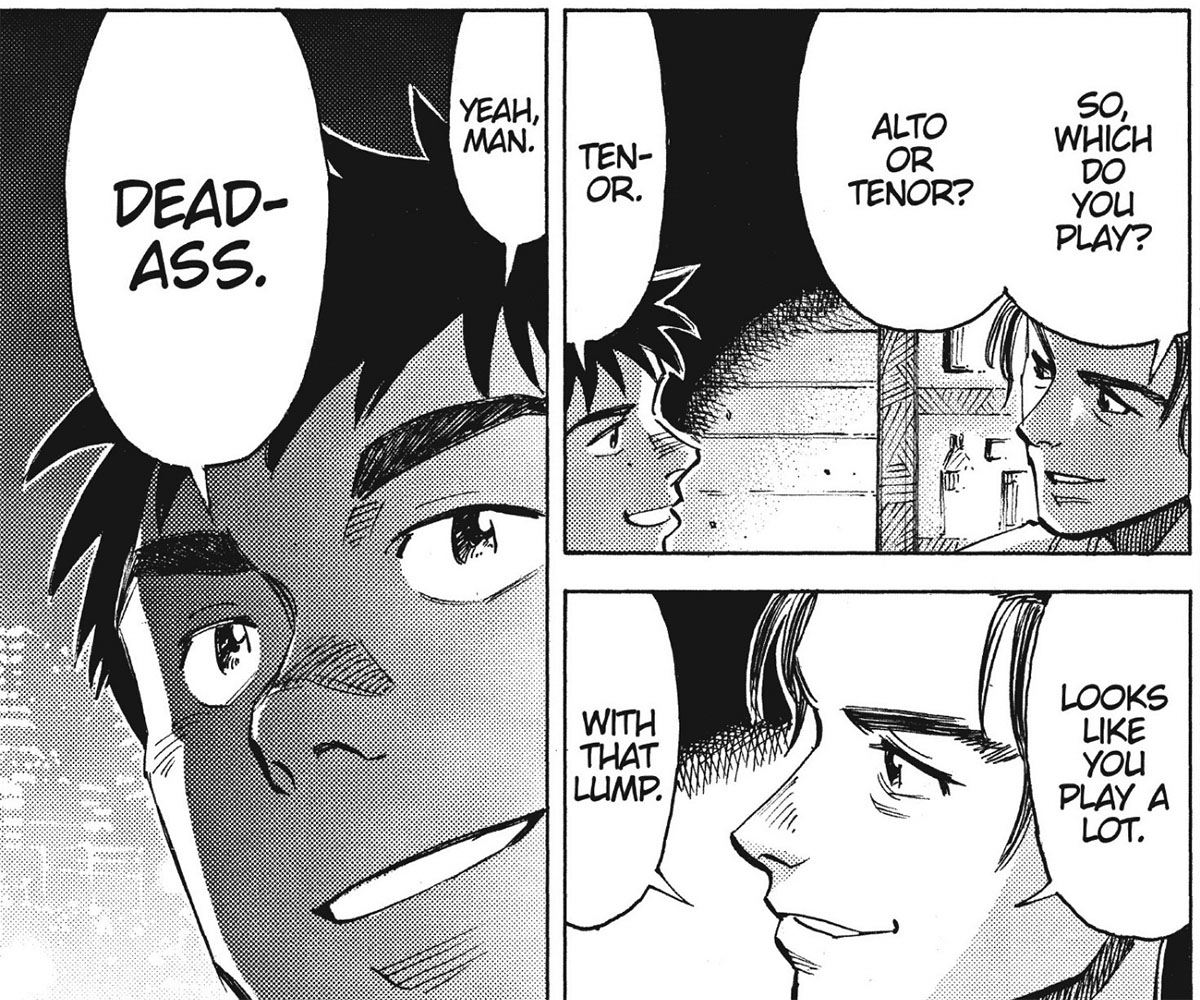 35:09 Yeah, we gotta talk about the sound effects in this book. It's not that the sound effects in English are necessarily bad (although 'toooooot' is hilarious), it's the entirely inconsistent way that the Japanese sound effects are sometimes removed, sometimes not, and are inconsistently glossed.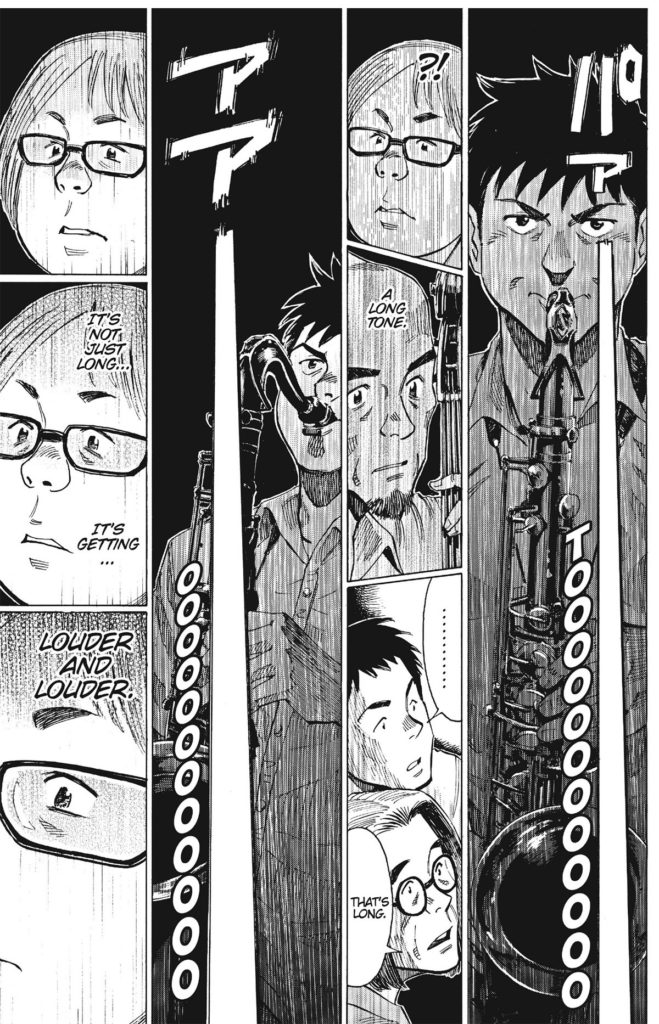 My take is: If you're not going to do a full Japanese sound effects replacement, don't replace any of them, and just gloss all of them, like other publishers do. There's no shame in it.
[Deb:] Alternately, with Naoki Urasawa manga (like his current series, Asadora), the Japanese sound effects are left untranslated, with no tiny English translation text next to it or in the margins. You have to go to the last page to read a list of what the sound effects actually say.
This approach is maybe the least disruptive/least cluttered approach to the original manga artwork, but might leave behind English readers who can't read hiragana or katakana (Japanese phonetic characters)?
[Christopher:] That's also what's going on with the new edition of AKIRA in hardcover from Kodansha, and quite a few other titles. Personally I'm not a fan, even though I can read katakana/hiragana/etc. It just doesn't feel fully translated, to me.
[Deb:] What do you think, Mangasplaining listeners? Add a comment about what you prefer, as far as translating / not translating manga SFX below.
[Christopher:] Here's a few more images showing the inconsistency of translated/not-translated effects that we discuss.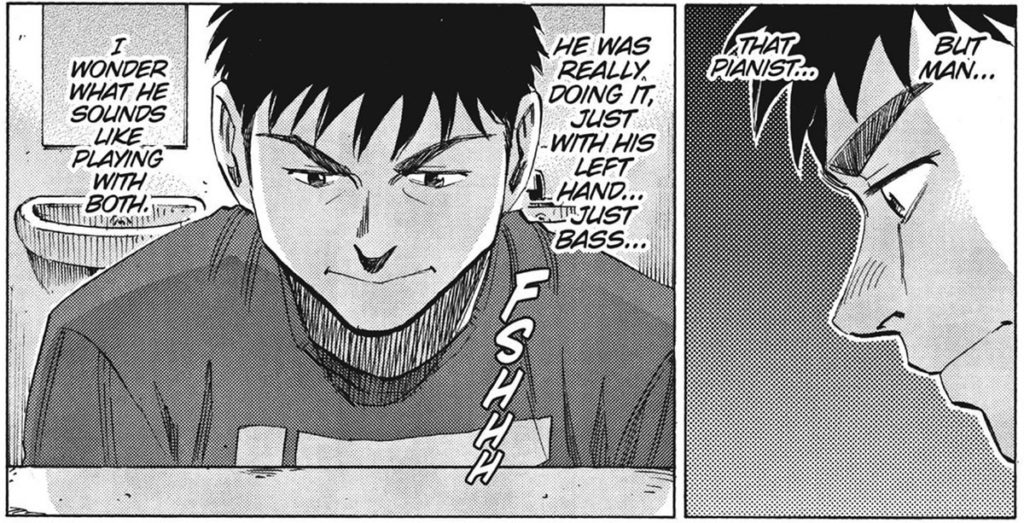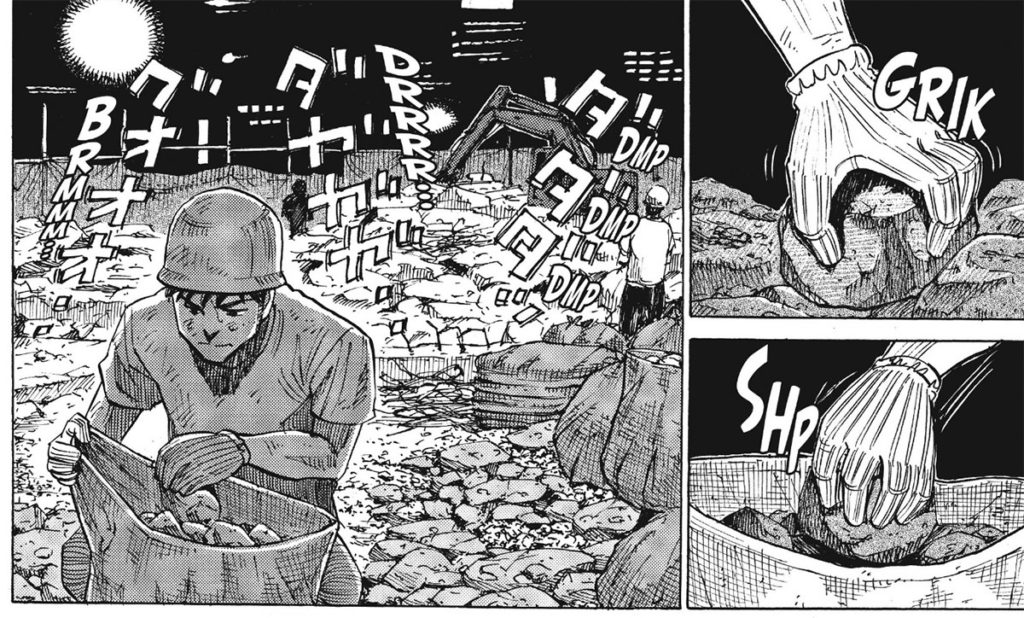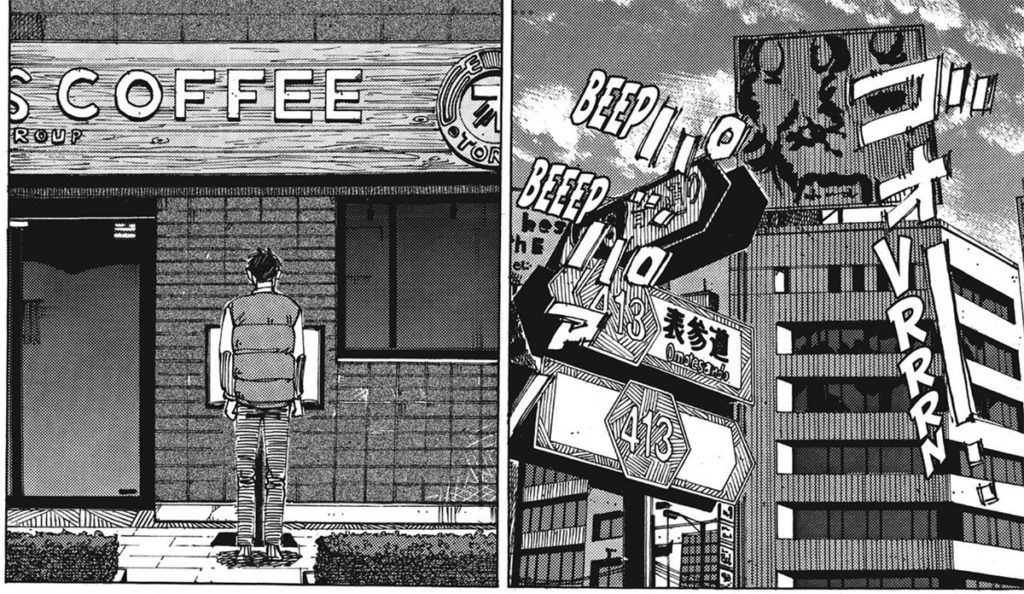 39:44 This is another part of what I was talking about up top, where Ishizuka is just pulling in all kinds of stuff and using it to build a story. The near-complete lack of diagonal panels is a big deal I think, it creates a very steady 'rhythm' to the panels that never breaks in the whole thing. It also does give heavy cinematic vibes, scroll back through the posted images to see what we're talking about…!
That said, there are a very few moments in this book where we get a slight diagonal, a little bit of deliberate extra 'oomph' in the energy of the scene, and it's a bit shocking!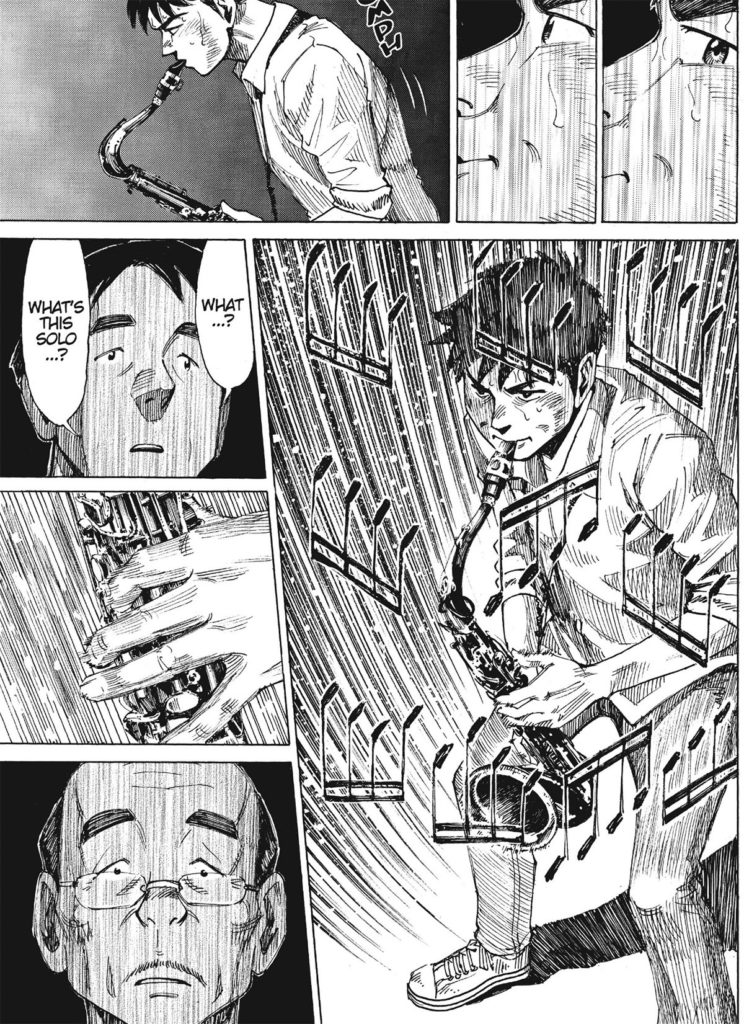 It's not in every music scene either! This is actually something that also comes up in a few weeks on our Cross Game episode too, how diagonal panels are incredibly rare there, and when and why they're used.
40:30 Deb references another music manga, Those Snow White Notes by Marimo Ragawa, which is about Japanese shamisen (stringed instrument) players. In particular, she thinks that the series is much more successful in its animated interpretation, which features virtuoso performances by the Yoshida Brothers.
It's currently streaming on Crunchyroll: https://www.crunchyroll.com/those-snow-white-notes
If you want to check out Those Snow White Notes, here's the Kodansha website page for it. It says volumes 1-8, and 10, are available? That seems like an error.
[Deb:] Yeah, it's kind of weird. Kodansha released the first 8 volumes of Those Snow White Notes manga every 2 weeks for 2 months while the anime was airing in 2021, then put it on indefinite hiatus until they quietly resumed publication of this series by adding it back to their release schedule on their website. The long-awaited volume 9 of this series will return in late July 2022 (not that I've been checking Kodansha's upcoming releases pages almost every week).
43:10 David references the music/slice-of-life drama anime Kids on the Slope. Based on the manga series by Yuki Kodama (published by Shogakukan, but isn't available in English), this slice of life story josei story follows the lives of three young people and the friendships they make through jazz music, and the relationships that develop between them. Interestingly, the music for the series is produced by Yoko Kanno (who I bring up in a few minutes)…!

Kids on the Slope is available on DVD from Sentai Filmworks.

Here's that cover of Moanin' that David mentions.
David also brings up Yuji Ohno's music for Lupin the 3rd, a generational manga and anime story featuring the world's greatest thief. Gotta listen to some of that too…!
44:30 [Deb:] Blue Giant as a manga is still running, but the major arcs of the series are published under different names and have new number ones… something of a rarity in Japanese manga publishing. The series we're reading, Blue Giant, was serialized in Big Comic Magazine from May 2013 to August 2016, and ran for 10 volumes.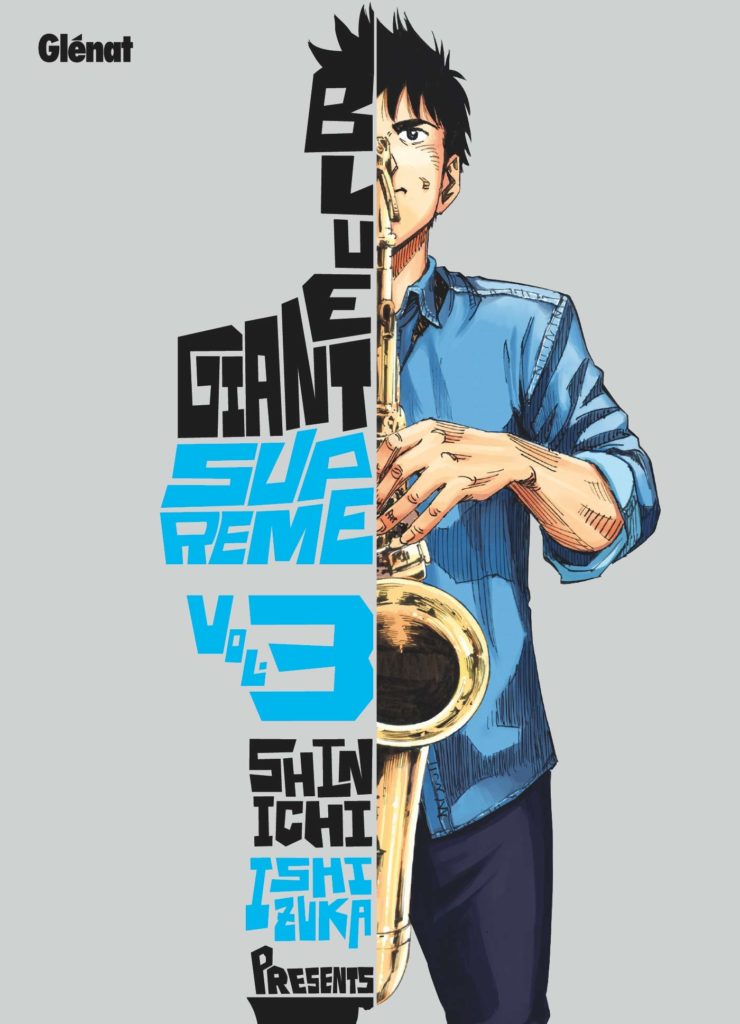 Blue Giant Supreme started in Sept 2016 – April 2020, and follows what happens next after Blue Giant volume 10, as Dai goes to Europe. It's a 10 volume series, and is currently available in French through Editions Glenat, but it's not available in English (yet).
Blue Giant Explorer started in May 2020, is currently running, with Vol 6 coming out in Japan in late June 2022. In this arc of the series, Dai goes to the land where jazz originated, North America. His journey starts in Seattle, and takes him down the West Coast to Portland, San Francisco and Los Angeles (so far).
Blue Giant the manga has strong ties to jazz even off the page – Here's a promo video for the Blue Giant x Blue Note Tokyo nights.I think it's fabulous that this world renowned live music venue (the So Blue nightclub in Blue Giant is probably modeled after Blue Note!) has held these type of events to promote both live jazz and the manga at the same time.
Another example of Blue Giant's ties to jazz is its collaborations with legendary jazz record label Blue Note Records. There are two official Blue Giant x Blue Note CDs – one for the 80th anniversary of Blue Note and another for Blue Giant Supreme. Neither are available in N. America, but you can probably get them as imports.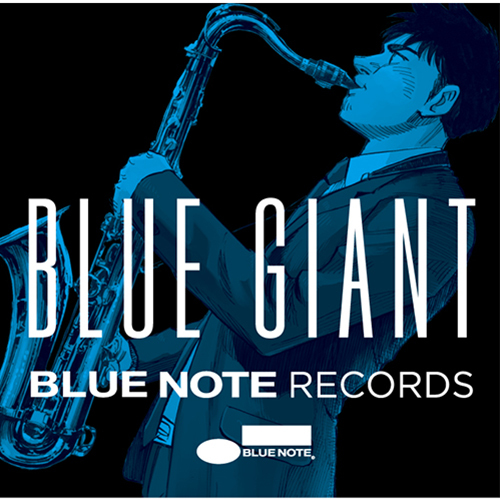 [Deb:] It's also notable that jazz label Blue Note Records has also given Blue Giant its 'blessings' to include music from its label, because including music, lyrics, or references to songs or real people usually adds another layer of approvals and therefore additional complications to licensing manga about music for publication overseas.
Some examples that come to mind include two of my favorite, but as yet unlicensed (not even in French!) manga series, Boku wa Beatles (We are The Beatles) by Tetsuo Fujii and Kaiji Kawaguchi (creator of The Silent Service) from Kodansha, and Shiori Experience: Jimi na Watashi to Hen na Oji-san by Yuko Osada and Kazuya Machida from Square Enix.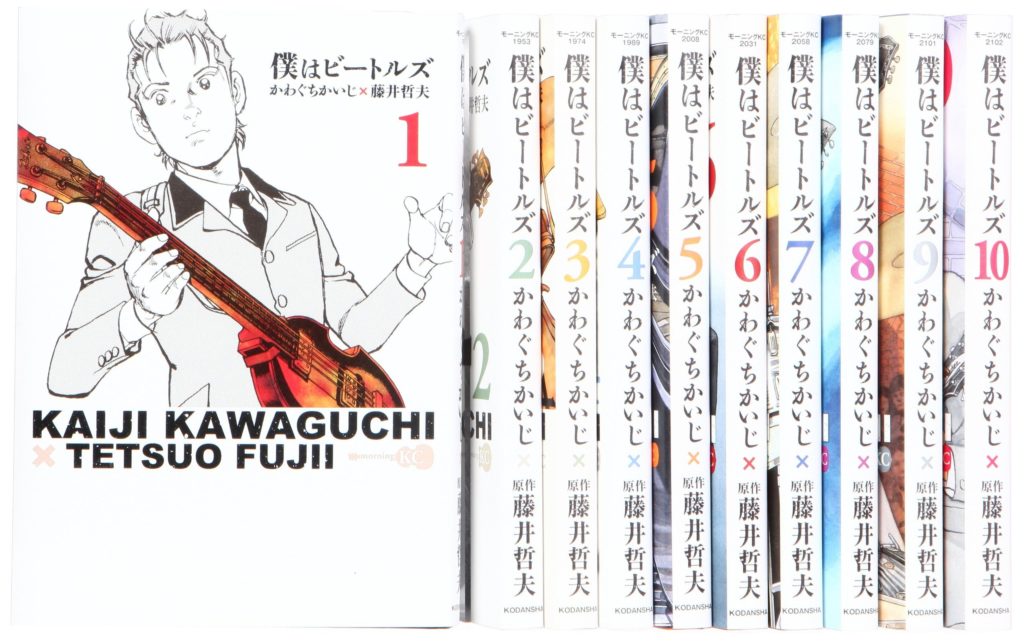 Boku wa Beatles imagines the adventures of a Japanese Beatles cover band getting transported in time back to the early 1960s before The Beatles hit it big internationally. They know all of the legendary band's songs by heart – so what happens when they play them for adoring crowds in Japan before the real Beatles do? If this sounds like the plot of the movie Yesterday, well, Boku wa Beatles pre-dated that 2019 British feature film by 9 years, so do with that info what you will.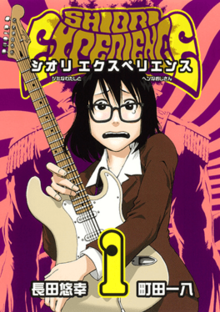 Shiori Experience is a wacky seinen manga comedy about a mousy high school teacher who was once in a rock band with two girl friends when she was younger. She encounters the ghost of Jimi Hendrix in her closet, and when the legendary rock guitarist plugs a guitar jack into the back of her neck, her inner rock goddess is re-awakened and, well, all kinds of craziness happens after that.
If you're curious about either title and don't mind reading some Japanese, both are available via BookWalker Japan:
Boku wa Beatles (10 volumes, complete): ​​https://bookwalker.jp/series/4513/list/
Shiori Experience (18 volumes, ongoing): https://bookwalker.jp/series/21290/list/
45:20 The omake in this series, or the back-up material created by the author, is really good. "Funny thing about paper, it doesn't make sound."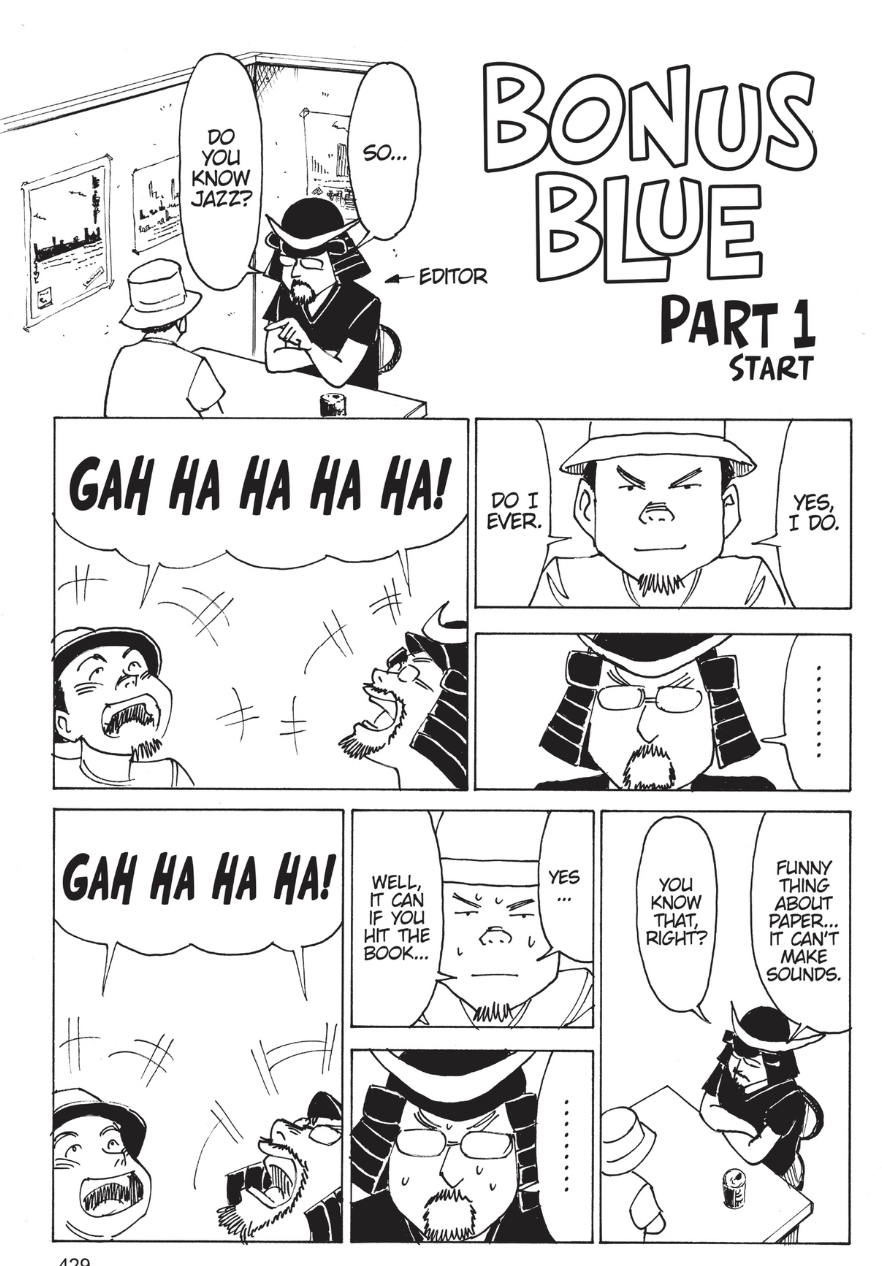 46:10 Translating from katakana can have you get some weird stuff, if you don't know what the original is referencing. Moanin' or Mornin', nubin of garlic vs. clove of garlic… But this extends into translating or subtitling other media too, even from English… to English.
47:30 David references Dai going absolutely HAM on the saxophone during their first (real) performance, and it's a great image and spread. It conveys the power of what they're doing, it uses musical notes to good effect, and the reaction shots elevate the moment too. All really good stuff.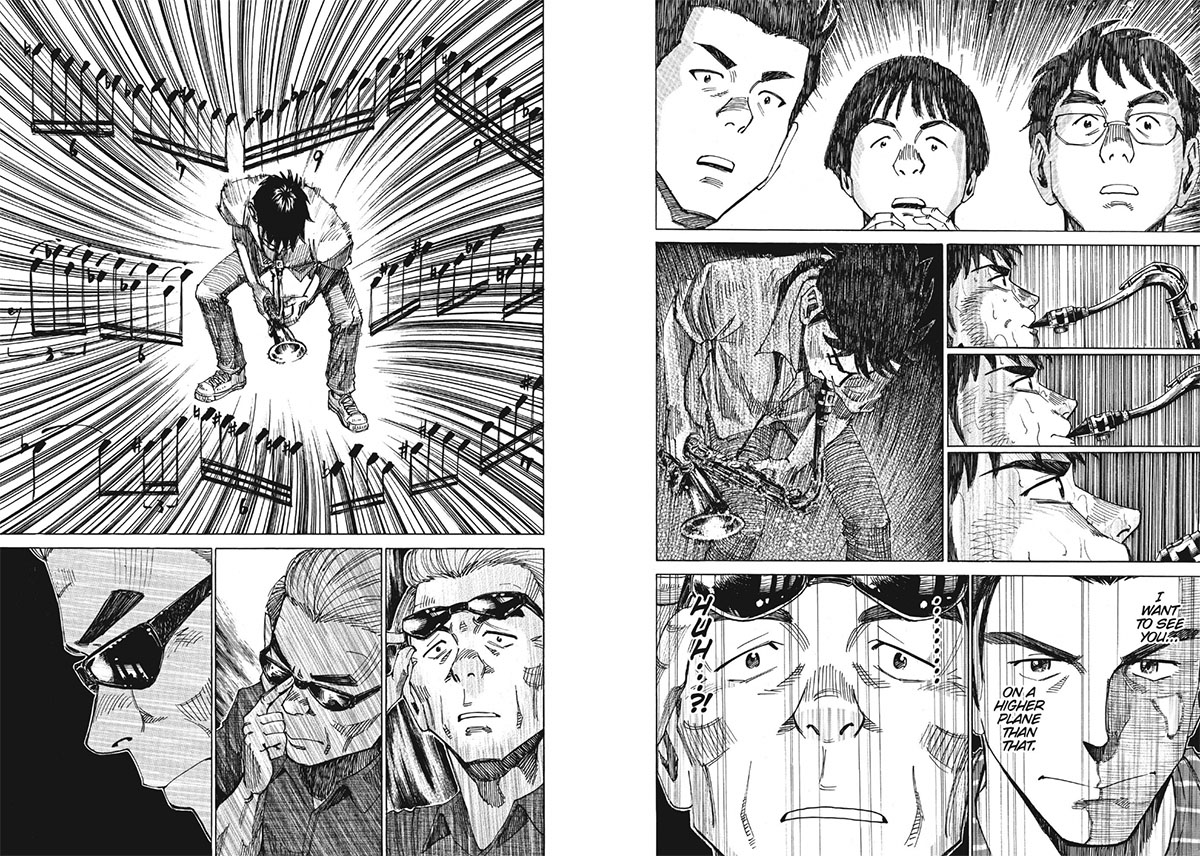 48:38 [Deb:] So funny thing about that Hieronymous Bosch butt music comment – yes, someone actually zoomed in on this one teeny-tiny part of the "Hell" section of his triptych Garden of Earthly Delights, and thought, hey, what if we tried to play the musical notes written on this character's bum?
And because well, maybe you want to hear what hellish butt music might sound like, here you go:
[Christopher:] That's wild. It's a little unsettling too.
51:20 Speaking of wild stuff, the idea that we're actually overwriting the 'sound' that is being 'played' within the manga with music that's inside our heads, kinda blew my mind a bit. I wasn't even aware I was doing it. I'm glad we could share these songs, thanks so much to David for the killer edit job here. Here's links to those songs if you wanna listen to them!
Yoko Kanno – Tank!
Art Blakey and the Jazz Messengers – Moanin'
John Coltrane – Giant Steps
Art Ensemble of Chicago – Theme to Yoyo
Please sound off in the comments with your own favourite jazz songs!
Just as some bonus content, my (Christopher) other go-to jazz song is Stompin' at the Savoy, I think the upbeat (not Latin-tinged) version that Sarah Vaughan sings. 🙂
53:10 The first set of flyers are just hilarious.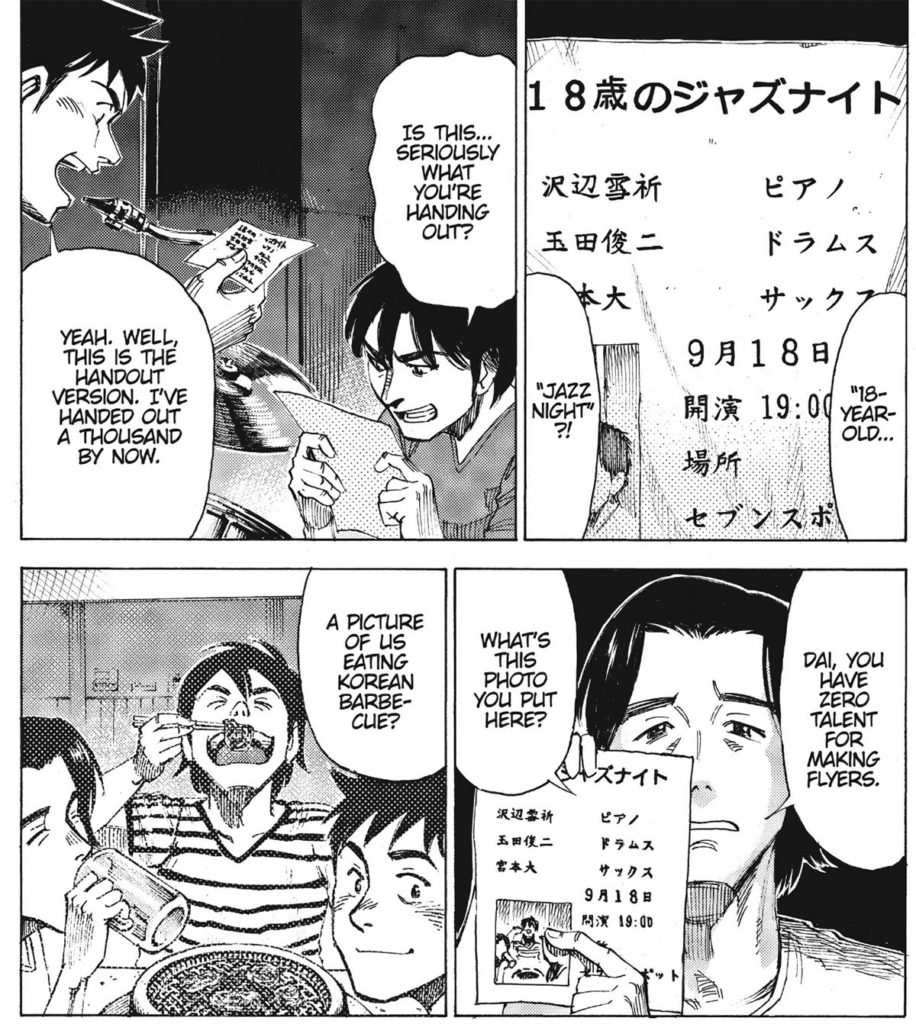 55:00: JASS!
Not this:
But actually this: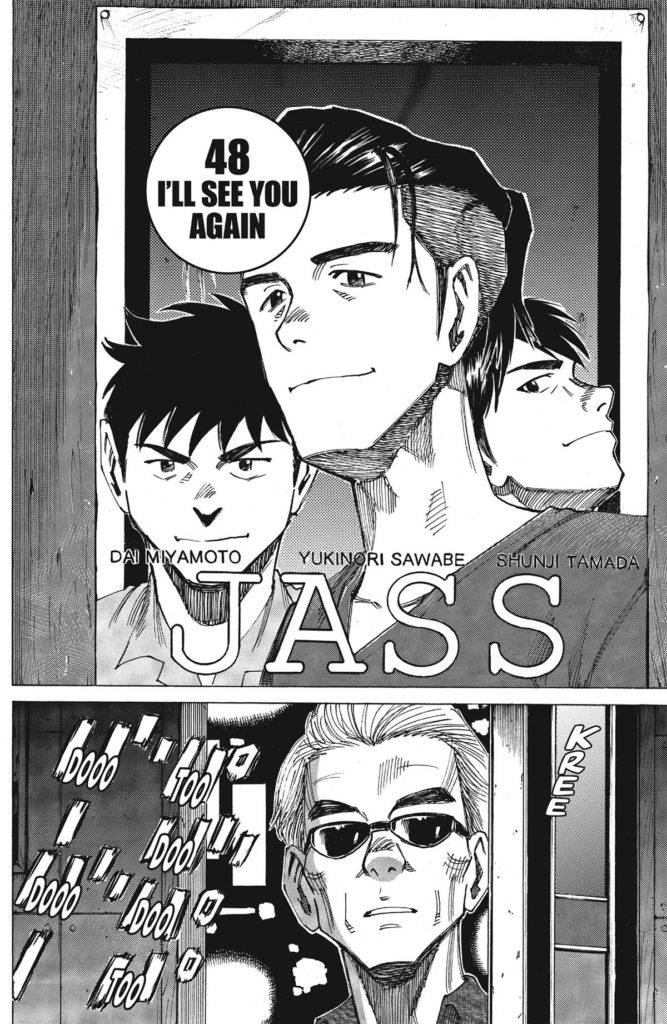 [Deb:] What's the story behind the band name "Jass" ? It's not as silly as Chip / David thought! We find the story behind "Jass" when we get to volume 7-8. This excerpt is from Vol. 7, pg 57-58
57:10 Meanwhile, everything you thought you knew about assholes in bands… is true!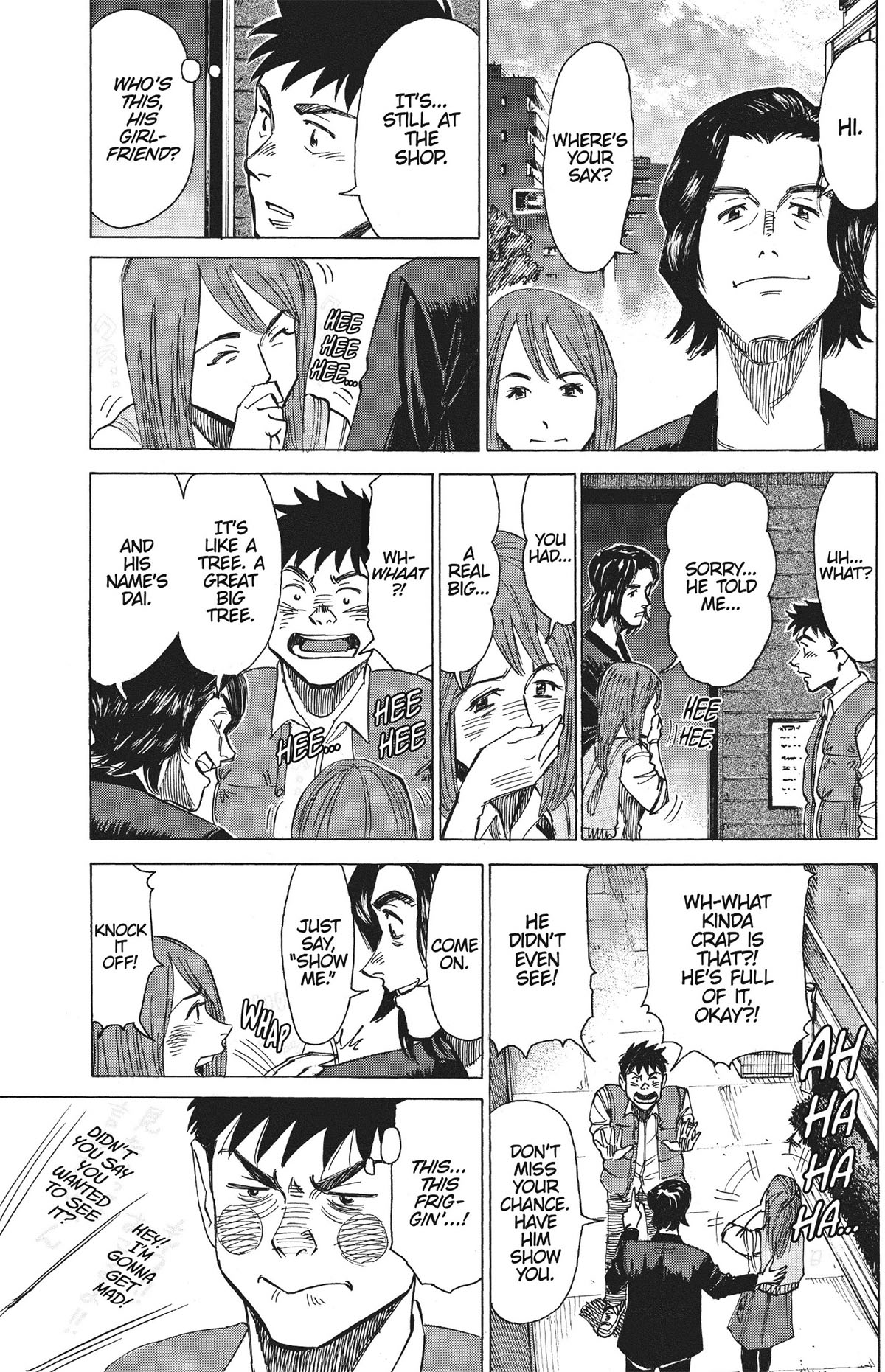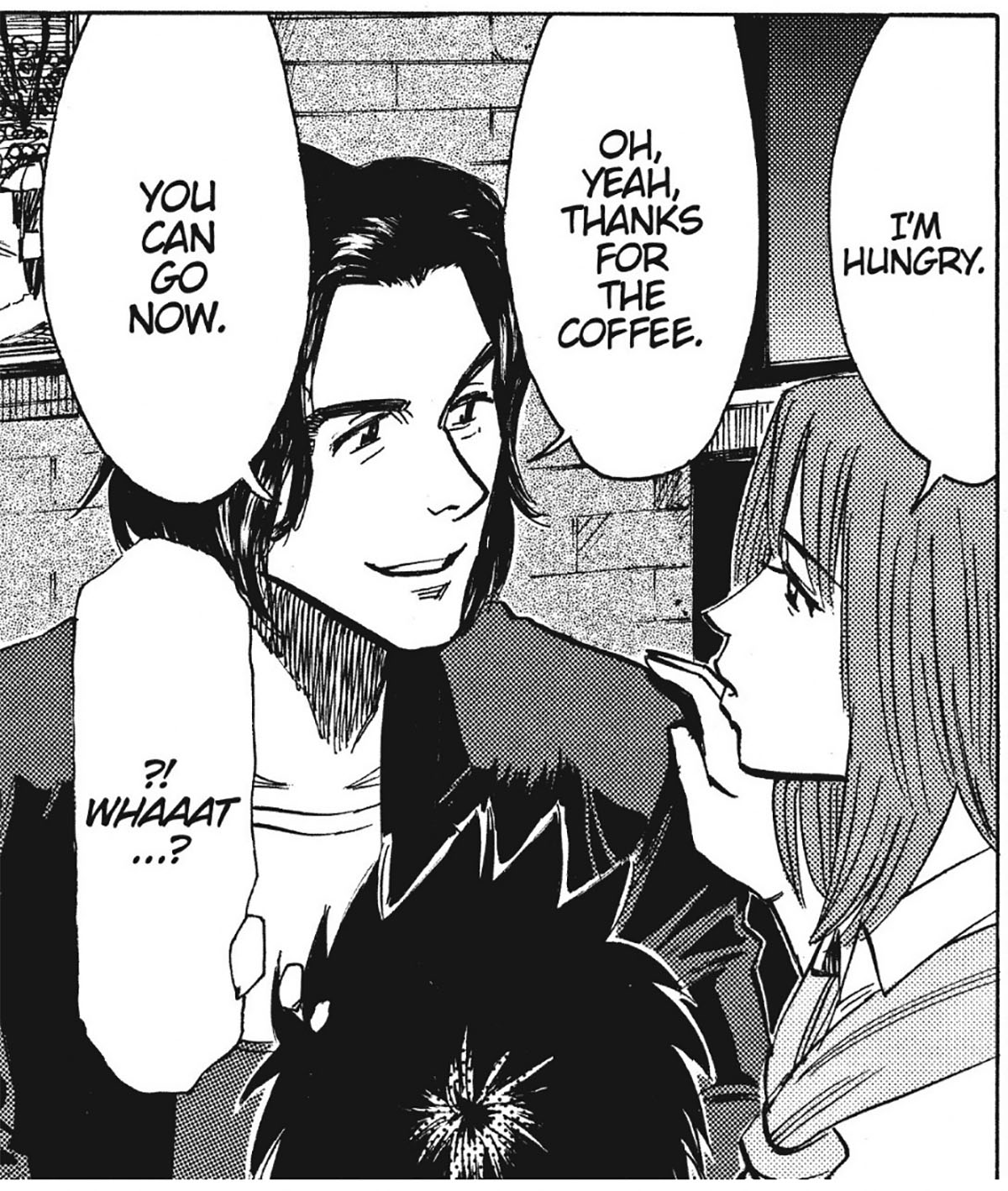 Maybe it's for the best that we got comic book Chip Zdarsky after all…!
59:30 And that's this week's episode! Stay tuned, cuz after the break we pick new books!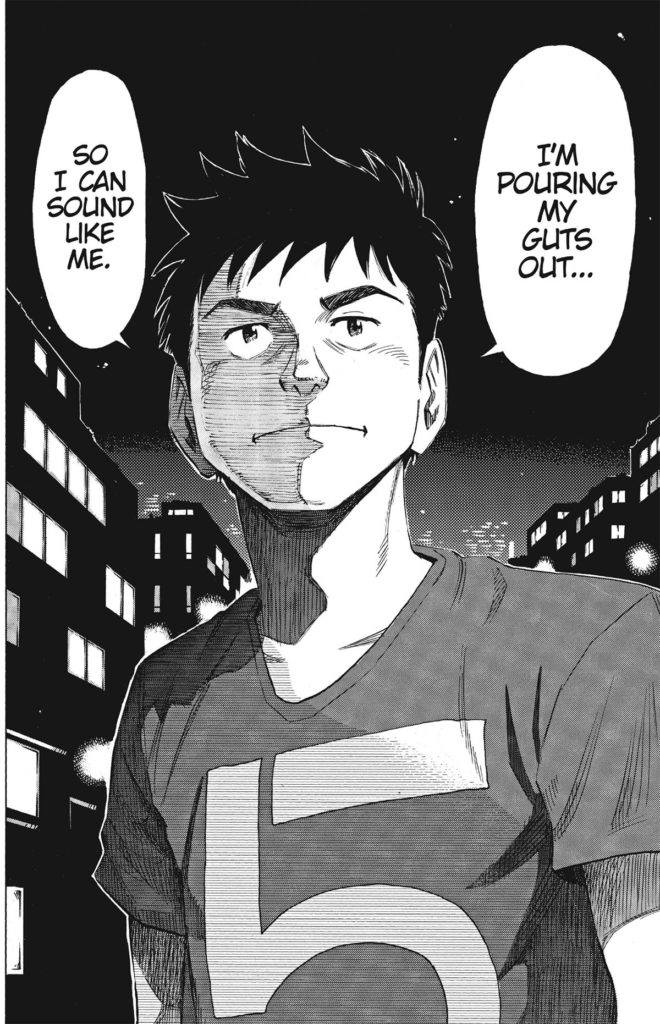 ---
1:01:30 THE BREAK!
Alright everyone, it's time to pick some new books!
Here's our next three reads for Mangasplaining, in order!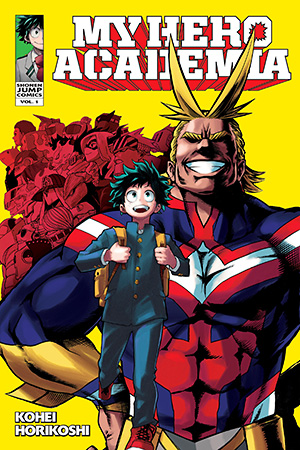 Christopher picks: My Hero Academia vol. 1, by Kohei Horikoshi, published by VIZ Media. The first 3 chapters (of 7) of this book are available to read for free on the Shonen Jump app and website, and it's available in basically every library collection in the world.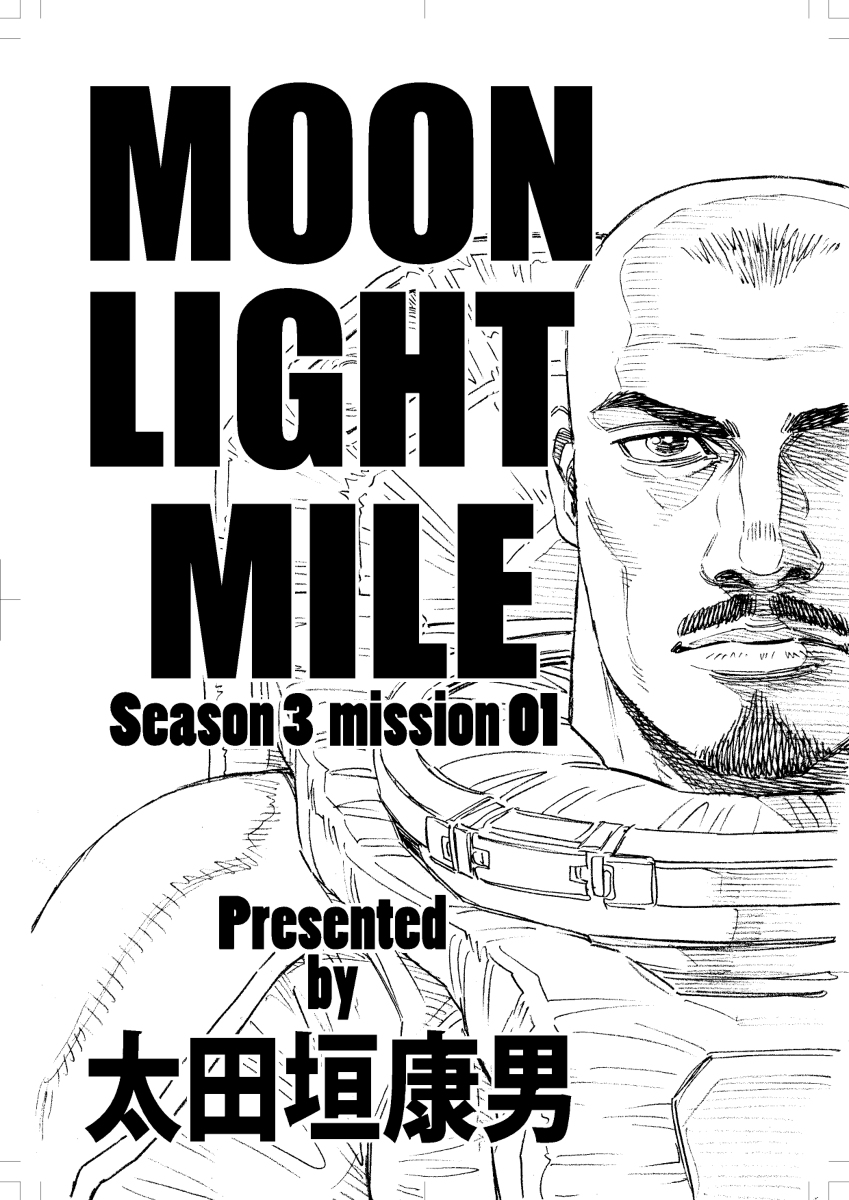 David picks: Moonlight Mile (Japanese), by Yasuo Otagaki, published on PIXIV. This series is currently being serialized by the author online in Japanese, seemingly from his roughs or genga(!). David wants us to try something a little different for his pick, and that's cool! You can read the first three chapters for free here:
Moonlight Mile, season 3, Ch. 1: https://www.pixiv.net/en/artworks/94992075
Ch 2: https://www.pixiv.net/en/artworks/96248194
Ch 3: https://www.pixiv.net/en/artworks/97297521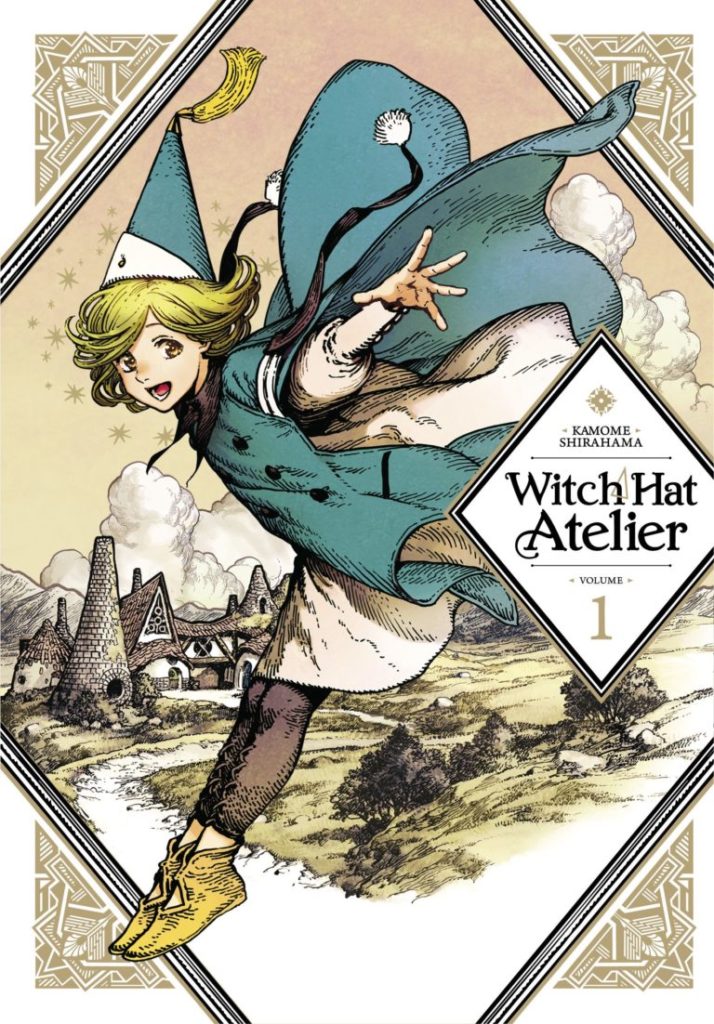 Deb picks: Witch Hat Atelier vol 1, by Kamome Shirahama, published by Kodansha. There's a full-preview of the first chapter of this book at the link, and this is ALSO one that's available in more-or-less every library in North America. Or go buy a copy! 🙂
---
As a last note here, I TOTALLY messed up, and Deb is right that Kamome Shirahama has only ever made a Doctor Strange illustration. Here it is, btw: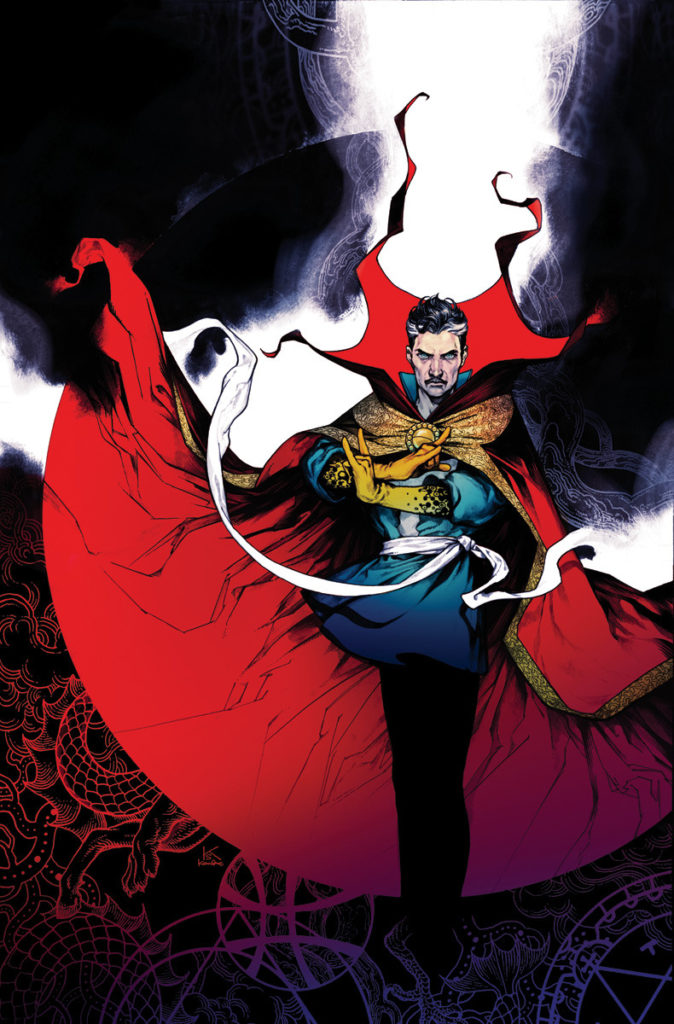 There actually was a Doctor Strange graphic novel produced exclusively for the Japanese market, but it's by a creator named Haruichi, not Shirahama-sensei. Whoops! Here's the cover: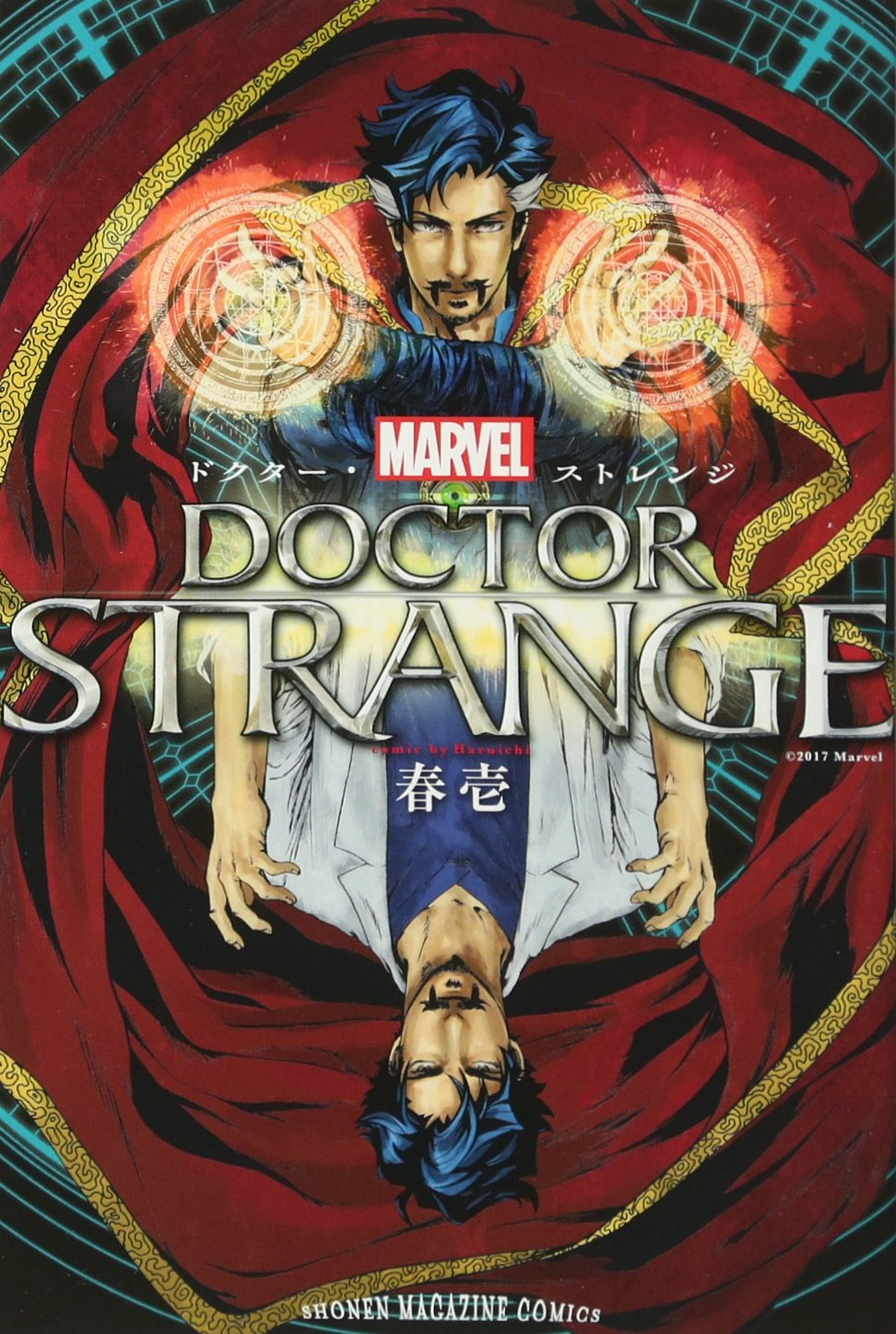 Anyway, sorry for getting that wrong! And also it's really weird that this hasn't come out in English yet, considering Marvel is printing Marvel stuff from Japan and VIZ is printing Marvel stuff from Japan. Hell, even Yen is printing Disney stuff from Japan, at this point, with their Star Wars books. Anyway, maybe the licensing is weird because this is a Kodansha title and the other Marvel stuff is Shueisha? Who knows.
Anyway, THAT's this week's episode of Mangasplaining! Thanks for not being tooo upset that we took a week off. We needed it.
Please support your local comic and manga specialty shop when purchasing these books, and you can find one near you at comicshoplocator.com. You can also check your local library for print and digital lending options, they have TONS of manga! Also, check us out at MangasplainingExtra.com, we're doing cool stuff over there, like that Kaz comic up top. Finally, thanks to D.A.D.S. for their musical accompaniment this episode.
See you again next week for Dai Dark, by Q Hayashida!