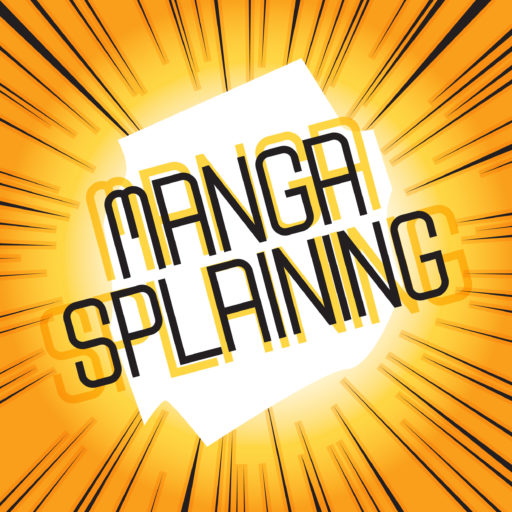 What is Mangasplaining?
Mangasplaining is a collaborative, multi-prong project, first expressed as a weekly podcast, and conceived by comics workers and friends Deb Aoki, David Brothers, Christopher Butcher, and Chip Zdarsky. It emerged from their appreciation of Japanese manga culture and the realization that some people (Chip, mostly) were avid comics readers but didn't know how to start reading manga. This is not as uncommon as you might think: though the Anglosphere boasts millions of manga fans, mainstream manga publishing caters mostly to teen readers, and it can be difficult to know where to start if you're outside of that demographic.
Luckily, some of us (Deb, David, and Chris, mostly) decided to induct our illustrious colleague Chip into the joys and pleasures of manga, one book at a time. Thus, the Mangasplaining Podcast was born! The podcast is a great way to discover classics, exciting new works and to get a broad overview of manga in all its varieties!
What kinds of manga do you cover on the podcast?
All kinds! We've talked about super-popular shonen manga, quirky indie manga, new manga and classic manga, sci-fi, comedy, horror, romance, fantasy, slice-of-life manga, cooking manga, historical manga, manga for grown-ups and manga for younger readers – and we're just getting started!
Can I make a suggestion for a manga to be featured on future episodes?
We haven't picked manga directly from listener suggestions yet, but we are interested in knowing what kind of manga people want us to read! Feel free to leave a comment here on the blog, or on our Instagram, Facebook or Twitter, or email us! We read 'em all.
---
MSX: Mangasplaining Extra Publishing
What is MSX?
MSX is a new project spinning out of the Mangasplaining Podcast, run by Christopher and Andrew Woodrow-Butcher and Debora Aoki. Our company is a digital publisher and creative services group. We license, translate, and publish manga digitally, released to readers through paid subscriptions of our Substack newsletter at mangasplaining.substack.com. We'll also be including lots of great additional material in our newsletter, including our podcast episode show notes and new original articles on manga, and that material will be free!
Why should I subscribe to the MSX Substack Newsletter?
YOU LOVE MANGA LIKE WE LOVE MANGA. As readers, booksellers and fans of the medium, we've come across so many great manga in Japanese that for one reason or another, may have been passed over for publication in English. We're going to try our best to license and publish those works, and share them with you!
Serializing books on Substack actually pays the licensors, creators, publishers, translators, and letterers who do this work. This is important!
Manga is generally serialized in Japan, but has only recently been able to be serialized in North America. Subscribing to MSX gives you a taste of that weekly manga reading experience, delivered directly to your inbox.
Digital serialization allows us to show you some fascinating, behind-the-scenes extras about the manga we're showcasing each week. We'll share some additional thoughts and ideas about the manga and their creators, highlighting some of the challenges of the publishing process, or we'll show you some cool stuff that wouldn't normally make it into collected editions of manga!
Serializing books over multiple months gives titles a 'longer shelf life.' This can help create buzz for titles or genres that might otherwise be a 'tough sell' in today's market.
Original articles about manga! We'll be commissioning original titles from great writers about the manga you love, the manga we publish, and new and different titles for you to check out.
Think of MSX like a weekly manga magazine for people who love manga. 🙂
Will the manga serialized on the Mangasplaining substack be published as print editions? Will they get traditional ebook releases? Will they be on Substack forever?
Some of them will! Some of our manga titles are licensed in conjunction with established N. American manga publishers, so print and ebook editions will be released through those publishers. Our current publishing partners are UDON Entertainment (titles forthcoming) and Fantagraphics Books (Okinawa, by Susumu Higa), with more to come. Other titles will be digital-releases only available through the MSX Substack, like These Days (Higoro one-shot), by Taiyo Matsumoto.
As for how long they'll be available, titles will be in the MSX Substack archives for up to a year after date of publication, owing to how these books are being licensed. At that time, they'll disappear and be replaced with official print and/or ebook editions. Just like magazine serializations, it'll be possible to keep the magazine chapters if you want to, but they're a step on the road to final publication.
We'll be as clear as we can when we announce new series what formats they will be available in, and for how long.
How do you pick the manga you're publishing on Substack? Is there a theme or connecting thread to all the books you've selected?
With sales of print and digital manga titles at an all-time high now, we're literally in a golden age of English-language manga publishing right now, with more types of works, more genres, and more creators represented than ever before. And yet, what's out there now in English is still only a fraction of what's available in Japan! With MSX, we have an opportunity for a new sort of publishing paradigm, to showcase unique titles explaining Japanese history and culture, and manga that helps readers gain a deeper appreciation of manga as an artistic, storytelling medium and the manga publishing industry itself! We want to publish manga that, well Manga-splains.
Whether it's about Japanese and Ryukyu history in Okinawa, or manga publishing and creation in These Days, or Japanese cuisine, we want to publish manga that's informative and interesting, but also really good reads!
Can I recommend manga that I think you should publish?
Sure. We can't promise anything, but we're always happy to hear suggestions. I'm sure we'll set up some sort of Google Form to collect your suggestions, but in the meantime, feel free to email us, link below.
Like any N. American manga publisher, we have some general guidelines for titles that we'll most likely consider for licensing:
We're looking for short series (1-2 volumes) and one-shot manga, especially doujinshi (independent or self-published) manga where we can work directly with creators.
We want manga that's unique, informative, and maybe even enlightening, in addition to being entertaining.
We're also happy to expand our roster of print publishing partners! If you're a print publisher of any size that wants to talk about working together, feel free to reach out!
So I noticed that two of the four Mangasplaining podcasters, just Deb and Christopher are involved in this, what about David and Chip? What will happen to the podcast?!
David Brothers' day job is working as a manga editor VIZ Media, and there'd be a pretty clear conflict of interest there if he was also working on the publishing side of this endeavour. We set up a separate company and a firewall to make sure nothing we're doing with MSX interferes with his work at VIZ, and vice versa.
Chip, he's… a little busy writing four comic books a week. If we're lucky, he might have time to read the books we're publishing. We might make him read them on a special episode of Mangasplaining or something.
As for the podcast, this won't, or rather shouldn't, affect it at all. We can't see the future, but we're all still having a pretty darned good time making the podcast every week, and it should continue for the foreseeable future. We've navigated conflicts of interest on the podcast many times before, and this should be pretty clear too.
We appreciate everyone who listens every week, and we hope that MSX becomes a nice little bonus that enhances your Mangasplaining experience!
I've still got questions…
Sure, drop us an email at mangasplaining@gmail.com. We'll do our best to answer.