Ep. 93 – Bleach Volume by Tite Kubo (Vol. 1 & 55)

One of the 'big three' from the most recent "Golden Age" of Weekly Shonen Jump Magazine, Bleach by Tite Kubo has been a longtime favorite with North American manga fans… But how will it hold up 20 years after its debut, and after the Mangasplaining crew have read many other (and several more recently released) shonen manga series? Also, we look at the differences between volume 1 and volume 55 of Bleach, the volume that marks the start of the story arc depicted in the recently released Bleach: The Thousand Year Blood War anime? But maybe most importantly of all — Does Chip like it too? Listen in and we'll find out!
Powered by RedCircle
Listen and Subscribe to the Podcast:
Google | Apple | Stitcher | RedCircle | Amazon | Radio Public | PocketCast | Spotify
IN THIS EPISODE
00:30 Bleach vol. 1 and vol 55
36:00 SPOILERS for the ending of Bleach
45:00:  End of SPOILERS, so you can resume listening at this point.
51:49 THE BREAK!
52:00 SHOUT-OUTS! Newsletters! Movies! Jazz! TV shows! And more comics! Something for almost everyone!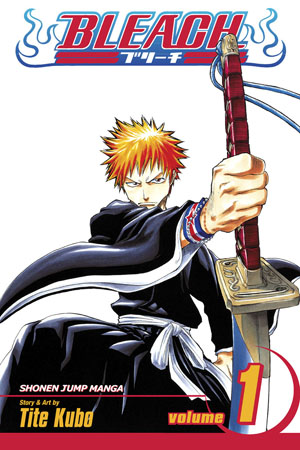 BLEACH Volume 1
By Tite Kubo
Translated by Joe Yamazaki.
English Adaptation: Lance Caselman
Touch-up & Lettering: Andy Ristaino
Cover, Graphics, & Design: Sean Lee
Editor: Kit Fox
BLEACH Volume 55
By Tite Kubo
Translated by Joe Yamazaki
Touch-up & Lettering: Mark McMurray
Design: Kam Li
Editor: Alexis Kirsch
Available in print and digital from VIZ Media 
Audio editing by David Brothers. Show notes by Christopher Woodrow-Butcher and Deb Aoki.
BEFORE WE GET STARTED
We use a lot of short-hand in this episode to refer to manga titles, and I do the same in the show notes. I hate mentioning a title without also mentioning its creator as often as possible. I think it's actually a pretty big problem in our field, but rather than make these notes even MORE long and unwieldy (or in case I just forgot), I'll just put the credits up here at the front. Here are the titles we mention this episode, and their creators:
Bleach by Tite Kubo (Shonen Jump/VIZ Media)
Gin Tama by Hideaki Sorachi (Shonen Jump / VIZ Media)
Haikyu!! by Haruichi Furudate (Shonen Jump / VIZ Media)
Kekkaishi by Yellow Tanabe (Shonen Sunday / VIZ Media)
My Hero Academia by Kohei Horikoshi (Shonen Jump / VIZ Media)
Naruto by Masashi Kishimoto (Shonen Jump / VIZ Media)
One Piece by Echiro Oda (Shonen Jump / VIZ Media)
RIN-NE by Rumiko Takahashi (Shonen Sunday / VIZ Media)
Shaman King by Hiroyuki Takei (currently published by Kodansha)
Soul Eater by Atsushi Ohkubo (Yen Press, plus hardcover "perfect edition" published by Square Enix)
Yu Yu Hakusho by Yoshihiro Togashi (Shonen Jump / VIZ Media)
As you can see, most of these are Shonen Jump titles, with a smattering of Shonen Sunday plus a Square Enix series (Soul Eater). Okay, now that THAT's out of the way… let's get back to Bleach!
---
ABOUT TITE KUBO & BLEACH
Tite Kubo (pronounced Tie-toh Ku-boh) was born in Fuchuu in Hiroshima Prefecture, Japan, on June 26th, 1977. He made his profession debut in Shonen Jump in 1996 with the one-shot "Ultra Unholy Hearted Machine". His first serialized series was ZOMBIEPOWDER, which was published in Weekly Shonen Jump in 1999 and ran for four volumes before ending in 2000. We actually did get an English translation of ZOMBIEPOWDER. from VIZ, and it also includes several of his one-shots from that era! It's also available to read as part of VIZ's Shonen Jump subscription.
With his next serialized series, Kubo-sensei hit paydirt with Bleach. It began in 2001 and ran until 2016. The series became a sensation in both Japan and North America, and was one of the most popular series in WSJ for much of its run… until it "fell off" as the kids say. (We'll get into that in a bit).

The entire Bleach series spanned a whopping 74 volumes, got a pretty solid 8-year run as an anime series, in addition to 4 animated feature-length movies and a live action movie. All this, plus video games, light novels, a ton of merch, and so much more. There was a period in the late 2000s-early 2010s when Bleach cosplayers were EVERYWHERE at anime conventions.
Interestingly (and David didn't mention it directly), but in this episode, we read Volumes 1 and 55, with Volume 55 being the first volume that kicks off the 20-volume final arc of Bleach. A new anime series just started called Bleach: The Thousand Year Blood War, which adapts this part of the story, which makes this a current pick again? Anyway, we're starting exactly where "new-to-Bleach" anime fans might be starting with this series. I wonder if that anime has been adjusted to be a little bit more new-viewer friendly than the manga was? Ah, but I'm getting ahead of myself.
It's worth noting that VIZ Media just released a 20th Anniversary reprint of Bleach Volume 1, which features a new cover.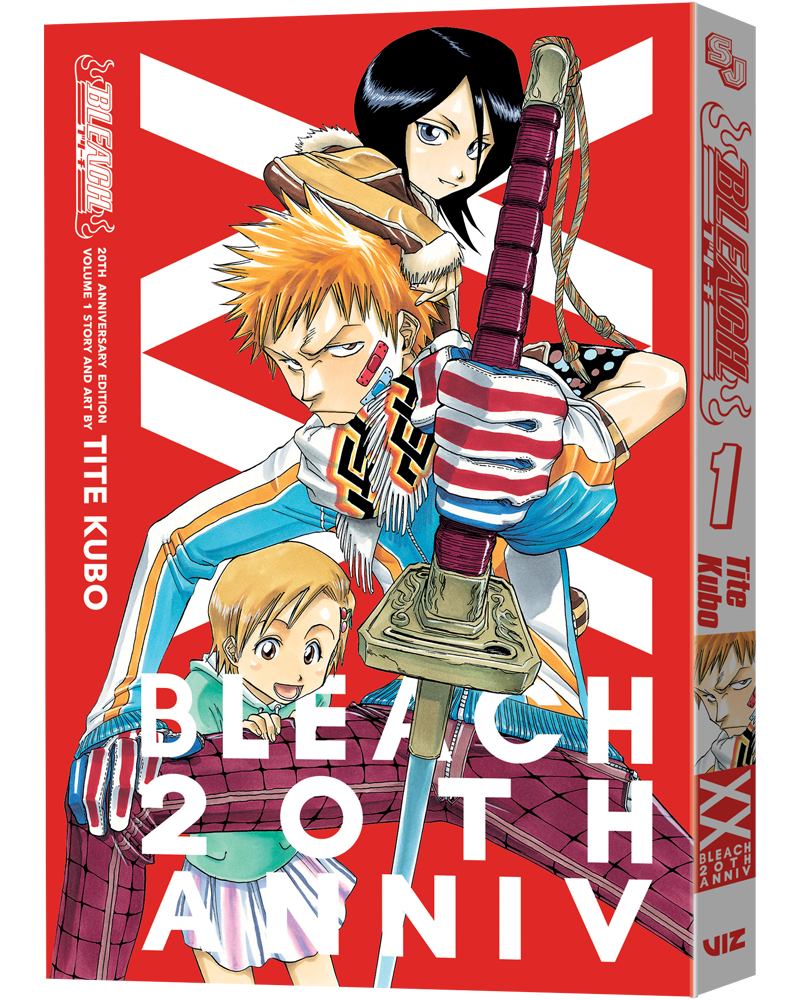 So it'll be easy to find this one in stores if you want to read along with us! To commemorate the Anniversary, VIZ also also ran this interview between Kubo-sensei, and the character's Japanese voice actor Masakazu Morita.
On with the show!
---
1:07 As I'm listening to this again, I'm realizing that this might have seemed a bit weird/abrupt on the podcast. So to remedy that, here's a quick breakdown of the backstory of the English print edition of Shonen Jump magazine, the precursor to the current digital-only offering that VIZ now has online.
Weekly Shonen Jump is a Japanese weekly manga magazine published by Shueisha. The English version of Shonen Jump magazine debuted in 2002, but VIZ had already been publishing several Shueisha titles, including the 'big hit' (at the time) Shonen Jump title Dragonball/Dragonball Z. Back then, VIZ would publish single issues for the comic shop market and collect multiple chapters in 200-ish page trade paperbacks.
VIZ Manga, both floppy single issues and graphic novels, sold fairly well, but it's worth noting that at this point in time, Tokyopop was basically eating VIZ's lunch by releasing its books direct to trade paperback without monthly serialization AND releasing the books in a smaller size (what we now think of as "manga size" in North America) AND pricing them far, far cheaper at $9.99 a volume, compared to VIZ's trade paperbacks, which had cover prices ranging between $12.99 (on the low end) to $19.99 (on the high end). Tokyopop also had some pretty popular 'cutting edge' manga series too, while VIZ's line (at the time) seemed a bit more "traditional-looking" and aimed a slightly older readership.
So it's into this market environment, where VIZ (who was then, and still is the market leader for manga publishing in N. America) found themselves rapidly losing ground to Tokyopop, and other competitors, partners with Shueisha to bring Shonen Jump to North America.
VIZ launched the Shonen Jump (no 'Weekly' because it was a monthly magazine) with over 300 pages of manga per issue for just $5, give or take. They actually launched with a free #0 issue (released a few weeks before #1 in November, 2002), that previewed the first 7 series that they would be including in serialization: Dragon Ball Z, Sand Land, Yu-Gi-Oh!, YuYu Hakusho, and One Piece, which would be the series that would start in issue #1, as well as short previews of titles Naruto (starting from issue 2) and Shaman King (starting from issue 3). The #0 issue had over a hundred thousand copies distributed across North America. There were TV commercials advertising picking it up, and it led to three printings of issue #1, which totaled more than 300,000 copies sold in North America. And the trade paperbacks? Downsized to the Tokyopop size, and then priced at $7.99, they were two bucks cheaper than Tokyopop (shots fired!). Needless to say, those sold very well.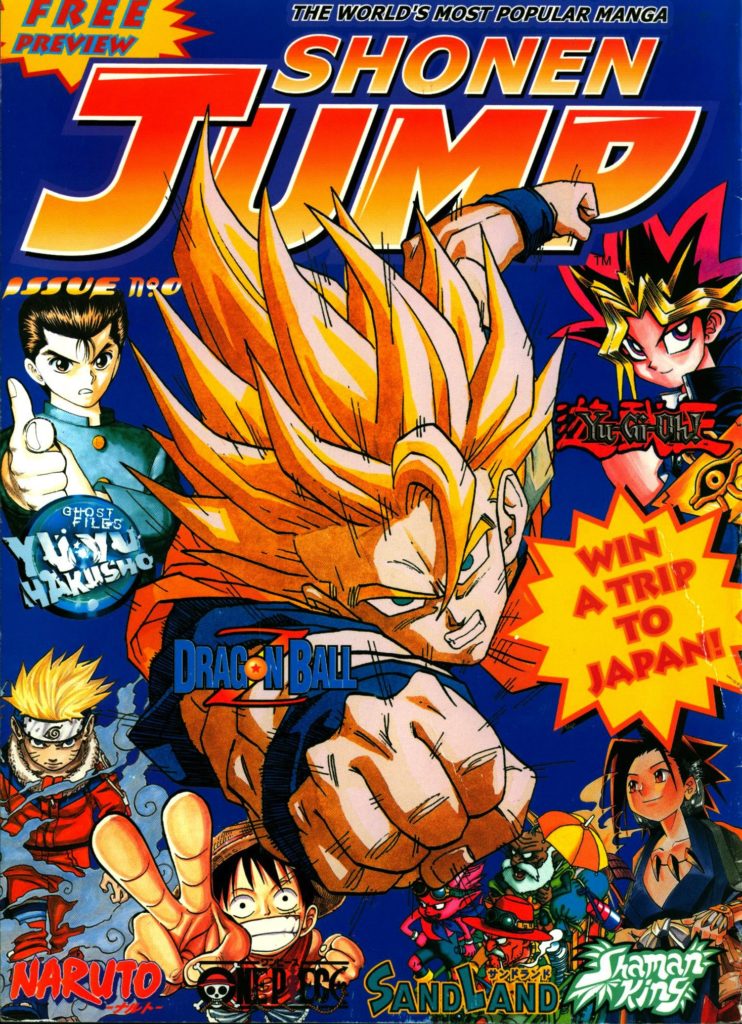 Alongside the release of Shonen Jump, VIZ also reformatted their entire line of manga. No exaggeration. Any ongoing series or anything VIZ wanted to keep in print moved from its existing format, the larger ~$16.95 size 5.75″ x 8.25″, to a $9.99 "Tokyopop" around 5×7.5″. Series that had been serialized for a decade had their floppy issues cancelled, their existing formats ended, and started publishing in a new size and price point. Comics retailers were furious by the way, because they felt their purchase stock of manga had been devalued to nothing overnight, but man, did that new stuff sell. Until the crash in 2011-2012.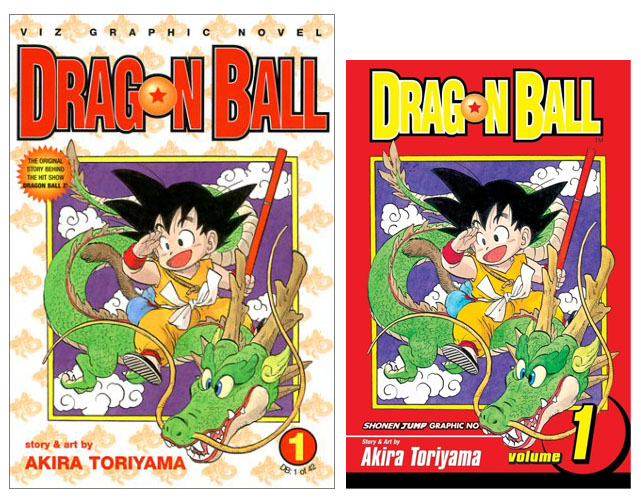 Over its run, VIZ Media's Shonen Jump Magazine would serialize 14 manga series, plus dozens of 'previews' for titles that would be released straight-to-trade paperback.
Today's pick, Tite Kubo's Bleach, actually debuted as a straight-to-trade paperback in July 2004, and wasn't added to the monthly magazine until November 2007. Thereafter, it was featured in the monthly magazine for the rest of its run as a print magazine, until 2012.
As part of the transition from print to digital-only magazine, a one-shot print issue, Weekly Shonen Jump Alpha was published, which featured the series that would continue as digital serializations, on a weekly schedule. This move would help VIZ catch up with the latest chapters released in Japan, and is now the Shonen Jump app / all-you-can-read monthly subscription deal that it is today. If you want to binge-read Bleach in English, this is one of the best ways to do it. Visit VIZ Media's Shonen Jump subscription page to get started.
Anyway, during its heyday as a print magazine, Shonen Jump Magazine was a big deal. It was maybe the first manga in North America to get television advertising! It was available in comic book stores and book stores, AND in magazine racks everywhere, including mass-market chain stores like Wal-Mart and convenience stores in small towns. In my mind, Shonen Jump releasing as wide as it did for as long as it did is as great a contributor to manga's current success as the anime getting on cable/network TV and online streaming (thanks to the pirates at Crunchyroll going legit).
Thanks to the Shonen Jump magazine, many people across N. America discovered manga for the first time. Even people who were previously only superhero comics readers (like David) were able to try manga in an accessible and inexpensive way and get hooked! Oh yeah, it also finally properly introduced the bestselling manga brand in Japan to English language readers.
02:13 We'll get to that "The Big 3" comment in a second, but I will say that Bleach started serialization in Japan in 2001, while Naruto debuted in 1999, and One Piece started in 1997. As the series that started first, One Piece is the sempai (senior / older brother) of that generation of Shonen Jump manga for sure. One Piece and Naruto would make their English-language debuts in 2002/2003, with Bleach joining the bunch a year and a half later.
David then references two other comics anthology magazines he was reading when he first encountered Shonen Jump: Marvel Comics' Marvel Comics Presents and Fleetway (now Rebellion)'s 2000AD.
2000AD, the venerable British comics anthology magazine, is similar in several ways to Weekly Shonen Jump in Japan. It's a weekly, mostly-black-and-white magazine with shorts and serials that would run about 8 pages at a time, and it's still going strong, with over 2300 weekly issues printed since it first hit newstands in the UK in 1975. It's where Judge Dredd was first introduced to readers, alongside many other notable UK comics series.
Marvel Comics Presents was a biweekly (twice per month) full-color comic book anthology series that ran from from 1988-1995. It would run one-off short stories featuring Marvel superheroes, plus short stories featuring characters from the Marvel Universe that didn't have their own standalone comics series. Those stories were usually about 8 pages each, which seems patterned pretty directly after 2000AD, I think. MCP ran for 175 issues in its first incarnation, 12 monthly issues in its second go-round, from 2007-2008, and 9 monthly issues in its 3rd version in 2019.  
5:00 So the original "big 3" in Shonen Jump magazine were Naruto, One Piece,  and Shaman King, and these three series were firmly at the top of the reader popularity charts for 4 years or so. Both Dragonball Z and Yu Gi Oh, which also ran in the magazine then were probably more popular in N. America, but it's worth noting that were both kind of their own thing with different fandoms.
By the time it was featured in VIZ's Shonen Jump magazine, DBZ had been running for awhile. It also had a long-running hit anime series, so its fan demographic skewed a bit older. Meanwhile, Yu-Gi-Oh's popularity was largely thanks to its anime series. and its trading card game. Therefore, its reader demographic skewed a bit little younger. What Naruto, One Piece, and Shaman King all had in common was that they were all adventure series that sort of began at the same time, and they featured protagonists who started out as boys in their early teens.
In 2007, Shaman King would leave the pages of the monthly Shonen Jump magazine and was thereafter released as straight-to-trade paperback editions. The slot that was vacated by Shamana King was then taken up by the then-most-recent installment of Bleach.
After 2007 is generally considered the dawn of that particular "golden age" of Jump in N. America (and the start of that particular era's Golden Age of Jump in Japan), as the manga and anime for Naruto, One Piece, and Bleach became massive hits. The manga sales skyrocketed. But at the time, the latest English chapters released by VIZ were many, many months behind the Japanese releases, which also lead to another notable era in manga history here: the rise of online manga piracy and scanlations. Because these unauthorized translations of the latest chapters of Shonen Jump manga were available online almost the same time as it hit newsstands in Japan, the fandoms in North America and Japan synced up — meaning fans in Japan and worldwide were reading and talking about what was happening in the latest chapters of these popular manga series. It was a pretty wild time, and Deb references that time period in this episode.
8:45 We should probably mention what BLEACH is all about, huh. Here's how VIZ describes it:
Ichigo Kurosaki has always been able to see ghosts, but this ability doesn't change his life nearly as much as his close encounter with Rukia Kuchiki, a Soul Reaper and member of the mysterious Soul Society. While fighting a Hollow, an evil spirit that preys on humans who display psychic energy, Rukia attempts to lend Ichigo some of her powers so that he can save his family; but much to her surprise, Ichigo absorbs every last drop of her energy. Now a full-fledged Soul Reaper himself, Ichigo quickly learns that the world he inhabits is one full of dangerous spirits and, along with Rukia—who is slowly regaining her powers—it's Ichigo's job to protect the innocent from Hollows and help the spirits themselves find peace.

VIZ Media
09:45 Yeah, I mixed up Kekkaishi and GinTama. I really, really messed those up. Sorry.
In my defense, these are two different shonen comedy-adventure series' featuring dudes with katana that launched around the same time in my mind. For fun, let's go check and see how unreliable my memory is.
[DEB:] Okay, I have to interject here. From his description, I don't think Chris has read Kekkaishi… but it is VERY different in story and tone than the incredibly funny, aliens land in late Edo-Period Japan and mess around with the Shinsengumi hijinks of Gin Tama. Kekkaishi on the other hand, is an adventure story that has its funny moments, but it's mostly a supernatural adventure story about some not-so-everyday high school kids who battle demons and ghosts by creating mystical barriers. It's a very fun series to read, has excellent art, and compared to say… Demon Slayer (which is chock full of demon beheadings), Kekkaishi is maybe a little less violent, and can be a good pick for tween readers.
ALSO! Gin Tama is ran in Shonen Jump, while Kekkaishi was featured in rival shonen manga magazine, Shonen Sunday.
Maybe it's simpler if I just show you some anime trailers from Kekkaishi (available on Crunchyroll and on Blu-Ray from Discotek) and Gin Tama side by side, and you'll kind of see what I mean:
As for the controversy I referenced, Gin Tama is a long-running manga series that VIZ published for a while, but stopped at volume 23 (of 77 volumes).
What happened? Well, despite being serialized in VIZ's Shonen Jump Magazine, Gin Tama didn't find its audience to the same degree that the other series we've mentioned did. 2012 was also when one of the worst "manga busts" happened, largely due to the US Recession, and subsequent closure of the Borders bookstore chain when it went bankrupt. Gin Tama getting pulled from regular serialization was likely due to cost-cutting measures at VIZ, but I have no special insight into what happened then. To this day, the remaining chapters/volumes of the Gin Tama manga haven't been released in English (not even in the Shonen Jump collection of digital manga included with the subscription). For a certain group of manga readers, this is a huge sore spot.
[DEB:] Kekkaishi is a lot of fun and IS complete as 33 single volumes or digital volumes or as 3-in-1 omnibus editions. It's also available in digital format too via ComiXology/Kindle. It is, however NOT available as part of the Shonen Jump subscription because, well, it's not a Shonen Jump series. ANYWAY.
11:25 Back to Bleach! In Volume 55, the characters randomly slip into different languages, sort of like when Chris Claremont's X-MEN characters, Colossus slips in a Russian phrase or two, or Nightcrawler adds in a German interjection here and there. David makes a direct comparison to the X-Men in the next segment, and throughout the rest of the episode…!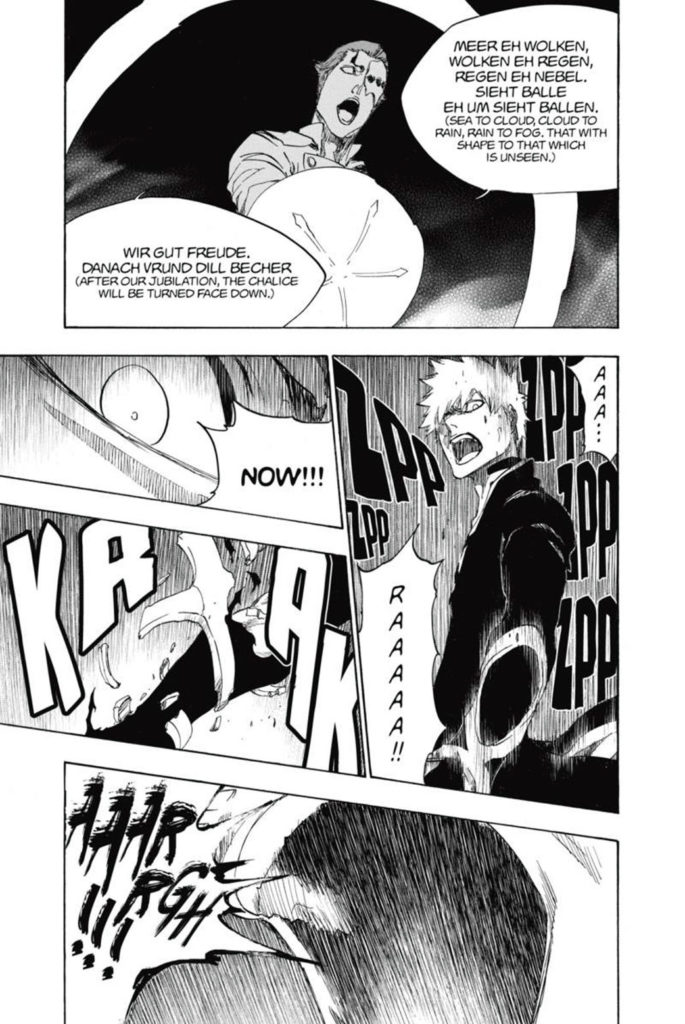 13:59 The imaginary romantic/athletic interlude from Orihime is one of the funniest/best parts of Bleach volume 1.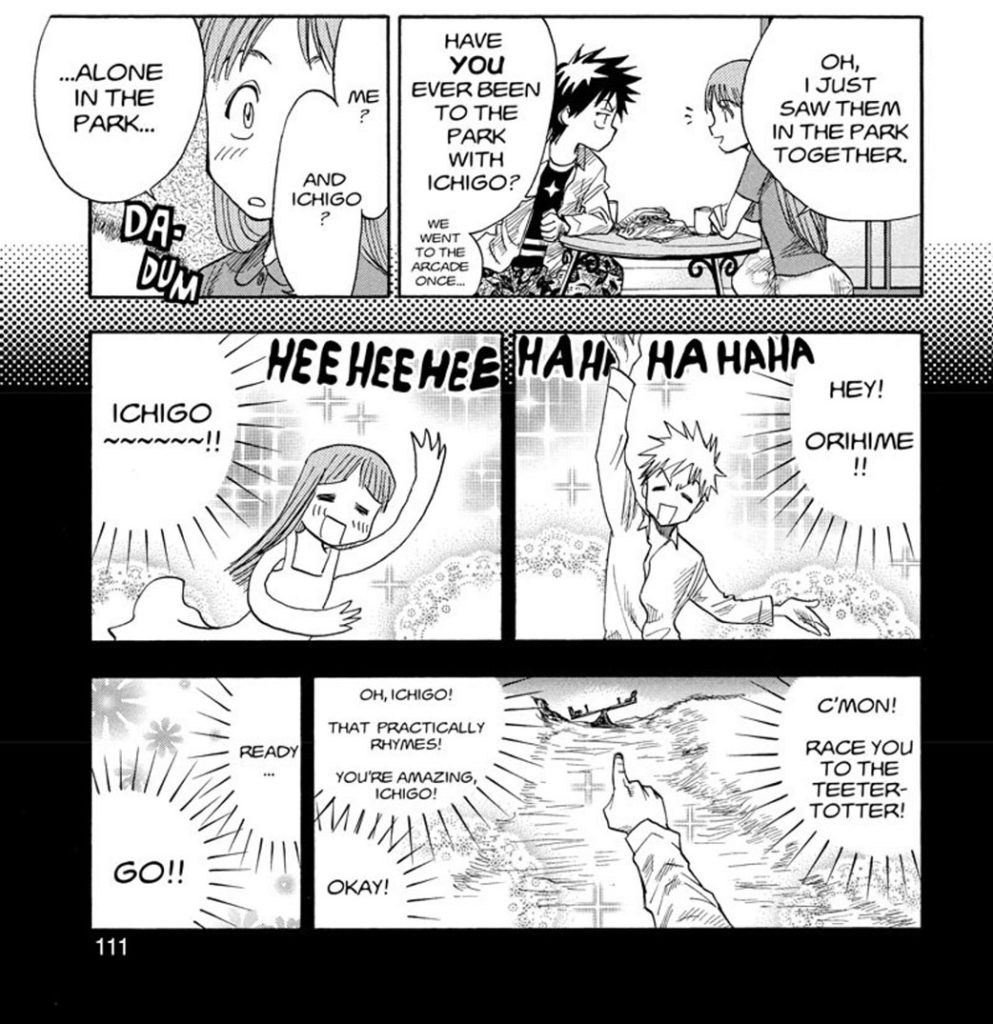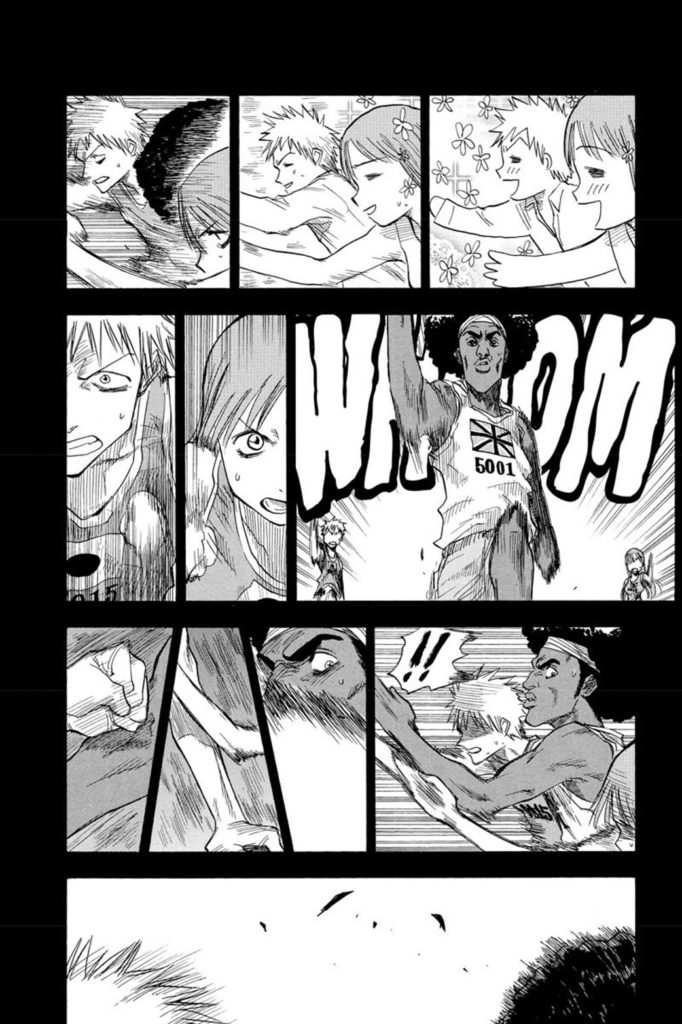 17:20 Chip's referring to our episode on My Hero Academia, where we jumped ahead from volume 1 to the then-most-recent chapter, to see how much the art had evolved and improved. You can listen to that episode here:
You can see a quick comparison in the splash pages for Bleach volume 1 and volume 55 to see evolution of Kubo's art style over several years.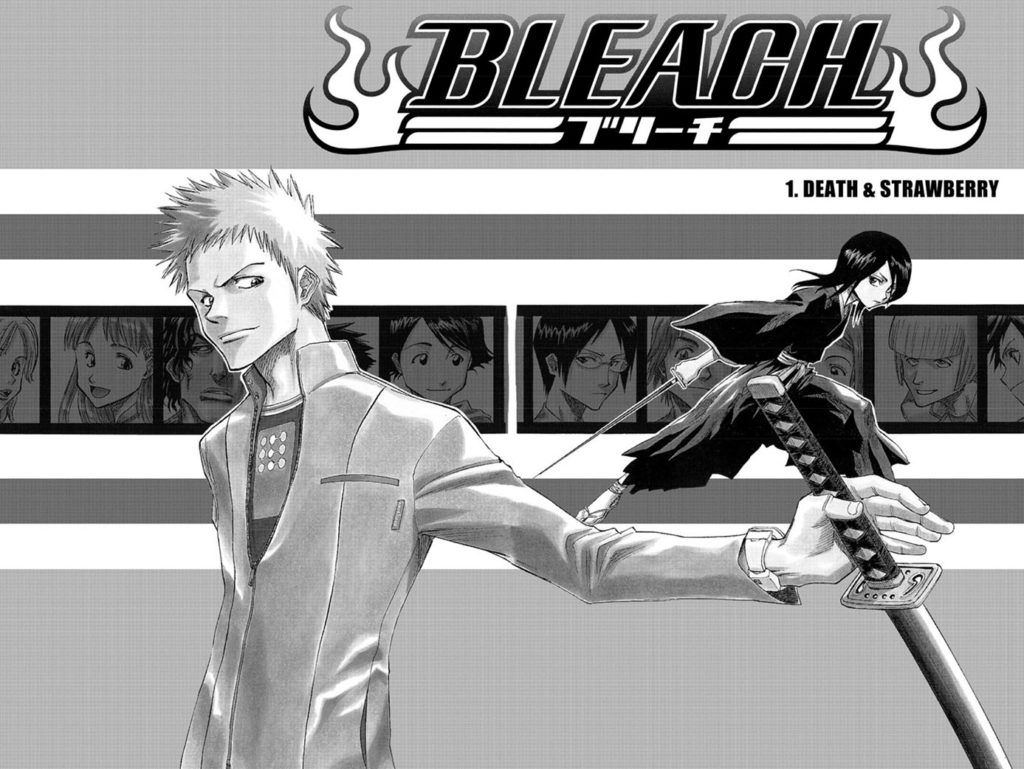 18:10 The language in Bleach volume 55 really is completely insane if you haven't read the previous 54 volumes. "Blah blah blah … correct the konpaku equilibrium." (say what?)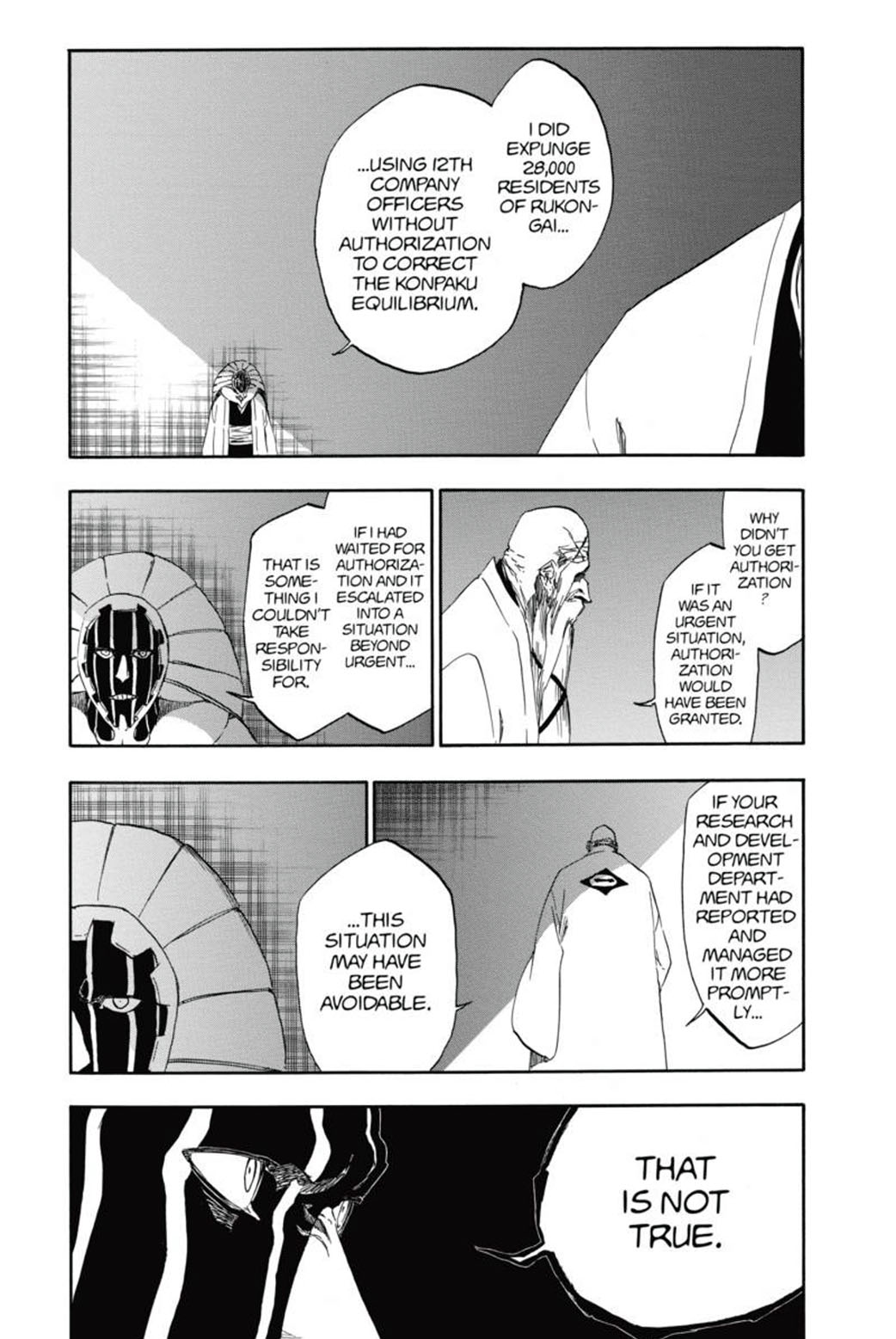 19:02 So in Bleach, our lead character Ichigo actually becomes a "Shinigami," or a "Soul Reaper." This is similar to the western concept of The Grim Reaper, in that it's basically the Japanese version of a God of Death.
There were… a lot… of manga about this concept at around this time. First off, there's the manga called Soul Eater by Atsushi Okubo, which is about teens in a high school killing bad people to make a weapon for the school's "shinigami" headmaster.
Then there's Rumiko Takahashi's RIN-NE, which is also about a "shinigami." Maybe the most famous "shinigami" manga overall is Death Note, which features the invisible-to-almost-everyone Death God Ryuk, who drops his notebook into the hands of a sociopathic teenager named Light, who figures out that writing the name of a person in the notebook basically kills them.
David goes a little further back in his shinigami references to the 1990 Weekly Shonen Jump series Yu Yu Hakusho by Yoshihiro Togashi. It features a bunch of ruffians(!) who are maybe spirits who solve problems related to the underworld, including a female shinigami character named Botan. Yu Yu Hakusho was released in English by VIZ Media, as is Togashi's follow-up series, Hunter X Hunter. 
23:00 Bleach cosplay was HUGE at anime conventions. As I mentioned, Kubo designed a really easy-to-make/relatively comfortable to wear outfits for his characters, which is part of its appeal for fans who want to dress up at a con.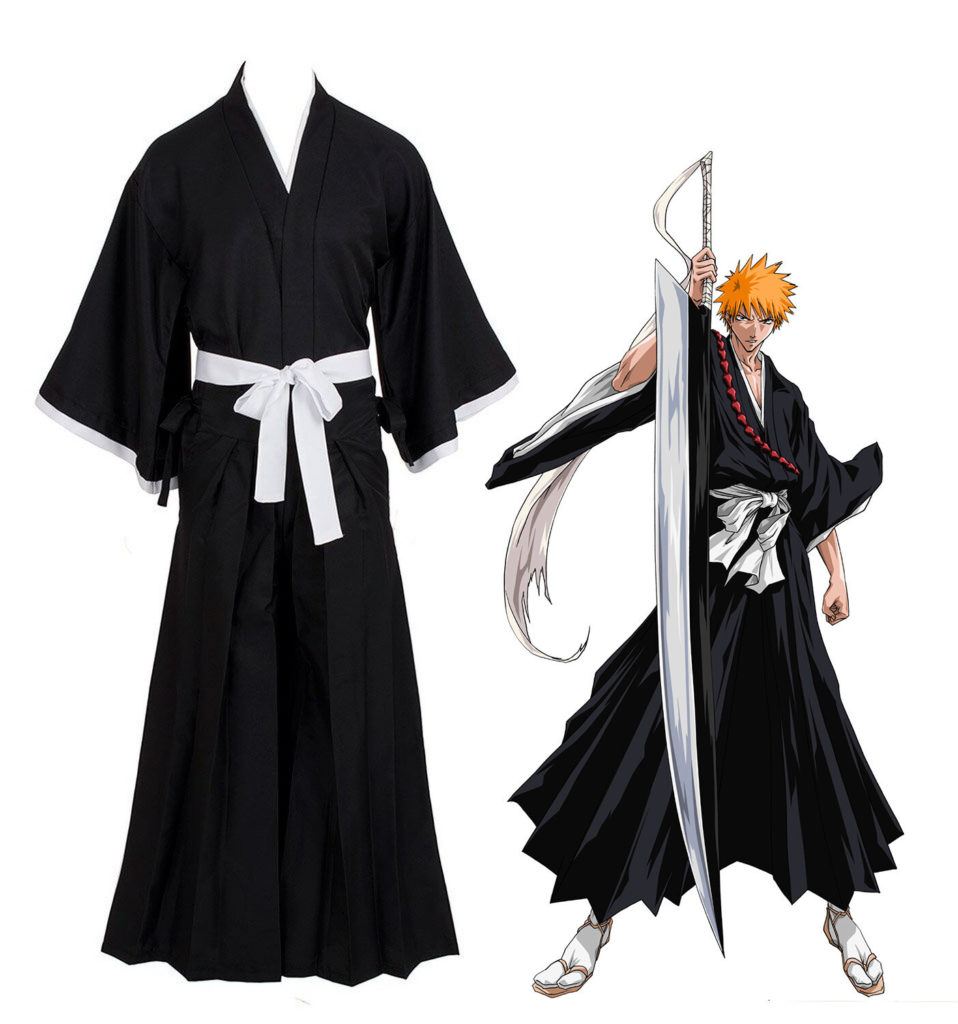 24:05 While Chad, Ichigo and Uryu have gone through a lot as friends and enemies between vol. 1 and 54, we see here that they've become close friends.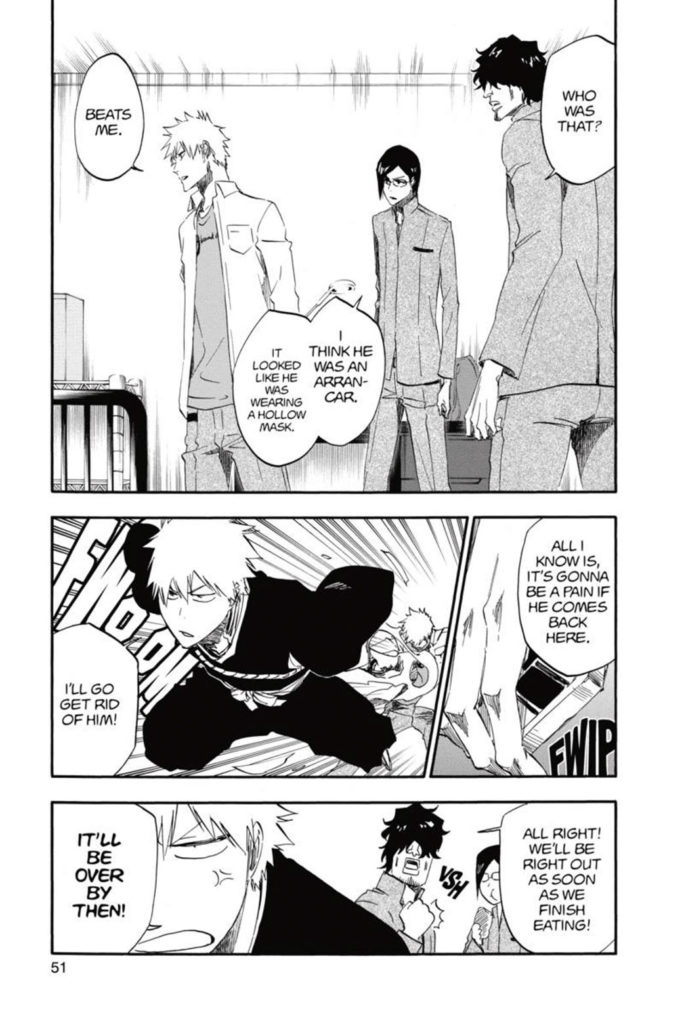 25:45 Haikyuu!!, by Haruichi Furudate, is a Shonen Jump manga about Shonen Jump things like friendship, effort and victory, it's also about volleyball.
[DEB:] Haikyu!! is on my short list of series to put in front of Chip, but we'll see when that'll happen!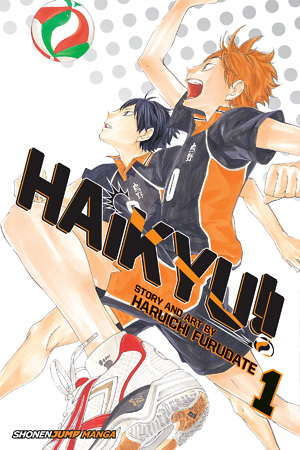 27:30 Here's the sequence I'm talking about. I'm still kind of having a hard time following it.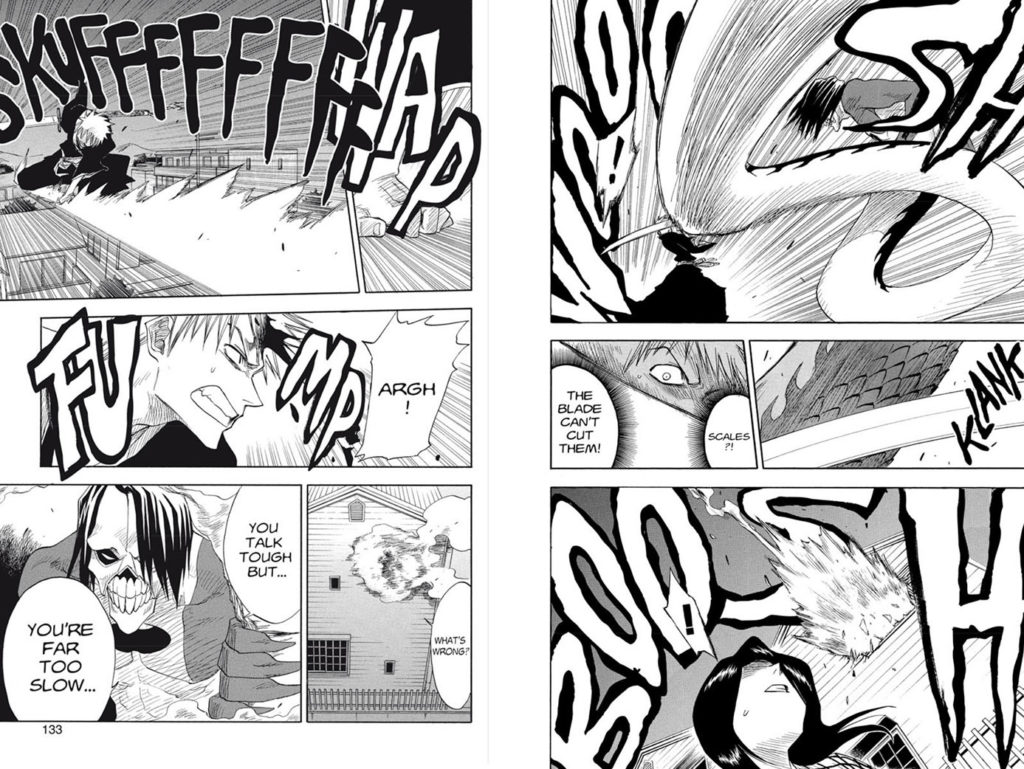 29:35 Chip mentions that he likes the top of page 135, where the tentacle hits Ichigo. It's a fun angle, and the impact is striking. But honestly, I did not put together that he was getting hit by a tentacle there. Now that it's been described, I can see it, but it's a bit weird.
Then I mention what happened on the previous page (Page 134) and the acid-effect. When you compare the clear storytelling on that page versus what happens the page after, which kind of didn't make any sense to me at all, well… yeah. I think it's confusing. Go look and see what you think.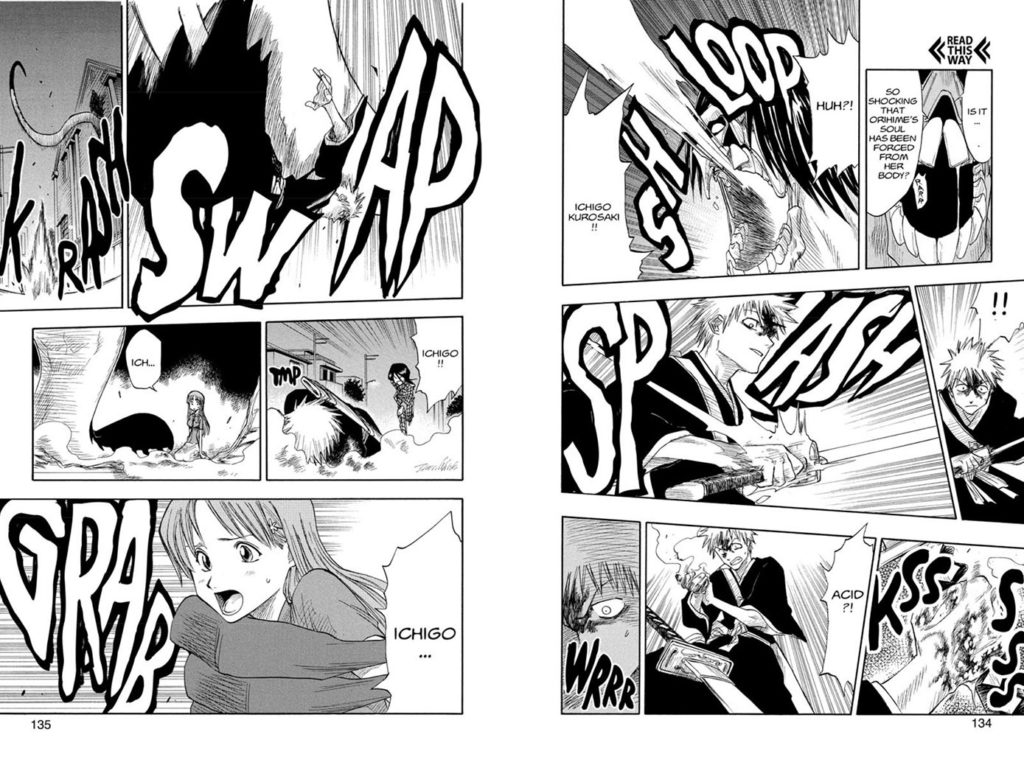 I like this page of Rukiya is hiding in the futon closet on page 99. This quiet moment is followed by the 'chaos' on subsequent pages, and it's a bit easier to read, but still has room for improvement, as far as its visual storytelling goes. Well, to be fair, it IS a first chapter of a new series for a manga creator who's still relatively early in his career.
33:19 Chip likes the Teddy Bear and claw on page 115.
34:50 I get why that one works, though I will say the image of Orihime hugging her demon brother, and then the sequence that Chip mentions as being 'almost too adult' for this series, are very good.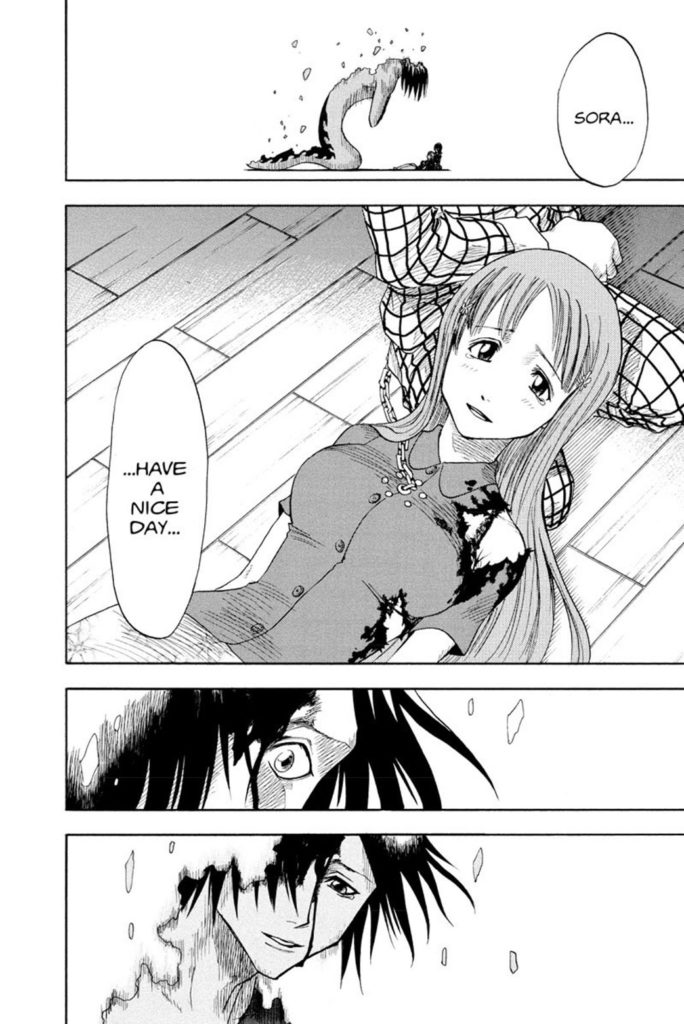 35:08 Bleach 55 ichigo's introduction is Cool.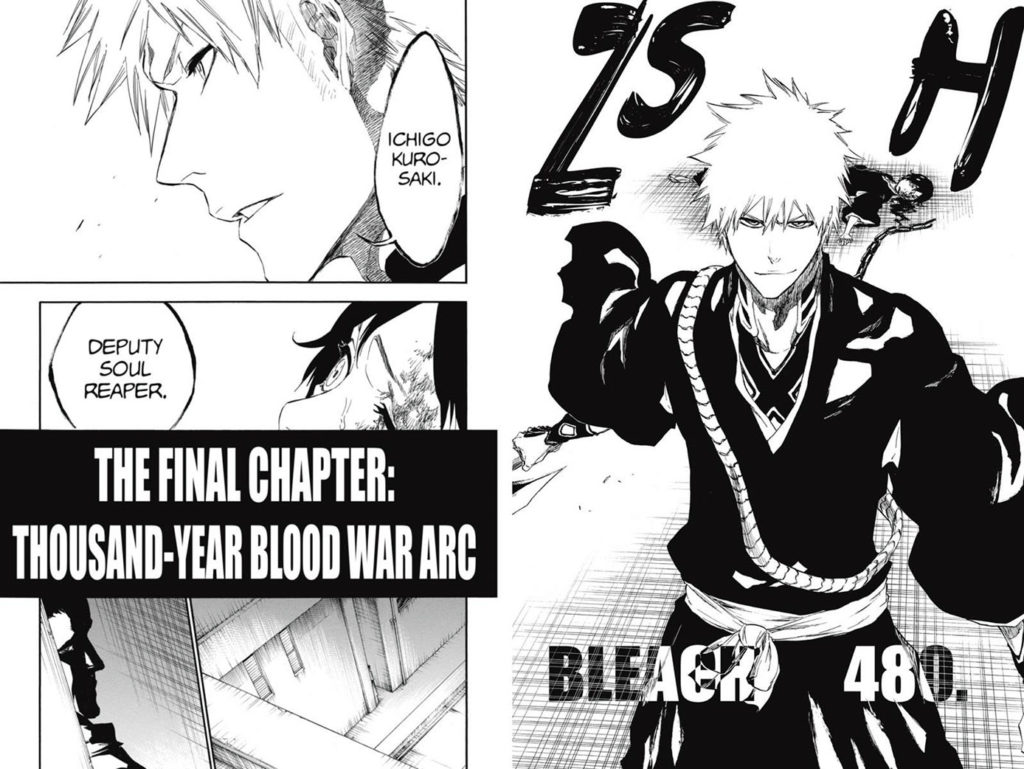 I can see a rock and roll solo starting right after that. 😉
---
36:00 SPOILERS: From here until 39:00, we talk about the ending of Bleach and who the various characters end up with. Skip it if you want to remain unspoiled.
[CHRISTOPHER:] Also, to clarify: I read random volumes and chapters of Bleach, but I didn't really read the whole thing and tapped out way before the ending.
---
37:20 [CHRISTOPHER:] This is supposed to be a teenaged boy. I stand by what I said.
39:55 Deb interviewed Tite Kubo! It's still online you can go read it! It has the 'official' photo of Kubo with his trademark wrap-around sunglasses.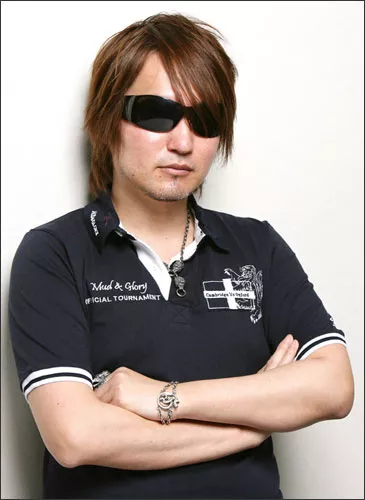 41:15 I interviewed Masashi Kishimoto, creator of Naruto. Two interviews actually, one at the Apple Store in SoHo, and another time on stage at New York Comic-Con. It was recorded by VIZ (who made me the thumbnail for some reason? LOL) but they didn't get a crowd-shot, which was completely insane.
45:30 Burn The Witch is a new one-shot by Tite Kubo and it's similar but not quite related to Bleach in that it's set in England vs. Japan. It is, as David says, the Excalibur to Bleach's X-Men, or their UK spin-off. It's free to read on the Shonen Jump app and the first volume is out now from VIZ.
48:57 Okay, we said the phrase "The focused totality of my psychic powers." several times this episode, and if you don't know what we're talking about, it's what Chris Claremont wrote for the X-Men character Psylocke in her 'revamp'… And she ended up saying it A LOT. It became a running gag, and the three of us who are big X-Men nerds all laughed on the podcast, and maybe you did too? If not, here you go: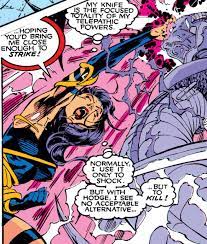 Now you know, and you're welcome.
49:35 David mentions that the title pages are good fun, and occasionally named like Good Radiohead Songs. Since we've already included a TON of images this week, here's a few more showing some chapter titles.
49:55 Rukiya's character sketch sheets! Kubo shouts-out an Ashley MacIssac song, a Canadian electric rock fiddle musician, which is an insanely deep-cut. Way to go, Kubo-sensei!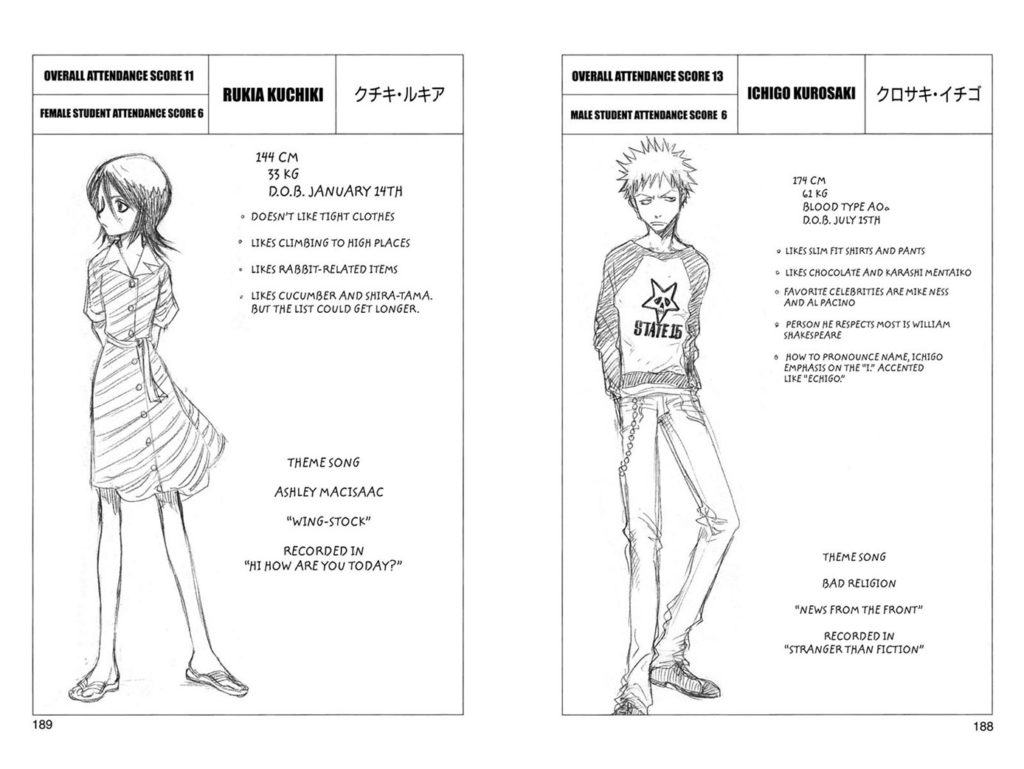 And that's a weird place to stop our discussion of Bleach! Hope you enjoyed it!
---
51:49 THE BREAK!
---
52:00 SHOUT OUTS!
CHRISTOPHER shouts-out MSX: Mangasplaining Extra, the Mangasplaining Substack Newsletter and which will start serializing manga again very, very soon. The title SHOULD be announced in May, and will start serializing by the end of the month. Things…Just… Take… A…. While…
Sorry for the wait! We hope you enjoy it!
You can find it at https://mangasplaining.substack.com/ .
DEB shouts-out the anime film adaptation of Blue Giant, based on the manga by Shinichi Ishizuka! We actually read volumes 5-6 for the podcast, and you can listen to our episode on it here:
Deb also mentions the VERY COOL Blue Giant film program that was avaiable for purchase at the theatrical screenings of the movie. It's LP record album sized, features interviews and words from the cast, and is a cool collectible if you're a fan of the series; probably even moreso if you can read Japanese.
You can check out a trailer for the animated movie here. No word on a N. American release for this film yet, but we wait and hope.
CHIP shouts-out the British comedy show Taskmaster, which we previously covered. It looks fun though. Apparently they have their own whole YouTube channel too, where you can watch legally from the comfort of your computer chair.
Chris then nudges Chip to mention his Newsletter, zdarsky.substack.com, and also his tour across Canada which… has already started! If you're in Canada, here are the dates for his April – May 2023 tour!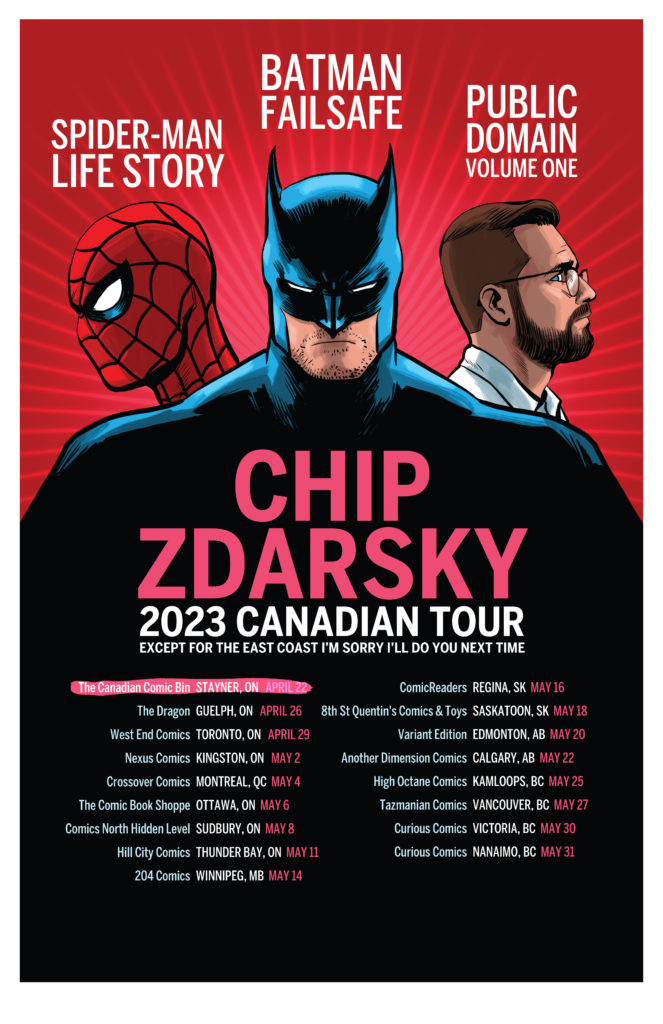 DAVID has a newsletter too, which he almost forgot about. You can subscribe to (me+you) here, though he hasn't made his most recent installments public on the archive there, you can read some of the older ones and get a sense of things. It's very good.
David then shouts-out Zeb Wells' current run on Amazing Spider-Man, with John Romita Jr. drawing and featuring Tombstone, making this an even more superhero-focused episode than usual.
And that's the end! More or less. We keep chattering a bit more for a bit.
Thanks for listening to this week's episode of Mangasplaining! This episode is also available wherever you get your podcasts, so please subscribe and leave a review, so others can discover our show.
Also, if you'd like to get the latest episode delivered straight to your inbox along with exclusive interviews, articles and new chapters of manga you can't read anywhere else, subscribe to our Substack newsletter. See what you're missing at Mangasplaining Extra!
Next week on Mangasplaining:
Get ready for our take on the absurdly funny series POP TEAM EPIC! We read a manga, watch an anime, and it gets really weird.
Thanks so much for listening! Please support your local comic and manga specialty shop when purchasing these books, and you can find one near you at comicshoplocator.com. You can also check your local library for print and digital lending options, they have TONS of manga! Finally, thanks to D.A.D.S. for their musical accompaniment for this episode.
---