Ep. 77: MOB PSYCHO 100, by ONE
This week on the podcast, David hosts a story about a young boy with immense psychic power, and the nefarious forces that want to control them. Wait, did we skip to the end of the season to do an episode on AKIRA? Nope, it's the comedy manga MOB PSYCHO 100 by ONE, on Mangasplaining! Plus, in the Q&A, the team talk about the production differences between manga and superhero comics, and the discussion goes a different way than you might think…!
Powered by RedCircle
Mob Psycho 100
By ONE
Translated by Kumar Sivasubramanian
Lettering and retouch by John Clark
Edited by Carl Gustav Horn
Published by Dark Horse Comics. Available in print / digital
Audio editing by David Brothers. Show notes by Christopher Woodrow-Butcher and Deb Aoki
ABOUT ONE
The mangaka One, aka ONE, is a pretty interesting creator. Unlike any manga author we've covered on the podcast so far, One got his start writing and drawing his own webcomic on a variety of free online sites, including his own homepage. That webcomic? One Punch Man, which you may have heard of before! Despite having illustrations that weren't very…. polished looking, One's webcomic version of OPM began in 2009. It resonated with Japanese readers and attracted over 100,000 readers during its initial online serialization.
The webcomic version of One-Punch Man even caught the eye of manga-ka Yusuke Murata (co-creator of football manga Eyeshield 21, along with Dr. Stone author Riichiro Inagaki) thanks to its strong storytelling and engaging ideas. When Murata-sensei got very ill, thinking that he might actually pass away in the hospital(!), he said he realized that he wanted to make comics for fun, and working with ONE might be really fun for him. Murata recovered from his health scare, and the two teamed up to create the version of One-Punch Man that you (might) know and (might) love today.
[Deb:] Both Eyeshield 21 and One-Punch Man manga series are available now from VIZ, although it's a bit of a sore spot that Eyeshield 21 isn't available in digital format yet, especially since several volumes are out of print and hard to find sometimes.
Serializing in Shueisha's online magazine Tonari no Jump since 2012, One-Punch Man is a huge sales hit in English, Japanese and several other languages worldwide and has spawned two seasons of an anime. Despite all that, ONE continues his webcomic version of One Punch Man, on his website, to this day.
The popularity of ONE's webcomic, and then the Jump version, of One Punch Man led him to start work on another original story. This time, he took on both the writing and drawing duties for MOB PSYCHO 100, which is published in Shogakukan's online magazine, Weekly Shonen Sunday Online. Running from 2012-2017, and eventually compiled into 16 volumes, Mob Psycho 100 did phenomenally well both online and in print… and in anime!
The anime adaptation of the series just got a third season, and this property has really blossomed because of the anime. In fact, in a recent Very Dumb Internet Poll, Mob Psycho 100's Reigen just took second sexiest 'sexyman' on the internet, behind… Sans from the game Undertale, who is a skeleton. Look, the internet's really weird alright? I don't make the rules.
That said, it does look like the animators are making the anime 'extra horny for Reigen'…
02:15 How do you define "good" drawings? I think we get to the heart of that matter in this episode.
03:00 Here's how Dark Horse Comics describes Mob Psycho 100:
From the creator of One-Punch Man! Do you or someone you know need an exorcist who works cheap? Reigen's your guy! What's his secret to busting ghosts while keeping prices low? Well, first, he's a fraud, and second, he pays the guy who's got the real psychic power–his student assistant Shigeo–less than minimum wage. Shigeo is an awkward but kind boy whose urge to help others and get along with them is bound up with the mental safety locks he's placed on his own emotions. Reigen knows he needs to exploit Shigeo to stay in business, yet for better or worse he's also his mentor and counselor. And he also knows whenever the normally repressed kid's emotions reach level 100, it may unleash more psychic energy than either of them can handle!

Dark Horse
05:15 "The manga is incredibly ugly." Hard to disagree with Deb on that one, I think we've moved beyond unconventional to… something else, with this sort of work. (Remember to read right-to-left.)
07:00 Deb actually sent us some comparisons between the manga and anime this week, and the translations for the same scenes are just so different, and the manga translations are so much better.
---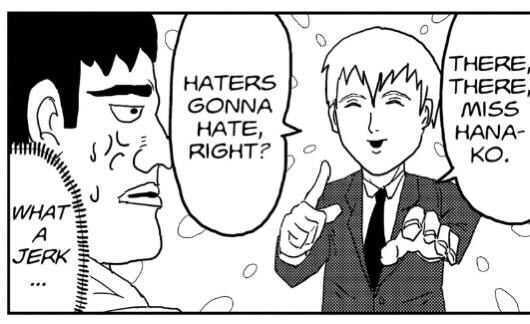 ---
---
While the subtitles are weak, IMHO, in the anime, I will say that there's a LOT of problems with anime subtitling, how translators are paid for anime subtitles, their work schedules and deadlines, and there's more of that are going on right now, particularly with regards to Crunchyroll. Here was the video that kicked off that discussion in the larger anime fandom… Doesn't look like much has changed in the last 2 years.
So I don't wanna be toooooo hard on the anime subtitles, but I'm really glad we have the much more flavourful manga translation to enjoy ONE's brand of comedy.
07:45 ONE does an interesting thing, where he wants to make the 'pretty' girl stand out as pretty, except he knows he can't draw that style of cute 'anime' girl face, so he does his best, and just makes all of the other girls in the shot have actual vegetables for heads, to show that they aren't as pretty as our lead. It's both a genius piece of visual storytelling AND a funny joke, AND still not drawn very well, and that's what this series is, in a nutshell.
09:00 You don't need to be good at drawing to be good at making comics. In this part, I'm specifically referring to the point where Mob shows up and disperses the ghost with his psychic powers. It looks good and reads well, and is even a little understated.
09:54 Likewise, I love the severity of the "We're disbanding the telepathy club." image here.
Not included in the podcast, because I didn't want to derail the conversation, is the story of my reading that page for the first time. When I read this digitally, I had just gotten to the above full page spread, and then… 6 pages of fully black pages, before the story sort of popped back. I actually thought this was a genius move, from a storytelling and jokes perspective. Big dire image, six pages of fully black pages to intensify the severity (and the joke), then the story resumed.
Except that's not what happened. Those pages just didn't load onto my iPad. There were six pages of story that I missed right after that sequence. Heh. When it happened a second time, I realized my mistake, deleted and re-downloaded Mob Psycho 100 vol 1, and re-read it again from the beginning, with all of the pages intact.
So, yeah.
10:54 When talking about artists who are great illustrators but not so great at crafting a page of comics, the painter Alex Ross' name usually gets dropped a lot. Ross actually started working over other artists' layouts, but I think he's gotten a lot better at comics storytelling as years have gone on. I think he turned a corner for me personally after working with the late John Paul Leon on Marvel's Earth X stuff, but his new Fantastic Four graphic novel looks legit really interesting.
14:20 We didn't get into it because there's probably an One-Punch Man episode of Mangasplaining at some point in our future, but let's just say some of ONE's specific brand of artistic charm makes its way into the Yusuke Murata version.
15:30 Here's that Wolverine segment that Chip was talking about.
17:00  Chip's point that Reigen would be infinitely more successful as a masseuse or a Photoshop dude, instead of being a fake psychic, is really interesting. It might be at the heart of this series, to do something because you feel you have to, rather than just drifting aimlessly through life. It really sets the two different personalities of our leads against one another.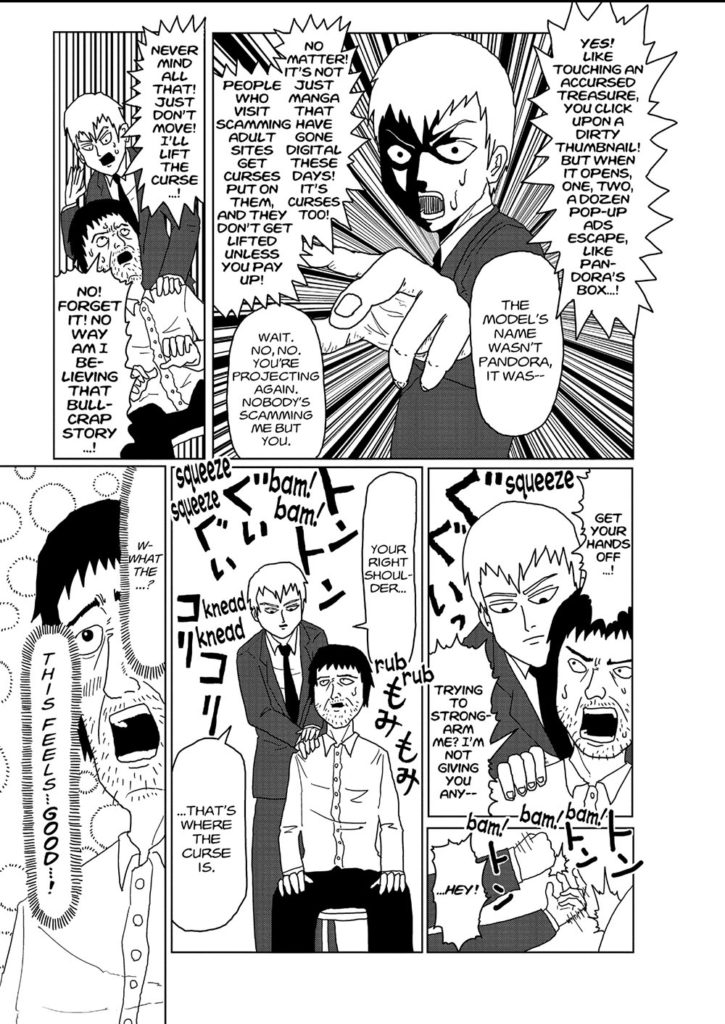 17:45  You can tell I didn't research this book BEFORE we talked about it during this episode, as Crayon Shin-Chan is mentioned in the first paragraph of the Wikipedia entry on ONE, essentially, and I PROBABLY should've been able to guessed that earlier.
I don't think I'd ever considered Crayon Shin-chan as a book for Chip to read for the podcast, but he might actually dig it. He's a big fan of comic strips, and even started out in comics by making his own comic strips, Prison Funnies, back in the day.
Crayon Shin-chan is also super-interesting in that it might have the honour of being the manga published by the most different publishers in English!  Originally published in Japanese as 50 collected volumes by publisher Futabashsa, the first English edition was actually a bilingual English/Japanese one released by Futabasha itself across four volumes as Shin-Chan: The Little Horror. Apt name. 
The series got a much more 'official' English release from defunct-publisher ComicsOne, which released 10 volumes into English beginning in 1999, before going bankrupt and having several of their licenses transferred to a new company, DrMaster, which may or may not have been something of a shell game, with DrMaster reprinting those 10 volumes with no changes except the publisher logo. So we're up to three publishers.
Fast forward to 2007, and DC Comics's fledgling manga imprint CMX Manga announced that it would ALSO publish Crayon Shin-chan in English. The first volume was released in 2008, and CMX managed to republish the first 10 volumes and one brand-new one, volume 11, before that line of books was ALSO shut down in 2010.
Then beginning in 2012, the small manga publisher One Peace Books decided to reprint the DC Comics/CMX version of Shin-Chan as 4 omnibus volumes, with no further material past volume 11 having been translated or released. So that's the same material, give or take, coming out from five different publishers between 1999 and the present day. The Shin-Chan spin-off series Action Mask is currently being released digitally on Crunchyroll's Manga site, too, but we won't count that.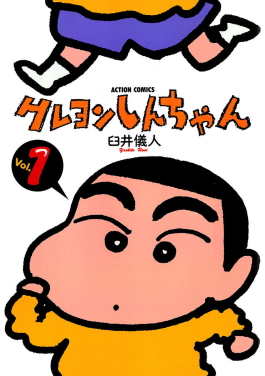 As for WHY multiple publishers tried to make their fortune by continuously reprinting the same volumes of Shin-Chan? If I had to hazard a guess, it's because the series is legitimately BELOVED, not only in its home country of Japan, but across almost all of east Asia.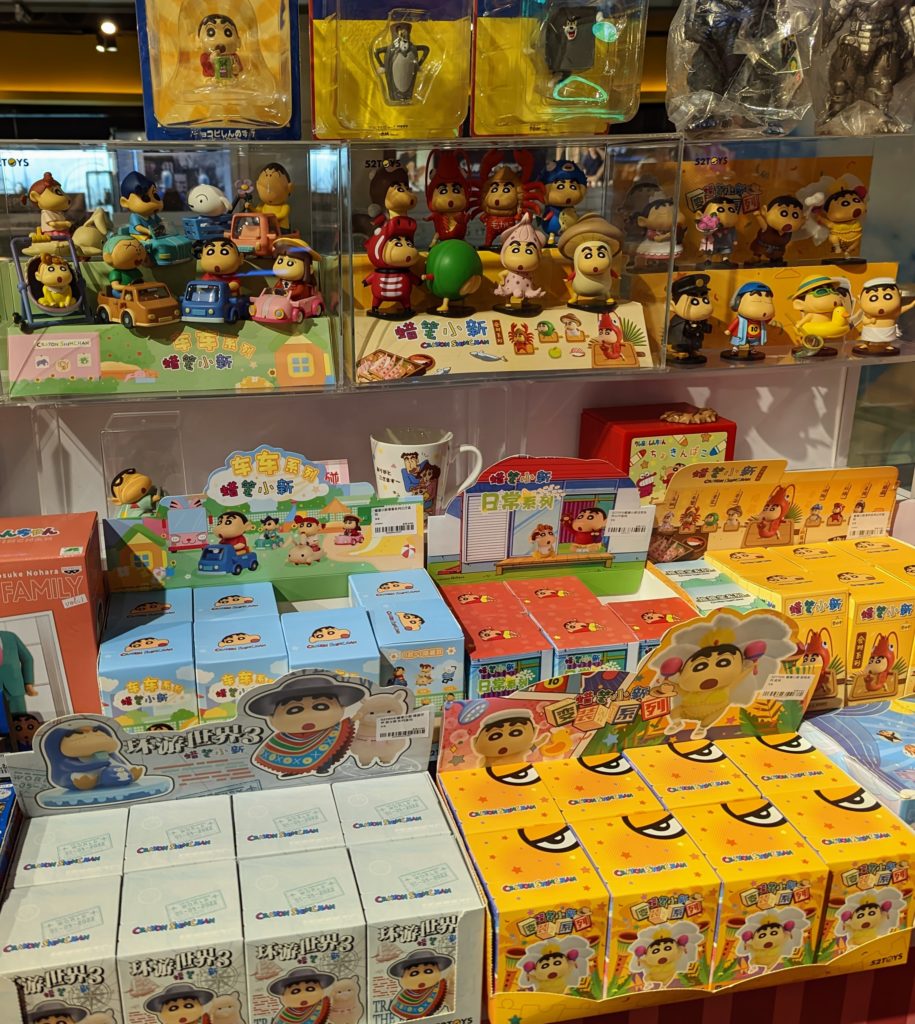 Everywhere we go here in Taiwan, there are Shin-chan displays, merchandise, tie-ins. It's remarkable how omnipresent Shin-Chan is here. So yeah, anyone in the west would look at this and go "It's Japanese The Simpsons, and the rights are cheap! Why not?" and then, well, we'd get the same 10-ish volumes 4 times. 🙂
If we ever DO cover Shin-Chan on the podcast, I'm just going to cut and paste this so I don't have to explain it again.
18:03 Crayon Shin-Chan vs. Chi's Sweet Home? It's more likely than you think.
I mean, it's actually more likely that they're both riffing on the same sort of domestic-humour comics, for example Sazae-san, but maybe that's beyond the scope of these particular show-notes.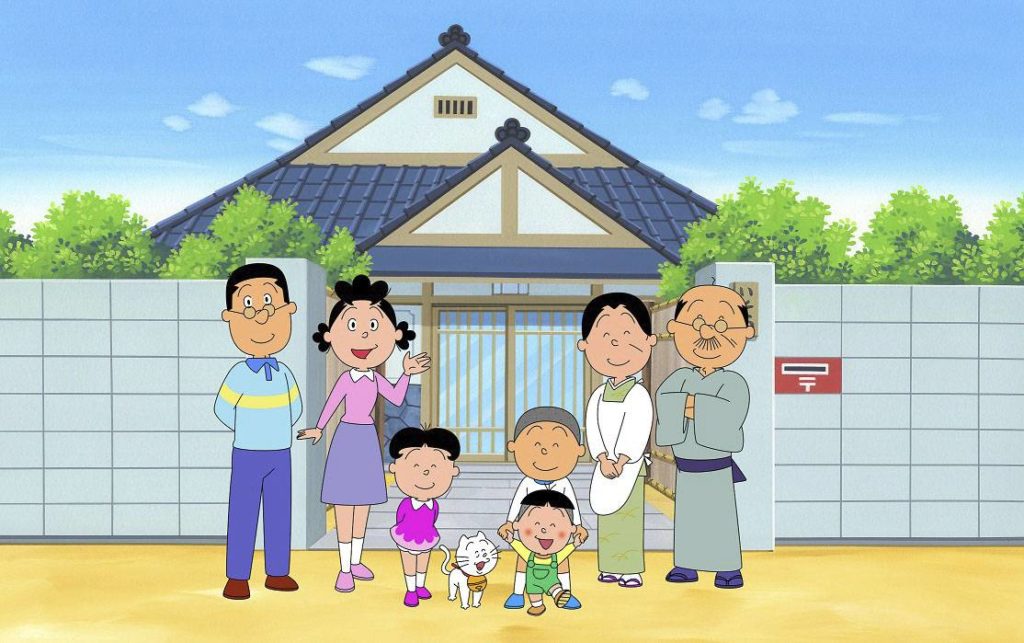 19:55 This scene from the end of the book, where Reigen is talking about people wanting to be famous, has a really interesting thing happen with the artwork. The illustrations get super-realistic, but still drawn by ONE, and it shows some artistic progression.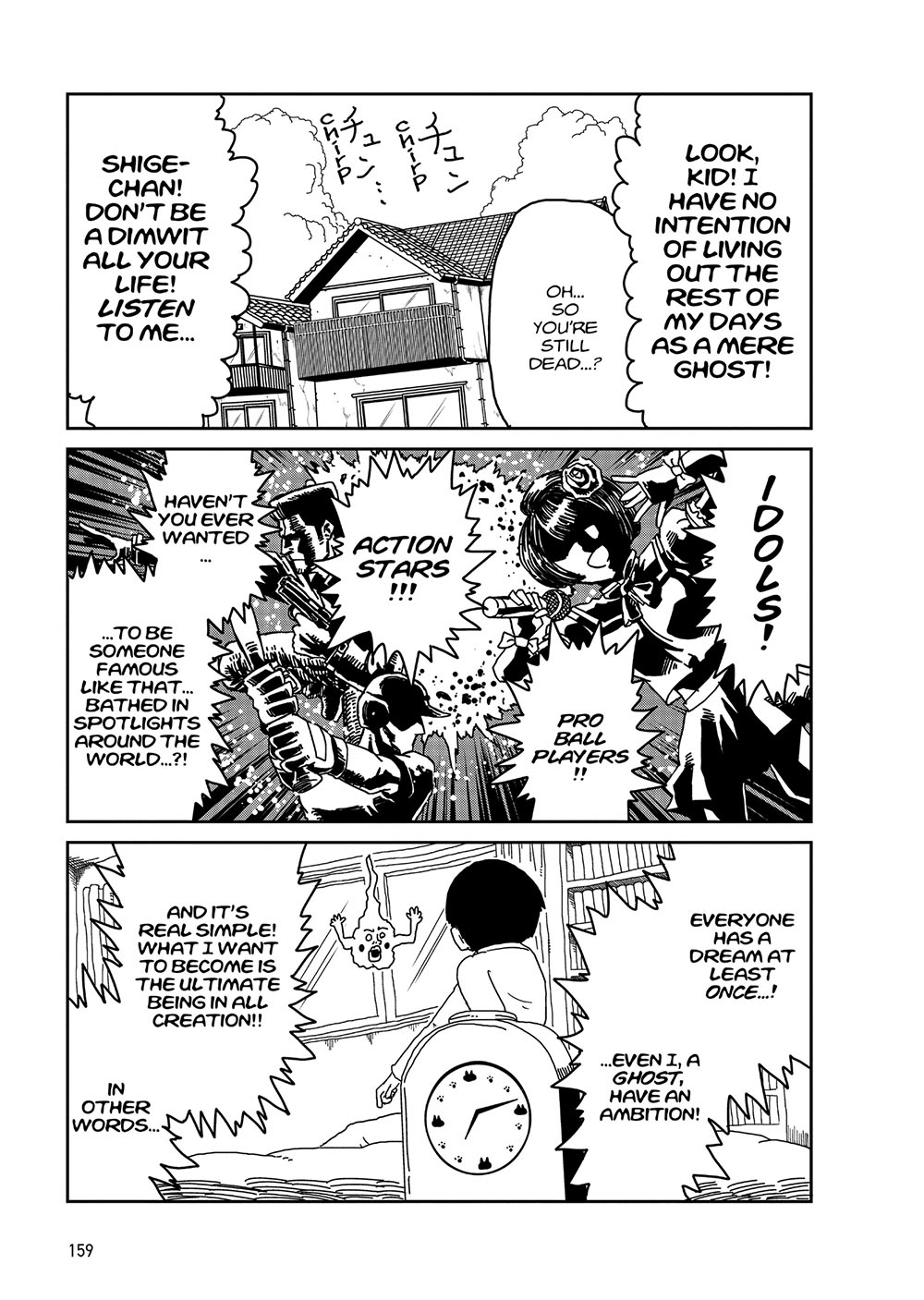 20:40 I had no idea there was a Shin-Chan game! This looks great, like Animal Crossing with more to do.
21:15 When talking about writers with defined visual styles, David mentions the awesome Christopher Priest, and his unique usage of captions and his captions definitely have a great effect on the art and storytelling of the series.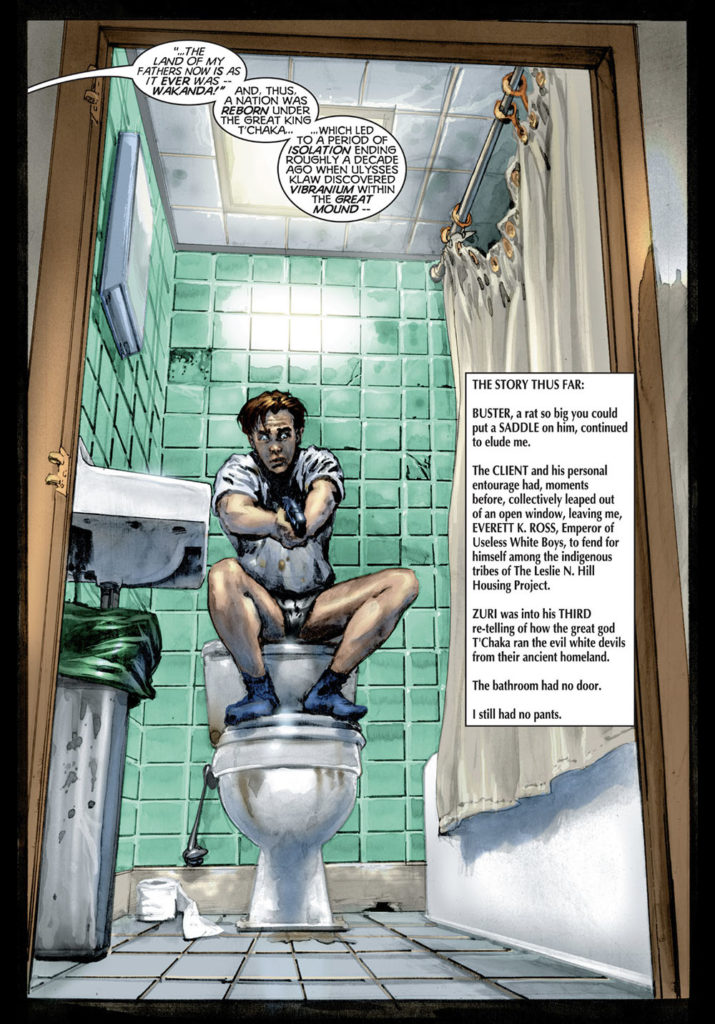 21:49 If Jim Lee re-drew Mob Psycho 100, would it be as popular as One-Punch Man? Yeah, because the anime, which features a more traditional/polished art-style, IS super-popular, maybe even more popular than the OPM anime…!
But speaking of Jim Lee redrawing a ONE comic like Yusuke Murata, did you know that Jim Lee and Yusuke Murata actually met in Japan? It's true! They were on a panel together back in the day. Deb was there, and got photos!
Also, way after the fact, Jim Lee drew this illustration of Saitama from One-Punch Man, and a fan captured and reposted the video. It's a long'un, but maybe you'll enjoy?
21:59 So what I was trying to remember and failing badly to do so, is Malcolm Gladwell's 10,000 hour rule. The idea is that you can achieve true expertise in any skill by practicing it (correctly) for 10,000 hours. Lots of people believe in this, and still more have jumped onto the internet to loudly proclaim it bullshit, but it stands to reason that working at something will generally make you a little better at it.
So yeah, the art in the last few pages of Mob Psycho 100 is definitely more polished at the end than in the first few pages…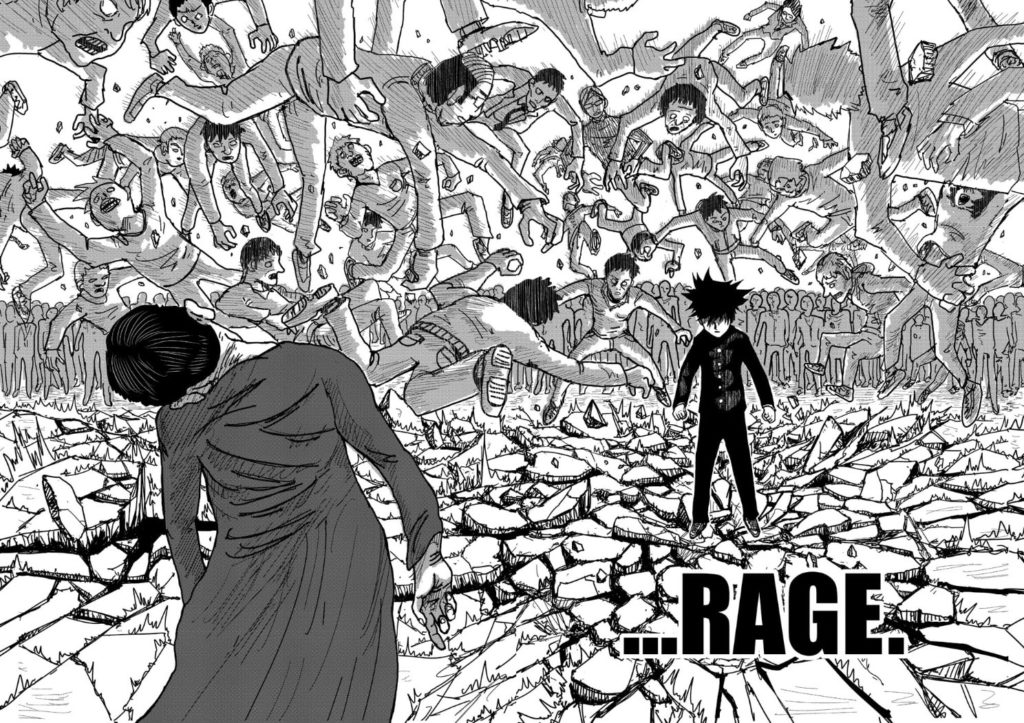 25:00 According to the Wikipedia entry, ONE draws with Comic Studio, or did at a certain point at least. But definitely digitally.
23:15 Deb points out a cool sequence, where Mob is fighting the monster at the end, disarms him, and then uses his powers to basically blast a hole through him, which is quite good.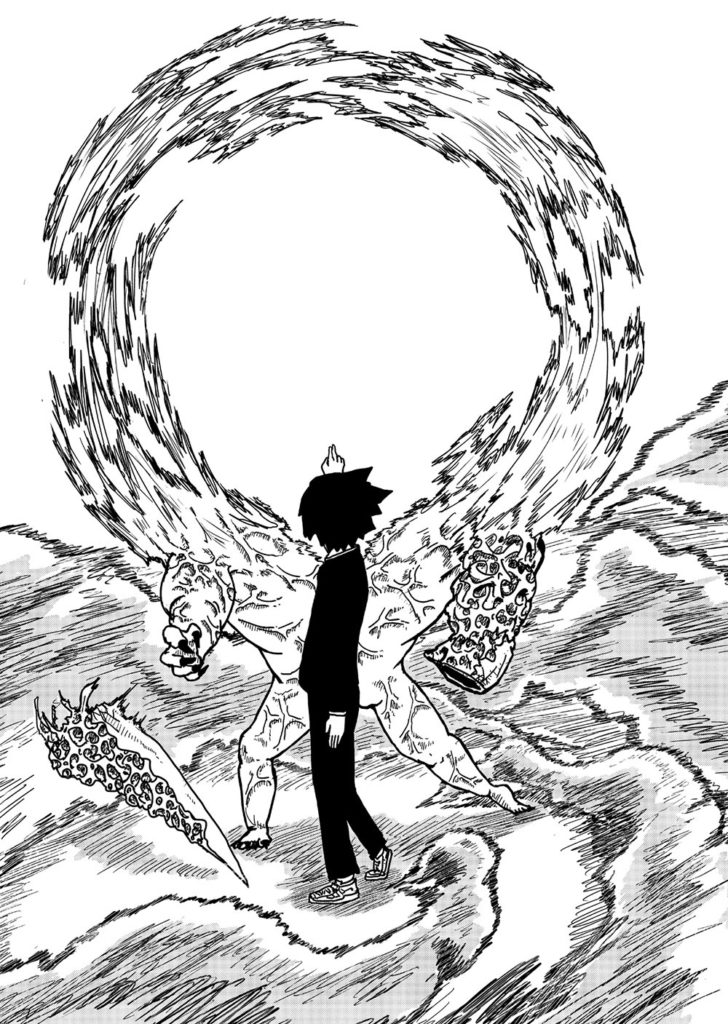 23:50  Deb also mentions the dome-shaped cracks in the wall behind a character, evidence of the manifestation of psychic power, that are also PURE Katsuhiro Otomo AKIRA styles.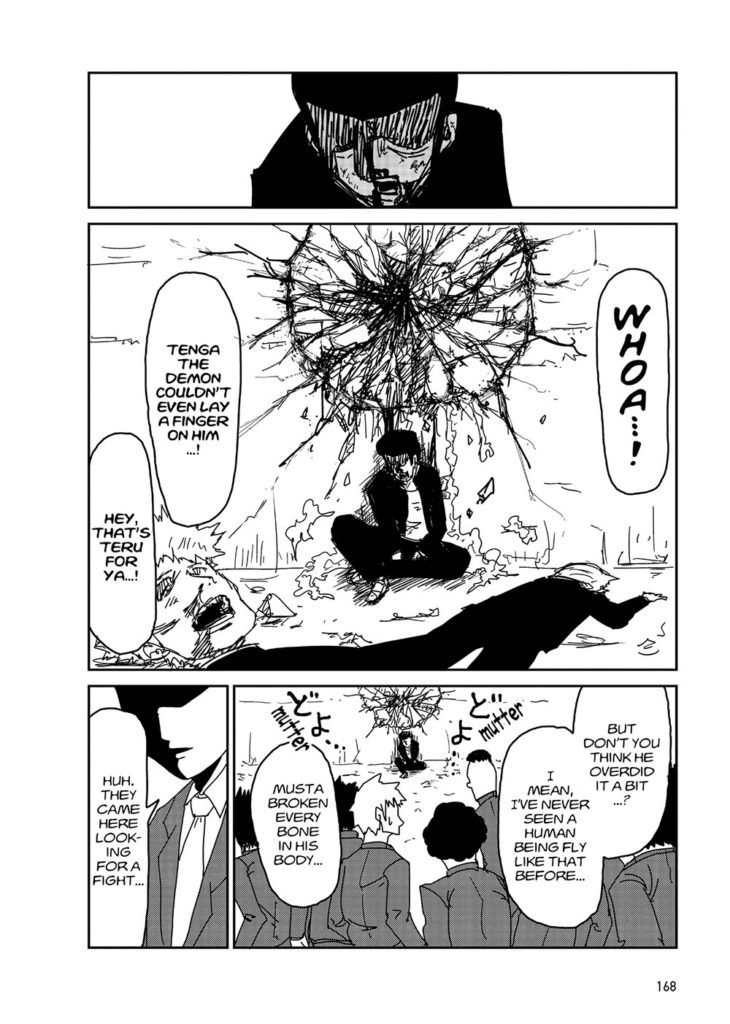 24:55 I referenced the alternative manga I'll Give It My All… Tomorrow. I actually got it wrong, the manga is still technically in print and listed on VIZ's website, available digitally and in print. I think it might just be that they haven't run out of copies from the initial printing, personally, but a win's a win.
I was just gonna leave it there, but VIZ actually describes the book like this:
Shizuo Oguro is living his dreams… sort of. A complete waste of a human life until now, forty-year-old Shizuo breaks free from the corporate rat race and charts himself a fairly random and new career course: to become a published manga artist. Sure, he lacks the talent, discipline, or any other skill necessary to become a success in the manga industry—but that's not enough to stop Shizuo!

VIZ Media
…and they COMPLETELY don't mention that while Shizuo is availing himself of the services one might find in a brothel, he leaves his room into the hallway and bumps into his high-school aged daughter, who also works there. It really drives the dark comedy home. I can see why it would be a touchy subject if you're trying to sell the book into bookstores, but talk about an inciting incident.
Yeah, we will definitely need to cover this at some point.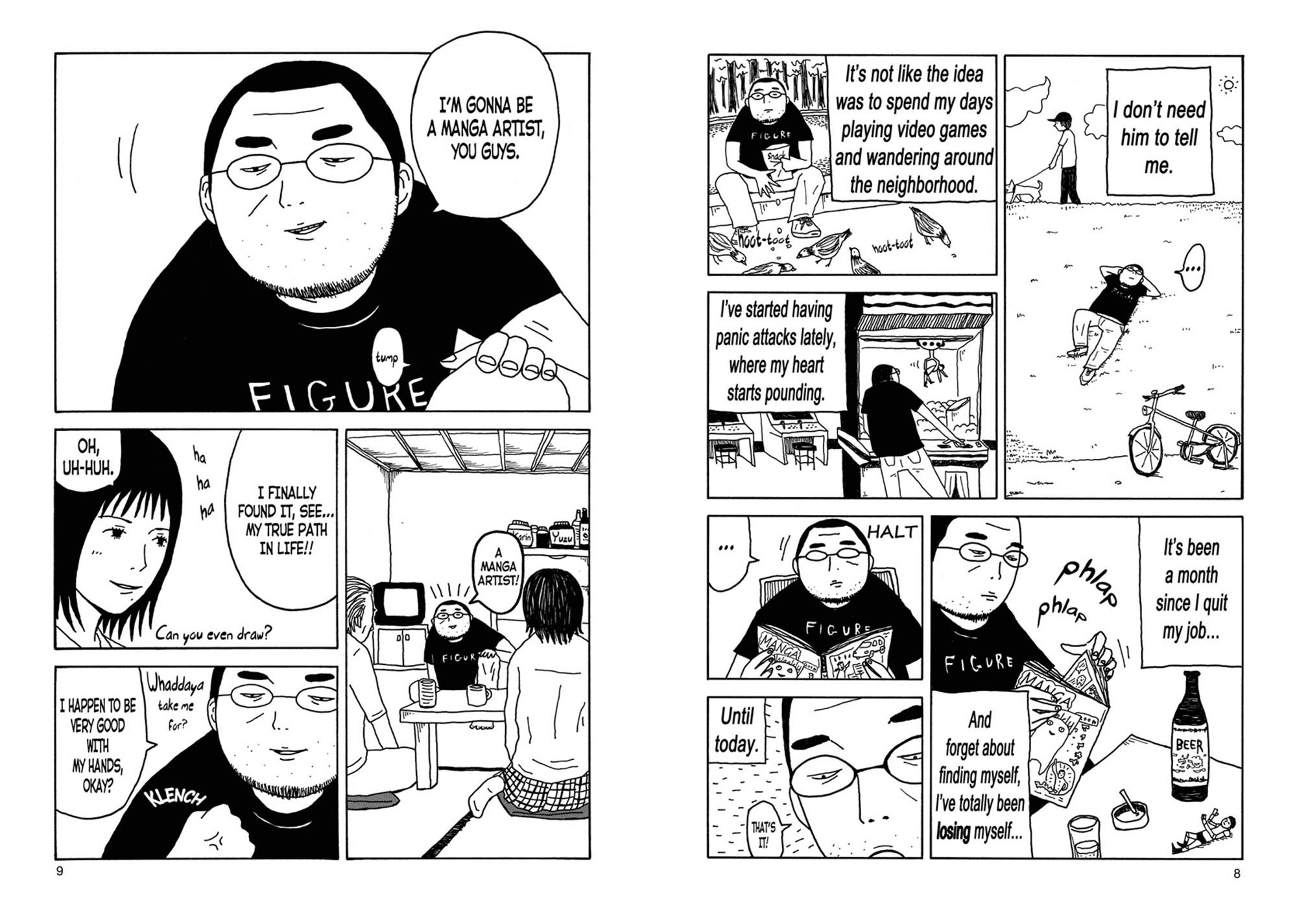 26:00 The counter display featuring One-Punch Man and Mob Psycho 100… I couldn't find any mention of it online (scrubbed?) except for… THIS PHOTO FROM DEB! She's a wealth of history and knowledge in so many different ways. Go follow her on Twitter, if you put up with Twitter.
28:10 David gives away his secret weakness: Gross Milk. I hate to say it, but knowing that David picked this book despite how revolting he found this sequence makes it even funnier. 🙂
Splash page, get it?
29:15 Chip mentions Nathan Fielder of Nathan 4 you fame, before he left Canada. This segment on 'Laughter Yoga' is, in fact, painfully hilarious.
30:15 We're not linking the cult stuff David references here. Like he said, use Google, but it's still going on, and it's upsetting a lot of people.
Sharing my personal experience, I started watching Japanese news on TV (NHK World ftw) just before the Aum Cult massacres 20 years ago. It gripped the nation for years, led to wholesale changes in Japanese society too. It was a big deal, and while cults used to be the subject of jokes, joking about them sort of became off-limits after the Aum attack. I think Mob Psycho 100 is the first manga I've seen in quite some time that referenced/made fun of Japanese cults. I imagine it'll be the last for a little while too.
31:00 I can't believe it's been 80 episodes and we haven't mentioned the Japanese concept of "kuuki yomenai," or "not being able to read the room". It literally means not being able to read the air. Calling someone KY in Japan is a pretty disparaging insult towards someone who's sort of oblivious or tactless. Because other people might not want to be direct, a big part of social interaction in Japanese culture is being able to read the air, understand where other people are coming from, without them having to say it.
Mob is like, the definition of KY. But at least he knows he is…
"It's not that I hate polite smiles, I can't…."
32:25 Luckily, his hyper-focused KY nature gives us some great gags.
Is this gonna make me attractive or what?
33:19 Deb references the manga Dandadan, which we listened to back in episode 36 this season. The manga is finally out in print now, btw, go get it! We liked that one. 😀
Anyway, Deb mentions it specifically because the dispersed spirit coming back to life as, let's say, flying snot, also sort of happens in Dandadan too.
34:00 David's favorite part of the manga might just be the Body Improvement Club, who are set up to be major antagonists to Mob and the Telepathy Club… But because this book seems very much to be on the side of the 'bad guys', they mostly just sort of ignore the telepathy club and aren't antagonists at all. The Anticlimax is one of the funnier parts of the book (spoilers).
David also mentions that the Body Improvement Club members are even funnier/better in the movie, and that's a pretty ringing endorsement!
36:33 When David asks for manga recommendations for folks who liked Mob Psycho 100, Deb recommends the supernatural action comedy manga Gintama, of which only 23 volumes have been printed in English, with no more planned from publisher VIZ Media. Maybe don't actually start that one…?
Deb also recommends the out-of-print standalone manga Tokyo Zombie, by Yusaku Hanakuma, translated by Ryan Sands, lettered by Evan Hayden, and published by Last Gasp. It's a pretty neat book, and the first example of Heta-Uma style manga, or bad-good drawing, published in English as a standalone work (other examples could be found in rare anthology series' like Comics Underground Japan, or Secret Comics Japan.) It's out of print, but not hard to find out in the wild.
[Deb:] Actually… you can order it directly from Last Gasp! Go here, and get a taste of this wacky heta-uma horror comedy.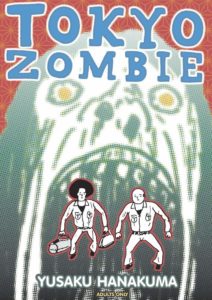 While googling the manga WHILE RECORDING this episode (don't try this at home, kids), I came across this really neat Crunchyroll article on Heta-Uma and Mob Psycho 100, by B. Teteruk. Give it a read, it's a good article.
https://www.crunchyroll.com/anime-feature/2016/08/28-1/feature-mob-psycho-100-and-the-heta-uma-movement
39:30 Christopher takes Deb's "cancelled and out of print" and then "completely out of print" baton and runs with it, by recommending the "cancelled, completely out of print and from a defunct publisher" manga Cromartie High School by Eiji Nonaka, partially published in English by ADV. It's very funny, very hard to find, only 12 of the 17 volumes were translated, and maybe you wanna try to watch the anime instead because it's easier? 🙂
Maybe Kodansha will take pity on us and do a digital license rescue on that one with Comixology or something.
40:45 Osumatsu-kun. Okay this one is a little complicated.
Osomatsu-kun is a gag manga by Fujio Akatsuka, "the Gag Manga King", that ran from 1962-1969. It was about mischief-making identical sextuplet teens getting into all kinds of wacky gag problems. The series started out weekly but went monthly running through Shogakukan's Weekly Shonen Sunday. The series got its first anime adaptation in 1966, and then a second in 1988, and had become the sort of background radiation of gag manga in Japan, alongside the creator's other major series Tensai Bakabon. Osamatsu-kun draws influences from Charlie Chaplin, Buster Keaton, and MAD Magazine, among many other sources.
As an aside, the manga was LEGITIMATELY HUGE at the time, and added to the pop-culture vernacular in Japan. Here's a CBR article that talks about SHEEH!!, the movement/sound/situation that… well you gotta read about it to believe it.
The series we're talking about here is the 2015 revival of the property, Osamatsu-san or Mr. Osamatsu. Basically the -kun suffix implies a young man, and the -san suffix implies an adult man. In this series the six brothers are now all adults (albeit VERY silly), still having wacky gag adventures, with heavy doses of parodies of famous Japanese properties thrown in for good measure. This revamp was, in a word, HUGE. It got three seasons of anime (the latest wrapping up in 2021), two animated specials, AND two theatrically released animated movies. Viz has licensed the anime for North America.
Neither the original 1960s manga, nor any of the new manga series based on the revamp, have been released in North America. So this is another anime-only recommendation.
43:25 The weird face that Deb hated, that Chip LOVED. I… I might have made it the featured image for this post.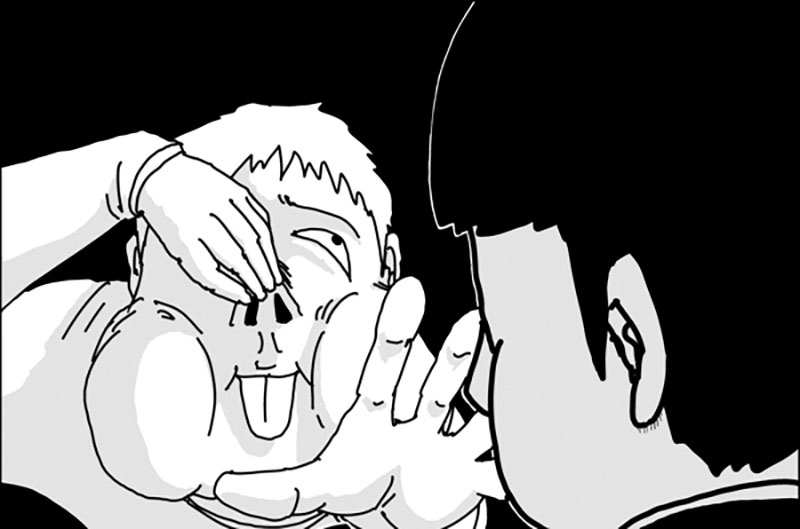 44:00 I think it's safe to say we all loved the whole segment with the wrestling heel.
"There's a lot of 'great' drawings in this, and by 'great,' I mean 'funny.'"

Chip Zdarsky
45:55 And that's this week's episode! After the break, we answer a doozy of a reader Q&A.
---
THE BREAK
---
46:35 Q&A time!
Today's question comes from @Alejoseso on Instagram –
Is there a general reason why mangaka mostly do the art as well as the script? I rarely see this in comics (mostly in indie comics). Is it mainly because the writer simply doesn't know how to illustrate?
Chip starts out talking about the origins of the "Marvel Method" as it related to how he makes comics, and then David references that this sort of assembly-line method originated with Will Eisner and Jerry Iger and their studio from the 1930s. You can read a little more about that here.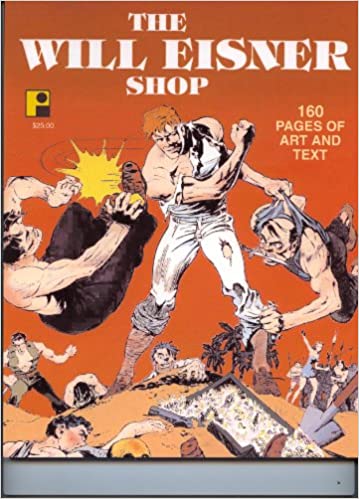 That breakdown of creative roles, working on company-owned properties, defines the entirety of the North American comics industry.
Deb mentions that creating manga in Japan is MUCH more collaborative between editors and creators, than the process tends to be in North America, AND creators own their own creations, meaning they can be the auteur, like a film director, bringing in lots of specialists to contribute to their vision. Deb also mentions light novels, where writers can basically get their 'manga' concepts out into the world, and then have it illustrated, adapted, etc. after the fact.
Chip mentions that more comics creators SHOULD learn to do more parts of the process, so they'd make fewer mistakes, like not putting so much text on the page, not leaving room for lettering, understanding flow, etc.
Christopher mentions that assistants don't usually get credited in Japanese manga, and most assistants don't want credit (in general), but some do and there's no real mechanism to consistently do so. So we get books like AJIN, where the lead creator mentions the contributions of all assistants directly. Or a page in every volume of My Hero Academia, which features the artists getting names (usually through a pseudonym).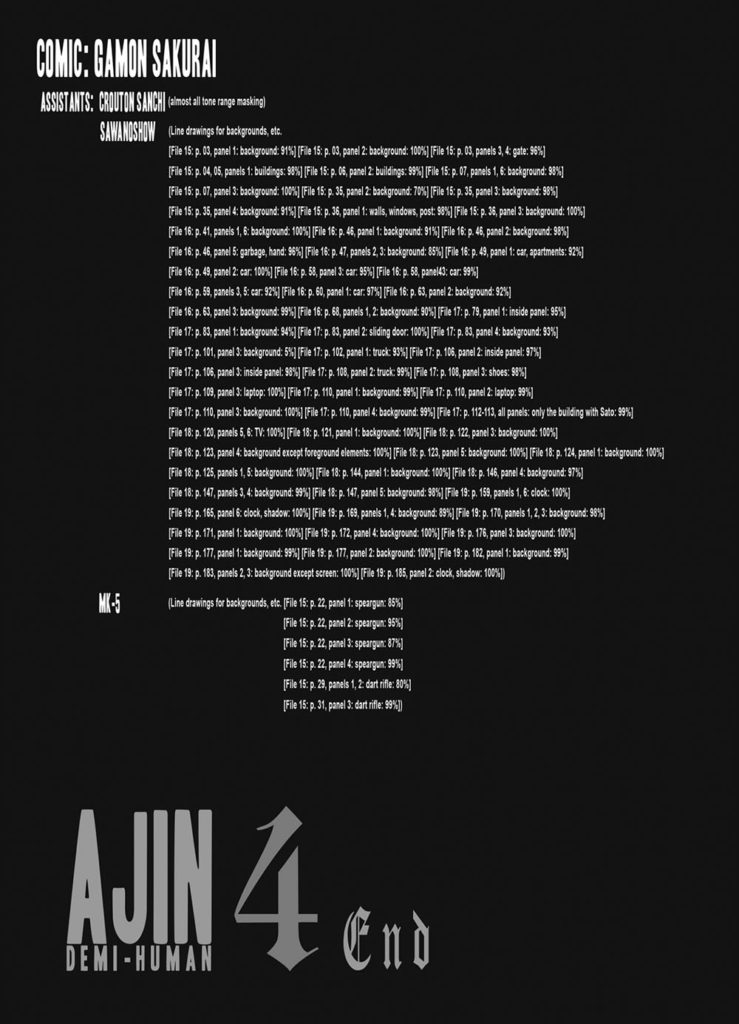 Further to Chip's point, Christopher mentions that some writers DO actually draw, letter, etc., specifically referencing the artwork of writers Alan Moore and Grant Morrison, who've both had very good and very bad collaborators.
Christopher references this interview with Tom Breevort and Jim Zub, which has a throwaway mention of how creators didn't used to get credited at all. (I have no idea where that is, somewhere in the first 20 minutes).
And that's the best answer we could give you, Alejoseso! Hope that helped. 🙂
And that's this week in Mangasplaining! This episode is also available wherever you get your podcasts, so please subscribe and leave a review, so others can discover our show.
Also, if you'd like to get the latest episode delivered straight to your inbox along with exclusive interviews, articles and new chapters of manga you can't read anywhere else, subscribe to our Substack newsletter. See what you're missing at Mangasplaining Extra!
Next week on Mangasplaining: Get ready for our Our Colors, by Gengoroh Tagame.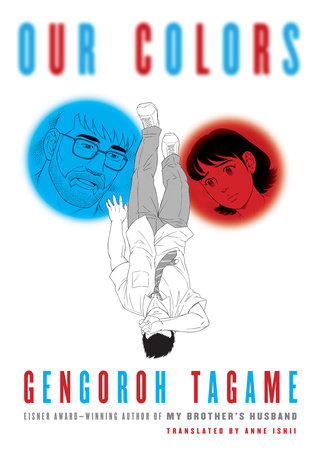 Thanks so much for listening! Please support your local comic and manga specialty shop when purchasing these books, and you can find one near you at comicshoplocator.com. You can also check your local library for print and digital lending options, they have TONS of manga! Finally, thanks to D.A.D.S. for their musical accompaniment for this episode.
---