Ep. 22: A Journal of My Father by Jiro Taniguchi
In one of our longest episodes yet, the crew tackles the emotionally-charged A Journal of My Father by Jiro Taniguchi. It's a great discussion with some real talk and real feelings… on a manga podcast that loves to crack jokes! What're we doing? We're reading great manga, that's what.
Powered by RedCircle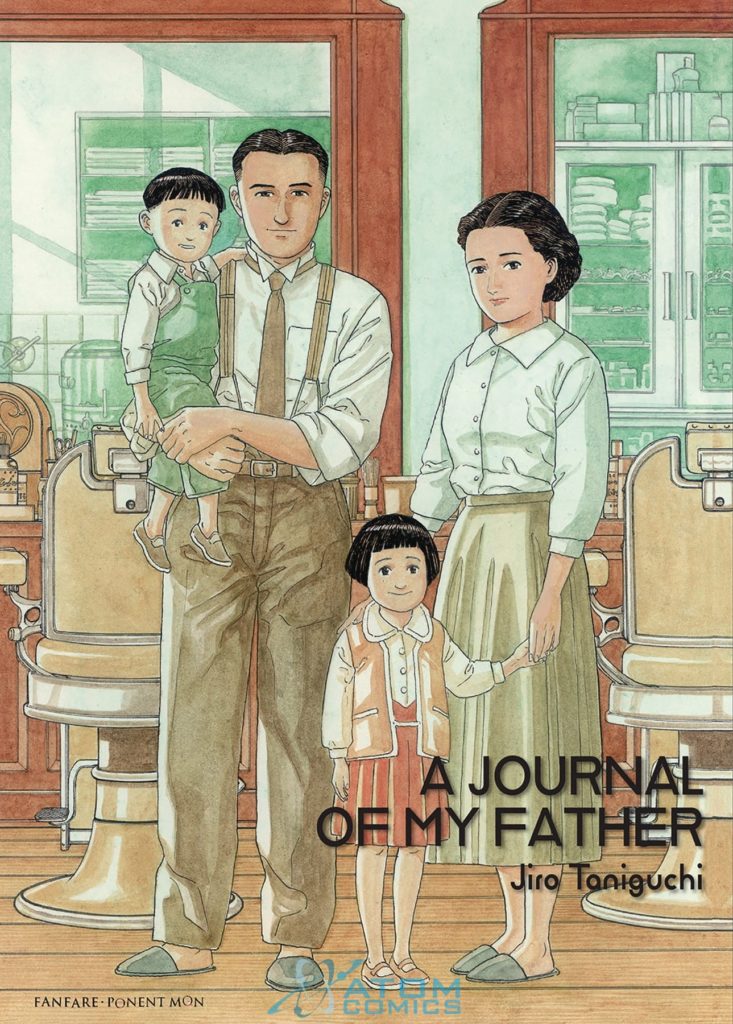 A Journal of My Father
By Jiro Taniguchi
Translated by Kuman Sivasubramanian
Translation assistance by Chitoku Teshima
Published by Fanfare/Ponent-Mon. (Print Only)
Originally published in 1994, released in English in 2020.
00:00: Before we get started:
This episode gets kind of personal and kind of heavy for us at various times, talking about relationships with dads. Maybe that's two weeks in a row of slightly heavier than you were expecting comedy manga podcasts? I don't think anything merits a content warning, but we do get a little choked up and share some real stories at points, heads-up.
Also! In the first 10 minutes of this podcast we just reference book after book by Taniguchi, so I should probably give you a bit of background up front.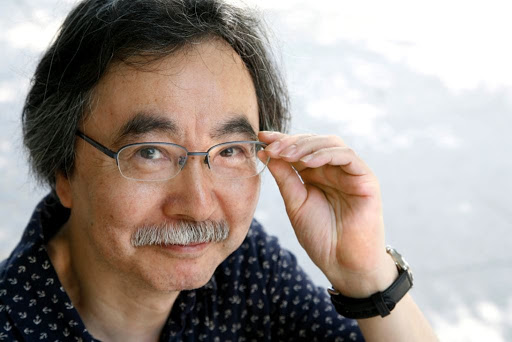 Jiro Taniguchi (1947-2017) is the author of dozens of manga, and is somewhat surprisingly extensively translated into English. His work is all technically classified as "seinen" manga, but his work tends to be serialized in older seinen or men's manga magazines (sometimes 'salaryman' manga magazines), with the protagonists typically in their 30s, or older, making his work a little different than what usually gets translated here in North America. The work spans genres, from manly-man stories of survival on the frontier, to historical fiction, to gentle meditations on life, family, and the world around us. Taniguchi-sensei is even more popular in France, where everything he's made (give or take) has been translated into French for that market.
Taniguchi made his debut in Japan in 1979 with the work Lindo 3! and continued working through the 80s, 90s, 2000s, and 2010s. His work in English is primarily translated and published by the UK-based publisher Fanfare/Ponent-Mon, a true passion project on their part. They are a bit smaller publisher and their work doesn't get quite as widely distributed as some of the major pubs. I think maybe folks won't be quite as familiar with his work because of that. They're all available though, on 'online booksellers' if not from actual great stores. It's worth noting that Taniguchi's lead characters tend to look sort of similar, sort of an everyman/salaryman for the reader to project themselves onto. We get into that a little while later, but you can see what I'm talking about it the book covers below.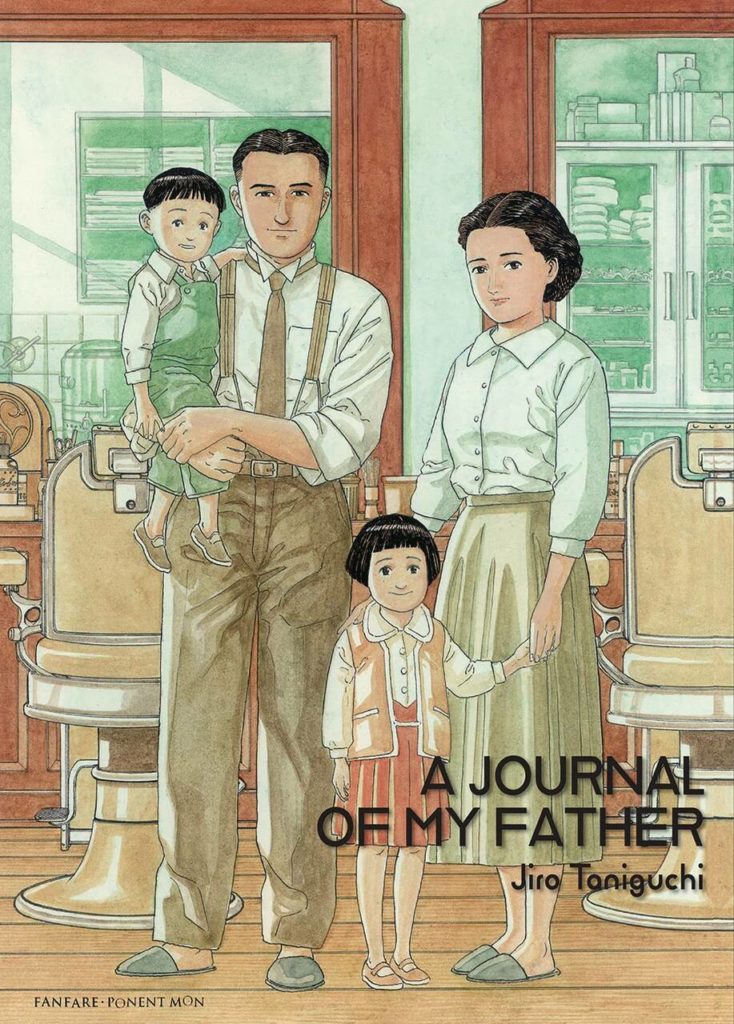 A Journal of My Father: After well over a decade's absence, Yoichi Yamashita journeys back to his hometown to attend his father's funeral. As the relatives gather and the stories flow alongside the drinks, Yoichi's childhood starts to resurface. The spring afternoon playing on the floor of his father's barber shop, the fire that ravaged the city and his family home, his parents' divorce and a new 'mother'. Through confidences and memories shared with those who knew him best, Yoichi rediscovers the man he had long considered an absent and rather cold father.
This sort of sums up the book that we're talking about today, but as you'll see, there's a lot more going on. I just counted, and about 20 books by Taniguchi have been translated into English. Pretty good, I gotta say. Here's the rest of the books we mention during this episode:
—
The Walking Man: A mostly-silent book about a man going on walks through urban, suburban, and rural environments. Quiet, contemplative, peaceful. Good stuff.
A Zoo In Winter: This veiled autobiography sees a young man working his way into the manga industry in the 1960s, moving from a small town to the bright lights of Tokyo.
A Distant Neighborhood: We mention this extensively at the end of the podcast, but this is a bit like the Hollywood adaptation of A Journal of My Father. A very good story, touching on similar themes, but with a bit more humour and a slightly less bittersweet ending.
Venice: Commissioned by Louis Vuitton, this watercolor travelogue has a thin story running throughout the beautiful illustrations of Venice, Italy. Released in two editions, one by Louis Vuitton, one by Fanfare.
Guardians of the Louvre: Taniguchi's last full-length graphic novel, and part of the Louvre museum series of graphic novels. A fully-painted book, and very interesting, but (sadly) not his strongest story. Published by NBM.
The Summit of the Gods: Manly-man mountain-climbing manga! It's also getting an animated adaptation, coming any day now. With writer Yumemakura Baku.
Benkei in New York: A Japanese hitman goes to New York city, commits very stylish and well-illustrated murders of people who need killing. With writer Jinpachi Mori.
Hotel Harbor View: Two linked stories about a deadly assassin, set in Hong Kong and in Paris. A stylish short action comic in a unique 'graphic novel' presentation released by VIZ in 2001(!), without having been serialized.
—
Whew! And that's JUST the ones we name check during this podcast, there's that many again. Totally an author worth digging into, if you like your manga aged up a bit. 🙂
Oh, and here's that preview video for Summit of the Gods I just mentioned. It looks pretty awesome. 🙂
—
01:00: When I joke that I don't know who would be on a Jiro Taniguchi podcast with me, Deb mentions "Stephen", and that's Stephen Robson, who is the publisher of Fanfare Ponent-Mon, and clearly loves Taniguchi's work more than I do.
02:00: Okay so this might seem a bit weird, but I start this episode with an explanation of a previous Jiro Taniguchi release, A Distant Neighbourhood, but please trust that it all ties together at the end.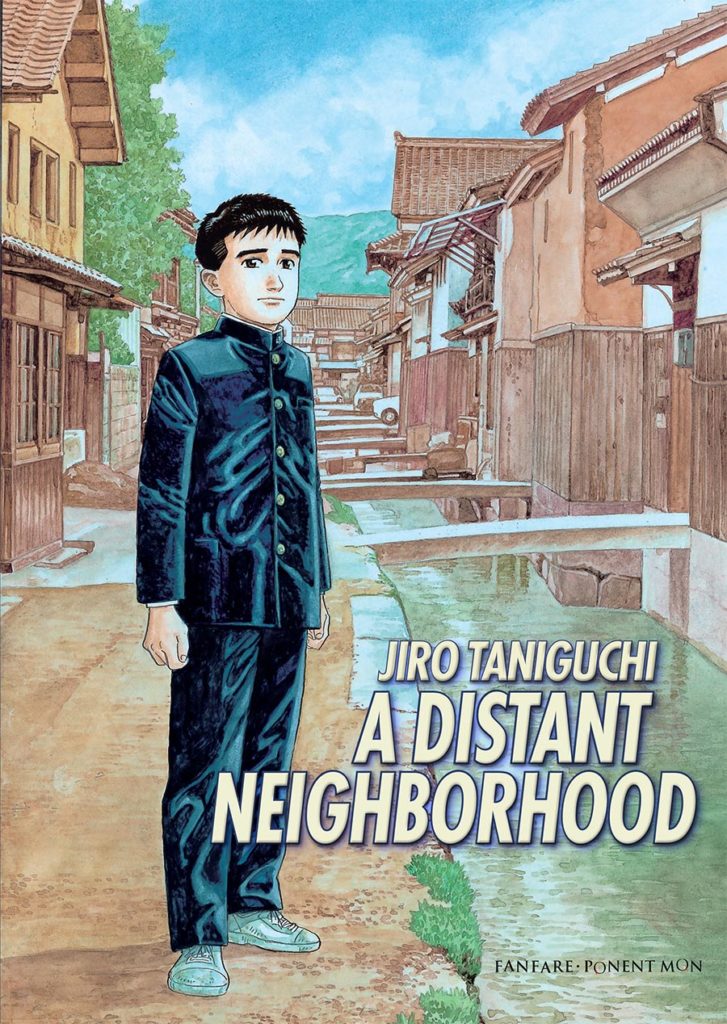 04:00: Eisner nom! It's true! A Journal of My Father was nominated for "Best U.S. Edition of International Material—Asia", which is basically the manga award (occasionally a Korean comic will get a nom too. The Eisner categories are bizarre).
It's worth noting that Taniguchi has been nominated for this award 6 times, and as of yet hasn't won it. Sadly.
05:15: "I'm not an expert, but I have read every book by him translated into English." Deb is so incredibly humble about just how much she knows about manga.
11:00: So not a memoir, but also, kinda/sorta a memoir?
I speak here about working with Yoshiharu Tatsumi, author of A Drifting Life. He talked a bit about how Japanese authors will resist doing straight autobiography, as it's maybe too direct or embarrassing. Tatsumi was from a different generation of course, a little older than Taniguchi, but I'm not surprised to see that this is the second book by Taniguchi dealing with a boy's strained relationship with his father in the prefecture of Tottori, Japan, but isn't quite autobiography. This trend is slowly changing though, as over the past few years direct memoirs/autobiographies like My Lesbian Experience with Loneliness by Kabi Nagata, and What is Obscenity? by Rokudenashiko have found great success in both Japan and in English translation.
Just as a real bonus for folks who read the show notes, I've never shared this with anyone, but I mentioned that "later Tatsumi pages showed interactions with real people."
A group of us met with Mr. and Mrs. Tatsumi for dinner back in 2012, and he showed me some of the pages from what would have been A Drifting Life 2, the sequel to his thinly-veiled autobiography. He let me take a photo of the scene where he meets cartoonist Adrian Tomine for the first time. Adrian would go on to help Tatsumi's work be published in North America by Drawn & Quarterly, sort of bringing the whole project full-circle. I think that's where that volume would've ended actually, and it's interesting to see Tatsumi-sensei's stand-in character meeting real-world Adrian in the book.
I got permission to share this illustration of Adrian, but not the other pages I photographed, so they'll have to stay sealed in the vault for now. It was a special moment though. I still miss Mr. Tatsumi a great deal.
14:30: Moving deep into father/son stories, Naruto, which we covered on this podcast, got a sequel story set 10 years in the future called Boruto, which is about how Naruto being the big-boss Hokage is actually all hassles and causes him to be an absent dad from his son, Boruto's life. But also there's ninja action. Not since the father-son battles of Oishinbo has a series been so fraught with familial tension!
16:10: The real-life event that David mentions is the great Tottori fire, which took place on April 17th, 1952. The fire is a major inciting incident for many threads of this book. We mention the fire, and come back to it a few times, so I think it makes sense to gloss it here up front.
You can read an article from 1952(!) about the fire here: https://www.fireengineering.com/leadership/tottori-japan-nearly-destroyed/#gref
And here's the double-page spread of the city, after the fire, that we mention a little later this episode. The depiction of the fire is really, really well done in this book, but we didn't include it here because it really is worth tracking down and buying this book, and we want to leave some surprises for you…
17:00: David references Panorama Island, which we discussed in episode 16.
19:15: We all take turns having kind-of a rough time this episode. This episode is, as Chip says later, the one where we all talk about family.
37:00: So at this point we mention that Taniguchi got his start as an assistant to manga-ka Kyuuta Ishikawa (1940-2018). Ishikawa did mature adventure manga, but interestingly it looks like he adapted a number of Edogawa Ranpo stories including Caterpillar/Imo-mushi, which we've mentioned a few times! Huh, everything cycles, you know. Interesting.
Anyway, here's a few photos I found of this dude
And you can see that he's got sort of the square jaw thing going on that Taniguchi's protagonists tend to: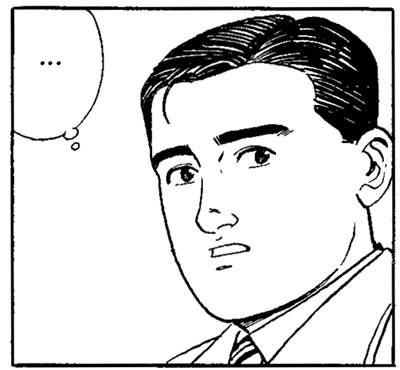 Meanwhile, Taniguchi himself has a cleft chin and a very different head and neck shape.
Maybe this is all nothing at all, but I found it interesting when doing the prep for this episode. 🙂
42:30: "Chris is into this dude."
Yeah, I was kinda into Uncle Daisuke, not gonna lie.
43:00: This whole thing about Daisuke's relationship with Yoichi's mom is interesting. I didn't mention it at the time, but I think Daisuke could forgive her because she sought the freedom he always wanted. He'd have been a hypocrite to have cut her out for something he wanted and understood, but denied himself. Also he makes two 'jokes' about how all he has left is sake in the space of 10 pages. It really hit me pretty hard.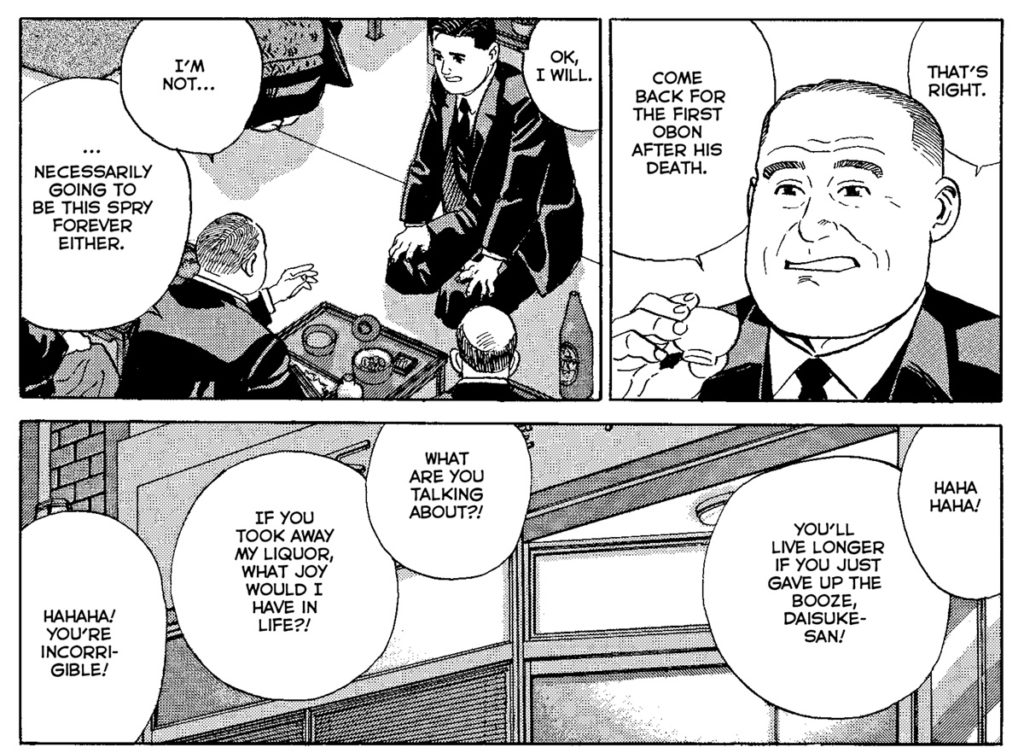 47:10: Deb quotes extensively from the end of the book, using Yoichi's wife as a stand-in for the conversation Yoichi couldn't quite have with the rest of his family. I think it's an interesting chapter, as it wraps up some of the things that went unsaid and makes them plain, but it doesn't really feel like an info-dump, because the circumstances of the funeral sort of demand the sharing of memories. Anyway, there's a bunch more to this sequence, but here's just a snippet.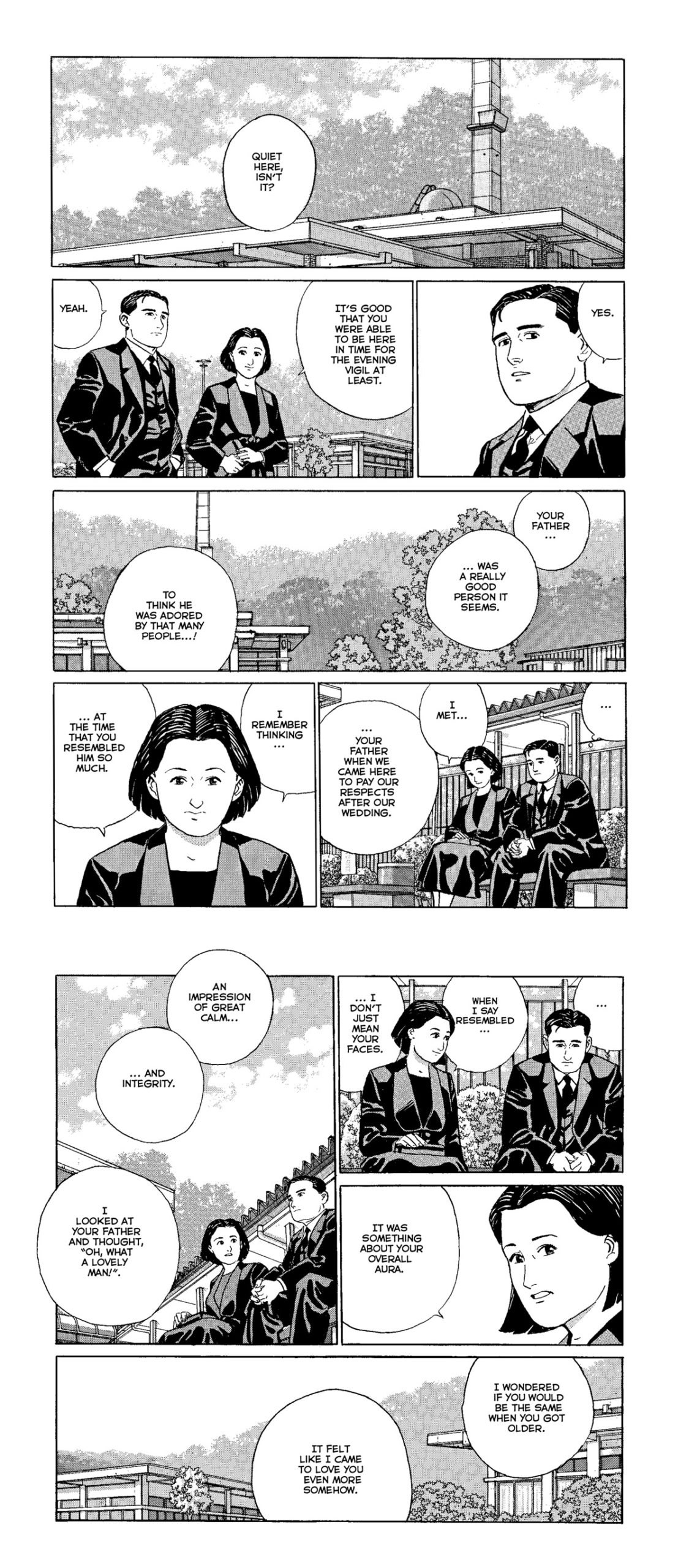 56:39: So David mentions the reproduction maybe not quite being up to today's standards, and I can kind of see it now. Today's B&W manga is usually printed around 1200dpi, bitmap, and this looks a little closer to 600dpi, causing some wavering.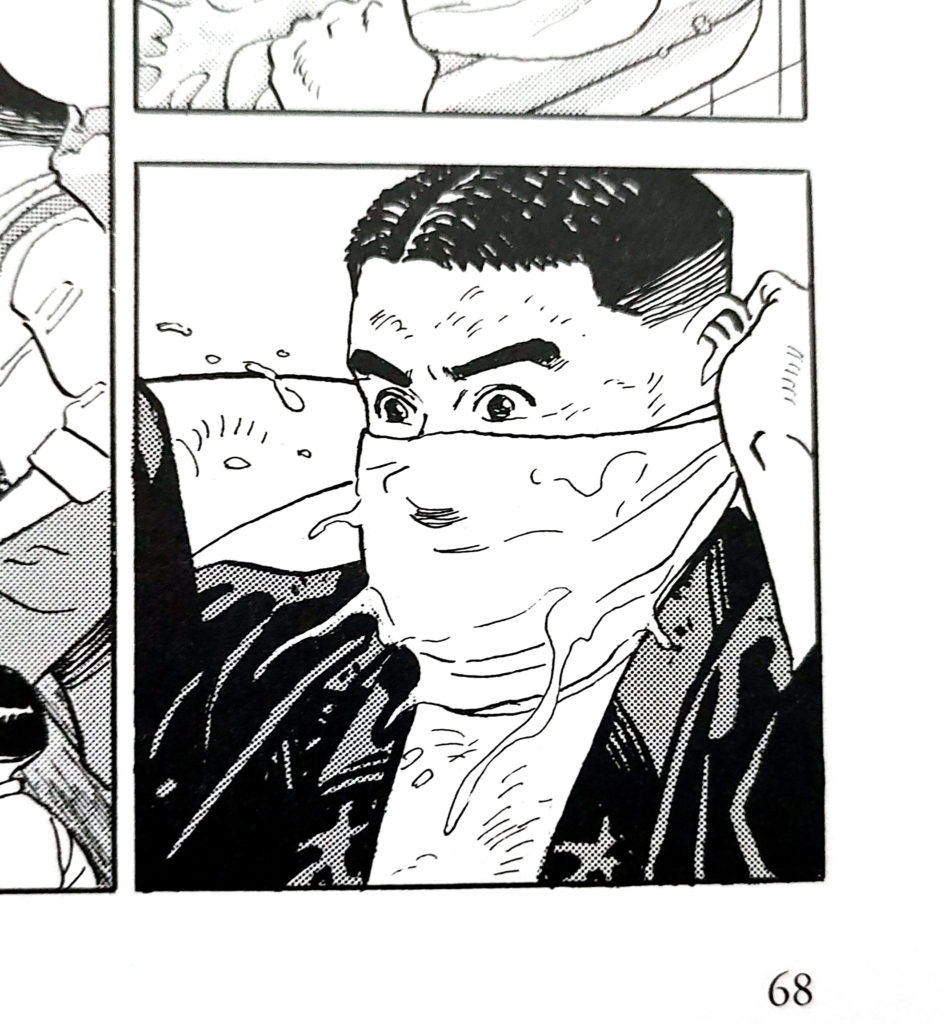 57:50: Lead dude of Angouleme! Haha, oh man. I fucked this up in every conceivable way, sorry y'all.
First up, it's the winner of the Grand Prix de la ville d'Angoulême, a lifetime achievement award given to a great author. The winner of the award becomes the president of the board and the prize jury for the next year's festival.
Secondly, Taniguchi never won that particular award, although he was very heavily awarded throughout his life and career. He did receive a massive, thoroughly-conceived gallery exhibition of his work at the Festival in 2015, the year that Bill Watterson won the prize but didn't actually show up to Angouleme, and I may have conflated those two things. Apologies there!
Anyway that exhibition was awesome.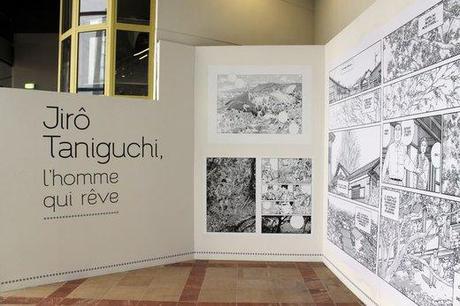 58:30: I mention Italian cartoonist and editor Igort, and his book Japanese Notebooks. Getting to see that original material exhibited in Japan, alongside a bunch of Taniguchi's originals for Venice, was really special. They were pretty strict about photos, but I snagged a few (bad) ones here.
59:45: The Louis Vuitton series of travel books. Look I know this is the bougiest thing I've ever linked here, but these books are gorgeous.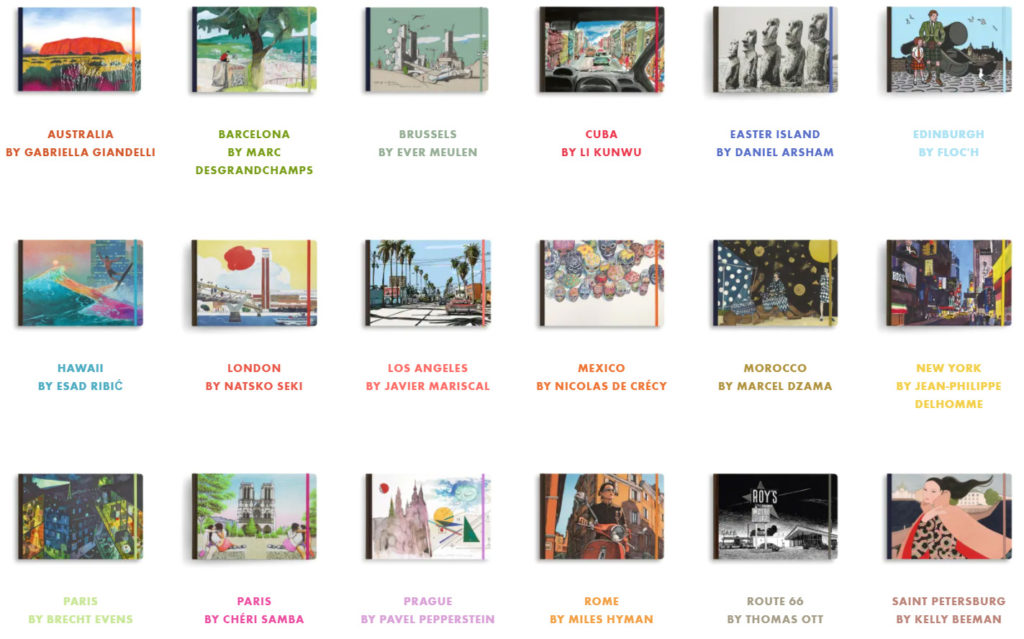 Jiro Taniguchi, Lorenzo Mattotti, Esad Ribic, Brecht Evans, Nicolas De Crecy, Marcel Dzama, Gabriella Giandelli, and Thomas Ott are the comics names I recognize, but there's nearly 2 dozen books in the collection and all of these illustrators look incredible. If you like travelogues and gorgeous comics art, congratulations, you've just discovered a brand new expensive thing to collect.
Fun-fact: They produced short films for each of the books, featuring the artists involved, because of course they did. Here's Taniguchi's:
1:00: I'm getting a little inside-baseball here, but the short-version is that. Even though Benkei in New York was released in Japan a few years after A Journal of My Father, it was actually released in English 20 years earlier, with all the attendant problems of printing. Comparing these two printed works in English and you can see a huge distance in how they were reproduced, with lots of the fine lines that Taniguchi uses sort of disappearing. It's still pretty good, but printing technology has come a long way in 20 years.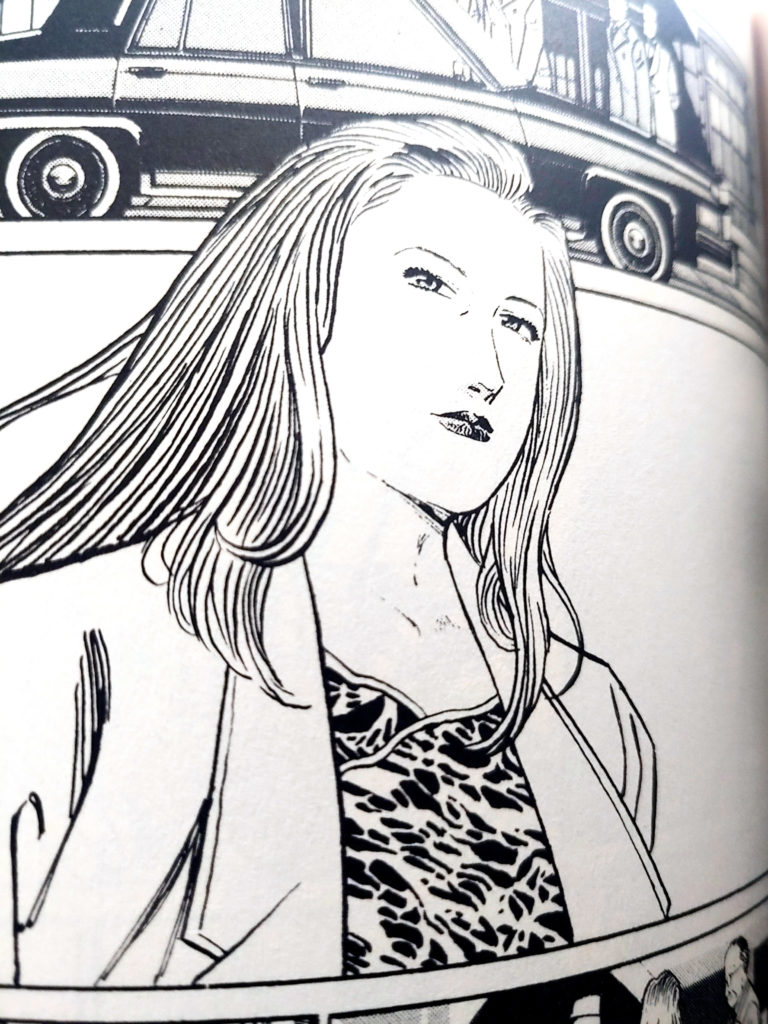 1:05:00: Taniguchi's A Distant Neighborhood was a huge hit in France, where it was known as Quartier L'Ontain. The Belgian film adaptation keeps the French title (obviously), but moves the story from Japan to Belgium.
Looks like it did get an English release at some point, as there's a trailer with English subtitles. It's a bit strange seeing the story so familiar to me transposed to Europe.
1:10:00: Chip's colour corner.
He likes the cover!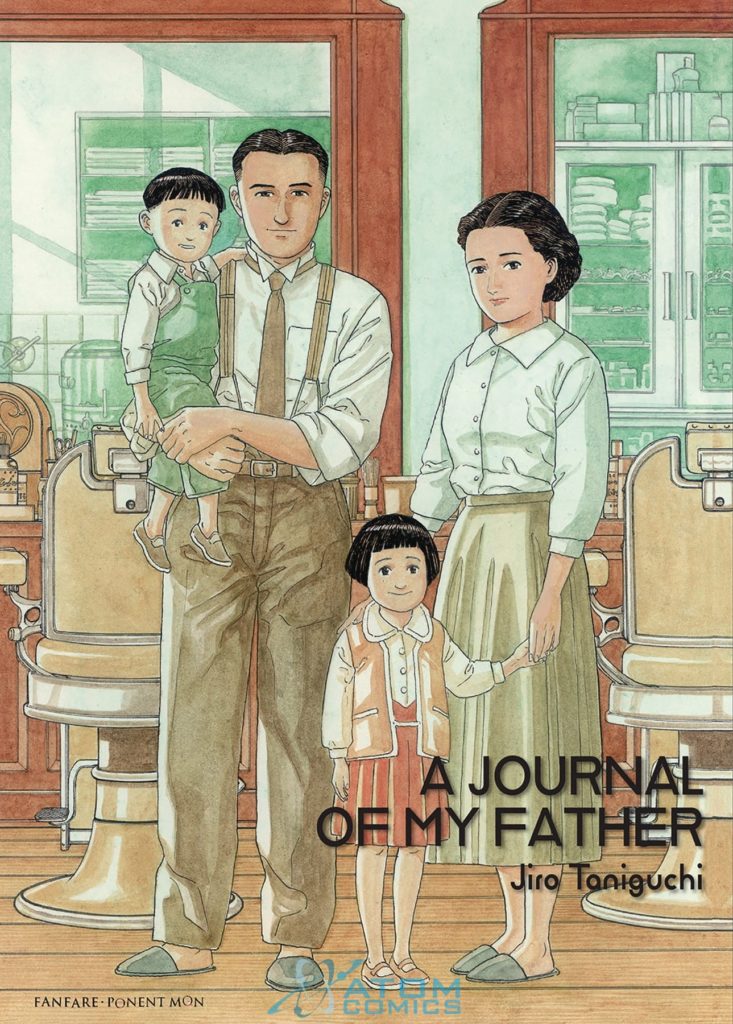 He likes the end papers!
He isn't super into the colour pages!
As Meatloaf sang, two outta three ain't bad.
1:12:00: Looks like we had a bit of a recording problem there, and it clipped out "Mermaid Saga" which is the title of the manga I spend the next minute referencing. We talked about this situation and manga during episode 3.
1:14:00: Here I specifically reference pages from Taniguchi's Venice, where he uses lush watercolours for the backgrounds and even the fashion, but maintains a sort of manga/anime hard cut on the faces.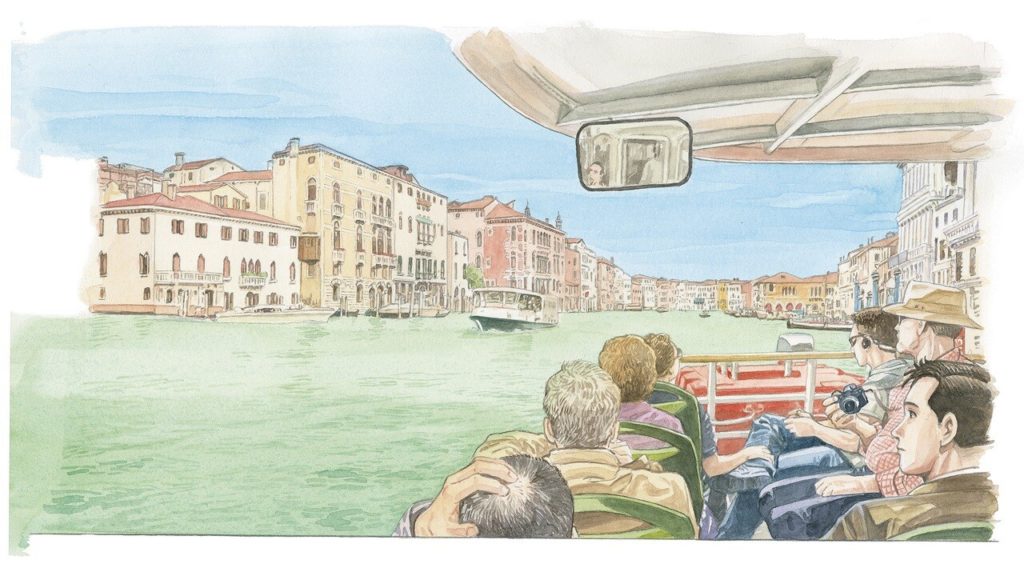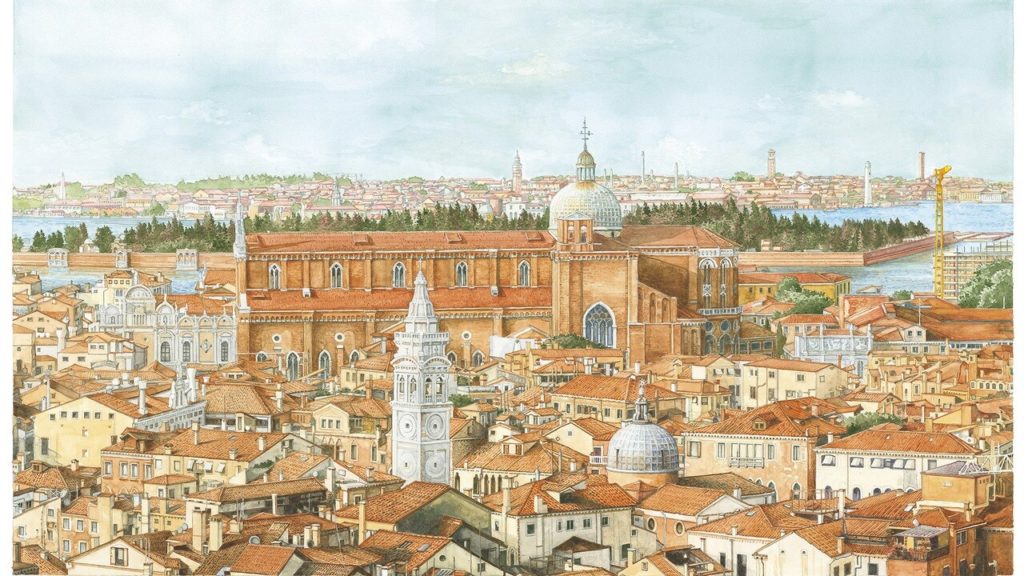 It's an interesting look. I found a better example than the one I was referencing, you can see it here in the difference between the way he illustrates the woman and the protagonist. Very different artistic treatments.
1:15:45: A very powerful moment, revisiting that green-tinted scene from the beginning of the manga with a new perspective, this time with Yoichi's father looking back in happiness and smiling at him playing. This manga has an awful lot to say about the unreliability of memory.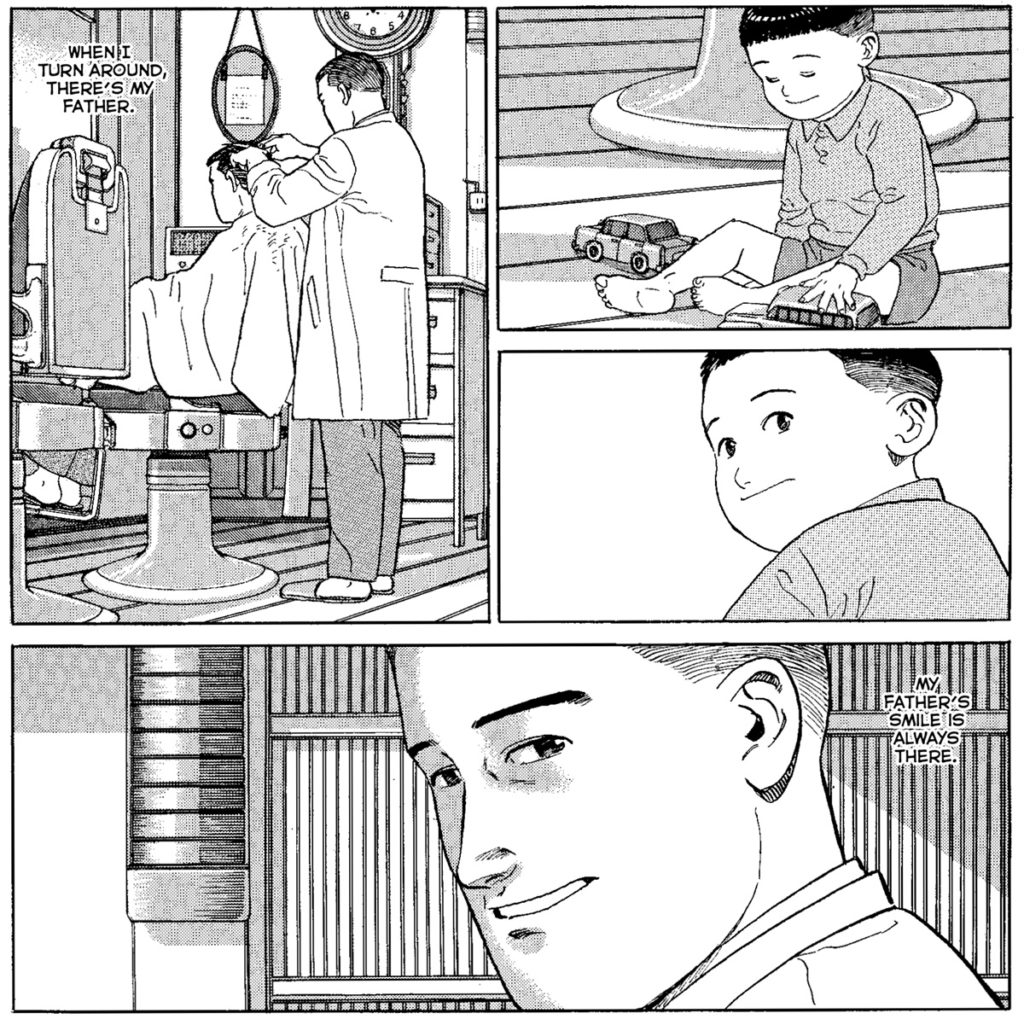 1:19:00: Okay these come a bit rapid-fire here, but here we go:
Deb mentions a Jiro Taniguchi train at some point in here, and I found a photo!
The museum Deb is talking about is the Yokote Masuda Manga Museum, located in the Akita Prefecture in the Tohoku region of northern Japan, in Yokote City. It's kind of smack in the middle of Northern Japan, and it'll take at least three and a half hours to get to from Tokyo, but probably closer to five hours, because of how the trains work. Anyway, I've never been and I cannot wait to go visit…!
Official Website: http://manga-museum.com/
1:19:30: So the manga museum was founded by Takao Yaguchi (1939-2020), author of numerous manga including the very-famous Fisherman Sanpei. It ran for 65 volumes between 1973 and 1983, and was adapted into an in 1980. Fisherman Sanpei has some amazing art. Really beautiful hyper-detailed and realistic environments and fish drawings, coupled with goofy, kinetic illustrations of the characters. Really neat stuff.
It's interesting to read that the museum was started because the author was worried about what would happen to his artwork, and the artwork of other creators, after they died. He felt starting a museum to keep it all safe was the way to go. It's really interesting, and I'd love to dig into that more at some point in the future because I know that the Kyoto International Manga Museum is currently acting as a safehouse for a lot of original art, mostly from key shojo manga authors from the 60s and 70s.
1:19:45: Which brings us to David recommending Daisuke Igarashi's Children of the Sea, a really beautiful (and excellent) manga, available in 5 volumes from VIZ Media. Children of the Sea does, in fact, have truly incredible illustrations of sea creatures great and small, but Igarashi's work is almost impressionistic, and often disconcerting, whereas Sanpei tends to go for perfect accuracy. Two different approaches, both really unique. Here's a terrifying splash from Children of the Sea of a whale and a giant octopus.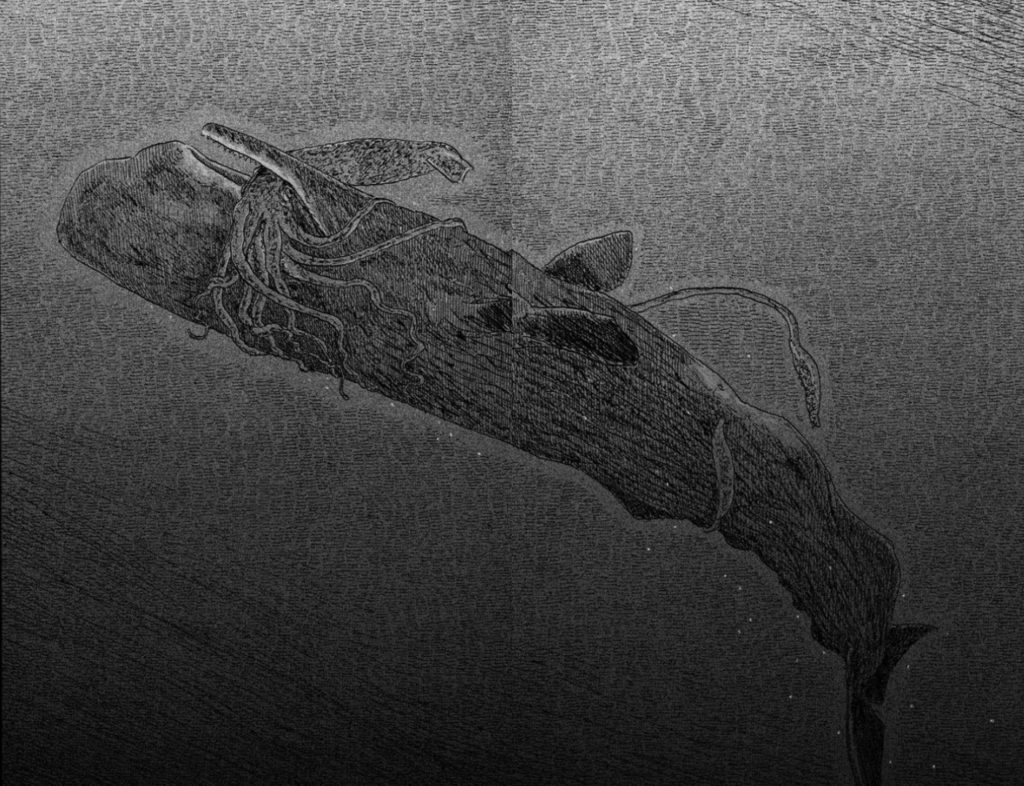 Children of the Sea also got a film adaptation recently, and this trailer for that film should give you a sense of the manga.
1:20:00: We had a big cut there! This episode is getting hella long and we cut a whole conversation there about how we're choosing the next round of books, sorry if that seemed a little harsh!
---
1:05:47: THE BREAK! Please remember that after this point, timestamps are pretty approximate due to digital ad insertion. 🙂
Question of the week:
"As someone who reads a pretty decent amount of manga, I would say that, unfortunately, about 75% of the stuff I read is scanlations. Most of the stuff I read, I don't really see having a chance of being translated and brought to America. So, my question is this: What is the best way to support the creators of the manga I'm reading, when I can't buy official translated versions of their work, and/or, what's the best way to convince publishers to give these titles a try so that I COULD actually buy them one day?"

From Zach, via email.
I think David is really, really clear about the harm that scanlations do in the general, but also the nuance involved in the situation. We all kinda go in on this too, so there's like, lots and lots to dig into.
1:27:25: That Japanese prison book from Fanfare Ponent-Mon that Deb mentions is Doing Time, by Kazuichi Hanawa. It's an entirely unique manga experience. It looks closer to American alternative comics than what most people think of as manga. It's a very good, difficult read. Out of print I believe, but it can be found if you're poking around.
1:28:20: I probably should have shared this during the podcast but we were already running really, really long, so you can have this anecdote here: I had a conversation with a manga-ka, it was a private conversation so I won't share their name here, but they were annoyed about their work being released to the internet against their wishes, and not being translated by an amateur translator, but by someone who liked the art and couldn't read Japanese at all. They just made up a whole new story and re-wrote the word balloons, using the existing art. The manga creator felt that person was out and out stealing the work, overwriting their original story and intentions, making it theirs. So, yeah, some manga-ka don't really like scans, super not cool.
1:33:00: Yeah, the short answer is, if you REALLY want to support any author for the work that you love? Buy their book. Go to Kinokuniya and buy a Japanese copy. Or Amazon.jp if that's your thing. Buy a new copy of their book and that's how you can offer financial support. It's remarkably straightforward.
[Deb]: You can also buy digital versions of Japanese manga from BookWalker.
1:34:45: I off-handedly mention the website My Anime List. https://myanimelist.net/. Fans call it MAL, and it's a pretty good online repository for all of the manga and anime being released in Asia. It lets users rate them, rank them, etc., while not really mentioning (let alone condoning) piracy. It's a largely user-driven database so there are big gaps sometimes, but it's a cool site.
1:36:00: Show up for your favs.
1:37:00: That Seven Seas Licensing Survey can be found on the front page of their website, in the upper right corner each month. As of writing, the June/July 2021 survey is open. https://sevenseasentertainment.com/
1:39:30: Yeah the manga situation in France is WILD, it's so, so good right now. And like Deb says, Google Translate can be a bit janky with Japanese, it's VERY good on French/Italian/Spanish, offering very thorough and good translations. Honestly, not as good as a pro translator, but totally usable to get through my many, many French comics. 🙂
1:40:00: Deb mentions Eguchi Hisashi, and his sex-comedy manga Stop!! Hibari-Kun! It's a lot to go into here though, here's the Wikipedia entry for it: https://en.wikipedia.org/wiki/Stop!!_Hibari-kun!
..and that's pretty much the episode!
Thanks to D.A.D.S. for their musical accompaniment! Find D.A.D.S. on Spotify.
Find a comic or manga specialty shop near you at Comicshoplocator.com.
See you next week for BL Metamorphosis!