Ep 7: Yotsuba&! Vol 1 by Kiyohiko Azuma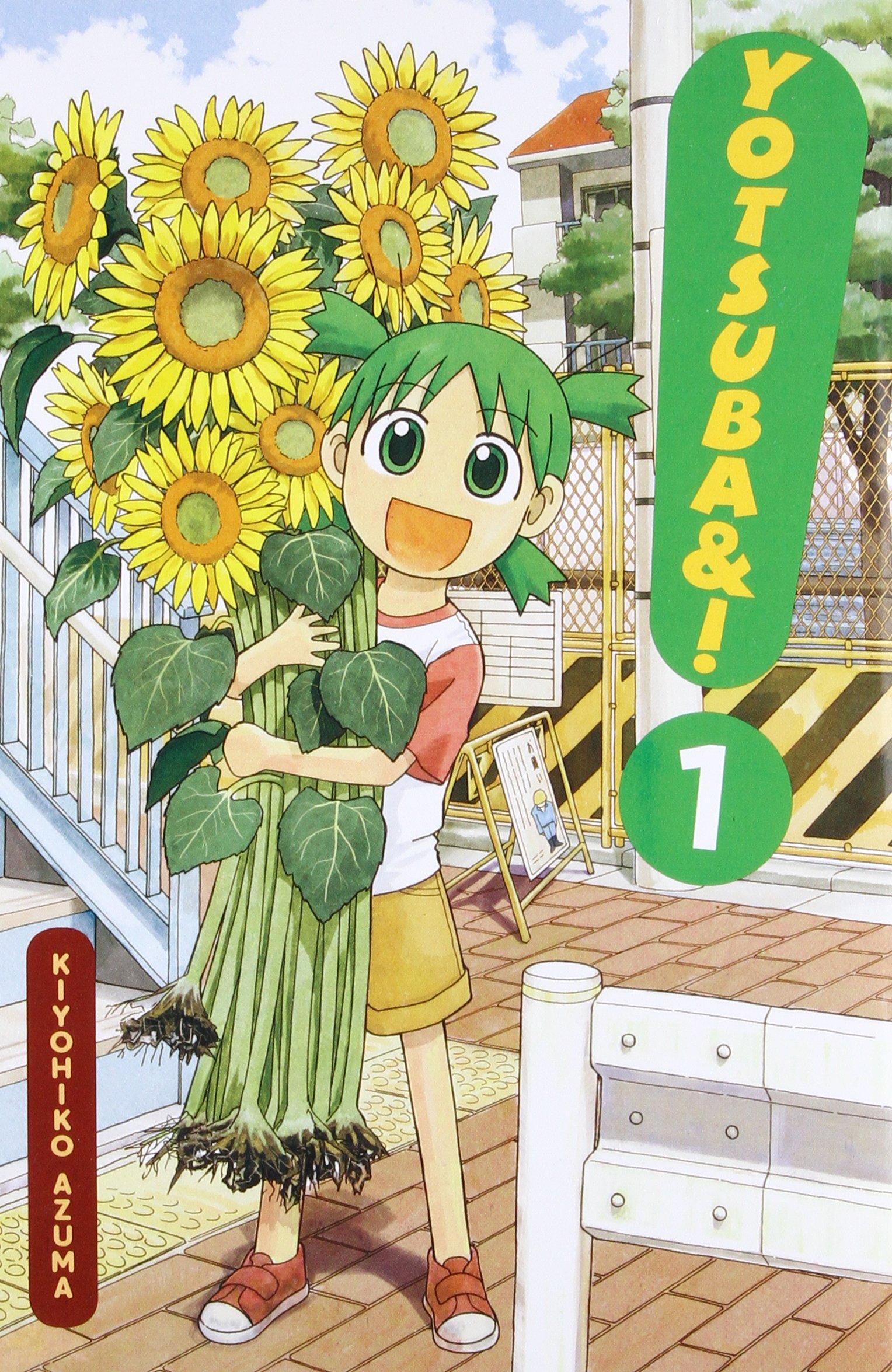 It's the adorable green-haired (maybe) moppet that everyone adores–Yotsuba! But is there a dark undercurrent to this manga that Chip and the gang will discover…? No, no there is not, thankfully, but that doesn't mean there aren't similar books out there to avoid. Give this a close listen, learn to love Yotsuba through this review of Yotsuba Vol 1, and enjoy our two (2!) new manga segments!
Powered by RedCircle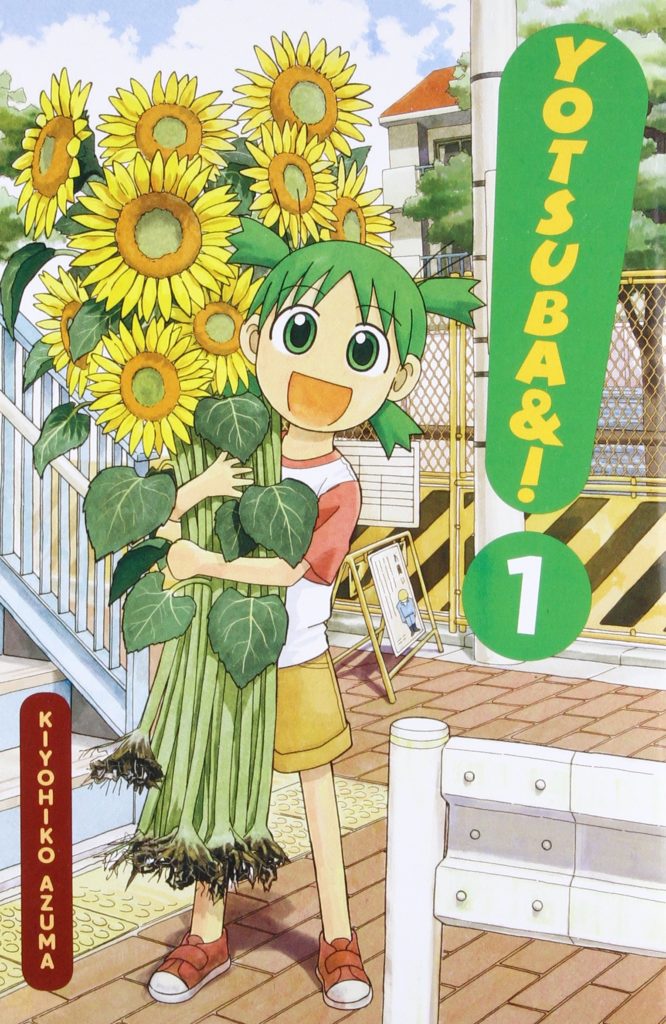 Yotsuba& Vol 1
By Kiyohiko Azuma
Translated by Amy Forsyth
Lettered by Terri Delgado
Published by Yen Press (print and digital, but not digital on every platform)
Notes up front:
Volume 15 of Yotsuba& has been announced for release in English in September, 2021. We've referenced 14 volumes of the book and its long release schedule in this podcast and wanted to make sure we were clear! 🙂
Also, we made a change to our episode order, after the fact! The anime based on the manga The Way of the Househusband is going to debut on Netflix next week, and so we decided to review the manga of it to join in the celebration (i.e.: We want the downloads). So the original next episode, 7 Billion Needles, got bumped one week. We do mention that one being next a few times, sorry for any confusion. Episode 8 is definitely Way of the Househusband, and episode 9 is 7 Billion Needles.
00:55 Just to clarify, the official title is Yotsuba& with the ampersand in it, which is pronounced in Japanese as "tо̄" or "toe." Yotsuba is the lead character's name. We kind of use them interchangeably this episode.
02:15 Yotsuba& was originally published in English by the now-defunct manga publisher ADV. It had a different translation, and its sound effects were translated and relettered into English, rather than including the original Japanese sound effects with little English translations next to it.
03:35 Waifu… is… like I don't really know how to start with this. Basically it's come to mean "I like this female character the most out of all female character" when it comes to manga and (mostly) anime. The male equivalent is "husbando" fwiw. Apparently it originated in this creator's previous series, Azumanga Daioh! Who knew? Other than David, obviously.

04:00 Reminder: Doujinshi are 'fan' comics, and not official. Yotsuba& the series is fine for the kiddos. The doujinshi are more like "Rule 34" made real. I'm not linking that, google it.
06:15 Glomping was a thing, Christopher is not making that up.
13:20 "Ni-chome" refers to Shinjuku Nichome (second district), the most popular 'gay' area of Tokyo.
14:30 Jumbo, btw, refers to the name of one of the characters in the book, the dad's best friend. He's named that because he's very tall. According to the book, 6 foot 10 inches tall. That's tall!
16:30 Publishers, we will gratefully accept 'review' copies. We're not even shy. Hook us up. Thank you.
19:15 We're referring to the end of the first volume, spoilers I guess?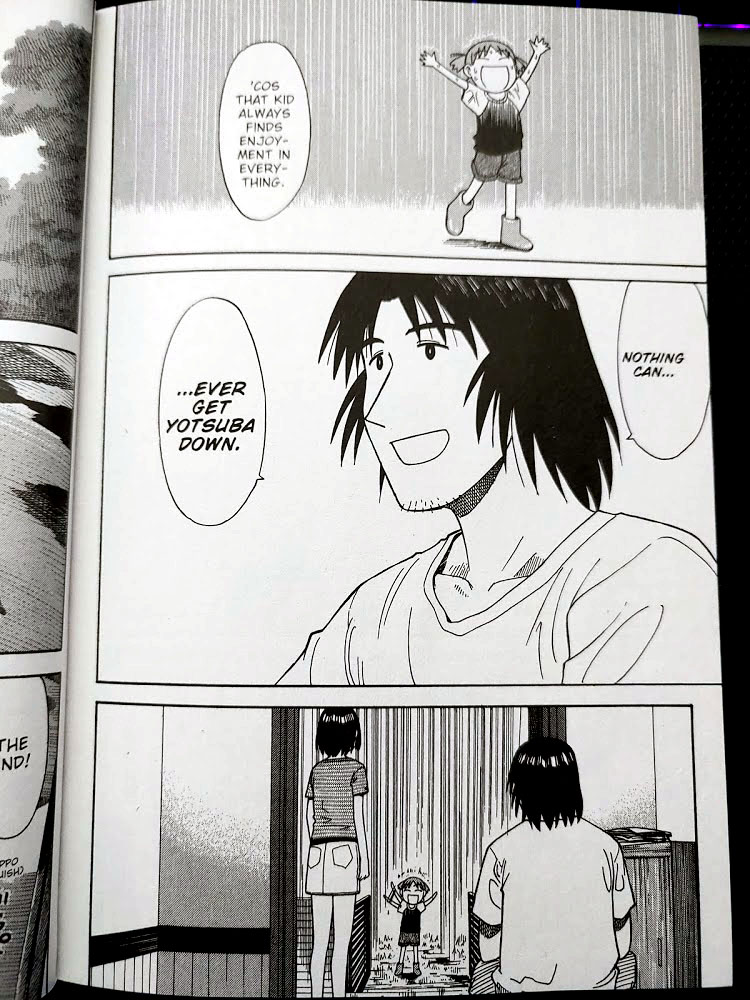 21:31 Ranma-chan's red hair. So this was actually made explicit in the animated adaptation of the Ranma 1/2 manga, to differentiate the two forms of the character more. This happens a lot actually. I should actually be clear though, that it's unclear whether Yotsuba's hair is really green within the context of the story, or just to make her character design stand out more, but I'm pretty sure people would be commenting on her green hair were it actually green.
22:30 So yeah, there was a ton of spin-off stuff. For instance, Danbo/Danboard/Cardbo merch! Like, maybe hundreds of products.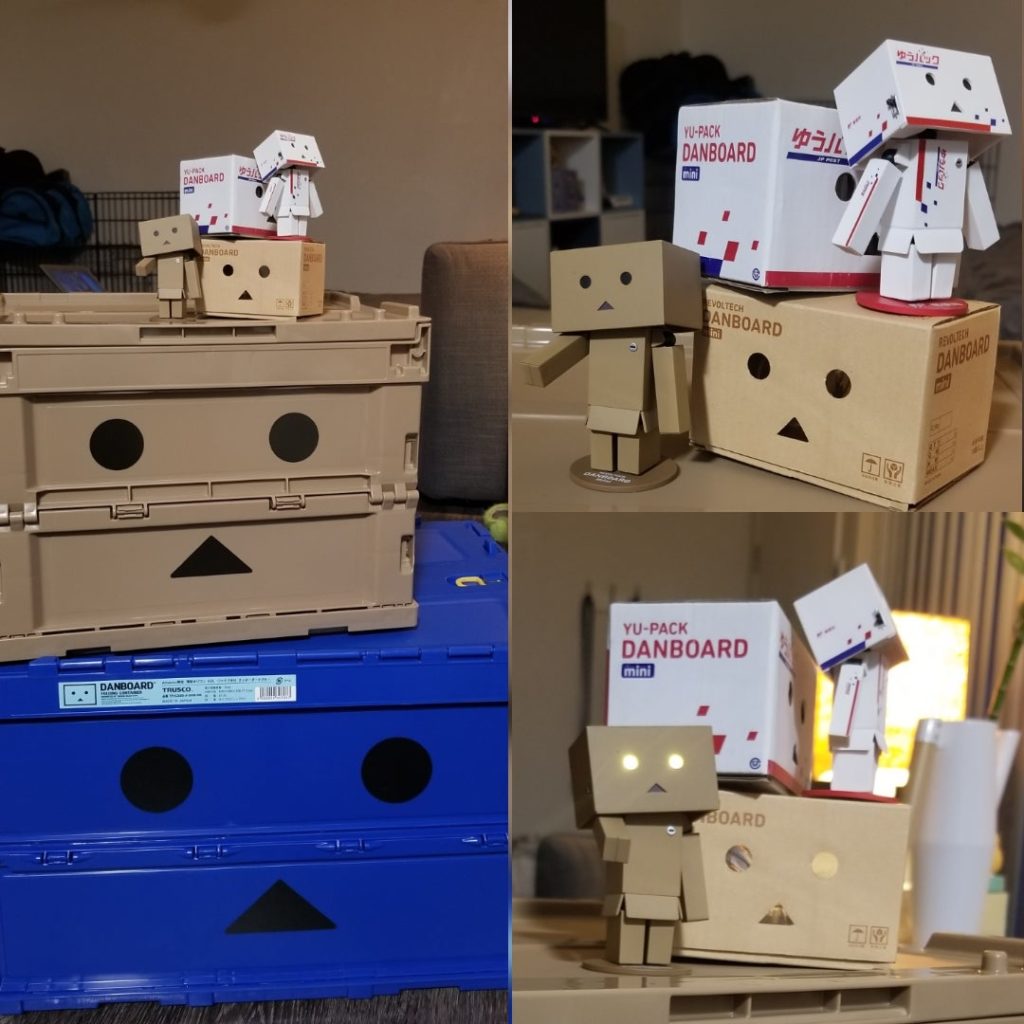 23:00 The intense popularity of Danboard/Danbo/Cardbo iterated into Nyanboard, which actually never appears in the Yotsuba& manga so far as I'm aware. 🙂
23:05 Nyanboard became an anime with an even different take on the spelling, and it was called Nyanbo-! Here's the promo art, and the opening theme song which is actually super cute. It uses a sort of computer-animated style.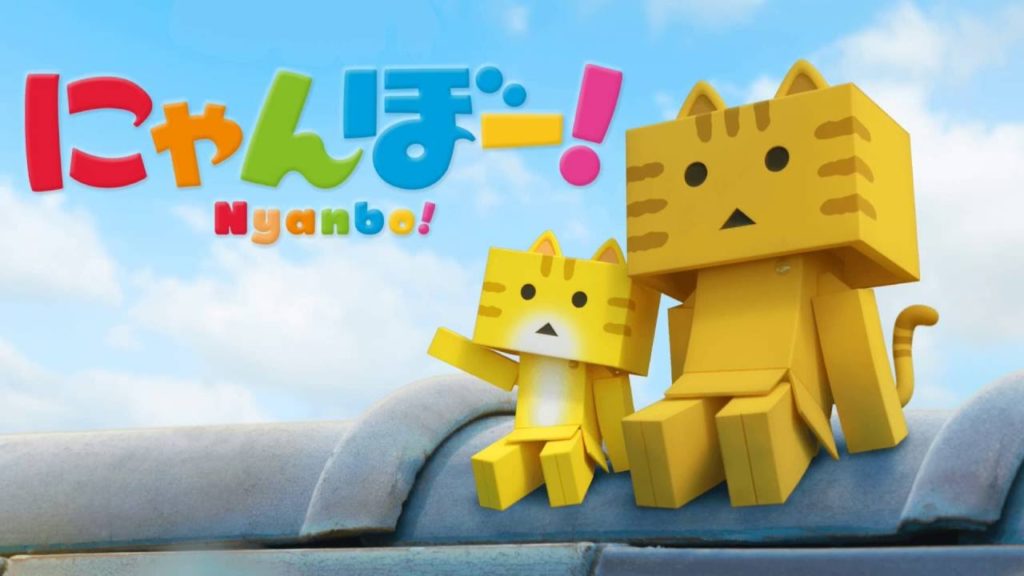 23:20 Funnily enough, Azuma actually said directly in a blog post on his website that there wouldn't be a Yotsuba& anime, and that it was unsuited to the medium. If you can read Japanese (or use google translate), here's a link to the actual blog entry!
24:15 David says "Cardbo", which was the character's name in the first English edition of Yotsuba&, owing to being a cardboard robo. Danboard is the Japanese name, and a version of that has been carried into the translations that Yen is doing today. Fans of the series that started reading with the ADV editions were PISSSSSSED at this name change… 10 years ago. Heh. Some folks hold a grudge. We talk more about the translation decisions made here down the line. 
27:29 Deb mentions the single-dad manga Sweetness and Lightning, about cooking and being a dad. Published by Kodansha.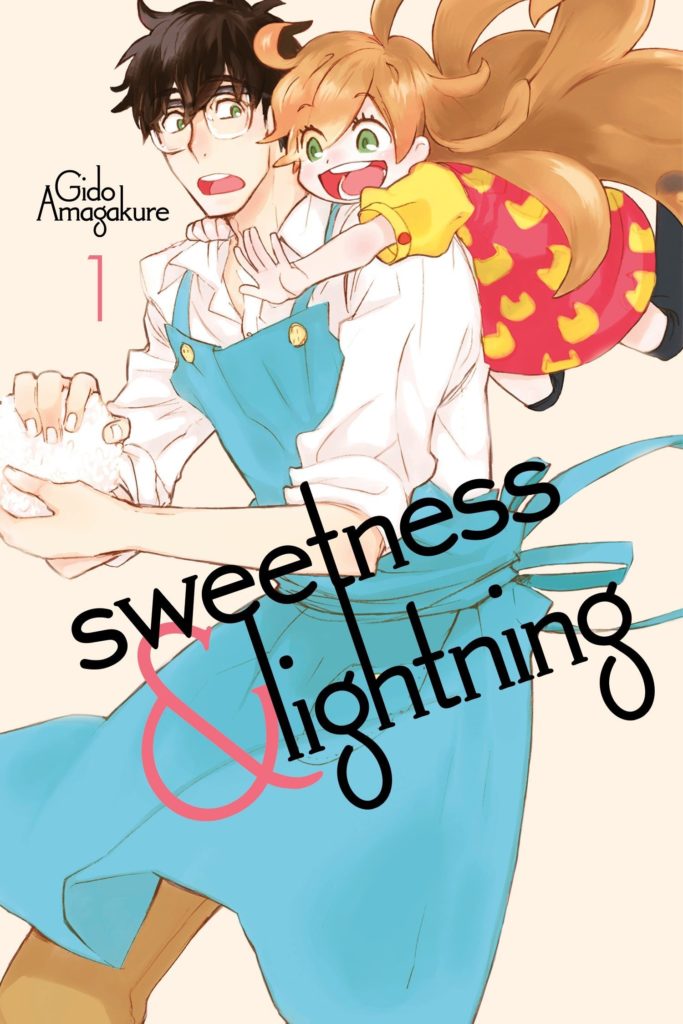 30:00 "I'm fine in the buff!" This was such a great gag.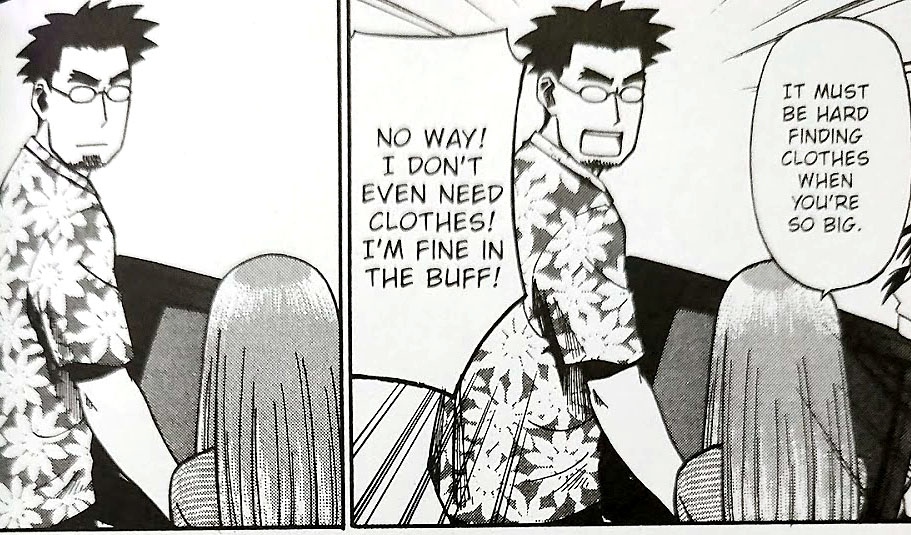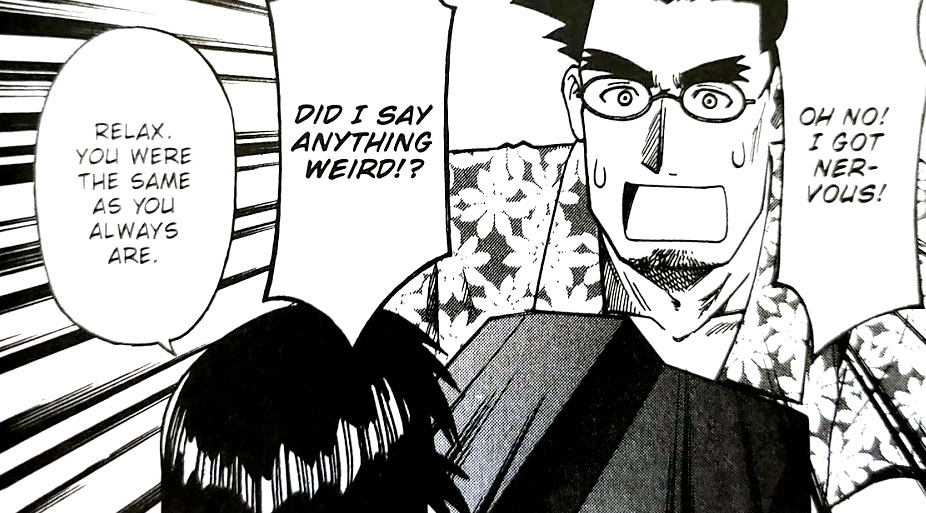 31:15 Blambot was covered in our What The Font?! Podcast notes, but here's a link again just the same:
31:30 The western interpretations of the Japanese words/concepts for 'Kawaii' and 'Moe' can sometimes be contentious, so I'm just copy-pasting from Wikipedia here since these at least have a concensus agreement and if anyone's really pissed they can take the argument there instead. 🙂
Kawaii (Japanese: かわいい or 可愛い, IPA: [kaɰaiꜜi]; 'lovely', 'loveable', 'cute', or 'adorable')[1] is the culture of cuteness in Japan.[2][3][4] It can refer to items, humans and non-humans that are charming, vulnerable, shy, and childlike.[2] Examples include cute handwriting, certain genres of manga, and characters including Hello Kitty and Pikachu.[5][6]
The cuteness culture, or kawaii aesthetic, has become a prominent aspect of Japanese popular culture, entertainment, clothing, food, toys, personal appearance, and mannerisms.[7]
Moe (萌え, Japanese pronunciation: [mo.e] (listen)) is a Japanese word that refers to feelings of strong affection mainly towards characters (usually female) in anime, manga, video games, and other media directed at the otaku market. Moe, however, has also gained usage to refer to feelings of affection towards any subject.
Moe is related to neoteny and the feeling of "cuteness" a character can evoke. The word moe originated in the late 1980s and early 1990s in Japan and is of uncertain origin, although there are several theories on how it came into use. Moe characters have expanded through Japanese media, and the concept has been commercialised. Contests, both online and in the real world, exist for moe-styled things, including one run by one of the Japanese game rating boards. Various notable commentators such as Tamaki Saitō, Hiroki Azuma, and Kazuya Tsurumaki have also given their take on moe and its meaning.
32:00 That list of childcare-related manga comes from Anime-Planet, thanks y'all! Some of the titles on that list that are definitely available in North America are Within the Light, Our Dining Table, Sweetness and Lightning, and the absolutely infamous Bunny Drop. 
Also we're not linking to Bunny Drop. We talk more than enough about it.
Go read Our Dining Table by Mita Ori, published by Seven Seas, instead. It's cute and it feels a male-male romance between consenting adults.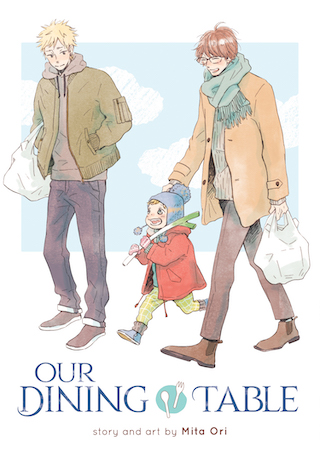 35:30
https://www.youtube.com/watch?v=Z_rBo-M9MgY
37:30 Not the first time we've mentioned Lucy Knisley's excellent work on here! Deb is referring not to her (current) published books, but her online diary comics featuring her family, available on Patreon. Go support her! https://www.patreon.com/lucyknisley
39:00 THE CICADAS. Instant blank-faces-with-square-mouths reaction.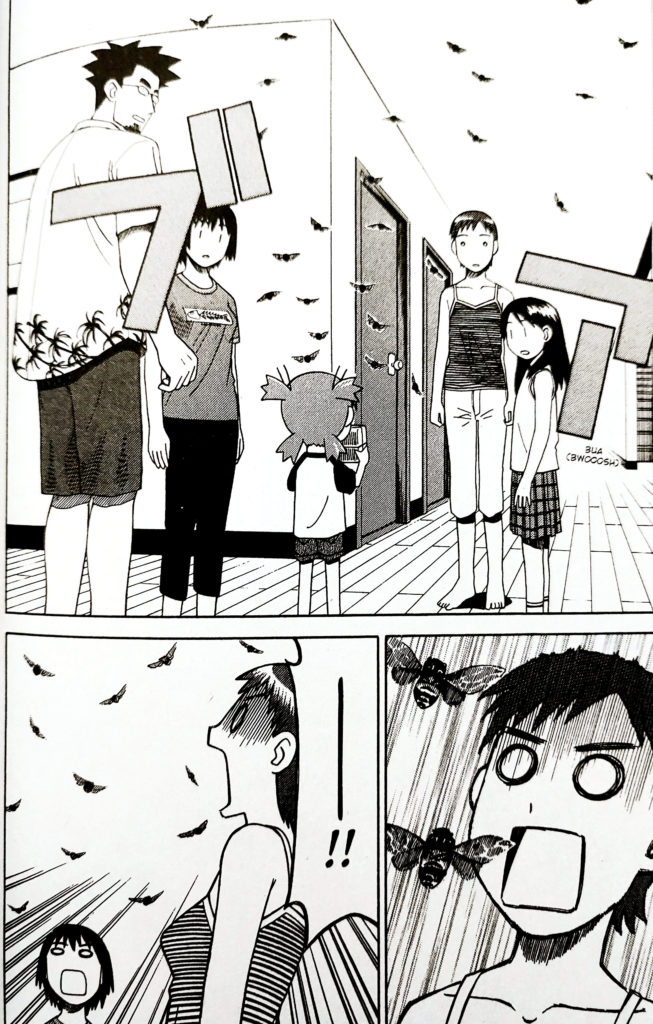 40:50 The double-page spread of the town, as seen from the hilltop shrine. They really drew every piece of that, nice stuff.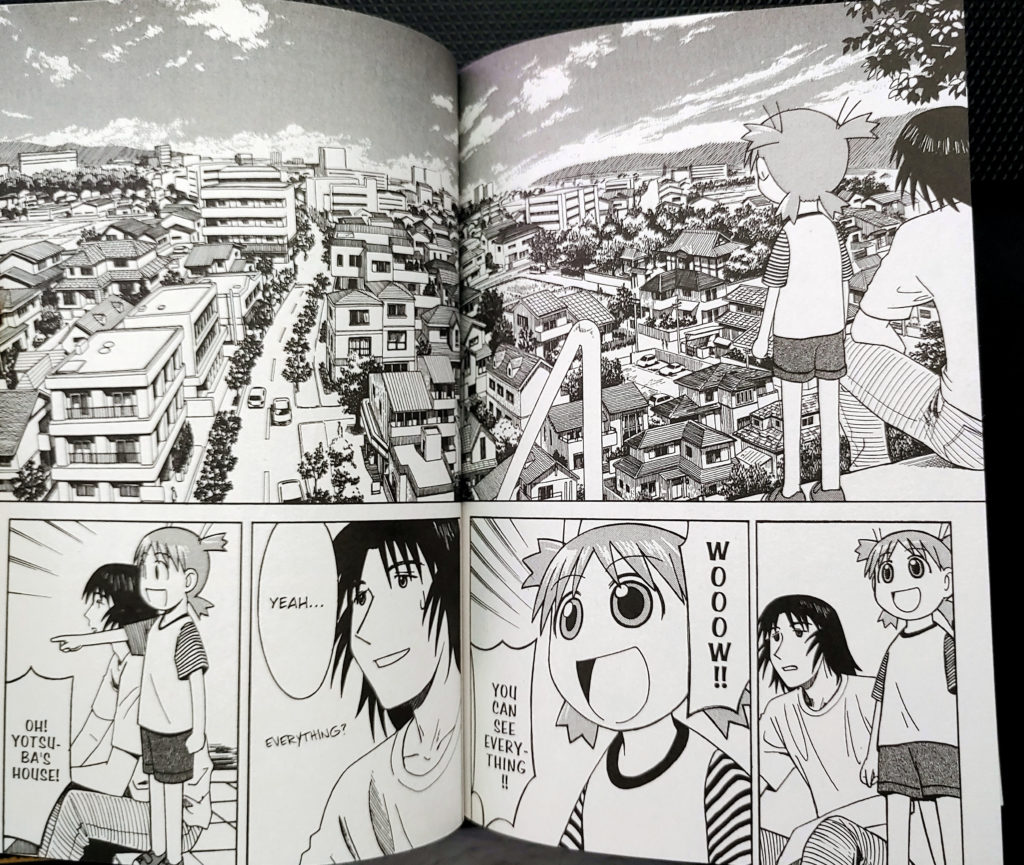 41:30 Azumanga Daioh was another series that was originally published in English by ADV, then rescued by Yen Press and republished as an omnibus with all 4 volumes in one. It was a legit hit across the early manga fandom on the internet.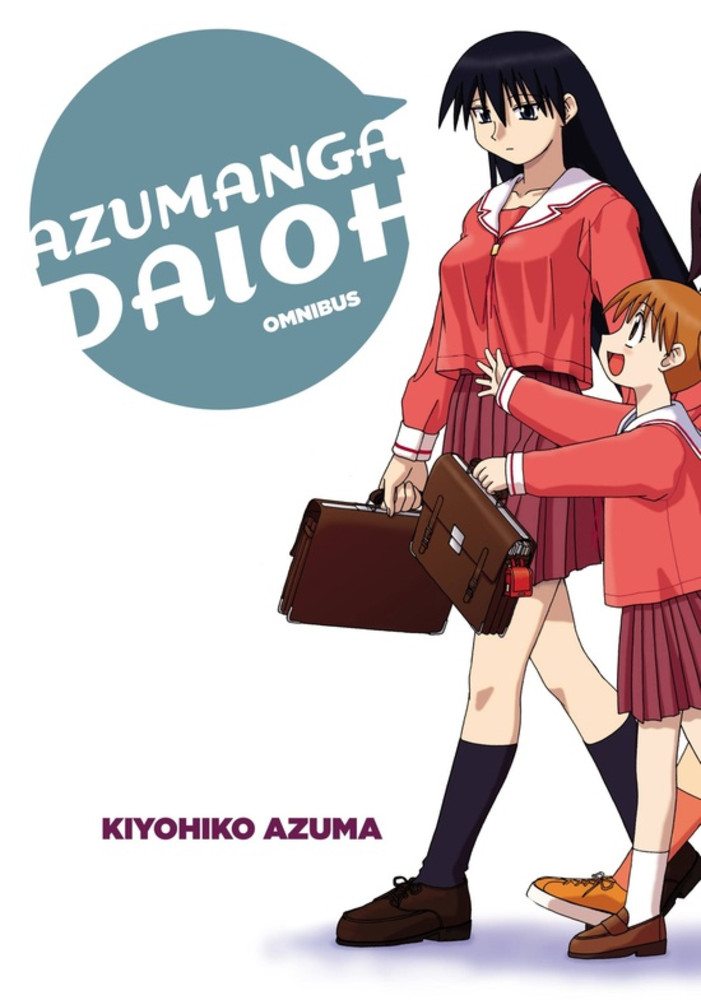 47:00 PULP is the best! It was a mature-readers manga anthology that got newstand distribution in the early 2000s. Heartbroken Angels is the best! It ran in PULP. I mean, it's pretty gross toilet humour and full of self-depreciation, it's funny but it's definitely not anything like Yotsuba. From the wiki: "The series is noted for containing the first instance of the term "fap" as onomatopoeia for masturbation." It's that kind of comic. Now you know! You can find used copies for $25 each on Amazon.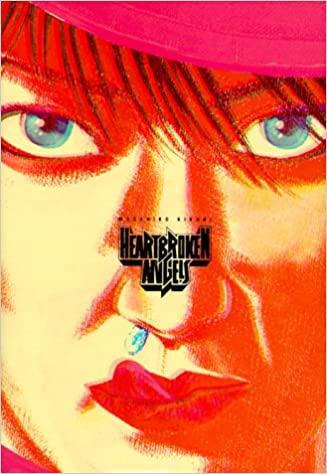 49:15 Hell's Paradise Jigokoraku is a series running in Shonen Jump from VIZ Media, created by Yuji Kaku. It's about a ninja assassin tasked with finding the secret of immortality.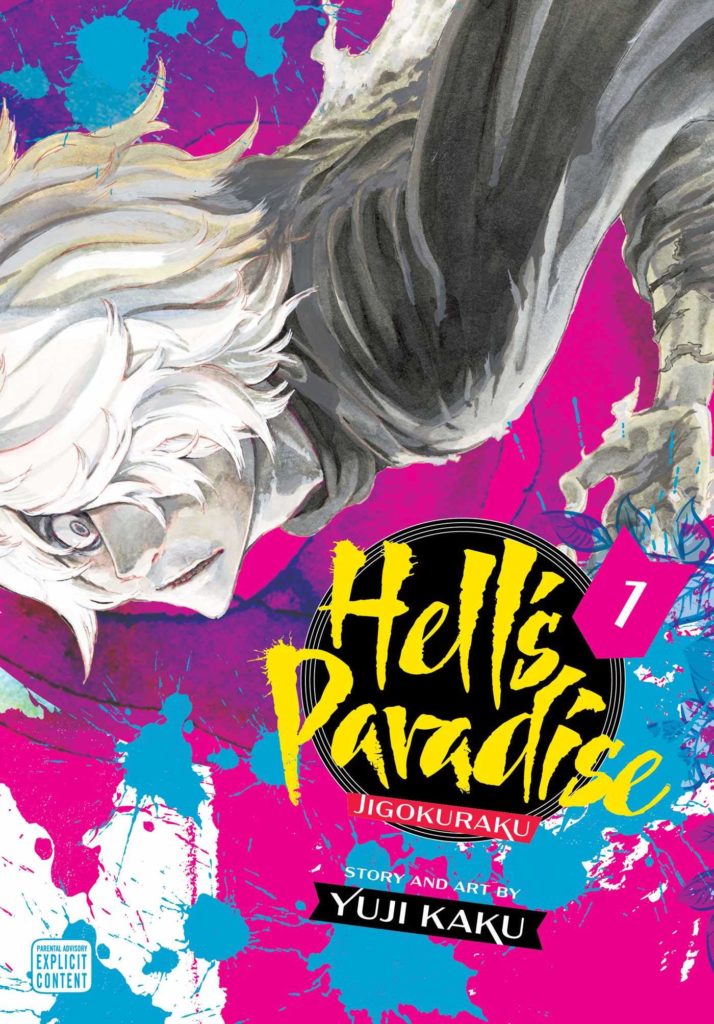 50:15 Ah, Danbo vs. Cardbo again! Sadly the interview Deb references is no longer online, despite being linked to a bunch of places. If someone finds it in the waybackmachine or something, please let us know and we'll add the link it here.
51:40 Just The Tips is still available at better comic book store retailers everywhere. As is, perhaps, Sans Nuance in France. 😉
56:00 The Beguiling, who sort of sponsors this podcast, also builds graphic novel collections for school and public libraries. Click here to have them help build a collection for you! (Sort of sponsored)
56:27 So I did a quick Google search and couldn't find anything about the Scholastic edition of Yotsuba nor how it was edited, but I do know it existed and that happened. Hmm, if it's not on the internet from 2009, did it really happen? Anyhow, I did find this interesting article by our friend Robin Brenner about Yotsuba's adult-readership origins in Japan, and how that might affect who reads it (and how libraries stock it) in North America. Go check it out.
---
1:00:28 THE BREAK! Please remember that ads are inserted dynamically, and so we're pretty much giving up on timestamps after this point. Hope that's alright with you!
---
NEW SEGMENT: It's time for the Question(s) of the Week! Amazing that this episode was being recorded the day after episode 0 went live. It seems like forever ago.
Anyway, a new segment on the podcast! Thanks to Paul for his question. We go preeeetty in depth in answering this question about 'reading backwards' (and Chip actually comes back to it in a future episode! Stay tuned…), so here's all links to all the references we make in this segment: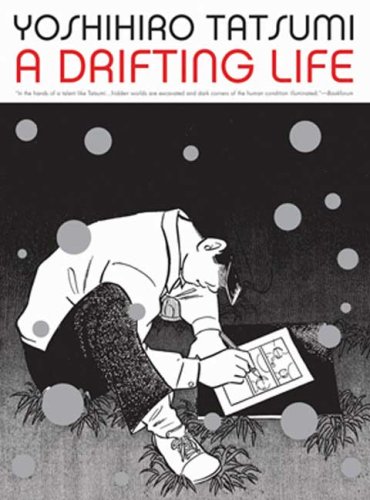 Drawn & Quarterly is a publisher of many sorts of comics, mostly falling under the "Art Comix" banner. Notable creators are Yoshiharu Tatsumi and Shigeru Mizuki.
Garo is a Japanese alternative manga magazine that ran from the 60s through the 80s, with artists often working for low rates (or free), and produced experimental and challenging manga less concerned with artistic craft and more concerned with capital "A" Art and personal expression. This is a big generalization, but it holds up with a few exceptions.
Yoshiharu Tatsumi is the creator of A Drifting Life, a veiled autobiography about the creator's history making manga and his life growing up after the war. It's unique for being a manga created with the eventual North American translation in mind, making it easy to 'flip' or 'cut and paste' to read in the North American orientation. I hope we cover it one day!
Jiro Taniguchi is an important creator who makes men's manga. Sort of older than seinen, often running in magazines aimed at salarymen. His work is almost-exclusively released in english by the publisher Fanfare UK, and notable works include The Walking Man, The Ice Wanderer (including adaptations of Jack London stories), and A Distant Neighborhood. Another author I hope we can cover on the podcast soon.
David mentions 'flipped' manga from the pre-boom days, published by Dark Horse Comics, including Blade of the Immortal and Lone Wolf & Cub, among others. Even the most recent editions of both of these series are published in the North American orientation.
The first commercial, unflipped manga in North America was Neon Genesis Evangelion by Yoshiyuki Sadamoto published in single issues by VIZ Media, with Dragonball and Dragonball Z by Akira Toriyama following. Published in single issues, and then collected in trade paperback editions. You can see two cover images from the series below, released concurrently.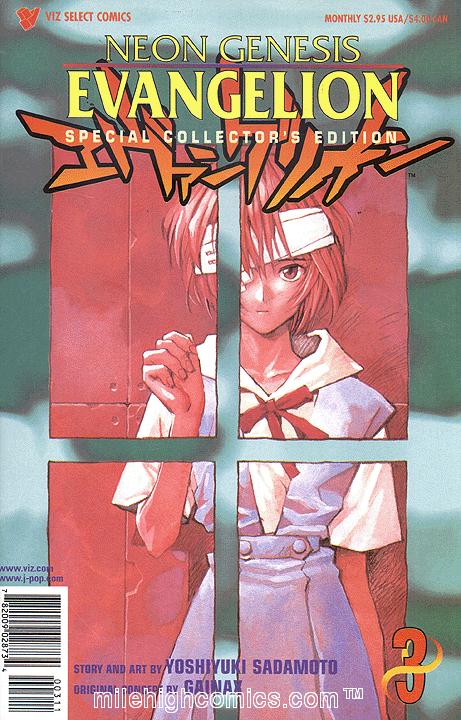 French comics (or more-appropriately Franco-Belgian comics), called Bande Desinee, are generally printed physically larger than North American comics, with more panels per page, and a greater density of information. This idea of comics as a language, and North American, Japanese, and Franco-Belgian comics being different dialects comes up a lot on our podcast.
Shonen Jump online can be found at https://www.viz.com/shonenjump and the first 3 chapters of One Piece and Dragonball Z are available for free there, along with a few dozen other comics. 
---
1:12:07 SECOND BREAK! Yes that's right it's TWO BREAKS!
---
It's time for our "As-Yet Untitled Manga Segment", where we dig into a small thing about manga that isn't necessarily prevalent in North American comics.
Our first segment is from Ajin: Demi-Human, and it's about the difference between serialization and collection, and the artistic changes that are made between each.
Here's the serialization image: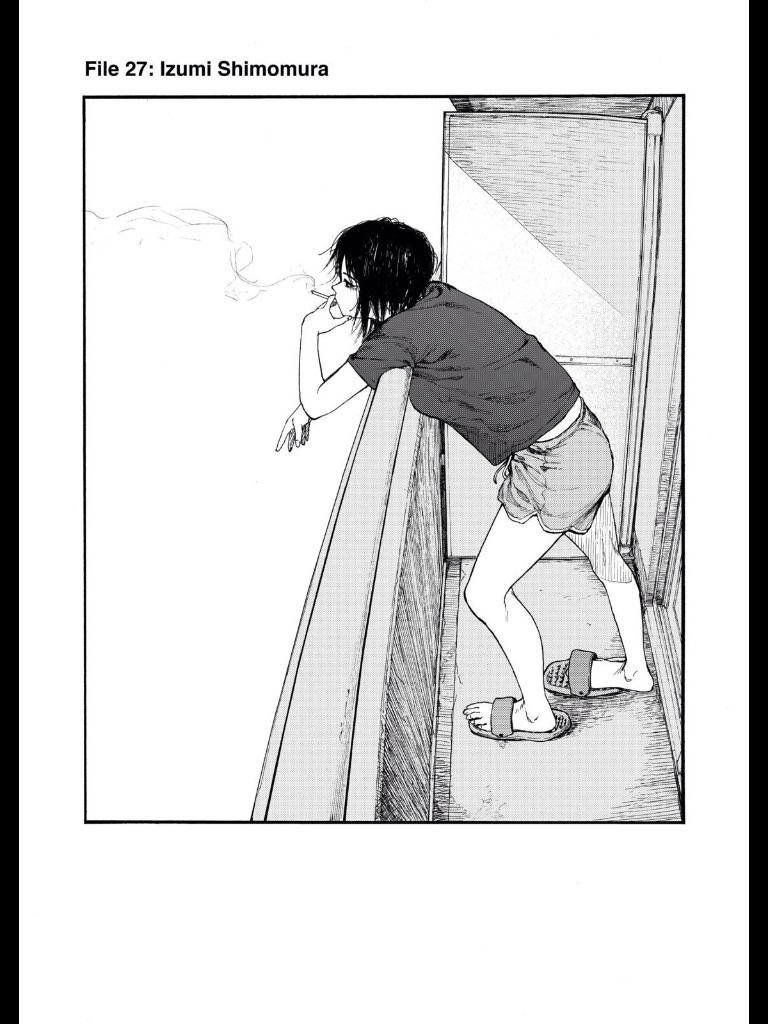 And here's what it looked like in the trade paperback: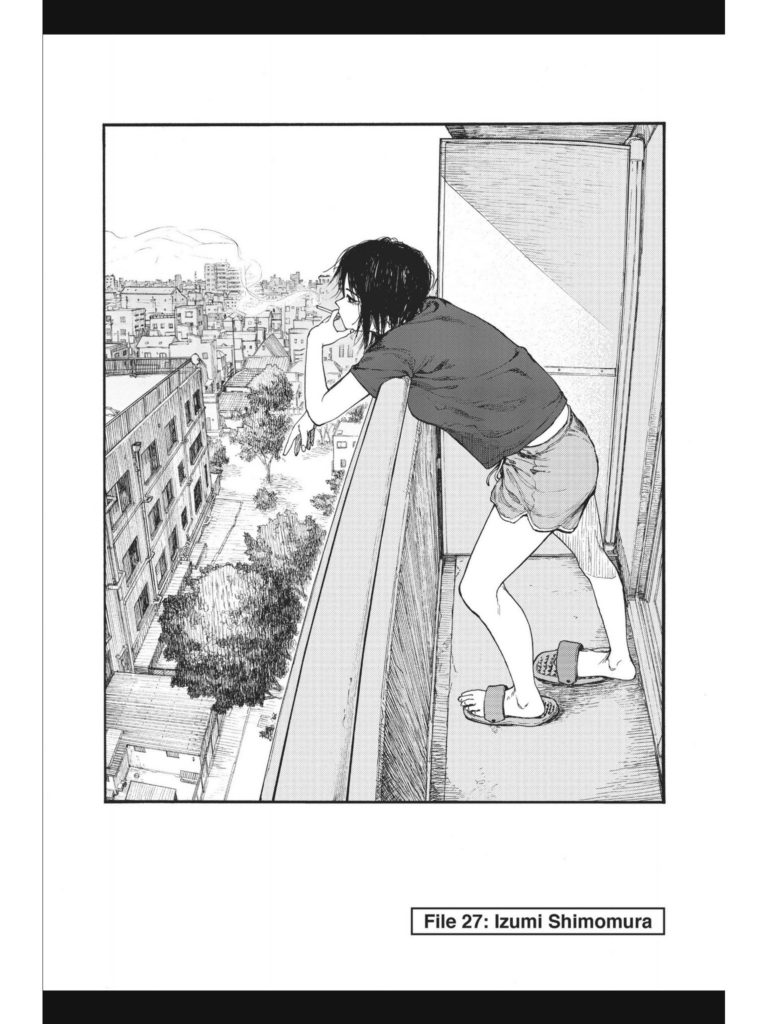 As you can see, these two images communicate very different feelings!
Deb then talks about the Blue Exorcist manga changes, and unfortunately we couldn't find the specific change she referenced, but the phenomenon of Blue Exorcist's creator Kazue Kato sending not-quite-finished art to press for the monthly deadline isn't rare. Here's an example from the recently released chapter 128: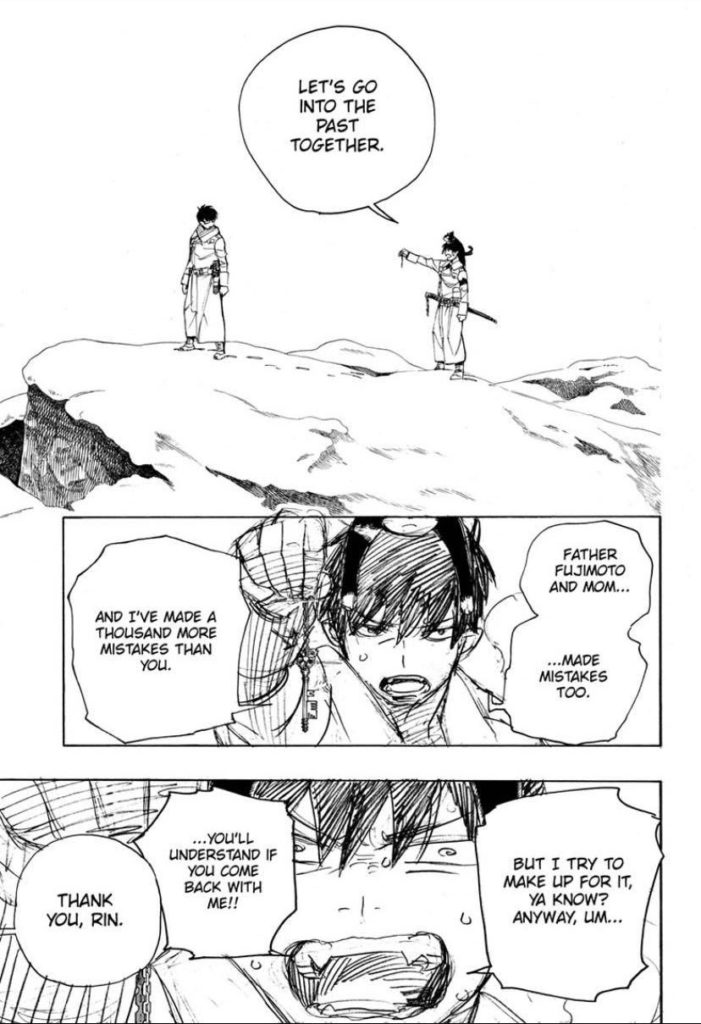 It looks like according to Anime News Network, the mangaka will be taking off the next 2 months because 10 years of serialization really got to her, and she needed a break. Good for her!
Christopher then mentions the differences between the Hunter X Hunter (the X… is silent…) serializations and finished books, and those have been extensively archived. Here's a thread that talks about it, and a good example of publishing from layouts/roughs in the serialization, and the difference in the final art.
On a nearly-unrelated note, Chip's talking about Canadian politics with the "Blue, Orange, Red" and there are more than 2 parties in the Canadian political system. 5 major parties at last count.
Finally, as mentioned up top, the next episode is not actually gonna be 7 Billion Needles, but instead Way of the Househusband. Sorry for any confusion, we'll see you next week!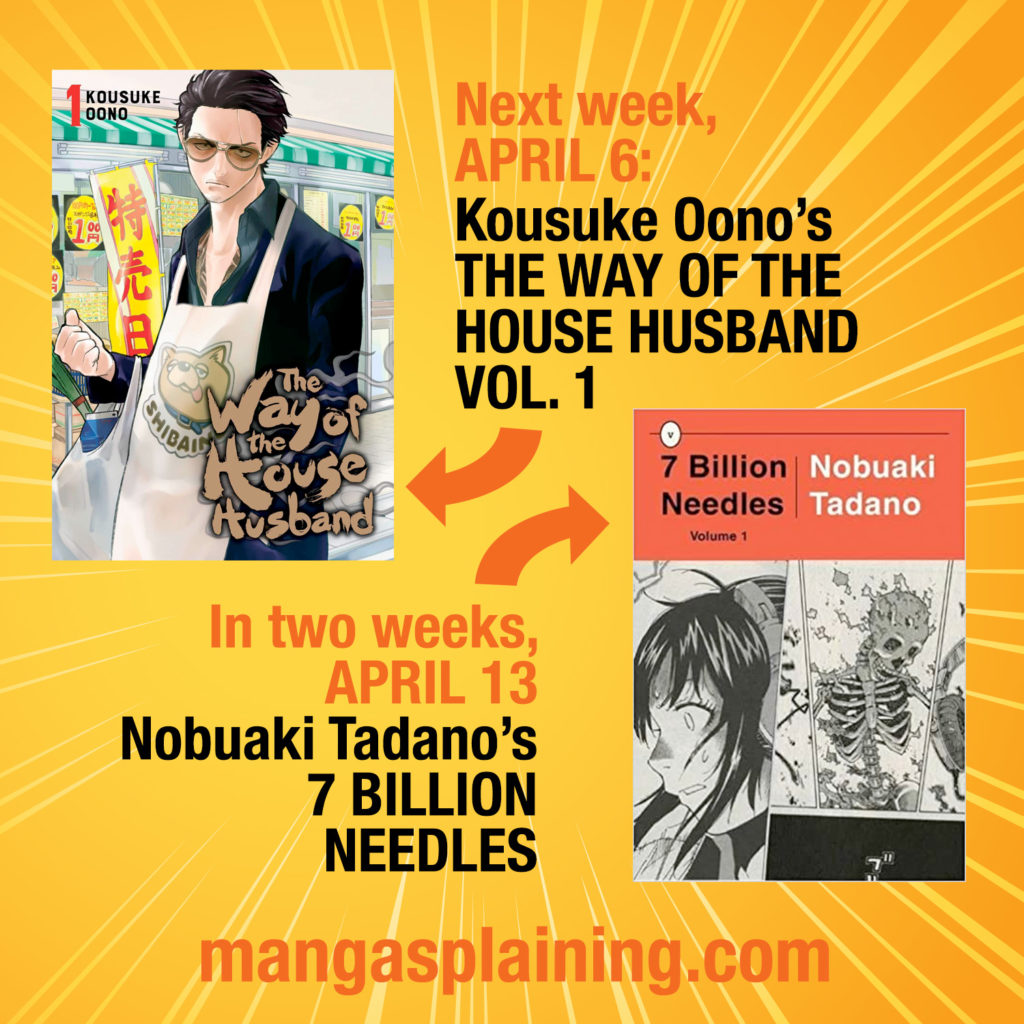 Those links again are:
Comicshoplocator.com
D.A.D.S. on Spotify
Thanks for listening!