Ep. 88: Under Ninja Vol. 1, by Kengo Hanazawa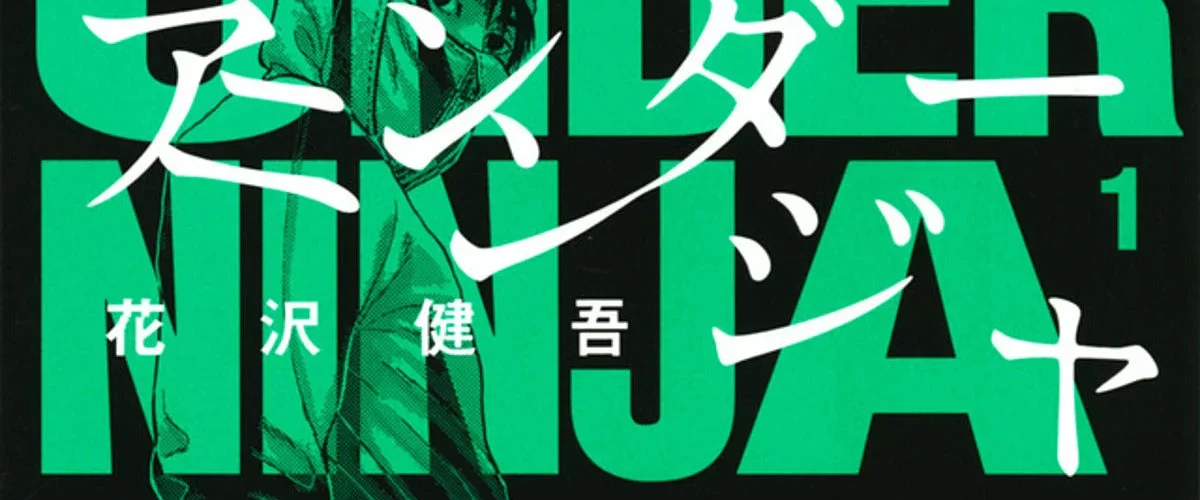 Slipping into your apartment to drink your precious hidden bottle of booze, the low-rent "Under Ninja" Kudo has his sights set hilariously low. That might just be enough for the Mangasplaining crew to have a Very Good Time with this manga coming alllll the way out of left field. OR NOT! Keep listening to find out what the team thought of Kengo Hanazawa's UNDER NINJA.
Powered by RedCircle
Listen and Subscribe to the Podcast:
Google | Apple | Stitcher | RedCircle | Amazon | Radio Public | PocketCast | Spotify
IN THIS EPISODE
00:00 Under Ninja Vol. 1, by Kengo Hanazawa
42:28 THE BREAK!
42:45 It's time for NEW BOOKS and SHOUT-OUTS!
Under Ninja Volume 1
By Kengo Hanazawa
Translated by: Sheldon Drzka
Proofreading: Patrick Sutton
Production: Glen Isip and Anthony Quintessenza
Published by Denpa, LLC. Available in print / digital.
Audio editing by David Brothers. Show notes by Christopher Woodrow-Butcher and Deb Aoki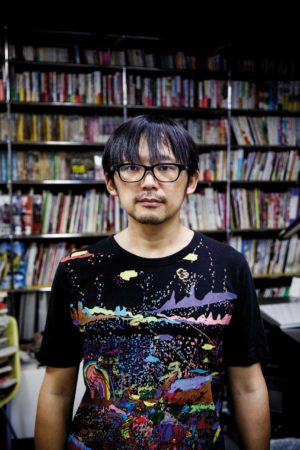 ABOUT KENGO HANAZAWA
Kengo Hanazawa was born January 5, 1974, in Aomori Prefecture, but lives in Tokyo now. Hanazawa failed all of his University entrance exams (maybe he sympathizes with 'loser' characters?) and moved to Tokyo to go to vocational school to learn programming. He started working at printing company before jumping into manga as an assistant to mangaka Osamu Uotu (a stalwart at Shogakukan who is as-yet-unpublished in English). 
A few years later, Hanazawa debuted with the work Resentment (available in French) in 2004, and then Boys on the Run which ran from 2005-2008. That series was quite popular, running for 10 volumes and getting both a live-action film and a live-action TV Drama. But it was his next release, I Am A Hero, which rocketed him to superstardom. This Zombies-Take-Japan title ran for 22 volumes and was published in the blink of an eye from Dark Horse, in 11 double volumes that are all super out of print. What a bummer!
Interestingly, all three of those big titles were published in Japanese by Shogakukan, but like many mangaka we've been covering lately, for his next release he jumped ship from his established publisher and moved to Kodansha for Under Ninja. Upheaval in the manga industry!? Developing!
For more on Hanazawa, check out this French language interview (use the magic of Google Translate to read it). https://zoomjapon.info/2013/07/culture/hanazawa-heros-malgre-lui/ 
You can also watch this episode of ManBen, a documentary series hosted by mangaka Naoki Urasawa, about Hanazawa.
01:40  Alright, let's get started! David shouts-out friends-of-the-podcast Jarrett Samson (@toughage) and Christine (@onechrispy). I actually pronounce Jarrett's name online name 'toughage' like "ruffage" in my head, as a goof. But it's actually Tough Age, the name of his music project. I love that David pronounced it that way.
02:00  I think this is the first mention of absolute Japanese landmark department store chain Don Quijote, affectionately called Donki for short here in Asia. (DEB: it's in Hawaii too!) It's basically an everything-store, a packed-to-the-rafters (it's not for the claustrophobic) selection of a little bit of everything you might need in a given day. T-shirts, manga, and sex toys, sure… But also you can get a bottle of Moet Chandon champagne and some Kit Kats in only-in-Japan flavors and a set of earphones too. Usually at a discount as well! Absolutely worth a visit if you're in Japan.
02:35  Ed Chavez was at Vertical at a really influential time in the publisher's history. He worked with his team to bring some really unique and important (though not always bestselling) seinen manga work to the west at the imprint. We interviewed Ed on the podcast, AS YOU MAY KNOW, and you can go listen to that here, at the 51:00 mark:
Here's David's reaction to the publishing announcement: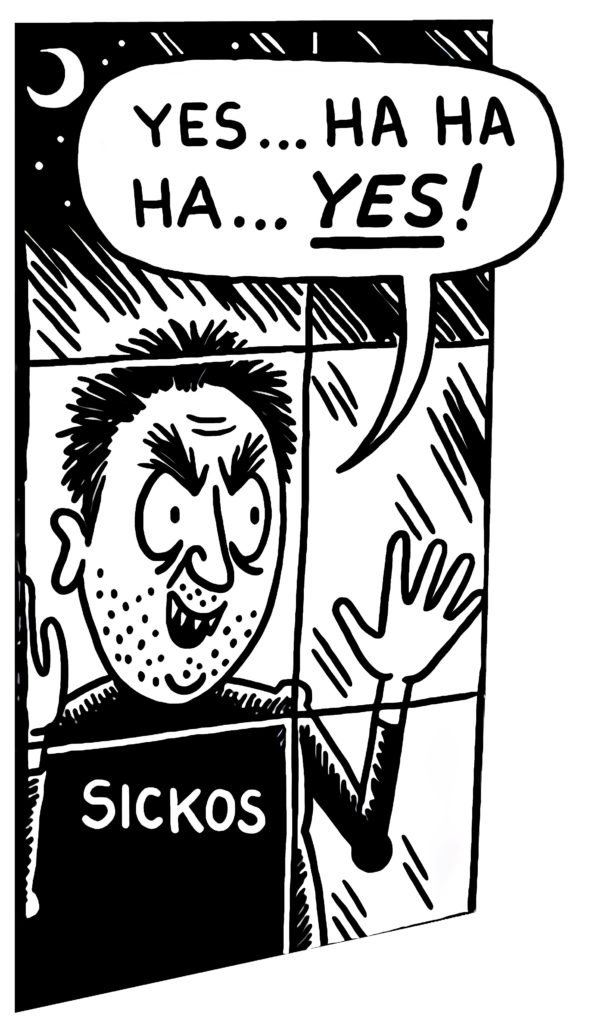 03:50 Here's the book info from the web, which is functionally the same but not technically the same as what David said, but I'm not gonna retranscribe that:
THE ORIGINAL SPECIAL DEFENCE FORCES!

After World War II, Allied Command in Japan developed a new agency to help manage terrorism and violence within the Pacific region. The agency was staffed with ninja and they were initially tasked to handle domestic affairs. Eventually that program grew to its current form, managing 20,000 ninja across a range of domestic and international affairs. One of those ninja happens to be Kudo. The seventeen-year-old high school loser is now poised to be the next line of defense against a potential surge in foreign assassins invading Tokyo.

Denpa Publishing
04:50   Yeah I'm part of the problem, I didn't read I Am A Hero when I could, and now it's completely OOP. Like, you might find a stray copy in a bookstore or comic store, but if you do, snatch it right up. Or maybe just buy Under Ninja instead and support that release?
10:23 Look, we don't want to spoil TOO many of the delightful visual surprises of Under Ninja, but since Deb mentions just so many weird-ass things, here's the two biggest non-sequiters for your enjoyment:
"Bra and Panties"
"Drink breast milk!"
11:30 I can't tell if we're being unfair to Image here? Because I personally haven't seen a lot of seinen manga style humour at Image Comics (Joe Casey's work notwithstanding), David didn't pop up, but Chip is kind to them there and puts it down to market forces. That's totally possible, maybe it's just differing markets for 'seinen' style work? A good example of this might be Chip not liking this book at all, and him being Quite The Popular Fella at Image might point to the true differences in 'mature readers' comics in the west and east.
What do you think? Here's what Image's "New Releases" page looks like as of writing:
Doesn't look like a lotta laughs to me? But then the cover to Under Ninja doesn't exactly scream 'hilarity' either. Sound off in the comments if you've got thoughts. 
13:30   I can't believe that we mentioned Chuck Austen, famous for his run on U.S. War Machine (which people fucking hated at the time for its use of computer-assisted artwork… The more things change…), and didn't mention that he's also a manga-ka!

It's true, Austen wrote a two volume OEL Manga for Tokyopop back in the day (with artist Hiroki Otsuka) called Boys of Summer which… people also hated…? Sometimes you can't win for losing.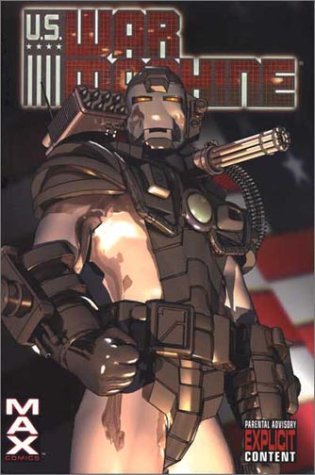 14:20 "I gotta chop off penises," We'll get to that.
15:20 We recorded these episodes out of order due to potential book lateness, sorry for breaking the fourth wall Mangasplaining fans!
16:20 Here's an example of a Marco Chechetto page from Daredevil that Chip wrote: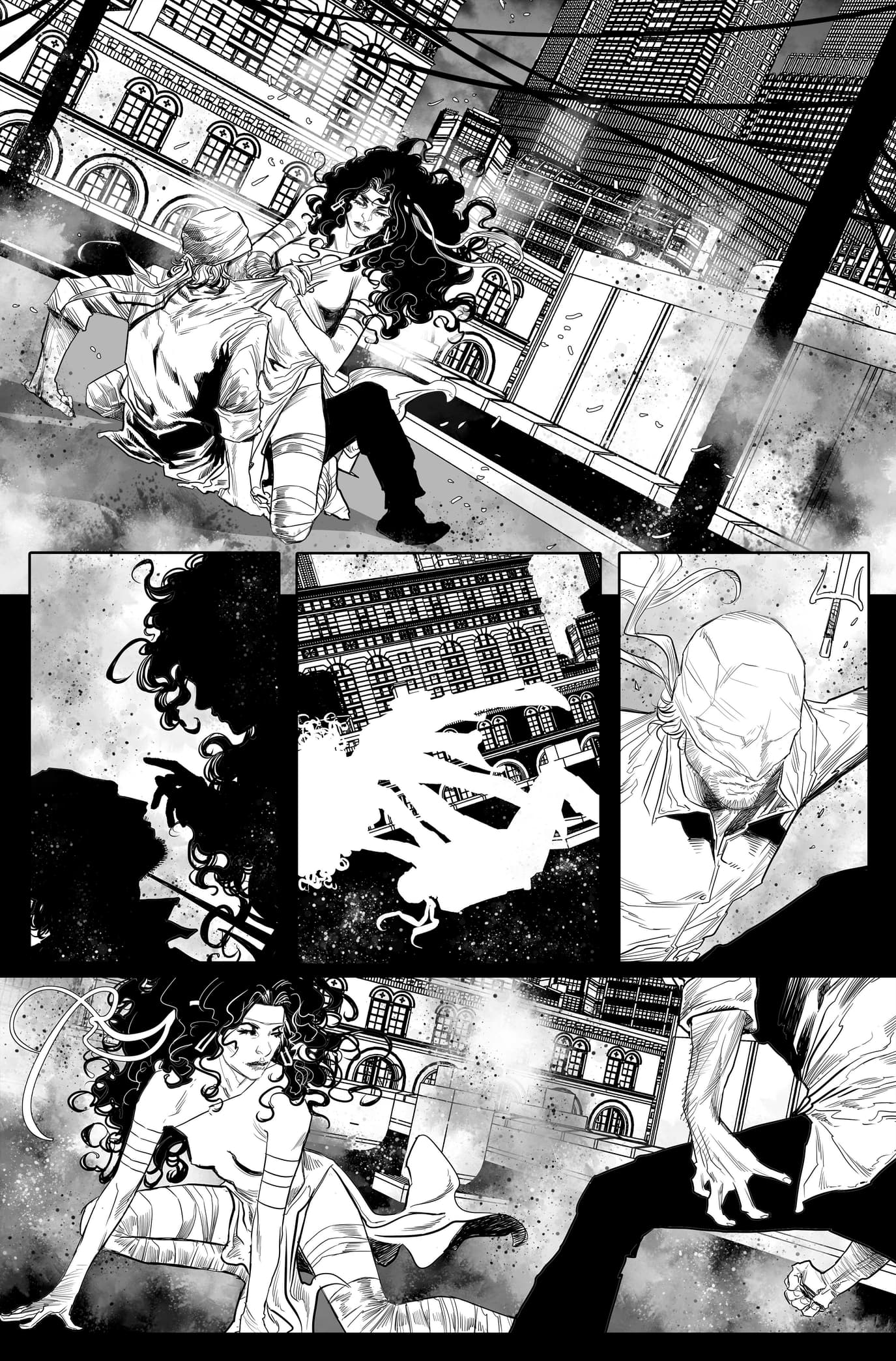 Looks good, IMHO.
16:44   Chip hates tangents, and he's absolutely correct that this is frequently a problem in this book. Here he calls out a couple issues on page 15 in particular, like the top of the head hitting the line of the tatami.
19:00 NO, I'm not going to tell you which actor or title.
20:20 This room is way too 'clean' for an apartment this old and this messy. Like, old buildings should just be beat to shit. Old tatami mats especially. That's the problem with pushing 'realism'.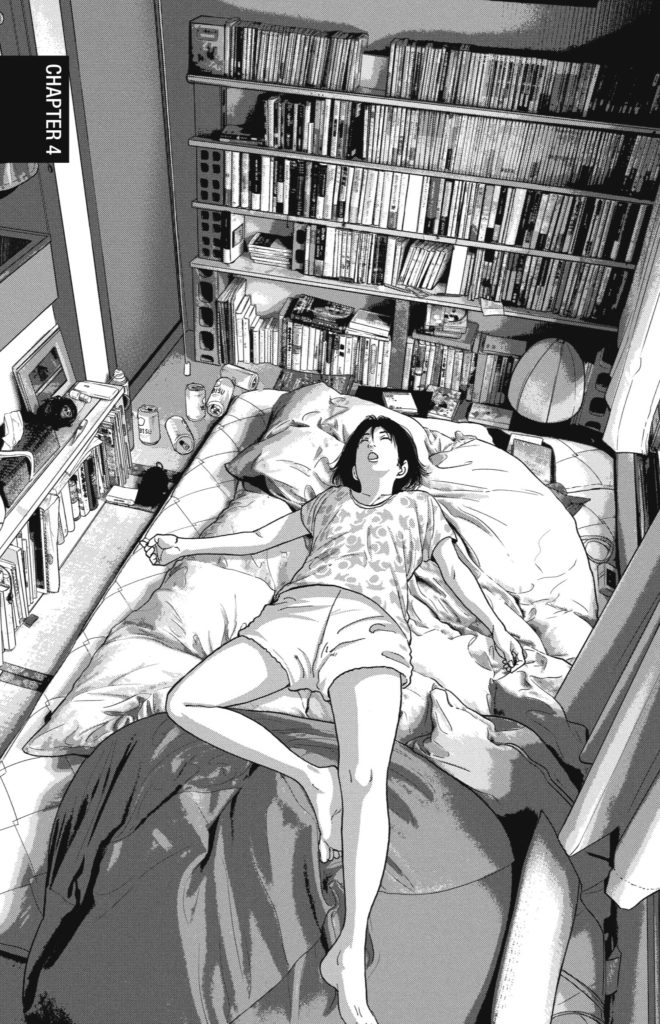 I think Chip brings up an interesting point, there's so much texture that it turns into grey mush.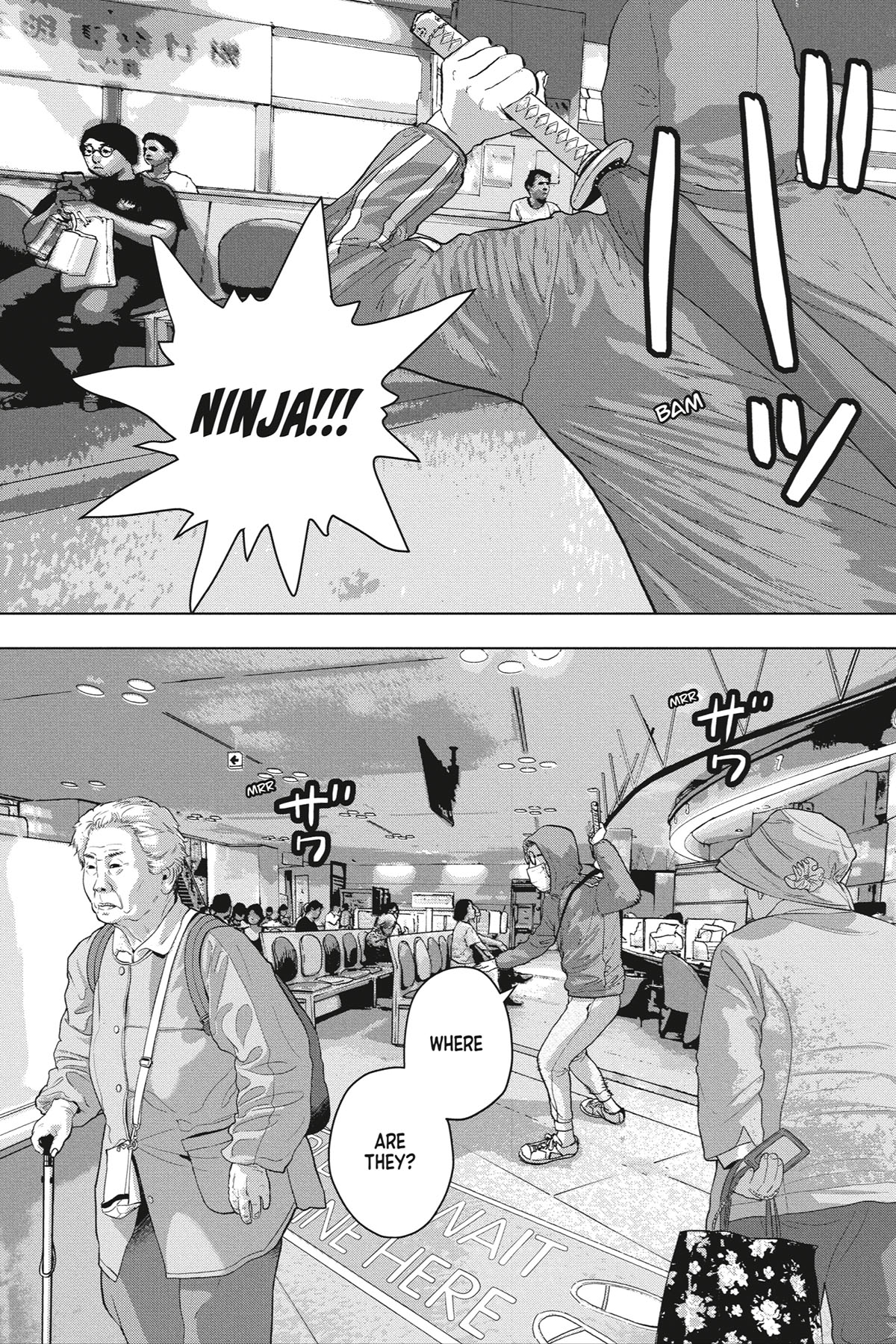 But honestly? It's just a different kind of busy? Like if everything's grey except the word balloons, then the word balloons are the thing on the page that 'pops' and if this is a comic meant to be read quick & cheap, well… That's just as effective, in my opinion, as having no patterns at all. I'm on board.
23:18 Deb mentions page 61, with a very distorted/exaggerated expression, which I loved.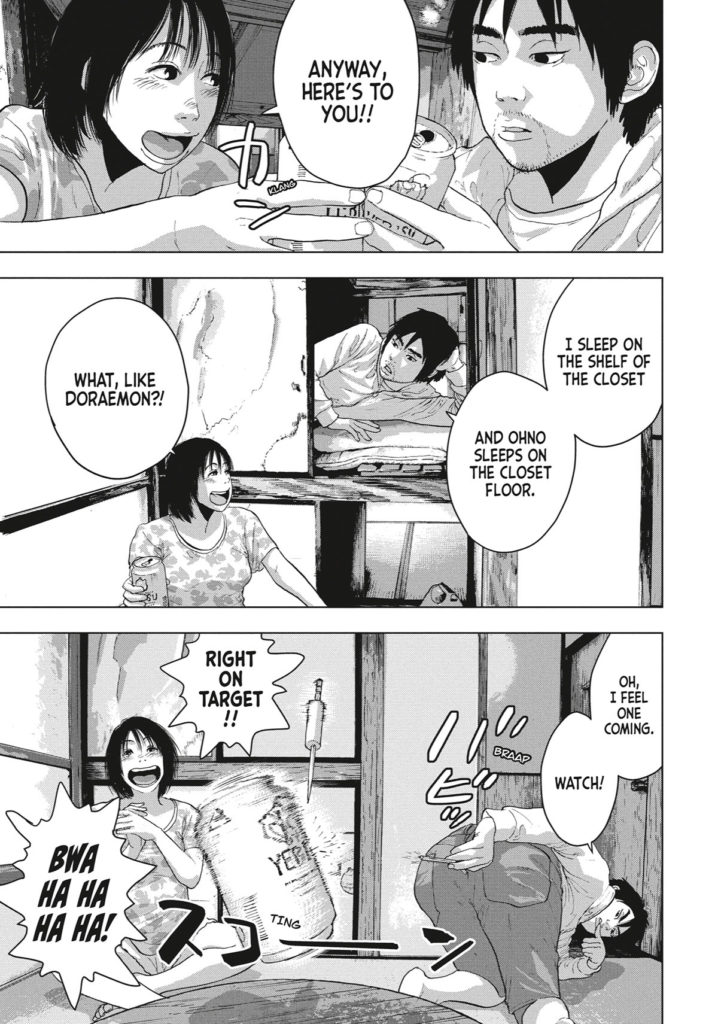 This is a larger issue I have with manga in general, and COMICS in general, where artists are afraid to make women look 'bad', which usually means being afraid to make them look interesting or unique. Everyone wants the girls to be cute, whatever expression they're making, and it gets… boring. I dunno. We haven't read a ton of manga where the female characters suffer from 'sameface' syndrome, and the market just laps it up, but I do love stuff where the visuals of the characters get differentiated. IMHO Under Ninja is a pretty welcome antidote to that.
25:50   Here's the image I'm talking about, Page 68-69, where this perspective is so difficult and such a weird choice, and would be so difficult to draw freehand, that you would never see it in a comic without photography.
31:00 David mentions/recommends Ninja Slayer, which is a high-concept novel series which is, in the real world, written by two Japanese dudes, who insist that they're just doing the Japanese translations of the work of two American dudes, which is badass cyberninja stuff. Kodansha's got a preview on their website, check it out: https://kodansha.us/series/ninja-slayer/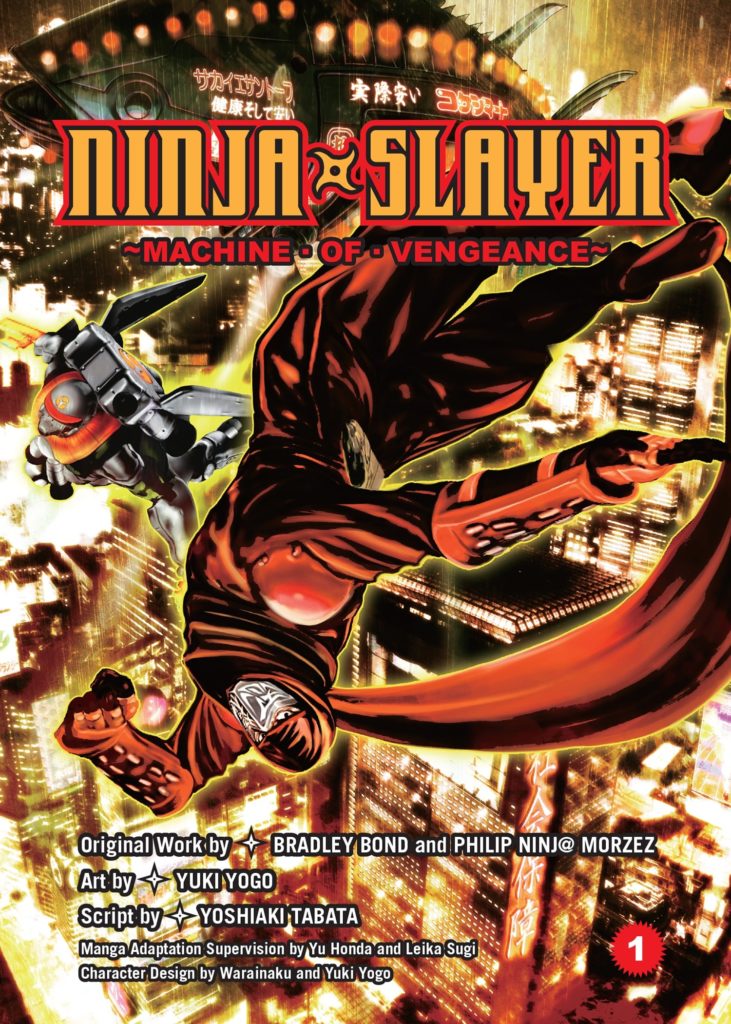 32:00 Yeah for real, slicing off dicks. And this isn't just a gag, but becomes an important plot point. And it stays funny.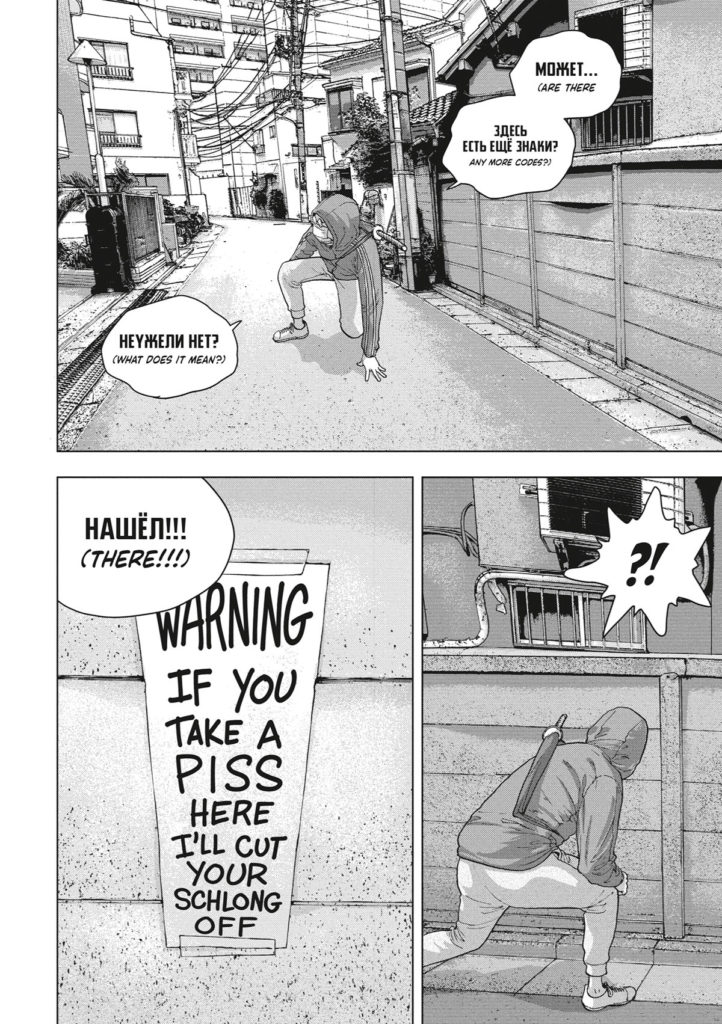 33:24 Deb's strip about Kamen Rider coming to America, as an andedote to Wolverine going to Japan, is pretty great, NGL.
34:26 What was that David said…? Stay tuned!
Meanwhile, David picked Witchcraft Works which is a pretty weeby book, and you can see what we had to say about that in this episode.
36:11 Yeah, the book has a full-colour(!) In-Media-Res opening that shows just how much of a military otaku Hanazawa is… There's a lot of attention to detail to this gear and a the photo ref comes blazing through here. I dug it.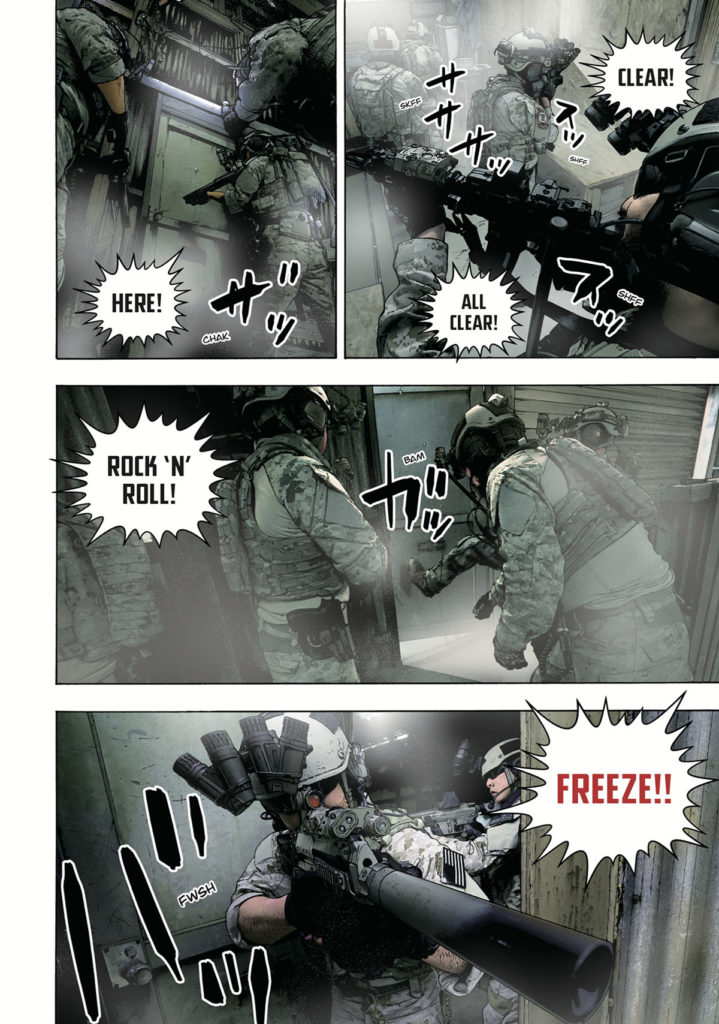 40:11   This sequence where our teen protagonist has to use his ninja skills to get a spare roll of TP is pretty fun. Here's two pages, you'll have to buy the book and read the rest for yourself!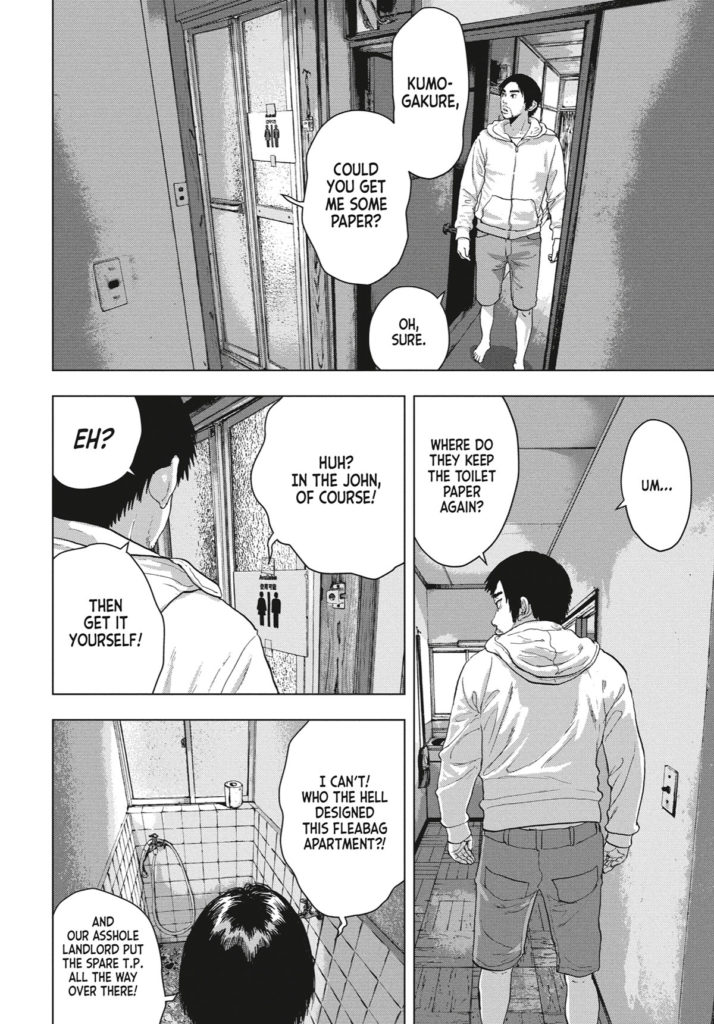 And that's this week! I think on the whole we dug Under Ninja Volume 1, and even Chip didn't find it irredeemable enough not to want to read volume 2 some day… While that's unlikely that he'll be reading it any time soon, Under Ninja Volume 2 is actually out at the end of May.
---
42:28 THE BREAK
---
ALRIGHT! It's time for us to pick some NEW BOOKS!
David breaks his own 'rule' and picks Bleach Vol. 1 and Vol. 55 by Tite Kubo in a special read.
Christopher picks Pop Team Epic Vol. 1 by Bkub Okawa, the queen(s) of internet shitposting gag manga. He also recommends watching the first episode, and it's on YouTube here, give or take. https://www.youtube.com/watch?v=7pslIL_Fdmc 
That word in the manga description was "Motherfucker" btw.
Deb needs to balance out the 'manly' manga David and Chris picked by picking… The Boxer, by JH, published by Ize Press. Apparently there's a book, but you can read it online here at: https://www.webtoons.com/en/sports/the-boxer/list?title_no=2027&page=1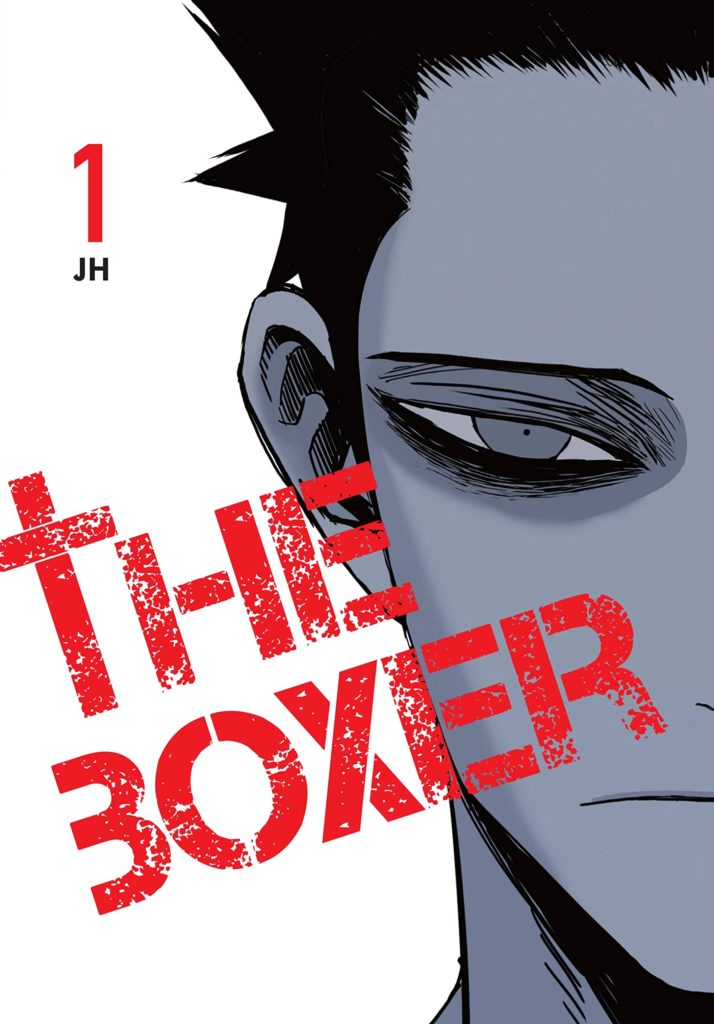 However, we switched things behind the scenes. So despite the fact that Christopher 'won' this time out, here's what the order is actually going to be:
Ep. 89: Goodnight Pun Pun vol 1, by Inio Asano
Ep. 90: Grappler Baki vol 1, by Keisuke Itagaki
Ep. 91: My Love Story vol 1, by Kazune Kawahara and Aruko
Ep. 92: Bleach vol 1 & vol. 55, by Tite Kubo
Ep. 93: Pop Team Epic vol 1, by Bkub Okubo
Ep. 94: The Boxer vol 1, by JH
So you've got lots to look forward to! Meanwhile, Chris mentions David's episode on City by Keichi Arawi, and then mentions Twitter maybe not being around, and it turns out that he wasn't wrong, it was almost down today, a total nightmare for some folks.
---
Now it's time for SHOUT OUTS!
Deb recommends The Gay Who Turned Kaiju by Kazuki Minamoto, and published by Yen Press. A gay manga by a gay mangaka! Very excited to read this one day, I bought a bunch of dojin by this fellow back in the day, and even better, we got to meet him at Comitia! Here he is with his partner:
Christopher recommends the very first Mangasplaining Extra book, Okinawa by Susumu Higa. It's now available for pre-order at Amazon and other shopping websites.
Chip recommends the television series Slow Horses, on Apple TV.
David follows up and mentions that he liked the 6-episode series The English, on Amazon Prime. He then goes into his actual shout-out, which is the Gravity Weighted Sleep Mask, and he says it's making him get some much better sleep!
Chip then circles back around for another shout-out with a "Nite Hood", which is a sleep mask that is also a hat. Sort of like a half-mask that just covers your eyes? David also has a sleep aid recommendation, a weighted sleep mask.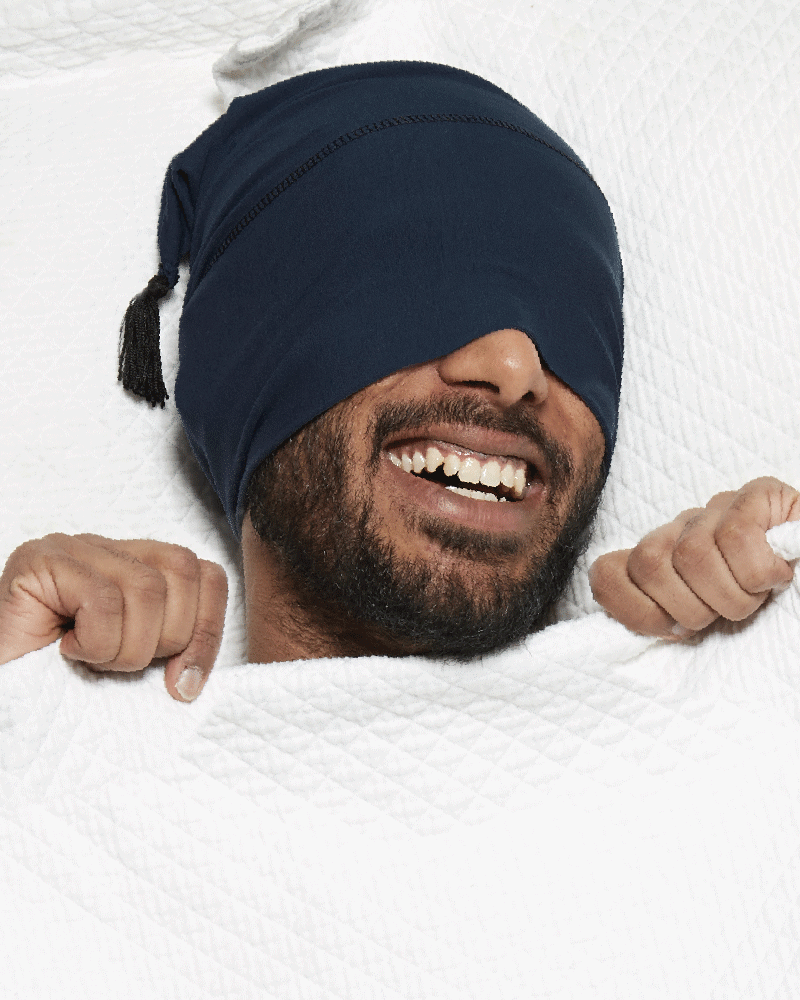 Deb takes that as a reminder for the cool hoodie that Kuro wears in Under Ninja and that could be some easy cosplay.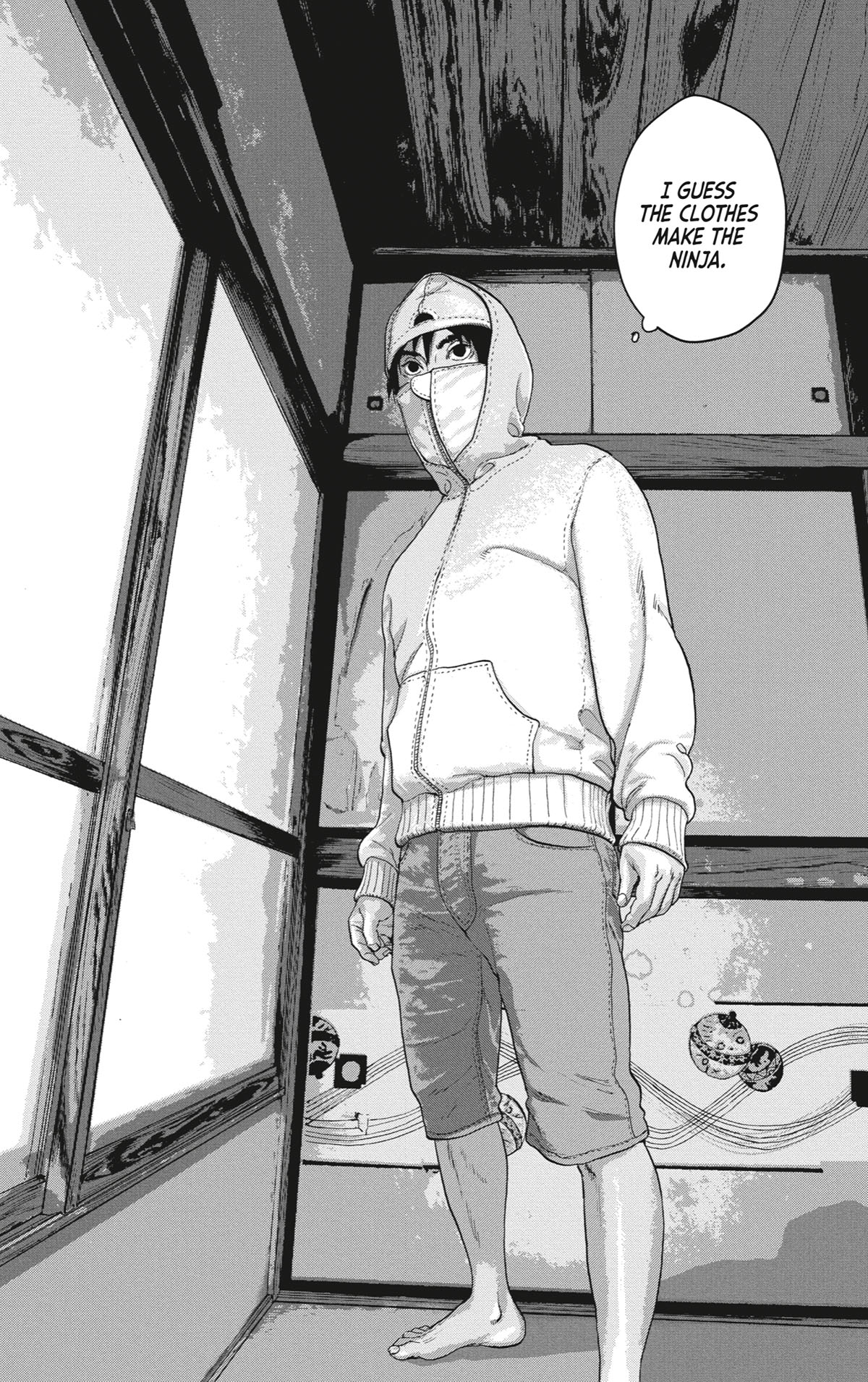 Christopher really digs the Fat Gum hoodie, the character from My Hero Academia, and will wear that to a convention at some point, especially if it's cool/cold.
And that's this week in Mangasplaining! This episode is also available wherever you get your podcasts, so please subscribe and leave a review, so others can discover our show.
Also, if you'd like to get the latest episode delivered straight to your inbox along with exclusive interviews, articles and new chapters of manga you can't read anywhere else, subscribe to our Substack newsletter. See what you're missing at Mangasplaining Extra!
Next week on Mangasplaining:
Get ready for Goodnight Pun Pun, by Inio Asano. As if you could.Thanks so much for listening! Please support your local comic and manga specialty shop when purchasing these books, and you can find one near you at comicshoplocator.com. You can also check your local library for print and digital lending options, they have TONS of manga! Finally, thanks to D.A.D.S. for their musical accompaniment for this episode.
---