Ep. 32: Blood On The Tracks vol 1-2 by Shuzo Oshimi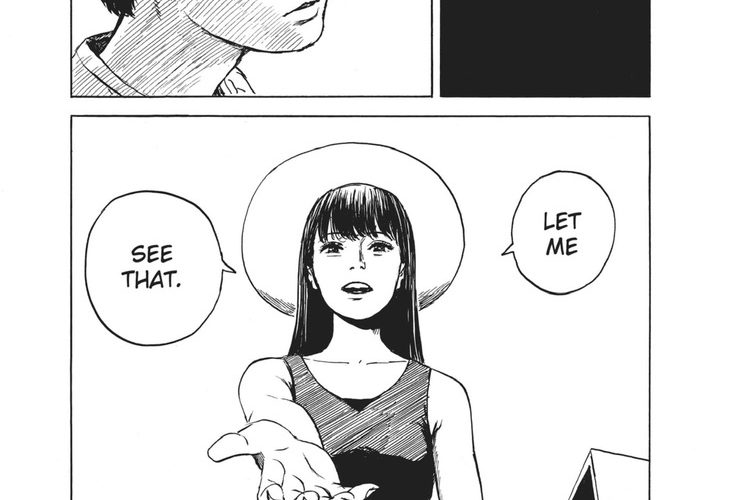 It's a surprisingly spooky episode to kick off October, as Deb brings the Mangang into the twisted world of Shuzo Oshimi with Blood on the Tracks, volumes 1 and 2. Plus a special 'Mangasplaining: Listen To Me' segment with Ed Chavez of Denpa Inc., the English language publisher of many works by Oshimi-sensei!
In this episode:
00:00 Blood on the Tracks Vol. 1 -2, by Shuzo Oshimi
50:50 The Break!
51:20 Mangasplaining: Listen To Me: Interview with Ed Chavez, DENPA Publishing
1:06:12 The Second Break!
1:06:25 Reader Q&A: Are there major manga published in color?
Powered by RedCircle
Blood on the Tracks Volumes 1-2
By Shuzo Oshimi
Translated by Daniel Komen
Production by Risa Cho and Evan Hayden
Published by Kodansha (Print/Digital)
Show notes by Christopher Butcher, edited by Deb Aoki. Audio editing by David Brothers.
00:00 BEFORE WE GET STARTED: SPOILERS!
Seriously, big spoilers on this one. Can't stress that enough.
Also, David and Deb dig RIGHT in to the author's work this episode, so let's do a quick biography and bibliography.
Shuzo Oshimi is a Japanese manga artist. Born in Gunma Prefecture and now residing in Tokyo, Oshimi is best known for his series Flowers of Evil, which was adapted into an anime and a live action movie in Japan. His work generally deals with very dark themes, and as such he has attracted a following as a 'subculture' manga artist, along the lines of Inio Asano, or perhaps Usamaru Furuya. He is the winner of the 2001 Tetsuya Chiba Award.
Oshimi's work is widely translated and published in English, a rarity for any manga-ka and a testament to his popularity.
Kodansha/Vertical Inc. have published his series Flowers of Evil, Happiness, and most recently, Blood on the Tracks, all of which are multi-volume series. They will release two new series by Oshimi in 2022: Welcome Back, Alice, starting in February 2022, and Devil Ecstasy, starting in April 2022.
DENPA Publishing have released Inside Mari, Shino Can't Say Her Name, the digital one-shots Miss Kusakabe and Waltz, and the art book Femme Fatale: The Art of Shuzo Oshimi, which is a collection of colour illustrations, promotional art, and short full-colour comics.
Interestingly, his debut work Drifting Net Cafe was never published in print in English, though a digital-only version was released on the now-defunct service Jmanga.
[Deb:] Drifting Net Cafe is available in English from Futabasha, via digital ebook services like Comixology.
[Deb:] Some Shuzo Oshimi manga series are available via streaming / all-you-can-read manga subscription services too. Flowers of Evil and Happiness are available via Azuki, Mangamo, and Comixology/Kindle Unlimited.
1:40 The description from the back of the book:
From the creator who brought you notable works such as The Flowers of Evil, Happiness, and Inside Mari, comes a new suspense drama centering on the theme of a toxic parent. Dive into this latest thriller by master storyteller Shuzo Oshimi as he delivers his most unsettling work yet, the tale of a seemingly normal family suddenly swallowed up by the creeping horror of everyday life.

Seiichi's mother loves him very much, and his days pass with placid regularity. School, friends, even the attention of his attractive classmate Fukiishi. Until one terrible summer day, that all changes … Gorgeous art and an understated script only serve to heighten the tension as we watch Seiichi Osabe's life spiral into nightmare.
4:00 Christopher mentions Inio Asano, author of notable classics Goodnight, PunPun (or Oyasumi PunPun for the weebs in the audience), and Dead Dead Demons' Dedede Destruction, amongst many others.
His short manga A Girl on the Shore (collected as a stand-alone graphic novel in English) is about a boy and a girl with nothing to lose dealing with sex and sexuality, coming of age, and trying to find an emotional connection, amongst other things. It's a heavy, difficult work, with some of the same themes as PunPun and his other titles. It's a difficult book to recommend to most readers, but if you're the kind of person who watches sad European movies about young people hurting themselves and others, it might be for you. Same with Oshimi's Flowers of Evil.
10:20 SPOILERS. SO MANY SPOILERS. WE'RE NOT EVEN JOKING.
So yeah, perhaps it's a bit unclear from the podcast itself, but Seiichi's mom pushes her nephew Shigeru off a cliff when she feels like he has endangered her son. Then both Seiichi and his mom lie to the cops about it. On top of that, she has a nervous breakdown when she finds out a girl Seiichi's age likes him. She makes her teenage son tear up the love letter he received from his classmate, then shares a weird psychosexual kiss with him that feels not quite motherly? It's… fucked up.
From here, we proceed on the podcast as if you've read the book we're talking about, and I wonder if maybe we should still take a few moments to discuss major plot stuff like this before jumping in, and possibly confusing listeners who don't always read the book before listening. What do you think, folks?
13:00 The hand on the back image is a powerful one, just as they're being interviewed by the police.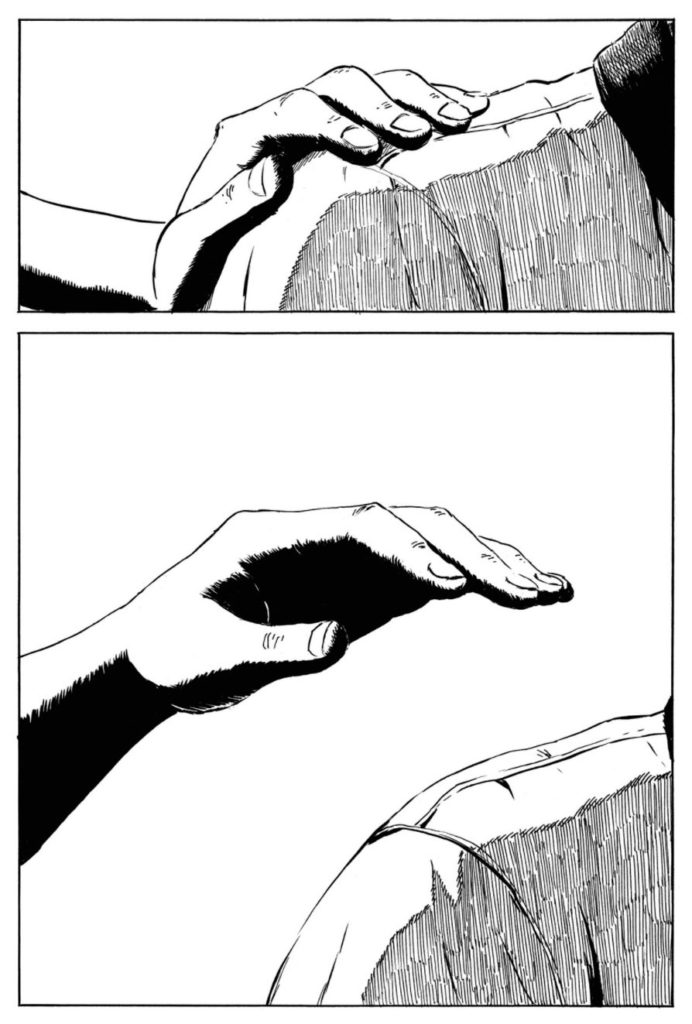 13:30 The sister-in-law's wide smile when she's introduced is really… over the top. I think David mentions in this part that a lot of stuff happens that isn't inherently wrong, but still raises red flags, and this introduction of this character is one of them. But maybe it's over-the-top because of the weird subtlety of the emotions of Seiichi and his mom?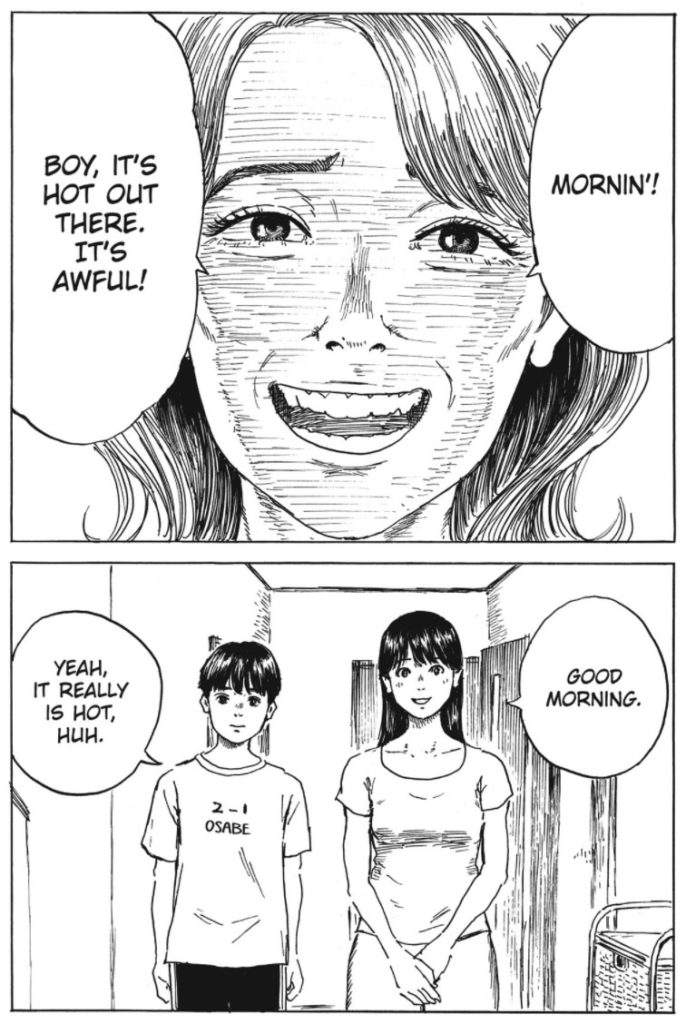 14:10 "Your family's kind of overprotective," followed by "Don't talk about my mom like that." It's a perfectly kid-like response that still feels unsettling.
14:30 Two eyes stacked on each other that turn into a mouth. This is a horrifying, incredibly tense sequence that is abstracted with these closeups into true horror.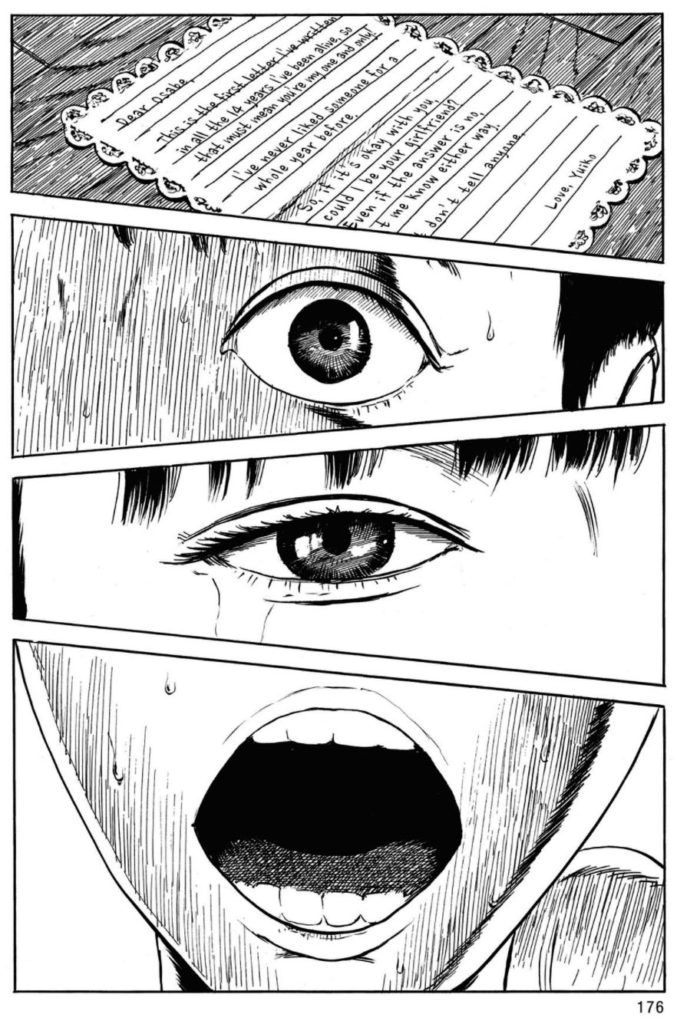 17:10 Planes, Trains, and Automobiles with Steve Martin and John Candy. It's kind of hilarious that this sort of stress sets Deb off. I feel the same way, maybe because I've had to deal with people like that. Anyway, good reference.
18:00 Deb mentions the mom muttering to herself in a frankly crazy way, and I thought the image was worth sharing.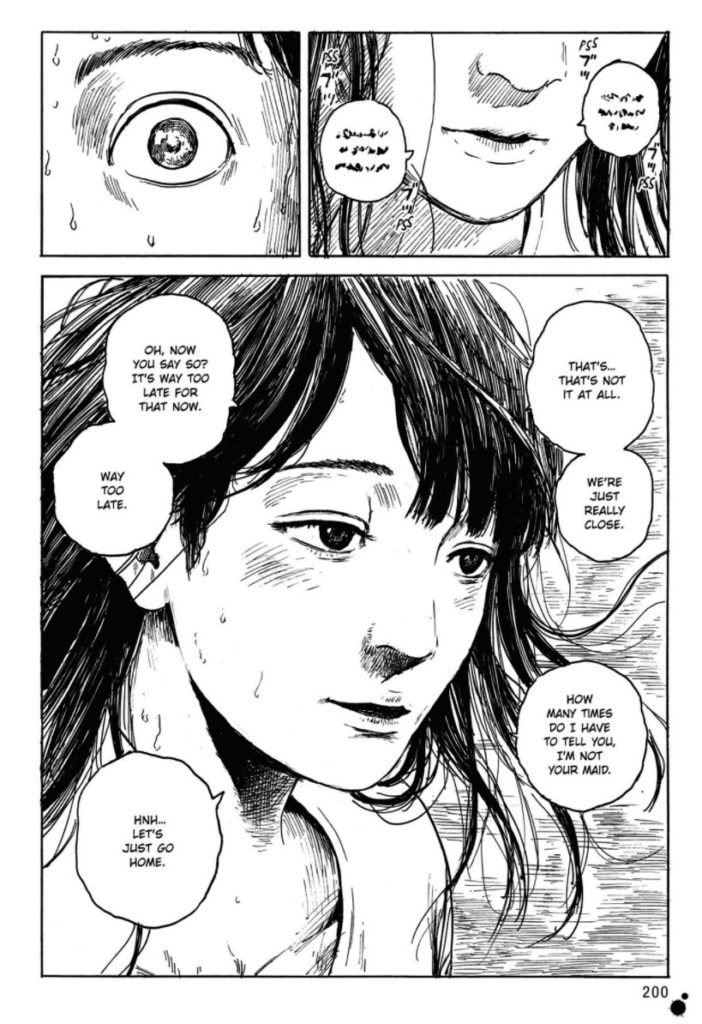 21:00 Yeah, sorry kids, you aren't allowed to see the Mangasplaining excel sheets.
As Deb mentions, the book covers on Blood on the Tracks are pretty standard from volume 1-7, like photos from a family album, but change… drastically, once the series gets to volumes 10 and 11, perhaps foreshadowing a major change in the series.
Here's the covers of the first 11 volumes in Japanese so you can see what we're talking about!
25:50 So yeah, you're reading the book and then when the girl that likes Seiichi shows up at his front door (in the middle of his own nervous breakdown), she arrives… in full colour. It's shocking.
26:45 So we don't 100% get to the end of this thread in this episode, where we're not sure if these sound effects are suppose to be cicada noises. I gotta be honest, I saw those sound effects, didn't know what they were but kind of assumed cicadas, and then just mentally blocked them while reading. I do think there needed to be some kind of glossary or explanation for that, though.
I did end up watching a video from the YouTuber "Sharla in Japan" a few weeks later, and it explained that those sound effects are, in fact, cicadas, which are louder and more overwhelming in the Japanese summer than you might possibly imagine. If you want a 25 minute tangent, here's that video.
32:55 Chip is right, the sequence that ends the second volume is just awful and stressful and intense. We talk about it quite a bit over the next 10 minutes or so. I really, really think having read the manga will make it more successful as a reader, so I'll just include one page to give you a sense of it. Sorry we didn't show you everything we were talking about, but if you're at all interested after hearing us talk about it, you should probably just go buy it and read it yourself.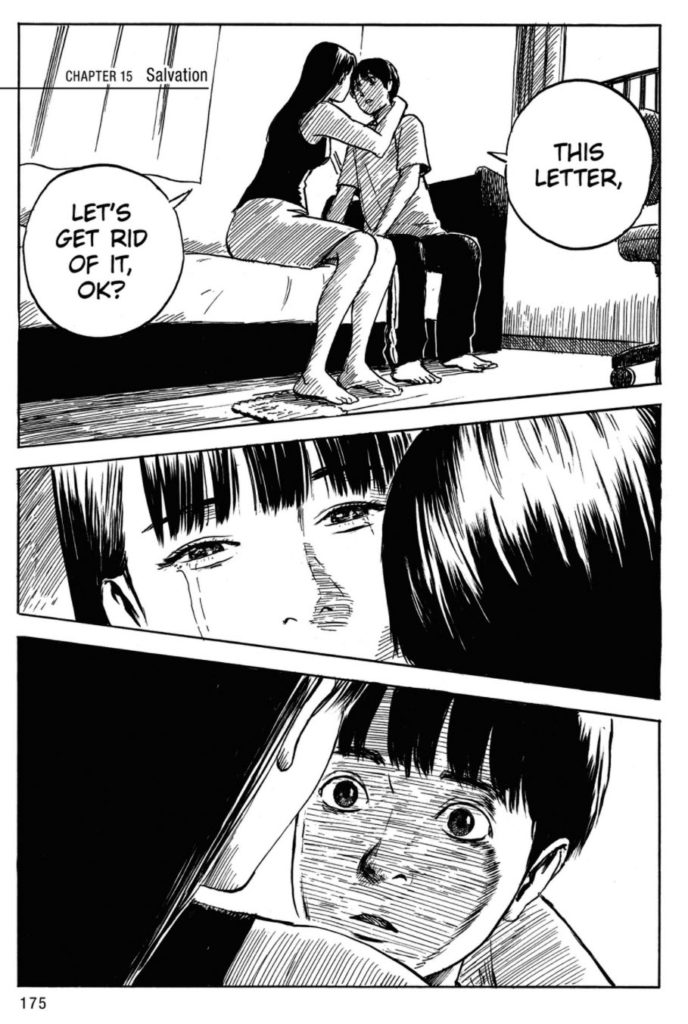 33:45 We reviewed Sensor on Episode 27! Scroll down past Phoenix.
38:50 That new project is Public Domain, being serialized at zdarsky.substack.com. 🙂
41:55 I had those comics! That's X-Force and Spider-Man's crossover with the Juggernaut.
45:15 This is a YouTube-heavy episode, but that series, if you're curious, is Timeline on Weird History.
47:30 David recommends a few pieces of media for someone who read this and liked it and wants more.
Stray Bullets, by David Lapham. For a long time, the only crime comic in English. Good stuff, and now available in a series of collected editions from Image Comics.
The Good Son (movie), directed by Joseph Ruben and featuring Macaulay Culkin and Elijah Wood. Written by famous British novelist Ian McEwan too! Anyway I remember watching it and liking it, as did David, but Wikipedia said it wasn't very well-received. Weird.
Anyway, that certainly was an episode! I think we've been pretty clear that this intense, uncomfortable, deeply unsettling series might not be for everyone, but it's certainly worth talking about. Thanks!
---
50:50 The Break! Please remember that after this point, all time stamps are approximate.
It's time for another installment of Mangasplainining: Listen to Me! Deb and Christopher interview Ed Chavez, Publisher/President of DENPA Books! Denpa (as mentioned above) has published the Oshimi works Inside Mari, Shino Can't Say Her Name, and the artbook Femme Fatale: The Art of Shuzo Oshimi. As Ed mentions, he also publishes Gambling Apocalypse: Kaiji, by Nobuyuki Fukumoto, and Super-Dimensional Love Gun by Shintaro Kago.
One of the reasons we wanted to reach out to them is because Ed was actually the commissioning editor for Shuzo Oshimi's first work published in English, Flowers of Evil, when he worked for Vertical Inc. He brought Oshimi to North America! We hope you enjoy his appreciation of Oshimi, why it was important to bring his work to North America, and what the future may hold for fans of his work.
Also, since Ed was so excited about it, why not make a point to check out Femme Fatale: The Art of Shuzo Oshimi, published by Denpa.
---
1:06:12 The Second Break! Okay after this point time-stamps are out the window.
Okay! So it's time for Reader Q&A!
Are there any major manga published in colour? I understand that the industry is rooted in B&W magazine serialization, and that a colour section is occasionally used to introduce a new serial, but are there any manga published in colour either in first run or in reprinted trades? Is it simply a budgetary decision, or is it more a case of tradition? Is there any actual opposition to the idea of colour manga?

Steven Recker, blog comment
The short answer is, not a lot, but there is some stuff out there and lots to talk about!
Christopher mentions that Rohan at the Louvre might be the bestselling manga in color, a side-story from Jojo's Bizarre Adventure Part 4 originally published as part of the Louvre (museum/gallery) series of comics, that also gave us Taiyo Matsumoto's Cats of the Louvre.
[Deb:] This Jojo's book was published by NBM Publishing in 2012 (not VIZ, who has published the rest of the Jojo's Bizarre Adventure manga series).
Deb and David rebut with Konami Kanata's Chi's Sweet Home, which is actually the bestselling colour manga out there… But we learn that Chi's Sweet Home is actually originally published in black and white, and only coloured for the tankoubon collections! That's rare!
Christopher also mentions the webcomic/anime Hige-san/Ojisan & Marshmallow which isn't really available in English, but is very cute.
[Deb:] However, the anime is available in English via Crunchyroll!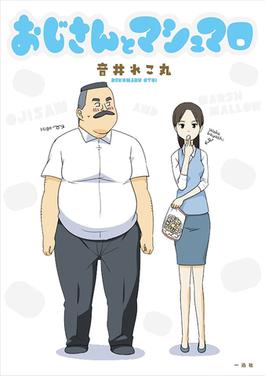 Deb shouts out other colourized series' like Dragonball and Spy x Family, and we discovered that Nihei's Aposimz actually has a Japanese-only colour edition of the first two volumes.
David mentions Future State Gotham, a new limited series published by DC, written by Joshua Williamson and Dennis Culver, and illustrated in black and white by Giannis Milonogiannis. You can check out a preview at https://www.comicsbeat.com/preview-future-state-gotham-1-dc-comics/.
Chip mentions the various Marvel comics series' that are black and white and one extra colour, a trend started by Jeph Loeb and Tim Sale back in the day with, I believe, Daredevil Yellow.
David mentions Shonen Jump printing a million copies a week, according to Wikipedia it's actually closer to 1.6 million copies per week, which is wild. Especially when you consider the readers, when you factor in digital (and piracy) is easily tens of millions of people. Shonen Jump is one of the top 10 entertainment brands in the world. Jump is simultaneously printed at multiple printers across Japan (to say nothing of the digital publishing online across the world).
The infrastructure involved in making Shonen Jump happen is perhaps one of the most complicated and interesting in the world. I kinda want like, someone to make a documentary about it.
[Deb:] In the meanwhile, get a look at what happens behind the scenes at Shonen Jump with The Right Way to Make Jump by Takeshi Sakurai.
---
As a bonus for readers of the show notes, I wanted to show you a little something special since we're talking about manga in colour. Up top we mentioned that Taiyo Matsumoto's Cats of the Louvre was also done for the Louvre edition of books. It was released first in B&W in Japan in Big Comic Spirits magazine, and then it was sent to France and published as two volumes. But the French editions were actually coloured by French colour artist Isabel Merlet.
Those editions were then imported back into Japanese, and released in a limited edition. So it's a rare example of a Japanese manga being coloured for overseas publication, and that new edition also getting a Japanese release. It's pretty cool, honestly. Here's a few examples of the black and white and colour spreads for you to enjoy.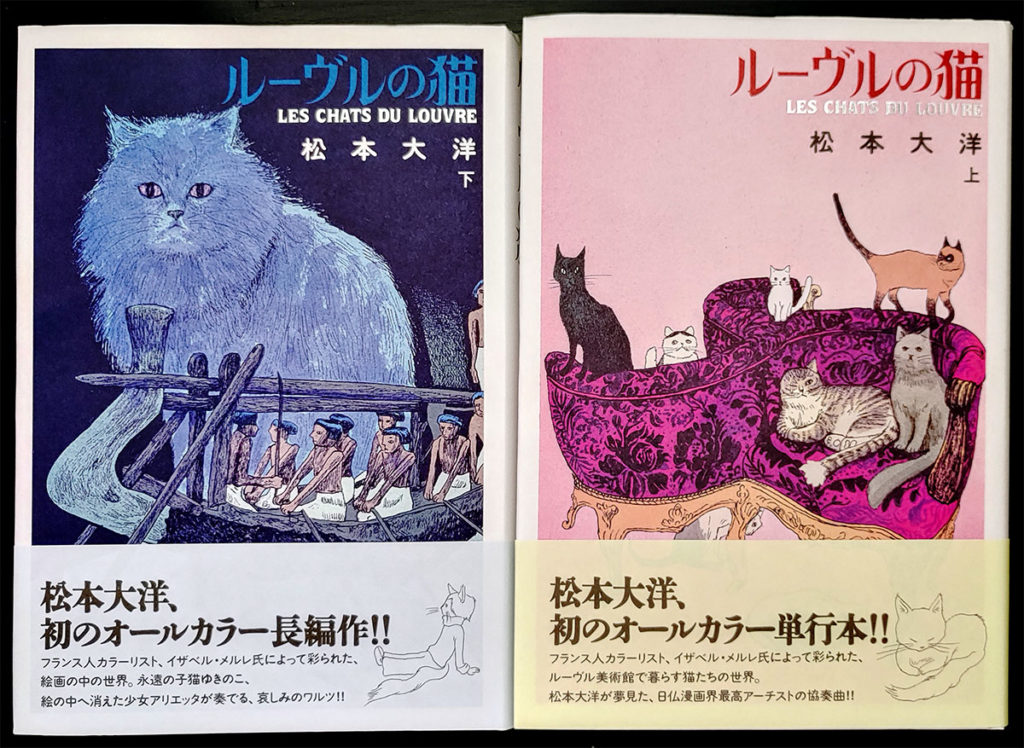 I don't know what Chip would think, and I absolutely adore Matsumoto's grey wash work, but damn, this is a gorgeous looking colour job that adds a lot to each page, I'm personally really impressed.
You can (and should!) grab the English edition of Cats of the Louvre from VIZ Media, wherever books are sold.
[Deb:] It's an Eisner Award Winner too!
And that's it for this week on Mangasplaining! Thanks for listening.
Please support your local comic and manga specialty shop when purchasing these books, and you can find one near you at comicshoplocator.com. You can also check your local library for print and digital lending options, they have TONS of manga! Finally, thanks to D.A.D.S. for their musical accompaniment this episode.