Ep. 106: Eniale & Dewiela Vol. 1, by Kamome Shirahama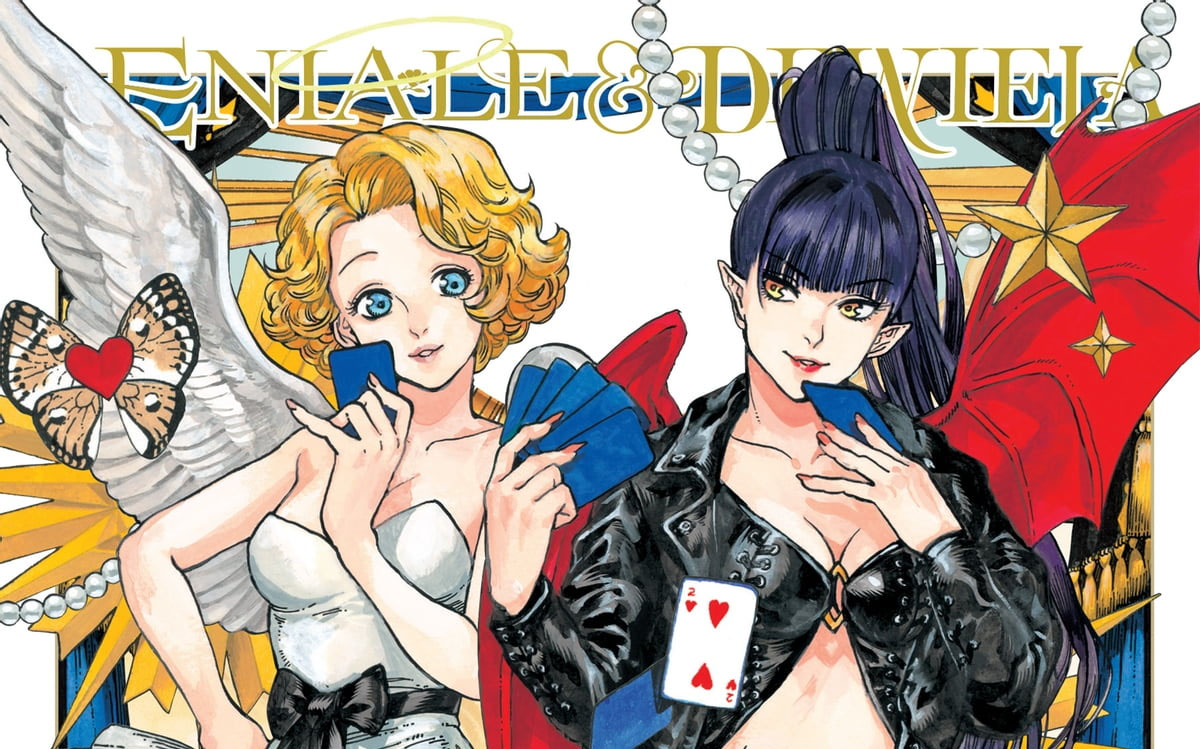 The Mangasplainers return to one of their fav artists, Kamome Shirahama of Witch Hat Atelier fame to take a look at her earlier and steamier work, the angel and devil buddy comedy Eniale & Dewiela. Will the angels and devils in this manga provide a chaste reading experiences? Or are the sultry demons going to get them all hot and bothered? The answers await in this episode!
Powered by RedCircle
Listen and Subscribe to the Podcast, maybe leave a review:
Google | Apple | Stitcher | RedCircle | Amazon | Radio Public | PocketCast | Spotify
Subscribe to the Mangasplaining Extra Newsletter:
mangasplainingextra.com
IN THIS EPISODE
00:01 Eniale & Dewiela Volume 1, by Kamome Shirahama
54:00 THE BREAK
54:20 Shout-outs! K-Pop, Star Trek, plus David makes an AMV!?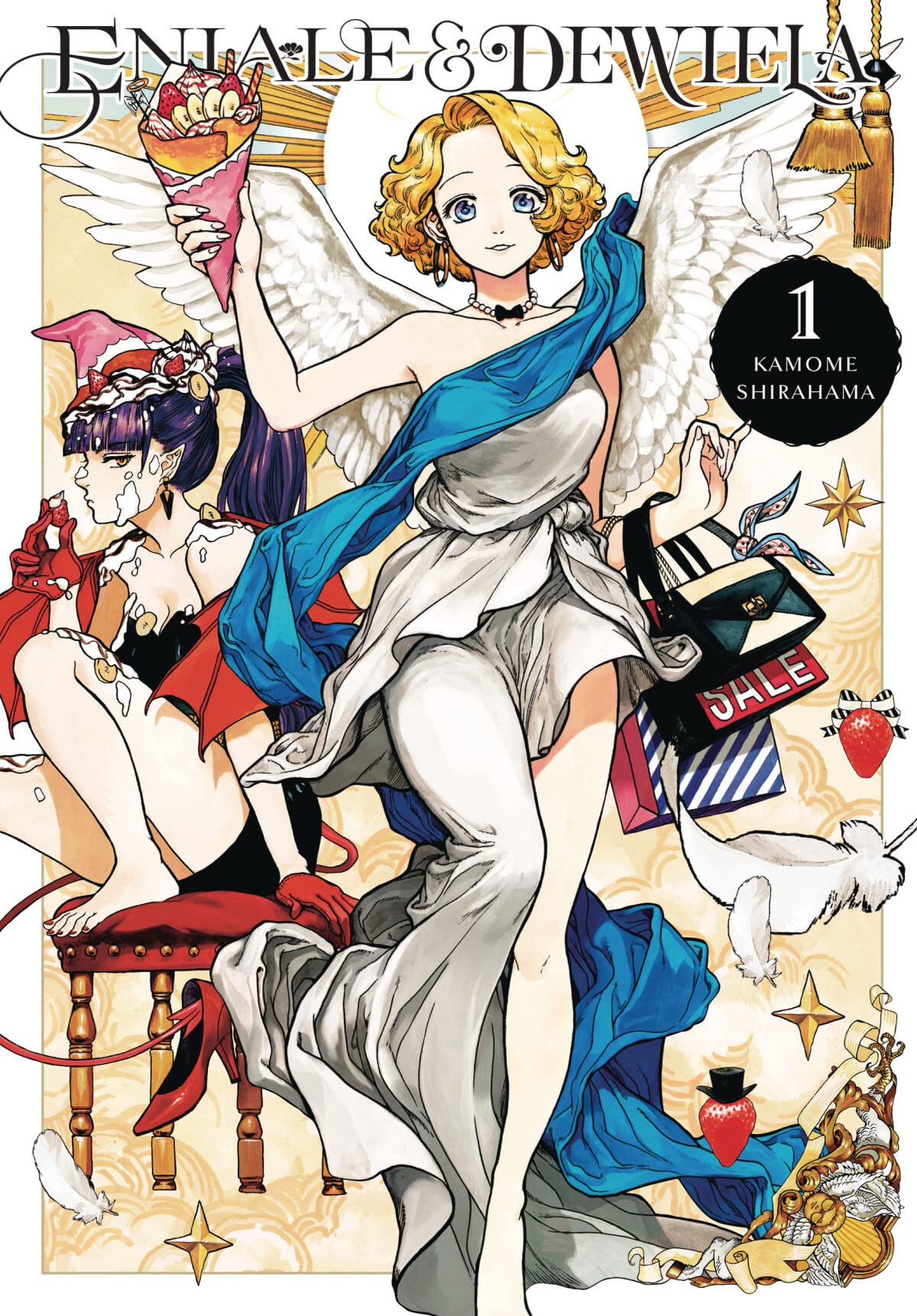 Eniale & Dewiela Volume 1
By Kamome Shirahama
Translated by Caleb D. Cook
Lettering by Abigail Blackman
Published by Yen Press. Available in print / digital.
Audio editing by David Brothers. Show notes by Christopher Woodrow-Butcher and Deb Aoki
BEFORE WE GET STARTED
Hi y'all! Christopher here, hope you're well. There was a bit of a behind-the-scenes snafu, and so we switched the episode order. #106 was supposed to be Nejishiki by Yoshiharu Tsuge, and this week's actual episode 106 is now Eniale & Dewiela. So next week is #107, Nejishiki, and then the week following is #108, Cherry Magic, by Yuu Toyota. Ignore what the outro says! 🙂
Also! This is our second episode on the work of Kamome Shirahama, and we went PRETTY in-depth on her career in our previous episode, so we're gonna go a little lighter on that here. That episode, by the way? Witch Hat Atelier Volume 1. You can check that out here:
Finally, SPOILERS.
03:43 This manga has cute girls, buff monster men, what more could you want?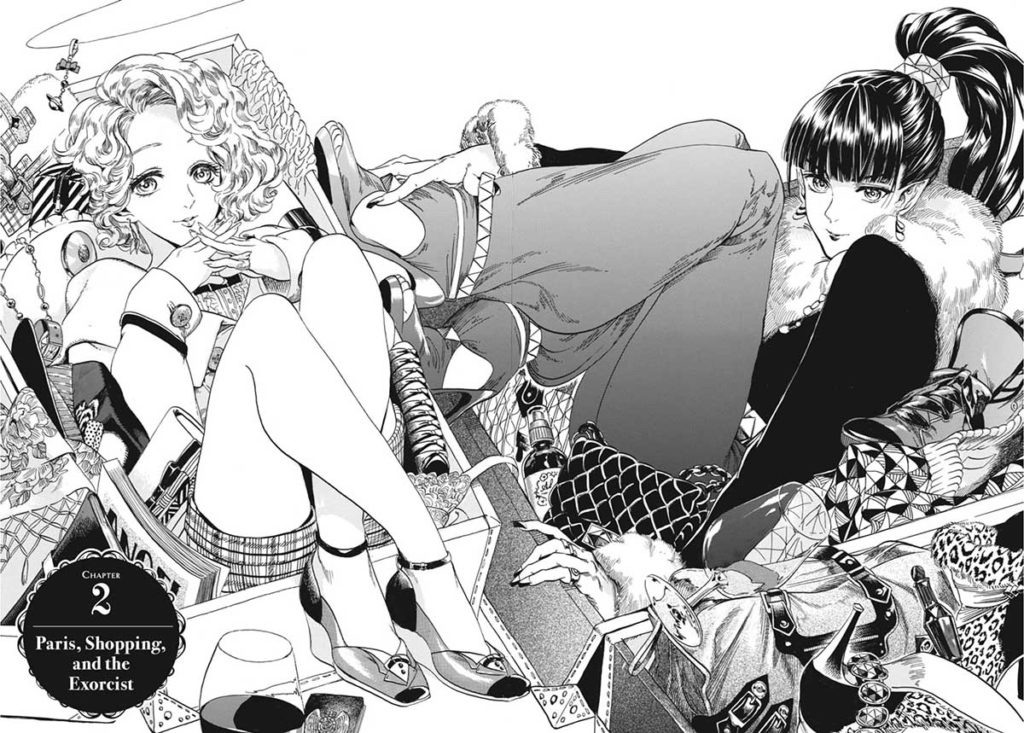 04:50 As mentioned, Shirahama Kamome is the rare manga-ka who has created a lot of work for North American Publishers, specifically Marvel Comics. The Cover artist for the early issues of Kieron Gillen and Kev Walker's Star Wars: Doctor Aphra, as well as creating a really iconic illustration of Dr. Strange for the Ultimate Uiniverse.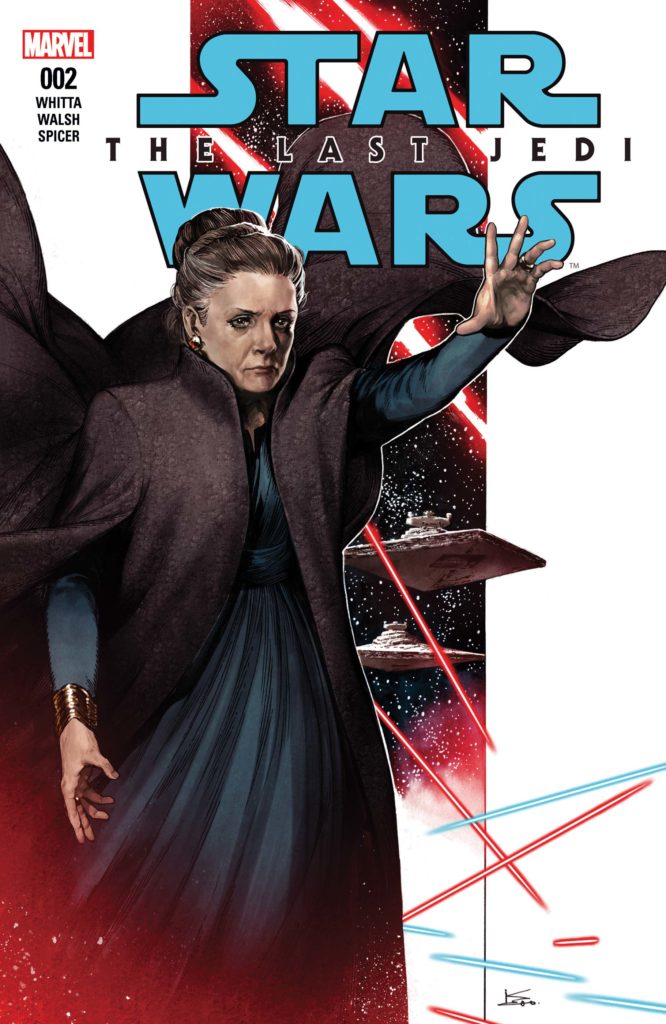 05:29 Yeah, this is the kind of book that you can tell, the artist is just drawing to make themselves happy (and maybe show off a bit too!) Check out these pages featuring a Giant Poodle, a Demon Motorcycle, and Jet Planes too!
09:00 The Buff Parakeet demon Charron is a particular joy in this book, especially his shirt-ripping buffness and his old-testament banishment spread, just gorgeous (and the illustration's not bad either…)
09:29 David interjects and says for more hot bird men, check out the manga Rooster Fighter by Shu Sakuratani, published by VIZ Media. I went to the site to check it out, and VIZ made a whole-ass trailer for it.
Holy shit, that's completely insane. I need to select that book for next season on Mangasplaining.
Christopher then mentions that he hasn't been reading that book because it reminds him too much of a book he couldn't remember the title of. That book though is Elmer, by Gerry Alanguilan, a self-published book released in The Phillipines and then re-published in English in 2011 from SLG Publishing. It's set in a world where chickens gain human-level intelligence, and it details a struggle for human rights among these intelligent, and undeniably delicious, beings. It's really good, but a tough read in a lot of ways. It's technically out of print, and I couldn't find a digital edition, but I just checked and Amazon.com has three copies in stock. Go sell it out folks.
If it sells out before you can get to it, Heidi MacDonald ran the first chapter of Elmer in 2 parts over on The Beat, and that's worth your time.
10:38 Speaking of sexy animals, check out this VERY sexy Horse Man Embrace from page 105 of Eniale & Dewiela.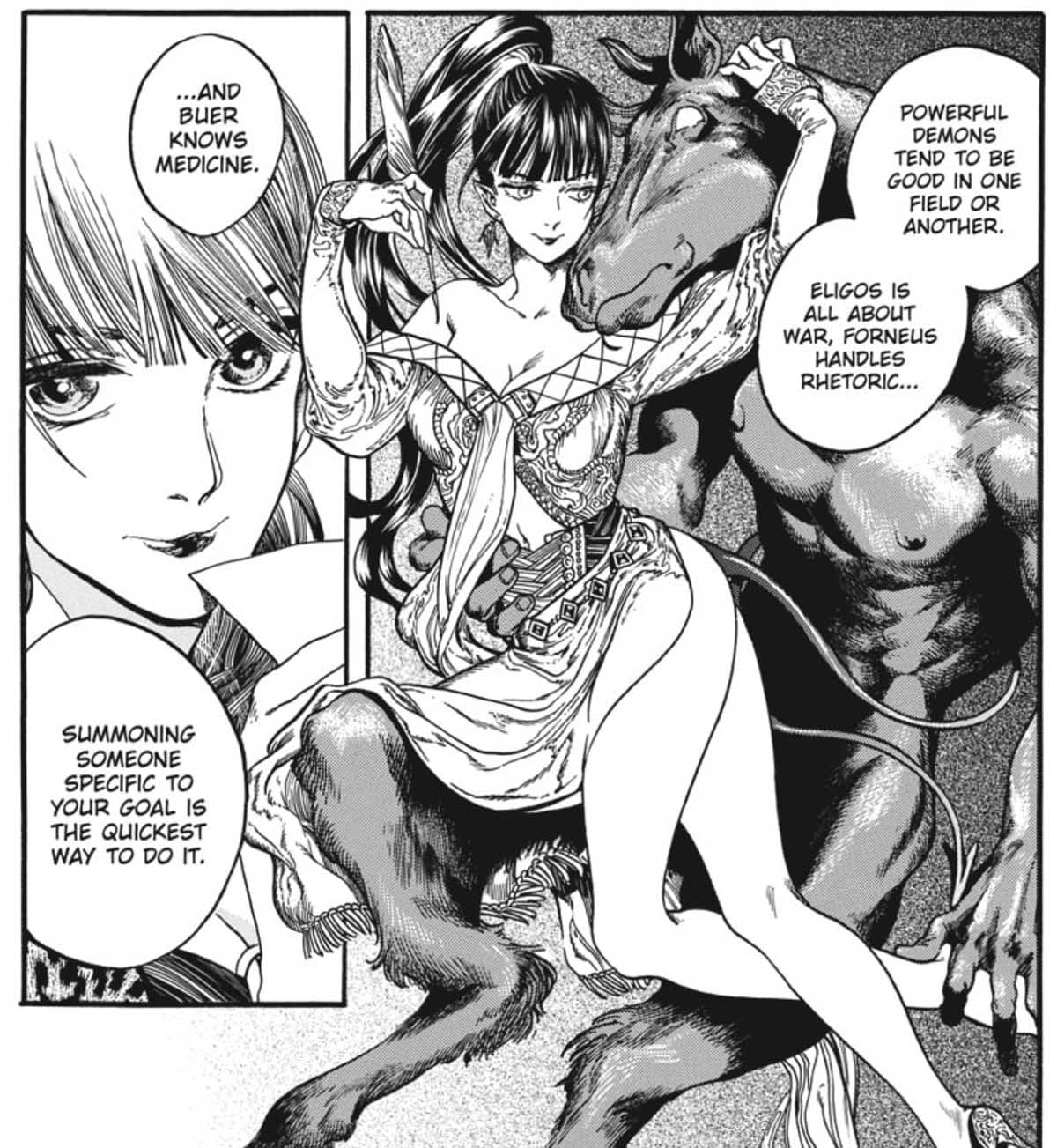 11:20 Don't worry, there's ONE DUDE in the book who isn't sexy. Archangel Azrael:
12:00 Then the buff parakeet suddenly gets angry, and expels them from his garden in a completely different style, with touches of engraving and classical Christian Biblical illustration.
12:49 Deb classes up this episode with her mention of Albrecht Dürer, renowned painter and printmaker. His work with engravings sort of defined the 'biblical style', using many small evenly drawn lines to give form and depth in an easily reproducible way. His work is definitely the touchstone for Shirahama in her more biblical illustrations in Eniale & Dewiela.
14:05 And of course, the Pigeon Baby (spoilers).
15:20 We mention Saint Young Men by Hikaru Nakamura, a series that we covered very early in the podcast, with the religiously funny high-concept of Buddha and Jesus hiding out on earth as roomates in modern day Tokyo. It was a good episode. Go check it out.
18:03 Man, my reference here should have been Paris Hilton and Nicole Brown.
18:26 David recommends A Bride's Story creator Kaoru Mori's short story collection here, Anything and Something. I still haven't read it and I really want to. But specifically, the feeling in that book that Mori was just following her passions and interests, drawing exactly what she wanted to draw. I also got a chance to read an advance of Blue Period creator Tsubasa Yamaguchi's upcoming short story collection Nude Model, and I feel like that also has similar vibes to what David's talking about here. Good stuff.
19:59 The fashion sequence where Eniale and Dewiela are trying on a bunch of clothes is VERY Betty and Veronica's fashion pages. 🙂
David mentions a very fashion-focused series that we covered here on the podcast, Ai Yazawa's Paradise Kiss. That was allll the way back in the first season, Episode 14, so you might not have listened? It's still a favorite of mine.
I then mention that Ai Yazawa's prequels to Paradise Kiss are FINALLY being released! I'm super excited to finally read Neighborhood Story, coming soon from VIZ's Shojo Beat imprint.
21:00 Look, there's no way to get past this: Chip was turned on by page 72. We're all just going to have to deal with that. What does page 72 look like, you ask?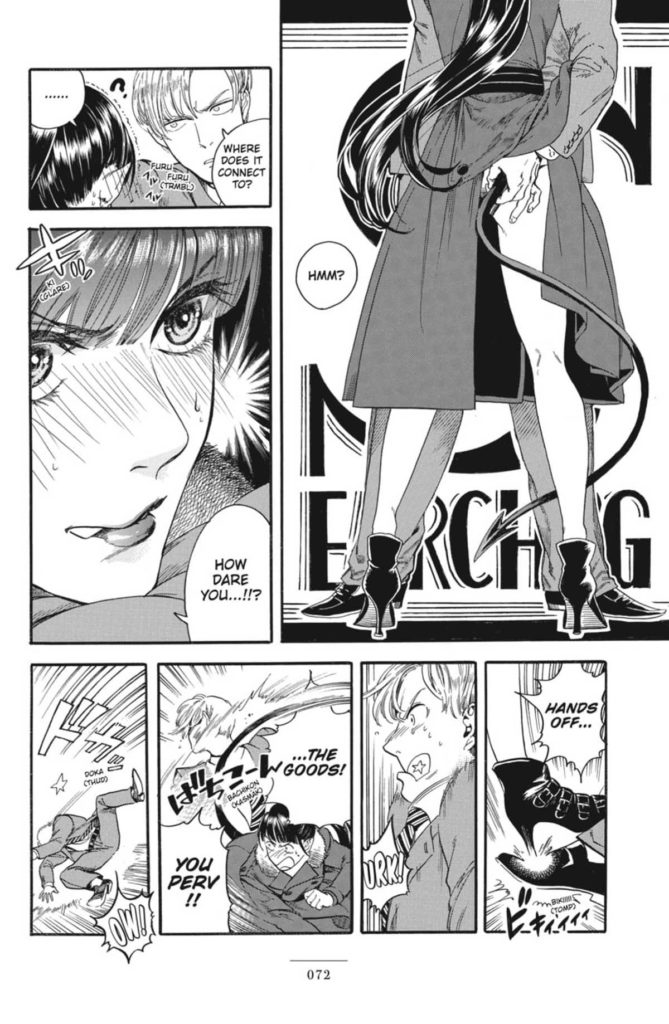 All's forgiven, Chip.
23:18 Rocketeer might be a weird comp on paper, but quite honestly the self-indulgence and the high degree of craft ties it together, IMHO. I think Chip's logline is better though, "Rocketeer Meets Good Omens" is a pretty good tagline for this book. That one's free, Mark.
[DEB:] "Mark" is Mark de Vera, the Sales and Marketing head honcho at Yen Press, who hooks us up with all the good stuff. Thank you, Mark, we love you!
I should also mention that the late Dave Stevens' The Rocketeer is currently being kept in print thanks to IDW Publishing, and the complete Stevens material is even available free to read with Kindle Unlimited. Really good looking comics and well drawn good girl art, go check it out.
24:00 To Deb's credit, Frank Cho is often cited as a contemporary "good girl" comic artist, but it's a little more aggressively sexual than what we normally think of for that category. There's less of a wink and a nod, anyway.
25:00 Eniale gets the good, subtle expressions. Here's a couple I liked.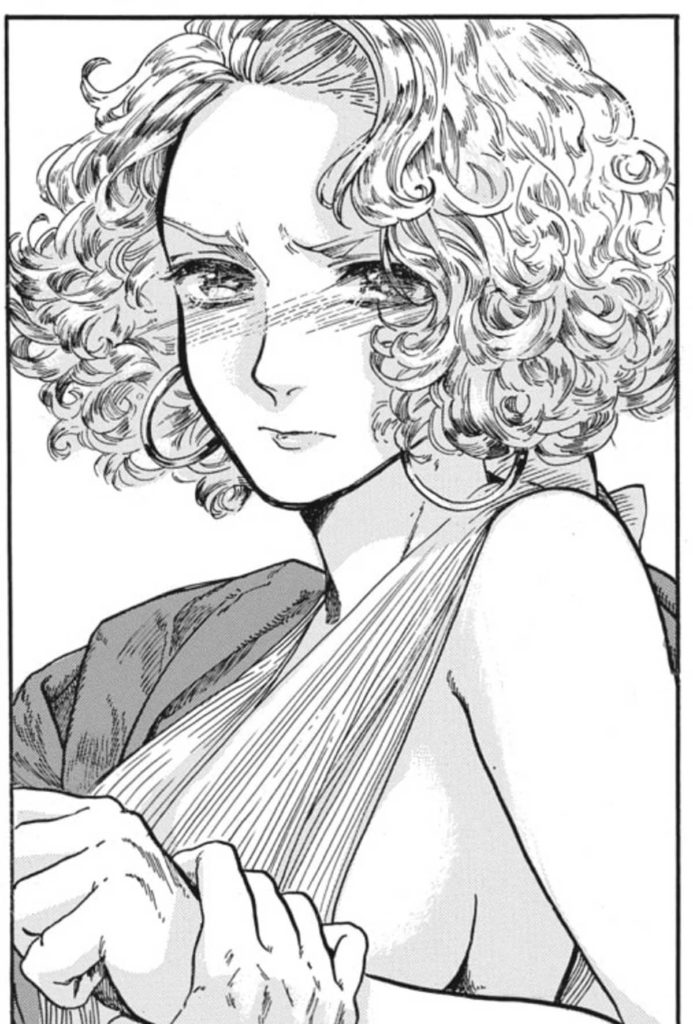 But only one of them gets monster man hugs, and it's not Eniale…
26:25 We coulda spent 10 minutes on just this gag. Specifically:
This sound-effect, a play on the horse thigh and the word silence, which is a great translation from Caleb Cook. Just for shits and giggles I went and bought the Japanese edition to see what the original was, and…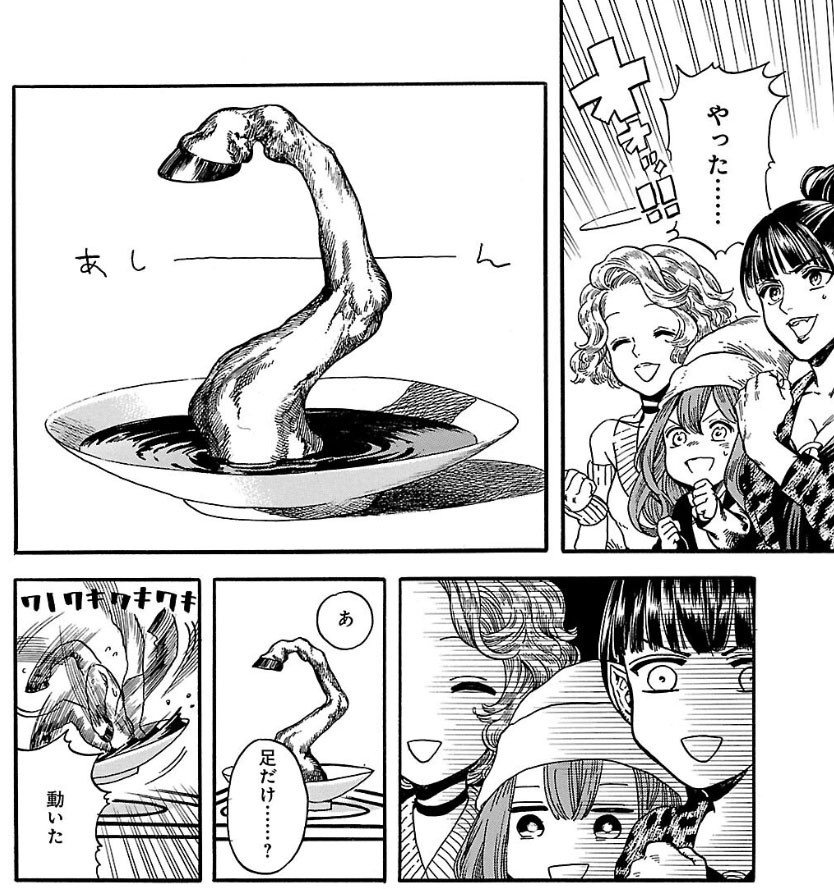 Like Deb said, it's got the "shiiin," which is the sound of silence, and then an "A" at the front… And "ashi" is leg, or foot. So yeah, in Japanese it's "leg-silence" and a literal translation woulda sucked. But "Thighlence?" Thighlence is genius.
27:10 David mentions page 97 and the fight scene which is very well done and serious, in a superhero style. Especially with their emotionless faces, it's great.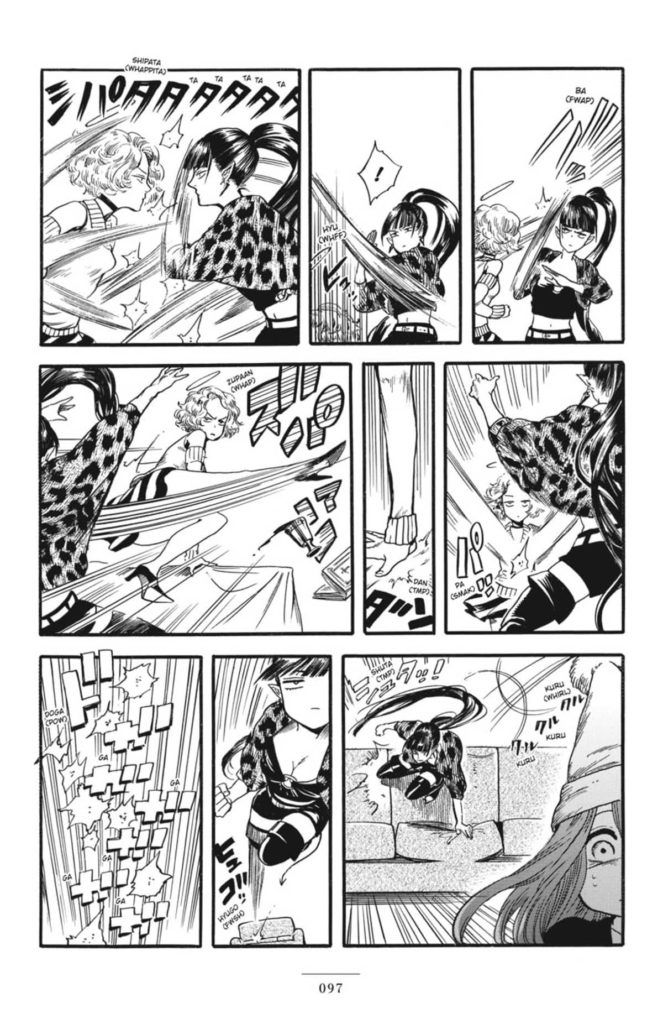 28:45 Here's that convention sketch created very quickly at San Diego Comic-Con by Kamome Shirahama that Deb mentioned…!
30:38 Double-page spreads in manga are not usually this dense, with 8-9 panels per page. Speaking specifically of this kitchen sequence, there's so much info being communicated here in a really dense format. As a result, it's a bit crowded.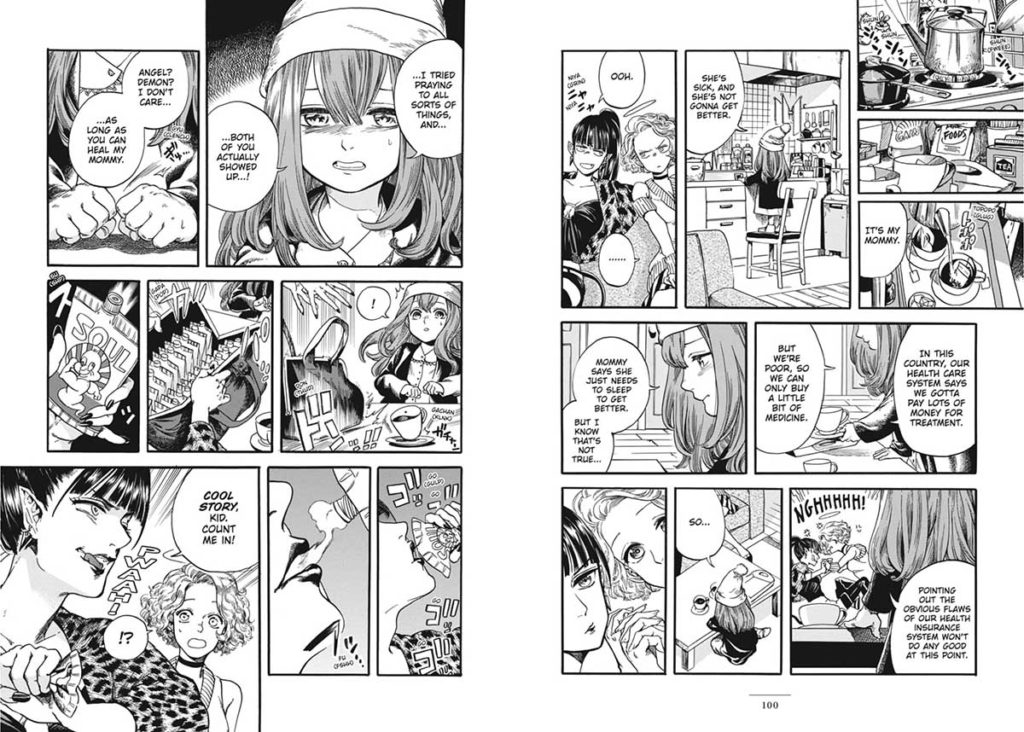 But Shirahama's later work is much more relaxed and seems to have more room to breathe. Here's a different kitchen sequence from Witch Hat Atelier volume 1. Both the pages and individual panels have a more relaxed, easier-to-read flow, for sure.
32:50 Speaking of previous episodes, David mentions our early career-spanning episode on Tsutomu Nihei, and how he went from solid-black pages in BLAME! To a much more refined and spare style in his most recent work APOSIMZ. You can learn more about that on this episode:
39:50  I mentioned the comedy manga from VIZ's PULP Magazine line, Heartbroken Angels. It's long, long out of print, and so little-known (also, somewhat filthy and undesirable by most manga readers) that you can still pick it up for cheap in discount bins around North America, lol. If you see it, definitely grab it, it's a lost gem.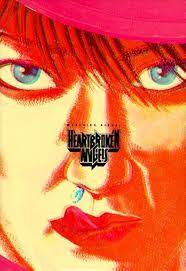 Oh wow, I just searched for an image of that cover, and found out that the first volume is up on Archive.org. Wow. Wow. I mean that's technically piracy so, let your moral compass guide you.
44:45 And yes, page 160, with the Eni finally slipping into the bath, is the very definition of Fan Service.
48:50 David's favorite panel from the book happens just before Chip's favoirite page… and that's perfect.
51:45 How much time was there between the end of Eniale & Dewiela and the beginning of Shirahama's follow-up Witch Hat Atelier? Uh, none. None at all. The former ended and the latter started in July, 2016, according to Japanese Wikipedia. WOW. Now I really wanna see volume 3, to see how that one reads compared to this one, and then WHA vol 1. Because that is a frankly insane progression.
53:05  Finally, David's fave gag in this volume is on page 82, with the very small drawings of the very small demons covering their very small butts and junk, and it's a great note to go out on.
---
54:00 THE BREAK
---
54:20 And now it's time for SHOUT OUTS!
DEB shouts out KCON Los Angeles, a recent convention dedicated to Korean Culture, especially K-Pop Music, Food, and of course webtoons and comics. She had an amazing time, but the first YouTuber that came up when I looked up the con described it as a disaster, lol. Glad Deb had a good time though!
Chip shouts out the new Star Trek series, Star Trek Strange New Worlds.
We also gush about our pal Ryan North, #1 star Trek fan and current writer of Fantastic Four for Marvel Comics. He also wrote some Star Trek Comics too, based on the animated Lower Decks series, that he's very proud of. Here's hoping that's a springboard to writing for the television show at some point.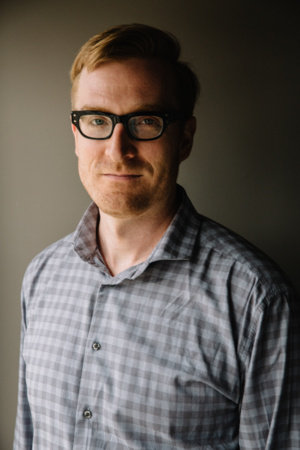 For my shout-out, I say thanks to the amazing folks collaborating to make the manga that MSX is publishing and co-publishing. Two of those series have already started serializing!
First up there's Search & Destroy by Atsushi Kaneko, with a great translation by Ben Applegate and incredible lettering by Phil Christie. I'm editing this one. Folks reading this on the Substack will be very aware, but for those of you who just read the show notes on the blog, you can check out the first chapter for free! I'm so pumped for this book, it's so exciting. First volume drops from Fantagraphics in January.
Next up, I mention Veil by Kotteri, translated by Jocelyne Allen and lettered by Kevin Druelle,  and edited by Andrew Woodrow-Butcher. The first volume lettering came in and it's gonna be just an outstanding book. That one can't be serialized on the Substack unfortunately, due to licensing restrictions, but we are going to try to preview it and we have some article ideas to write about it too. That's coming next year from UDON as two-in-one bind-ups.
The third book I mentioned is ALSO serializing now on the MSX Newsletter, and it's called Wandering Cat's Cage by Akane Torikai. This one is also translated by Jocelyne Allen, lettered by Sara Linsley, and edited by Deb Aoki. It's as striking as The Handmaid's Tale and is somewhat in the same vein while being a very different, powerful story. We just ran chapter 4 this week and that's part of the big reveal, but if you want to read chapter 1 that's up for free.
Deb then mentions that she became aware of Veil artist Kotteri because they did a bunch of awesome Mad Max Fury Road doujinshi?!
Amazing.
DAVID shouts out the new video game Armored Core VI: Fires of Rubicon, then recently released for Playstation. 
He offered up this update on his playtime:
"My current play time for Armored Core 6 is 85 hours, I've seen all three endings, I still need to find ten out of fifty total combat logs, and I wrote a rough draft of a script for a second YouTube video about it already."

–David Brothers
I didn't know there was a first! But David does, in fact, make AMVs featuring various video games that tickle his fancy. Since he marked that "okay to print", linking to that first video is PROBABLY okay.
And yeah, some mech games had crazy controllers. I thought it was the Armored Core series, but turns out that it was, as David says, Steel Battalion. It had the following controller which was required(?) to play, a truly immersive mech game.
That said, my favorite mech game is a the dual-stick fighter Virtual On! which is still an order of magnitude less complex that that beast.
Man, I could go for some Virtual On!
And that's this week in Mangasplaining! This episode is also available wherever you get your podcasts, so please subscribe and leave a review, so others can discover our show.
Also, if you'd like to get the latest episode delivered straight to your inbox along with exclusive interviews, articles and new chapters of manga you can't read anywhere else, subscribe to our Substack newsletter. See what you're missing at Mangasplaining Extra!
Next week on Mangasplaining:
Get ready for Nejishiki, by Yoshiharu Tsuge. It's an intense one.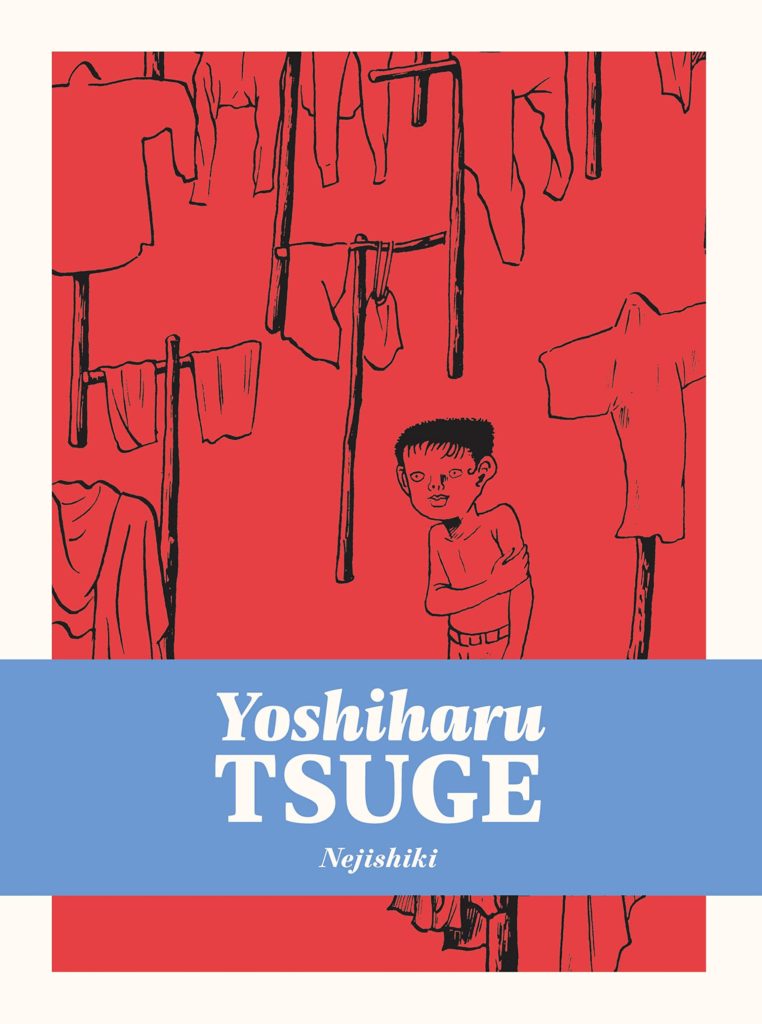 Thanks so much for listening! Please support your local comic and manga specialty shop when purchasing these books, and you can find one near you at comicshoplocator.com. You can also check your local library for print and digital lending options, they have TONS of manga! Finally, thanks to D.A.D.S. for their musical accompaniment for this episode.
---