Ep. 74: Witches by Daisuke Igarashi & Drops of God by Tadashi Agi and Shu Okamoto
Our third and final entry into witch-week ends with what might be the witchiest book of them all, Daisuke Igarashi's Witches. Exploring different traditions of witches across a selection of magical realist stories, this is an ambitious book…but does its reach escape its grasp? The Mangasplainers will find out soon!
—
Then, we dive into another Comixology Manga Must-Read, as we sip, swish, and spit The Drops of God, by Tadashi Agi and Shu Okimoto! Do the Mangasplaining team have refined enough palettes to enjoy all that this wine-tasting manga has to offer?
Powered by RedCircle
IN THIS EPISODE
00:00 Witches by Daisuke Igarashi: The Complete Collection
50:20 THE BREAK
51:00 ComiXology Manga Must-Read – The Drops of God vol. 1
01:04:15 THE SHOUT-OUTS! 3 TV shows and a sports webtoon… and CHIP!
Witches: The Complete Collection
By Daisuke Igarashi
Translation: Kathryn Henzler
Adaptation: Jamal Joseph Jr.
Lettering: Aidan Clarke
Published by Seven Seas Entertainment (Print/Digital)
Audio editing by David Brothers. Show notes by Deb Aoki and Christopher Woodrow-Butcher.
BEFORE WE GET STARTED
ITEM #1: Just as a reminder, we accidentally recorded these episodes out of order, and instead we switched this and Witchcraft Works, which aired last week. Gomen nasai! Witchcraft Works is Episode 73, and is available now wherever podcasts are available.
ITEM #2: [Christopher:] Here's a little bit about Daisuke Igarashi, author of Witches.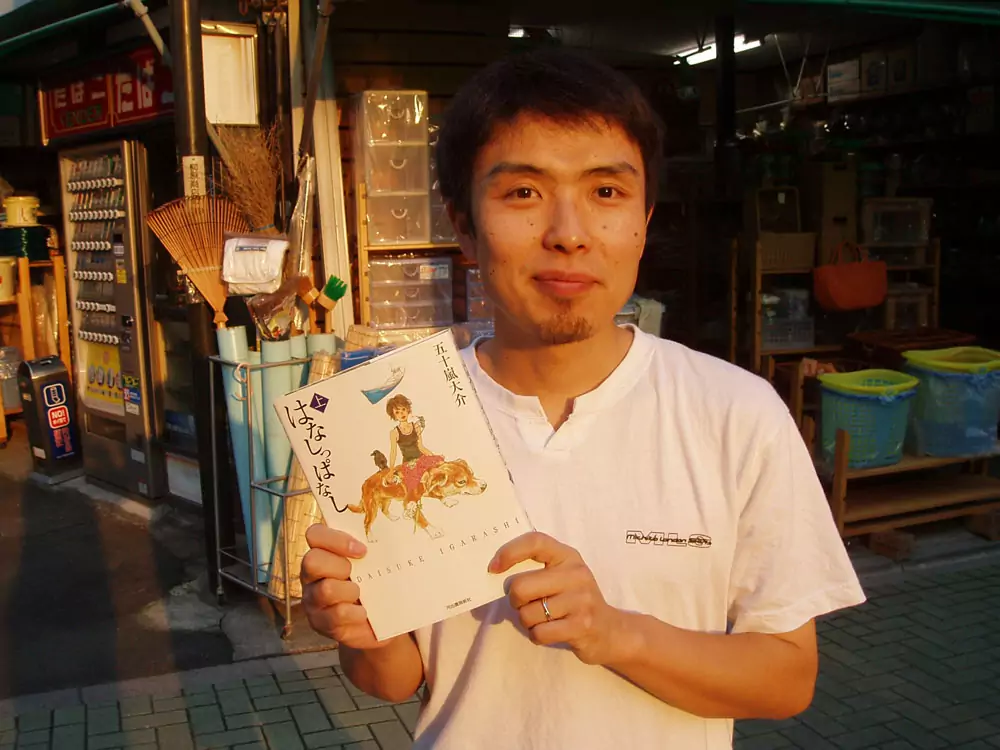 ABOUT DAISUKE IGARASHI
Daisuke Igarashi is an award-winning manga-ka. Born in 1969 in the suburbs of Tokyo, Igarashi began his professional career in 1993 with some short pieces published in Kodansha's Monthly Afternoon magazine. Igarashi's first major serialization came soon after, with Talking, a collection of 45 short stories serialized between 1994 and 1996, and then Little Forest, from 2002 to 2005. His work is deeply inspired by nature and naturalistic drawings; animals, untouched natural environments, and spiritualism are deeply infused into most of his works.
Today's title, Witches, was his third major serialization, originally published in 2004, as 魔女 (Majo). Running from 2003-2005 in Shogakukan's Monthly IKKI magazine (one of Chris's favourites; it also ran Q Hayashida's Dorhedoro and Taiyo Matsumoto series' No. 5 and Sunny, among many other awesome works). The stories would run in Monthly IKKI with several-month breaks between the larger stories (like 'Spindle').
The collection, released as two volumes in Japan, racked up a LOT of attention on release, including winning the Award for Excellence for Japan Media Arts Festival Award, and was one of the selections (read: very prestigious nominations) for the Best Comic award at Angouleme in 2007. It is a huge shame that this work was never translated to English back when it was originally being serialized/released, it would've been a shoo-in for the VIZ Media's launch of their VIZ Signature /IKKI imprint launch in 2009.
Speaking of VIZ's Sig/IKKI, they did publish Igarashi's next major work, Children of the Sea, and all five volumes were released. It's a truly breathtaking work, we've mentioned it on the podcast before, and if you get a chance to read it in print or digital, I strongly recommend it. It's weird and beautiful and (SPOILERS) much stronger overall than Witches, though also much more oblique.
Igarashi has produced a number of other short works, and going by his Japanese Wikipedia biography, it seems very much that Igarashi prefers short stories, as he has several short story collections, multiple one-volume books, and lots of uncollected shorts.
Igarashi is an absolutely stand-out favourite cartoonist for a certain generation of manga and comics fans, named alongside Matsumoto, Paul Pope, Katsuya Terada and others that are masters, or even the future, of comics. Sometimes those folks actually get together and put together anthologies(!), if you wanna check out this favourite of mine, it's called Japan as Viewed by 17 Creators, published (and probably out of print) by Fanfare Ponent-Mon. He did the cover art for this collection as well.
(Christopher comes back to this idea of a group of creators that are producing work in harmony with one another, and if you like one you might like the others).
So that's Daisuke Igarashi! Hopefully that introduction helps set the tone for the rest of the podcast!
00:46 – Since we're talking about Children of the Sea, here's those covers and a couple of nice images, before we get into Witches. I don't think, at 5 very long volumes and almost 15 years old, this is a series we'll ever cover on Mangasplaining, but you never know. So just in case, please enjoy!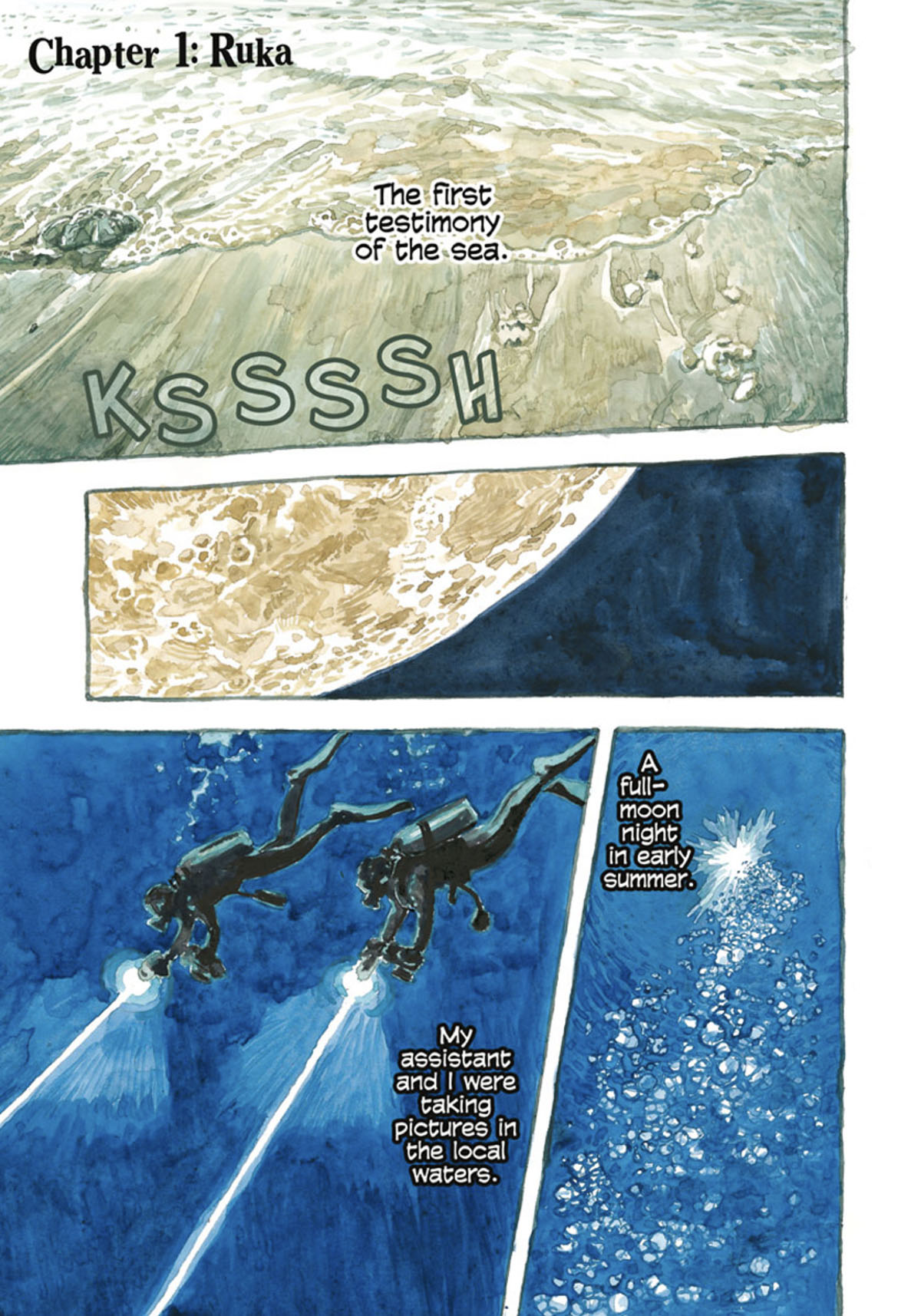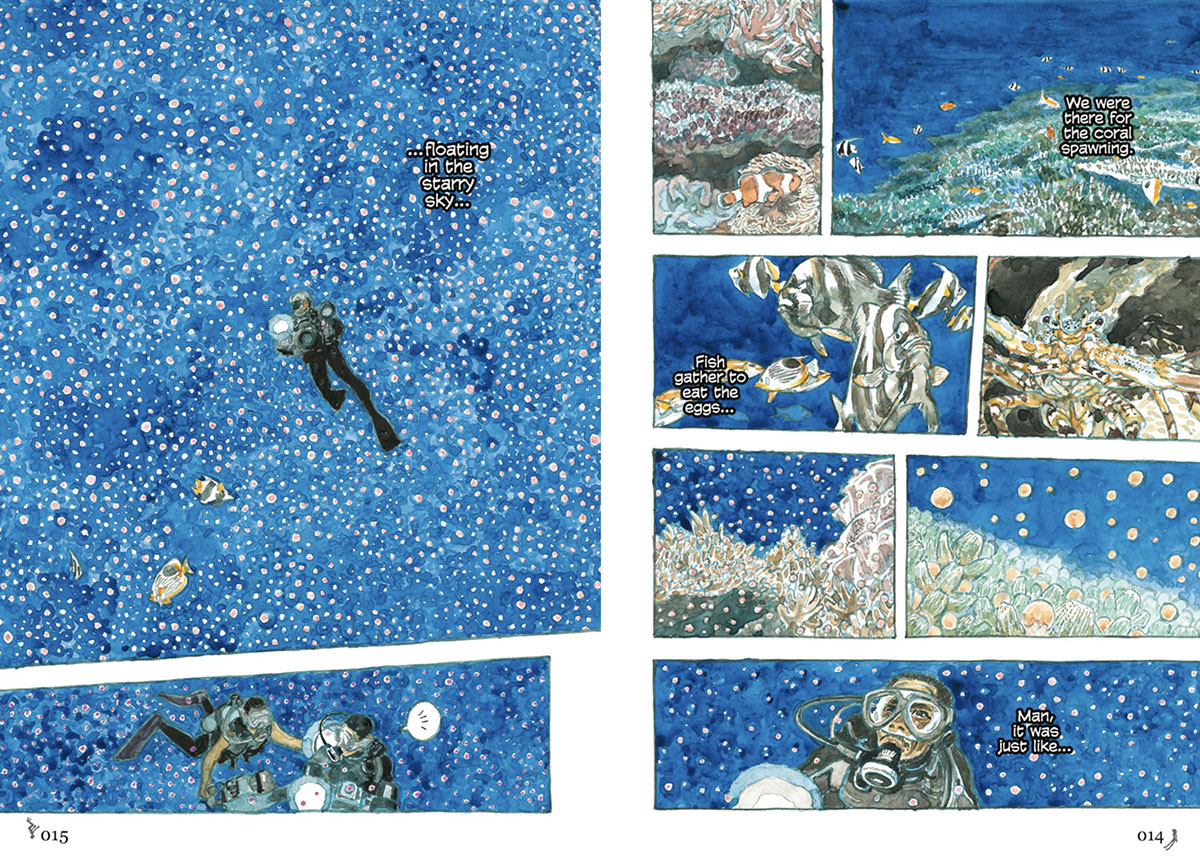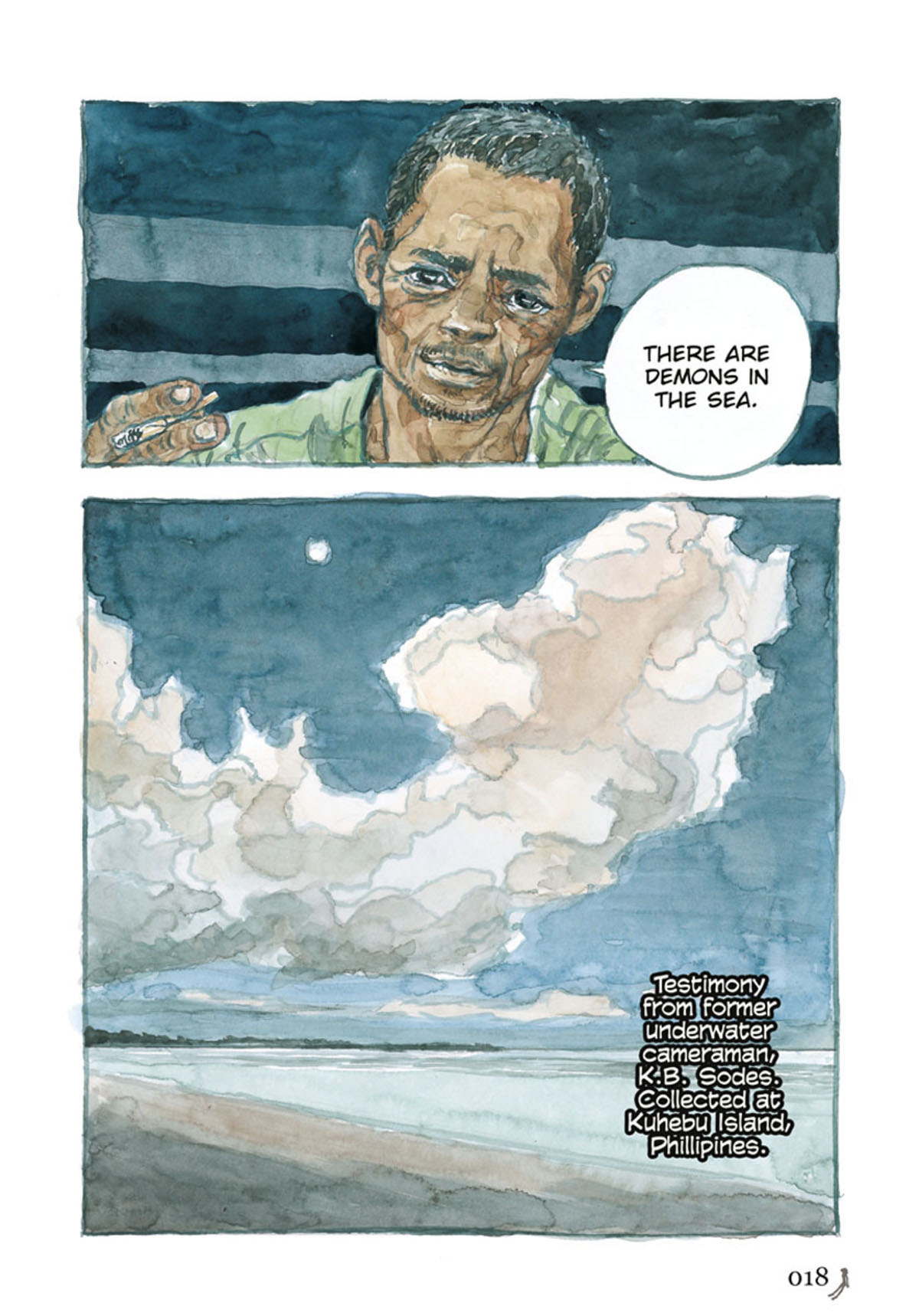 Pretty good eh? Makes you wanna keep reading?
Also, I wanted to share this with you, it's a 2-volume, slip-cased artbook set that Shogakukan released in 2012 called The Art of Daisuke Igarashi: Sea Monsters and Souls (海獣とタマシイ). One volume contains Igarashi's colour and pin-up art from across his career, and the other volume contains unpublished short comics (including a Children of the Sea prequel!), process work, behind-the-scenes sketches, interviews, articles, and more. It's an amazing package, and any fan of Igarashi will ABSOLUTELY want to order a copy of this one. (Click for larger images)
[Deb:] Halcyon Realms reviewed Seamonsters and Souls, with lots more photos of what's inside the books too: https://halcyonrealms.com/books/daisuke-igarashi-art-book-review/
01:30 – Deb references the character of 'Samantha' from the television show Bewitched (or perhaps its reboot)? This sit-com was about a witch (Elizabeth Montogomery) who fell in love with a mortal (Dick York/Dick Sargent), and moved to the suburbs with him. She had to be careful about using her 'witch' powers and being found out. A classic of Witch-based entertainment. 😉
01:52 Alright, so here's the description of Daisuke Igarashi's Witches from Seven Seas:
An omnibus of award-winning interwoven tales of witchcraft from the critically acclaimed creator of Children of the Sea.

On a visit to a city in the far west of Asia, a British girl named Nicola falls in love. The object of her affection is Mimar, a man who works at the city's bazaar—yet despite her attempts, he turns her down. Upon returning home to England, the ache of her unrequited love festers. After years spent obtaining wealth, fame, and the Secret of the World, Nicola returns to the bazaar to exact her deadly revenge upon Mimar and those he holds dearest.

This story is one of many in this haunting collection that features tales of witches and dark magic set around the globe and in outer space. Winner of the Excellence Prize at the 2004 Japan Media Arts Festival, Witches is written and illustrated by Daisuke Igarashi, the critically acclaimed

-Seven Seas
ALSO! We talk about a lot of the different short-stories in this collection by name. Here's what's in those stories
#1: Spindle
#2: Kuarupu
#3: Bird-Riding Witch
#4: Petra Genitalix
#5: Thief of Songs
#6: Beach
02:33 [Christopher:] So we have to talk about the Japan Media Arts Festival a little. We've mentioned it a few times (and hey you can go check out the website yourself if you like), but in Japanese, the title of the awards translates to "The Agency for Cultural Affairs Media Arts Festival." It's a government-sponsored award recognizing excellent media art works for their artistry and creativity. They recognize works in the field of Art, Entertainment, Animation, and Manga, with a number of sub-categories within those categories.
I'm generally very impressed by these awards and the titles they pick, particularly in the manga category. Like any awards organization, I'm sure there are a few asterisks that need to be inserted there, not being Japanese I'm not inside on this one, but talking to friends who work in the media industries in Japan, they're generally also pretty happy with the awards. One of the best things is that the winners of the awards get a special website dedicated to their win, and get an in-person exhibition of their works that goes for 10 or 11 days! The next exhibition is September 16-26, and if I could go, believe me, I would.
Anyway, I'm deeply impressed with these awards, not only for their choices but ALSO for the fact that they do work during, and after the awards are awarded, to continue to promote and help the artists and creators! Making Art is a tough gig, and giving an award is nice, but supporting their careers after in a big way? Pretty awesome. I wish that happened more here in North America for comics awards.
05:43 David mentions an amazing sequence, pages 354-355, where a girl gets more-and-more in touch with nature and realizes that she is becoming the water that is raining on her skin. Gorgeous.
05:57 Conversely, the shock of the manga is expertly illustrated by this sequence, pages 173-178, depicting the bombing of the Amazon rainforest.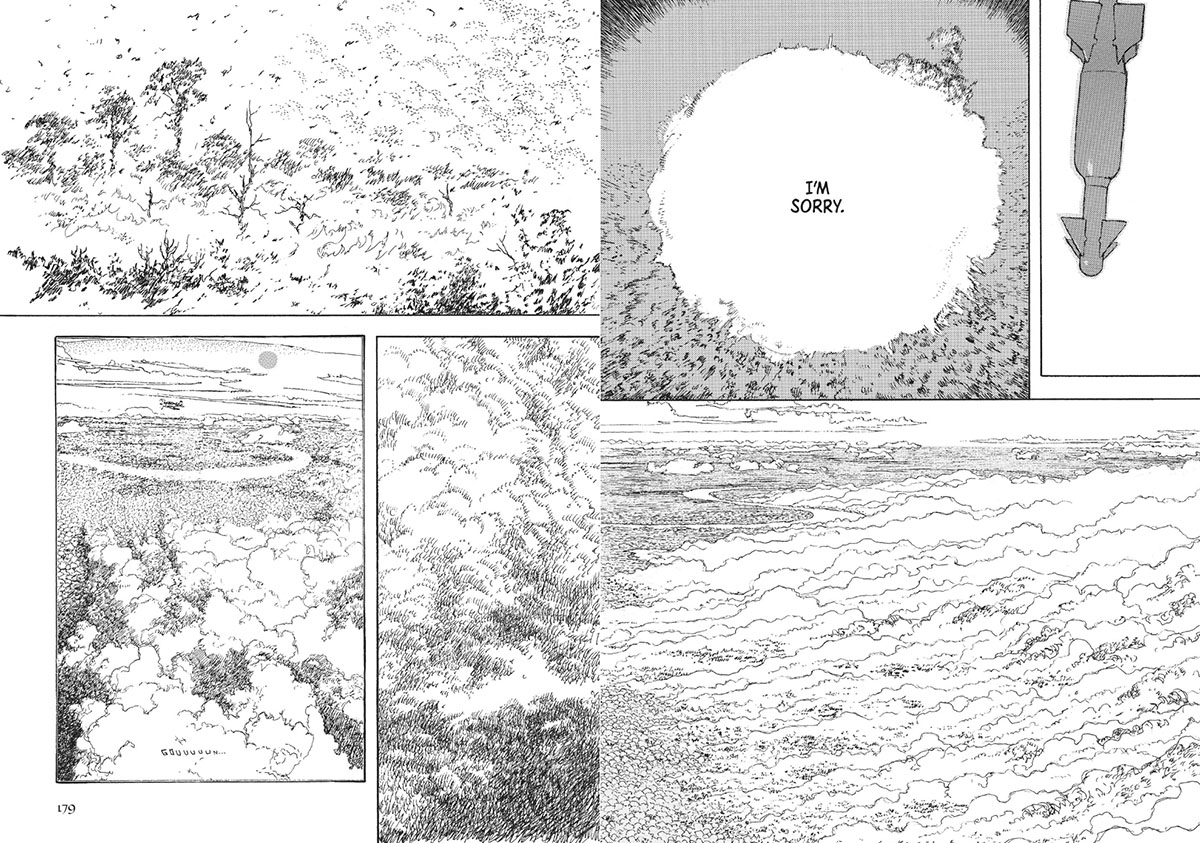 06:20 – Deb calls out the horror of the book, which is also on display quite a bit, where the boy who uses magic turns to blood, flesh, and then decomposes right in front of a young girl's eyes.
…and then again, when the older witch woman is turned into into a pile of rats:
09:11 [Christopher:] One of the things that I think we communicate through this episode is that this manga just reads differently than other manga. There's a different pace and tone, and you need to adjust yourself to get into it. It took me until second read to realize that the villain of the first story 'Spindle', Nicola, is a type — a sort of powerful, Disney villain-esque character with grand designs on absolute power. The beginning is more deliberately obfuscating. So on first read, I didn't really 'get' her or her motivation. Was that me? Was that the work? Probably a bit of both–like I said, it works much better on second reading. But I do think that an editor should've rearranged some of the first part, and that Gaiman actually does do this sort of stuff a little better.
11:30 [Christopher:] Didn't know what the heck David was referencing with the Boss Baby thing, I'm not on Twitter very much these days, but apparently it's a whole ass-meme and it auto-completed from "guy who ha" in google.
Very good reference, David!
[Deb:] Here's the trailer for the Boss Baby sequel, Family Business and as movies for kids goes, it is… weird.
16:11 [Christopher:] I think we should all acknowledge that we're all pretty much novices when it comes to witches and whatnot, but I think Deb hits the nail on the head here talking about how the idea of witches was used to persecute any woman who was different throughout history. Likewise, every male-dominant religion tends to regard any female religious practice as some form of witchcraft or heresy. These aren't groundbreaking ideas or anything, but that is what this particular book is about, so it's PROBABLY worth recapitulating here.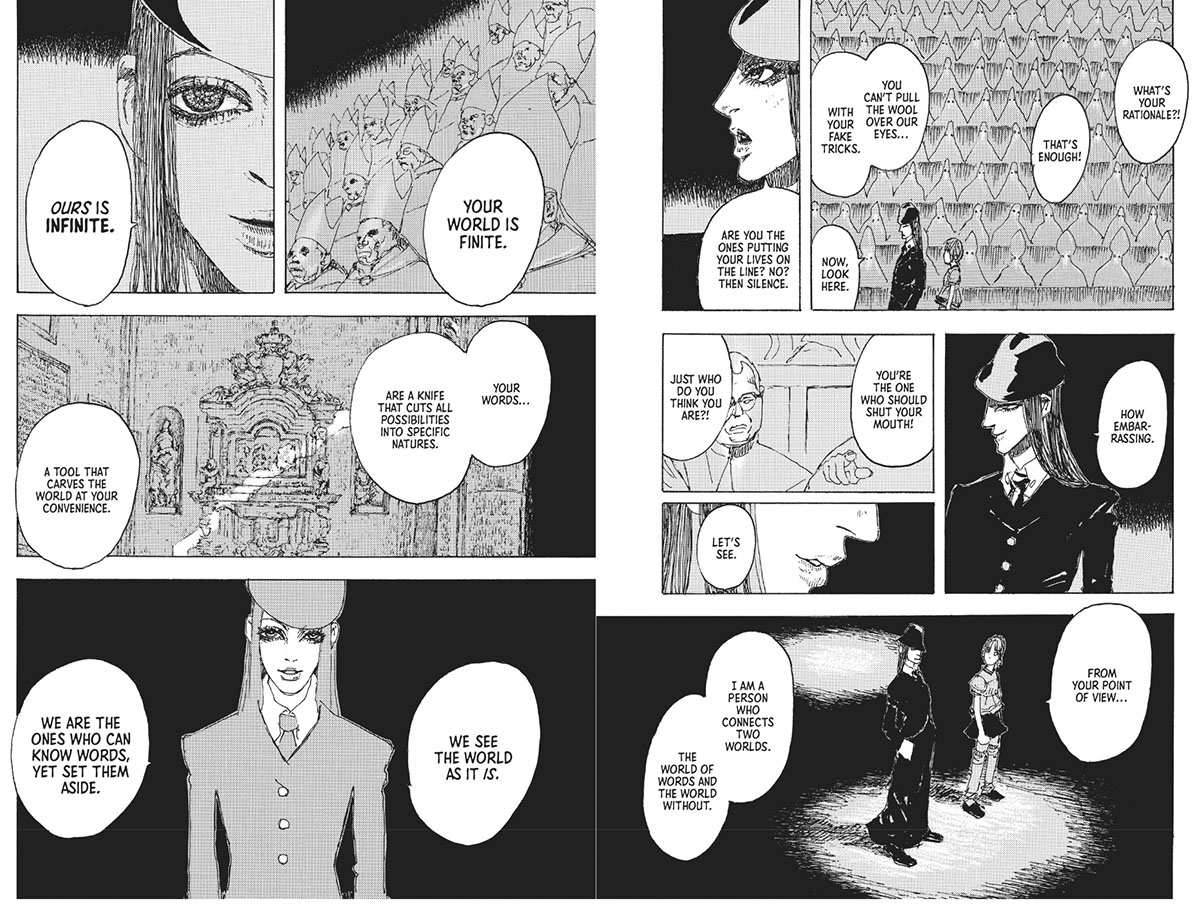 17:24 [Christopher:] Igarashi really does avoid drawing 'types' of people, and especially with the women of this book, he draws different ages, body-types, ethnicities, and more, with a good measure of care and attention. It's pretty refreshing considering some of the more commercial manga we've been reading lately has "older woman" drawn as "younger woman with two lines under her eyes to denote a couple wrinkles". This spread with an American woman in her late 20s, an elderly woman who has had a hard life in the forest, and a little girl, is a great example.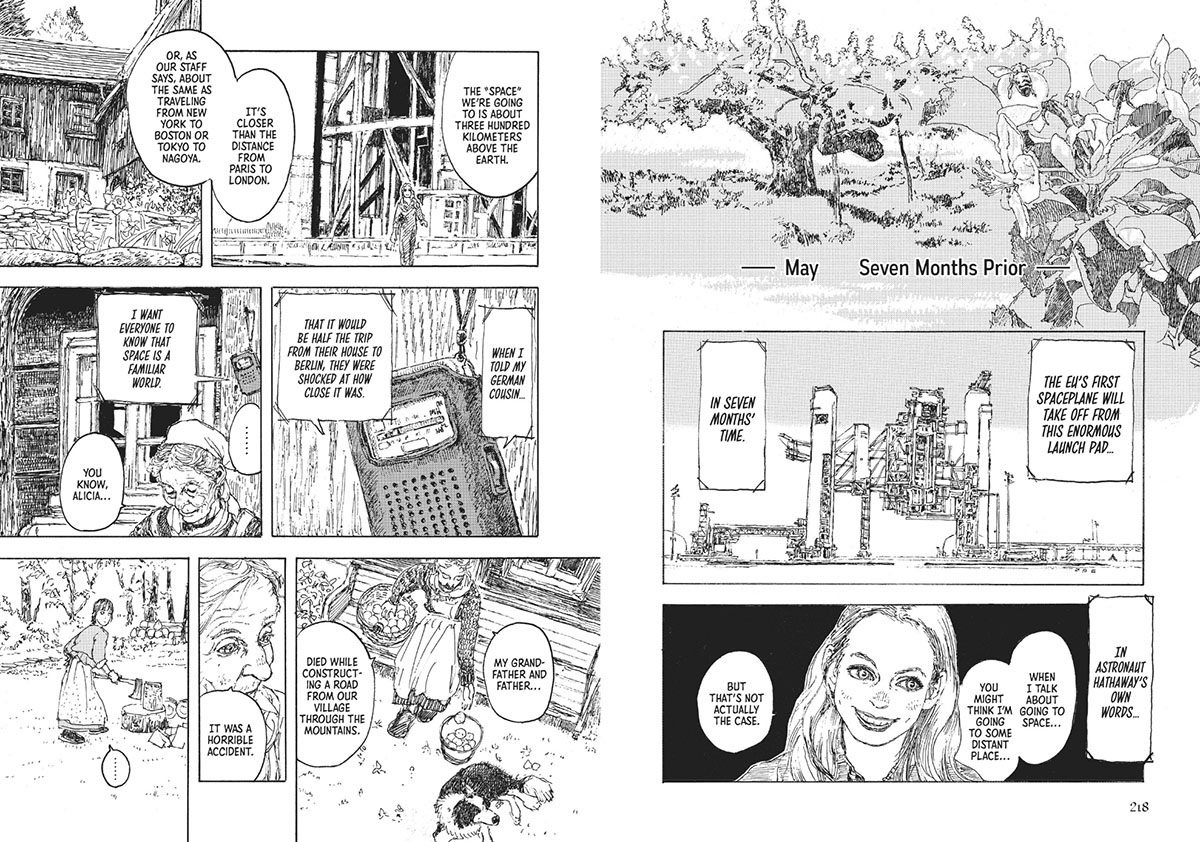 17:50 [Christopher:] In 'Thief of Songs,' when our protagonist Hinata washes up on the beach, Igarashi could've done a pretty 'traditional' manga panty-shot but opted to skip it. This would have been a bit creepy in context. The character then gets nude, following a transformation, and it doesn't feel lascivious (to me) at all… I think that speaks pretty highly of him as a creator.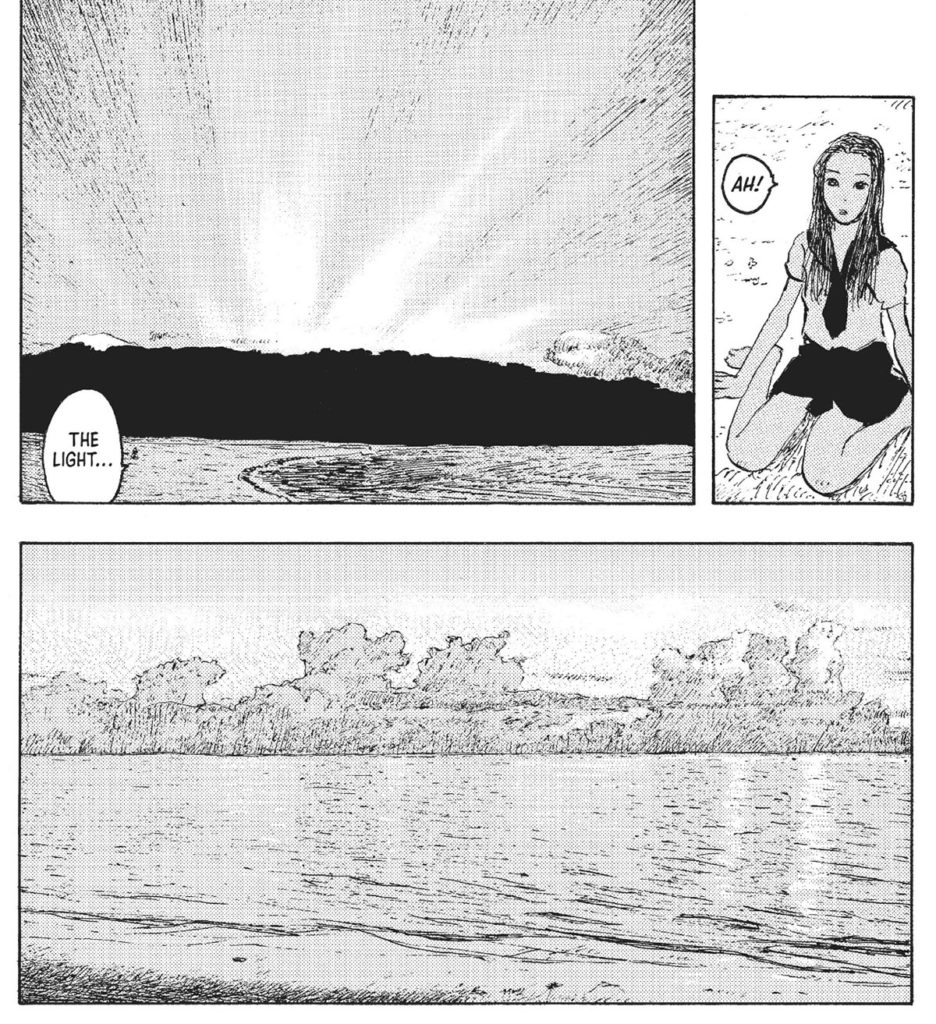 20:00 – [Christopher:] I feel like I ended up communicating what I meant here, although clumsily. It really was something else to be in a place that felt… sacred. Not for me, but you could feel its importance and behaved respectfully accordingly.
The site I was talking about, and I'm sorry I didn't have the info handy for the podcast, is Sefa Utaki, which is directly translated to 'Sacred site'. Sefa Utai was the most sacred site in the Ryukyu Kingdom (what Okinawa was called before being annexed by Japan), and it's literally a temple grounds entirely in nature. It's pretty remarkable. Apparently men didn't used to be allowed in, outside of the Royal Family (the Ryukyu religion is a matriarchal one) so I'm perhaps doubly fortunate to have been able to go.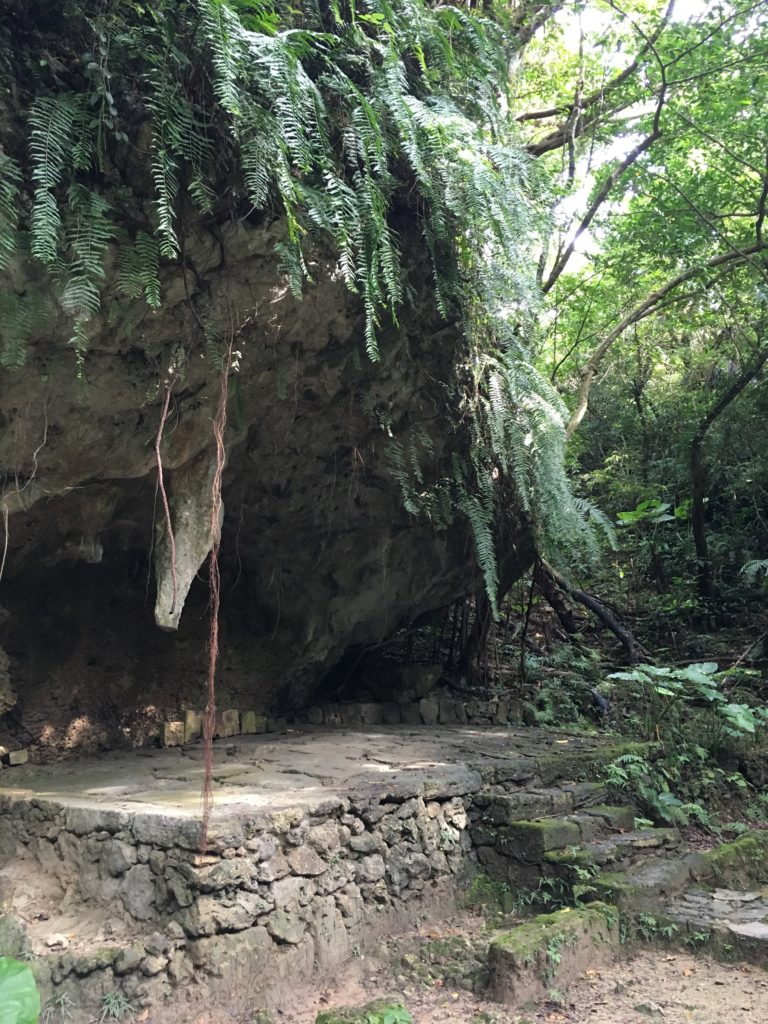 You can read more about the site here. It's really something special, and I'm so glad we took visited it and walked the grounds, it's an incredible place. https://visitokinawajapan.com/discover/world-heritage-top/sefa-utaki/
Oh, and if you want to know more about Okinawa, check out our serialization of Okinawan cartoonist Susumu Higa's stories on Mangasplaining Extra.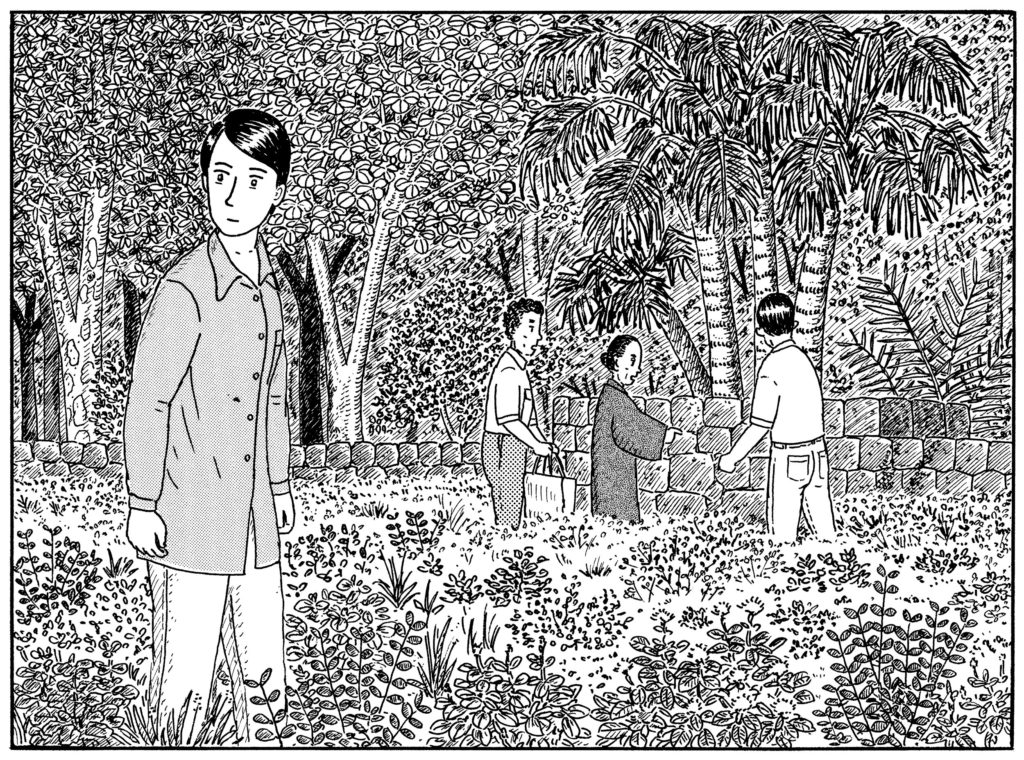 22:00 Never take anything from magical places. Or from any place really. It's both a metaphor and actually good advice.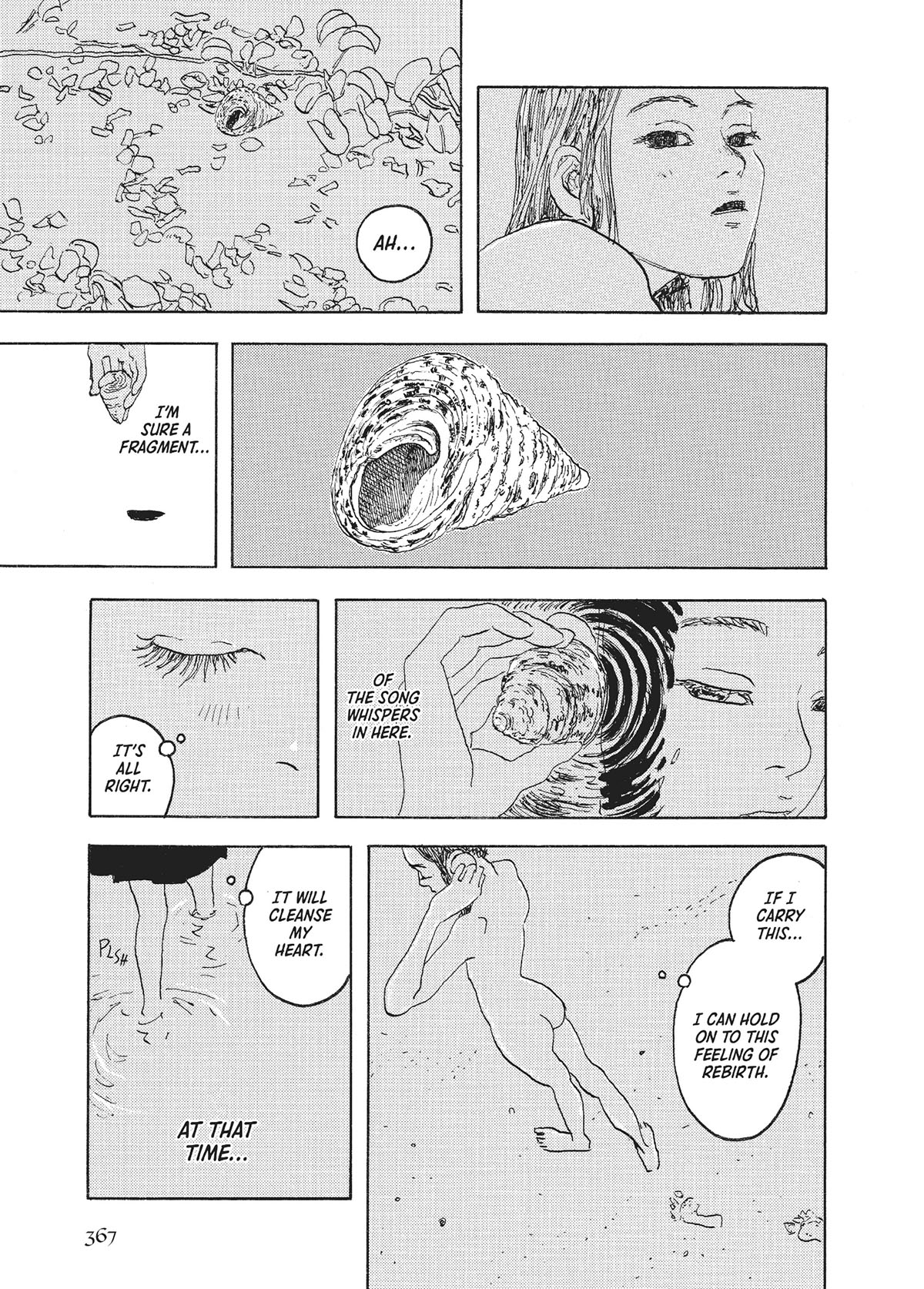 Here's the bit from Neil Gaiman's Books of Magic, illustrated by Charles Vess, that I was referencing.
23:29 [Deb:] I mentioned Emanon by Shinji Kajio and Kenji Tsuruta from Dark Horse. A young man meets a mysterious woman without a name ("Emanon" is "no name" spelled backwards) while both are riding on a ferry boat at night. As the two talk, "Emanon" reveals that she's seen a lot, done a lot more than the 20-something "hippy chick" she appears to be. This wistful science-fiction short story is beautifully drawn and has some of the cosmic, "the universe is more than you can see" vibes that are found in Witches and Children of the Sea.
Description of Emanon from Dark Horse:
The year is 1967, and a young Japanese man is thinking about the future. On one side of the water, the war is raging in Vietnam; far away on the other side, the Apollo Project has just met with disaster as three astronauts die in a capsule fire. And here and now, on a long night time ferry ride back home, he will meet and fall in love with a mysterious young woman who carries a past deeper and more profound than his dreams and fears of tomorrow. Her name, she jokes, is no name–Emanon…and she can never be forgotten, any more than she can forget…

Dark Horse Comics
26:52 [Christopher:] I had already bought the digital version of Witches because it makes it much easier to do images for the show notes here, but moving between formats really was a breath of fresh air. A page that's THIS heavily reliant on grey washes (that might've been full-color watercolors originally) looks totally different on screen and in the printed edition.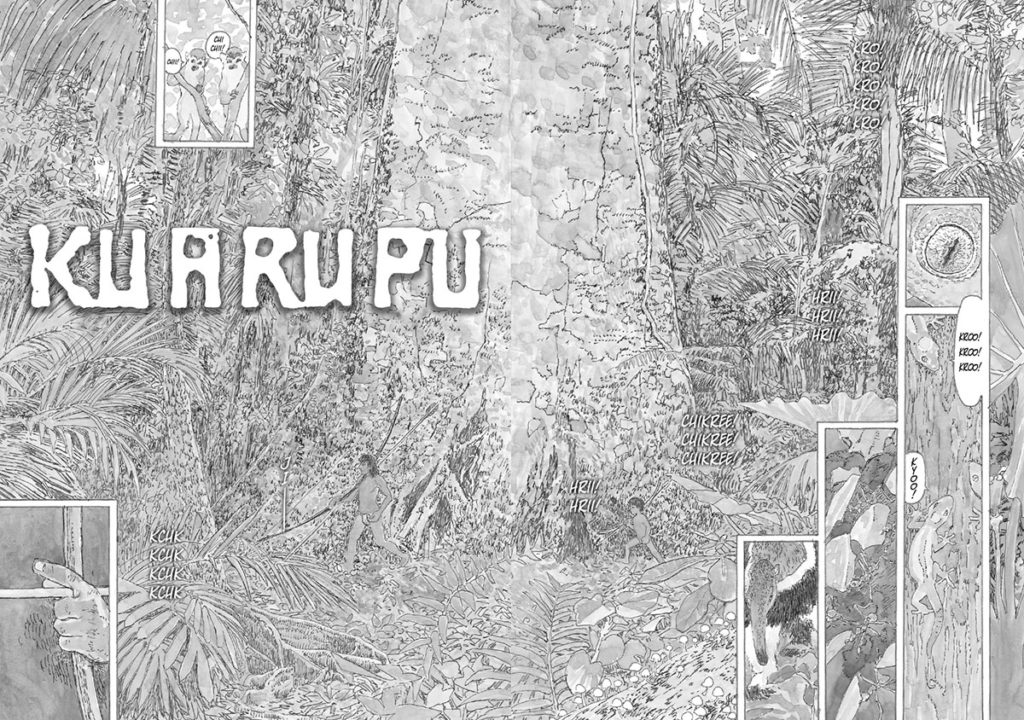 29:00 The soldiers are in the forest, about to shoot the shaman, and they keep the viewpoint the same and just change the presence of the supernatural. David specifically mentions references from Alan Moore and Kevin O'Neill's League of Extraordinary Gentlemen and Hirohiko Araki's Jojo's Bizarre Adventure.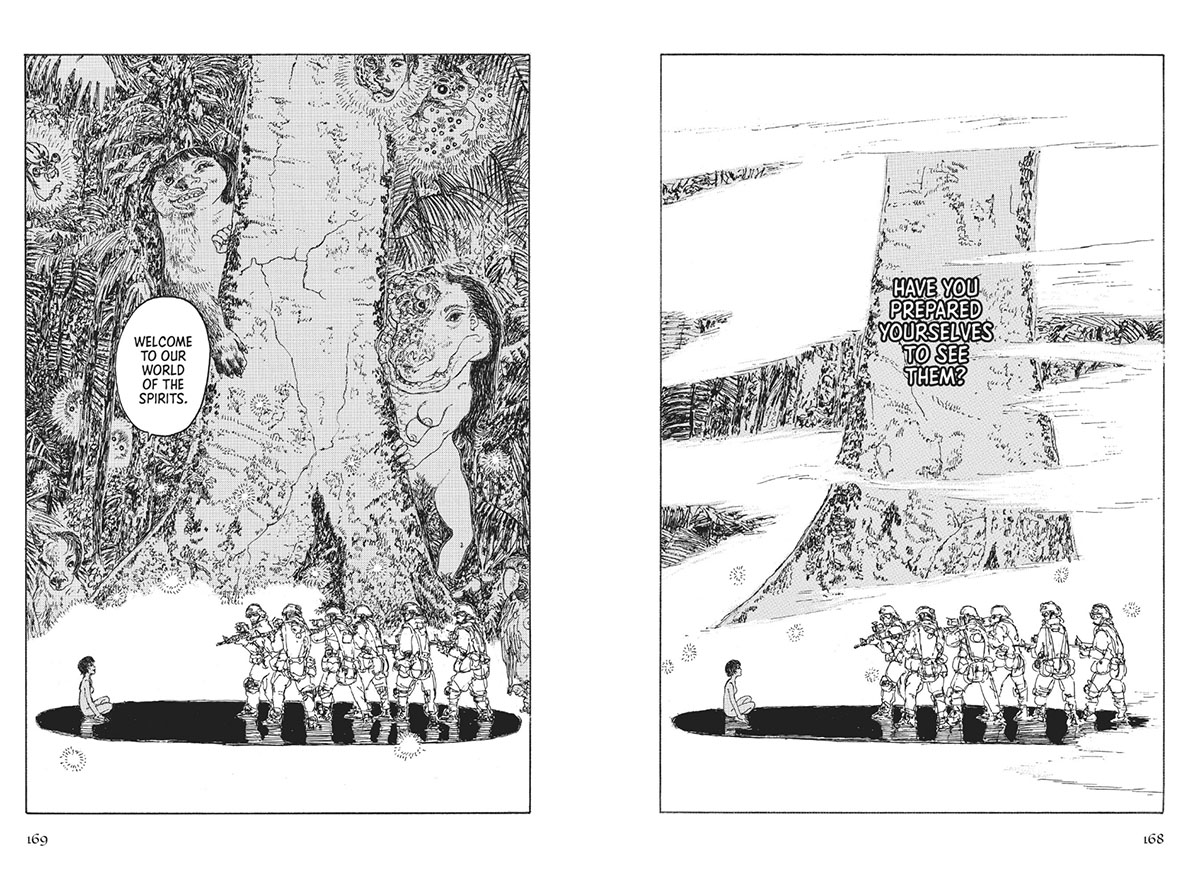 30:15 – David mentions this gorgeous drawing of mother and child, filled with good vibes.
33:14 [Deb:] In N. American comics, female superheroes tend to have "long-range / helper powers" vs. brute strength / close-range combat powers. The best examples are the differences between the powers that the male and female superheroes wield in DC Comics' Legion of Superheroes:
The Girls: Saturn Girl (psychic powers), Shrinking Violet (can shrink), Phantom Lass (can go through walls)
The Boys: Lightning Lad (lightning blasts), Ultra Boy (super strength), Timber Wolf (strength and agility)
You could argue that the same thing happens in My Hero Academia, where the female students of UA have more defensive / "helper" powers (e.g. floating, invisibility, super-hearing) vs. hand-to-hand combat powers.
That's not to say that's true of all female superheroes – see She-Hulk and Power Girl, for example, or in My Hero Academia, there's American hero Star and Stripe, and Mirko, the rabbit superhero – they just tend to be the exception rather than the general trend.
[Christopher:] I'd always assumed that many of the more physical and brute force characters in superhero comics came about as a result of the women's liberation movement in the late 1970s, and with Power Girl (1976) and She-Hulk (1980) at least, that seems to be the case. Lots of the more powerful female superheroes also tend to be genderbent versions of male heroes. Looking at you, She-Hulk, Captain Marvel, Supergirl, Spider-Woman, Batwoman, etc. Not to say that talented writers can't remove these characters from their origins, but yeah, there was some limited imagination and some shitty market forces going on there.
36:00: Sadly, no witches punched anyone through a skyscraper in Witchcraft Works, at least not the one volume we read.
37:50 [Deb:] You too can check out the animated version of Children of the Sea on Netflix! Here's the trailer from GKids:
[Christopher:] I do think that Igarashi's Witches could make a great anime, in the vein of the movies that collect Katsuhiro Otomo's short stories and turn them into anime. I don't think Igarashi is quite a big enough 'name' to have that happen, but man, it'd make for a great animated film.
39:00 [Christopher:] How were the stories in Witches serialized in manga magazines? As mentioned up top, it actually was serialized in stand-alone chunks, with anywhere between 1 or 4 months between stories. So SPINDLE, for example, serialized parts 1 and 2 in June and August, and then the next story was four months later. I'm so glad Wikipedia has this info.
42:20: [Christopher:] The first time I went to an American comic show time I called Jhonen Vasquez (joe-nen vas-kez) "Yonan Vas-quez" to his face. Luckily he laughed and corrected me. Sorry, Jhonen.
42:41 The team loved a lot of the very detailed English lettering in this volume, including the lettering of squeaking of shoes on the gym floor.
Christopher also mentions Igarashi's insanely detailed lettering for the original Japanese title of the book, MAJO, that we can see on the page 4-5 spread.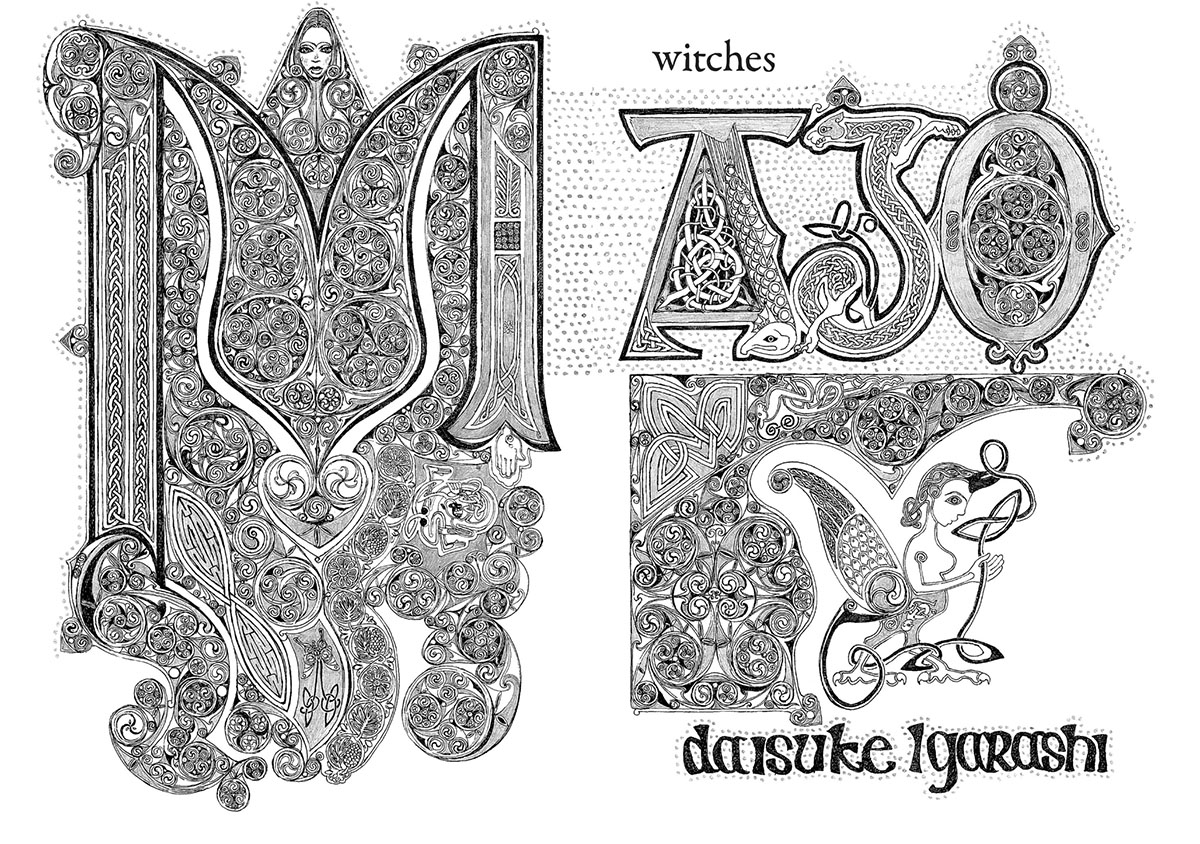 45:18 Speaking of some 'horror' or trying to generate very uncomfortable feelings in the reader, on page 59 when Nicola is eating a cooked sheep's head, the view of her mouth is… gross? Isolating the parts of the body in a strange way for effect. Very weird.
46:00 [Deb:] A series that has a similar vibe of magical realism is Mushishi by female manga creator Yuki Urushibara. Mushishi is set in rural, pre-WWII Japan, where magical organisms exist on a plane that's often invisible to humans, all except mushishi – wandering shamans / doctors who diagnose, navigate and negotiate the divide between humans and mushi, what's known and the unknown. It's available digitally from Kodansha (and in OOP print volumes).
Here's Kodansha's description of the series:
Mushishi: Some live in the deep darkness behind your eyelids. Some eat silence. Some thoughtlessly kill. Some simply drive men mad. They are known as mushi—creatures that came into being shortly after life emerged from the primordial ooze. They still exist parallel to our own lives and can only be seen by a select few. As a mushishi, Ginko is one of the few who are aware of their existence, and this young man with a sardonic smile roams from place to place with the knowledge and skill to aid those unwittingly affected by mushi.

Kodansha
Here's the Mushi-shi anime trailer from Aniplex. It's also available on streaming on Crunchyroll and Hulu:
When a Cat Faces West is Yuki Urushibara's latest series in English from Kodansha
Here's the description of the series:
Flow—the phenomenon that occurs when matter falls out of balance and changes form. Flow creates oddities big and small that can be disruptive or delightful in equal measure, and it's up to Flow Disposal departments and independent contractors to shepherd the Flow back to its natural form. For Chima Kondo, a 35-year-old woman stuck in the body of a 12-year-old thanks to the effects of Flow, understanding how Flow works and how to disperse it has become critical. But when she joins Flow Disposal contractors Hirota and Shacho of Hirota Flow Inc., she finds that there's more to Flow than she once knew, and plenty more to find out… A supernatural story from the author of Mushishi!

Kodansha
[Christopher:] The series that I mentioned by Urushibara that I would love to see translated one day is Suiiki, which is available in French in two volumes as Underwater from Ki-oon.
Kenji Tsuruta, co-creator of Emanon also drew Spirit of Wonder and Wandering Island, both available from Dark Horse. Christopher also mentions GoGo Monster by Taiyo Matsumoto as having a similar vibe, still available from VIZ.
47:15: [Christopher:] I really appreciated the first story quite a bit more AFTER I finished the book and went back to read it for a second time. I was much more in-tune with what Igarashi was trying to do, and I think the story does work, though it is the weakest in the book unfortunately. Still, I think it's a good lesson, for projects like this, that maybe you have to change your approach to the work for it to 'click' for you, especially if it's being produced in a different way than other manga, or has different aims.
48:40 [Deb:] Sandman is fresh on our minds, thanks to the new Netflix adaptation of Neil Gaiman's iconic series about the master of dreams.
[Christopher:] And that's Witches, by Daisuke Igarashi! If we've convinced you to check out more of his work, you might dig on this documentary on him from the MANBEN series by Naoki Urasawa. It's quasi-legal at best, if it's ever legally available I'll replace this link, but go check it out: https://www.naokiurasawa.com/daisuke-igarashi/
CHRISTOPHER'S LAST MINUTE ADDITION: Hey there, after posting this, but before promoting it (hello!) I found an issue of IKKI Magazine in my collection that has Daisuke Igarashi's 'Thief of Songs' from Witches! These pages originally ran in full-colour, and I think they're really gorgeous, so I thought I'd include them here. That's what these show-notes are for, sharing cool stuff! Plus we directly referenced them this episode, so, relevant too!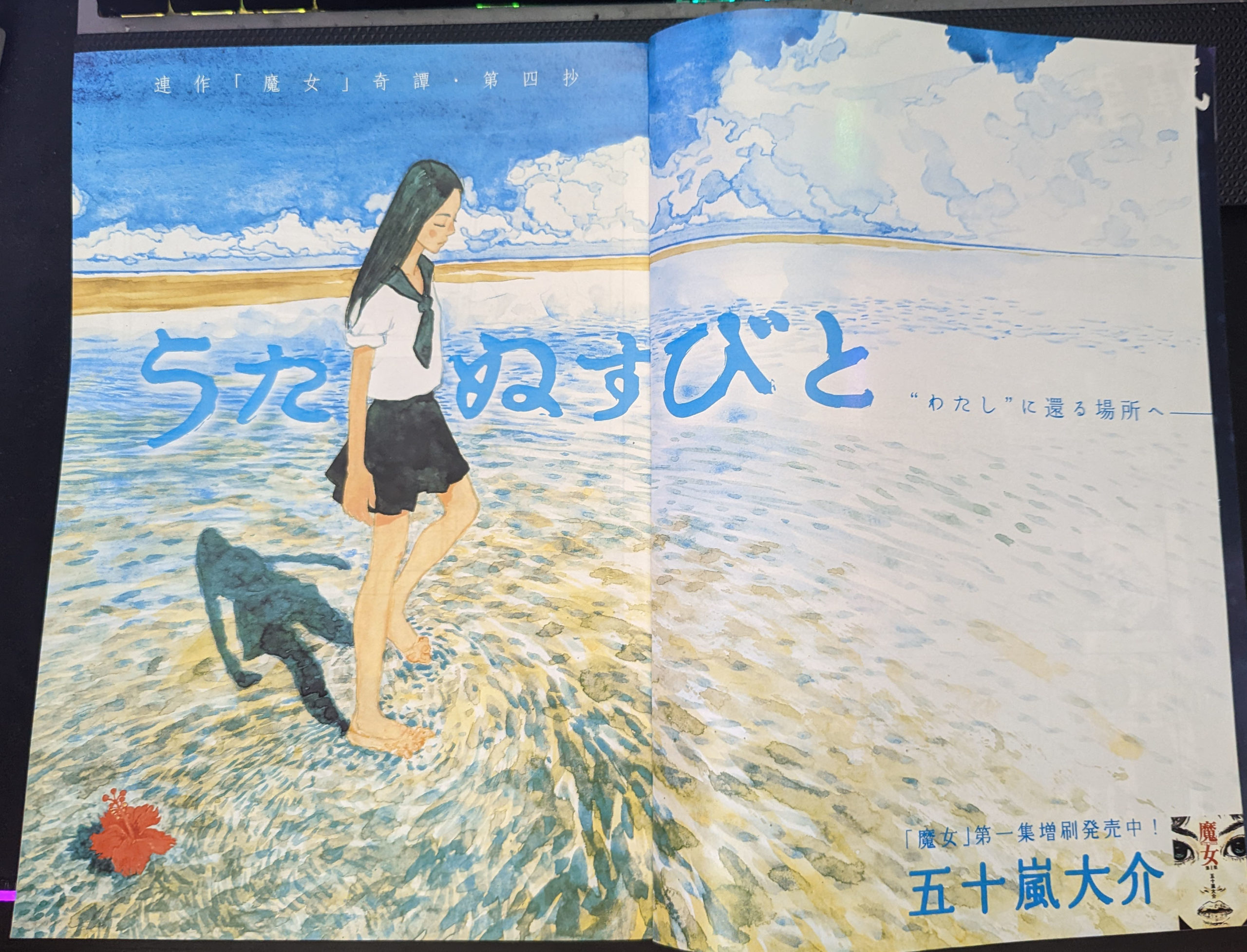 ---
50:00 THE BREAK: Hey while we're running ads for other people, maybe we should advertise MANGASPLAININGEXTRA.COM! It's our newsletter, and where we publish original manga. Go check it out!
---
50:20 Let's read The Drops of God vol. 1 !
Comixology Manga Must Reads
Drops of God Volume 1
By Tadashi Agi and Shu Okimoto
Translation: Kate Robinson
Production: Glen Isip, Hiroko Mizuno, Tomoe Tsutsumi, Nicole Dochych and Jill Rittymanee
Co-published by Kodansha and Comixology Originals
This 'license rescue' series from Kodansha and Comixology Originals is now completely available! Check out all 44 volumes on Comixology. And if you're new to Comixology Unlimited, give it a try with a 30-day free trial.
Here's the description for Drops of God Vol. 1:
Yutaka Kanzaki, a wine critic whose reviews have enough clout to move the industry worldwide, has died—leaving behind a wine collection worth over two billion yen. Only the one who can name his favorite bottles, plus vintages, will inherit this dream of a cellar. It's a battle between Yutaka's biological son Shizuku and adopted child Issei to identify these "Twelve Apostles"—along with the very best wine in his collection: the so-called "Drops of God."

Kodansha
[Deb:] Comixology Originals is an interesting subset of manga on ComiXology – they are manga series that are exclusively available on Comixology, including rock band manga Beck, street racing manga Initial D and today's pick, the manga that rocked the wine world, The Drops of God. All three series are Kodansha series that did not complete publishing in North America for various reasons, and now they're complete! Pretty cool.
Here's some info about the creators: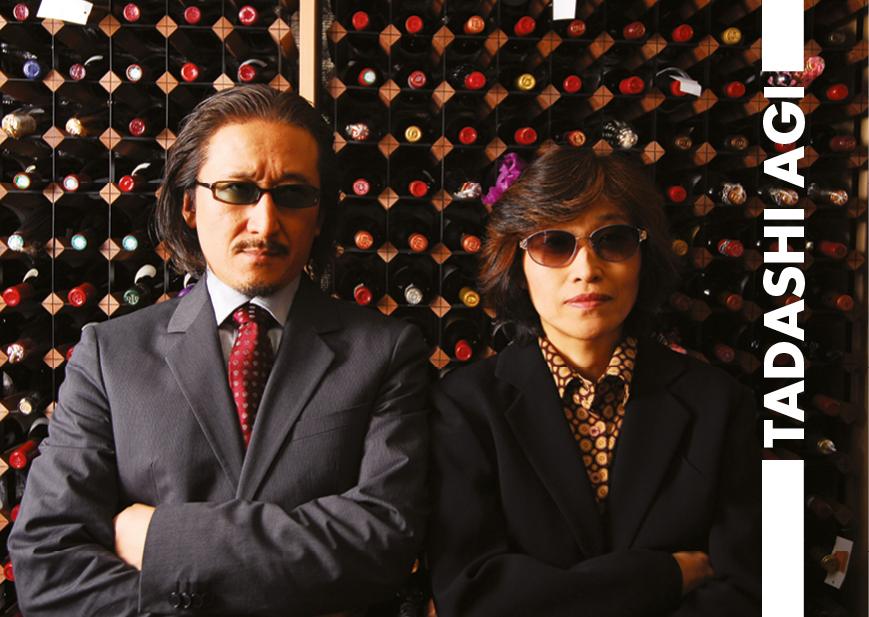 ABOUT TADASHI AGI
As we mentioned in earlier episodes, "Tadashi Agi" is a pen name for a brother and sister duo, Yuko and Shin Kibayashi.
The brother of the duo, Shin Kibayashi, has penned other manga under other pen names, including Seimaru Amagi (The Kindaichi Case Files) and Yuya Aoki (Get-Backers). As Shin Kibayashi, he has written Sherlock Bones, a kid-friendly mystery story where the famous detective is reborn as a cute dog, and Shima Kōsaku no Jiken-bo (島耕作の事件簿), a collaboration with Kosaku Shima creator Kenshi Hirokane that puts Japan's favorite salaryman in the middle of some murder mysteries. You can read the first chapter (in Japanese) here: http://morning.moae.jp/lineup/847
Shin Kibayashi is also the founding Editor-in-Chief of Kodansha's Manga Box magazine.
Also, that photo of the creators is from EUROCAVE magazine, which is WILD to me. Check out this short article.
ABOUT SHU OKIMOTO
There isn't quite as much written about series artist Shu Okimoto in English, but what we do know is that Shu Okimoto is a female manga creator who also creates comics under another pen name, Hideko Okimoto. Under that pen name, she has collaborated with other writers, including Keigo Higashino for Naniwa Boy Detectives (浪花少年探偵団) from Akita Shoten, and with Yotsuba Fujikawa on Yoshiwara Platonic (吉原プラトニック), a historical seinen manga series set in Tokyo/Edo's infamous red-light district that's currently serialized in Kodansha's Morning Magazine.
She has collaborated with Tadashi Aki on other wine-related manga, including Mariage: Kami no Shizuku Saishuushou (マリアージュ ~神の雫 最終章~ / Mariage: Drops of God Final Chapter), the 26-volume continuation of The Drops of God and Kaitou le Vin (怪盗ルヴァン / Le Vin, Wine Burglar), a 2-volume series about a group of globe-trotting wine thieves that's serialized on Kodansha's Manga Box website.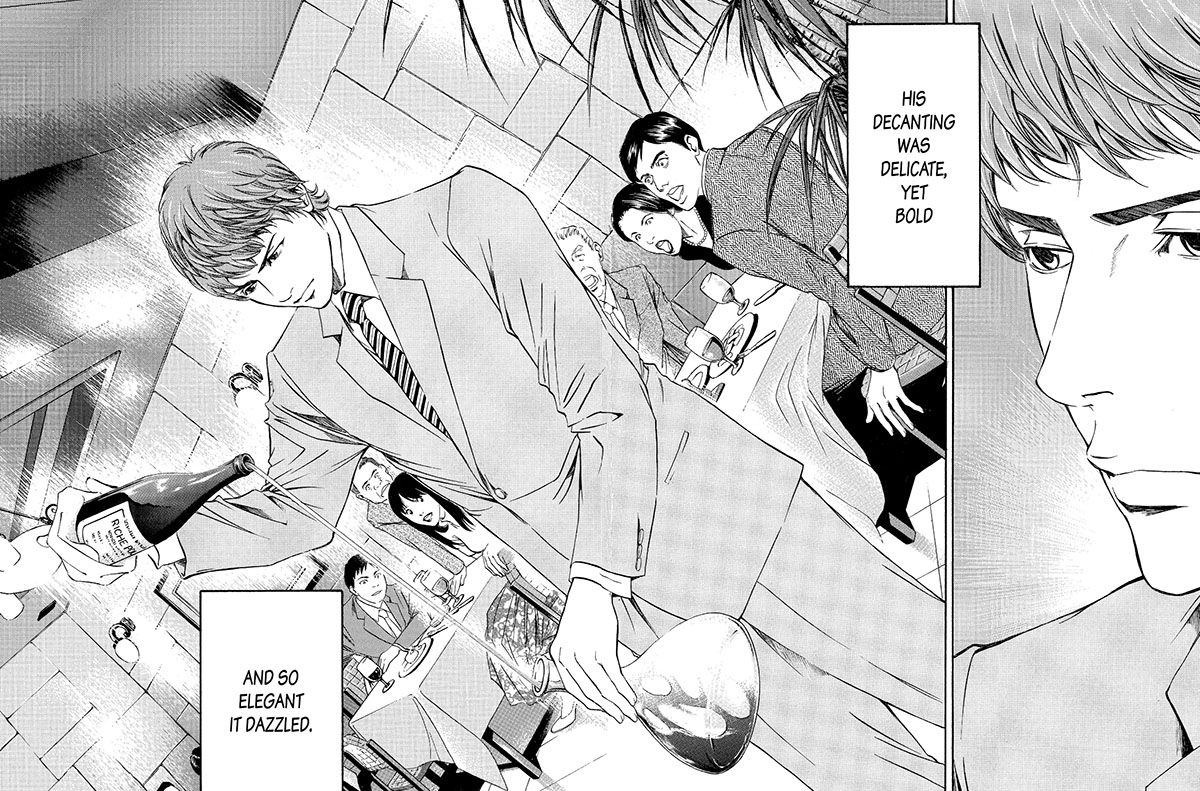 53:00 [Deb:] How do you make wine tasting exciting, in that manga kind of way? You use visual metaphors, like Queen's Bohemian Rhapsody to show the impact of drinking a really full-bodied red wine, or taking a sip and finding yourself transported to a field of flowers.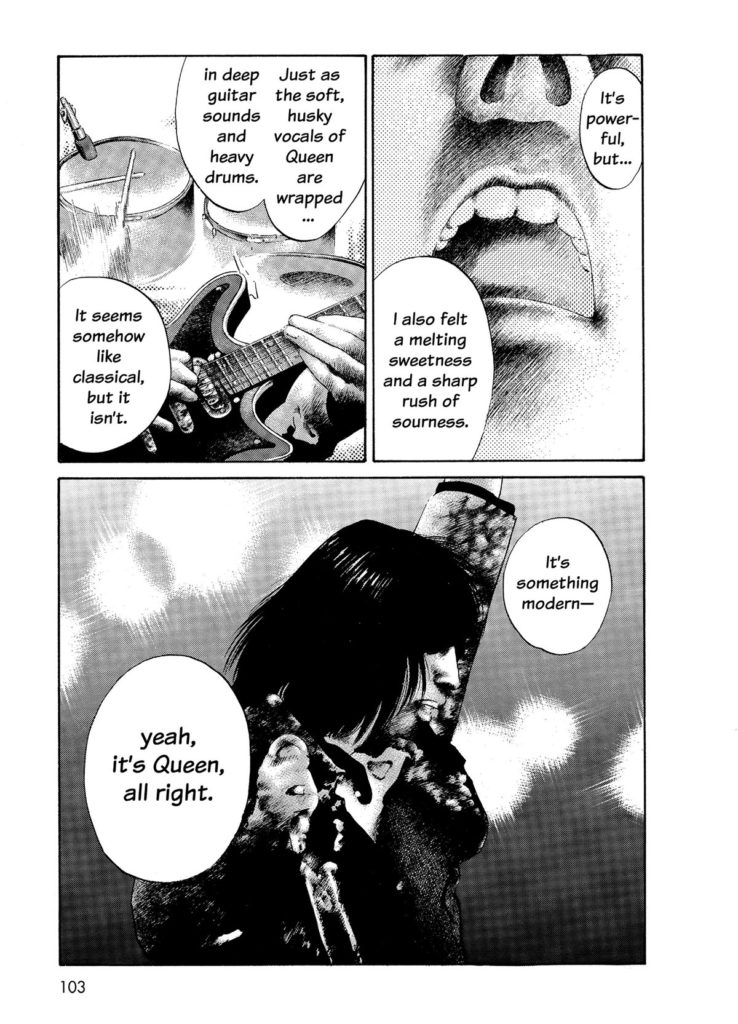 Featuring real wines from real wineries in this manga series meant that there were some astonishing examples of real world impact when a wine was featured in The Drops of God, as reported in CBR:
One of the most memorable wines covered in The Drops of God is Château-Mont-Perat, the explosive wine from the Gironde region that was compared to a Queen's concert. Its normal price was €15, but after it appeared in the manga it attained prices of €150 per bottle. To meet the regional and international demand, Thibault Despagne, the winemaker, completely overhauled his process, going from an annual production of 25,000 cases to 50,000. "This manga is an extraordinary [sales] lever, much more effective than the Parker points," Despagne said to L'Expansion.

-CBR
The Drops of God featured in the 2009 Decanter Magazine Power List, alongside wine industry big shots like Robert Parker and Joseph Gallo. Here's an interview with the authors on Wine Spectator.
Interesting to notice that Drops of God has several similarities to Oishinbo, both characters- and story-wise. In both stories, a young man who was raised with a gourmet pedigree rejects it, but ends up embarking on a journey of food/drink-centric discovery, aided by a female companion who (in the case of Drops of God) is more knowledgeable about wine than he is. Check out our Oishinbo episode if you're curious for more.
59:25 "The homeless Albert Einstein of wine."
1:01:10
1:03:30 [Deb:] That really expensive bottle of wine I tried? Screaming Eagle, a ridiculously cult-y and stupidly expensive Napa Valley wine. I was also off by a few zeros —It can run about $4,000/bottle for its cabernet sauvignon. I only had a few sips, but it was quite good. $4,000 worth of good? Debatable.
The most expensive wine I ever bought with my own, not-on-expense-account money was a $300 bottle from Kenzo Estate – it's a winery in Napa owned by Kenzo Tsujimoto, founder of Capcom (game company best known for Street Fighter). More about Mr. Tsujimoto, plus why and how he opened Kenzo Estate.
It's a really nice winery – the wine is excellent (albeit on the price-y side) and it is open for private tastings with food/wine pairings. It's a lovely, upscale Napa Valley experience to treat yourself to, if you're into this kind of thing.
1:03:37 [Deb:] "I went to El Bulli!" That's my gourmet snob claim to fame. In 2006, I went to eat dinner at El Bulli, a restaurant in Roses, in Northern Spain (about an hour drive from Barcelona) that was the epitome of "destination dining." Called one of the best restaurants in the world, el Bulli was a notoriously difficult place to get a reservation. Since demand for dining there was much greater than the restaurant's capacity to serve patrons, bookings were made by lottery. This made getting a chance to visit and dine there very difficult. I happened to snag a reservation thanks to a friend who couldn't use it, and was so glad I made the trip. My night out at El Bulli is just a memory now, but it was, hands-down, my most memorable meal ever.
At El Bulli, chef Ferran Adria pioneered "molecular gastronomy" – very theatrical, experimental presentations of food. Here's a video so you can see what I mean by that:
Anthony Bourdain did a whole episode on Ferran Adria and el Bulli. It doesn't embed, but maybe go check it out. The restaurant is no longer open, since Adria has moved on to other projects, including the El Bulli foundation, a non-profit organization dedicated to gastronomy research.
Molecular gastronomy was/is such a hot culinary trend, it's featured in Food Wars: Shokugeki no Soma. Each student at Totsuki Institute has a culinary specialty, and molecular gastronomy and theatrical presentation of food is the realm of Alice Nakiri in this series. Here's anime / cooking vlogger Cat & Co Kitchen showing you how to replicate eggs three ways, ala Alice Nakiri style: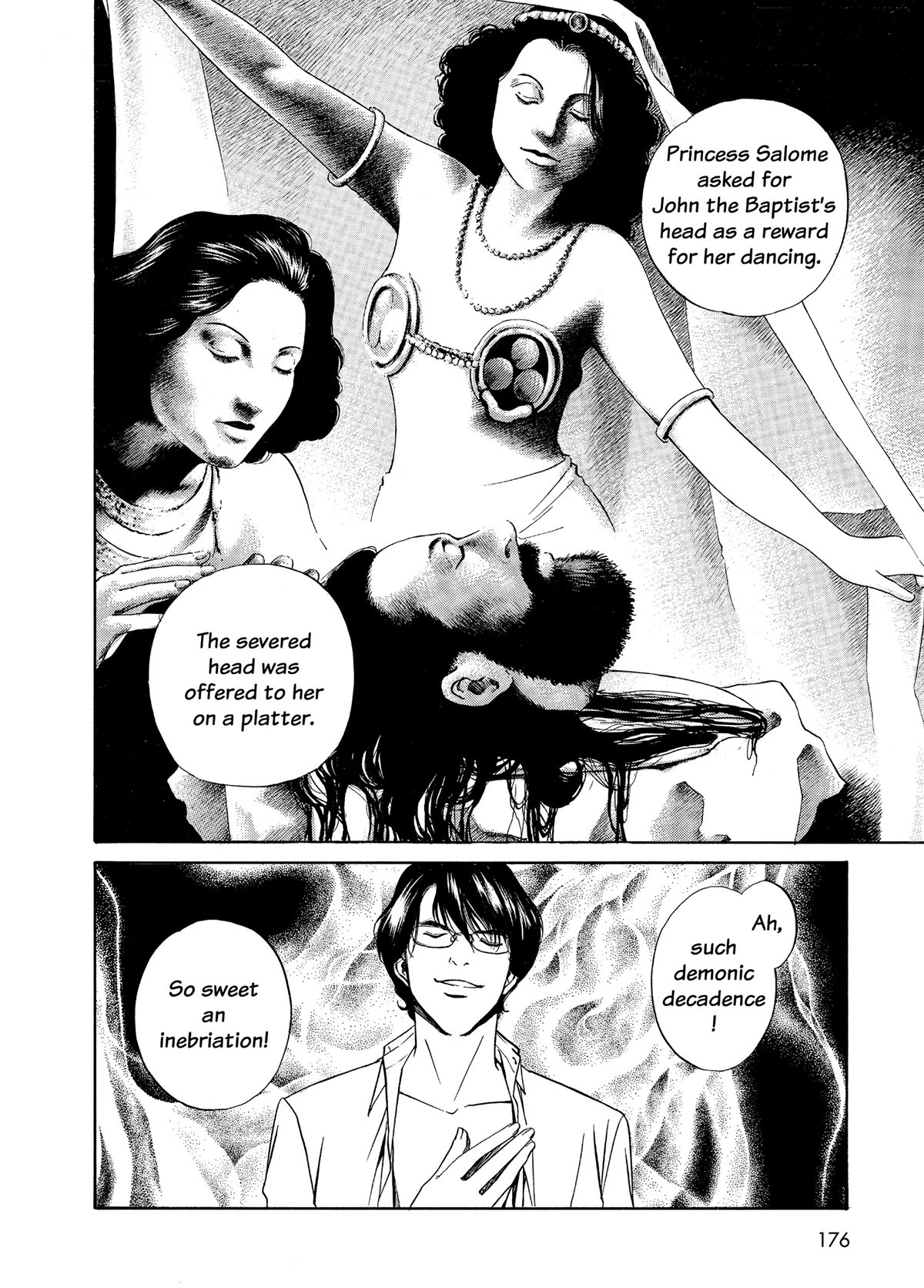 ---
1:04:15: SHOUT OUTS!
DAVID is enjoying the final season of Better Call Saul, now available on some American network I don't get in Canada. The final episode aired this week, so it's definitely on a lot of peoples' minds now. Here's the final-season's trailer.
CHIP may not have watched or enjoyed much in the way of 'external' or 'non-work' or 'fun' media this week, but the grind never stops. Have you seen this video he MADE? It's definitely serious and not a parody of MasterClass, and it's definitely not hilarious, but a very serious take on how to make comics. Check it out!
CHRISTOPHER watched some Community. Comfort TV.
That reminds David that he also just finished up his comfort-TV re-watch, Season 11 of M*A*S*H! Still think MASHsplaining will be a thing one day.
DEB has a shout out, and immediately David jumps in and asks "Is it manga?" because David is devastating. Haha.
But technically no, Deb's shout out is a Korean webtoon, The Boxer by JH! You can go read it online now at Webtoon.
She started reading because IZE Press, Yen Press' Korean comics imprint, will publish the first volume in print in December 2022.
And that's this week in Mangasplaining! As we mentioned up top, our episode on Witchcraft Works is now up wherever you get your podcasts, including at this very site! Hope you enjoyed. Next week? Get ready for our FOUR! FIRST! CHAPTER! SPECIAL! Four first-chapters of very different manga, all available to read for free on the internet! Go read them to get ready and check them out:
• Food Wars – Shokugeki no Soma [LINK]
• Kokkoku: Moment by Moment [LINK]
• Sweetness & Lightning [LINK]
• How Are You? [LINK]
Thanks so much for listening! Please support your local comic and manga specialty shop when purchasing these books, and you can find one near you at comicshoplocator.com. You can also check your local library for print and digital lending options, they have TONS of manga! Also, check us out at MangasplainingExtra.com, get these notes delivered to your inbox or read them on your app! Finally, thanks to D.A.D.S. for their musical accompaniment this episode.
---