Ep. 48: The Blood Red Boy, by Minami Q-ta

This week on Mangasplaining David leads the group into our first small-press short-story, Minami Q-Ta's The Blood Red Boy. We take a deep, deep dive into this story, and while we'd love it if you read ALL the books we cover on the podcast, since this one is just $2 (or less!) you'll probably wanna give this one a read before listening to this spoiler-filled episode. Plus: we dig into our mailbag for a special Q&A segment, where we answer 4 questions from you, the listeners!
ALSO: Please consider checking out our new publishing endeavour, Mangasplaining Extra! Details at http://www.mangasplainingextra.com.
Powered by RedCircle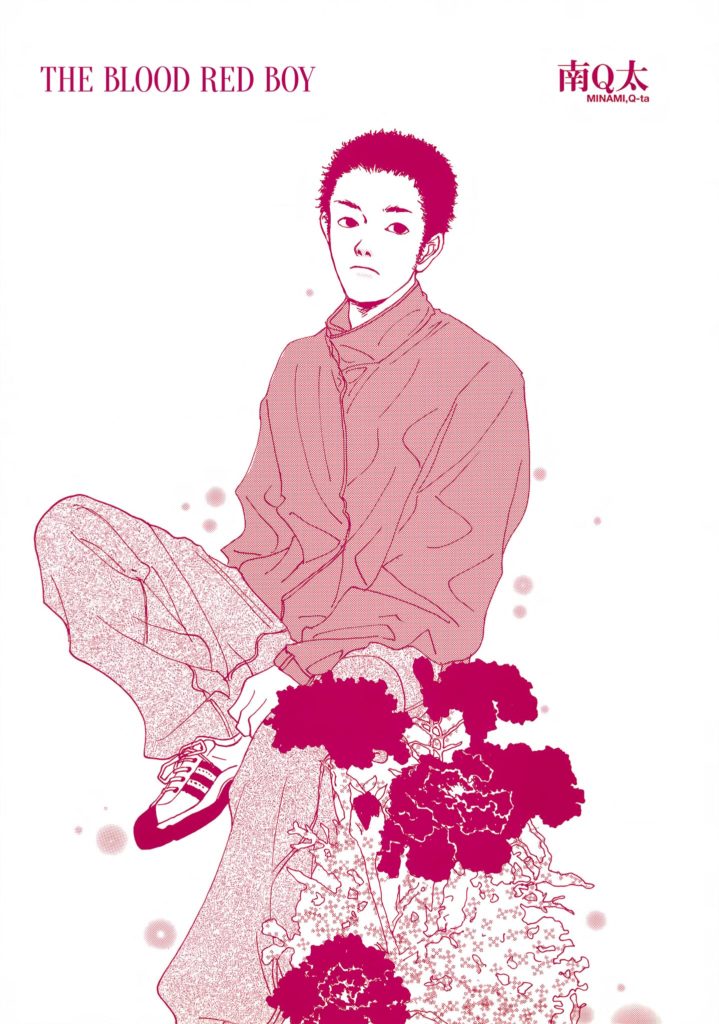 The Blood Red Boy
By Minami Q-ta
Translated by Dan Luffey (English), Antonio Valdez (Spanish), and Samuel Messner(Swedish)
Lettering by Matt Haasch (English), and Mina Sandoval (Spanish)
Quality Control/Retouch by Aidan Clarke
Project Manager: Matt Haasch
Published by Star Fruit Books (Digital Only). https://starfruitbooks.com/products/the-blood-red-boy
Show notes by Christopher Woodrow-Butcher and Deb Aoki. Audio Editing by David Brothers
BEFORE WE GET STARTED: It's a 16 page story, there's no way we can discuss it for 30 minutes without thoroughly spoiling this story.
ALSO! This is our first title on Mangasplaining that's a one-shot comic, or short story, and from a very small press publisher. It's also, interestingly, available in a couple of different interesting formats!
You can get it directly from the publisher for 2 bucks (American), in PDF or ebook versions. You can also read it (along with a few hundred other titles) as part of the Azuki website for just $5 a month.
Since it's only two bucks, or free with a $5/monthly subscription, you should definitely go read the story before listening to this episode.
02:53 This is how Starfruit Books describes The Blood Red Boy:
An unconventional story of self-identity and the complexity of interpersonal relationships. Minami Q-ta explores the search for (self) love in this short 16-page oneshot. Content warning: contains sexual content.
7:00 It's… worth noting that we really, really dig into The Blood Red Boy this week, without bringing in a ton of 'other' ideas or references that might need to be glossed in these show notes. Don't worry though, when we get to the Q&A at the end we kinda go wild with references and things.
20:30 I wasn't kidding! (Hi, it's Christopher btw) Anyway, since it's now been 20 minutes and we haven't really said anything that we didn't fully explain in the content of the podcast itself, I thought I'd share three or four separate panels that we reference this episode here, for your edification. We're really wary of sharing too many images because of the story length, but hopefully this helps set the visuals for those of you who couldn't read the book.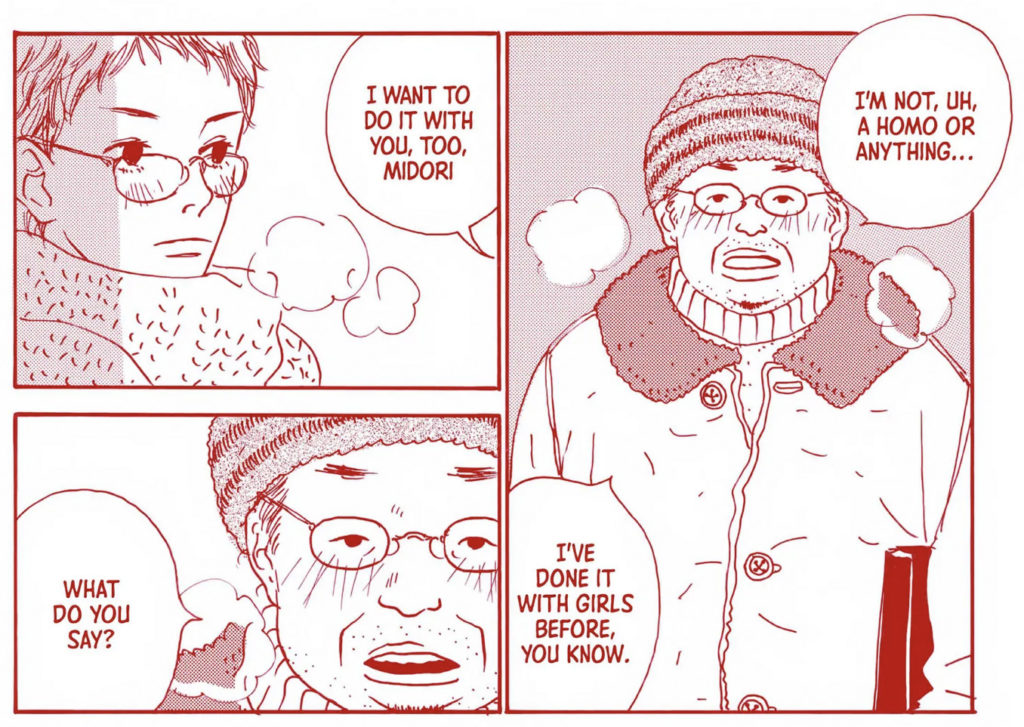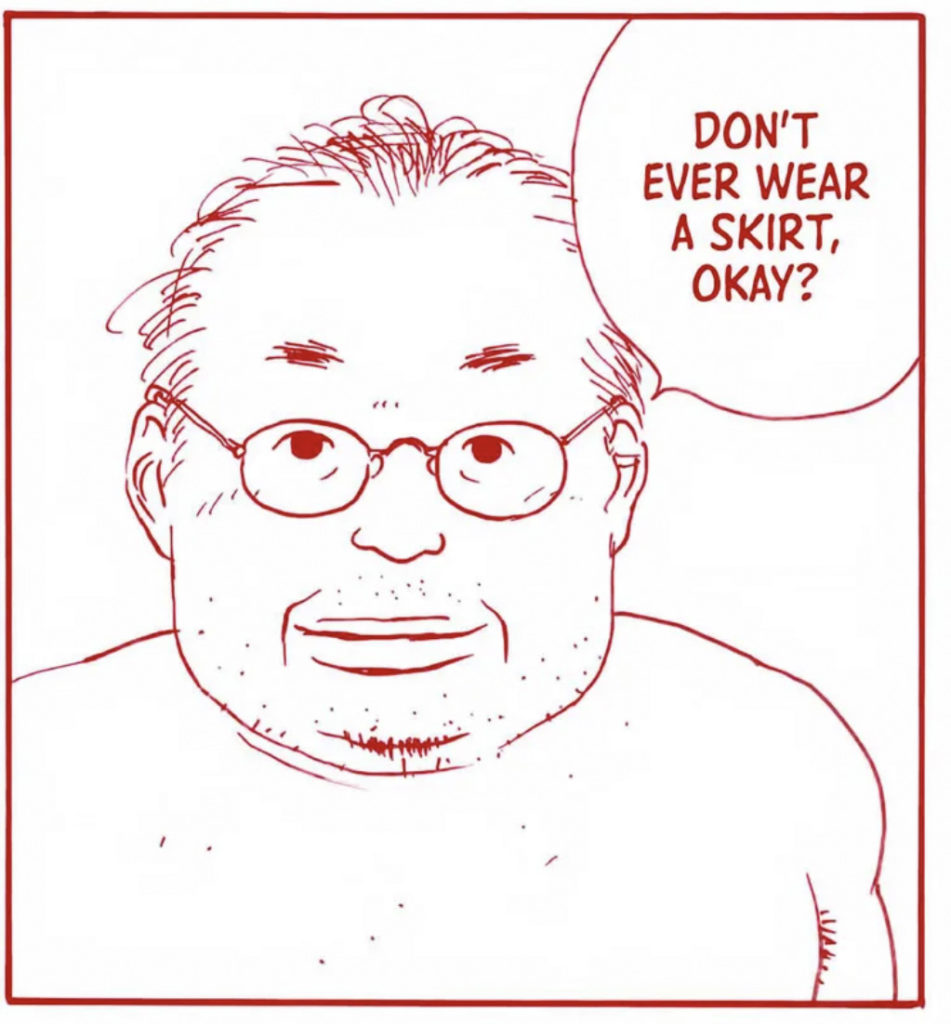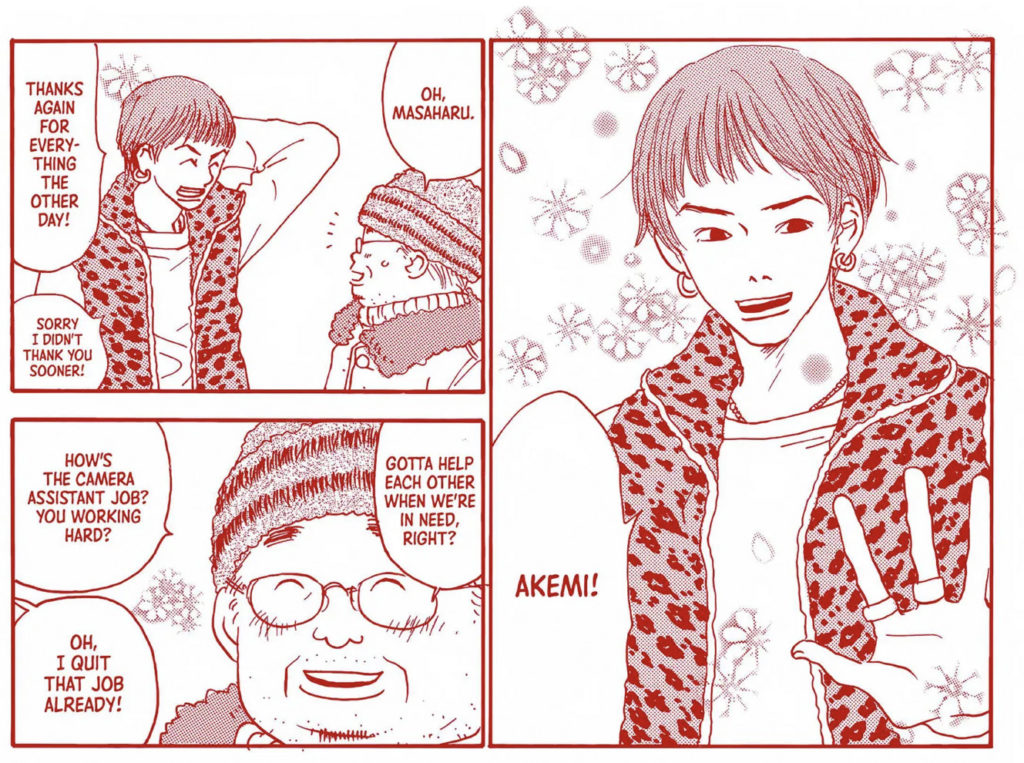 25:15 Blood Red Boy author Minami Q-Ta's has two additional volumes of comics available from publisher Starfruit Books, Pop Life volumes 1 and 2. Here's how the publisher describes these titles:
Sakura and Akemi are two single mothers in their forties who decided to start living together in order to help each other raise their children. Take a deep dive into their everyday lives and find out what it's like to live a humble, yet peaceful life as a single parent in Japan.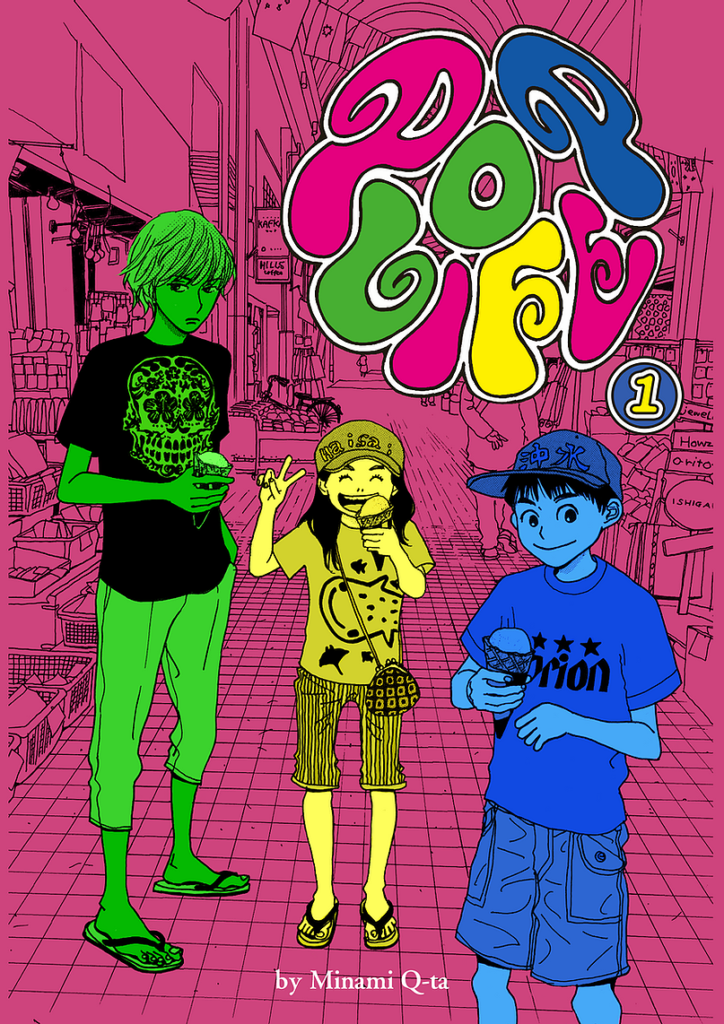 25:45 The lips! Josei manga is (can be) all in the lips. Here's the image I'm talking about from Blood Red Boy, and here's early Moyoco Anno josei work to show a comparison.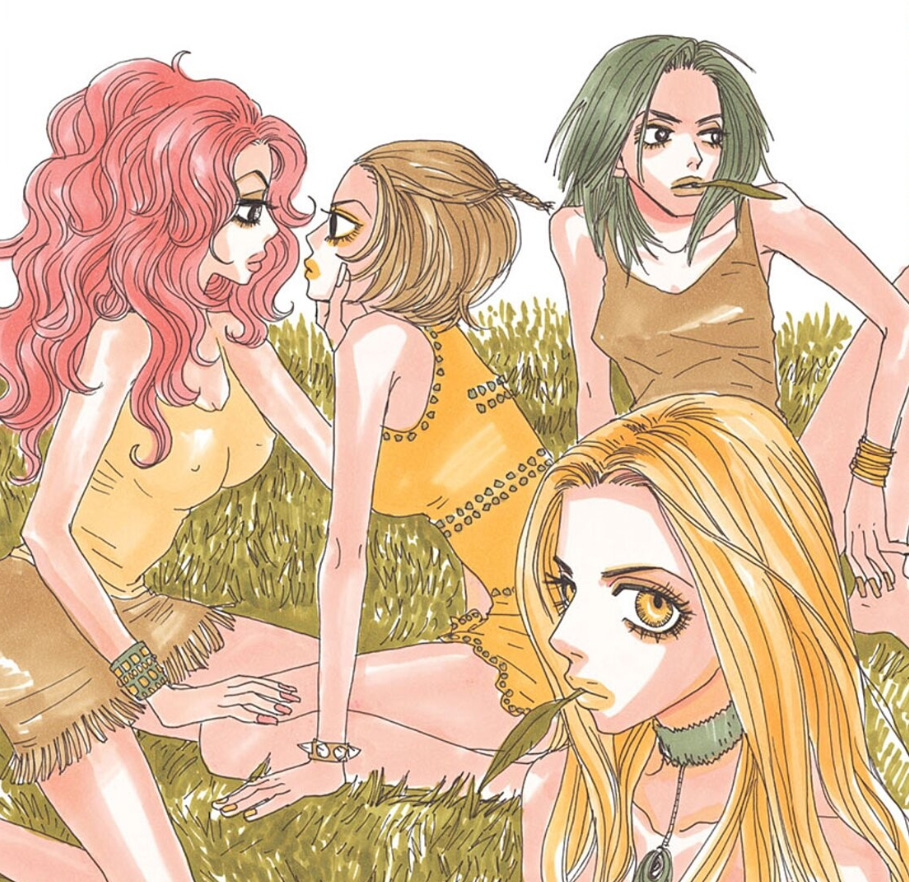 Meanwhile! I did some digging, and this story, The Blood Red Boy, appeared in a seinen manga magazine known for unique/alternative comics, called Comic Cue from East Press in Japan. Q-ta's work Pop Life serialized in a seinen magazine too, Funwari Jump, published by Shueisha. That said, most of the rest of Q-ta's work seems to pop up in josei manga magazines…!
27:00 The language of flowers in shojo manga. As stated, I'm not a very good interpreter of "the language of flowers", which is absolutely a cornerstone of shojo manga. Basically, flowers are used as decorative and background elements in many (most? all?) shojo manga, to add a deeper emotional resonance and to communicate themes behind different moments in a story. Even if the scene the characters are in might not have flowers in them, flowers suddenly appear and burst into the background as design elements. Moreover, the type of flower that's shown can have a deeper symbolic meaning. For example, cherry blossoms might mean first love, beginnings. Roses are a universal symbol of romantic love. Lotus flowers mean purity, while lilies signify peace, etc. Here's an example, from the first page of shojo manga Skip Beat (available from Shojo Beat / VIZ Media) by Yoshiki Nakamura (which we will mention again later):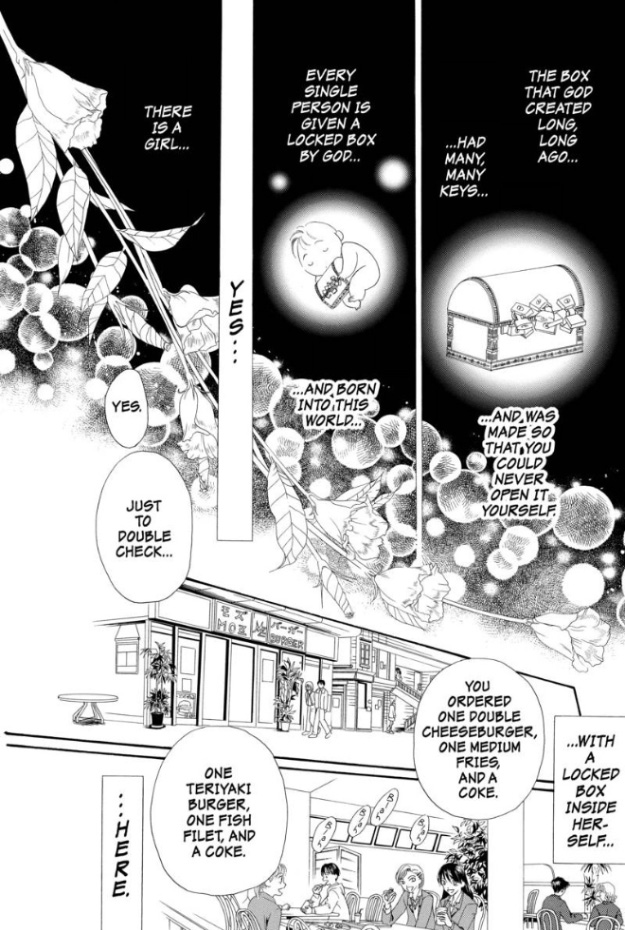 INTERESTINGLY, according to this website, red tulips mean 'fame' in Japan or 'eternal love' in the west, where yellow tulips mean 'one-sided love, hopeless love,' which is… wild. Seeing as all of The Blood Red Boy is printed entirely in red linework, it's easy to assume that the flowers depicted in this story these are red tulips, but also how fame interacts with eternal love just adds another, deeper level of meaning to what's going on. Good stuff. There's also this deeply weird video that explains the meaning of flowers too. 🙂
31:28 David calls out a great detail, that all of her 'feminine' clothing still has the tags on, is largely unworn.
37:40 David mentions that Minami Q-ta's next release is the provocatively titled Not All Girls Are Stupid, and it will be released in Spring 2022 from Starfruit Books. Here's the publisher's description from their website:
A one volume collection of short stories about sexuality, love, and the human condition, each colored with Q-ta's unique perspectives.
David also mentions an illustration, with a description by Q-ta, which is being used to promote this forthcoming volume. Here's the image and Q-ta's explanation from the publisher's Twitter, which is really interesting.
You can follow Minami Q-ta's twitter: https://twitter.com/murasakibashi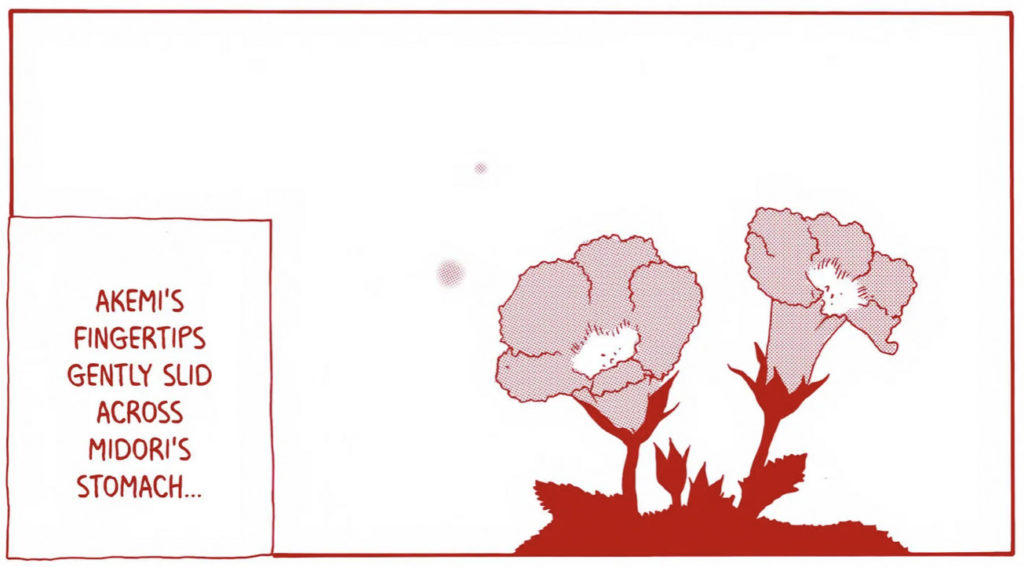 ---
40:22 THE BREAK! After this period, time stamps will be relative due to dynamically inserted ads in our podcast.
It's time for our Reader Questions and Answers Special!
41:38 So first up, we jump into some RESPONSES to a previous question asked on the podcast! Way back in the episode where we read the last three volumes of BL Metamorphosis, David posed the following question to our listeners:
If you had to do a BL Metamorphosis that was just as kind, but with another genre, what would you do?
A Sea of Reads responds: "I would take this in the direction of sports, and make it a martial arts comic. My personal experience is with the Chinese martial art of tai qi, so I'd probably write about that instead of Japanese martial arts. Tai qi has had a positive impact on my own life, and I've read/heard numerous stories from other people on how it's had a positive impact on their lives as well."
RG24 on Twitter says: "Shojo, everyone think it is just romance series but it have way more than that like the horror and about girl/woman's work, studies and general problems."
Sunlitlake on Twitter says "Not a genre? But we have lots of manga/comics about artists, but maybe one about translators would be cool and informative! And maybe shed a little light on the world for some people…"
Christopher wants to see a series ABOUT gay manga creators, about the duality between being a (potentially closeted!) person at your job, but then a porn-manga superstar in a different context.
Deb references previous BL Metamorphosis-style books she enjoyed, like the Wine Tasting Manga Drops of God by Tadashi Agi and Shu Okimoto, and the manga about being a Michelin Star Food Reviewer, Emma Dreams of Stars, by Emmanuelle Maisonneuve, Julia Pavlowitch, and Kan Takahama, but would love to read a manga about Hawaiian history…!
Here's the books Deb mentioned:
David's joke answer is weirdly good, Jim Starlin's Warlock-Metamorphosis, about people reading Jim Starlin's Warlock, a mind-blowing sci-fi series which began in 1967.
---
45:55 Erica Friedman asks:
I have a question for you this week. It seems that most of you approach reading a manga from a very visual perspective – which seems obvious, as it is a visual medium. Has there been a manga or a graphic novel that captivated you because of the story or characters, despite art that wasn't really up to the task?

Erica Friedman
Christopher references the gay teen coming-out manga That Blue Sky Feeling, by Okura, adapted from his independent comics but drawn by a professional artist named Coma Hashii. It's available from VIZ in three volumes, complete, and it's good stuff. That author also went on to draw his next series directly, and it's called I Think Our Son is Gay. 2 volumes are availble now (with volume 3 coming soon) from Square Enix Manga and Books.
David references the X-Men crossover X-Cutioner's Song, by Scott Lobdell and various artists, and how the art that he loved at the time doesn't fully hold up for him now. Speaking as someone who owned and read (and loved) all of those comics, I'm glad I haven't gone back in time to see that art. 🙂 You can check out the podcast David was on right here.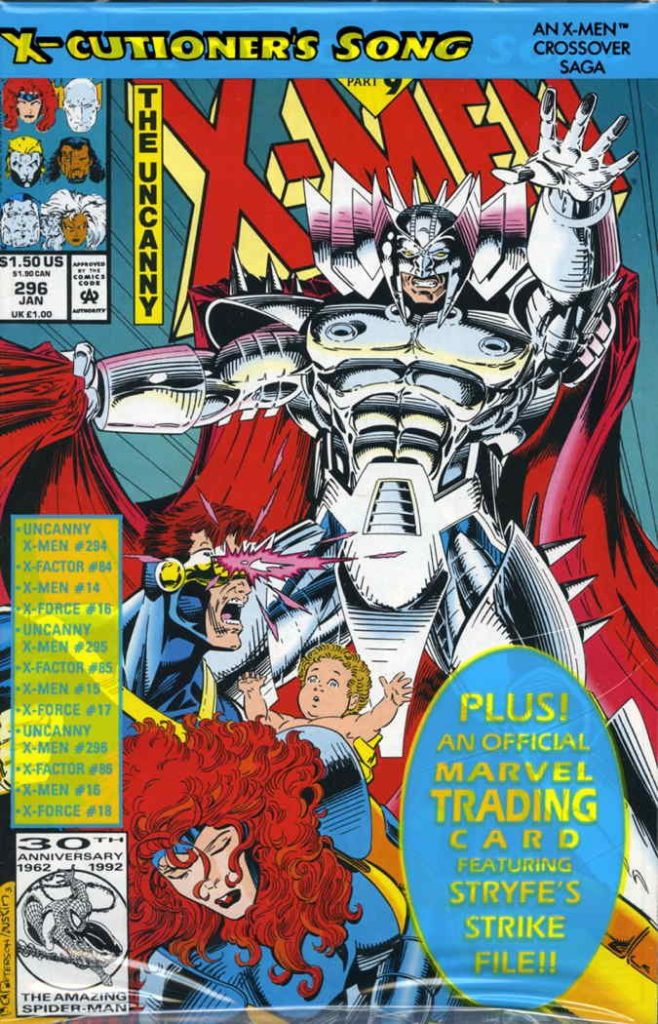 Chip mentions Peter David's Incredible Hulk and Neil Gaiman's Sandman as two series that had a cadre of rotating artists, that did not always gel with his young artistic sensibilities.
Deb chimes in a little later in the podcast, when she remembers her choice, but I'll include it here: Skip Beat, by Yoshiki Nakamura, which is a 47-volume shoujo manga that's been ongoing since 2002, with a very '90s' style of artwork that's getting more and more discordant. Sharp chins, big eyes. She also did not care for the ending of the manga Boys Over Flowers, by Yoko Kamio.
[Deb:] Boys Over Flowers is about a poor but scrappy high school girl who goes to a super exclusive school for rich kids. While she initially tries to keep her head down to have a drama-free school life, she catches the eye of four of the most popular (and handsome? I guess?) boys in school. As a result, she gets bullied viciously, but ends up becoming romantically involved with the most obnoxious rich boy of the group. Anyhoo. This manga is the source material for several live-action TV series: It's been adapted in Japanese, Korean and Chinese, to name a few, either as Boys Over Flowers or Meteor Garden, and as an anime series that's now on Crunchyroll. It's guilty pleasure telenovela-type melodrama… but yeah. Not much sex. Boooo.
Also, I probably should have said "pointy chins that can pop a balloon" or something like that, but I'm just not that great at the off-the-cuff metaphor, I guess? These aren't the pointiest chins in Skip Beat since this is from a relatively recent volume, but I think you get the idea…
---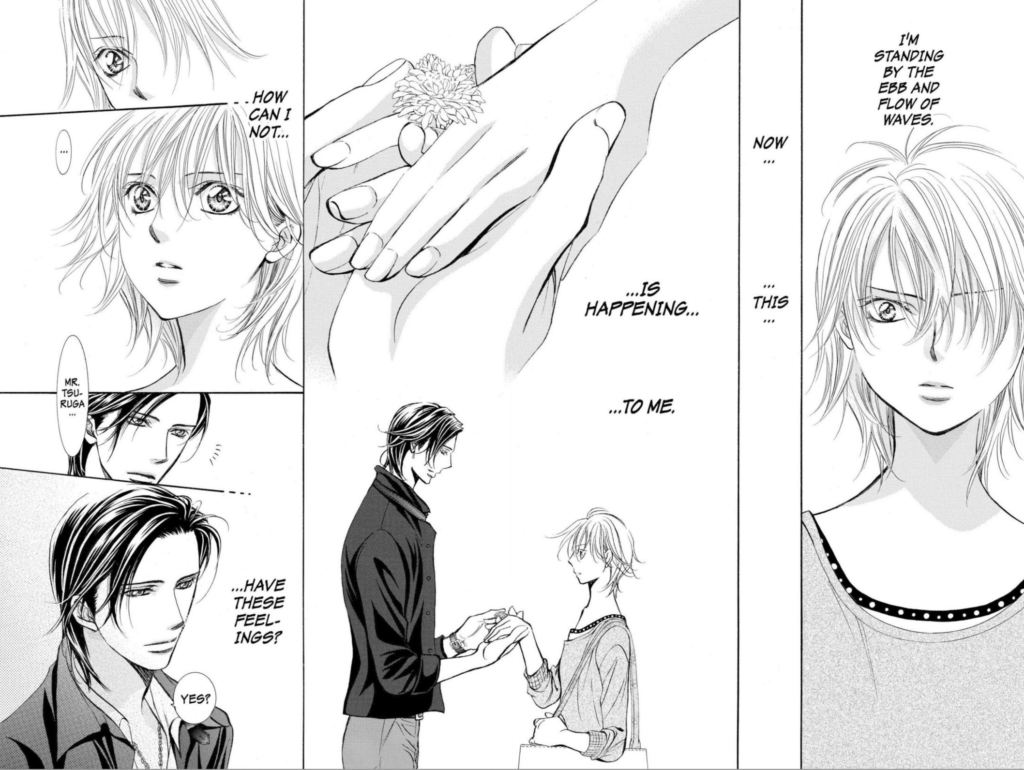 51:55 We have another question, just for Deb (that we all jump in on!) from Erica Friedman:
What manga or comic will you *never* be parted with? The one you'd grab if you had time before running out the door in an emergency?
Deb mentions that she has an autographed, sketched-in copy of Takehiko Inoue's watercolor art book from the series Vagabond, called Water. She sent along photos showing off the sketch she has! What a cool item! (Water and its black and white art companion art book Sumi are also available in English from VIZ Media)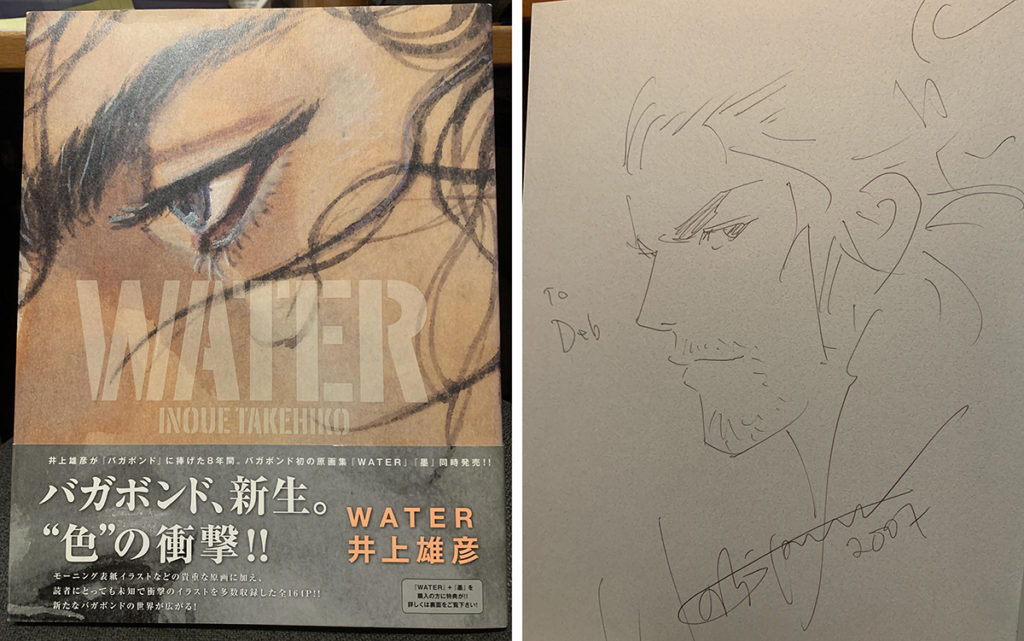 Chip mentions his very special graphic novel The Complete Frank Miller Batman, which includes Batman: Year One, and Batman: The Dark Knight Returns, and a one-shot about Santa. His book is… beat to shit, which is kinda awesome.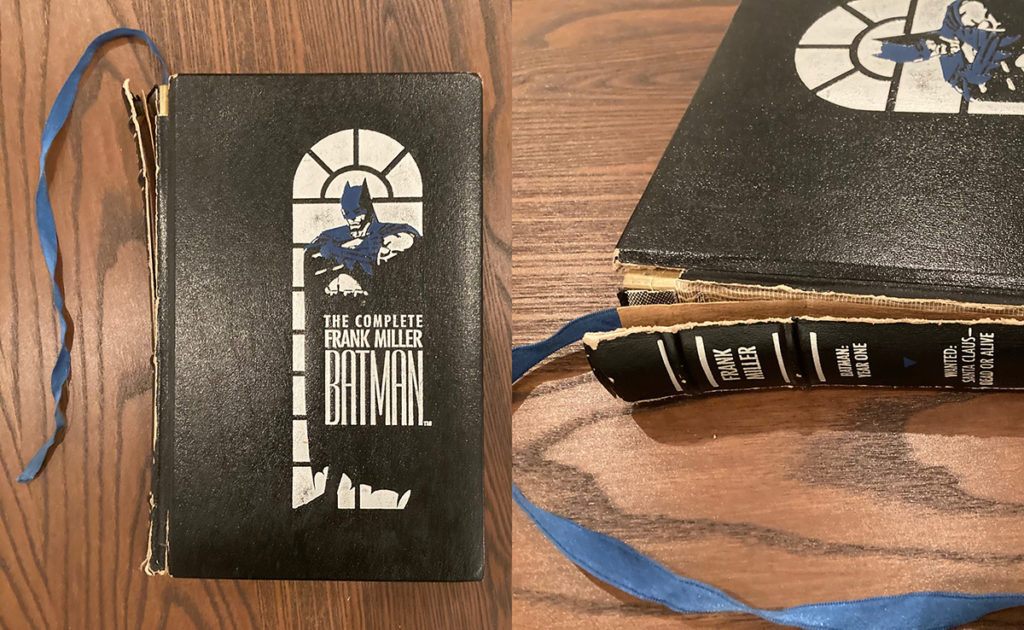 David would grab his color AKIRA volumes, by Katsuhiro Otomo and with color by Steve Oliff. David's actually talked about these books in the past, on our AKIRA episodes (3rd one coming up in 3 weeks!).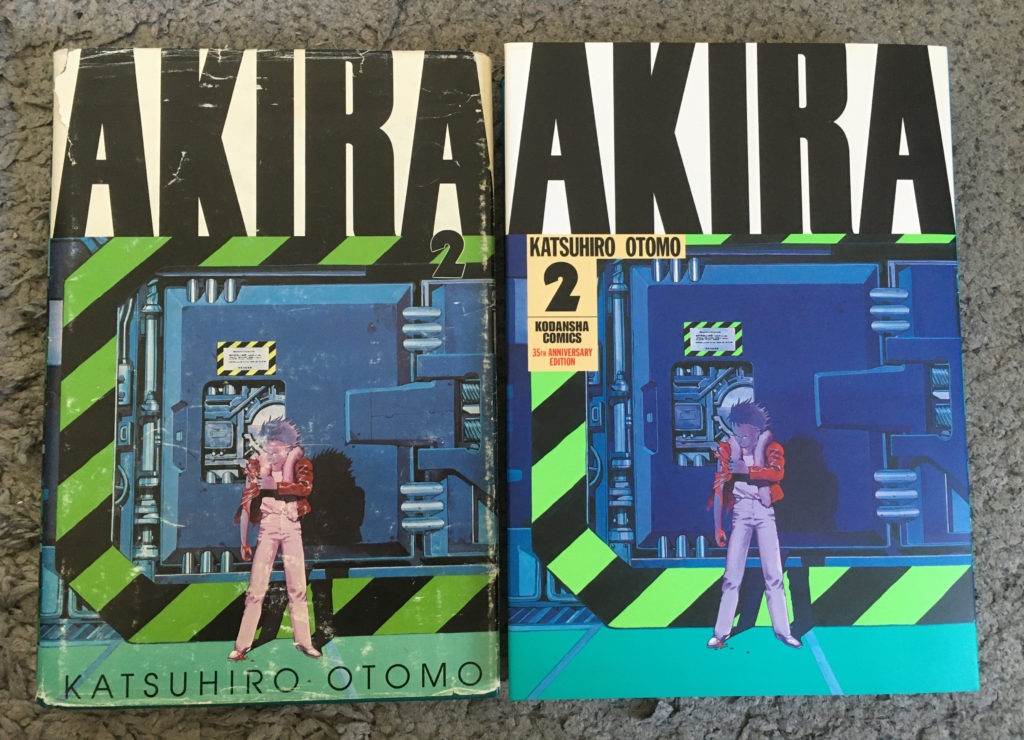 Christopher mentions Mr. Yoshihiro Tatsumi, and rental manga in Osaka in the 50s and 60s. Here's an image of that manga with the signature (along with a copy of the movie-tie in volume of his work, Tatsumi. His autographed and sketched-in copy of Abandon The Old In Tokyo is still on the shelf. 😉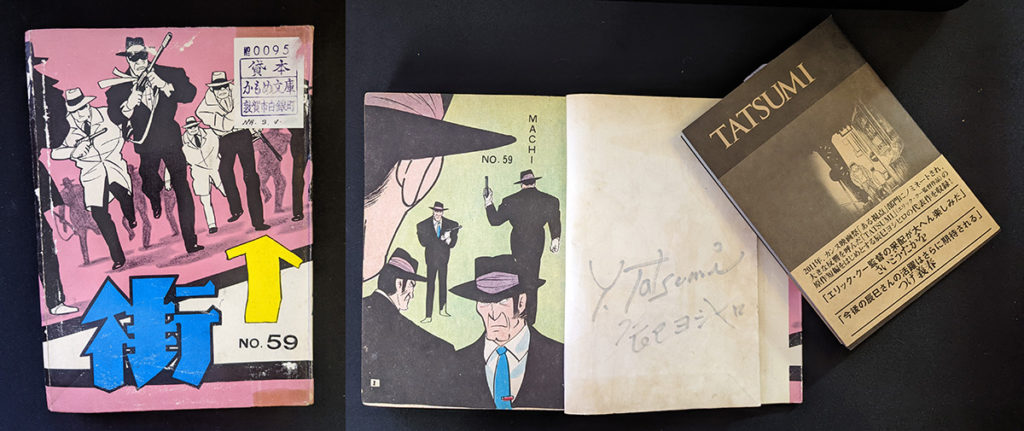 Yoshihiro Tatsumi is a "gekiga" author, or an author of serious stories (manga has historically meant silly or comedic stories), who was active in the post-war period through the mid 1970s. His work was 'discovered' in the west by Optic Nerve creator Adrian Tomine, who persuaded his publisher Drawn & Quarterly to connect with Tatsumi-sensei and release translated English-language collections of his work from throughout his career.
D&Q has published a number of books from Tatsumi, including: Three short story collections, The Push Man, Abandon The Old in Tokyo, and Good-Bye; Tatsumi's autobiography manga A Drifting Life, a contemporary work about Japanese comedy 'rakugo" called Fallen Words, and also a period reproduction of a 'kashobon' or rental graphic novel, Black Blizzard. I am pretty sure that all of these books are currently in print, and they're allll worth your time. There's also a movie adapting his life story, and some of his short stories, simply called Tatsumi that is available for rental on streaming.
We actually covered rental manga on the podcast in our Phoenix episode this season, here's what we had to say at the time:
Before World War II, manga (illustrated comics) was a somewhat small industry and artform in Japan, with short comic strips, usually printed in newspapers and children's magazines. These manga were influenced by Western comic strips and gag cartoons, but were also influenced by Japanese artistic traditions including illustrated scrolls like the "Chouju-Giga" which featured animals doing playful things as a kind of story created by images in sequence, ukiyo-e (woodblock) prints, and the traveling picture shows featuring illustration and performance called "kamishibai" (paper plays).
After WWII, manga blossomed as a narrative art form and as an industry, as it was a relatively cheap and easy to distribute form of entertainment in a war-ravaged country. Because kids (and grownups…) had little pocket money and there was still sometimes a scarcity of raw materials to print books and magazines, the most popular form of manga was generally 'rental manga', or books that would be printed in limited numbers, and would only be available to read for a small fee from manga rental shops. If you were particularly well-off you might be able to buy a copy, but that would've been nearly unheard-of. These manga were called kashihon, and the shops or cafes or kashihon-ya.
At the time, publishers of these titles were generally centered around the Kansai / Osaka area. These rental manga publications were often original, book-length works by young manga artists looking to tell unique new stories, that were often deeply influenced by their favourite media, like movies. Because these books needed to be read and re-read by many people, many kashihon were published as hardcover books, or with stronger binding.
Side-note: It's wild that in 1947 Japan was publishing lots and lots of original hardcover graphic novels. I mean, some of these books were actually anthologies and short story collections, but yeah. Bunches of original hardcover graphic novels in the 1940s and 1950s.
As mainstream manga boomed, and creators moved from the Osaka area to a quickly rebuilding Tokyo to work on mainstream magazines, it's generally thought that the absence of established talent allowed new Osaka-area creators to 'move in' and create works for this market. As magazine manga was booming, authors persuaded kashihon publishers to allow more mature and gritty work to set themselves apart from children's manga, and to reflect the entertainment of the time, which included an influx of American movies making their way to Japanese theaters. This is the work that Tatsumi-sensei created, alongside his contemporaries Takao Saito (Golgo 13) and Masahiko Matsumoto (Gekiga Fantatics, only available in French). This is largely covered in Tatsumi's books A Drifting Life and Black Blizzard.
Christopher also mentions Mandarake, which is a chain of used manga and goods stores in Japan. They have a website for ordering from overseas, but digging through the shops in person is a whole other deal.
See, this is what the show notes are usually like. 😉
---
59:55 Paul Tesseneer asks our next question, and it's a very specific one:
I've been trying to get caught up before asking questions, but I'm curious for insight on how books stay in print? I've gone head over heels for Urasawa since I started reading manga a year ago, and I can't find 1 volume of Pluto and 1 of Monster. Should I trust it to come back? 
Naoki Urasawa is published in English by VIZ Media, and the titles we mention, Monster, 20th Century Boys, Pluto, and Asadora, are listed on VIZ's website. We mention a couple of Urasawa series here, and they're all worth checking out.
Deb jumps in to let us know that Urasawa has made an announcement that he will be offering his work digitally in 2022… in Japanese. (Many are available now through eBook sites in Japan like BookWalker). There may (or may not) be digital releases of Urasawa manga coming in English. Here's hoping!
But the long/short answer is: Maybe. I truly believe that VIZ is dedicated to keeping as much of their backstock in print as possible. Monster seems like a pretty sure bet, since it was just released in a bind-up edition, as was the 20th Century Boys Perfect Edition. Unfortunately, Pluto in its current format is more than a decade(!) older, and so it's less likely. Here's hoping though, it's a truly awesome series.
---
1:03:30 Now it's time for some shout-outs!
Christopher didn't have anything to shout-out, at the time, but if you're reading this you're probably pretty hardcore, so why not head over and listen to this special Three Hour Episode of the podcast Manga Mavericks, which talks about manga lettering and has a bunch of letterers on a roundtable.
Chip shouts out literally nothing except The Righteous Gemstones, which we've allllready mentioned here.
David shouts-out ID by creator Emma Ríos (who we interviewed on episode xx talking about Gundam! David wanted to share this whole interview with Rios on the Image Comics website.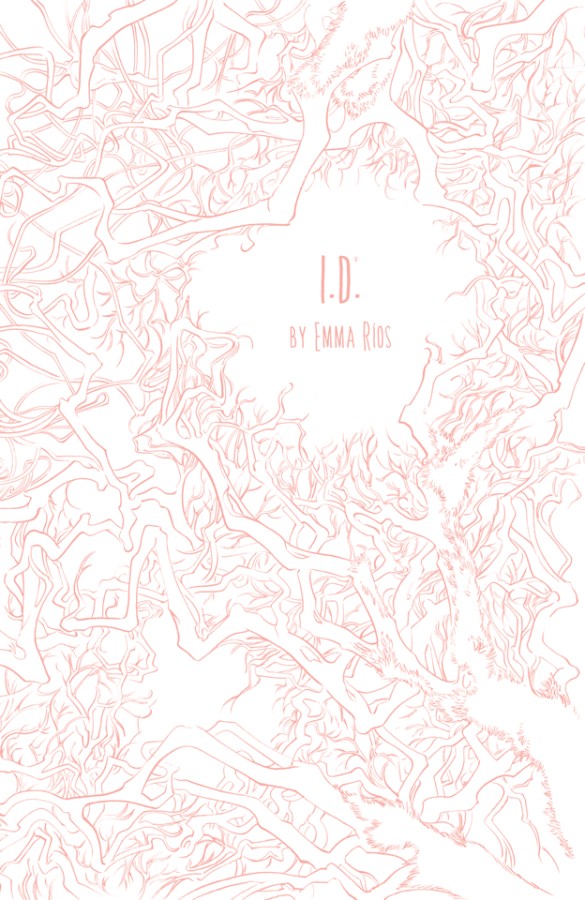 And that's this week's episode!
Thanks so much for reading and listening and supporting Mangasplaining! You can find a comics and manga specialty retailer near you at Comicshoplocator.com.
You can also check out our new publishing endeavour, Mangasplaining Extra, at http://www.mangasplainingextra.com.
And check out D.A.D.S. on Spotify, he made our cool theme music for us.