Ep. 107: Nejishiki, by Yoshiharu Tsuge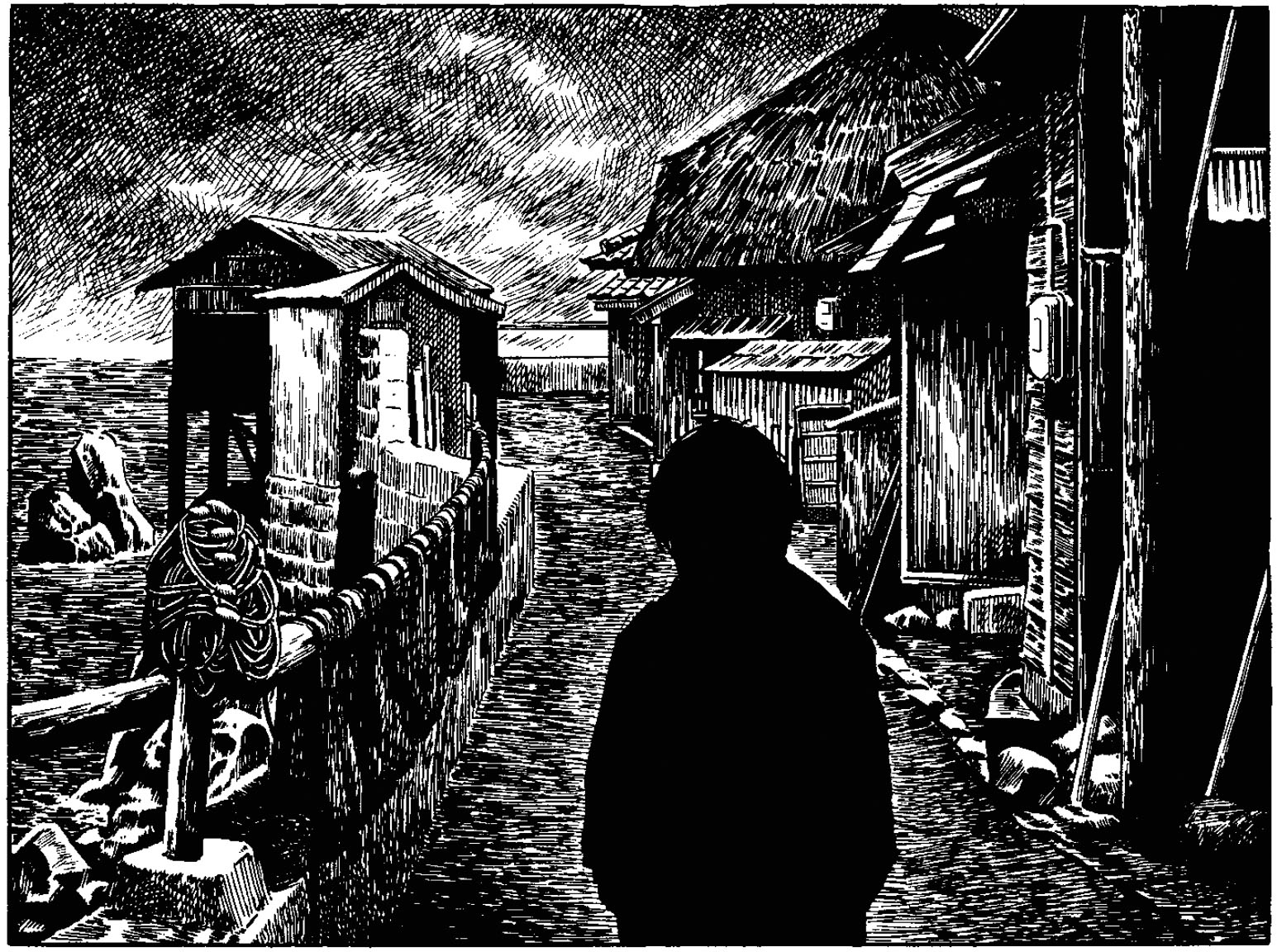 Diving into the world of Gekiga this week, with the recently released Nejishiki by Yoshiharu Tsuge! Featuring one of the most well-known and important works of Tsuge, 'Screw Style', this reprint series has been long-awaited by art comix and manga fans and collectors. But how will the Mangasplainers react to a work that's considerably off their beaten path? And is the book actually more about the pitfalls of traditional Japanese inn ownership? Gotta listen to find out!
Powered by RedCircle
Listen and Subscribe to the Podcast:
Google | Apple | Stitcher | RedCircle | Amazon | Radio Public | PocketCast | Spotify
Also, if you haven't yet subscribed to our twice-weekly newsletter including the show notes, articles, new manga and more, check out Mangasplaining Extra!
IN THIS EPISODE
00:00 Nejishiki: The Complete Mature Works of Yoshiharu Tsuge Volume 3
01:10:27 THE BREAK
01:11:00 SHOUT-OUTS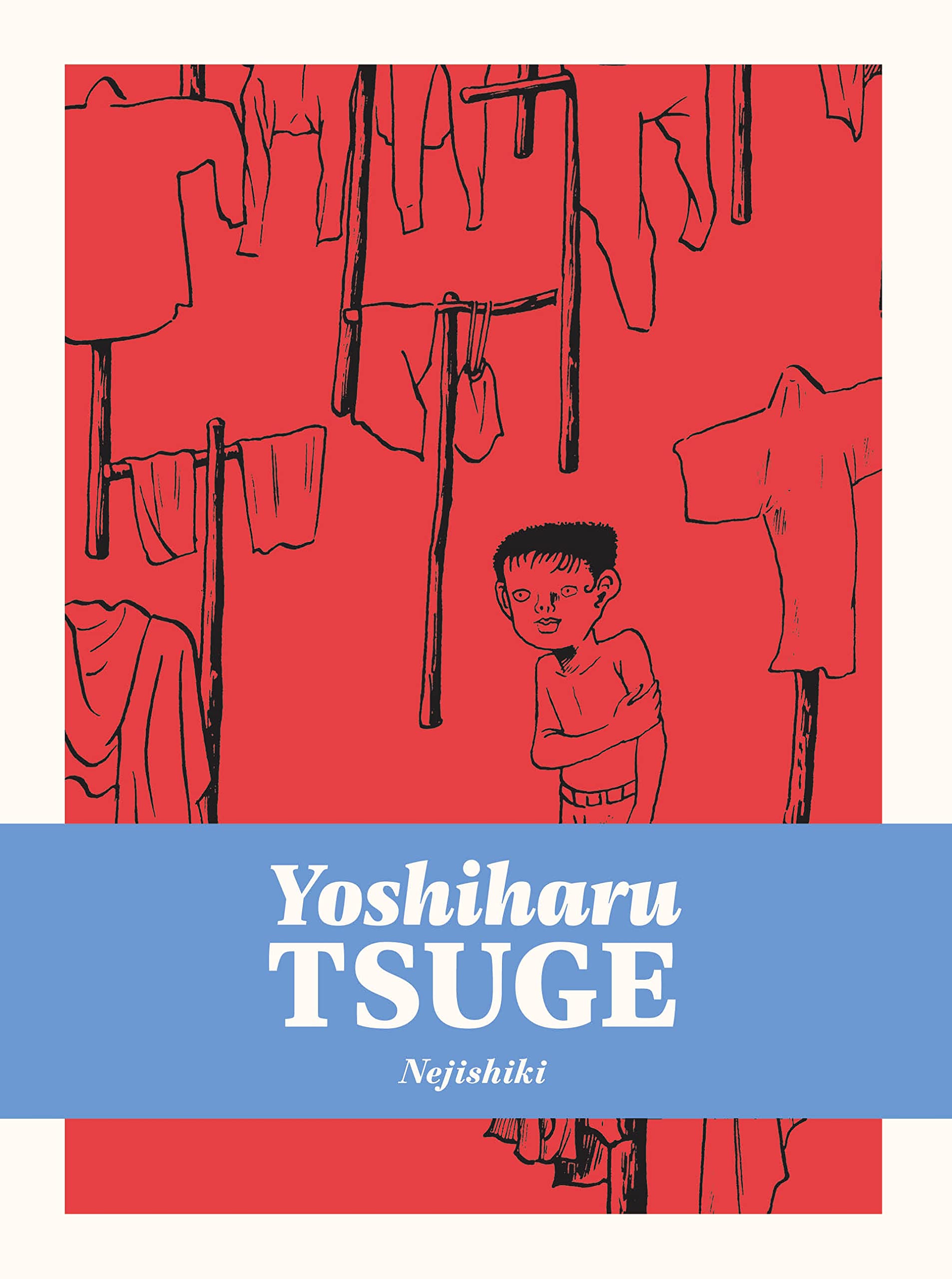 Nejishiki: The Complete Mature Works of Yoshiharu Tsuge Volume 3
By Yoshiharu Tsuge
Series editor: Mitsuhiro Asakawa
Co-editor, translator, and essay: Ryan Holmberg
Lettering: Anna Haifisch
Published in print by Drawn and Quarterly
Audio editing by David Brothers. Show notes by Christopher Woodrow-Butcher and Deb Aoki
BEFORE WE GET STARTED
Hey y'all, Christopher here. Hope you're doing well. So as you will hear about 11 minutes in, we read this via an advance PDF review copy provided by D&Q, and not the actual physical book, due to all of us traveling during the recording of this episode (convention season!). But I've seen the hardcover edition and it's really nice. It probably woulda been a different reading experience, quite honestly. Er, in more ways than one.
This volume is a short-story collection, the third in a proposed series of seven, which contains seven short stories and an essay. Since we don't fully introduce and discuss each short story in order, those stories are:
Nejishiki (aka Screw-Style)
Master of the Gensenkan Inn
The Mokkiriya Tavern Girl
The Crab
Master of the Willow Inn
A Dream Stroll
A Summer Memory
These stories were published between 1968 and 1972. The first two volumes in this series containing his earlier "mature" work, The Swamp and Red Flowers are already available (Alongside Nejishiki), and the fourth volume, Oba's Electroplating Factory, arrives in June 2024.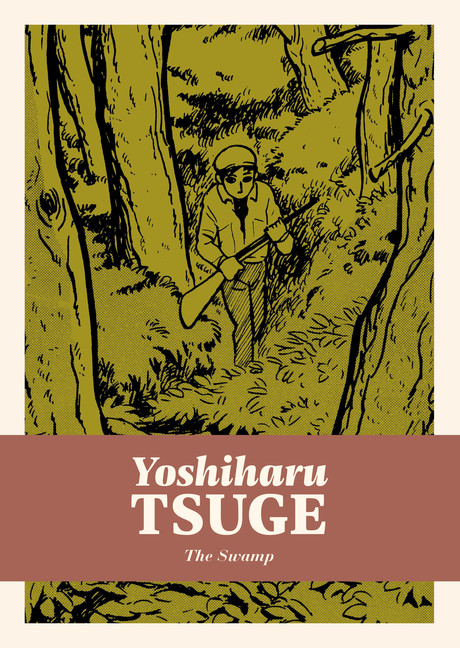 We don't actually talk much about it, but photo ref plays a strong role in Tsuge's work in this volume. We didn't have anywhere else to stick it, but Deb found this photo of optometrist signage from Taiwan in 1962 that was the basis for one of the panels in "Screw Style" and that's pretty cool.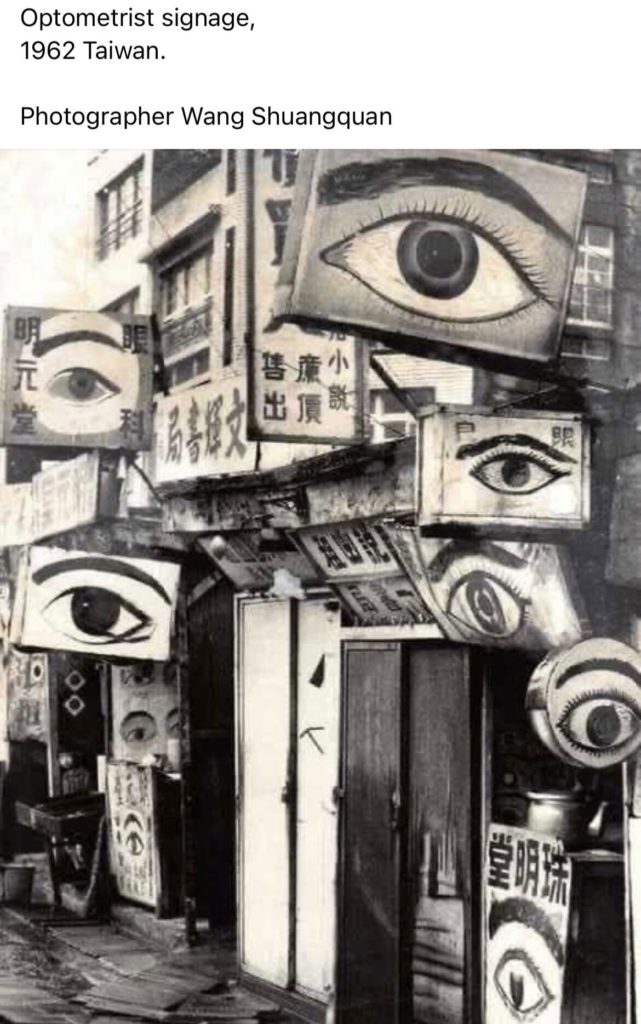 Finally, we should note that several stories contain sexual violence, and we talk about that. If you're sensitive to these topics, this might not be the episode (or the show notes) for you.
---
ABOUT YOSHIHARU TSUGE
Seeing as each volume of this work to date has contained a 20+ page essay About Yoshiharu Tsuge, I'll be brief. 🙂
Born October 30th, 1937, Yoshiharu Tsuge is a manga creator and essayist. First published in 1955 in Japan's post-war depression era, Tsuge contributed 'gekiga' stories ('dramatic' pictures, versus 'manga's' 'silly' pictures) to the kashihon rental comics market. A good example of they style of one of these raw kashihon gekiga stories printed in English is Yoshihiro Tatsumi's Black Blizzard, if you're curious…! None of Tsuge's work from this era has been reprinted in English as of yet.  
After a great deal of personal psychological struggle, Tsuge dropped out of making commercial manga, eventually coming to work in 1966 as an assistant to Shigeru Mizuki (we talk about that quite a bit this episode). Later in 1966, he began publishing autobiographical comics in the influential alternative manga magazine Garo. Tsuge's work tended to be more surreal and avant garde than other contributors to Garo at the time, which made his work stand out and made him something of a minor celebrity in not only the manga world, but in the literary world as well. Tsuge continued to make comics for a variety of magazines until his declining mental health caused him to stop in 1987. He is still living in Tokyo, Japan.
Tsuge's path to publishing in North America was unique. He had had two short stories published with his permission in Francoise Mouly and Art Spiegelman's RAW magazine, 'Red Flowers' and 'Oba's Electroplate Factory, in 1985 and 1990 respectively. In February 2003, another of Tsuge's works, and arguably his most famous, 'Screw Style', was published in The Comics Journal's 250th issue. This story and its iconic illustration of an injured young man walking on the seas shore, while a dark black bomber plane flies overhead, became the work by which most Western comics and manga fans knew him.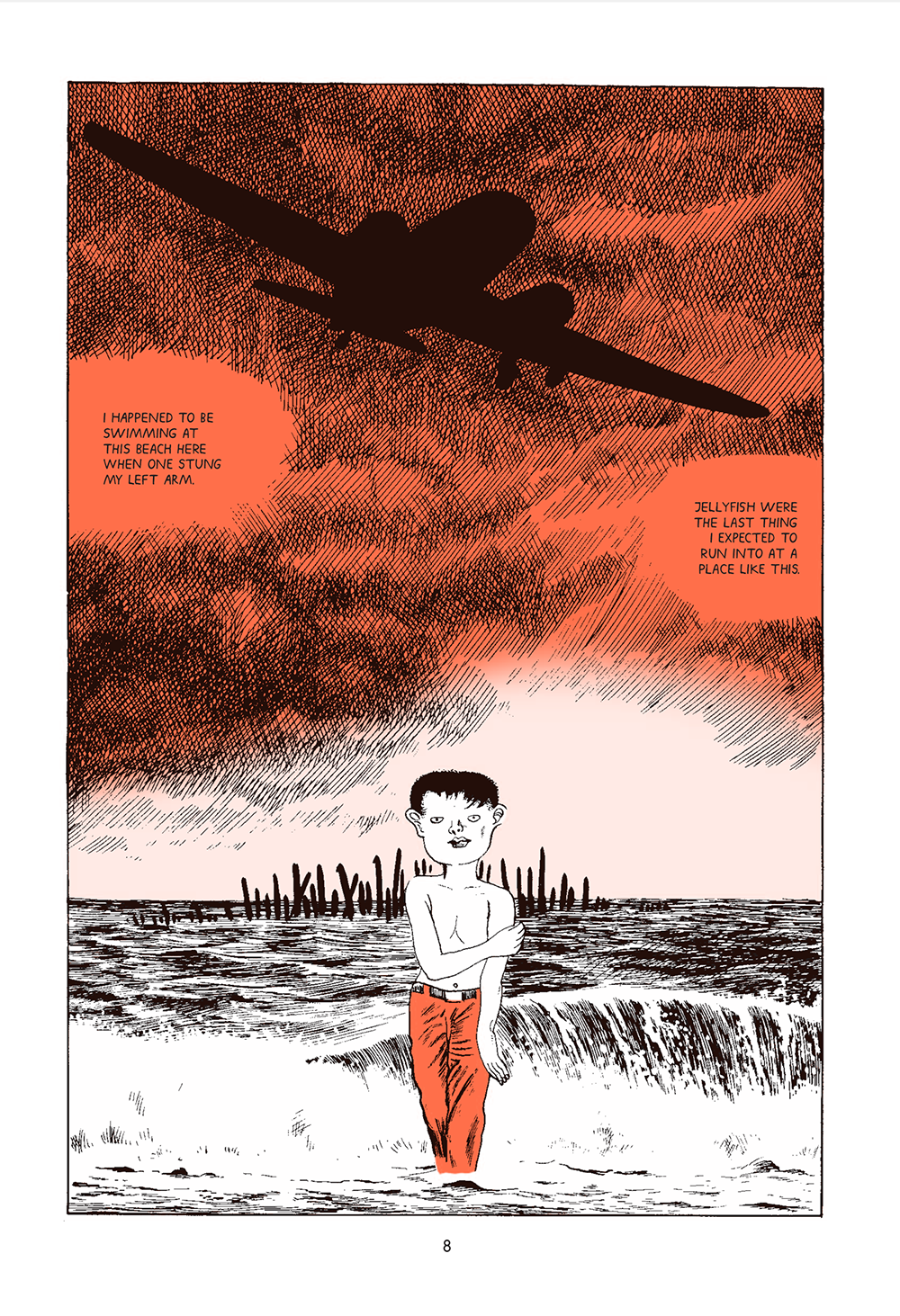 The next bit is a bit fuzzy, but basically in July 2018, Drawn & Quarterly announced it would be publishing the complete works of Yoshiharu Tsuge in a seven-volume set, kicking off in fall 2019. This was part of an international publishing deal for the rights to Tsuge's work, with multiple languages being released starting around that time period. I think Cornelius' reprinting in French came out that year, and that licensing triggered an international wave of interest.
Then, of course, Yoshiharu Tsuge's work was featured at a retrospective exhibition in Angouleme Festival in France and he was given a very big prize, and he surprised many folks by being in attendance to accept it. 
Then, one of Tsuge's final works, The Man Without Talent, was published in English in 2020 by New York Review Books. Originally created from 1985-1986, it was the first full-length collection of Tsuge's manga in English, beating the debut of the first D&Q book by a few months. The first D&Q volume, The Swamp, made its debut in April, 2020, and contains Tsuge's post-Gekiga, Garo-era work, in chronological order. 
I don't… know… if Man Without Talent will also be republished by D&Q in the "complete" set, when the time comes for it chronologically? Are we all going to have one book in our set that doesn't match the others? Two different English editions simultaneously? It happens all the time in Japan for classic works, but rarely in English. I feel like this all has something to do with the fact that Tsuge just wasn't interested in having his work translated into other languages, whatever his reasons were. Maybe being published in 86-86 his original Japanese publisher still had licensing rights? No idea. No idea. But it was a fascinating few months there.
[DEB:] My understanding from talking with Tom Devlin at D&Q is that Man Without Talent will be included in their reprint series, but as it will be published several years from now, it'll probably come out long after the NYRB edition might be out of print. Or at least that's what I think is the understanding of how this will all work out…
FUN FACT: Yoshiharu Tsuge was beaten to print (in English) by a few years by his younger brother, Tadao Tsuge. You can find Tadao Tsuge's Trash Market (2015) from Drawn & Quarterly, Slum Wolf (2018) from New York Review Books, and Boat Life (2020) from Floating World Comics. I quite liked Trash Market, but haven't read the other two yet. 
FUN FACT 2: The international publishing agreement mention in 2019? Well, it ALSO included new Japanese editions. Kodansha has released the COMPLETE complete Yoshiharu Tsuge, including every comic, Mature Or Otherwise, from 1954(!) to 1987, plus essays, travel photos, and more. More than 20 volumes, more than 7000 pages. Can you imagine? 
They also released a baffling promotional video for the set?
FUN FACT 3: All of Yoshiharu Tsuge's work AND Tadao Tsuge's work currently in print in English is translated by Ryan Holmberg. It's rare to see one translator as the more-or-less exclusive 'voice' of a manga creator in English manga like that. Pretty cool!
Okay, let's get to the rest of the show and our show notes!
---
04:30 To be clear, there are MANY stories about why this work didn't come out, but this is what I was told at the time, in the late 2000s and early 2010s, around the time Yoshihiro Tatsumi's work was being published, by folks in many facets of manga production around the world. Other people will have different, probably better insight, should they choose to share it. Maybe Messers. Holmberg and Asakawa addressed it in their additional material from earlier volumes? I haven't got them handy to check. Maybe it doesn't matter now that it's out? But as Deb reveals a little later, Tsuge-sensei was very, very disinterested in his manga career, and perhaps, still is.
09:30 ABOUT NEJISHIKI
Here's how Drawn & Quarterly describes Nejishiki:
Nejishiki unveils the most iconic scenes from Yoshiharu Tsuge's highly respected body of work alongside his most beloved stories. A cornerstone of Japan's legendary 1960s counterculture that galvanized avant-garde manga and comics criticism, the title story follows an injured young man as he wanders through a village of strangers in search of emotional and physical release. Other stories in this collection follow a series of weary travelers who while away sultry nights and face menacing doppelgängers. Even banal activities like afternoon strolls uncover unsavory impulses. The emotionally and erotically charged imagery collected in this third volume remains as shocking and vivid today as it did upon its debut fifty years ago.

Tsuge's stories push boundaries, abruptly crossing the threshold of conventional storytelling. Unassuming protagonists venture further into eerie symbolism against a shadowy, perceptibly dreamlike landscape easily mistaken for the real world. The angst that pervades postwar Japanese society threatens to devour his characters and their pastoral sensibilities as each protagonist's wanderlust turns surreal.

-Drawn and Quarterly
13:25
"I guess this is how inns work!"

-David Brothers
Is perhaps the funniest line this episode? That said, there really are THREE stories about inn ownership and working in an inn. Holmberg explains in the afterword that Tsuge had been (famously) spending a lot of time traveling through small towns and rural areas in Japan, and staying at little inns (and seeing the women who worked there). He actually contrasts these stories in an interesting way. So yeah, CHIP, DAVID, the 30 pages of info at the end of the book really ARE interesting.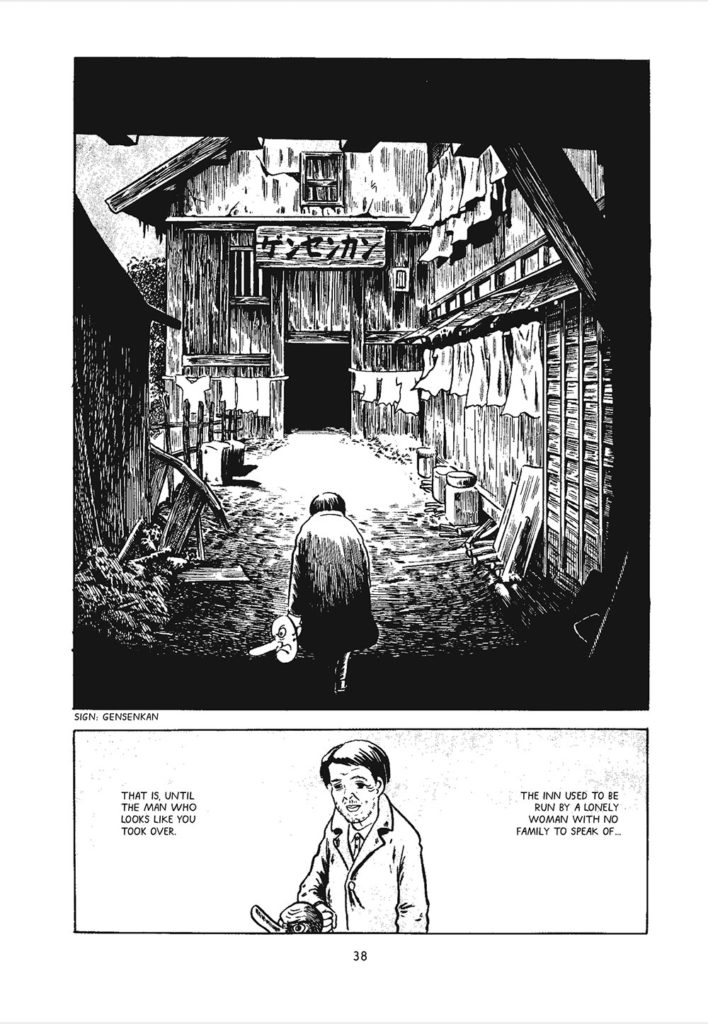 16:10   David mentions Chopped & Screwed Music, about listening to slowed down music, usually under the influence of something or other. Here's a sample he provided:
He also gave us this Soundcloud link to one of his fav albums, which might be the first time we've included a Soundcloud link in the show notes!
19:30   I'd say probably one of the greatest oversights of the coverage of manga on our podcast, so far, is that we haven't had an episode on Shigeru Mizuki's work.
Like Tezuka, Mizuki built up something of a myth around himself and his creations, but the gist is that he was a pre-war manga artist/illustrator who was conscripted into the Japanese military during WWII, lost an arm in the war, and taught himself to draw with his other arm when he came back. His most popular stories with the Japanese public were about a mischievous young boy who is half "yokai", or trickster/forest spirit, and half human. Mizuki repopularized these creatures of myth and legend for contemporary Japanese audiences and invented new ones too. That manga series? Ge Ge Ge No Kitaro, in print now from Drawn & Quarterly.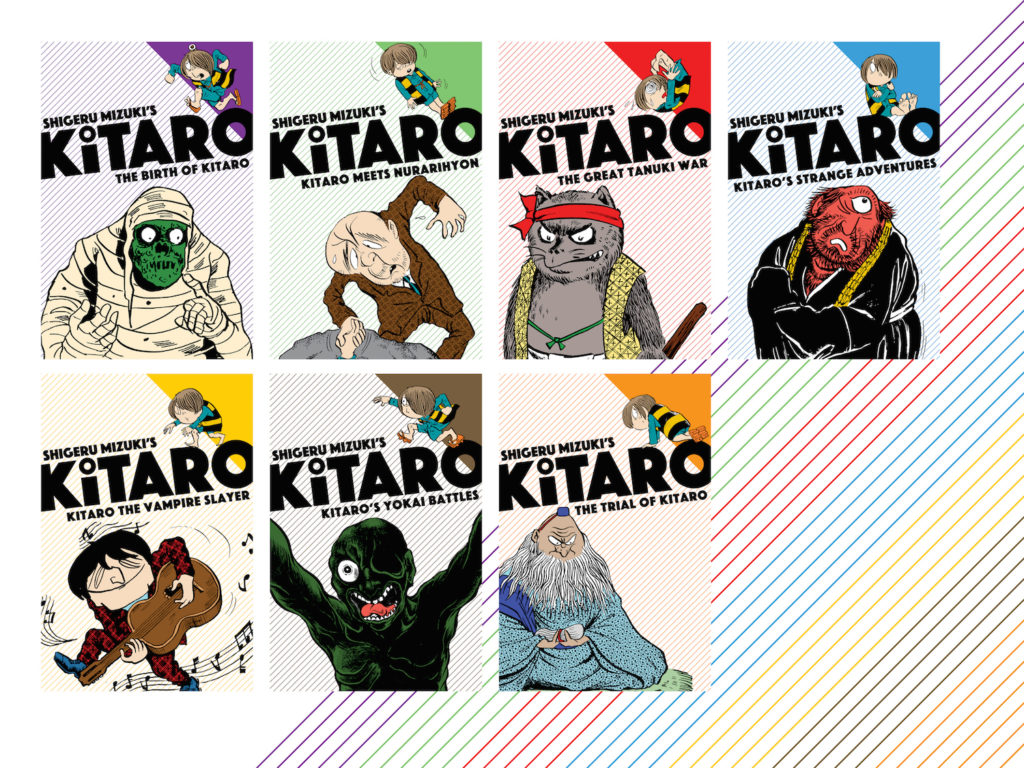 Kitaro bought Mizuki a great deal of success. He branched out from there, creating many different types of comics, including autobiographical anti-war works, historical works and biographies, reportage, and much, much more. Mizuki's first widely available works in English were autobio works, such as Onwards Towards Our Noble Deaths (translated by friend of the podcast Jocelyne Allen) took home an Eisner Award, among other honors.
Mizuki's work is renown for having simple characters set against lush and complex backgrounds. As we learn in this episode (and this series of manga), Tsuge was one of the many (usually uncredited) assistants for Mizuki, helping him create these famous works. 
Which brings us to another name I dumbly casually mention so I have to gloss it in the show notes, Seiichi Hayashi. Best known for his work Red Colored Elegy, serialized from 1970-1971 in Garo Magazine. Wow, those early 70s Garo's must've been pretty wild eh? Regardless, Red Colored Elegy was a bonafide cultural touchstone for young people in the early '70s. It had a song made of it in 1975 by Morio Agata that became an enduring hit. 
Drawn & Quarterly has released two versions of Red Colored Elegy, the best one is the paperback, don't get the OOP hardcover.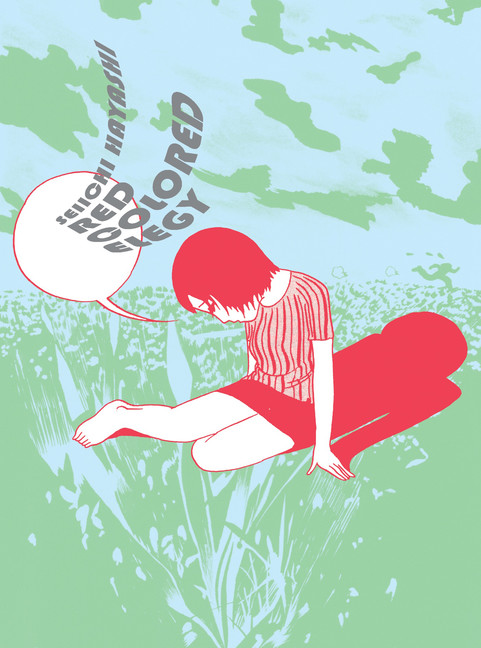 So yeah, these manga works by Hayashi, Tsuge, and Tatsumi, were a huge part of the literary discourse of the day, touching as they did on the ennui and trauma of dealing with post-war Japan. 
25:15 "We'd be nothing but… GHOSTS!" I get it, I just think it works alright for a literal ghost story.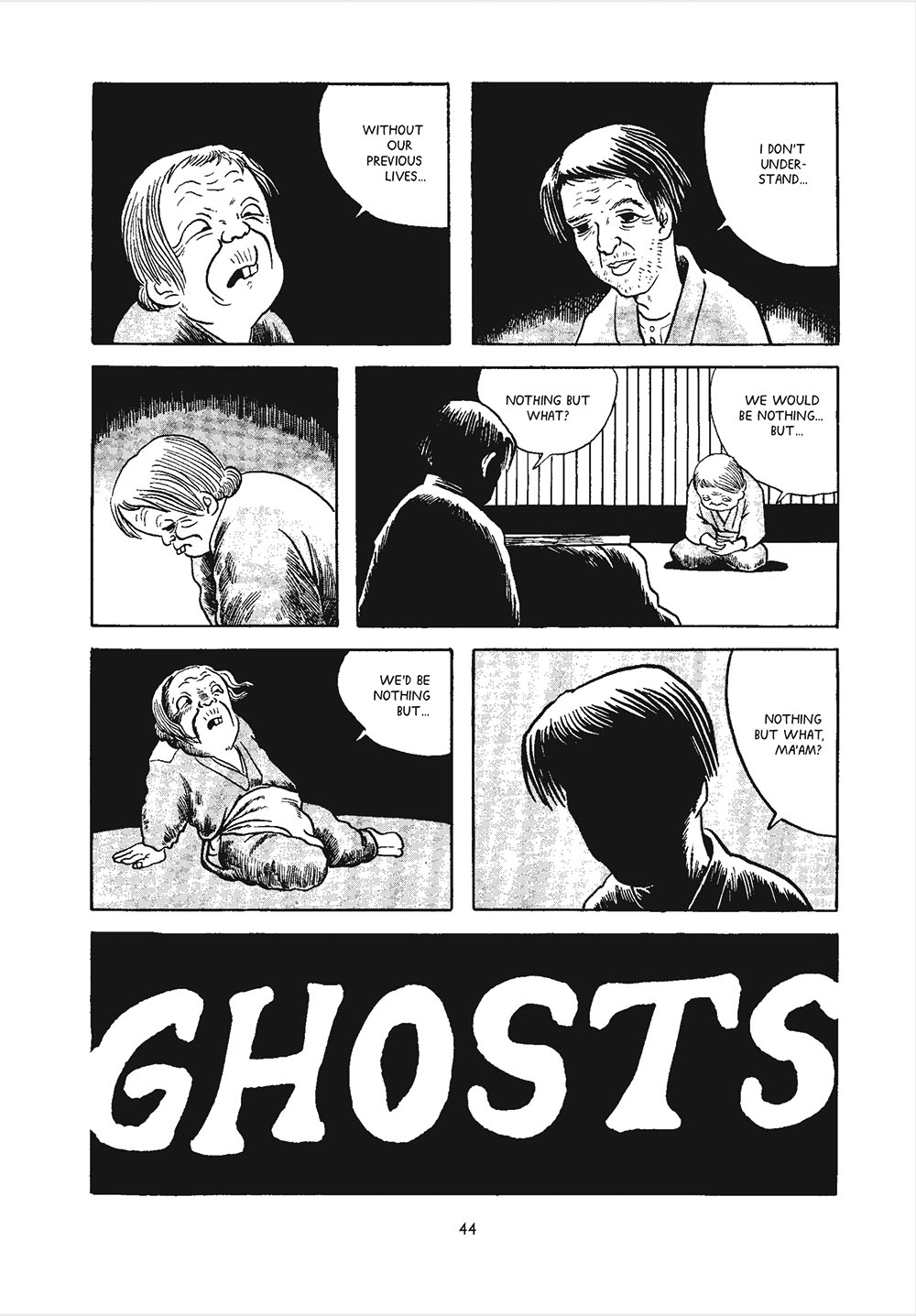 David and Chip mention the work of David Lapham here, who is a comics creator best known for Stray Bullets, available now from Image Comics. I love Lapham's work, but I'm already at like 3,000 words for these show notes and we're only 25 minutes in, so please just go check out his work yourself.
28:30 David references the film Blade Runner, and the sort of… general… reaction that young people have to Blade Runner after having seen all of the different things that Blade Runner influenced down the line. I remember my first time seeing it in the theatre when the Director's Cut was released in 1992, sans voiceover. Even my dad, who was excited to bring me to see this film, was a little surprised that it didn't hit as hard for him as the first time he saw it.
It's funny because five years later, Luc Besson's The Fifth Element was released, which definitely uses Blade Runner as a sort of springboard into a different kind of story, and that was so much more my speed.
29:45   David references the manga GANTZ by Hiroya Oku. Published in English by Dark Horse, GANTZ is a touchstone of seinen sci-fi manga, incorporating tropes of "battle royale" video game narratives, extreme violence, and some really skeevy non-con sex stuff. It's huge though, and David is absolutely right in mentioning that much of the creepy sex stuff that was so transgressive (groundbreaking?) in Nejishiki is now commonplace in today's edgy seinen manga.
34:00 Since we mention this sequence, about the sandal, I wanted to show it here so you can see what we're talking about. We really do love Comics About Comics.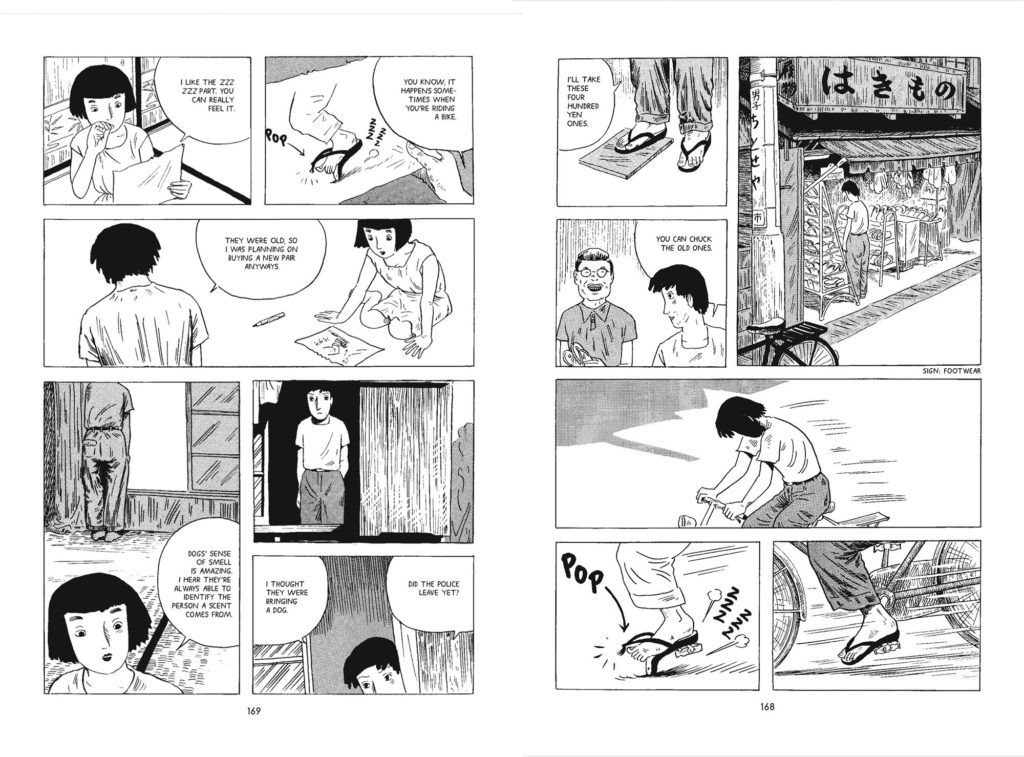 35:45  Tsuge hard-denied that the cartoonist and girlfriend depicted in that 'A Summer Memory' were, in fact, himself or his girlfriend, according to Holberg's essay in this volume.
36:30 We're talking about our episode on Invitation From a Crab by Panpanya, probably the first 'indy' or 'alternative' manga we covered on the podcast. You can listen and read the show notes here:
38:30 So I initially couldn't find this info that Deb's mentioning about Tsuge's ambassadorship, but that's because maybe it wasn't written about in English? Anime News Network and Otaku USA both didn't have articles that I could find. I dove into Japanese Wikipedia though, and it was extensively covered!
According to the Asahi Shimbun (newspaper), in February 2022, Tsuge was elected as a member of the Japan Art Academy, alongside manga-ka Tetsuya Chiba (co-creator of Ashita no Joe), in the newly-formed field recognizing manga. Wild that this organization would only be recognizing manga in 2022 for the first time, but I digress. Tsuge's response to the election seemed to be one of… befuddlement? But he seemed also sincerely glad to receive the honor. According to Asahi Shiumbun, here's his comment (roughly translated):
"I was surprised when I suddenly found out that I had been selected. I never expected to be chosen. I had no knowledge of the Japan Art Academy and wondered if it would be a good idea for me to participate, but I was grateful that they had chosen me. I feel it is a great honor to be the first member of a new manga section. I don't know much about what will happen in the future, but I hope it will have a positive impact on the manga world."

-Yoshiharu Tsuge
According to Wikipedia, he's technically a civil servant now? Haha. Amazing. If there is writing on this in English that I've missed, mention it in the comments and I'll come back and edit it in here.
39:30: Here's that bit from the Katsuhiro Otomo AKIRA: Art of Wall that I mentioned, where collage and visual artist Kosuke Kawamura is talking about working with original pages from AKIRA with Otomo's son (and his artistic collaborator) Shohei Otomo, with them all laughing that the pages had art falling off, and they were desperately trying to attach them.
And here's a close-up scan of a panel from Taiyo Matsumoto's Tekkon Kinkreet, that shows the condition the pages were handed to me. Two of the blocks of laser-printed lettering have fallen off, and the pages have started to yellow. The book was subsequently completely relettered digitally in Japanese, for what it's worth. I'm REALLY curious to see what the new English language anniversary edition coming from VIZ this month looks like.
[DEB:] I got hold of an early preview copy of Tekkon Kinkreet 30th Anniversary Edition from VIZ and it is GORGEOUS. Makes a nice holiday gift — it hits stores at the end of November.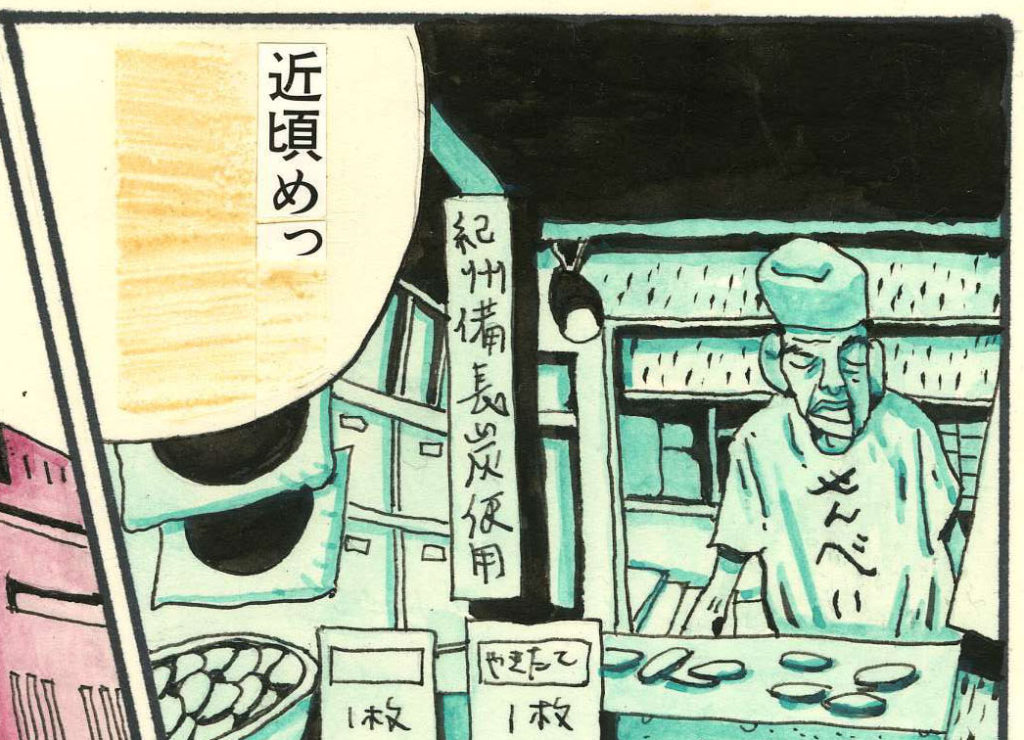 Guys, getting to hold original manga art is cool.
42:00   David mentions 100 Bullets, a fantastic series of short stories with a larger narrative that becomes more observable much later. I often wonder if it had stayed as short stories, if it would've found a different kind of long-term success in the market? As it is, it's done very well of course, but the larger plot that's revealed really changes the work in a big way.
42:53  Here's a quick look at the last page of "The Crab", and then the [second] page of "Master of the Willow Inn," to give you an idea at just how dramatically the style and feel of Tsuge's stories can change from one to the next.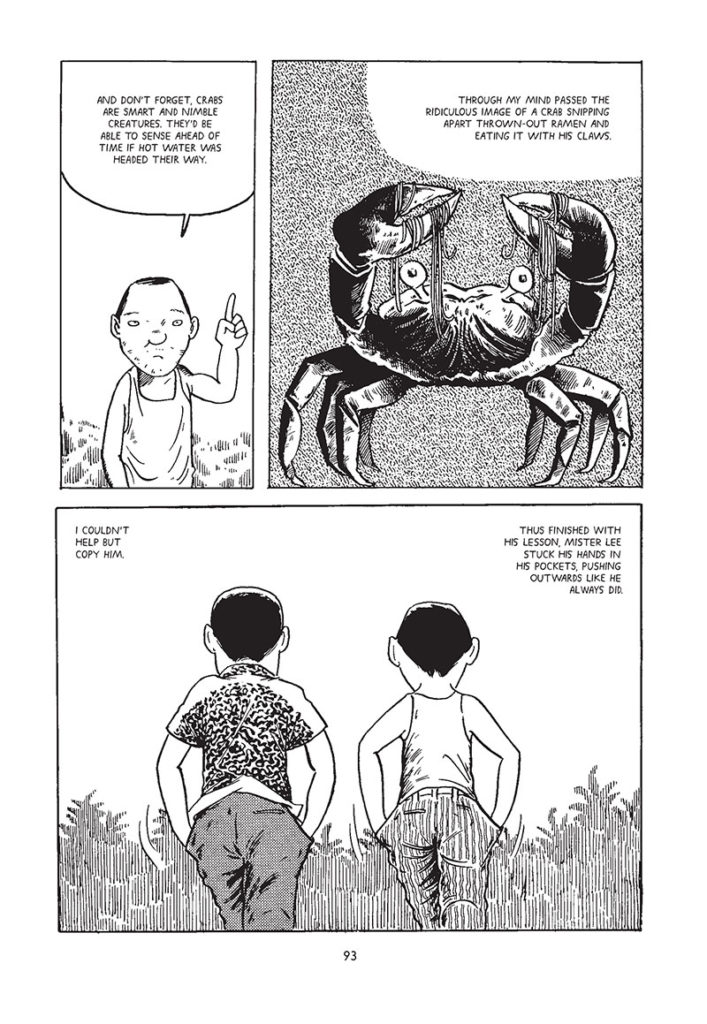 46:30  As mentioned, I put on the dramatic ballad, the theme from the 1965 film Abashiri Prison, to accompany my reading of 'Master of the Willow Inn'. It was a good idea. The film was directed by Teruo Ishii and starred Ken Takakura. It was maybe the first big hit yakuza film? Someone let David know.  
Worth noting that Abashiri Prison was the most northern prison in Japan, very remote and notoriously hard to escape from. Notoriously brutal. It's where the convicts with the maps tattooed on them in Golden Kamuy escaped from, for a bit of manga trivia. What remains of the original prison is now Japan's only prison museum (sort of like Alcatraz) but a brand new steel-and-concrete Abashiri Prison still exists.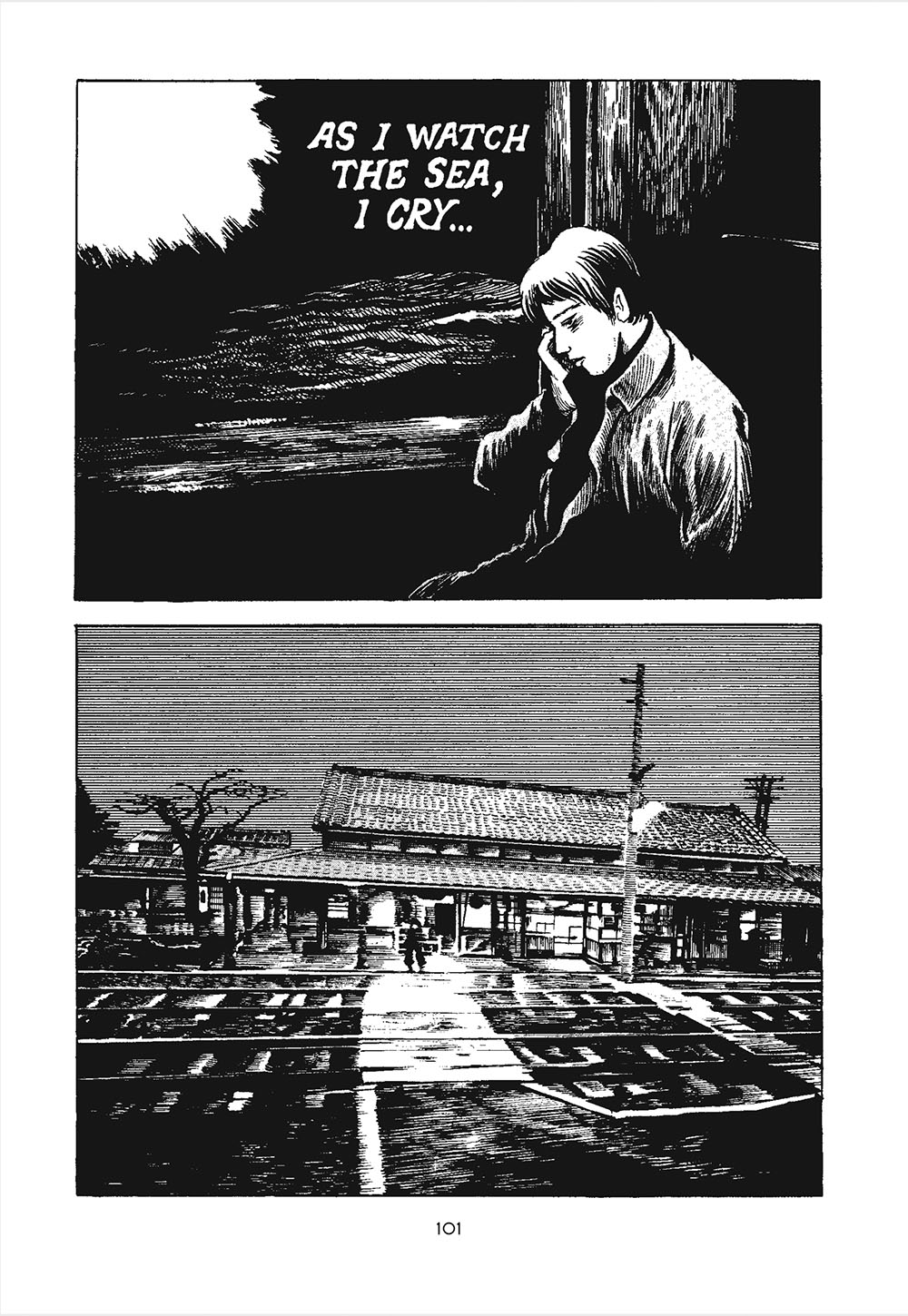 48:00 Cat's paws on your eyes feel cool? Maybe. Let us know in the comments.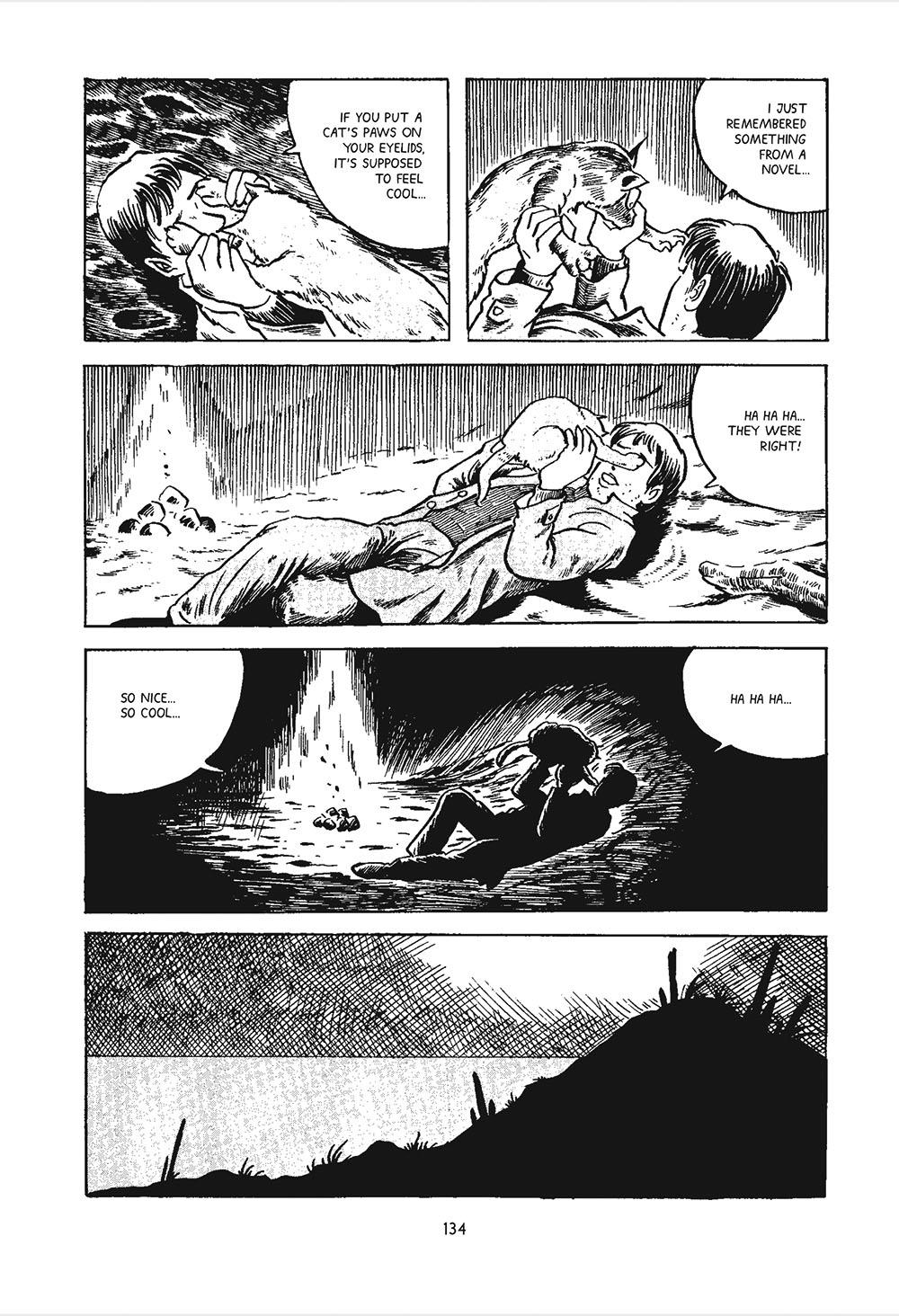 49:50  The Showa Era ran from December 25th, 1926, to January 7th, 1989, matching the period of the reign of Emperor Showa of Japan (usually called Emperor Hirohito in English). Despite the horror of WWII, the Showa Era is often remembered fondly in Japan with strong nostalgia sentiments, particularly the post-war rebuilding era, where Japan grew out of hard times and became a rich nation and a world economic leader. That feeling is encapsulated in a LOT of spaces in Japan. The very two first such examples I encountered in Japan were the Showa-themed mini theme park in DECKS mall on the island of Odaiba in Tokyo Bay: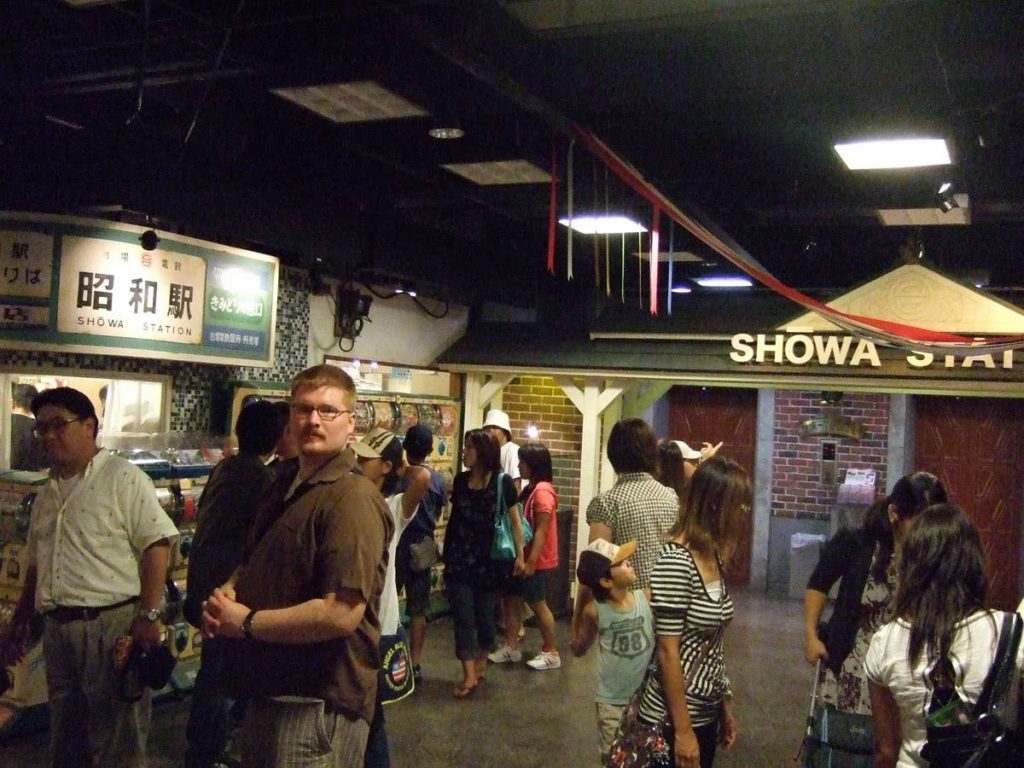 And then at the end of that trip, the Shin-Yokohama Ramen Museum has a recreation of a whole showa-era residential area, complete with trompe l'loeil sky!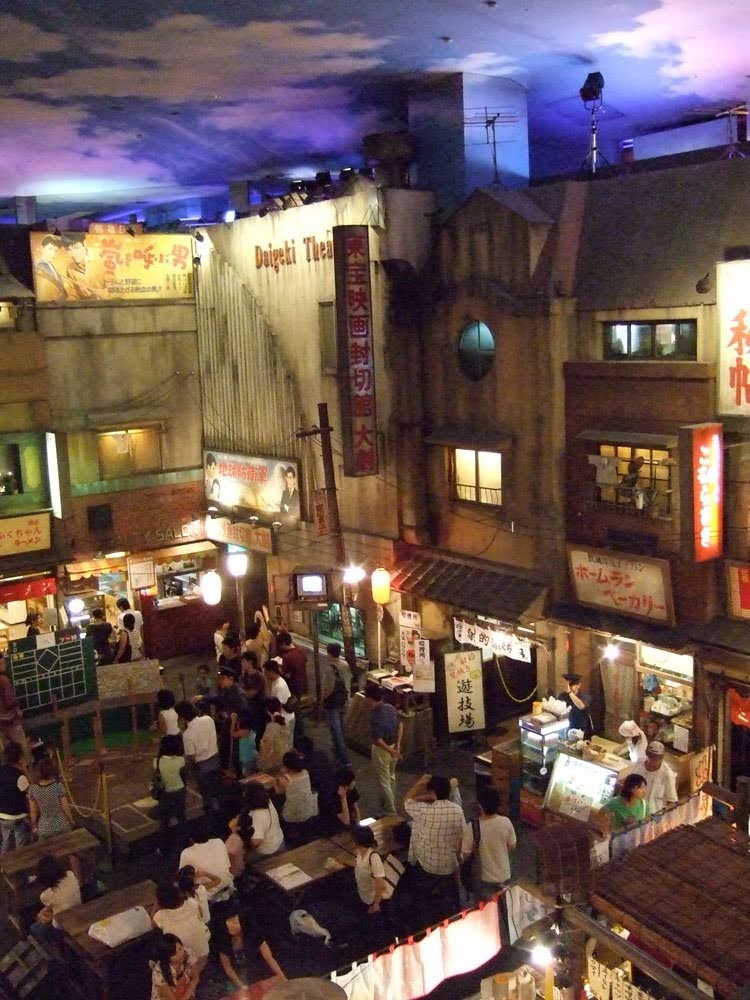 It used to be an old sento, a bathhouse. They converted it into a Ramen Museum and a place to sit and eat ramen from all over Japan. It's pretty great. Haven't been back to either location for a very long time, I'll let you know when I get there next if they're still around. Also, how cute is 2007 Andrew (my husband)? So cute. Still cute too. 🙂
51:00 David puts forth the idea that director Seijun Suzuki is similar to Tsuge. They're definitely peers working in the same time period, and a peer to R. Crumb as Deb mentions as well. Tsuge is definitely part of a larger cultural context of art work, and Holmberg's essay illuminates a lot of that. Here's a few trailers for Suzuki's work.
51:49 Yeah, I just had to show you that this magazine printed Tsuge's work, via page xlviii of Holmberg's essay, here's the cover of MODERN COMICS #1, the Magazine for Young people.
57:29 We mention our episode on the manga AJIN Demi-Human how interesting it was that the creator Gamon Sakurai credited all of his assistants, right down to the page.
59:15  Someone is out there doing the hard work of who-drew-what in Shigeru Mizuki's stories, fan-researcher Fukui Hiroaki, who can be found online (in Japanese) at https://twitter.com/37eWBvYBKB4hMhZ.
Ryan Holmberg included a few pages of comparison images in his essay, but I think you can probably just grab the book and check it out for yourself, if you're curious.
59:55 Deb then mentions Wally Wood, who had an exhibition at the same time as Tsuge in France, and how his pages showed evidence of some of his own demons, including pages that had been partly burned, and were rescued from the fire.
1:01:10  As mentioned in the last half of this episode, Tsuge's influence on manga and culture at large really was quite enormous. It was recognized at the time, in intervals afterwards, and again now in the present with Japanese and international reprints of his catalogue, ambassadorships, and career-spanning art shows.
For example: The Njishiki video game.
The Nejishiki Movie:
And "The Nejishiki Movie" is a misnomer, as (according to Wikipedia) Tsuge's work (including Nejishiki) has been adapted to multiple films and television shows. He's also widely parodied, including this sequence from comedy manga Sgt. Frog by Mine Yoshizaki.
1:05:30 David in his final thoughts mentions his favourite page is 103 showing a guy next to a train in the night, showing urban ennui. It's also one of the illustrations in the book that I liked the most, from what's probably my favorite overall story.
1:06:18 Chip's final thoughts? The usage and placement of the red/orange in the book is very good, page 12 specifically.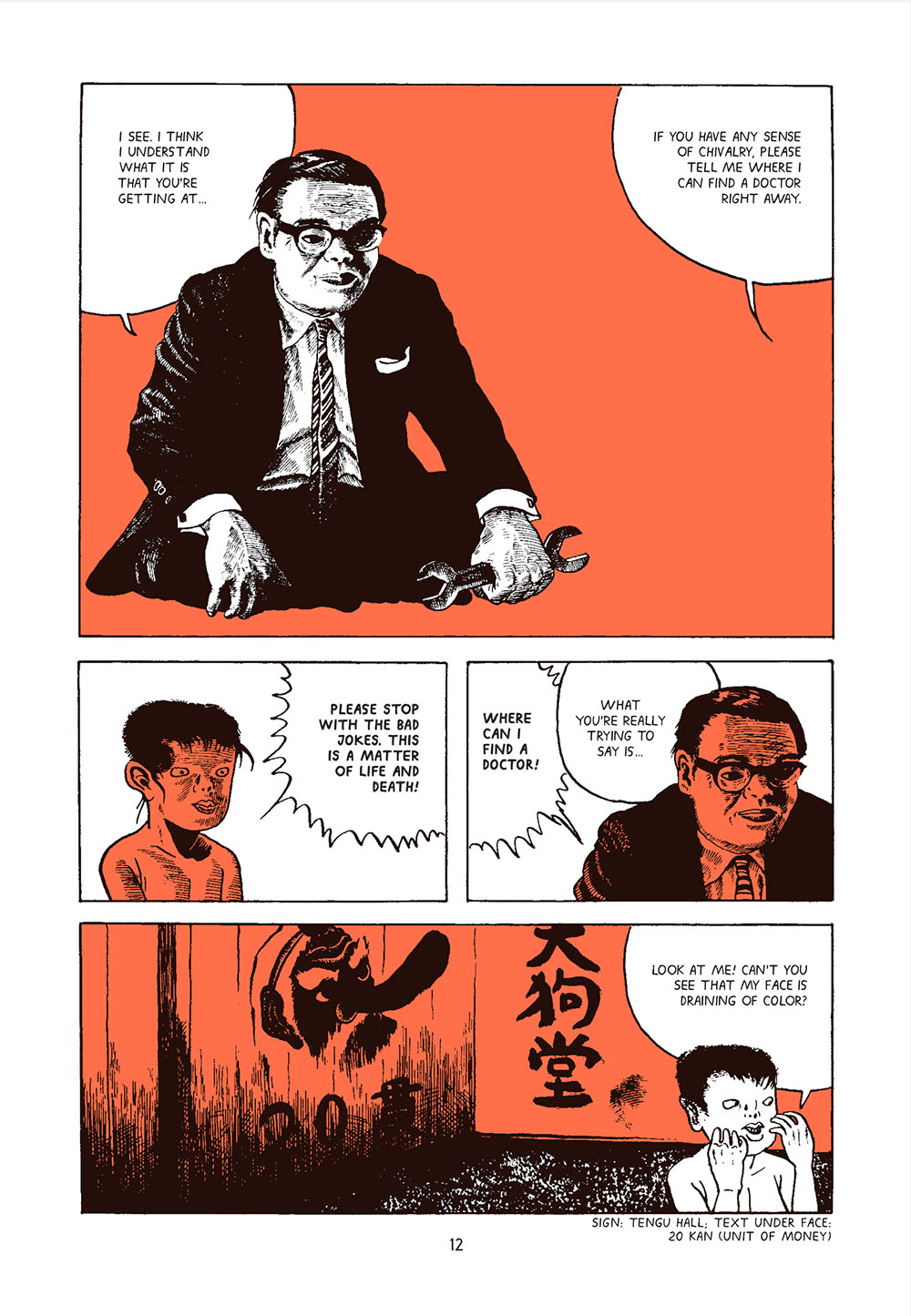 1:08:47  I mentioned the work of Yoshihiro Tatsumi here and throughout the show notes. Tatsumi-sensei's work in English includes the three short story collections The Push Man, Abandon The Old in Tokyo, and Good Bye, his memoir A Drifting Life, an example of his early gekiga Black Blizzard, and his last full work, the rakugo manga Fallen Words, all published by Drawn & Quarterly. I highly recommend seeking them out.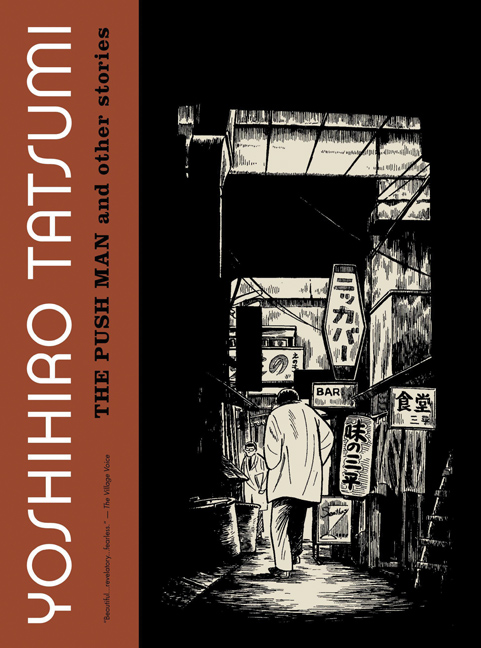 ---
1:10:27 THE BREAK
---
1:11:00  And now it's time for SHOUT OUTS!
CHRISTOPHER shouts out the new volume of What Did You Eat Yesterday? By Fumi Yoshinaga. It's so lovely and sweet and heartwarming. David mentions that Jocelyne shouted out the live action adaptation on episode 100 (these were recorded this August and very out of order). Christopher also discloses that he's doing some work for Kodansha, so please keep that in mind any time we cover a Kodansha book going forward.
Christopher will come back in a second to recommend Run Away With Me Girl Volumes 1-3 by Battan. Another Kodansha pick, and a very good and complicated lesbian romance series with really unique artwork. 
DAVID shouts out Taschen Basics, which are like bite-sized art history books with imagery. A great way to jump into different concepts, and broaden your horizons.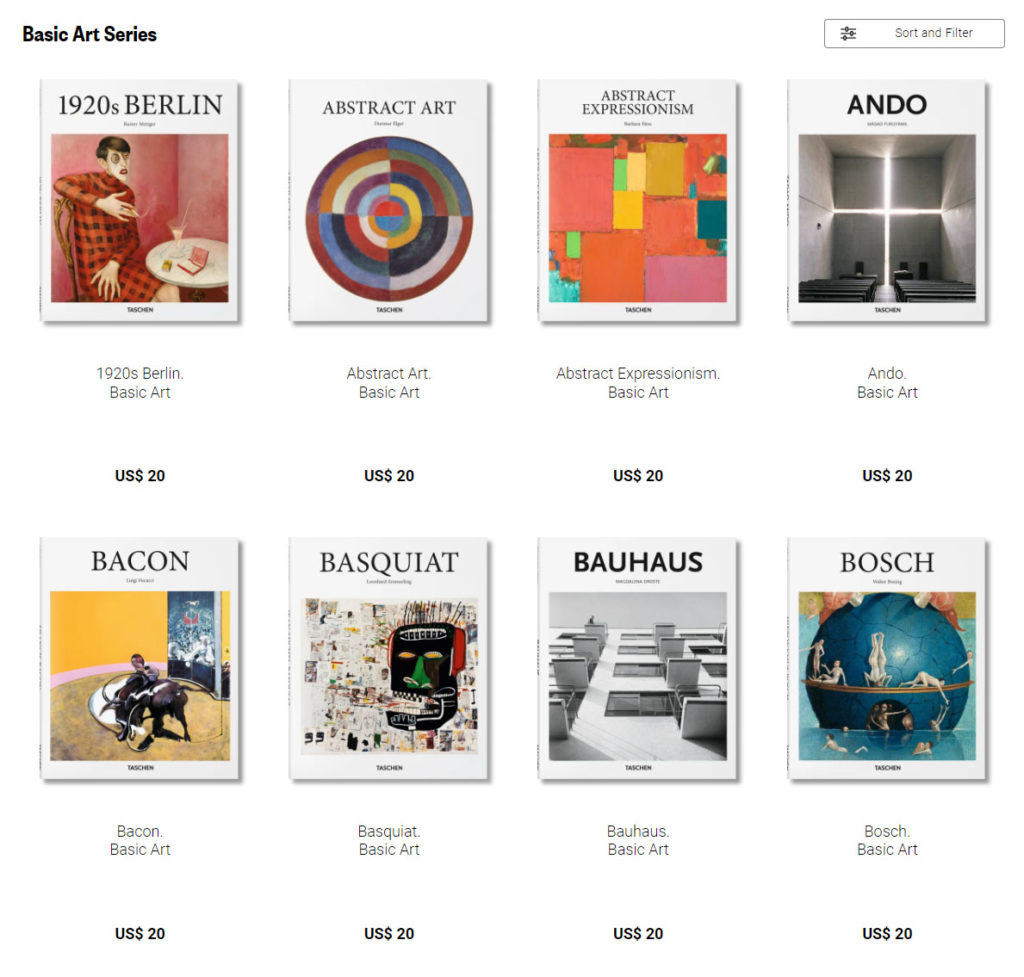 Christopher, on the theme of this week's episode of "No no no, you see, this is important. It's not JUST smut…" also recommends a few Taschen art books…
CHIP shouts out OKINAWA by Susumu Higa, translated by Jocelyne Allen and edited by Andrew Woodrow-Butcher. It's now available to buy wherever there are books, including Fantagraphics and Amazon.
"I don't make a dime off of this."

Chip Zdarsky
We shouted out Chip's Eisner nomination for his series Public Domain… But he actually won! And then his Eisner got damaged, which is kind of perfect.
Congratulations, Chip!
Finally, DEB shouts out Tata The Cat, a Webtoon by Suwan Kim and Suban Kim! You can read it too.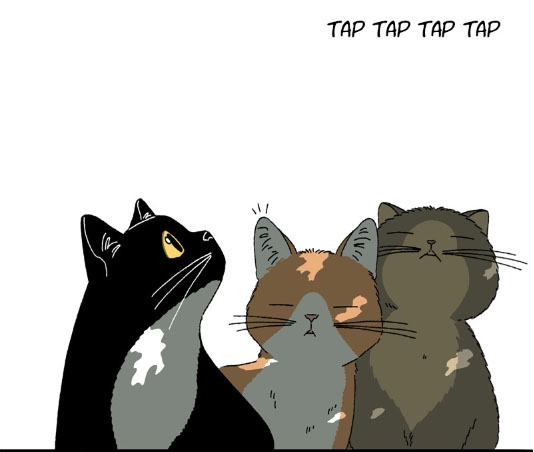 And that's this week in Mangasplaining! This episode is also available wherever you get your podcasts, so please subscribe and leave a review, so others can discover our show.
Also, if you'd like to get the latest episode delivered straight to your inbox along with exclusive interviews, articles and new chapters of manga you can't read anywhere else, subscribe to our Substack newsletter. See what you're missing at Mangasplaining Extra!
Next week on Mangasplaining:
Get ready for our episode on Cherry Magic: Thirty Years of Virginity Can Make You a Wizard?! by Yuu Toyota from Square Enix Manga & Books. Yup, we're going back to BL! Strap in.
Thanks so much for listening! Please support your local comic and manga specialty shop when purchasing these books, and you can find one near you at comicshoplocator.com. You can also check your local library for print and digital lending options, they have TONS of manga! Finally, thanks to D.A.D.S. for their musical accompaniment for this episode.
---