Episode 3: Mermaid Saga Vol.1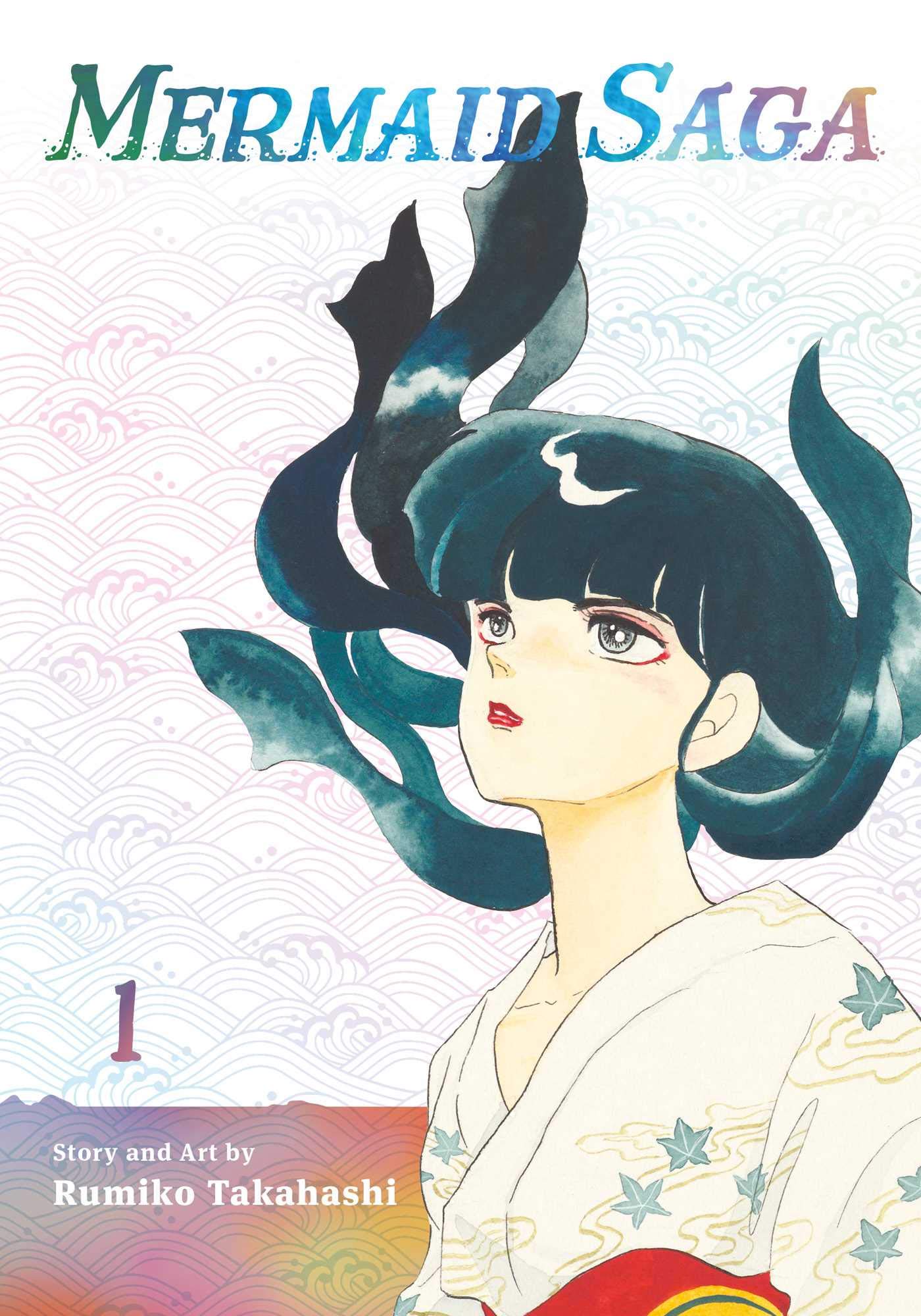 Episode 3 sees us tackle the work of the legendary manga creator Rumiko Takahashi, author of series including Inu-Yasha, Rin-Ne, Ranma 1/2, Urusei Yatsura, Maison Ikkoku, and even more! We delve into her horror series, Mermaid Saga, with these fancy new re-releases from VIZ Media. What will Chip think of this one…?
Powered by RedCircle
Mermaid Saga Volume 1 (of 2)
Japanese Title: 人魚シリーズ
By Rumiko Takahashi
Translated by Rachel Thorn
Lettered by Joanna Estep, Designed by Yukiko Whitley, Edited by Amy Yu
Published by VIZ Media (print and digital)
Disclosure: David is employed by VIZ Media, and both Deb and Christopher have done work for them in the past. None of us have been compensated in specific relation to this episode by VIZ. Or, anyone, frankly. 😉
00:00: Like David says, we made a slight recording snafu while recording this episode, and so we only got the "live" on-air audio, rather than the separated audio tracks in much higher quality, and that are much easier to edit. We're sorry about this! This is a learning experience for all of us involved, and so there are going to be missteps and mistakes along the way. Thanks for bearing with us!
01:00: It's Rumiko Takahashi week on Mangasplaining! Deb recommended this week's piece, Mermaid Saga, recently re-released by VIZ Media as two omnibus volumes. It's good stuff, and shorter than Takahashi-sensei's other titles, but also a bit different in tone with it's Horror/Drama/Thriller story construction. 
03:30: Ranma ½ is a longer manga series by Rumiko Takahashi, about Ranma, a 16 year old male martial arts student who, when doused with cold water, physically changes into a girl. His dad changes into a panda when splashed with cold water, and a whole host of other characters show up to challenge Ranma who also have been cursed with these funny transformations, and 36 volumes of hilarity ensue! It's a fun action-comedy, adapted into television anime, original animated shorts, and even animated feature-length movies (and tons of merch). It was the first title of many that have been released by Takahashi-sensei in English, all by VIZ. 
05:00: Nihao My Concubine is the English subtitle of the second Ranma ½ animated film. The first was Big Trouble in Nekonron China, both of which are parodies of other film titles.
05:20: If you're 'younger' or got into anime a little later than some of us *cough*, your first introduction to the work of Rumiko Takahashi might've been Inu Yasha, a LONG-running manga series and anime series which aired on international cable stations.
06:15: Here's an example of one of the Rumiko Takahashi pop-up cafes, this one based on her work Inu Yasha.
07:05: Kazuo Koike, the creator of Lone Wolf & Cub, instructed manga for many years. Rumiko Takahashi took a class by Koike, just before getting her professional start in manga. 
08:30: Kazuo Umezu is the 'god of horror manga' of Japan, and his English-language works are Drifting Classroom and Cat-Eyed Boy among others. As mentioned here, it is rumoured that Takahashi got her professional start as an assistant for Umezu also around the time of her professional debut – it's all over Japanese-language Google searches. She's also listed as an assistant on Umezu's English-language Wiki page. 
09:30: Urusei Yatsura is also getting a reprint right now from VIZ, and while working on this episode Christopher forgot that Ranma ½ is also being re-released in 2-in-1 volume editions. That's in addition to this Mermaid Saga re-release. Good year for new Rumiko Takahashi work!
10:15: Christopher got ahead of himself here and these show notes are probably going to be 2000 words or more. But, Mitsuru Adachi is the manga creator of the English-language series' Short Program and Cross Game. He's best known in Japan, though, for the teenage baseball manga Touch. He's criminally under-represented in English, and also, is Takahashi-sensei's 'sempai' or like 'big buddy' or 'senior artist', as the two are both serialized in the same manga magazine, Shonen Sunday, in Japan and are its two biggest stars.
10:30: Literally, Rumiko Takahashi was inducted into the Eisner Awards Hall Of Fame (finally) in 2018.
11:30: Weirdly she only shows up on SOME richest manga creator lists. And this is obviously unverified of course, but I'd believe it.
13:00: Spoilers: He liked it! A lot!
16:00: Stillwater is by Chip Zdarsky and Ramon Perez, published under the Skybound imprint of Image Comics. The first trade paperback collection releases at the end of March in comic and book stores everywhere. Find your closest comic book specialty shop at http://www.comicshoplocator.com. 
18:00: The Tezuka star system: Osamu Tezuka, the God of Manga and creator of Astro Boy (among thousands of other pages of comics) had a special way of creating his stories. Basically, he created "actors" who he would reuse in different stories, with them playing 'types', or sometimes creating extra drama among readers by having an actor play against type. It's really interesting. You can read a great in-depth explanation here.
19:00: Yup! And she walks away.
19:25: Rachel Thorn has been a manga translator for decades, and has a naturalistic adaptation style. Rachel's website is https://www.en.matt-thorn.com/.
21:10: Yeah, there's some not great reproduction in this volume, which is a shame because the black and white pages (without greytone) and the occasional colour pages are all GORGEOUS and well-reproduced. Grey washes are harder to scan from old print sources, and when your 'wash' colour is actually a colour like orange, it can be tough. Sadly we couldn't find any examples online of this series doing this, but here's an image of this part of the manga to show you what we're talking about, followed by a photo from a Japanese monthly manga magazine that shows one-colour washes.
23:20: Chip gets into a complex example of old-school printing and illustration technology, we just composite stuff digitally now. But yeah, it does look like Takahashi-sensei did some of these illustrations on manga paper, which give you a really clean, crisp line, and some of them on watercolour pages with washes of greys, which bleed a lot more, particularly if not printed well.
25:50: The "In The Air Tonight" scene from Miami Vice:
27:00: David talks about the language of manga, and uses "dialect" to distinguish the styles of different artists. This is a good way of thinking about reading manga and the difficulties you might encounter if you're new.
29:30: Collllld. Bloodshot is a movie based on the Valiant Comics character that was intended to launch a 'universe' of Valiant superhero films. It didn't do very well at the box office.
30:30: Mermaids are weird in the One Piece manga, and in Japanese mythology. If you wanna read more, here's a link.
31:30: Here's a photo Christopher took of those illustrations at the museum, I think these were from grownups, but suffice'd to say it's a theme.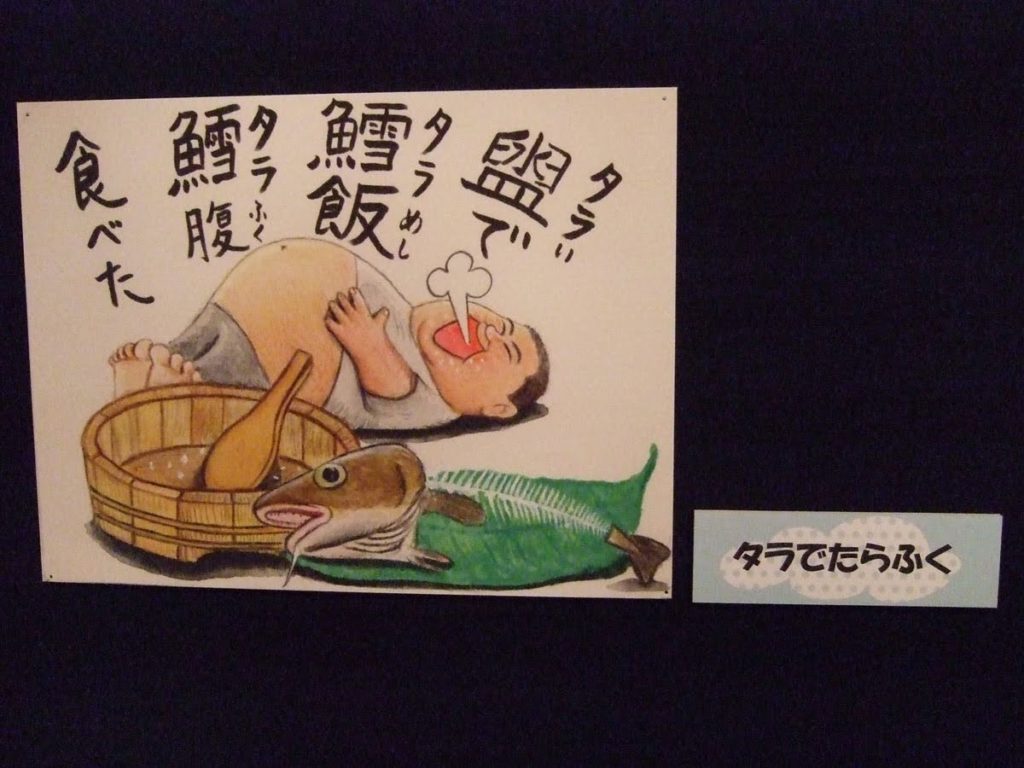 32:30: Image of the gross rotting mermaid under the tree. We mention it again in a few minutes.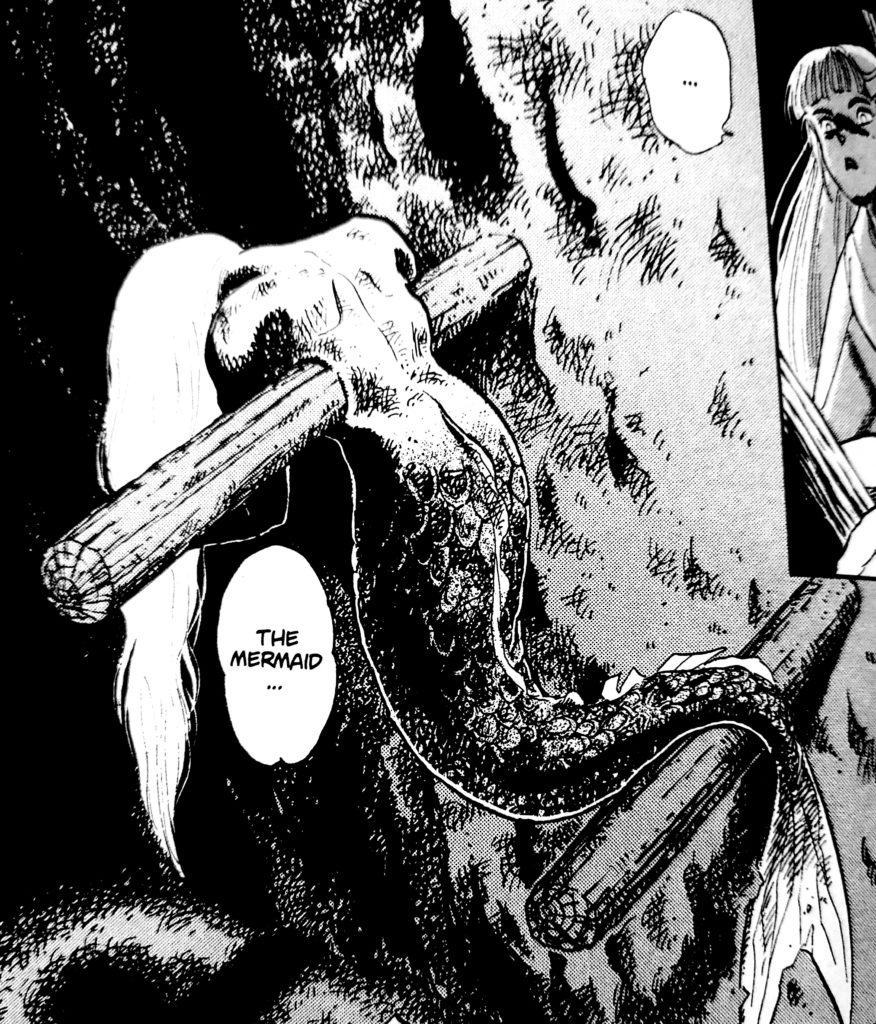 32:40: The rotting shark is from Iceland and called Hákarl. Deb is a champ for trying it.
37:00: He pulled a head of a boar! It's gruesome p 267!
38:55 Takahashi really is great as a caricaturist. p307 & 309
41:00: David was referring to Chris Claremont & Alan Davis' run on Excalibur, the British-set X-Men miniseries published by Marvel Comics in the 90s. Here's an image, and then an image from Rob Liefeld just afterwards to show you what we mean by timeless and dated in this instance. 
42:40: Manga Vizion. An early attempt by VIZ Media to replicate the Japanese 'anthology manga-zine' style of manga publishing in North America. 
44:00: This will pop up a lot as we keep going: "shonen" magazines, or "boys'" comic magazines, and how those genres/audiences in Japan are blurring quite a bit, and often disappear entirely in North America. 
45:20: "A Girl is a Girl" is a great line, but the line from Ranma 1/2 that David cites is such a good one too, and sets up the major conflict at the heart of that series too.
46:00: There is nudity in this book! Sometimes it's real gross though, watch out.
47:15: Second X-Men reference! Malice is a character that lives in a necklace and makes people bondage-y in 80s and 90s X-Men comics. https://x-men.fandom.com/wiki/Malice 
49:00: Some of Takahashi-sensei's work early in her career, including her hit Maison Ikkoku, ran in the seinen manga magazine Big Comic Spirits, published by Shogakukan in Japan. However, subsequently almost all of her work has appeared in the magazine Shonen Sunday, also published by Shogakukan. In Japan, gruesome monster violence and a few non-sexualized boobs here and there aren't the end of the world when it comes to manga. In North America, this was rated 'seinen' basically. If we ever read Drifting Classroom by Kazuo Umezu, we'll talk more about what makes horror comics acceptable in Japanese children's magazines.
51:00: Chip is referencing Goosebumps by R.L. Stine, inappropriately, here. There's no video, yet. 😉
51:20: We're talking about the original Dragon Ball manga by Akira Toriyama.
53:00: Christopher is referencing Jujutsu Kaisen, the anime based on the manga by Gege Akutami, and this particular fight scene that BROKE THE ANIME INTERNET:
53:15: David is talking about one of his favourite manga, Vagabond, by Takehiko Inoue, published by VIZ Media. A fictionalized retelling of the life of Japanese swordsman Musashi Miyamoto, it has some of the most beautiful art in manga. Here's a few nice pieces from that. This is a great series that we're thinking about reading, but it's REALLY LONG, and the first few volumes are pretty slow, so it's not the best manga to recommend to someone who isn't 100% committed to reading it. 
54:30: Mermaid Saga was published under a couple of different names in North America, including Mermaid Forest and Mermaid Scar. Saga/Series as David mentions a few minutes later is sort of the container name for all of the 'Mermaid' stories. Two of the stories from across the series' run were adapted into animation, in a format called "OVA" or Original Video Animation. It's basically the Japanese equivalent of "Straight to DVD" releases in the west, but without the negative connotations as the short length, 30-40 minutes, usually meant a much higher budget and animation quality. There isn't currently a legal way to watch this anime so far as we can tell, it might be a victim of its age (released in 1991) and no remastering. If you're really curious we might've seen it floating around YouTube while doing research for this episode…
55:40: It wasn't planned, we swear… -___-;
56:00: It's also available at your local library…! Probably!
57:15: That photo of Rumiko Takahashi that David mentions is great. It's taken from an interview with her celebrating her 35th anniversary as a manga creator on Comics Natalie, a Japanese manga website.
57:30: These images of Sailor Moon creator Naoko Takeuchi and her Porsche are pretty dang great too.
57:52: BREAK: We took a break a bit earlier due to the recording problems.
58:45: Horror manga! You can't talk about horror manga without talking about Junji Ito, and surprisingly it took nearly an hour to mention him. Don't worry, we'll get to him eventually, he's THE name in Japanese horror manga.
1:01:00: And it's time for this week's recommendations!
David recommends Wave, Listen To Me!, by Hiroki Samura, published by Kodansha. 
Christopher recommends Paradise Kiss, by Ai Yazawa, published by Kodansha. He goes on for a while about that one and doesn't mention what the book is about. He gets better about this in future episodes. 
Deb recommends Vagabond creator Takehiko Inoue's OTHER current series, Real, published by VIZ Media, about wheelchair basketball. 
And we go with Wave, Listen To Me! Check the full schedule for upcoming titles below below.
This week we have shout-outs too!
Deb shouts out the manga F, by Rokuda Noboru, pretty old-school seinen manga about Formula 1 racing.
David shouts out Jamila Rowser's 'Black Josei Press.' They're currently running a Kickstarter for their next book, The Saddest Angriest Black Girl In Town, go check it out and please consider supporting it.
Chris shouts out Midnight Diner on Netflix, and Deb chimes in with 'Just One Cookbook's' series of articles where you can learn to make the food from the show.
Chip shouts out hit Canadian TV Series Kim's Convenience. Available on Netflix for our international friends.
—
And that's the episode! Future episodes will release weekly, technical issues notwithstanding. Our next three books are: :
Episode 4: Helter Skelter, by Kyoko Okazaku. March 9th
Episode 5: What The Font?!, by Kuniichi Ashiya. March 16th
Episode 6: Wave, Listen to Me!, by Hiroaki Samura. March 23rd.
All 3 are available in print and digitally wherever books are sold.
Those links again are:
Comicshoplocator.com
D.A.D.S. on Spotify
Thanks for listening!