Ep. 41: Golden Kamuy Vol. 1, by Satoru Noda

Get ready to get rugged, as the Mangasplaining team heads north… and back in time!… to the colonization of Hokkaido, Japan at the end of the 1800s. It's Satoru Noda's historical, informational, action-filled, occasionally homoerotic, EPIC manga Golden Kamuy!
Powered by RedCircle
In this Episode:
00:00 Golden Kamuy vol. 1
52:30 The Break
53:00 Reader Q&A: What is our opinion on translating Japanese honorifics in manga?
1:02:40 Shout-outs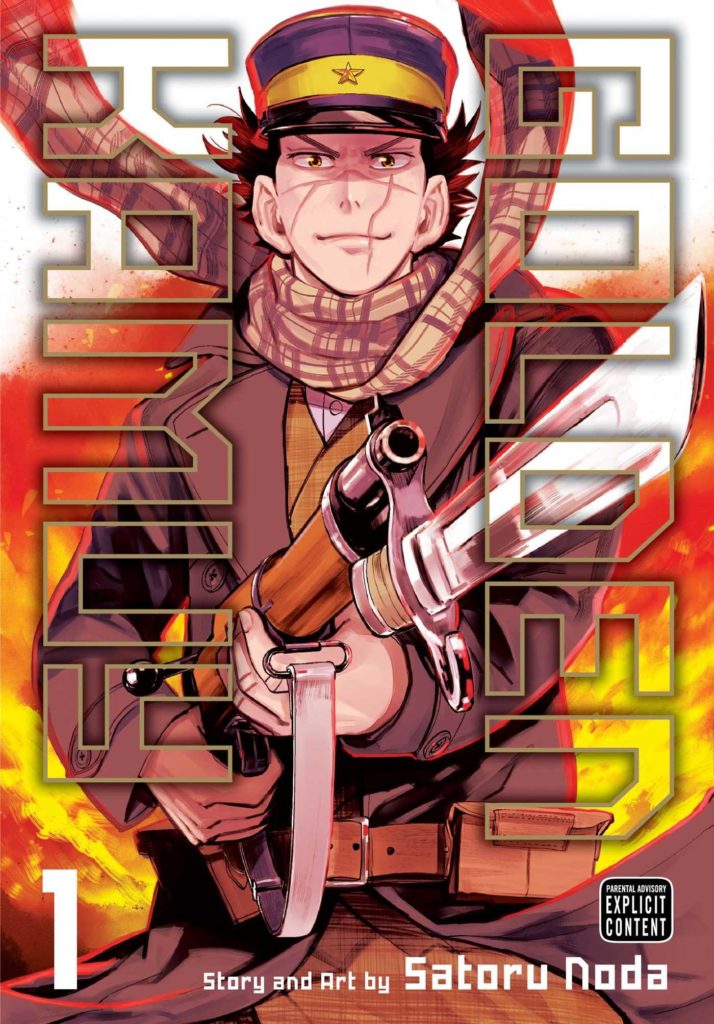 Golden Kamuy Volume 1
By Satoru Noda
Translated by Eiji Yasuda
Touch-up Art & Lettering by Steve Dutro
Design by Izumi Evers
Editor Mike Montesa
Ainu Language Supervision by Hiroshi Nakagawa
Published by VIZ Media (Print/Digital)
Show notes by Christopher Butcher and Deb Aoki. Audio editing by David Brothers.
TW: Gruesome imagery and some NSFW content this episode.
00:00 Before you get started: Golden Kamuy is a series that I like so much (Hi, it's Christopher!) that I actually buy the physical releases. That said, the series is also available digitally by volume on the VIZ site and everywhere else, but the first 231 chapters(!) are currently available free with a Shonen Jump subscription right now!
Since we've done two Shonen Jump exclusive stories this season already, you might have a subscription already, making this a nice free add-on for you! It also means you can just like, keep going if you like it. Buy physical books and support brick-and-mortar retail when you can, but maybe sample digitally when it's cheap or free (and legal!). Speaking of, even without a subscription, the first three chapters of Golden Kamuy are free to read on the VIZ website with an account (Tho adult-oriented stuff like Golden Kamuy will require that you sign up for a free VIZ Media account, sign in AND be over 18 years old before you can start reading.)
Also, here's a whole biography of Satoru Noda, which I clearly did not write/read before I started this episode, sadly. Sigh, learn by doing. Apologies for the misinformation at 32:10, and next time I promise to read the whole Wiki, as well as a bunch of (awesome!) interviews before hosting the episode.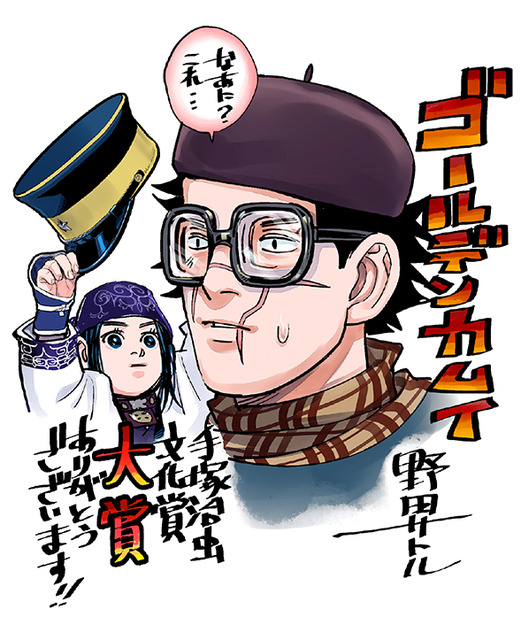 Satoru Noda was born in Kitahiroshima, Hokkaido, Japan. His great-grandfather was a military settler in Hokkaido and veteran of the Russo-Japanese War. In fact, the protagonist of Golden Kamuy, Sugimoto Saichi, is actually named for his grandfather! (That woulda been a good tidbit to share during the podcast itself, eh?)
Noda worked as a manga assistant for 10 years before making his debut. He was an assistant to the manga creator Mitsurou Kubo, who wrote Yuri on Ice(!), and created the grown-up romantic comedy/drama manga Moteki and time-slip sports series Again!!, published in English by Kodansha. I don't know that it's actually 'rare' to have a shonen/seinen mangaka apprentice under a shoujo mangaka, but it's at least notable, especially given her pedigree and the fact that Noda would go on to make a manga about ice skating.
[Deb:] Butting in here with an annoying "Well, actually…" – While Mitsurou Kubo's big anime hit Yuri on Ice is full of BL-friendly romance, her manga Moteki, which was about a 20-something single guy hitting his once-in-a-lifetime prime time as a guy that gals want to date was originally published in Evening, a seinen manga magazine. Again!! was serialized in Weekly Shonen Magazine, and it's about a loner guy who graduated from high school realizing that he wasted the best years of his teenage life by… well, not participating in clubs or making friends along the way. He then gets the chance to go back in time and do things differently, including joining his school's cheerleading squad. So yeah. Neither are shojo manga. Sorry. I'll force these guys to read more shojo manga in Season 3. Back to Chris!
He also worked as an assistant under the veteran manga creator Yasuyuki Kunimoto, who sadly passed away in 2018. Noda-sensei doesn't make many (if any?) public appearances, and it looks like all of the photos of him online are actually of his editor, Ookuma Hakkou, who accepted an award on his behalf one time. Instead, he'll either draw Sugimoto in his stead, or the serial killer character Henmi from volume 4… which is… a choice.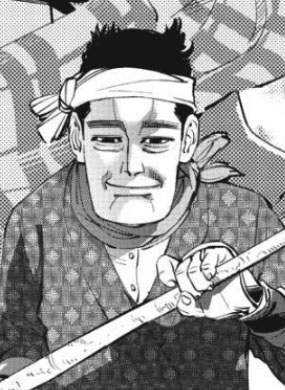 Noda's debut work was a one-shot called "Gorey Only Faces the Front," which won the 54th Chiba Tetsuya Award Grand Prize, which is pretty darned prestigious! (Tetsuya Chiba is the illustrator of the beloved classic boxing manga Ashita no Joe, btw.) His full professional debut was with the ice hockey manga Spinamarada!, which ran for 7 volumes and is almost guaranteed never to be translated to English.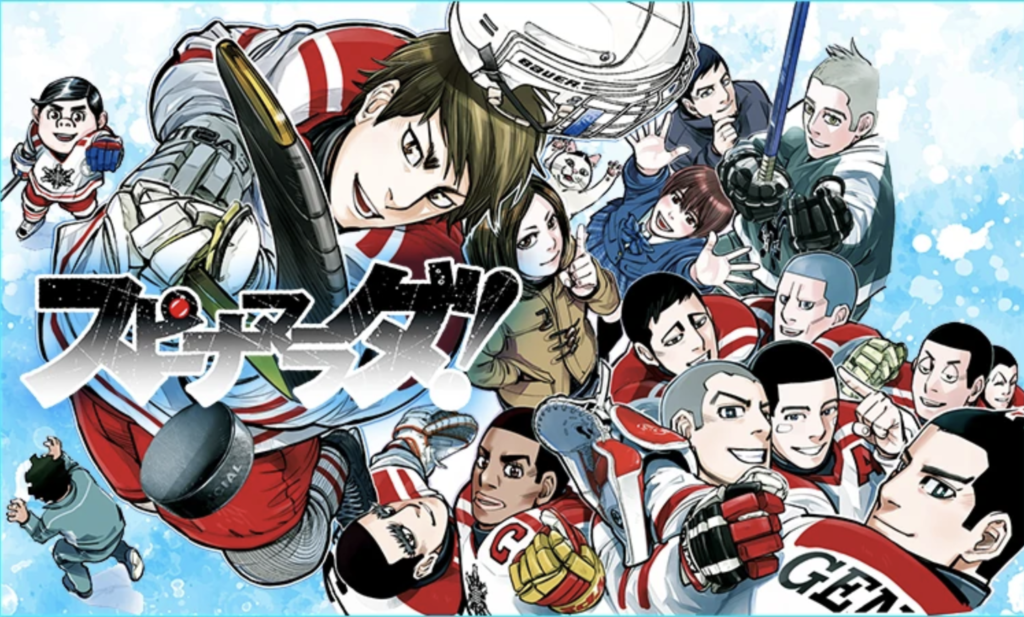 His second series is Golden Kamuy, which currently sits at 27 volumes in Japan, with more to come as it barrels towards its conclusion. Drawing on his history and life in Hokkaido, the series has become phenomenally popular, winning many awards including the 22nd Osamu Tezuka Culture Award Grand Prize for manga and the Manga Taisho in 2016. Golden Kamuy was also adapted into a 3-season anime (streaming now on Crunchyroll), and the characters are frequently used to promote various events and institutions in Hokkaido, becoming a very public face for the prefecture.
Satoru Noda ran a blog until 2016, and regularly posts on Twitter.
Satoru Noda is left-handed, information which is only in his Japanese Wikipedia bio for some reason.
1:00 So what's Golden Kamuy all about? From VIZ:
"In the early twentieth century, Russo-Japanese War veteran Saichi "Immortal" Sugimoto scratches out a meager existence during the postwar gold rush in the wilderness of Hokkaido. When he stumbles across a map to a fortune in hidden Ainu gold, he sets off on a treacherous quest to find it. But Sugimoto is not the only interested party, and everyone who knows about the gold will kill to possess it! Faced with the harsh conditions of the northern wilderness, ruthless criminals and rogue Japanese soldiers, Sugimoto will need all his skills and luck—and the help of an Ainu girl named Asirpa—to survive."

– VIZ Media
3:10 So the Saving Private Ryan opening of this series is pretty vicious, but at only 6 pages, the squeamish don't have to deal with too much blood and gore… (that comes later).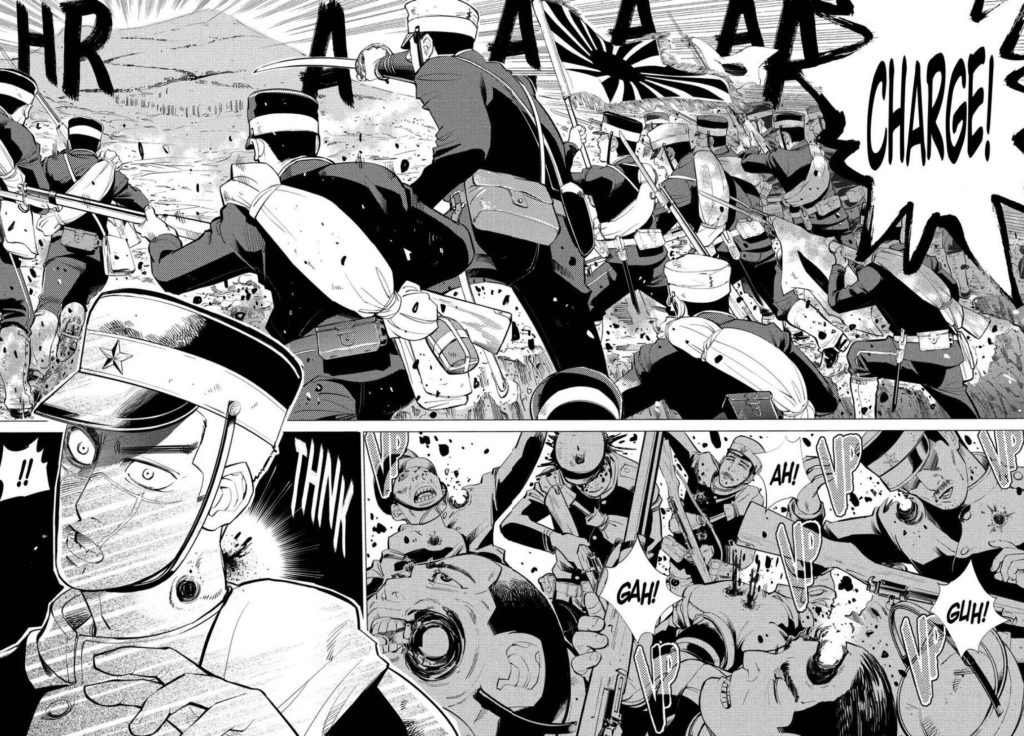 4:55 I didn't want to derail David here, but I don't think of Alan Moore's League of Extraordinary Gentlemen as 'elevated' so much as 'complex'. Like, I don't think it's aiming for high art, it's pretty low-brow (and filthy) at times, and I think that could be a whole conversation and this isn't AlanMooreSplaining. I know David has a lotta thoughts on Moore's work.
7:20 Lotta bits about eating bits of animals. This is the part that isn't for the squeamish.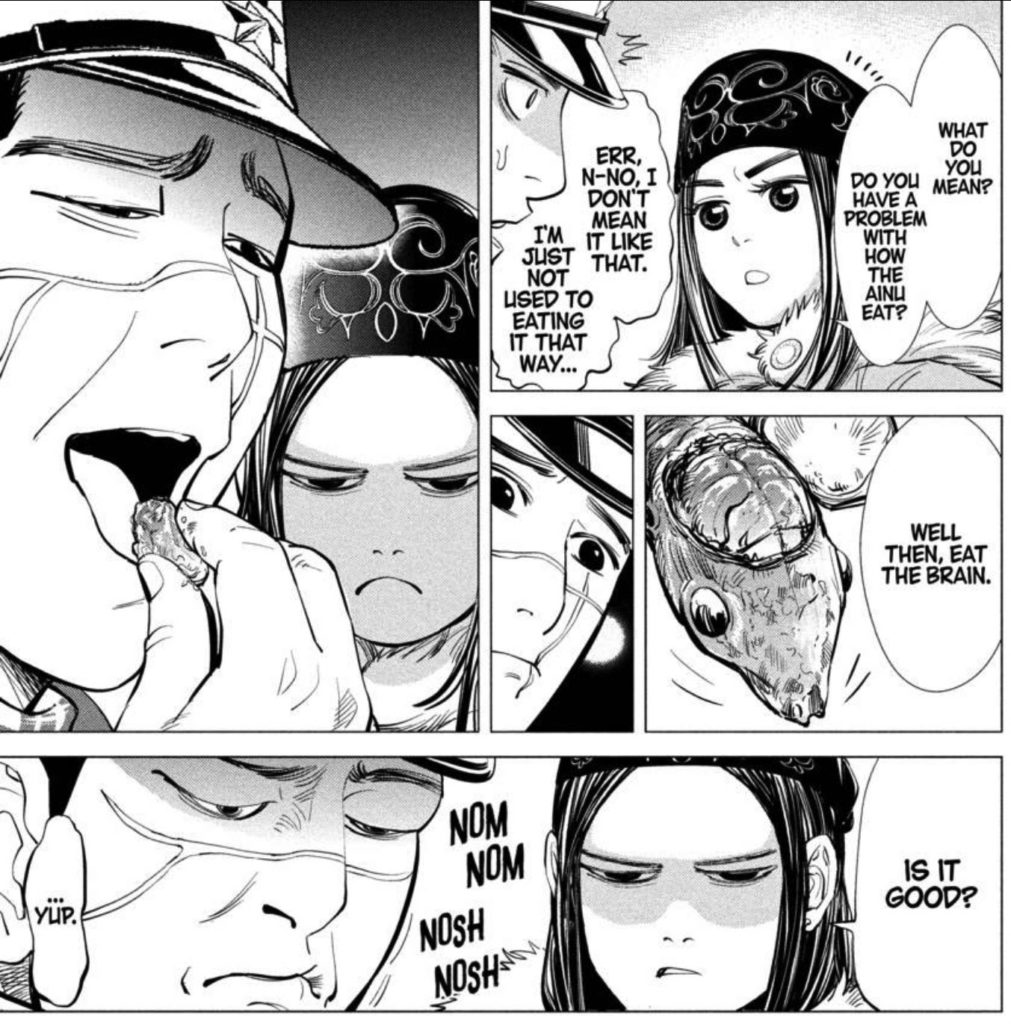 Also, heh, this is a HILARIOUS bit to include in the book, when this is next image is the title page for this chapter: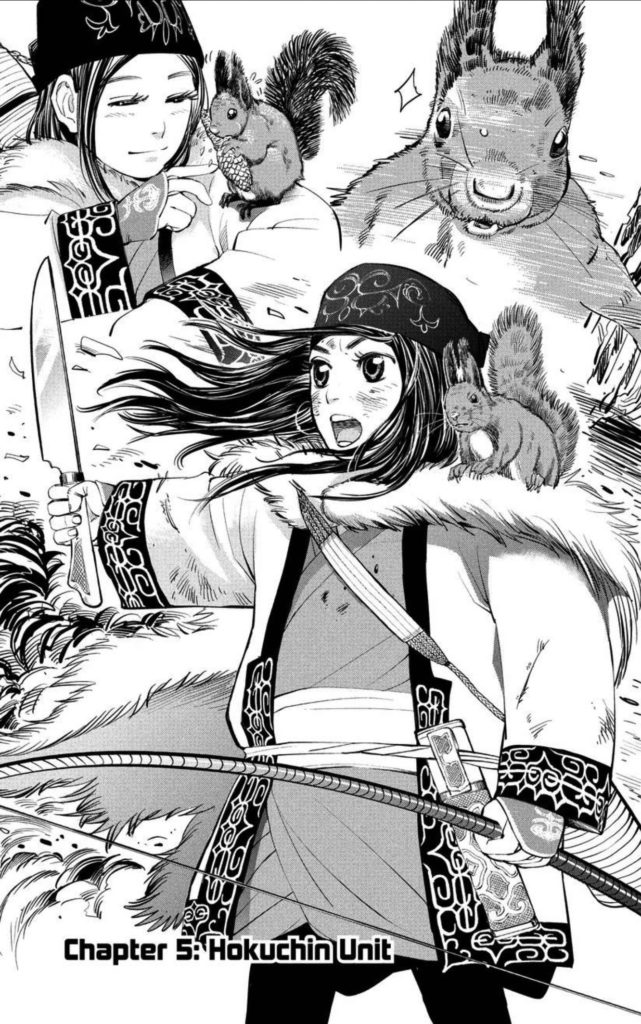 Like, sure, Asirpa does seem to be a bit 'Pocahontas' at times in the first book, but I think Noda-sensei took great care to deliberately undermine that stereotype of an indigenous character, all "Nausicaa with her forest animal on her shoulder" or whatever in the title page, and then have her skin and eat it in a very deliberate, traditional way 10 pages later. This title page might just be the darkest joke in the whole book, when you take a step back and think about it… and I'm definitely here for it.
8:00 Shout out again this week to our friend Brigid Alverson, manga reviewer and journalist extraordinaire. https://twitter.com/brigidalverson
8:05 So in this anecdote, the manga I was mentioning is Showa, by Shigeru Mizuki, published by Drawn & Quarterly. It's an illustrated history of Japan in the 20th Century (the 'Showa' era, covering 1926-1989) told by a manga creator who experienced the Showa Era first hand in these four hefty volumes. It's a great series, but it's pretty clearly not for everyone.
8:20 Brigid was talking about how much she liked the Shonen Jump manga Nisekoi: False Love, which I thought was just basic trash. Heh. We had words! But I think we were both right and both wrong, in that we both read manga for different things. Anyway, Nisekoi by Naoshi Komi is a harem manga that ran for 25 volumes from Shonen Jump, is mostly out of print at the moment, but available digitally.
9:40 One of the big pieces I read to get ready for this episode was the interview between Golden Kamuy's Satoru Noda, and Vinland Saga's Makoto Yukimura. Originally run in Japanese, the Golden Kamuy fan-site Golden Kamuy Central translated the whole thing, and it's a really fun read… and particularly relevant given that we covered Vinland Saga just last week!
Here's that quote I read:
It's funny, because Noda-sensei grew up in Hokkaido (though he moved to Tokyo at age 23 to make manga) and one of the most famous gay manga-ka in the world is Jiraiya, who lives in Hokkaido. Some of his work has been published in English in the MASSIVE anthology, by MASSIVE/Fantagraphics (coming back to print in 2022!) Why, Jiraiya is even known for making big, hairy, rough and cool men of all ages. Like this: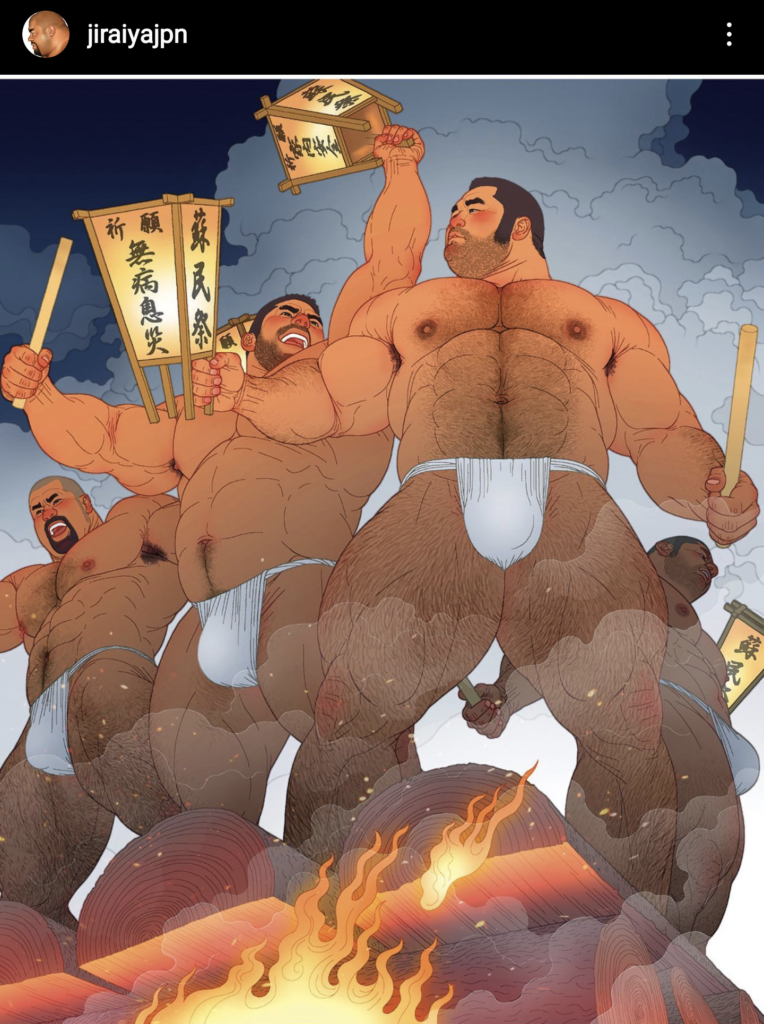 I bet Noda-sensei would approve. Follow Jiraiya at instagram.com/JiraiyaJPN
Here's that second quote from Noda-sensei, talking about the artistic quality of Vinland Saga.
Because Golden Kamuy is published weekly, I'm always thinking of reducing the "calorie" of the drawings and how to do it reasonably, and so it's difficult to unify the balance of the drawings throughout the work. But even with a monthly schedule, it's totally hard to draw something like Vinland Saga. Yukimura-sensei's drawing skills make it possible, but in addition to that I feel that he's working in very close relationship with his assistants.

Satoru Noda
[Deb:] Here's the scene where "Escape King" Shiraishi breaks in, and from here on, Noda-sensei recycles this drawing of Shiraishi's head in… interesting ways.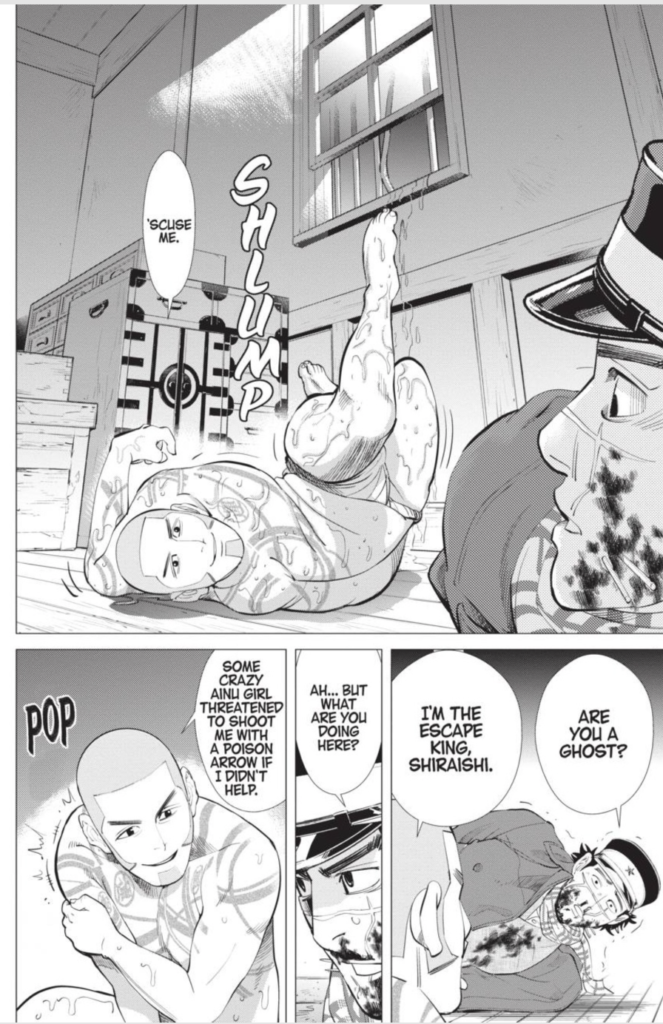 12:50 Here's that Asirpa and Shiraishi whack-a-mole scene from end of volume 3. We should probably note that this is a dream sequence, but it's still hilarious.
14:00 As Deb mentions, Asirpa's "I don't want to eat that," faces are very, very good. They make a great first appearance in volume 3, and then continue throughout the series. I will definitely be cropping some of these into Instagram posts.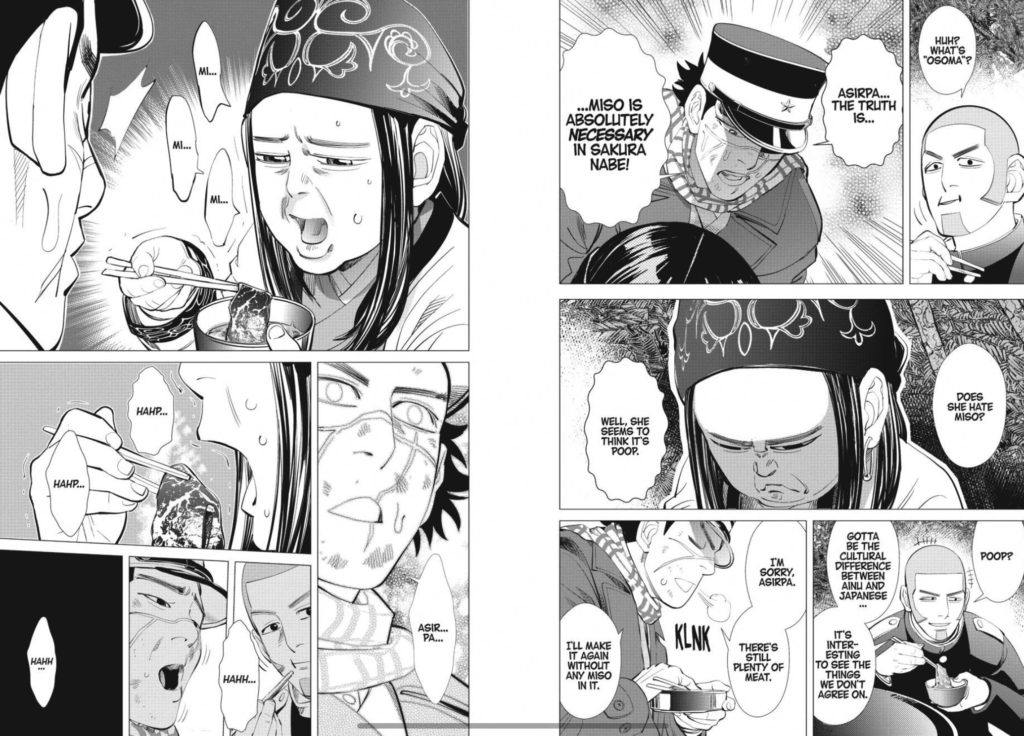 14:45 "I kinda wish I kept reading to volume 3," says Chip, who also bitterly complains when he has to read more than a regular single-volume manga. Listening to this again, I'd say that's a better compliment than if he'd actually really liked the first volume. I'll let that thought warm me, as I cry myself to sleep again tonight.
No, for real though, this was my fault — I should've suggested volumes 1-3. Ah well, live and learn.
16:00 The bit with hypothermia at the end of volume 1 is a favourite of basically the whole team. In a bit, I bring up the an interview I read with Noda-sensei's editor. In it, he mentions that since the publication of this chapter, Shiraishi has basically topped the 'character popularity charts' for the series. I think in more ways than one, this chapter marks a turning point for Golden Kamuy, and it kicks into a very high gear after this.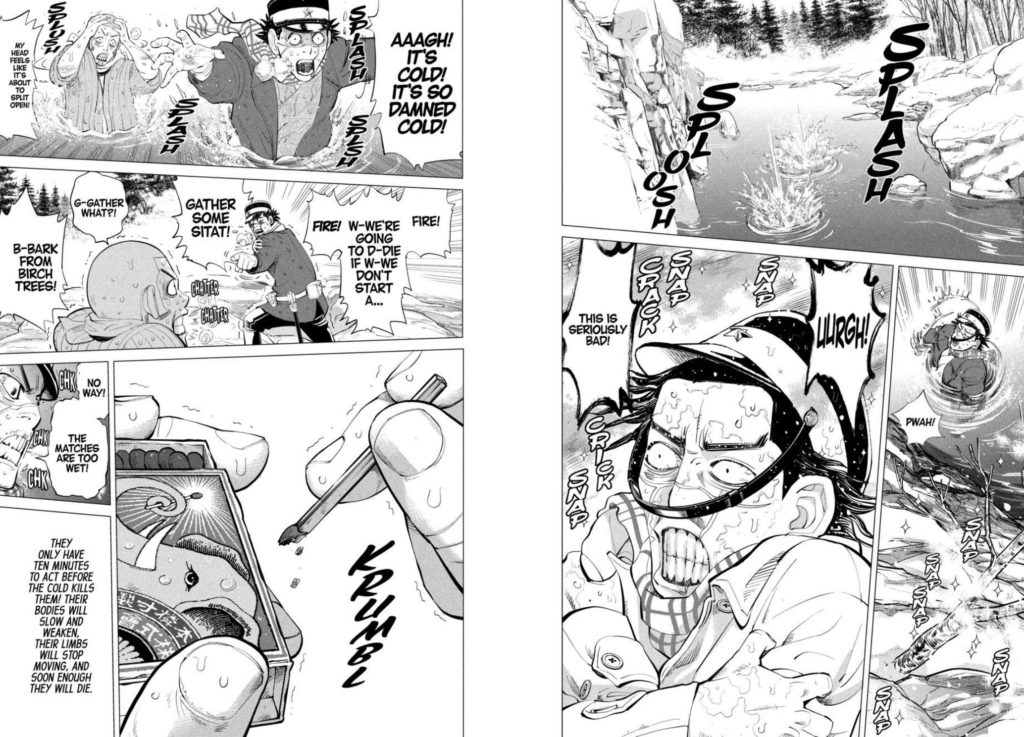 [Deb:] These chapter title pages featuring Sugimoto, Asirpa and Shiraishi and their 'gear' pretty much sums up their personalities. Waiting for chapter 27 to make this joke pay off is pretty genius.
Meanwhile, as David says, this slapstick comedy intertwined with actual high stakes survival gives way to some truly chilling violence on the following spread, page 180, and it shows that this series is really mixing in a looooot of different vibes.
20:50 "Dick Tracy villains" is such an apt comparison, not only with the characters already introduced by the many, many escaped convicts that make up the series as it goes forward. No spoilers though, but each new escapee is like a beautiful, unique snowflake of absurdity and violence.
28:20 I was gesturing towards "Hulk smash Freddie Prinz Jr." from The Ultimates by Mark Millar and Bryan Hitch with my comments here.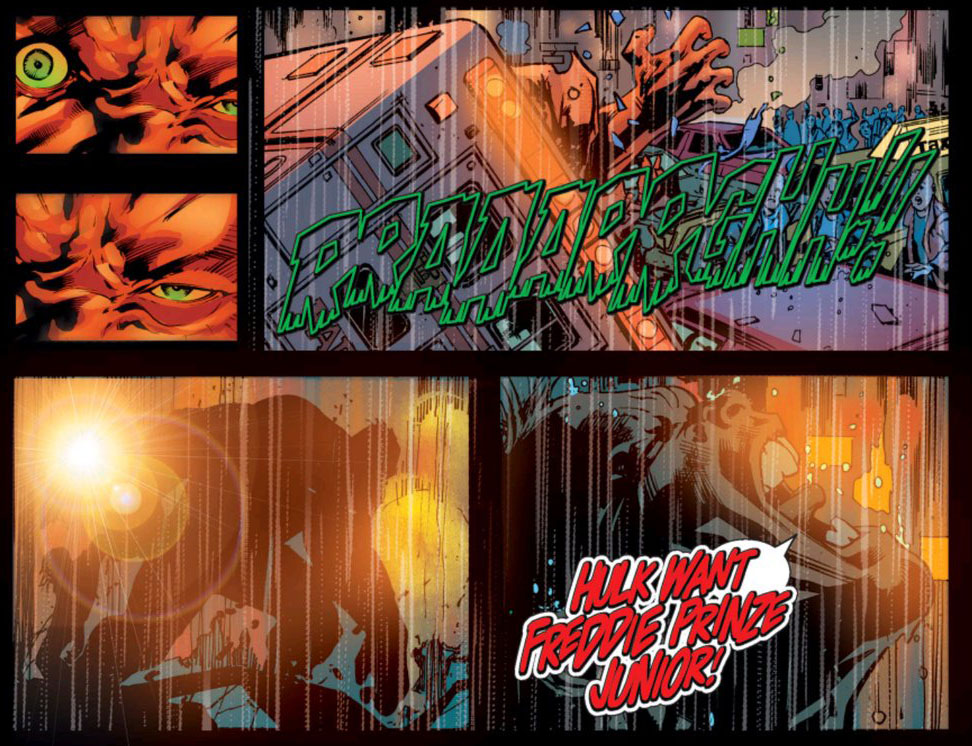 31:20 So I mention the excellent Hokkaido Museum here, which you can find at https://www.hm.pref.hokkaido.lg.jp/. I learned a lot, and really enjoyed my visit. I'd go again with the Mangasplaining team for sure, especially after we read some more Golden Kamuy at some point. However, since my last visit to Sapporo, the National Ainu Museum has opened in Hokkaido, about an hour by train from Sapporo. The next time I can get to Japan, I'm definitely going to visit! You can find it online at https://nam.go.jp/.
Meanwhile, here's me sitting on a bear at the Hokkaido Museum.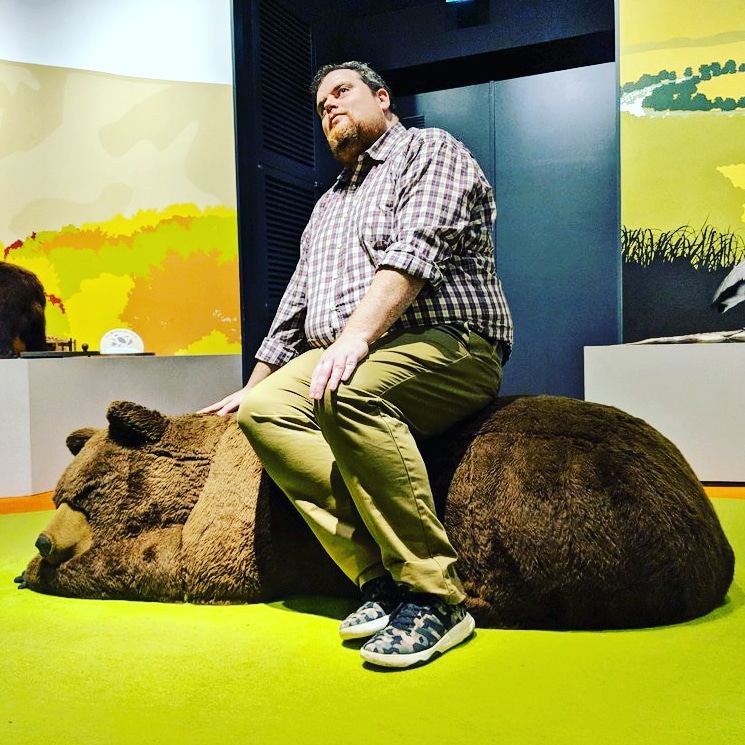 32:10 I am dumb, Satoru Noda was, in fact, born in a suburb of Sapporo in Hokkaido, Japan. Ugh. Just… please refer to the bio at the beginning of these notes. I do correct my mistake as I go, here, but yeah, deeply sorry for this error.
33:14 So the Japanese remake of Clint Eastwood's 1992 film Unforgiven is also called Unforgiven. Released in 2013 and starring Ken Watanabe, I found the trailer (Produced by the Toronto International Film Festival, how about that?) so you can check it out:
37:15 This is the 2-page spread where Sugimoto and Okada are fighting one another that Deb mentions. This really is a sick moment-to-moment style fight sequence, and it's just one of many very good action sequences in the first volume, that ramp up considerably as the series moves forward.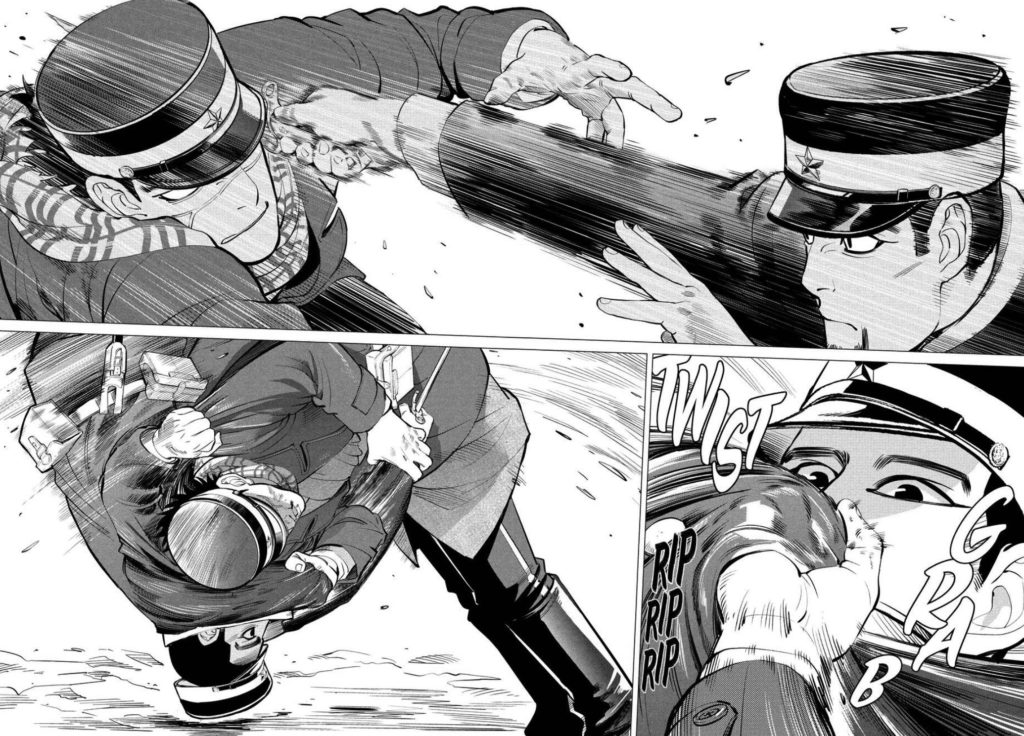 39:25 There's some REAL gore in this series! It really isn't for the squeamish. Victim of a bear attack:
43:00 So yeah, that one-shot story with the bird that I'm talking about is actually from volume 4, chapter 32. It's like a full on, "We're gonna stop the story and go talk about birds for 20 pages" moment, and it's almost funny in that way? Great story too, very good visual gag.
44:30 Game. Meats.
45:30 How can you choose a favourite from all of these fine fellas? Heh. Yeah, things get a little sexy at various moments in the series. First up, there's the sumo sequence from chapter 116: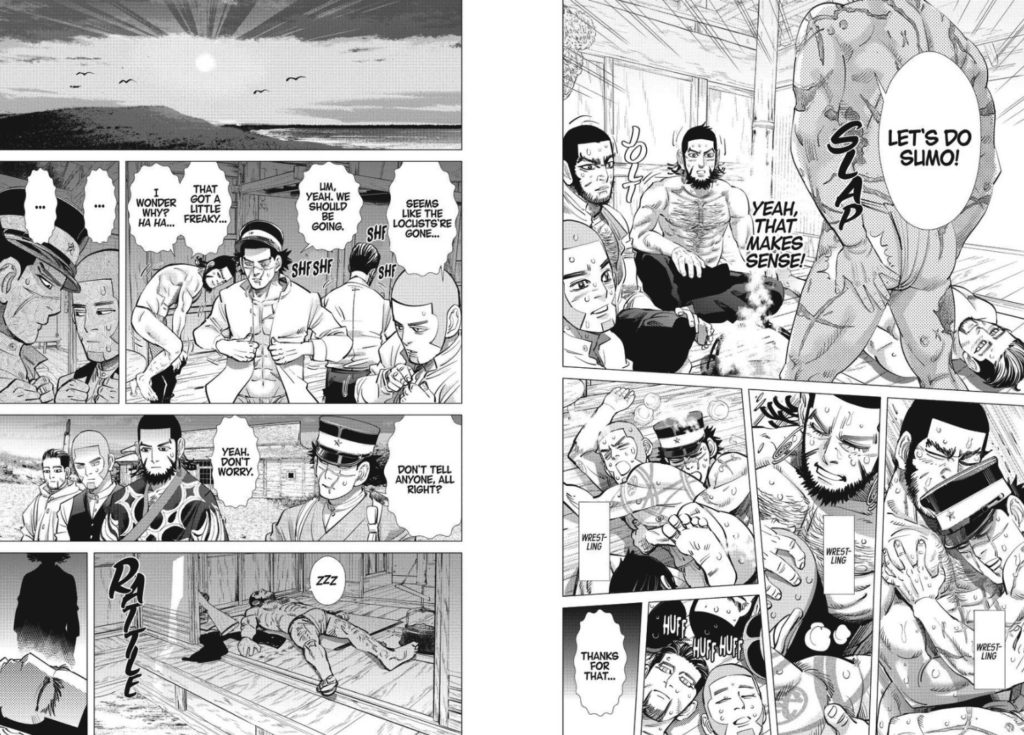 And then a sorta Fight-Club-leads-to-Russian-sauna situation from chapter 164 and onwards, and like it's just… it's so dumb that they actually call back to it later in the series.
Anyway, I'm sure there's more to come. There are many homoerotic, bisexual moments with Sugimoto as the series goes on that fan sites have chronicled better than I have here. Yours to discover! Anyway, Tangaki might actually be my fave of the core cast, or Asirpa's uncle. 😉
48:20 Here's some oppai (big-boobs) padded mousepads featuring a dude with sideburns that is probably supposed to be Tanigaki and his very big… chest. Worth noting that these are 'fan art' creations, and 'fan merch' (which is kind of an oxymoron but whatever) and not official licensed products.
49:20 And finally, good looking-out to David for recommending this very handsome man who plays the character Amos on the TV show adaptation of The Expanse.
52:30 THE BREAK!
Alright, we just barely have time to sneak in a reader Q&A this week, and it's a somewhat controversial question that gets pretty thoroughly answered by the gang.
What is your opinion on using honorifics (-san, -sama, -kun, -chan, etc) in Anime/Manga/Video Games? Do you have a hard set rule? Or do you judge on a case by case basis?

Kevin Shaub, from email
Different manga publishers have very different takes on this, and manga readers and fans tend to fall into opposing camps on their usage in English-translated manga.
I think Deb has a good take in general, use them where they would use them in Japan, if the manga is set in Japan. Don't use them when the manga isn't set in Japan. It's in the same category as whether to use notes at the end of a chapter, or to include everything in the text and speech, somehow. Sometimes it's impossible, and you need to use notes! Sometimes you don't!
But I honestly think in weeb-oriented titles, that aren't for 'the general public', or in very Japanese works, I think it's fine (or even preferential) to leave them in, rather than trying to 'translate' and 'localize' them for readers in a different space. Just like we call sushi 'sushi' instead of 'raw fish with rice', or we call teachers 'sensei' in certain settings like karate training or something similar, sometimes its okay to use the language of the culture that produced the ideas under discussion, and gloss them.
My two cents.
Fun fact: I meant to say 'exponential' rather than 'order of magnitude'
1:02:40 SHOUT OUTS!
David and Chip both shout out David's comic with Caleb Goellner, Apollo Kidz, which you can buy now on Gumroad!
You can also watch Columbo, the classic television series.
Deb shouts-out the BL manga and anime The Night Beyond The Tricornered Window, by Tomoko Yamashita. Go watch the anime on Crunchyroll, and check out the manga from SuBLime.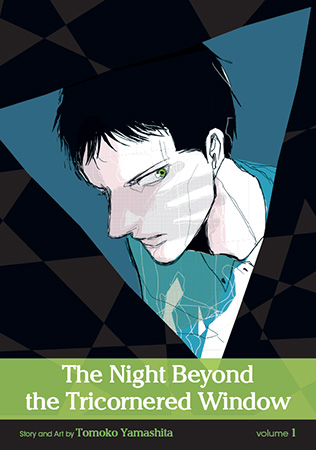 Christopher shouts-out Go For It, Nakamura!, by Syundei. In print now from Seven Seas. The sequel volume, Go For It Again, Nakamura! is scheduled for a July 2022 release.
And that's the episode! As always, please consider checking out your local comic shop for print manga purchasing. Find one near you at comicshoplocator.com, or maybe check out your local library for print and digital lending options!
Check out Mangasplaining theme song composer D.A.D.S. on Spotify!
Thanks for listening and reading along!