Ep. 86: Even Though We're Adults Volume 2, by Takako Shimura
The Mangasplaining gang returns to a favorite josei manga from way back in the first season, Takako Shimura's Even Though We're Adults! But when the second volume goes in a different direction, will the team still find themselves as passionate about the series as leads Ayano and Akari were in volume 1? Listen to find out!
Powered by RedCircle
Listen and Subscribe to the Podcast:
Google | Apple | Stitcher | RedCircle | Amazon | Radio Public | PocketCast | Spotify
IN THIS EPISODE
00:48 Even Though We're Adults Volume 2, by Takako Shimura
47:27 THE BREAK
48:00 Q&A: What does it take to be a manga translator?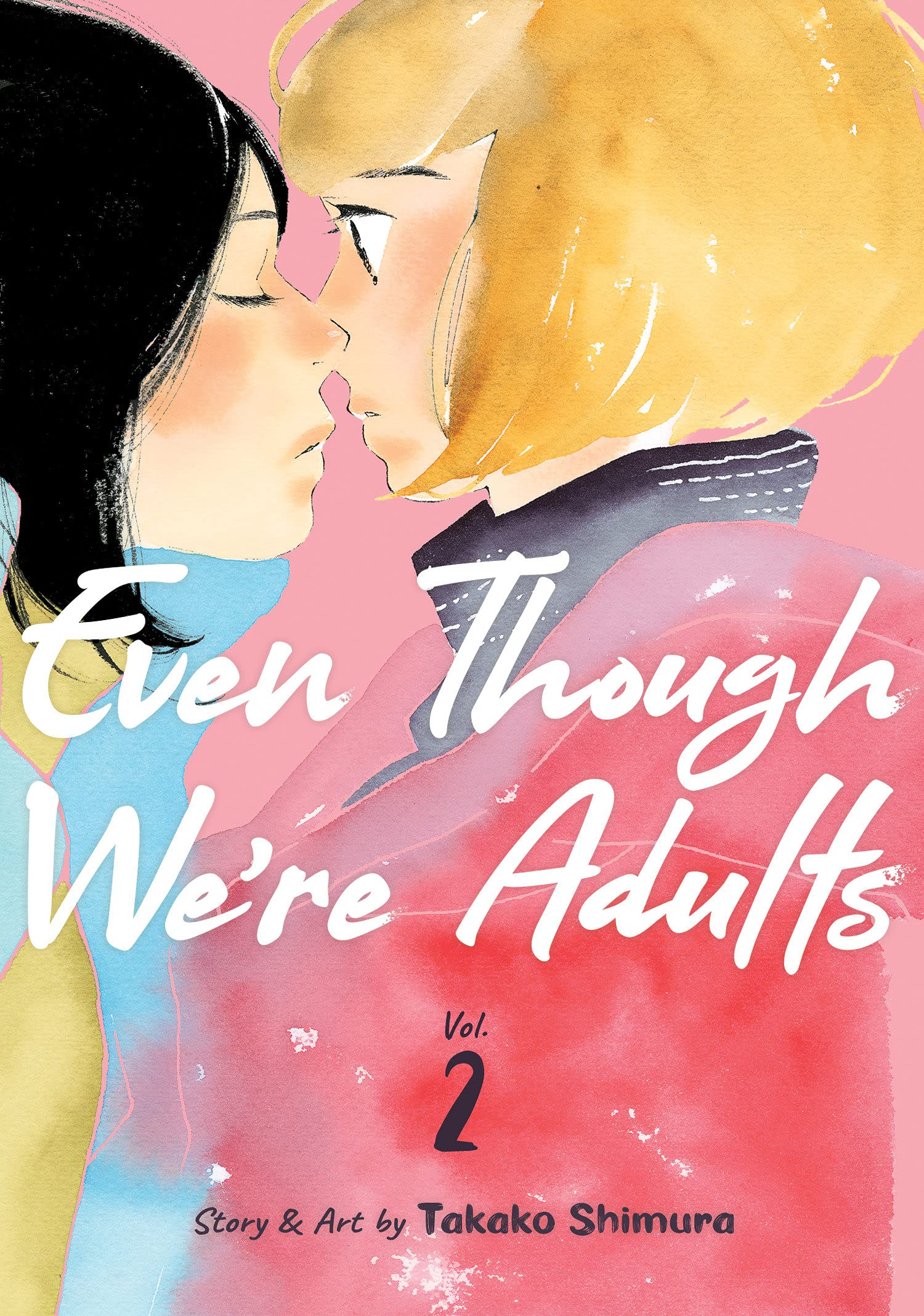 Even Though We're Adults Volume 2
By Takako Shimura
Translated by: Jocelyne Allen
Adaptation by: Casey Lucas
Editor: Shannon Fay
Lettering and Retouch by: Rina Mapa
Published by Seven Seas Entertainment. Available in print / digital.
Audio editing by David Brothers. Show notes by Christopher Woodrow-Butcher and Deb Aoki
BEFORE WE GET STARTED
This episode is one of our VERY rare follow-ups to a previous episode, in this case Episode 17, Even Though We're Adults Volume 1, by Takako Shimura. In that episode we wrote a LOT about the author, Takako Shimura, the 'poetry' of the first volume, and so much more. We highly recommend you listen to that episode and read the show-notes for that one too, so we don't have to double-up too much here.
HOWEVER! After we did that episode, Friend Of The Podcast Erica Friedman was kind enough to write a primer on Takako Shimura and her work, and we ran that in our newsletter at Mangasplaining Extra! It's a great article and we made it free for readers, so why not head over and give it a read if either episode piqued your curiosity?

One Last Thing:
During the episode at the end of the season where we picked books, we mentioned that we were going to read volumes 2 & 3, not just volume 3. I think we all completely forgot about that, because we only read volume 2. So, uh, please ignore that continuity blunder, thank you.
Alright, let's get to the episode.
00:19 Uh. I'm Very Sorry. I had just the tiniest little burp as soon as we hit record because I'm usually slamming carbonated energy drinks to get going first thing in the morning when I record, and uh, I interrupted Chip. But I maintain that he DID kind of blow it out of proportion. Hahaha. Anyway, sorry for being so unclassy, friends.
01:36 I was kind of hoping David would edit in the break-music there, but it was probably better he didn't.
04:10  It's hard to make a team book 'elegant'. That's a really good metaphor, I think! It's why when team books work (looking at Jim Lee X-Men here) they become favourites-for-life, but yeah, having a large cast and keeping it balanced is tough in general. But I am mostly here for Ayano, her husband Wataru, and the 'other woman' Akari. All the other stuff and characters getting introduced is just… less… for me. All of Ayano's family, all of Wataru's family, some of their friends, it's too much for me, as a reader.
On that note, here's that awesome Jim Lee X-Men at the pool pin-up from X-Men #1, 1992.
08:22  Alright, the dinner/supper thing. At the risk of being confidently incorrect, I got it ALMOST right here… Here's the Wikipedia definition:
"In modern usage, "supper" may refer to, on largely class-based distinctions, either a late-evening snack (working- and middle-class usage) or else to make a distinction between "supper" as an informal family meal (which would be eaten in the kitchen or family dining room) as opposed to "dinner", especially as a "dinner party", a generally grander affair with guests from outside the household, which would be eaten in the best dining room."

-Wikipedia
So this is what I was referring to, actually. Supper as a late-evening meal, mostly for people who would eat it before they would go to bed and then wake up godawful early. That's the version I heard, anyway. Moving along, Wikipedia, uh, circles around a little bit on that.
"The distinction between dinner and supper was common in North American farming communities into the twentieth century, especially in the Mid-West and the American South, though today, most Americans consider the two synonyms and strongly prefer the term dinner for the evening meal. During World War II, rations in the U.S. military were still divided into breakfast, dinner, and supper, using the traditional designations for meals."

-Wikipedia
So yeah, lunch was introduced between dinner and supper, and everything got bumped one? Moving on…
"In most parts of the United States and Canada today, "supper" and "dinner" are considered synonyms (although supper is a more antiquated term). In Saskatchewan, and much of Atlantic Canada, "supper" means the main meal of the day, usually served in the late afternoon, while "dinner" is served around noon. "Dinner" is used in some areas, such as Newfoundland and Labrador, to describe the noon meal as well as special meals, such as "Thanksgiving dinner", "Flipper dinner" or "Christmas dinner", the evening meal being "supper"."

-Wikipedia
Which… completely contradicts the previous descriptions and me? Hmm. Hmmmm.
Okay, so we're gonna do two things here.
First up, I went to my friend, the food writer and proud Acadian/East Coast Canadian Simon Thibault, to ask him about how it's used 'down east' as we say. Here's what Simon had to say!
The TL;DR version of the usage of Supper vs Dinner in Canada is basically a question of history and class. Most of the first English speaking settlers and colonists to what is now Canada would have said different things depending on their socio-economic status. Traditionally, a wealthier person (or someone who came from wealth) would have said dinner. A working-class person (and their descendants) would say supper.

(Side note: the same rings true for furniture, in which one person would own a Chesterfield, vs another would own a couch.)

This generally tends to stay true today, in where people who grew up in more monied communities would say dinner. It's a very White, Anglo-Saxon, Protestant thing, vs a Catholic supper. No Catholic would say Last Dinner. It's supper. 

On the east coast of Canada, where most people are from or grew up in working class/blue collar households, supper is the last major meal of the day. Even newsrooms in this region call it the "supper hour" news slot for shows broadcast from 5-7.

– Simon Thibault is a food writer, journalist, and editor who lives in Halifax, Nova Scotia. He has a big love for culinary history, and fruits that only your grandmother remembers how to cook with. His first book, Pantry and Palate: Remembering and Rediscovering Acadian Food, was published in 2017, and was shortlisted for a Taste Canada Award, Canada's cookbook and culinary writing prize.
Thank you, Simon! I have plugged your book because it's a good/beautiful book and you turned this around for me in like 15 minutes. Thank you.
Unfortunately though, Simon would know, and that's not what I'd heard, so maybe I'm just full of shit…? Or… AM I? Here's the second thing we're gonna do: MANGASPLAINING READERS: Are you on the east coast of Canada or the U.S.? How do you use Supper or Dinner? Ideally, if you use both so I don't sound so confidently incorrect? Write in the comments and we'll respond, I'd love to hear it! Even if I'm full of shit.
10:30  Writer Garth Ennis and the late artist Steve Dillon (R.I.P.) are best known for their epic creator-owned DC/Vertigo comics series about a road-trip to find God, Preacher, though the team did first work together during Ennis' run on Vertigo's Hellblazer. The pair are considered one of the great comic book writer/artist teams. Preacher is available in multiple formats from DC Comics.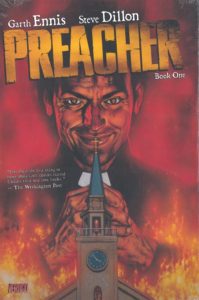 11:50 David mentions Neal Brennan's newest Netflix Special, Blocks. Here's the trailer!
12:42 Okay, now into the actual manga for a little bit. The most heartbreaking sequence, and it's one we keep coming back to this episode, is when the teenage Ayano's girl-friend says to her "I wish you were a boy." Really that whole flashback sequence is the heart, and maybe the meat, of the volume for me. This delicate, shifting, doomed relationship, that foreshadows Ayano's feelings in middle-age.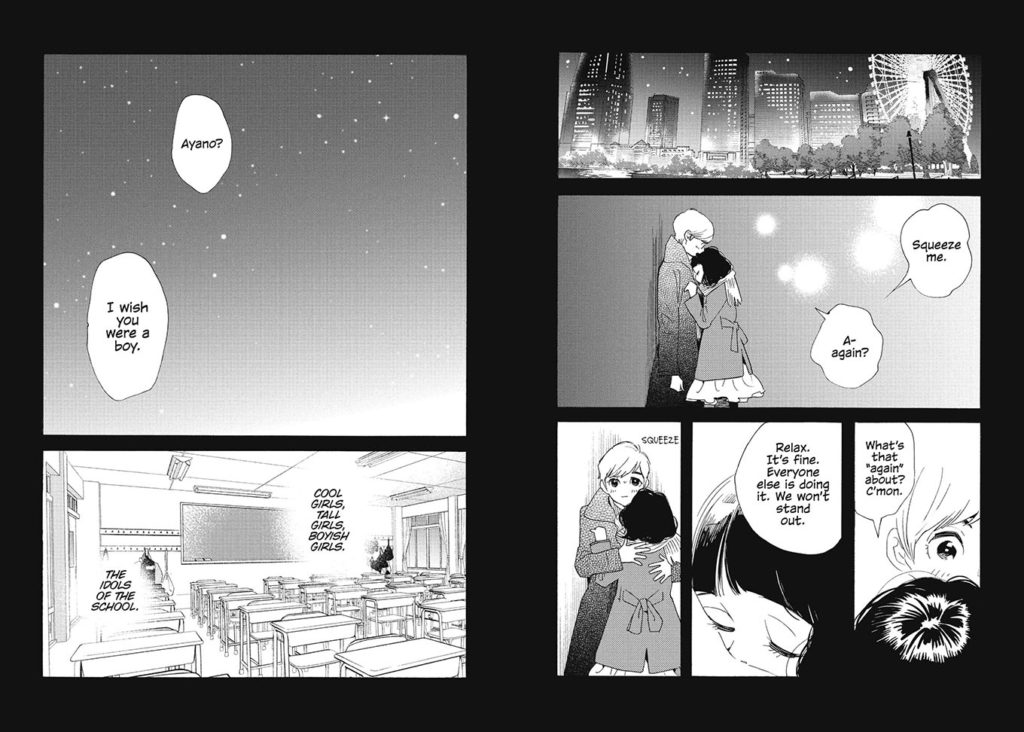 13:00 Akari gets it absolutely right here, when she says the following:
It's tough being the 'other woman' eh?
19:45 Yeah. If you're the kind of person who reads the material at the back of the volume and doesn't just stop on the last page, the two-page preview of the next volume has the most What The Actual Fuck moment I've seen in a next-volume preview literally ever. Like, what do I even do with this information?
20:50 So yeah, my take is that Wataru has just completely checked-out, and is hurt and disassociating from everything, totally underwater. In the beginning of this sequence, he looks like this, Blank As A Fart, as Twin Peaks might say:
And then we get this little tidbit, where, y'know, I actually don't know how bad he'd actually feel? It sounds like he's saying something he's supposed to say.
21:15 I think it was so interesting to see how we each read the scene about Wataru not being able to talk to Eri, his shut-in sister, pretty differently though. Here it is, and you can see for yourself.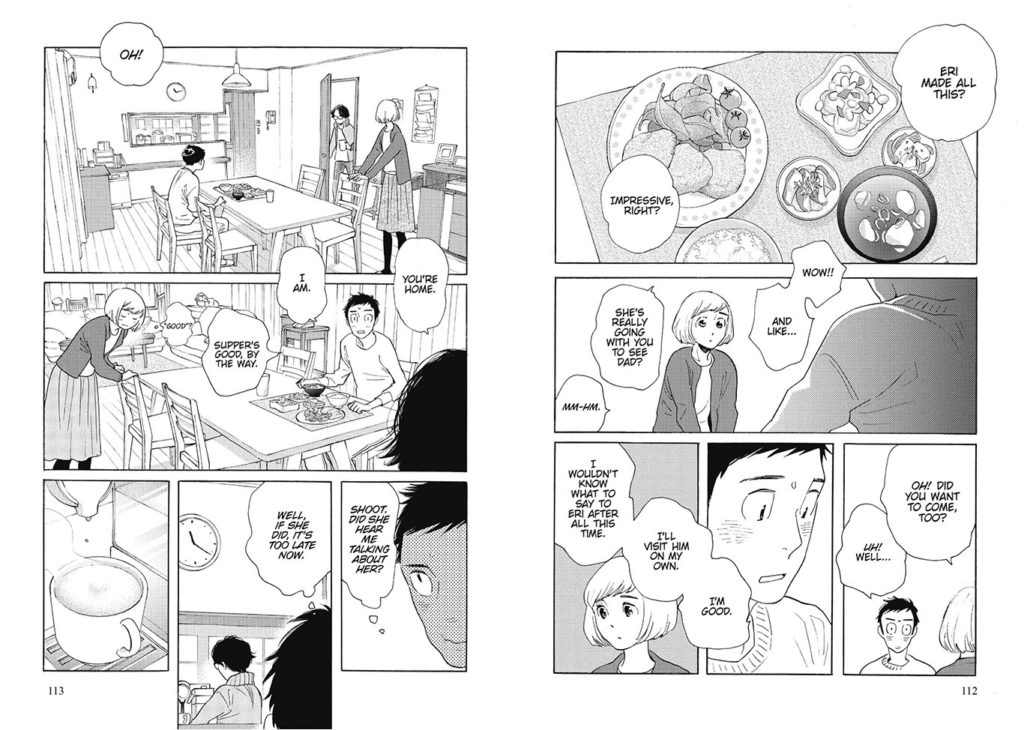 24:30  David loves the scene where Ayano falls asleep on her bed and wakes up with the dumbest, haziest expression. Man, that's how I've been waking up all week.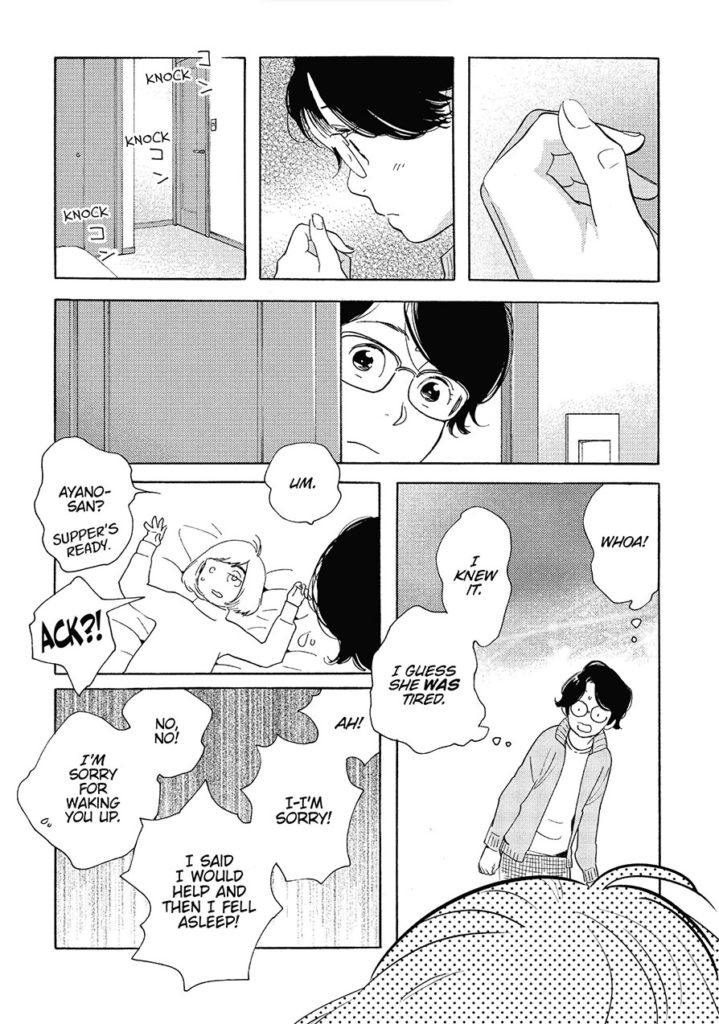 24:49 And then we have the full-face blush when Akari is asked about Ayano by Ayano's younger sister. It's such a cute moment.
25:05  "I've mistaken regular-ass horniness for the cosmic pull of destiny," really is a pretty funny line. Akari's great.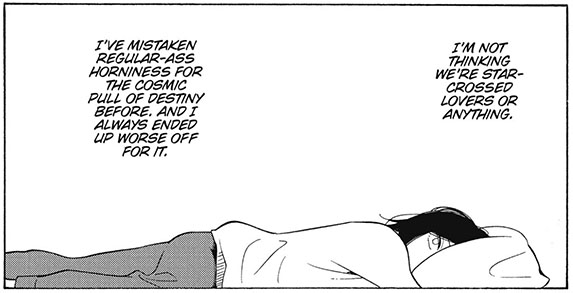 26:25 The flashback sequence in the volume is, IMHO, the strongest part of the book, the first romantic feelings. It's good stuff!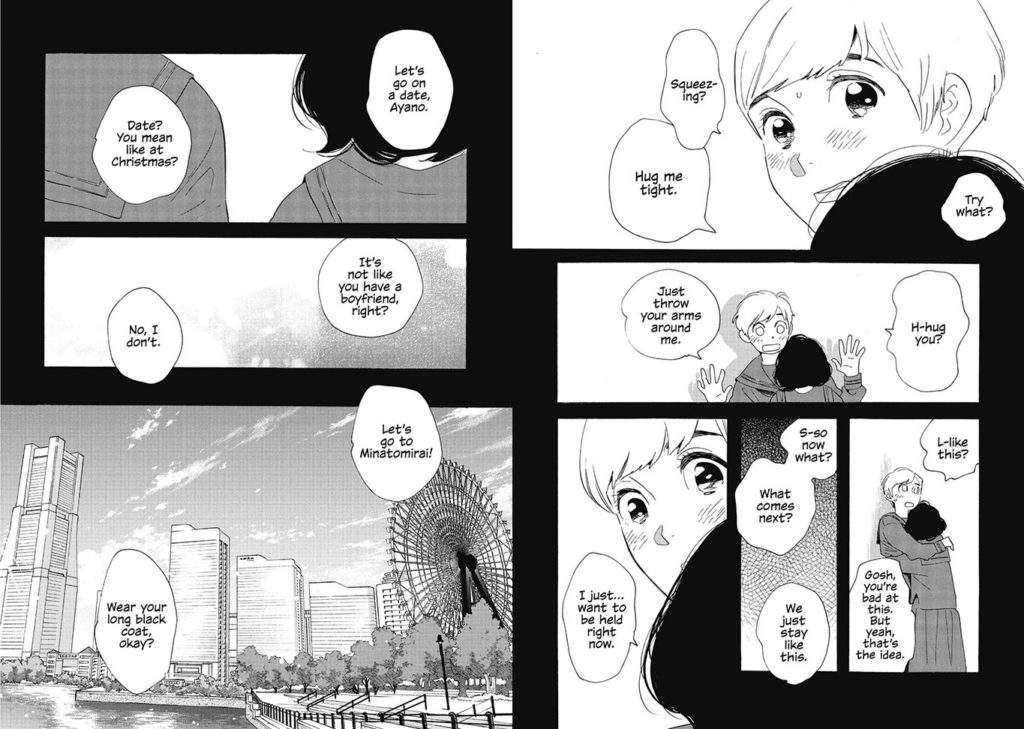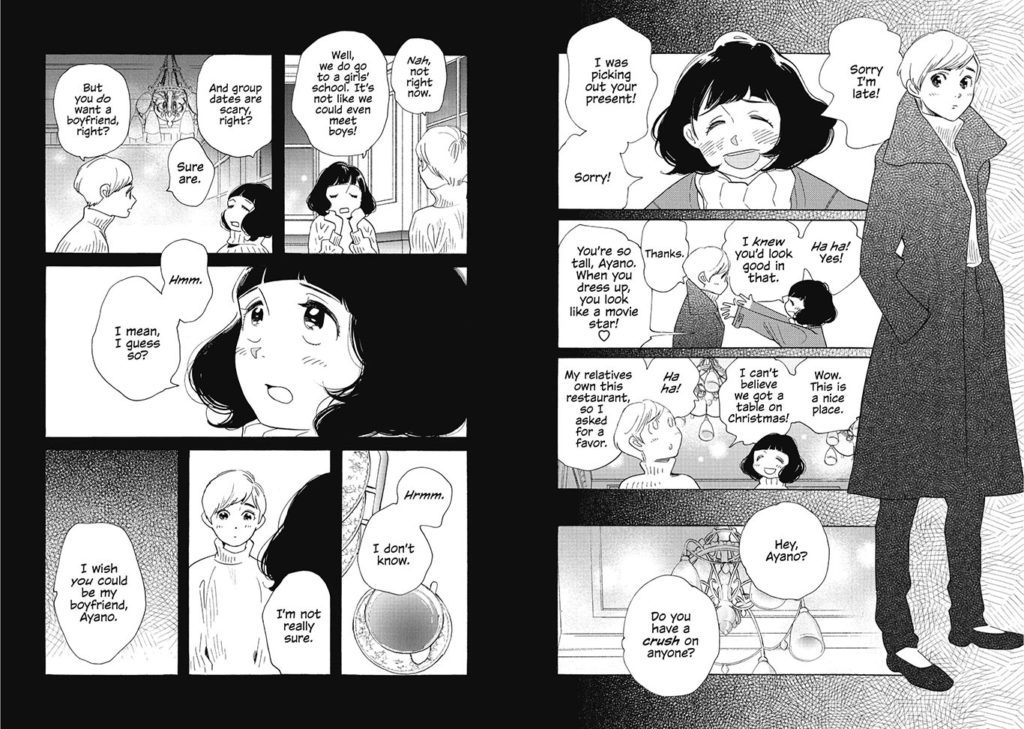 But yeah, it's about teens, and manga, as a medium (or at least a genre), especially mainstream manga, is entirely preoccupied with stories about teens. It doesn't make this ache any less, it's just, these feelings were present with our adult cast in the first volume, too.
28:45 Deb mentions that the pages are super clean and easy to read, which might make it a great manga for folks who don't read manga. Chip mentions that he likes Page 36 with Eri waking up as being a real clear page, and then in the last panel stepping out of bed and into the hallway, as she steps off page as being great. David follows up mentioning the facing page and the specific silent internal screaming/cursing in the crazy-ass wordballoon as being great too.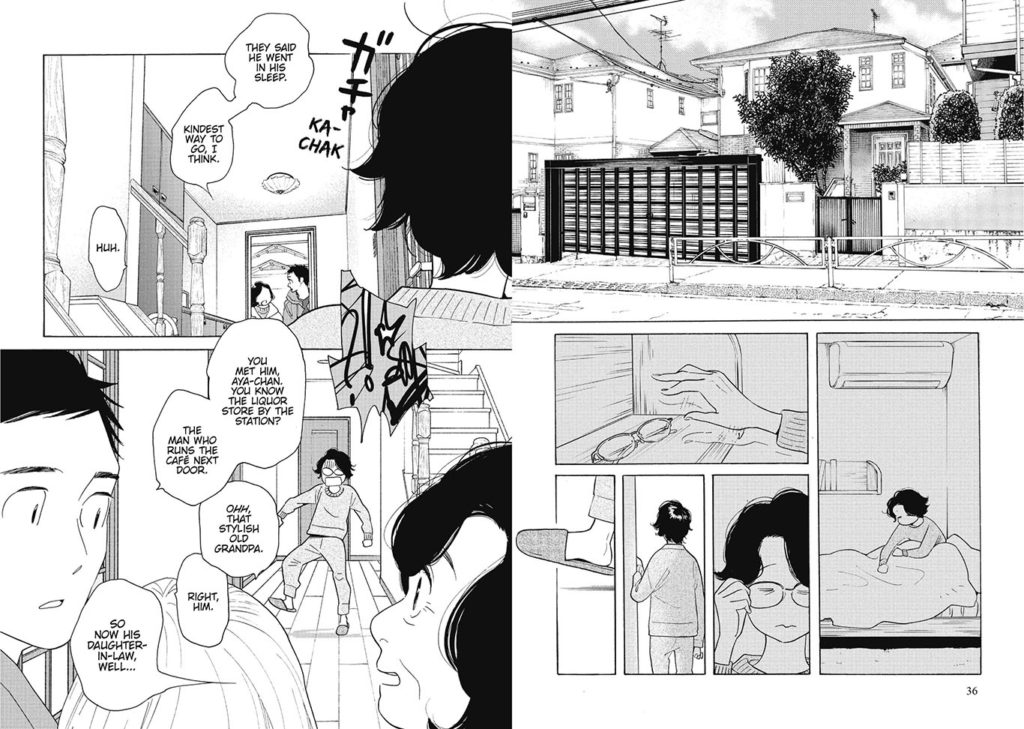 29:55 Deb mentions page 42, which has two static middle-focus panels broken up with a worms-eye view panel in the middle, to show Shimura's versatility with making 'talking heads' comics interesting.
30:30 Is this the weirdest and most dickish thing in the whole volume? We think so.
35:35  That was an oblique reference to the Japanese Supreme Court setting back equal marriage in Japan. Again. Stay strong, Japanese friends.
37:24  In our episode that ran just after Even Though We're Adults Volume 1, we talked about the manga Monthly Girls Nozaki-Kun, which introduced (to us) the concept of the "prince" character, a striking tall female character whom other girls fall in love with, both in manga and real life! There's a direct reference to "The Prince" in this volume too: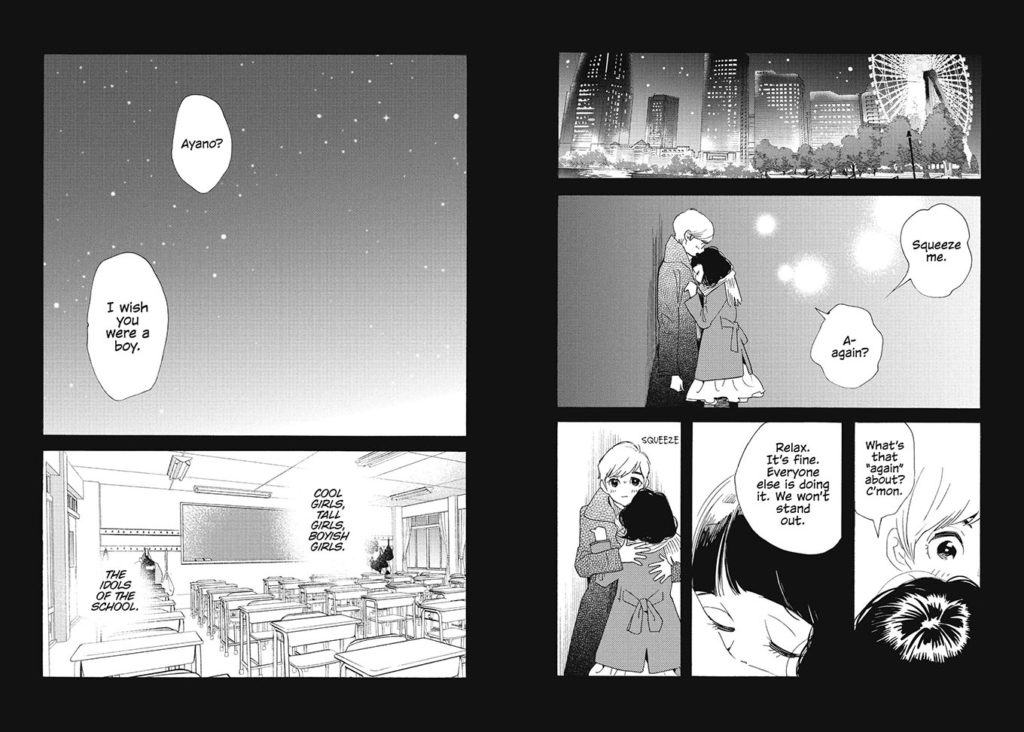 39:51 Chip references the popular television series with characters everyone seems to hate, White Lotus. Here's the trailer:
41:13 Deb's selling her hugs short, they're lovely.
44:24  I'm not going to tell you who it is here either. But, yeah, it's a double-edged sword for sure. But hearing Chip say he multiplied that small amount of time against the total number of people who will read it, that might just be the single greatest coping mechanism I've ever heard of in the medium of comics. I hope he puts that in Public Domain, that's good.
46:36 I wanna talk about the beginning of the book a little bit. Even before we get to the bit that David talks about, the transition from the cover, to the title page show the same image repeated, but zoomed in a little, and moved up, giving the illusion of movement. It's almost like comic panels, it's really, really good.
David is also correct, when he observes that the drawing of Ayano is so, so good on page 1. It's more detailed than the rest of the art in the book, but still so simple, and Ayano looks just so… Solid. So realized. But still stylized. I love this illustration.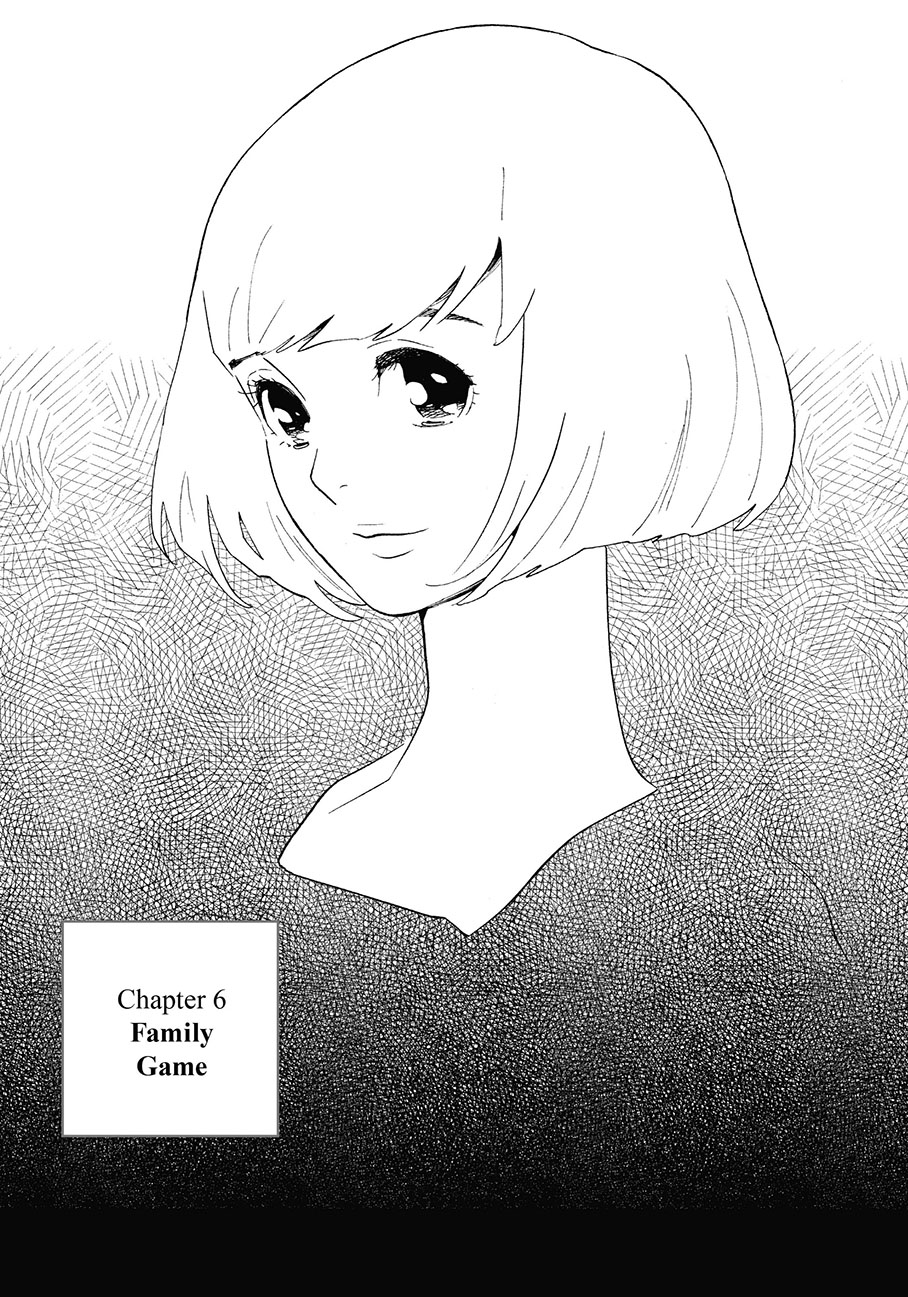 46:50 I don't want to spoil the whole 'omake' or bonus material, this is a book you should be reading, but here's just the first panel, which is so very, very cute.
And that's Even Though We're Adults Volume 2! We all liked it, and like most episodes, liked it a little more after we got to talk about it together. Will we cover volume 3 and up on the podcast at some point? Only time will tell! Now, let's go to the break, which probably will have me reading an ad this week (lol).
---
47:27 THE BREAK
---
We're opening the Mangasplaining Mailbag, and we've got some whoppers this week! You can send us an email question for a future episode at contact@mangasplaining.com.
Hi everyone.

I'm one of your Australian listeners and I found this podcast on Spotify in October. Listening to the podcast has helped me work through a tough spot.

My question is in regards to the industry of publication translation. Other than knowing the language to translate from, what other qualifications would translators need in the publishing industry?

Many thanks again, loving each episode.

Michelle Bauld, email
Thanks so much for your letter, Michelle! I'm glad we could bring a little light to a difficult time. That's part of what this podcast has meant to me, too. 🙂
48:00 Deb starts off with a little bit about the Manga Translation Battle. You can find out more about the last installment of the manga translation battle over at the website here.
Hopefully they start this contest up again soon, as it looks to be on hiatus.
54:41 This is the interview with Jocelyne Allen I was referring to, on Tofugu. It's a good one!
https://www.tofugu.com/interviews/jocelyne-allen/
57:50 Here I'm talking about Spanish-Japanese mangaka Ken Niimura's short-story Spicy Tuna, which you can read (for free!) on Mangasplaining Extra here.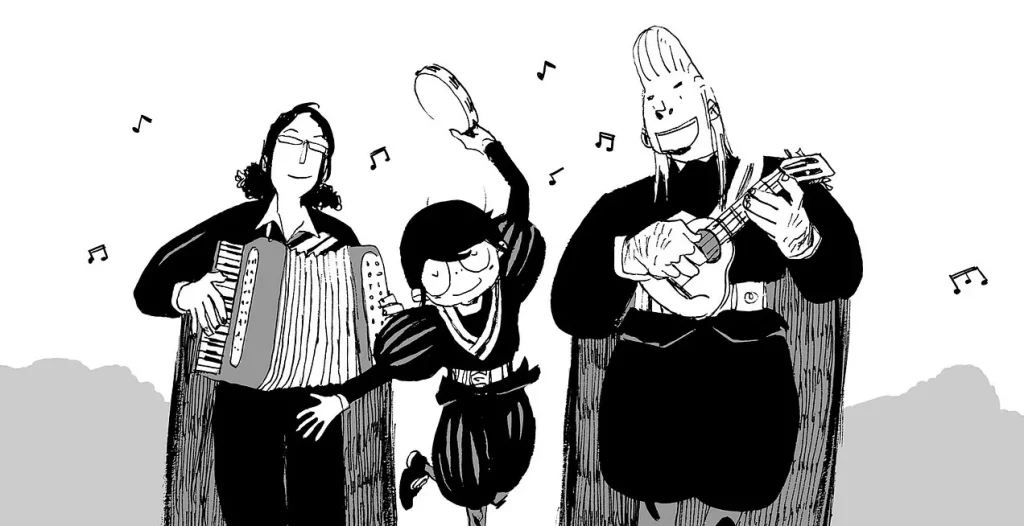 Basically, this is a story about two Spanish-exchange students in Japanese University and their Japanese pal reenacting a 12th century Spanish tradition, the La Tuna, which has university students dressing up in traditional clothes to sing for their supper on the streets. It's about a clash of cultures between Japan and Spain, with a third English "culture" introduced through translation. My husband Andrew edited and adapted this one working with Ken, and I think it reads really well and is a fun example of what we're talking about.
59:50 Spoilers: I didn't get the quotes from Jocelyne or Ko Ransom. Time FLEW by while I was in Japan. But we're working with both of them on upcoming projects, maybe we'll do something about that in a future episode? HINT HINT.
1:00:10 David was mentioning the manga Record of Gancrest War as one of his early editing gigs at VIZ. Based on the story by Ryo Mizuno, Story and Art by Makoto Yotsuba, Published by VIZ Media.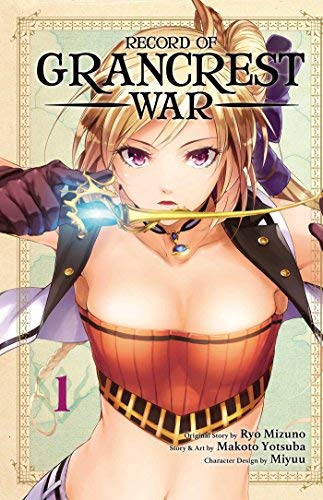 1:01:00 Deb mentions Gundam translator (and cartoonists and illustrator) Mark Simmons, and you can find them online at UltimateMark.com.
1:01:30 Finally, Deb mentions the Museum of Wonky English, part of a pop up gallery installation in Harajuku, Tokyo, in December 2022, sponsored by language learning app Duolingo. Huh, weird. Check out this video about it:
And that's this week in Mangasplaining! NO SHOUT-OUTS! We wanted to come in on time. They're back next week though, don't worry.
This episode is also available wherever you get your podcasts, so please subscribe and leave a review, so others can discover our show. Also, if you'd like to get the latest episode delivered straight to your inbox along with exclusive interviews, articles and new chapters of manga you can't read anywhere else, subscribe to our Substack newsletter. See what you're missing at Mangasplaining Extra!
Next week on Mangasplaining:
Get ready for our episode on the classic and beloved shojo manga, Rose of Versailles!
Thanks so much for listening! Please support your local comic and manga specialty shop when purchasing these books, and you can find one near you at comicshoplocator.com. You can also check your local library for print and digital lending options, they have TONS of manga! Finally, thanks to D.A.D.S. for their musical accompaniment for this episode.