Ep. 79: Kowloon Generic Romance, by Jun Mayuzuki
This week, Deb takes the Mangasplainers to a place that no one can go to anymore, the demolished Kowloon Walled City, in Jun Mayuzuki's Kowloon Generic Romance! A unique seinen manga from a mangaka that got her break in shojo manga, the book both lives up to its title and surpasses it in ways that will surprise and delight readers! But what will Chip think of this not-quite-what-it-seems grown-up, slice-of-life romance!? Listen in to find out!
Powered by RedCircle
Listen and Subscribe to the Podcast:
Google | Apple | Stitcher | RedCircle | Amazon | Radio Public | PocketCast | Spotify
IN THIS EPISODE
00:00 Kowloon Generic Romance Vol. 1, by Jun Mayuzuki
53:25 THE BREAK
53:45 SHOUT-OUTS: A British sit-com, a manga bout real estate and a really hyper dog and an actual PROSE book worth reading!
Kowloon Generic Romance Vol. 1
by Jun Mayuzuki
Translated by Amanda Haley
Lettering by Abigail Blackman
Edited by Abigail Blackman, Carl Li, JuYoun Lee
Published by Yen Press. Available in print / digital
Audio editing by David Brothers. Show notes by Christopher Woodrow-Butcher and Deb Aoki
BEFORE WE GET STARTED
[Christopher:] Hey there! As you will immediately learn in this episode, I was in the process of moving during this recording, and was in a hotel with some truly abysmal wi-fi. This episode was probably the single-hardest one to record yet, and David did a great job with the editing to cover up all the stops and starts, and much more. Just wanted to shout him out, you wouldn't know that we had to stop and start recording 4 times…!
ABOUT JUN MAYUZUKI
Jun Mayazuki is a manga artist from Yokohama, and was born April 27, 1983. She got her start by winning an award sponsored by Shueisha. Her award-winning one-shot turned into the serialization of her debut shojo manga Sayonara Daisy in 2008, in Bessatsu Chorus Spring. After a number of short shojo one-shots, Mayuzuki moved to Shogakukan's seinen magazine Big Comic Spirits and serialized her work Iromon! from 2013-2014, and then got her big break with the 10-volume After The Rain which also ran in the magazine from 2014-2016.
After The Rain is a complicated first-love story about a high school girl who had to give up running track due to a destructive injury, and in her hurt and loneliness, falling for the manager at the diner where she has a part-time job, a 45-year old widower with a son, who is also alone. Vertical (now Kodansha) picked the book up and released it as 10 volumes, and the series is very well-regarded for being complex and smart, while still dealing with some pretty complicated emotions.
[Deb:] Besides the After the Rain manga, there's also a 12-episode animated series that you can watch in its entirety on Amazon Prime. Here's a review of the series from Japan Times, and a trailer:
Which brings us to Kowloon Generic Romance. Taking a short hiatus from serialization after the completion of After the Rain, Mayazuki-sensei jumped ship again back to Shueisha to begin the serialization Kowloon Generic Romance in Weekly Young Jump magazine in 2019 (it runs every-other-week, though).
The series is still going strong to this day, with 7 volumes released and another due before Christmas. The series has received some solid buzz, being nominated for the 6th Manga Next Awards, ranked 3rd on the Kono Manga ga Sugoi! list of best manga for male readers, and nominated for the Manga Taisho award too.
Mayuzuki also created the poster for the 2022 Angouleme Festival, and so her artwork was looking back at Deb and I from basically everywhere at the show. The French publisher Kana really went all-out to promote this series as well, check out this very nice book trailer for the title.
Interestingly, Kana also went a different direction with the French edition covers, going for a nightime and neon feel. What do you think about the difference between the English and French covers?
ABOUT KOWLOON GENERIC ROMANCE, AND KOWLOON WALLED CITY
"Welcome to Kowloon Walled City: a dystopian townscape where the people are brimming with nostalgia, and where the past, present, and future converge. Amid the hidden emotions and extraordinary daily lives of the men and women working in its confines, a tale of romance begins to unfold for real estate agent Reiko Kujirai—one that feels as familiar as Kowloon itself…"

Description from Yen Press
2:00 Okay I tricked Deb into going first this week, much like when I tricked David into going first last season with my Uno Reverse Card, but I did it because she picked this largely due to her interest in Kowloon Walled City, and I wanted to give the listeners a little context about the city before we began.
But since you're reading here, we should probably actually dig in, up front.
Kowloon Walled City was a densely-packed collection of housing blocks and apartment buildings in the Kowloon area of Hong Kong, the area of mainland China immediately north of Hong Kong Island. Due to an administrative issue, the land was still controlled by the Chinese government, but was surrounded on all sides by the British-controlled Hong Kong. It was the densest place to live on earth at the time, and because the British generally couldn't enter the area easily, it had a lawlessness to it that allowed for drugs and prostitution and very cheap living, but also a place where forgotten members of society displaced by the British OR communist Chinese could exist until they figured out their next move. People lived, worked, partied, committed crimes, did drugs, escaped persecution, and more.
This Wall Street Journal documentary is a pretty good overview of what the city was.
And this longer 40 minute documentary was actually shot inside the city in 1989, before the city was destroyed.
So long and the short of it: It means a lot of different things to a lot of people, and it is definitely romanticized significantly more than it's condemned, but ultimately it was torn down in a joint decision by both Britain and China, and it only exists in videos, remembrances, and some pretty neat looking books…including today's manga.
[Deb:] I bought the Kowloon Walled City artbook City of Darkness because I was so fascinated by the story and history of this place. If you're intrigued too, I suggest you pick it up. It's pricey, but worth it.
4:50: Getting back to the manga itself for a moment, there's a LOT of sexy, horny, smutty, SENSUAL moments in this one, and it is firmly a book for grown-ups! I think we kept this episode on the 'safe' side of a Mature Rating, but these show notes may be a little NSFW.
6:00 [Christopher:] Yeah, I live in Taipei now. More in future weeks, but Monday was a holiday both in Canada AND in Taiwan, so I double-took-it-off and that's why this episode is out Wednesday. 😉
Just to be clear, politically, about the connections I mention–the Chinese Civil War from 1945 (end of WWII) to 1949 ended with the Communist CCP gaining control of China, and the Nationalist KMT which had previously controlled the country basically fled and moved to the island of Taiwan. Taiwan, which had and has a rich indigenous population, and had previously been colonized by the Dutch, Spanish, Han Chinese, and finally by Japan, was controlled by Japan until 1945 but had been given to China by the allies at the end of the war (and honestly, it shouldn't have been). The CCP gaining control of the parcel of land that the military base was on in Kowloon (did you watch the video I linked?) is what enabled the Kowloon Walled City to be built, because the CCP couldn't really access or manage that land easily as it was an enclave within British-controlled territory, and the British weren't allowed in at all. So, you get a virtually lawless enclave of China within GB, and Kowloon Walled City was born.
Just to follow up on the Taiwan bit: The KMT basically existed in Taiwan as the "Chinese Government in Exile" for a good long while, but somewhere in the 1960s/70s the rest of the world decided to recognize the CCP as the 'true' leaders of China, and the KMT and Taiwan as a "rogue state". As shitty as the CCP are, the KMT? Also pretty fucking shitty. The period that the KMT governed Taiwan and repressed all culture and free thought is referred to as "The White Terror", and didn't fully end until 1992, when parts of the constitution were changed. The country moved towards a true democracy at that point, rejecting the KMT (even though they 'reformed') and since then has become one of the freest and most-open democracies on the planet. It's an amazing place, I'm happy to be here, and the history is really complicated.
Okay, you didn't ask for a Taiwanese history lesson, especially not a grossly simplified one (whoops!) but here we are, since it came up.
Oh, and as an aside, I mention the work (briefly) of Director Wong Kar Wai, whose film ChungKing Express was set in the ChungKing mansions in Kowloon, but the walled city wasn't prominently featured.
7:00 To distract you from the preceding section: Hey, what's that floating thing in the sky?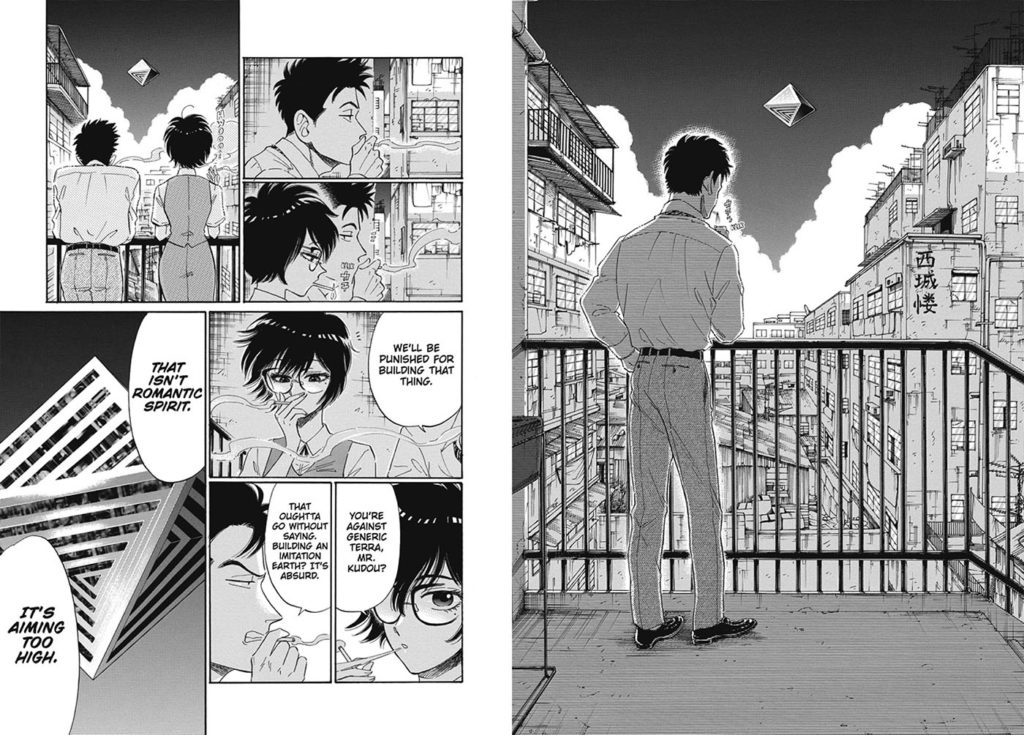 8:05 Oh! It's THAT KIND OF BOOK!
8:40 I think this book is maybe one of the best examples of "Having your cake and eating it too" that I've read in a long while. Just a few pages after our 'Oh, it's that kind of book" down-blouse shot, we get this masterful, complex zoom-out shot, showing the enormity of the setting of this "Generic Romance."
8:55: We're gonna lose all of our cigarette sponsors, David talking shit about smoking. Although I guess the CCP won't be investing in our podcast any time soon due to the above either. But yeah, this does make smoking look cool.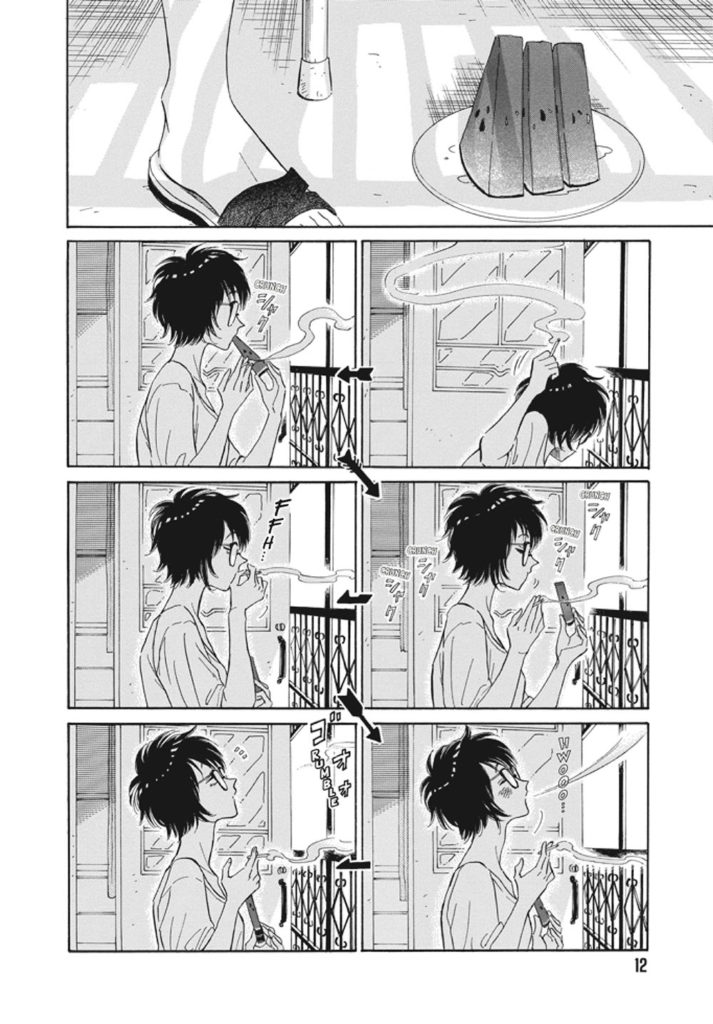 10:26: Gonna agree with David here. It's a VERY clean version of Kowloon Walled City, and… very light feeling? The videos I linked show a very different version, even in daytime.
I do think that the author is finding their feet a little bit with the environments in the first volume. I popped ahead on Book Walker to see a preview of volume 7, and the backgrounds are a lot messier than in the first volume, showing some interesting artistic growth.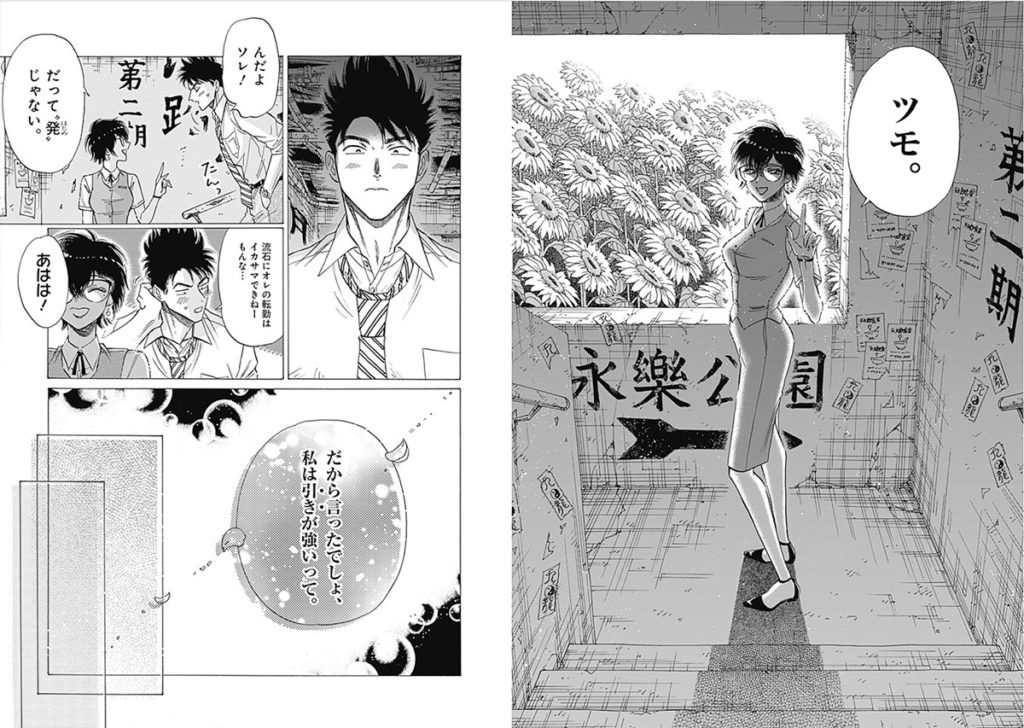 13:20: Cutting out of work to go to a porno movie theater is actually a pretty good character sketch moment, honestly.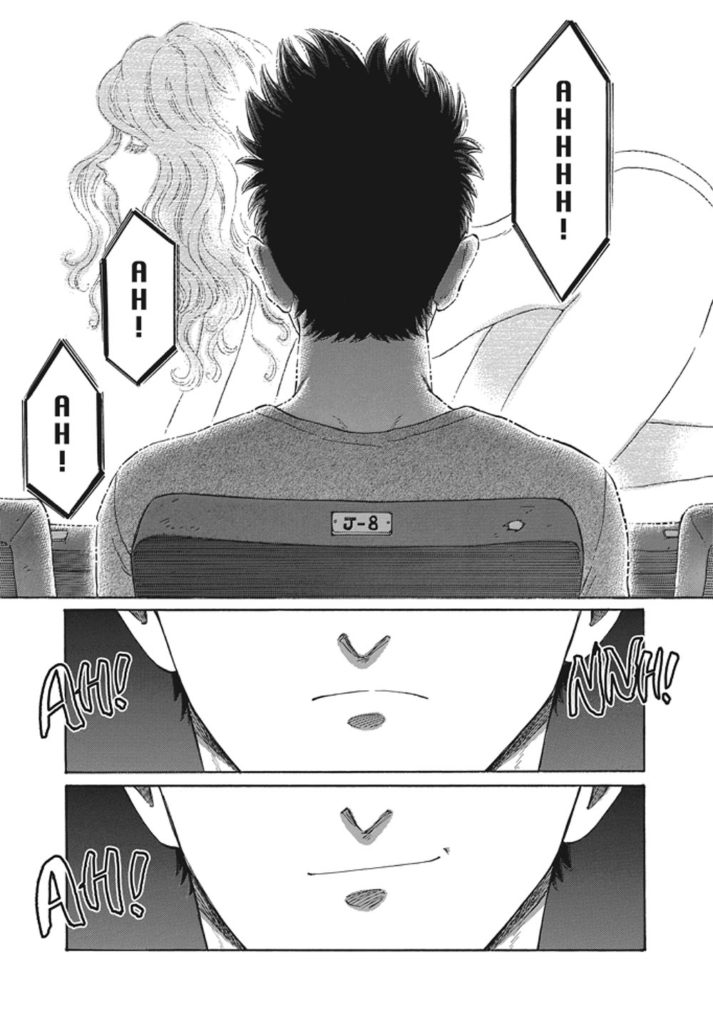 14:10: Sensuality aside, the shots of her overheating while painting a room, and then the palm covered in 'white paint', push this book back into pure hentai territory. IT'S A FINE LINE, I GUESS, CHIP.
16:20: That said, the sensuality of food in media is pretty much undebatable. Shout-out to the best example of this on recorded film, the egg yolk scene from the film Tampopo.
This is a great movie by the way, you really oughtta watch it. Kowloon Generic Romance made me think of this quite a bit with the watermelon scenes and the discussions of different vibes in different places to eat.
16:45 Deb references Nami, one of the primary female characters from Echiro Oda's manga One Piece, and her… interesting… body type.
17:45 [Christopher:] So this may have been a tangent, but I really did get strong Dead Dead Demons DeDeDeDestruction, by Inio Asano, vibes while reading Kowloon Generic Romance. Both are set in ostensibly real places, with real people, but as the stories go on, it's revealed that there are surprising differences to the setting that are affecting the day-to-day lives of the people who live there.
In DDD, it's the fact that there are massive spaceships above Tokyo, dropping dead robots from the sky to the ground below. In KGR, it's the seemingly Japanese/sci-fi bent to the world of 1980s Kowloon that is seemingly added by another giant floating city in the sky.While both of these seinen manga titles go in very different directions, I'd say they're not completely dissimilar to one another. Anyway, DDD is on my list for a future Mangasplaining, gotta get to the end though and see how it wraps up before I recommend it.
21:30 David enjoys the Chapter 7 title page where they're in a band together.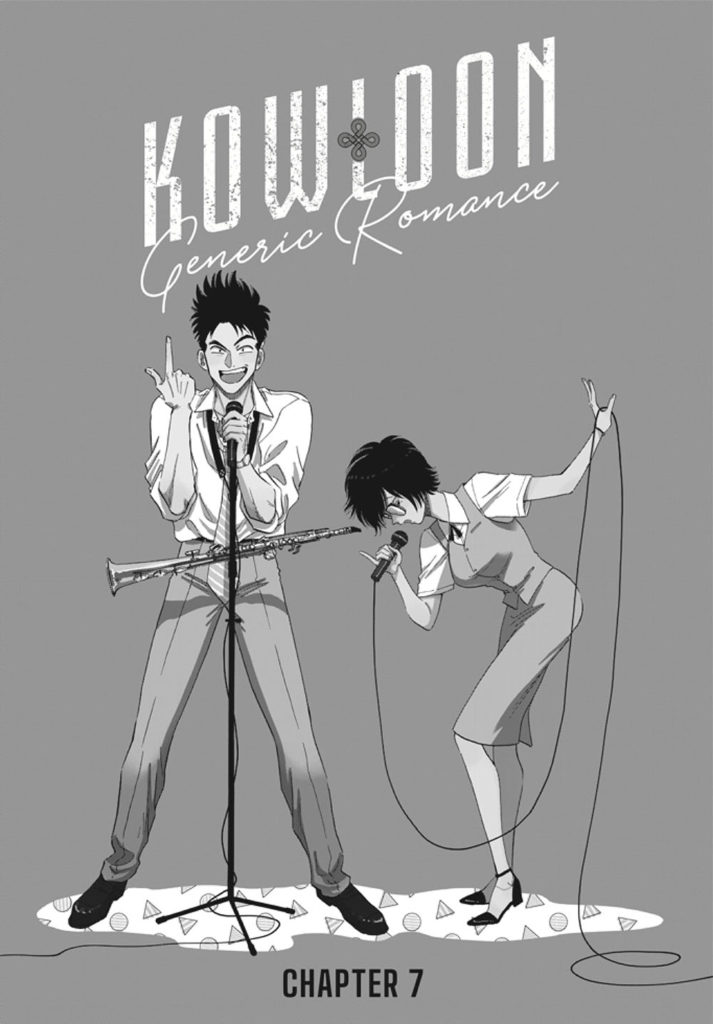 24:30 Deb is right, dude comes across as a total dick in his introductory sequence, with the timecards.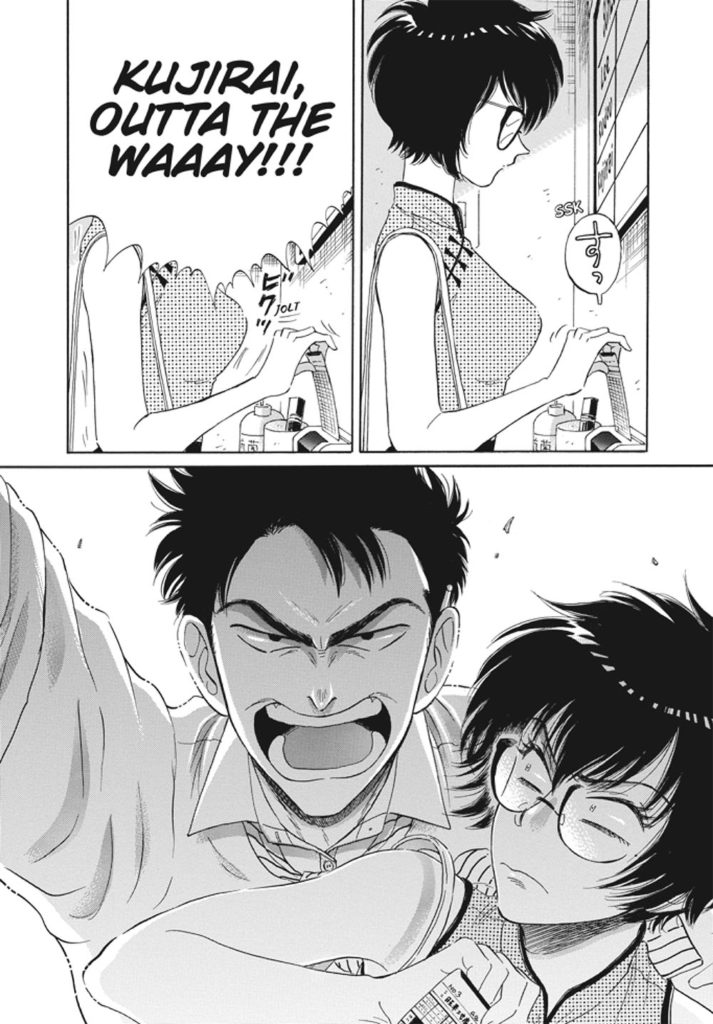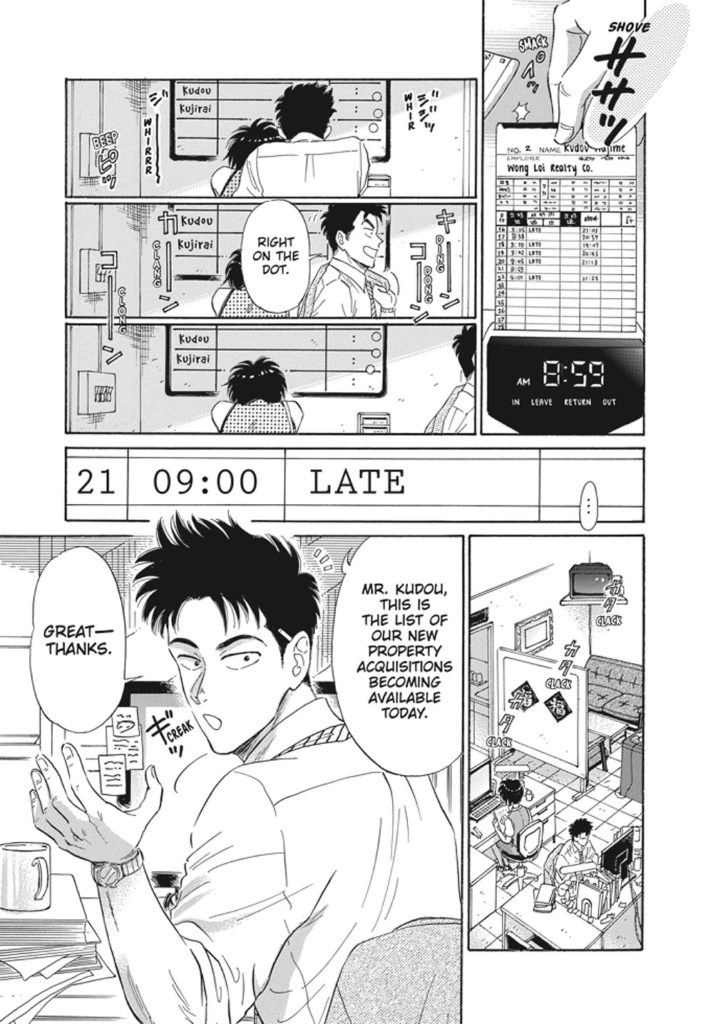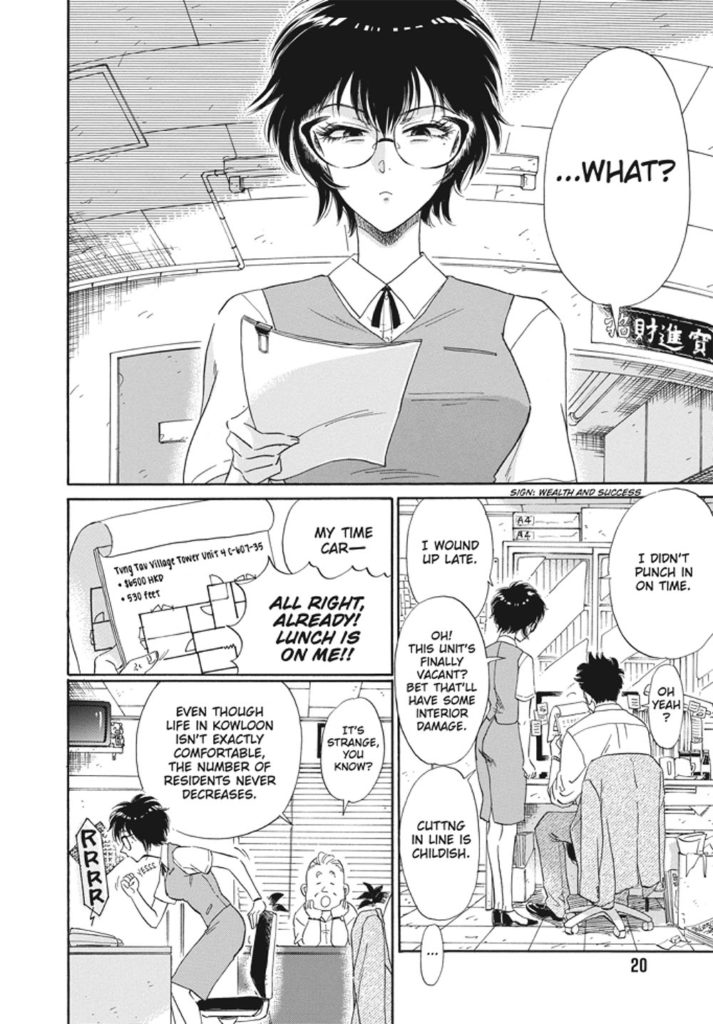 25:45 So I think I explained 'natsukashii' pretty clearly, but I just went and double-checked to make sure I wasn't talking shit, and it looks like Wikitionary has my back:
"The second meaning of 懐かしい (dear, beloved, cherished, sweet) is largely equivalent to a verb in English, even though it functions grammatically as an adjective. In this regard it is quite similar to the adjective 好き (suki, "liked"). In Japanese, to express a yearning for something, or a slightly nostalgic feeling of missing something, you modify the object that is missed (such as home, one's old neighborhood, one's friend, one's cat) with 懐かしい. In this regard, Japanese is quite unlike English."

Wiktionary
So it's a verb and an adjective depending on what language it's in. Hooray for more concise answers!
27:45 So far this episode we reference the 1980s/90s manga Crying Freeman by Ryoichi Ikegami and Kazuo Koike, City Hunter by Tsukasa Hojo, and the work of Masamune Shirow. This is a hell of an on-boarding for Chip, and for those of you who aren't hardcore manga fans. Here's the Cliff's Notes for each: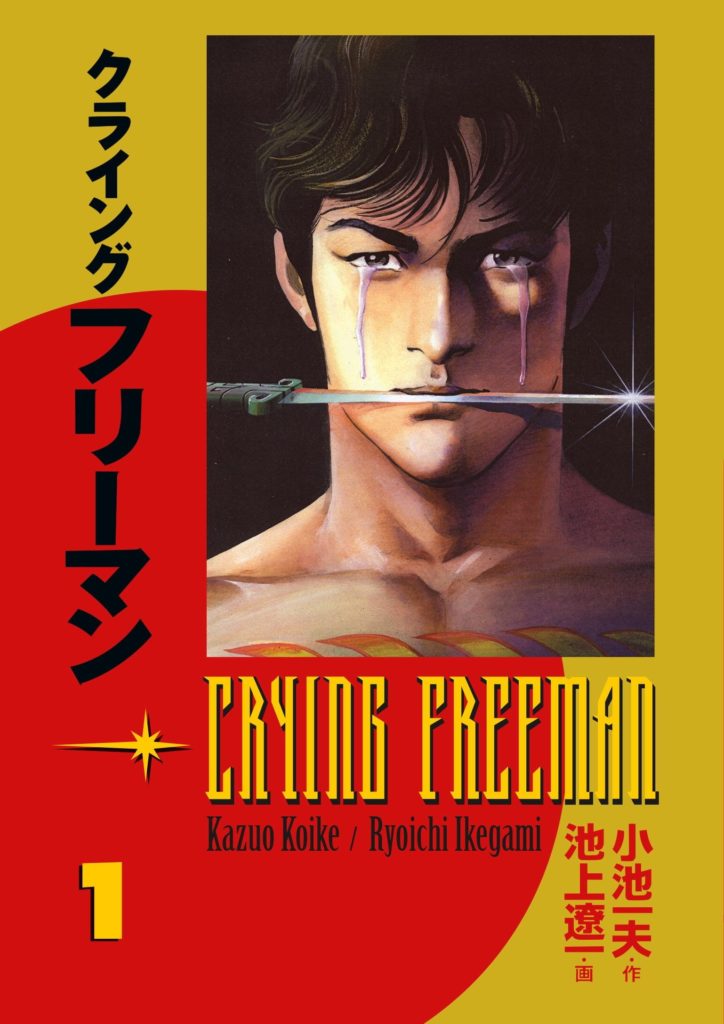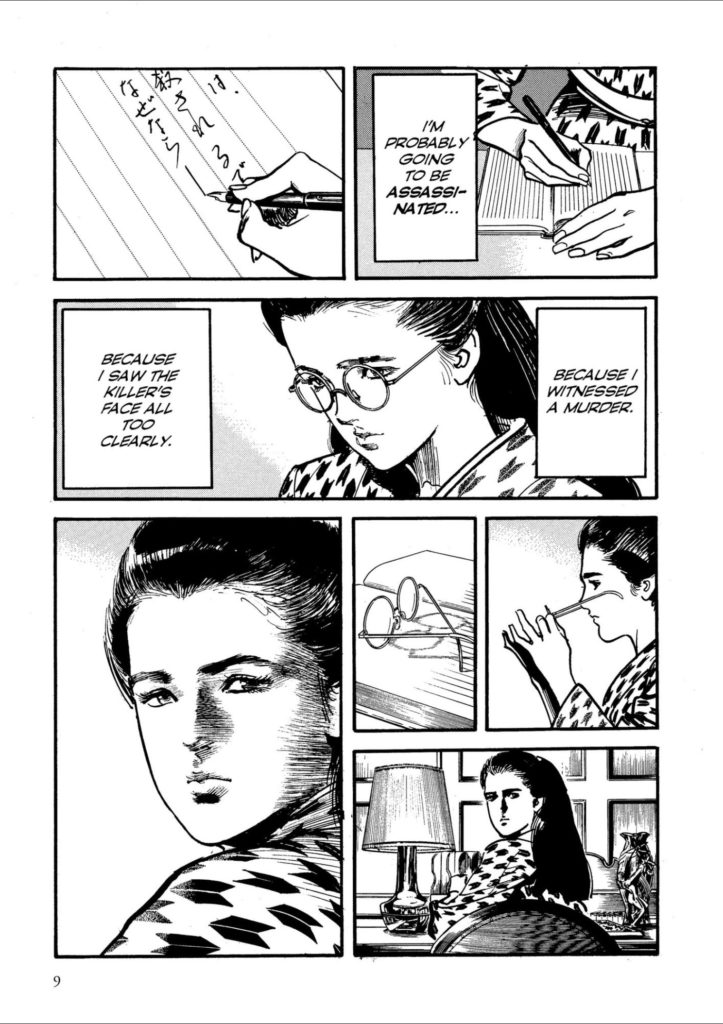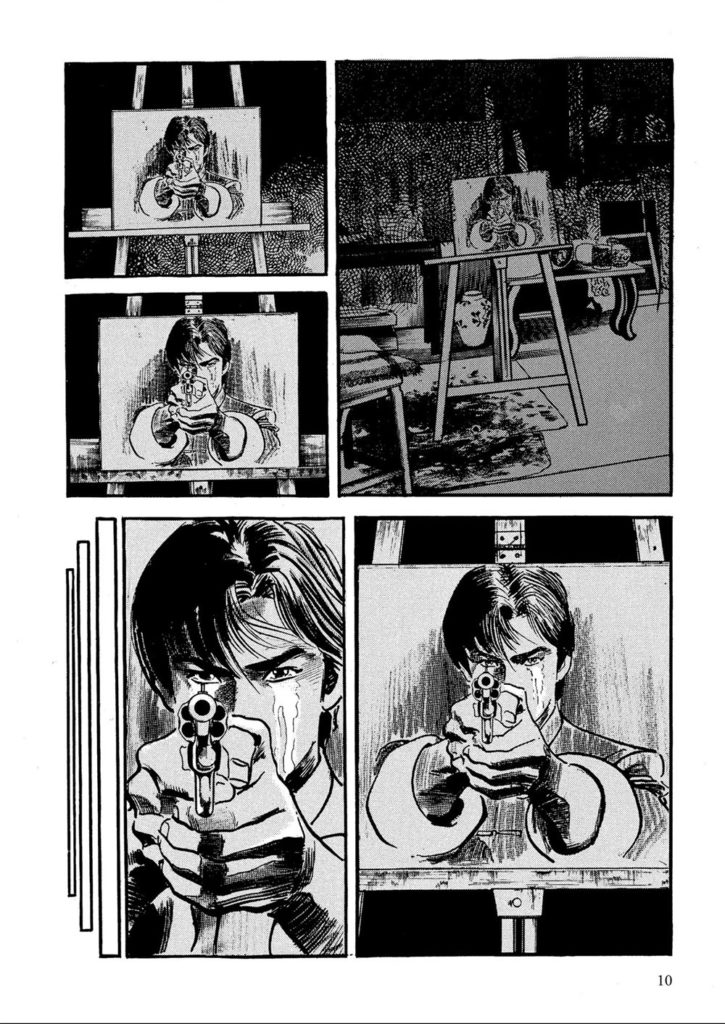 Crying Freeman: Originally published in English by VIZ back in the 90s, this book is just like… Well actually, Dark Horse is publishing it now and their description is really quite good.
"He is Yo Himomura, deadly assassin for the 108 Dragons, the Chinese Mafia. But to the criminal underworld who fear him, he is known as Crying Freeman, the killer who sheds tears at the fate of his victims. Yo has been hypnotically programmed by his Dragon masters to kill on command: he cannot resist his masters' commands to kill, his masters cannot stop his tears of remorse. Written by the legendary Kazuo Koike, creator of Lone Wolf and Cub, and illustrated by the incomparable Ryoichi Ikegami, Crying Freeman is adult manga at its most challenging: dark, violent, morally complex, erotically charged, and regarded worldwide as one of the classics of adult graphic fiction."
Yeah, this is either for you, or it is not.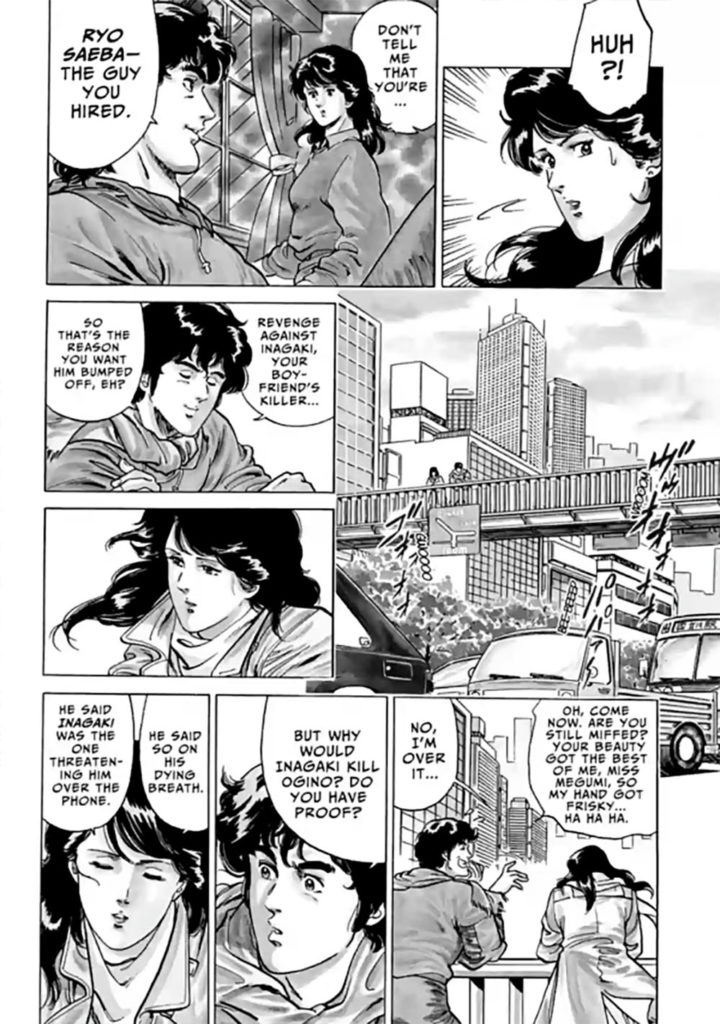 City Hunter: One of the giants of Shonen Jump in the 80s, this 35-volume manga series by Tsukasa Hojo was partially translated into English by the defunct publisher Gutsoon, and was also adapted into animated television series, feature films (including one which was released this year), several live action films, and much, much more. The long and the short of it is, it's about an extremely horny and lecherous private investigator Ryo, who is constantly trying to get laid and is also ridding Tokyo of crime and corruption. It's sort of a sex-comedy manga that's also a hard-boiled and gritty action manga that really plays in a very weird way in 2022. Even weirder, the Japanese manga website "MangaHot" is serializing the English version of City Hunter to read now! You can check out the first 2 chapters for free. After that you're on your own, I'm having kind of a hard time figuring out how to work that website.
---
Masamune Shirow: Best known for various 1980s and 1990s near-future sci-fi manga series including Ghost in the Shell, Dominion, Black Magic, Appleseed, and more. His work generally features character designs that are not dissimilar to the designs of Reiko and Hajime in this work. The grimy backdrop of the city is again, not dissimilar to Shirow's backgrounds in his work (he also draws a lot of inspo from Katsuhiro Otomo of AKIRA fame). Good call on David's part!
---
30:30 So yeah, owing to the fact that it's 2022 and not 1986, Hajime is just a rude asshole, instead of a full-on letch… But he's got character depth! No really, we find out by the end of the volume that some shit has gone down.
31:30 Deb comments on the cartooniness of the mouths in this book, adding to the warm comedy here and it reminding her of the work of Mitsuru Adachi.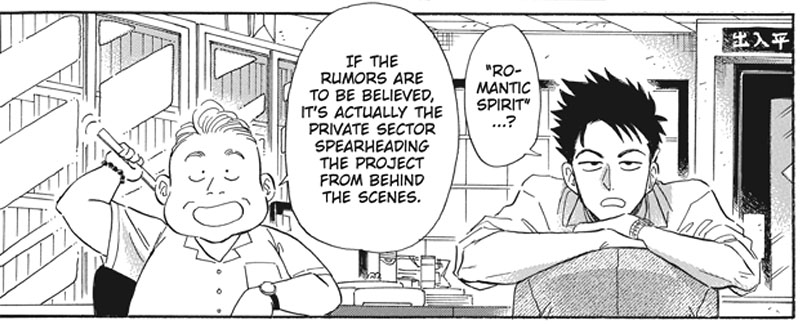 38:00 Deb mentions the scene where Reiko goes up to take out the trash up to the incinerator, as showing a little more grit and grime than the "Friends New York Apartment" version of Kowloon Walled City shown in the book. I actually couldn't find it when going through the book! Maybe Deb will edit it back in here:
But I actually really vibed with the restaurant street scene shown on page 90, which feels good and crowded, close quarters, a little urban decay, but also it's something I'm getting to experience here in Taipei, particularly in the night markets, as well.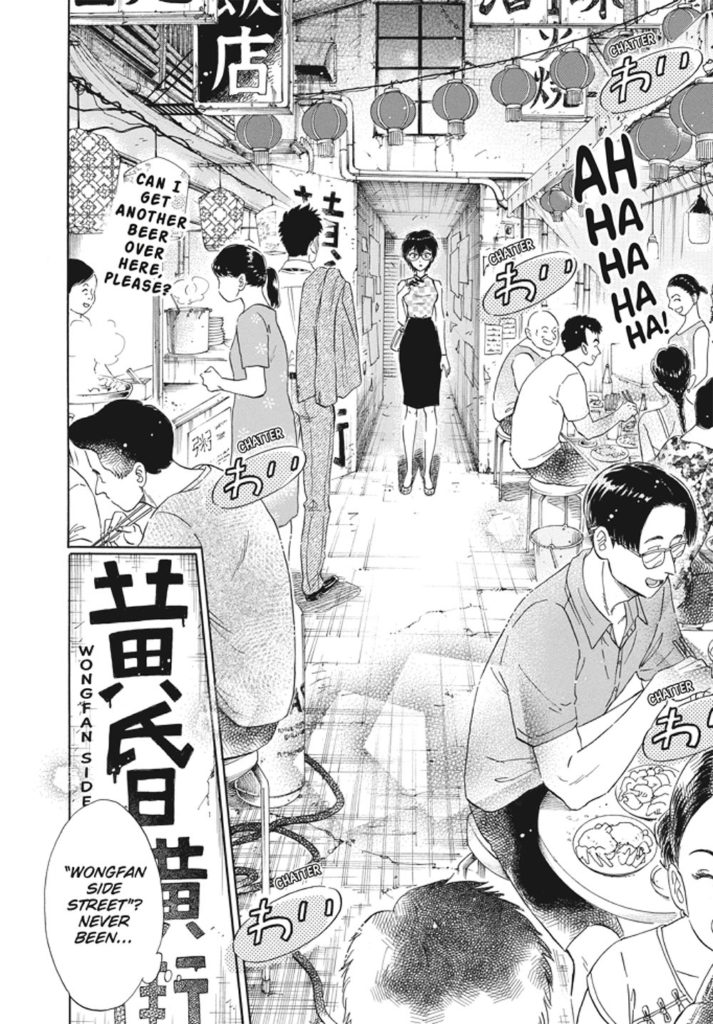 38:22 Deb specifically references THE book on Kowloon Walled City, City of Darkness, by Ian Lambot and Greg Girard. I've seen this beautiful book in the bookstores so many times, it's massive and hard to miss! I could never quite part with the US$110 necessary to own it for myself… but doing the research on Kowloon this week for the show notes is making me want it again.
41:30 I believe this is our second Mangasplaining reference to the film Bloodsport, starring Jean-Claude Van Damme and Roy Chiao, and is ACTUALLY set in Kowloon Walled City.
42:45 Admittedly, you can see what Chip is getting at when speaking about the Diminutive Adult Lady running the porno theater on pages 122-123.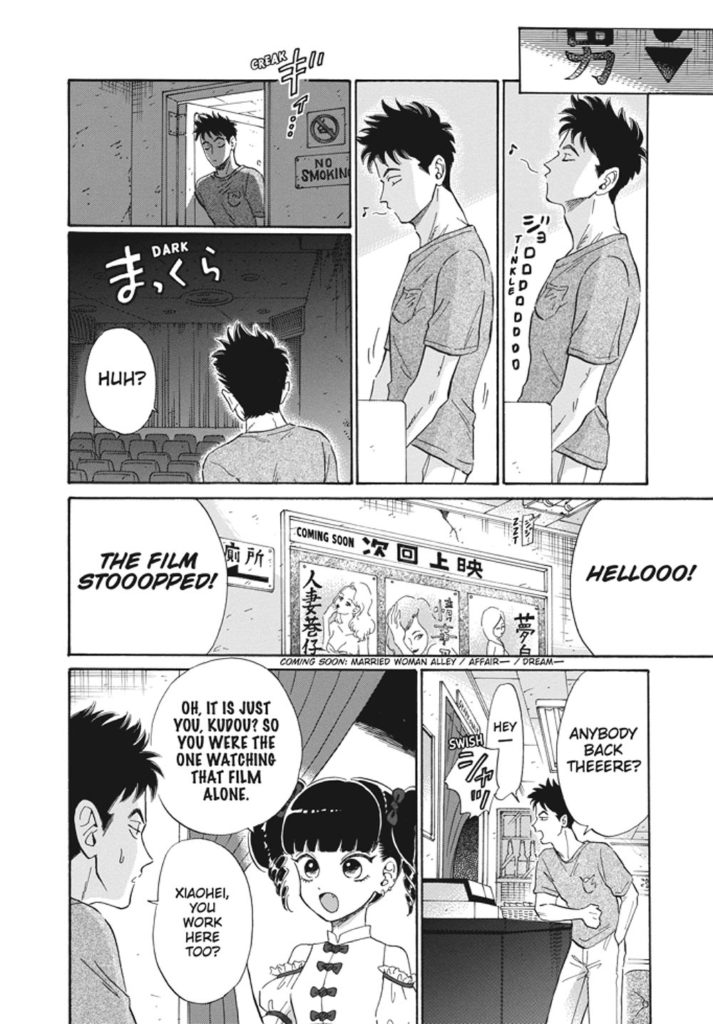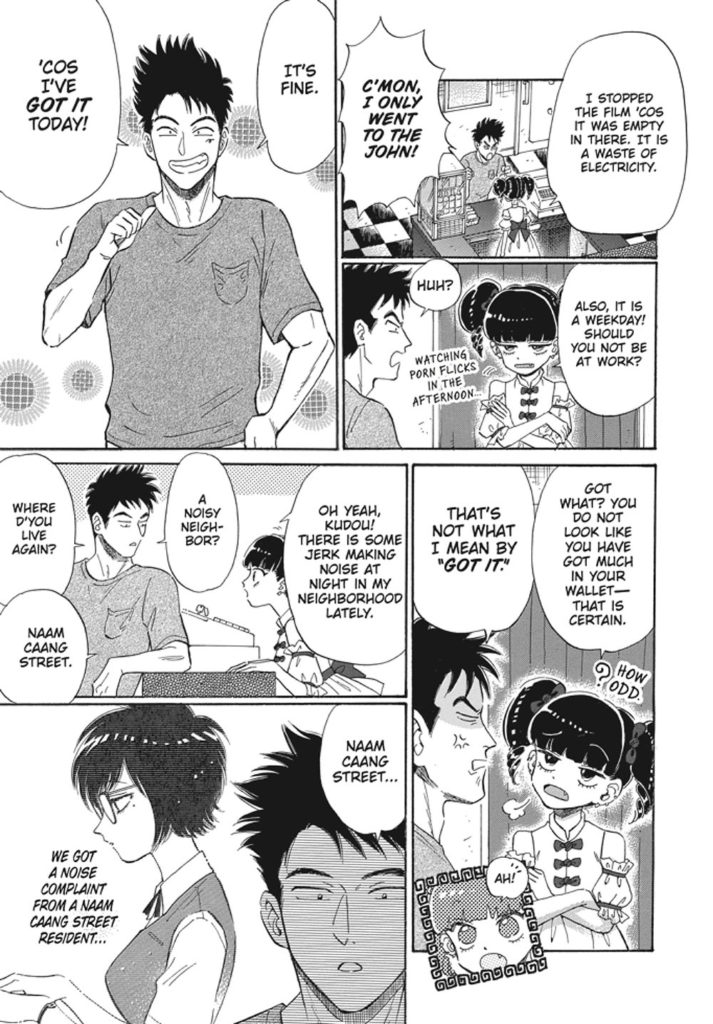 Mmm, this is actually a good example of the slightly sanitized version of life presented in this manga. No 'adult movie' theater is ever actually empty, even in the middle of the day. Where are all of the other dudes surreptitiously masturbating in the audience? Needs more grime!
43:50 David mentions the story slowing way, way down as Reiko interacts with her cigarette.
44:30 Just to add to my point here, T&A in motion, like TV or movies, happens for a fixed amount of time and then moves on. But if you're reading it on the printed page, that image is there until YOU turn the page, and consequently it can take an even longer time to get past it.
46:22 "Something for the foot people," from Chapter 3
46:36 Deb likes the many funny moments in this mysterious, sci-fi tinged romantic comedy. Deb mentions this image from page 27, where the two characters are nose to nose…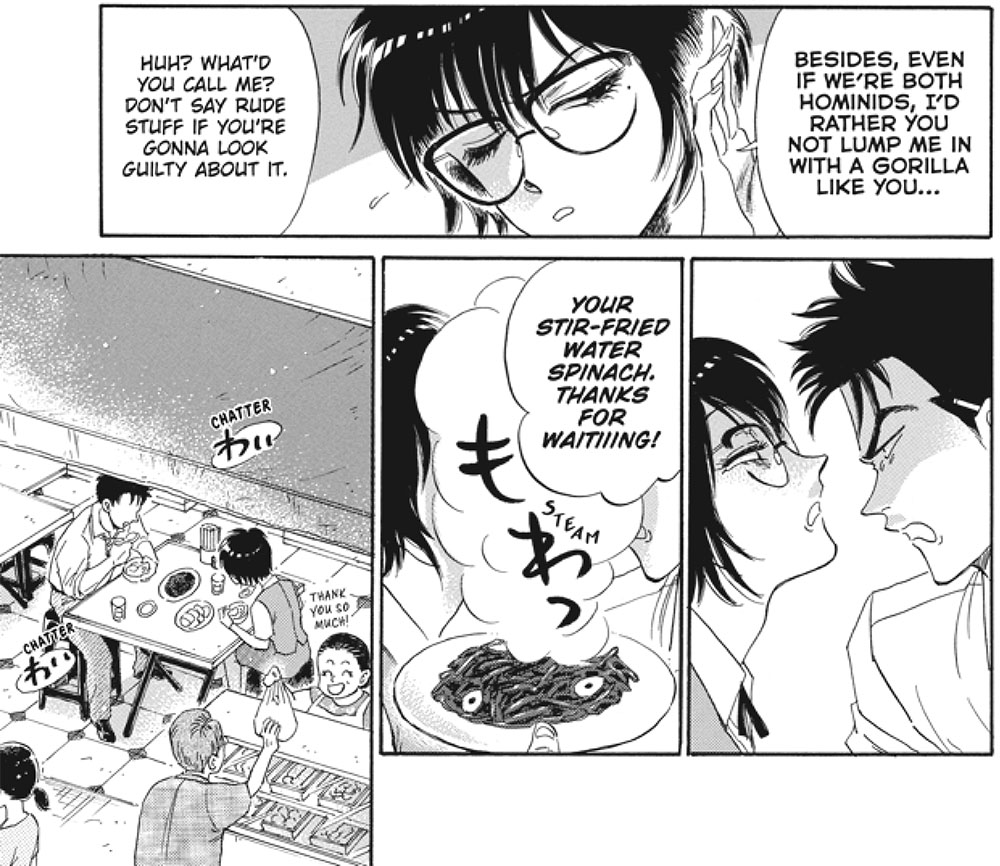 And then on Page 142, where he has just the goofiest face and she is not impressed…
Chip loves Hajime interacting with the old men.
47:58 David loves this smile that gets bigger and bigger and more cartoony as it goes, ending at a sort of Sonic The Hedgehog place…
48:20 Deb mentions this little panel that reminded her of Yoshiharu Tsuge's work, the eye-stores panel, a nod to his seminal work, Nejishiki (Screw Style). Incidentally, this story is available from Drawn & Quarterly as part of their on-going releases of manga by this legendary avant-garde manga creator.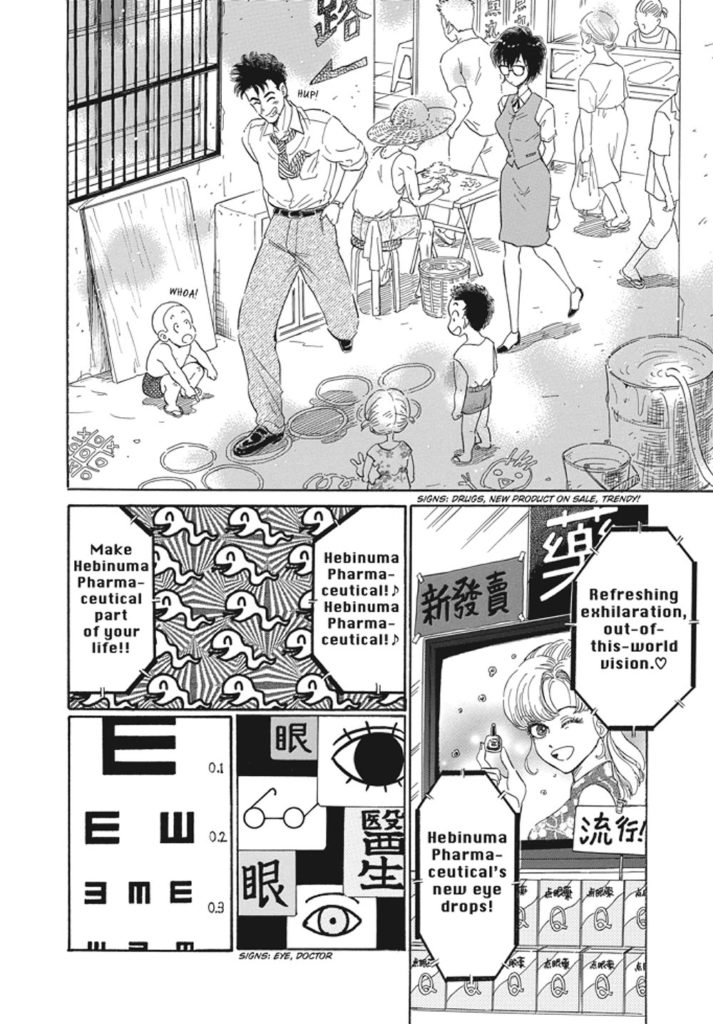 51:30 Deb closes out being very glad she chose this title, even without having read it first. She loves the little moments, the great art bits, the quiet moments, and I think we all agreed!
---
53:25 THE BREAK
---
53:45 SHOUT OUTS!
David recommends the British sitcom Stath Lets Flats, about London's unstable property market and the incompetent man trying to be a real estate agent.
Christopher recommends Is Kichijoji The Only Place To Live?, by Maki Hiroichi, about two real estate agents trying to convince people to live in any neighborhood EXCEPT Kichijoji. Published by Kodansha, you can check out the first chapter for free on their website, and it's on most digital book sites.
Deb recommends the anime Lovely Muco, based on the manga by Takayuki Mizushina. It's about a cute shiba-inu dog that is VERY EXCITED ABOUT EVERYTHING. The anime is airing now on Crunchyroll, and the manga is coming next year from Vertical/Kodansha.
Chip recommends New Teeth by Simon Rich. It was so funny and good, he went and bought Rich's previous book too! David's right, great cover on this one.
And that's this week in Mangasplaining! This episode is also available wherever you get your podcasts, so please subscribe and leave a review, so others can discover our show.
Also, if you'd like to get the latest episode delivered straight to your inbox along with exclusive interviews, articles and new chapters of manga you can't read anywhere else, subscribe to our Substack newsletter. See what you're missing at Mangasplaining Extra!
Next week on Mangasplaining:
Bit of a change! We mention Division Chief Kosaku Shima in the closing, but we actually needed a few extra weeks for those books to ship from Japan. So instead, next week is Space Brothers volume 1, followed the week after by Sweetness & Lightning Volume 1, by Gido Amagakure! Division Chief will make his debut in three weeks.
Thanks so much for listening! Please support your local comic and manga specialty shop when purchasing these books, and you can find one near you at comicshoplocator.com. You can also check your local library for print and digital lending options, they have TONS of manga! Finally, thanks as always to D.A.D.S. for their musical accompaniment for this episode.