Ep. 47: Kamen Rider Classic Collection, by Shotaro Ishinomori, + Record of Ragnarok v1 & 2
The Mangasplaining crew wrap up their "Classic Manga" arc, by going back to the most influential Japanese superhero comic of all time, Kamen Rider, by Shotaro Ishinomori! Straight from 1971, this manga adapted from a TV series adapted from a manga has echoed through generations, but how does this original manga hold up in the cold, hard light of 2022? Listen and find out! Plus: A special VIZ Manga Blind Date, with the over-the-top battle manga Record of Ragnarok vol. 1 & 2!
Powered by RedCircle
IN THIS EPISODE:
00:00 Kamen Rider 50th Anniversary Edition, by Shotaro Ishinomori
1:10:42 The Break!
1:10:50 VIZ Media Manga Blind Date! Record of Ragnarok Volumes 1 & 2, by Takumi Fukumi, Azychika, and Shinya Umemura
1:22:39 Second Break!
1:22:45 Shout-Outs: Lost In Space, Righteous Gemstones, Generous Bosom, Blue Giant
Kamen Rider: 50th Anniversary Edition
Translated by Kumar Sivasubramanian
Lettering: Phil Christie
Editor: J.P. Sullivan
Published by Seven Seas Entertainment (Print & Digital)
Show notes by Deb Aoki and Christopher Butcher. Audio editing by David Brothers.
00:00 Before We Get Started…
[Christopher:] I'm feeling better, thank you. A little scary getting a cold these days. My sincere thanks to Deb for taking the lead on the show notes this week. It's still mostly in my 'voice' but might not have happened without her.
So let's talk a little bit about Shotaro Ishinomori!
Shotaro Ishinomori is one of those giants of manga, up there on the Mt. Rushmore of post-war, Showa-era manga. Obviously influenced by his mentor, friend and colleague Osamu Tezuka, Ishinomori was also tremendously influential in his own right — manga creators as diverse as Katsuhiro Otomo (AKIRA), Moto Hagio (A Drunken Dream), and Naoki Urasawa (Monster) credit his work as being influential to their work. (Check out the comments on this post for an excerpt of an interview with Moto Hagio where she describes this — it's really fascinating).
As we mentioned waaaay back in the Phoenix episode, Ishinomori's work that ran alongside Tezuka's Phoenix in COM Magazine back in the day is called Jun, and it's generally regarded better than that early Tezuka work. I hear rumours that this made Tezuka-sensei a little jealous, but who can say, though? FWIW, I'm holding out hope for publication of Jun in English one day, but I'm not holding my breath, so to speak.
[Deb:] If it helps matters any, most of the stories in Jun are wordless, so that's a cost-savings on translation right there, English language publishers! Just sayin'. Now back to Chris…
Also, like Tezuka's work, some of Ishinomori-sensei's stuff that aimed to be forward-thinking and progressive can come off as kind of insensitive today (and likely would have at the time as well). With any classic manga work from that era, it's important to keep that in mind, as some images might be triggering with respect to race and gender specifically. I think we've kept that material out of the show notes for the most part, but I think it's worth mentioning up front.
SHOTARO ISHINOMORI BIO
Shotaro Ishinomori (1938-1998) was a Japanese manga artist who became one of the most influential figures in manga, anime, and tokusatsu live-action special-effects shows. He created several incredibly popular, long-running series including Cyborg 009, Kamen Rider, Himitsu Sentai GoRenger (later adapted into Power Rangers in the west), and many more. He also created unique thriller, suspense, historical, erotic, and 'artistic' manga that were deeply influenced by the gekiga movement in the late 1960s and 1970s, as well as manga for kids, historical/educational manga and much, much more. As Deb mentions on the podcast, he is in the Guinness Book of World Records for The Most Comics Published by One Author, with 770 titles and approximately 128,000 pages drawn.
Interestingly, his company Ishimori Productions still maintains a fairly fully-featured website for the creator, at https://ishimoripro.com/.
[Deb:] You can also get a taste of the broad range of his manga output at http://ishinomori.jp/ – "a digital encyclopedia" / catalog of all of Shotaro Ishinomori's work, albeit only in Japanese.
Ishinomori got his start in manga in 1954 while still in high school in Miyagi Prefecture. He moved from his hometown in northern Japan to Tokyo in 1956, to become Tezuka's assistant on Astro Boy. While living in Tokyo, he moved into famous boarding house Tokiwa-so, in the northwest corner of Tokyo, near Ikebukuro.
This legendary boarding house was home to many creators during the period of 1953-1962, including Fujio Akatsuka (Osomatsu-san) and Fujiko F. Fujio (Doraemon), among others. As young men (and women — creator Hideko Mizuno, creator of rock and roll shojo manga Fire!! also had a stint at Tokiwa-so), these now legendary comics creators would all be working on their manga, and they would help each other out on deadlines. This is said to be the origin of the manga assistant system we have today.
Ishinomori drew many short stories about his memories at Tokiwa-so, including these excerpts from Aoi Man Kakyo (a collection of autobiographical short stories):
The original Tokiwa-so building was demolished in 1982 but was recently recreated as a museum and opened in March 2020, as the "Toshima City Tokiwa-So Manga Museum: https://tokiwasomm.jp/en/. You can bet that we'll be visiting there whenever we can get back to Japan…! We did see a model of it though, and we include that photo a little further down.
[Deb:] Ishimori Pro also posted this short animated clip that gives a nice overview of Shotaro Ishinomori's life, from his childhood, to his days at Tokiwa-so, the death of his older sister (who was the biggest supporter of his mangaka ambitions), to his world travels that inspired him to create the international heroes of Cyborg 009, his first major success as a manga creator.
While Ishinomori and his creations are basically a household name in Japan, he's relatively unknown in North America except among hardcore otaku, with one exception: a very curious piece of mass-media that involves a famous video game. Ishimori Productions and the man himself were contracted to do a full-colour manga adaptation of the Super NES video game The Legend of Zelda: A Link to the Past, which ran for 12 chapters in the magazine Nintendo Power in 1992.
These full-color stories were collected and republished by VIZ Media in 2015, and are available now. While this wasn't the first book of his to be translated (we think that was Japan Inc., more on that later), this was definitely the work that got the highest distribution and most awareness with English language readers at the time. Also: Some people don't consider it manga, because he made it for an American magazine! Wild, eh?
Also a fun-fact? His real name was Shotaro Onodera, and he changed it to Shotaro Ishimori as his manga pen name back in the 1950s. In 1982, he changed his name again, adding the character for 'no', and became Shotaro Ishinomori (which is why Seven Seas italicizes that on his books I assume). It's why old manga will say Shotaro Ishimori as the author, and his company is called Ishimori Productions.
Ishinomori is also one of those guys that people looooove, so you should probably check out the comments to hear if we got anything wrong, or if anything we're describing here lack nuance, or whatnot, because people will absolutely let us know about it.
About the Kamen Rider manga
Kamen Rider (Masked Rider) was published from 1971-72, serialized weekly in Kodansha's Shonen Magazine, and was collected in 4 tankobon volumes in Japanese. This marks the entirety of the story of the first Kamen Rider in manga, and it was serialized around the same time as the television show. As we mention on the podcast, Kamen Rider is a reworking of Ishinomori's Skull Man series, to make it more appropriate for kids in a live-action TV show. While Ishinomori, his team, and television studio Toei would create the overall story and events, the TV series and manga would diverge wildly by the time they reached their respective conclusions.
This Seven Seas Entertainment print release of Kamen Rider 50th Anniversary Edition that we discuss on the podcast weighs in at over 850 pages, in hardcover. It collects all four of the Japanese tankobon (which, strangely, had already been released digitally in English directly by Ishimori Pro on Comixology with a different translation and lettering). This new edition also includes additional bonus material not included in the previously released Ishimori Pro versions on Comixology, including color pages, and bonus stories! The printing is also really nice, not a bad book to have on your shelf at all.
[Deb:] One thing I neglected to mention on this episode is that, like Devilman, there is an updated version of the Kamen Rider story as a manga series that's currently being serialized in Japan. It's Kamen Rider Spirits by Kenichi Muraeda. It's a reboot/retelling of the original story, but this time, it focuses on the first 10 Kamen Riders and tells the story with some form of continuity that was frankly kinda lacking in the original version of the manga. It's published by Kodansha, but at 30 volumes (the latest came out in December 2021), it might be challenging to see this come out in English… but hey. Kodansha is publishing baseball manga Ace of Diamond as a digital-only release and that's currently up to Volume 36 in English… so I dunno. Maybe??
Kamen Rider TV show
The success of the tokusatsu superhero TV series Kamen Rider, produced by Toei Company in 1971, led to the birth of the "transforming" (henshin) superhero (human-sized superheroes who transform by doing a pose, and use martial arts to fight henchmen and the monster-of-the-week), including many that were also created by Ishinomori, like Inazuman, and GoRenger plus similar series that were created by others like Rainbow Man. From this first Kamen Rider TV series, several Kamen Rider sequel shows have been produced nearly continuously since then, and it continues to be a favorite of kids (and adults) in Japan today.
Okay! On to the show.
01:00 As we mentioned above, Kamen Rider is unique for being a 'story bible' of sorts, that was adapted slightly differently to a manga and a television series. You can watch the first episode of the TV series, subtitled, on YouTube!
1:59 [Deb:] So I discovered Kamen Rider thanks to KIKU-TV, the locally-owned Japanese language TV station in Hawaii. These English-subtitled tokusatsu or live action special-effects television shows aired in the after-school timeslot, and it really caught fire with fans in Hawaii. And it wasn't just Kamen Rider and Kamen Rider V3 — we also watched Inazuman, Kikaider, GoRenger and Robocon — all creations of Shotaro Ishinomori (although I didn't know it at the time). These shows were so popular, that the stars of these shows regularly make appearances in Honolulu, like this 40th anniversary celebration: https://tokusatsunetwork.com/2019/01/kikaida-hawaiis-favorite-tokusatsu-hero/
Here's Daisuke Ban (Jiro from Kikaider), Hawaii's Lt. Governor, James "Duke" Aiona, and Hiroshi Miyauchi (Kamen Rider V3) in 2004, at an event celebrating the 30th anniversary of these shows. – Photo by Watari Goro
02:15 [Deb:] Here's a look at some of my Kamen Rider toys that I mentioned.
02:57: Here's what the publisher has to say about the Kamen Rider 50th Anniversary Edition:
The original run of the legendary Kamen Rider manga, now in English as a special 50th anniversary hardcover omnibus!

Fans the world over have long been enthralled by tales of Kamen Rider, the masked, motorcycle-riding superhero who protects the world from injustice. Kidnapped and experimented upon by the evil terrorist organization known as Shocker, Hongo Takeshi manages to escape their clutches and use his newfound strength to fight against their schemes.

These are the first adventures in a legacy that spans dozens of television series and films, drawn and written by series creator and manga superstar Shotaro Ishinomori. Commemorating the 50th anniversary of the classic 1971 publication, this collection is the first hardcover edition of Kamen Rider in English. It features the original Kamen Rider manga series plus special bonus materials and a full-color section!

– Seven Seas
03:30 – So yeah, there are two different museums themed after Shotaro Ishinomori! Deb, David, Christopher and Chip (and friend-of-the-show Nick Dragotta) went to both of them, and visited Ishinomori's house that he lived in growing up too! Kinda wild, they've preserved it.
First up, there's the Mangattan. The Mangattan is a play on words with "manga" and "Manhattan" — since the museum is on a long island near the waterfront in the town of Ishinomaki. It's a museum/tribute to his characters, and is aimed more at a family/grown-up-nerd audience. Here's the official website and a few pictures from the trip: https://www.mangattan.jp/manga/en/
Then connecting the Mangattan to the main train station in Ishinomaki is "Ishinomaki Manga Road", which contains busts, reliefs, and full-on statues of various Shotaro Ishinomori characters! You can read more about it at https://www.mangaroad.jp/, and see the map of all the statues here:
Then there's The Shotaro Ishinomori Furusato Museum (a.k.a. Shotaro Ishinomori Memorial Museum) in Tome, dedicated more to the artist himself. It contains personal effects, talks about his life and career, and has a library with his work that you can read.
[Deb:] It's not easy to get to to this museum by train like the Mangattan in Ishinomaki is, but there is bus service — or you could do what we did, which was rent a car to get there from nearby(-ish) Sendai. https://www.city.tome.miyagi.jp/kinenkan/
The Ishinomori Furusato Museum is part of a number of Ishinomori-related sites in his home town. Just around the corner from this museum is the literal house he used to live in, when he lived in Tome (toe-may). His parents dedicated all of his personal effects, and it's basically all the stuff he left behind when he moved to Tokyo, including selections from his manga collection, the desk he used to draw on when he was a kid, and a very cool chair. It's honestly mind-blowing that something like this would exist, for a cartoonist.
Then around the corner he has a huge memorial park and Kamen Rider V3 statue setup. It's… epic. It makes the whole town sort of a pilgrimage for Kamen Rider and Ishinomori-fans.
So yeah, that's kind of what we're getting at when we talk about him being a big deal.
04:39 Tokyopop's Skullman was actually released as a five-issue mini-series in comic book format first, before being collected into a manga-sized volume. The Tokyopop Skull Man series was actually a reboot version drawn by Kazuhiko Shiramoto, inspired by the original by Shotaro Ishinomori. It would eventually run 7 volumes (I think). It didn't sell particularly well, I remember at the time.
Eventually, Ishimori Pro released the original Skull Man 1 volume manga themselves, direct to Comixology, where you can read it today.
05:19 Meanwhile, Tokyopop's Cyborg 009 is the original 1970s manga, released as 10 volumes from 2003-2005, out of the series' total run of 36 volumes. The sales on this title were abysmally low, and 2005 was the beginning of the manga crash, so, no surprises it didn't continue.
These are currently available from Ishimori Pro on Comixology as well, though they never released past volume 10 either, probably just using the Tokyopop translation.
06:02 So about the 3-volume golf manga…
Yeah, yeah, Christopher bought the manga with the big dude on the cover… which turns out to be a sex comedy where he is naked a lot more than you'd expect. There's a ton of golf though, promise.
This manga is by sports manga legend Noboru Kawasaki (1941-), best known for his genre-defining baseball manga Star of the Giants (with Ikki Kajiwara, who also wrote Ashita no Joe and Tiger Mask). According to Google Translate, the title translates to Amenimomakezu, and I think it's something like "Amenimo Makes It"? Anyway it was released from 1983-1984 in Kodansha's Morning magazine, and was collected in 4 volumes, which means I'm missing one? The third volume seems to have a conclusion, so no idea what they do in volume 4. Probably more gags and golf!
Anyway. Here's a shot of some of the 'lightly caricatured' golfers from 1983 that the series includes, along with our hero and his girlfriend in their living room:
Because we live in The Future, Kodansha has a page dedicated to this manga and series, and you can actually do a trial reading(!) by clicking the fourth button that has a little "open in new window" icon.
https://kc.kodansha.co.jp/product?item=0000001842
Anyway, what I'm saying is if you want to read goofball golf comedy manga from 1983 with a surprising amount of equal-opportunity nudity in English, email Kodansha.
Also, I think it's kinda interesting that I thought this was from the 1960s, like Ishinomori's work, because it sort of looks like that kind of cartooning? It's no surprise, Kawasaki-sensei made it big in the 1960s and his cartooning tends to come from that place. But yeah, I would never have placed this to 1983. I checked the copyright and it said the year was "58", so that's probably where that mistake came from–I definitely would've bought this BEFORE I knew that Japan had its own way of recording the years, so this was published in Showa Era 58, or 1983. Learning happens over a lifetime, kids.
06:46 Christopher mentions a bunch of manga museums he visited. Here's a quick few links and pictures, cause why not?
Osamu Tezuka Manga Museum in Takarazuka
https://www.city.takarazuka.hyogo.jp/tezuka/
Fujio F. Fujiko Museum in Kawasaki
http://fujiko-museum.com/english/
Ghibli Museum in Mitaka
https://www.ghibli-museum.jp/en/
The Shigeru Mizuki Museum in Tottori Prefecture
http://mizuki.sakaiminato.net/lang-en/
07:27 Christopher talks a little bit about how the Mangattan Museum was impacted by 3/11 (Great Tohoku Earthquake and Tsunami, March 11, 2011).
During the 3/11 tidal wave, the museum (which is on built-out land on a riverbank) was nearly completely flooded — there's a mark on the wall inside the museum that shows how high the water got, and that mark is on the second floor. The museum was flooded, nearly completely destroyed. Surprisingly, they were able to repair and renovate it in under two years, to act as something of a beacon for the rebuilding of the Tohoku region.
You can find images if you do a Google Search, I'm not gonna repost them here as a lot of people lost their lives, seems a bit disrespectful. But returning there to not only the museum but the city was a powerful moment.
07:50 [Christopher:] One the one hand it's surprising that so much of Ishinomori's work has never been published in English (770 titles across 500 volumes), but on the other there's such a paucity of classic manga available given how much work is out there. It's actually really, really cool that Seven Seas have begun publishing classic manga by Go Nagai, Monkey Punch, Leiji Matsumoto, and Shotaro Ishinomori, among many other creators. I may find fault with some of the editorial decisions, but I'm still over the moon that this work exists, especially for a manga as strong as Kamen Rider.
For the record, works of Ishinomori's that have been translated into English (in some capacity) include Kamen Rider, Inazuman, Kikaider, Cyborg 009, Skull Man, and The Legend of Zelda: A Link to the Past (manga), all available in print and/or digital. Out-of-print work includes the business manga Japan Inc.: An Introduction to Japanese Economics, and selections from his seinen business manga series Hotel were serialized in the magazine Mangajin in the 1980s.
For a full list of his works, check out this page on the Ishimori pro website, as well as the previously mentioned digital archive of his manga at http://ishinomori.jp.
09:00 [Deb:] While Christopher is right that there's no Buddha or Phoenix manga "masterwork" for Ishinomori published in English yet, there are some contenders waiting to be translated! I personally love his seinen manga biography of Hokusai, which is currently available in French. There's also a preview of it on the Kodansha Japan website. He also drew a manga biography of legendary swordsman Miyamoto Musashi that's available as French and Italian editions.
His series Jun: Shotaro Ishinomori Fantasy World is also interesting and very arty / experimental.
He also drew many biography / educational manga, plus manga for kids too like Ganbare! Robocon, and even a history of Japan told in manga.
In short, for an adventurous publisher, the work is out there!
09:54 In addition to 'select' free episodes on YouTube, like the one we linked above, you can also view alllll kinds of different Kamen Rider TV episodes on the streaming app Tubi.
11:07 David mentions The Guyver, which we mentioned during the Devilman episode– a manga-to-rubber-suit sci-fi movie that's in a more shock/horror vein, even for a superhero film. It's worth noting that Kamen Rider didn't 'invent' tokusatsu special effects shows with dudes in rubber suits, that honor goes to Ultraman (which we might get into some day) and of course, this extends back to monster movies like the Godzilla universe of flicks (both created or co-created by Eiji Tsurubaya, another legend of Japanese pop culture.)
11:53 David's referencing The X-Men from Marvel Comics, which saw a significant revamping/reimagining when writer Chris Claremont joined the series and rebooted it with Uncanny X-Men #94 and Giant Size X-Men #1. He made it more 'international' (with attendant problems) and basically created the roadmap for the X-Men as it exists today. He's also notorious for introducing plot threads which are never followed up upon again.
12:23 Page 26: Kamen Rider accidentally killed a dude!
13:00 KAMEN RIDER PSA! I actually couldn't find this video, but did find a number of references to it. Here's a tweet that has some screengrabs. Go check it out, it's pretty great.
https://twitter.com/strongest_human/status/1260176284958760960/photo/1
Yeah, kids! Kamen Rider kicked a monster's arms off, you shouldn't be doing that to each other!
13:55 Here we mention the slow-motion 'after images' action effect, with each illustration completely redrawn, no stats. Ishinomori actually does this a number of times, this is just one example.
Actually, while we're showing this, here's another example that we mention in a few minutes.
14:33 So as we mention on the podcast, the manga takes sort of a left-turn from the TV series when the lead actor, HIroshi Fujioka fractured his leg in a motorcycle stunt gone wrong, and is written out of the show temporarily. In the TV series, his absence is explained as him going abroad, leaving a new Kamen Rider to watch over Japan. In the comic, he's brutally murdered, becoming a brain in a box that guides the new Kamen Rider. From this point on, the manga and TV series drift further apart until the manga's conclusion, and the manga gets pretty dark, you can see where Ishinomori was going with his storytelling.
Also, running theme in the podcast, David and Christopher LOVE how they used to draw computers back in the day.
15:00 When Deb and David say that Kamen Rider is a franchise of entertainment, they mean it! It's a merchandising juggernaut by any measure, as the sales for Kamen Rider toys, accessories, games, clothing, etc. exceeds $4 billion (2002- 2020), sometimes raking in over $250,000,000 per year through merch partner Bandai/Namco. The lifetime total licensed merchandise sales of Kamen Rider are estimated to be $2.5 billion…!
15:29 So we've mentioned Ishinomori-sensei's other series, Himitsu Sentai GoRenger a few times now, as the inspiration for the popular North American Power Rangers series. Ishinomori made the original manga, which was adapted into the television series Go Ranger (Five Rangers) in Japan (Super Sentai is more the genre). Kind of like Kamen Rider, every year, a new variation on the five hero team formula airs on Japanese TV — with a new theme and a new batch of heroes. So it's one of those later version of this series (not the original GoRenger series) that was adapted for N. American viewers by adding English dubbed dialogue and included new scenes filmed with American actors. This is what became The Power Rangers you might be familiar with today.
Just last year, Seven Seas (who published Kamen Rider) also published that original manga, Super Sentai: Himitsu Sentai Go Renger, and if you like Kamen Rider, you might want to go check this out too! It's also a very nice hardcover edition.
Seven Seas description:
An evil secret society called the Black Cross Army threatens world peace, and only an elite task force known as the Earth Guard League (EAGLE) can stop them. After the Black Cross Army destroys EAGLE's headquarters across Japan, five young recruits survive. Hiding in a secret underground base, they are given enhanced battlesuits that empower them with superhuman abilities, transforming the youths into an unstoppable squad to combat evil.

Tied to the first Japanese Super Sentai tokusatsu TV series ever made, this genre-defining work laid the groundwork for decades of such adventures, including the wildly popular Power Rangers franchise in North America. Read Shotaro Ishinomori's original manga adaptation of Himitsu Sentai Gorenger in this beautiful hardcover collection.
16:47 Deb makes an interesting point here that, like Jack Kirby and Steve Ditko in North America, Ishinomori sort of developed the language of superheroes in Japan. I also think Chip is way too quick to write him off by saying he isn't as inventive. Ishinmori did 800 pages of Kamen Rider, which iterates on a theme (with developments) over the course of a year, but also he and his studio drew more than 3 times that many pages in 1971 alone. It may not be the same amount of ideas-per-page as Kirby, who was also a genius of comics, but it might've been as many ideas per year as Kirby. Guess we're gonna have to wait for more work to be translated to find out for sure!
17:30 Also, yeah, straight up. "Man Bat, Man Spider," like Spider-Man didn't have a TON of iterative animal-themed villains in his 24 issues: Doctor Octopus, The Lizard, The Vulture, The Chameleon, Kraven the Hunter, The Scorpion, and a dozen more introduced later. And when it wasn't animals, it was the elements 😛
18:28 Yeah, when he stabs the Man-Bat through the wings with a spear, I gasped out loud.
And then from Kamen Rider getting on his bike to follow Man-Bat to when he catches up with this villain? It's a 16-page sequence (8 or 9 spreads depending on where you start counting). Now THAT'S decompressed storytelling.
I've never seen anything like this in a commercial manga. Sure, decompressed storytelling, emotional storytelling, cool splash-pages-cuz-people-like-splash pages, but nothing quite like this, where one chase sequence alternating between moment-to-moment storytelling, splash pages, and double-page splash pages. It creates a 'whirlwind' effect, and it's kind of exhilarating.
This is an egregious amount of screencaps, so I'm making it one reeeeally small image to convey the point without actually screencapping that much work. Fair use has its limits.
22:20 Just for the record, while Ishinmori was working on developing Kamen Rider through it's serialization, (roughly between 1971-1972) he was working on (at least) 20 total manga series. So, uh, yeah. Busy guy.
23:00 As mentioned, Ishinomori started his career as an assistant to Tezuka. Following that tradition, Go Nagai (as mentioned on the DevilMan episode) got his start as an assistant to Ishinomori! Lots of manga-loving, artistic comics prodigy, cutting their teeth by drawing for weekly magazine serialization in the manga industry back in the day. There's probably a lot of people doing that today too, if Bakuman is to be believed.
23:50 Chip Zdarsky's opinions do not necessarily reflect the opinions of the entirety of the Mangasplaining podcast… yadda yadda yadda. People can not like things you like. Chip's obviously wrong though.
25:00 Deb mentions that in many ways, it's much faster to read 800 pages of Kamen Rider manga than it is to read 128 pages of Nausicaa manga. Translator and manga professor Rachel Thorn's "T rule" just might explain why! Check out this Twitter thread, it's really good.
27:30 Deb actually did a TON of research after this bit to find out more about these "Disneyland" and "Fun Kindergarten" comics included in this edition of the Kamen Rider manga. Scroll down to 55:00 to learn more.
27:31 Evangelion and Shin Godzilla Director Hideaki Anno's Shin Kamen Rider movie will hopefully hit movie theater screens in 2023. Here's a poster with Anno dressed as Kamen Rider from back in his twenties before he became a big-shot anime and movie director. This guy LOVES Kamen Rider.
Here's the trailer for Shin Kamen Rider trailer, which reproduces the original opening of the TV show shot-for-shot, it's a bit bonkers:
As for the film itself, it's gonna be a big deal. Sousuke Ikematsu (The Last Samurai) will play Takeshi Hongo/Kamen Rider, and Minami Hamabe will play Ruriko Midorikawa.
Find out more at http://shin-kamen-rider.jp
Also, check out the chest plate on this new Kamen Rider costume — pretty cool!
28:00 [Deb:] Takeshi Hongo (Kamen Rider), as played by Hiroshi Fujioka was a good looking guy then, and years later, he's still going strong, making occasional cameo appearances in more recent Kamen Rider shows.
28:51 [Deb:] There was a Shotaro Ishinomori biography manga I picked up in Japan that explains how SkullMan became Kamen Rider. Here's a couple spreads, where Ishinomori's son Sho picks out the Kamen Rider design as being the "coolest."
This is from a biography manga about Shotaro Ishinomori, drawn by Sugar Sato, published by Poplar Press — sorry, it's only available in Japanese, but it's not that hard to read if you know basic Japanese thanks to the furigana next to the kanji.
30:36 This quote from the first episode of the Kamen Rider TV series is very superhero-comics-angst. Kinda perfect.
31:07 Okay, so 525 pages in, we finally get an explanation of Kamen Rider's actual powers! It's wild that they just go ahead and do this. It's additive for the kids watching the TV show AND the kids who could afford to buy the manga as well.
33:05 More on Mark Millar and his television shows at his homepage. https://www.mrmarkmillar.com/
34:40 Here's the opening theme song to The Skull Man anime remake that David mentions!
35:05 [Deb:] There are 30 iterations of Kamen Rider, and the current television series Kamen Rider Revice (2021–2022), includes a female Kamen Rider – Kamen Rider Jeanne!
39:47 We spent a few minutes talking about how the musculature on Kamen Rider just doesn't work, as the series transitions between being a cartoony sort of look coming out of the Tezuka/Disney style, and a more realistic, heroic exaggeration. Here's that image that Chip mentions, on page 242 that features a great drawing of a dirt bike and a very bad drawing of a body, particularly once you try to figure out the proportions based on the size of his foot.
And again, when we talk about "Stretch Armstrong" and not quite having figured out how muscles would eventually be exaggerated, you end up with illustrations like this, on page 285.
Not to belabor the point or anything, but with some distance this part of the discussion kind of reminds me of the very early days of superhero comics. You can see this in artists like Fletcher Hanks and his creation Stardust, where the 'rules' of drawing superheroes hadn't been codified yet, and everything had a sort of naive quality.
Granted, Kamen Rider was drawn 30 years later, but the distance between Hanks and Ishinomori is about half of the distance between Kamen Rider and today. Ishinomori is utterly incredible at drawing in his own style, it's just pushing that style into photorealism that results in some work that's neither fish nor fowl. Interesting stuff.
43:09 Superhero illustrator Alex Ross will occasionally recreate classic comic book covers in his style. I couldn't find the Justice Society cover I was thinking of, but here's the first appearance of The Legion of Superheroes. There's an awkwardness to the original that's charming in context, but the Ross version has a different sort of awkwardness, like when they show 1960s Star Trek episodes in HD, and you can tell that everything's made out of painted wood. You need the lack of fidelity and the context to make the illusion work.
44:03 Here are examples comparing the musculature of Buronson's Fist of the North Star and Hideki Araki's Jojo's Bizarre Adventures, from just a few years apart. These are photos from a pretty amazing gallery catalogue that was produced as part of a big Shonen Jump art show in Japan. You can see subtle changes between FoTNS (image #2) and Jojo's (Image #3), and that difference gets more pronounced as the series goes on.
45:22 Here's those two double page spreads David mentions, where you can see cartoony characters against very realistic backgrounds, but then look at the female character's face, on the first spread, and the second when she's getting swept away! It's like the images are drawn for what the story needs in the moment, and it might be due to assistants/different artists tag-teaming the work, but it creates a unique reading experience. Heightened emotions through heightened, temporary realism.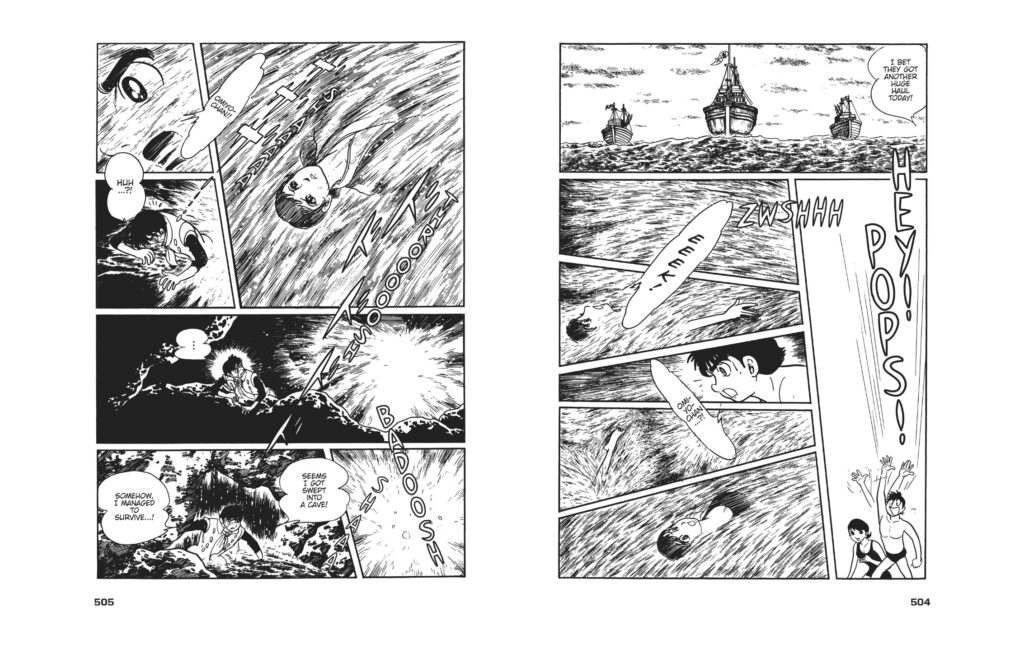 45:57 This spider-web spread is awesome, but his butt is just like… not a human butt. The rest of the illustration is beautiful, artistic, and has a sheen of realism. But it's on top of a cartoon character. But you almost don't notice it, because it reads quickly and it expertly moves readers through the story.
51:21 These horses look like Tezuka drawings, which means Disney drawing (for the most part when it comes to animals). But in the panels where they're alongside the more realistic/mechanical motorbikes, they're drawn more realistically.
52:54 The difference in drawing between these two pages on the same spread is just… I've never seen a manga like this. Hyper-realism to pure cartooning, juxtaposed. I could speculate endlessly about how this happened, like it was licensing art or a personal illustration that they worked into the manga maybe? But it saw printed like this, and that's just cool.
55:00 So yeah, same complaint as Seven Seas' publication of DevilMan. If you're doing an archival edition, particularly if you're pulling from disparate sources, you need to source, gloss, footnote, or at least introduce that material and give it some context. Like every classic comic strip collection has at least a tiny little bit of that.
Shout-out to Deb for putting in some great research here:
[Deb:] At the time in the 1970s, Kodansha published a magazine for kids called Disneyland, and my guess is that these Kamen Rider "Disneyland" stories showed up in this magazine. The "Kamen Rider Disneyland manga" is credited to Mitsuru Sugaya, Ishimori Pro and Shotaro Ishinomori. Incidentally, Kodansha publishes a lot of manga adaptations of Disney characters/stories along with Tokyo Disneyland guidebooks, and is an official sponsor of Tokyo Disneyland and Disney Sea parks in Japan too.
I was able to find a color reproduction of pages 812-813 of the Seven Seas edition online, and here's a comparison between the two. First, how it's shown in the Seven Seas edition, as black and white art, followed by a photo of these same spreads in color, as they were likely originally presented in Disneyland Magazine.
[Deb:] Meanwhile, Kodansha also published a magazine for young children called Tanoshii Youchien (literally means Fun Kindergarten) that was established in 1956. The stories from the "Fun Kindergarten" section of the Seven Seas edition of Kamen Rider were probably originally published in this magazine.
Here's a comparison of the partially-colored, orange+purple pages from this magazine, and how they appear in black and white on pages 828-829 of the Seven Seas edition.
[Deb:] And finally, here's the double page spread that Christopher mentioned as appearing a little muddy on pages 818-819 of the Seven Seas edition, as it appeared in color when it was originally published, followed by the black and white version of the same page spread.
[Deb:] Since we're talking about the Disneyland magazine, I also dug up this fun unofficial(?) crossover between two incredible heroes.
[Deb:] Full credit and thanks to this blog, which includes photos of the color pages from this bonus material as they were included in a very expensive, very out of print, $120.00 Kamen Rider deluxe manga box set – https://shira713.blog.fc2.com/blog-entry-1428.html
[Christopher:] I do want to say that I don't think these Japanese editions are 'perfect,' either. They include even more 'extra' colour, like from title pages or the first-four-pages of story pages that would have been in colour, and as Chip mentions in a moment, that colour doesn't add a lot, and in fact that black and white art is often nicer. You can see more examples at the link above. But for painted work, like the Kindergarten/Disneyland pages, IMHO the colour pages are much better.
And, for the record, again, the fact that we got a beautiful hardcover edition of Kamen Rider at all, especially with select colour pages, bonus material, and a great translation and touch-up, is amazing and that kind of work deserves to be financially supported. If you love Kamen Rider, you should own Seven Seas' hardcover edition.
55:50 As Deb mentions, there's some great colour pages in the painted opening pages of the Seven Seas 50th Anniversary edition, like Takeshi Hongo before he's transformed into Kamen Rider on the operating table. Really nice. Likewise, Chip isn't wrong when he says that having a guy in a blue jacket against a blue background running away from a blue car is… not the most effective use of color one could hope for.
58:00 Deb talks about the differences between the digital-only edition produced by Ishimori Pro (B&W) that was released on Comixology, and the newer print/digital edition produced by Seven Seas. You can see that this is the best version of the book in many ways.
58:50 Here's a quick example from the beginning of the book, of the dialogue tilting in the word balloons as the doctor looks over the cliff. Fun little stuff is done throughout the book.
1:01:00 David brings up the resolution of the "Cobra Man" story, and I read it so quick I literally didn't realize that Medusa kills herself after she kills him. I thought she was crying over his corpse. That's… well, that's why this isn't for today's 10-year olds, I guess. Maybe 12-year olds?
1:02:00 David mentions the Cyborg 009 vs. Devilman cross over anime. It's super violent, but well within the realm of a general-audiences anime series. It's not nearly as grotesque as the Devilman manga, though. Check out the opening theme!
1:03:34 The scarf really is a killer design element. It feels very mod, very hip.
1:03:48 As we mentioned up top, Ishinomori is in the record books as being the most prolific comics creator of all time. There's a short 2-page story by manga creator Shigeru Mizuki (GeGeGe no Kitaro) that talks about how Tezuka and Ishinomori would work themselves, without sleep, and didn't really care about their health. It's funny/sad.
We try not to link, or include, scanlated comics here on the site, but I will say that if you pop "Shigeru Mizuki The Power of Sleep" into Google, you might just be able to read a two-page comic that will make you laugh/feel a bit sad.
1:05:13 We talk about the Tokiwa-so boarding house during the introduction up top, but apparently I took a video of the model of the building that's at the Mangattan Museum! Here, please enjoy! 🙂
Eisner and Iger created the separation of labor in US Comics – You can read about that on Wikipedia. This isn't NorthAmericanComicsSplaining!
1:08:00 "Columbusing" stuff: Discovering Things For White People
And that's KAMEN RIDER! We had a lot to say, and apparently a LOT of images (and videos) to share with y'all! Hope you enjoyed!
---
1:11:15 THE BREAK! PART ONE! After this point time stamps are approximate due to dynamic ad insertion. Apologies!
1:11:25 It's time for another Manga Blind Date, sponsored by VIZ Media!
Record of Ragnarok vol. 1 & 2
Created by Takumi Fukui, story: Shinya Umemura and art: Azychika
Translated by Joe Yamazaki
Touchup/Lettering by Mark McMurray
Edited by Mike Montesa
Head to https://bit.ly/RagnarokPodcast to read a free preview of Volume 1! Clicking that link actually supports us here at the podcast, thanks! 😀
The Record of Ragnarok anime is now airing on Netflix: https://www.netflix.com/title/81281579
[Deb:] To give Chris a break from writing even MORE show notes after our deep dive into Kamen Rider, I'll be writing the show notes from here onwards:
1:12:00 Here's VIZ Media's description of Record of Ragnarok Vol. 1:
The Valkyrie Brunhilde has convinced the gods to give humanity a chance at redemption through combat in the Valhalla arena. Seeking a quick end to the proceedings, the gods present their first fighter, Thor, the Norse god of thunder. Facing him is a warrior said to be the strongest in the history of mankind, the legendary general Lü Bu!

VIZ Media
1:13:22 – Haha! Love how Chris describes the fight scenes in Record of Ragnarok as "action figures banging together as hard as you can! The anatomy and movement is ludicrous – Burne Hogarth is rolling in his grave!"
So who is Burne Hogarth? His main claim to fame as a comics creator is his stint as the artist on the Tarzan comics. He also wrote a number of books for artists about how to draw human anatomy, including Dynamic Figure Drawing and Drawing the Human Head, that have become THE go-to books for illustrators and folks working in comics. – so yeah, this guy would have something to say about Record of Ragnarok's versions of "dynamic figure drawing" 😉
http://www.burnehogarth.com/blog/biography
1:15:08 – A lot of Record of Ragnarok volume 1 is muy macho and muscular dudes Lu Bu and Thor throwing blows for pages and pages! But in Volume 2, we meet our next set of combatants, who couldn't be more different than Thor and Lu Bu: It's old man Zeus versus Adam, "the original minimalist," complete with his very big fig leaf.
1:16:32 There's a lot of details in the crowd scenes in Record of Ragnarok, and there are lots of these crowd scenes too. There's just a lot lot lot going on in this manga… I can't even begin to come close to expressing how much with just a few sample pages.
1:17:34 – Is Adam not the hottest guy in this? "He's so hot one of the characters says he's cute little heart emojis!" – Chris. Okay, okay…. tho Shiva is more my speed. 😉
1:18:19 The list of combatants for future bouts in Ragnarok include some familiar and not-so-familiar names. One thing that Record of Ragnarok points out is how many legends of Asian history and methodology are not exactly household names in the West, like Kojiro Sasaki (maybe familiar if you've read Vagabond by Takehiko Inoue) — but like who's Kintoki Sakata? Soji Okita? Raiden Tameemon? Sorry, that's just one of many holes in my knowledge of historical heroes of Asia… I guess I have to read the rest of Record of Ragnarok to find out!
1:19:16 I'm-a gonna assume most of our comics reader listeners are familiar with Neil Gaiman and his stories that add a modern twist to mythological characters – like Sandman and American Gods. Record of Ragnarok's gods offer a different take on the global pantheon of gods compared to Gaiman's approach to similar characters.
1:19:31 Thor looks NOTHING like the Marvel Comics version! Red hair, a hammer that looks more like a cement block and with a thick reinforced rebar handle that looks more like a part of a building than a mallet that someone can throw at enemy combatants.
1:19:44 – Aphrodite's uhm… breasts are distractingly huge – and I say that as someone who finds this to be more absurd than erotic. Clearly, a Cross-Your-Heart Bra will not lift and support these mega-melons, so she has an attendant providing full-time boob support. Yow.
1:20:00 As Chris says, it is pretty unusual to have an otherwise "pretty" female character look so bugged out like this. And this isn't the first or last time this will happen in this manga series either.
1:21:18 Zeus' entrance into the arena is ridiculous! Bach and Mozart react, and Zeus and Hermes waltz into the battlefield. The creators of this story are having a lot of fun coming up with over-the-top twists to make each battle something new and kinda crazy. The best thing is to just embrace its absurdity and just enjoy the ride.
Record of Ragnarok by Takumi Fukui, Shinya Umemura and Azychika is available now from VIZ Media in print and digital. Go to https://bit.ly/RagnarokPodcast to read a free preview.
---
1:23:00 THE SECOND BREAK! You get two breaks this week, hooray!
And now it's time for Shoutouts!
David's shout out is the latest reboot of sci-fi adventure TV series, Lost in Space, now airing on Netflix. David describes it as "really fun," with an "adventurous Fantastic Four vibe with non-annoying kids."
https://www.netflix.com/title/80104198
Chip's shout out is for The Righteous Gemstones, a series about a "world-famous televangelist family with a long tradition of deviance, greed and charitable work" now airing on HBO – "Edie Patterson is the funniest person alive!"
https://www.hbo.com/the-righteous-gemstones
Christopher's shout-out is kind of all over the place. It sprung out of this review of Conor Stechschulte's Generous Bosom 4 from Breakdown Press, written at TCJ by Sean McTiernan. https://www.tcj.com/reviews/generous-bosom-4/ .
Publisher Breakdown Press describes this concluding issue as "an erotic psychological thriller about the rain-soaked night a stranded motorist is forced to spend with a strange, isolated couple." Excerpts from this latest volume is now available to read on The Comics Journal website: https://www.tcj.com/excerpt-generous-bosom/
Generous Bosom has been adapted into an "art house" feature film that's currently making the film festival circuit, It's directed by Rob Shroeder and with screenplay written by Stechschulte. See more about Ultrasound and where to check out upcoming screenings: https://tribecafilm.com/films/ultrasound-2021
So, cool, good so far. Christopher also then mentions that Breakdown Press also publishes a lot of great manga — kinda what we might think of as art comix or alternative manga. Notable titles (many of which are between printings) include:
The Pits of Hell by Ebisu Yoshikazu – translated by Ryan Holmberg
Since his debut in the legendary alt-manga magazine Garo in 1973, Ebisu has been spinning out surreal nightmares that combine the edgiest styles of Tokyo's artistic counterculture with the absurd and infuriating realities of work and life in the big city. A cult classic upon its publication in 1981, The Pits of Hell offers nine stories that established Ebisu as one of the leading figures of the ugly-but-amazing 'heta-uma' movement, the Japanese equivalent of punk and new wave. If you've ever wanted to sabotage a lecture about the Mughal Empire, control race boats through telekinesis, or rip your boss's head off with a crowbar, this is the book for you.
Fukushima Devilfish by Katsumata Susumu – translated by Ryan Holmberg
More than twenty years before the meltdowns at the Fukushima Daiichi reactors in 2011, Katsumata Susumu was using his cartooning skills to alert Japanese to the dangers of nuclear power.

Inspired by Katsumata's research trips to the now notorious facility and his background in physics, Fukushima Devil Fish begins with two stories from the 1980s on the subject of "nuclear gypsies," the men who labor under oppressive conditions to maintain Japan's fleet of nuclear power plants. The book then cycles back to the late 1960s and 1970s with a group of stories, originally published in the legendary alt-manga magazines Garo and COM, populated with creatures from Japanese folklore and lonely young men bereft of home and family.
Visit Breakdown Press to see even more fascinating indie comics and manga.
Deb's shout-out is the latest volume of jazz manga Blue Giant by Shinichi Ichizuka from Seven Seas Entertainment. Volume 7-8 is out now, with the next one, volumes 9-10 will tie up the first arc/series of Blue Giant in March 2022. Subsequent Blue Giant series, Blue Giant Supreme and Blue Giant Explorer take Dai further on his journey through the world of jazz as he goes to Europe, then later visits the birthplace of jazz, N. America — so I'm hoping Seven Seas will continue publishing the rest of this series so we'll see this in English too.
ANN has the details about the animated version of Blue Giant coming in 2022: https://www.animenewsnetwork.com/news/2021-10-20/blue-giant-manga-about-aspiring-jazz-musician-gets-anime-film/.178681
Also, here's more on the ways that Blue Note Records and the Blue Note Tokyo jazz club have collaborated with Blue Giant to promote jazz music in Japan:
Blue Giant x Blue Note record releases from Universal Japan
https://www.universal-music.co.jp/blue-giant/products/uccq-1098/
Blue Giant x Blue Note jazz nights at Blue Note jazz club in Tokyo
http://www.bluenote.co.jp/jp/sp/artists/blue-giant/
If you want to listen along to the songs described in Blue Giant Volumes 1-8, check out my Spotify playlist, which collects the songs mentioned, in order as they appear in the manga so far.https://open.spotify.com/playlist/5ZgrB7Ci2uyhlefnG8HqWk?si=09ad9d0643324b64
And that's this week's episode!
Thanks so much for listening! Remember to check out your local comic and manga specialty shop for all the great books. Find one near you at comicshoplocator.com. You can also check out your local library for print and digital lending options on a wide variety of manga. And as always, thanks to D.A.D.S. for their musical accompaniment this week, and we'll see you again next time! Take care!