Ep. 105: Goodbye, Eri, by Tatsuki Fujimoto
This week, the Mangasplainers go back for a TRIPLE Chip-Dip into the oeuvre of one Mr. Tatsuki Fujimoto, creator of Chainsaw Man and Look Back. Have we pushed Chip too far this episode, making him read a third title by the same person? Does liking those first two titles automatically mean that he'll like the "rug-pull" of the third? Are Canadians 60% 'Rube'? Listen on, listeners, and find out!
Powered by RedCircle
Listen and Subscribe to the Podcast, maybe leave a review:
Google | Apple | Stitcher | RedCircle | Amazon | Radio Public | PocketCast | Spotify
Subscribe to the Mangasplaining Extra Newsletter:
mangasplainingextra.com
Goodbye, Eri
By Tatsuki Fujimoto
Translated by Amanda Haley
Lettered by Snir Aharon
Published by VIZ Media (Print/Digital)
Audio editing by David Brothers. Show notes by Christopher Woodrow-Butcher and Deb Aoki
BEFORE WE GET STARTED
There are massive spoilers for "Goodbye Eri" in this episode. We strongly recommend reading this manga before listening to this episode. It's even on the Shonen Jump app, if you subscribe, and the Manga Plus app too.
Hey it's Christopher! Deb's on her way to New York Comic-Con with Chip this week, so I'm tackling the show notes solo. SORRY FOR THE MANY ERRORS.
As we mention in the opening, we've covered a couple of different works by Tatsuki Fujimoto already, so I'm going to avoid re-covering that ground here in the show notes as much as possible. You can check out our previous episodes about Fujimoto-sensei, including biographical info, behind the scenes, and more on these two episodes:
01:40
"I hope we don't read [Fire Punch], it's very gross and disturbing."

Deb Aoki
Haha, oh man. Sorry, Deb.
01:50 So since we keep talking about Fire Punch, even before we started talking about today's actual book, I should explain it a little bit.
Tatsuki Fujimoto's first ongoing serial manga, his debut series if you will, is Fire Punch, which ran in the online magazine Shonen Jump+. It is a post-apocalyptic, incredibly violent, weirdly sexual, fantasy/battle manga, and it is an intensely polarizing series. VIZ released the complete series, 8 volumes, though it quickly went out-of-print as, frankly, it wasn't that popular and didn't sell that well, despite the online buzz about it.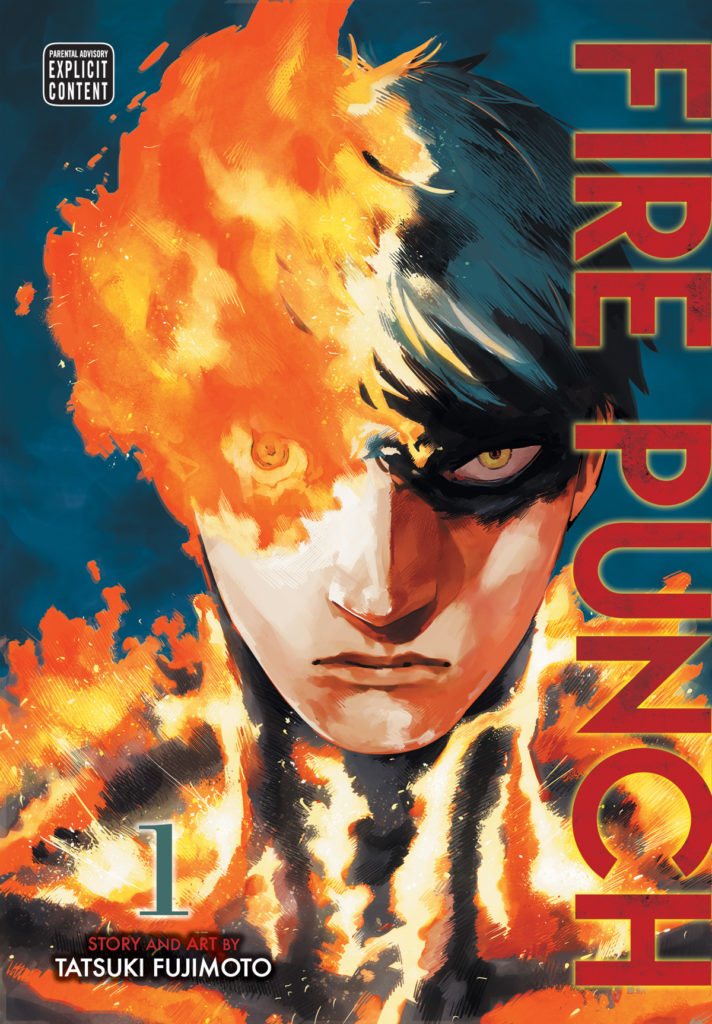 Then, Chainsaw Man was released, and it changed everything. A slightly less fucked-up story, more fantastic/fantasy violence and less gorey, and much more subtle weird sexuality, not to mention running in the main Shonen Jump magazine… The series is a hit! Remains a hit! And people quickly wanted to track down Fire Punch, making it even harder to find. Hell, it made Chainsaw Man hard to find for almost a year too, due to COVID, the printer shortages/global supply chain, all that.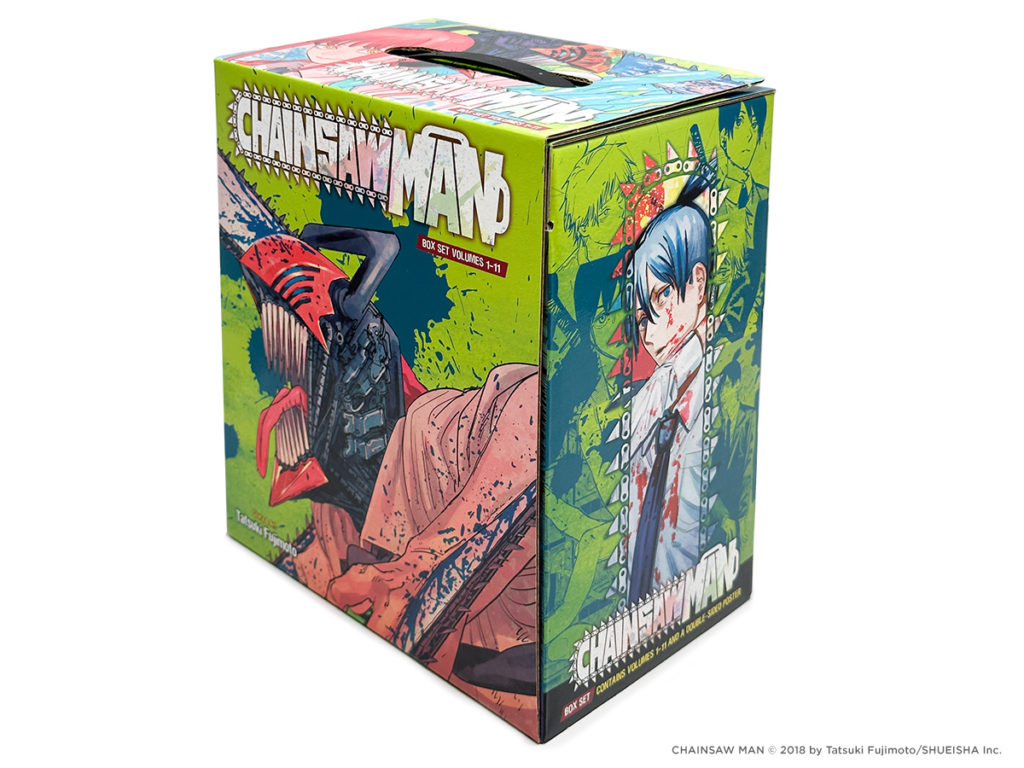 As mentioned, Fujimoto took a break after chapter 11 of Chainsaw Man to get ready for the second part of the story, and during that time he created two original graphic novels–Look Back, which we covered on the podcast, and today's book, Goodbye, Eri. Both of these are now available in print and digital (and on the Shonen Jump app), and it's pretty interesting to see these released, either here or in Japan. It marks a different sort of creator. Chainsaw Man has also fully restarted, with volume 12 releasing last week, and volume 13 on the docket for December. Perfect stocking stuffer for the manga fan in your life. Oh, there's an original novel, too, and a new short story, Just Listen To The Song (with Oto Toda) and that is available in the Shonen Jump App.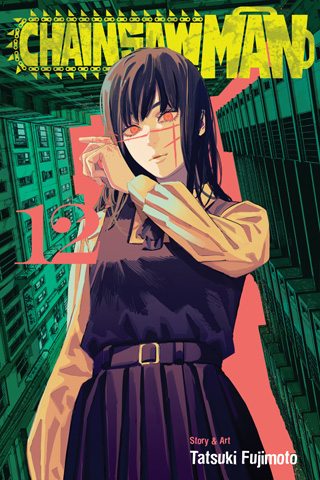 Finally, here's something really interesting, and it complicates our plan to read Fire Punch at some point: The success of Chainsaw Man caused Shonen Jump to go back to the archives, and release two collections of (some of) Fujimoto's early short stories…! Tatsuki Fujimoto: Before Chainsaw Man is a two-volume series that collects his manga stories from ages 17-21, and 22-26. There's seemingly some uncollected material as well, perhaps there'll be a third short-story collection at some point? Regardless, rather than just jumping into Fire Punch, it seems like watching him develop across two volumes of short stories and into Fire Punch might make more sense. I wonder if Chip's up for it? Or Deb, for that matter…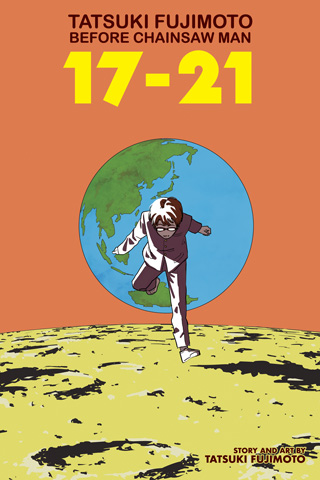 03:15 It really is rare to get an "original graphic novel" in the Japanese manga industry, as the mechanics of magazine serialization, or at least online serialization, at what that industry is based on. A popular serial makes people check out the print magazine, always an anthology, and it might encourage readership of other titles there. But a number of creators also bristle against the necessity of 'fitting in' to a magazine on a number of fronts. On the practical side, manga chapters are usually the same length, and creators can hate trying to squish their stories into preordained pagecounts. Sometimes they want to create work that is outside the boundaries of the subject matter of the magazine, too. On the less practical side, doing a big 'one-shot' is an event, and can boost your fame with fans. While there are lots of one-shots in manga, whether in serialized magazines, or in self-published doujinshi, there are very few book-length stories. I think maybe Taiyo Matsumoto's GoGo Monster is the only one I can think of. Sound off in the comments if you can think of any others that have made it to English.
03:30 All of that said, here's how VIZ Media describes Goodbye, Eri:
From the mad genius behind Chainsaw Man and Look Back comes a new story about coping with loss.

Yuta's moviemaking career started with a request from his mother to record her final moments. After her death, Yuta meets a mysterious girl named Eri, who takes his life in new directions. The two begin creating a movie together, but Eri is harboring an explosive secret.

VIZ Media
05:05 We mention formalism, and talking about page layout, repeating panels, etc. a lot in this episode. So let's start off with a quick example of what we mean with the 8 panel, 2 page grid, as well as repeating panels:
And here's a quick look at Brian Michael Bendis' work, who David mentions in a few minutes. Bendis's early works (which he also drew), AKA Goldfish and Torso (with Mark Andreyko) did try to make comic books like David Mamet writes dialogue in his television shows, where conversations have a definite and continuous rhythm, a drumbeat to follow. They'd continue across somewhat static (and occasionally repeated) panels, and where photocopy reproductions of panels for talking head sequences especially would be reused. It's a pretty DIY way of making comics.
When Bendis was tapped to take over Daredevil for Marvel Comics with issue #38, he worked closely with artists he knew to create work in a similar storytelling vein, including Alex Maleev and David Mack, and then later on Alias also for Marvel with Michael Gaydos. You can see it in this Alex Maleev page.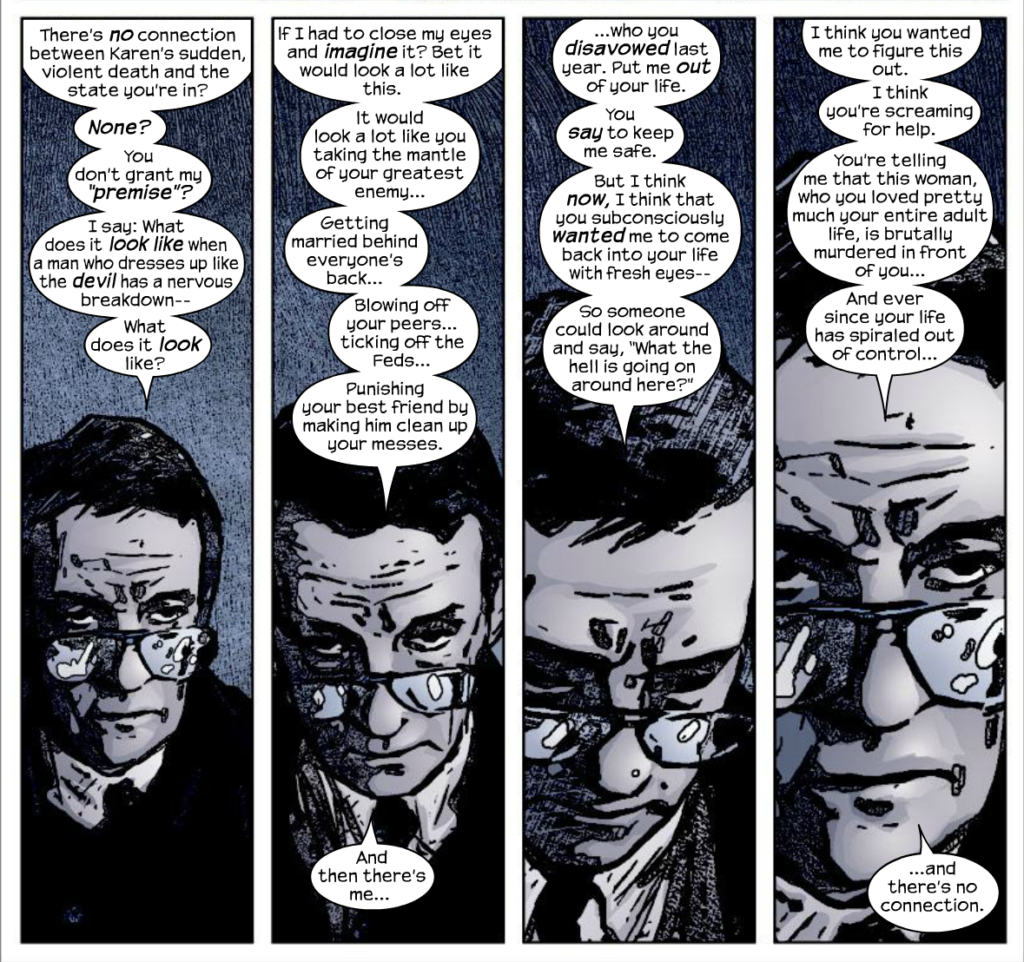 05:50 It's true! David Brothers and Nick Dragotta team up to tell the story Go Back as the backup of Newburn #9, by Chip and artist Jacob Phillips. It's been out for a while now (came out July 26th!). If you've got a good comic shop they might still have it, but it's also available digitally everywhere.
06:20 David mentions Bryan Hitch, a superhero artist best known for his work on The Authority with Warren Ellis, and The Ultimates with Mark Millar. The "widescreen" storytelling style, of really trying to give a cinematic feel to work by making most panels in a wide (landscape) orientation… Sort of like the 16:9 ratio of a film screen.
… Well, it's pretty clear that The Ultimates was occasionally lifted scene-for-scene for that first Avengers movie… Hitch would later go on to do some very pretty JLA work and give it the same sheen.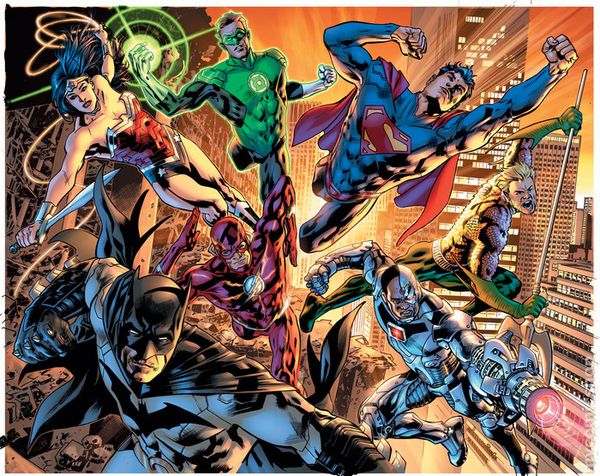 07:15 David references this really intense dinner scene between Yuta's dad, Yuta, and Eri, and it's really good… Especially the reveal that it's all part of the 'fake' movie that Yuta is making.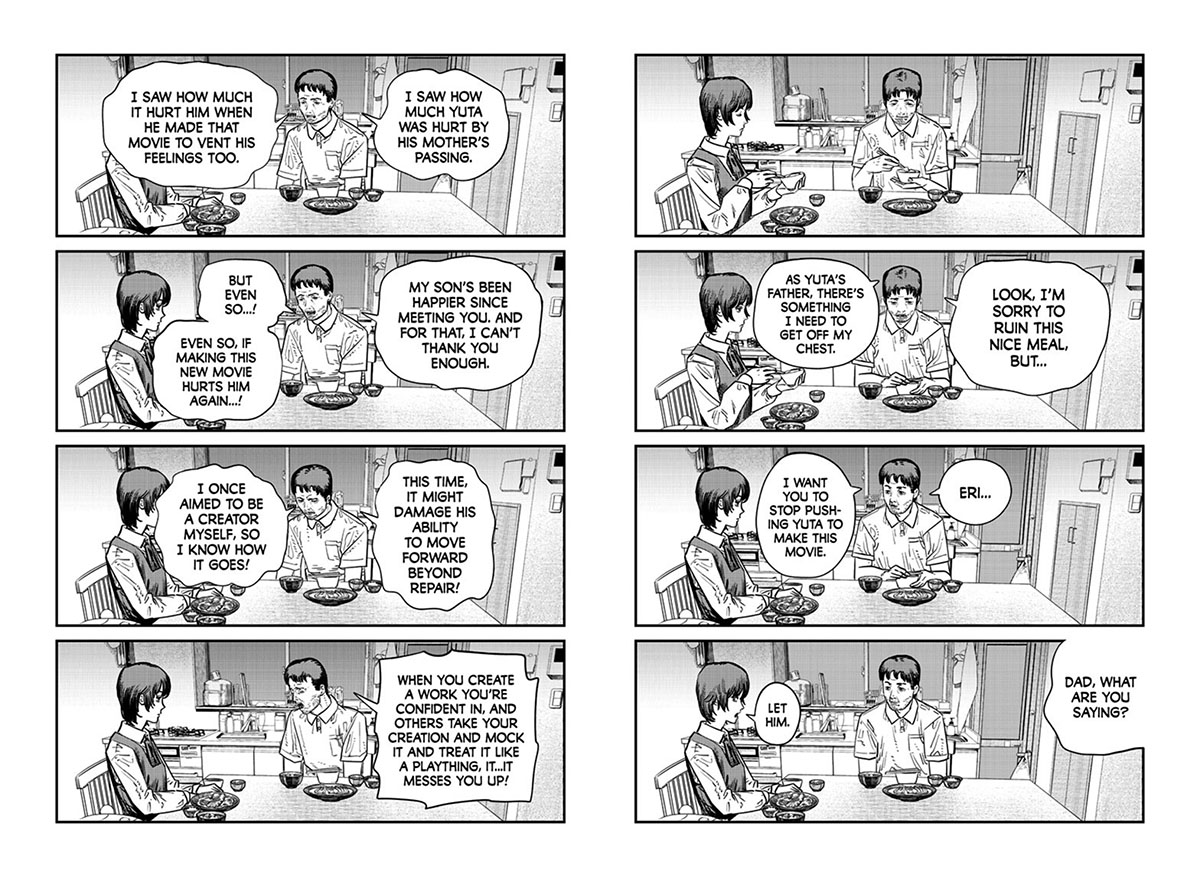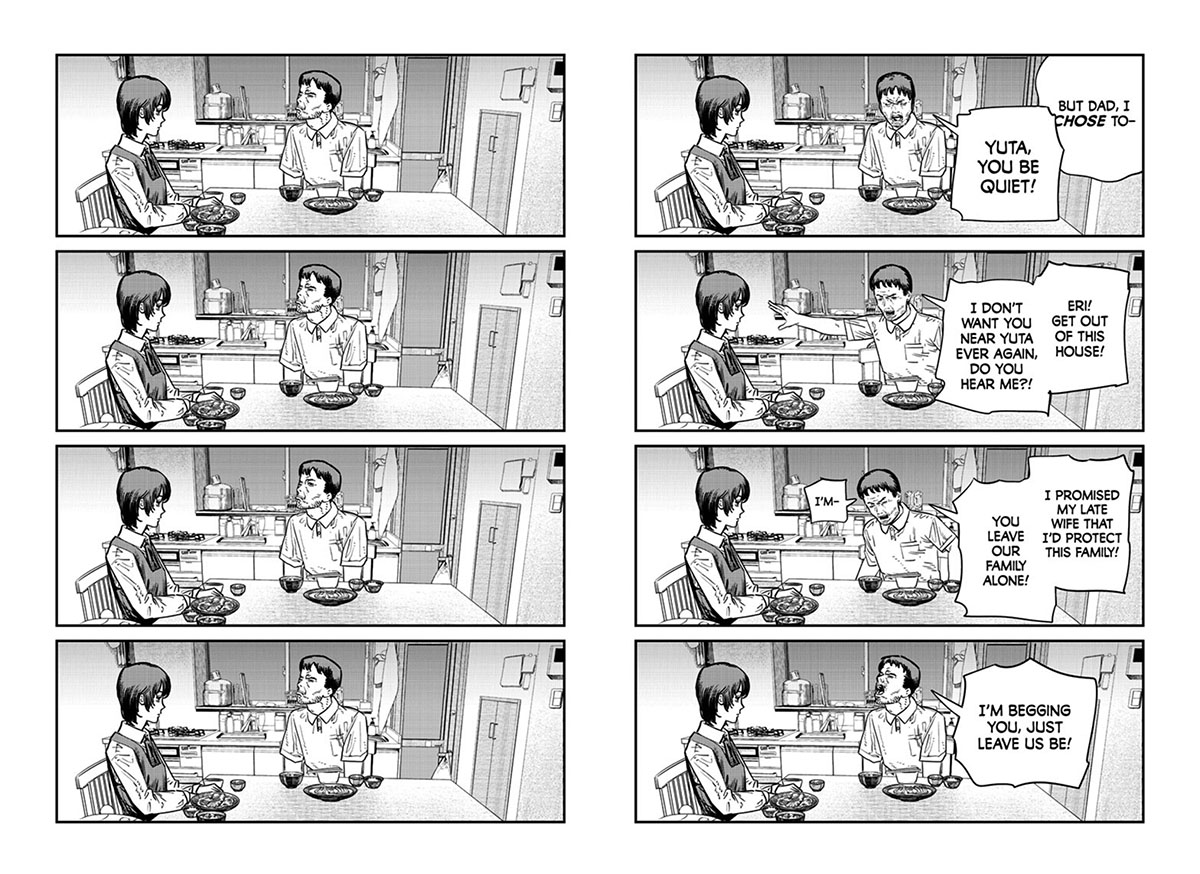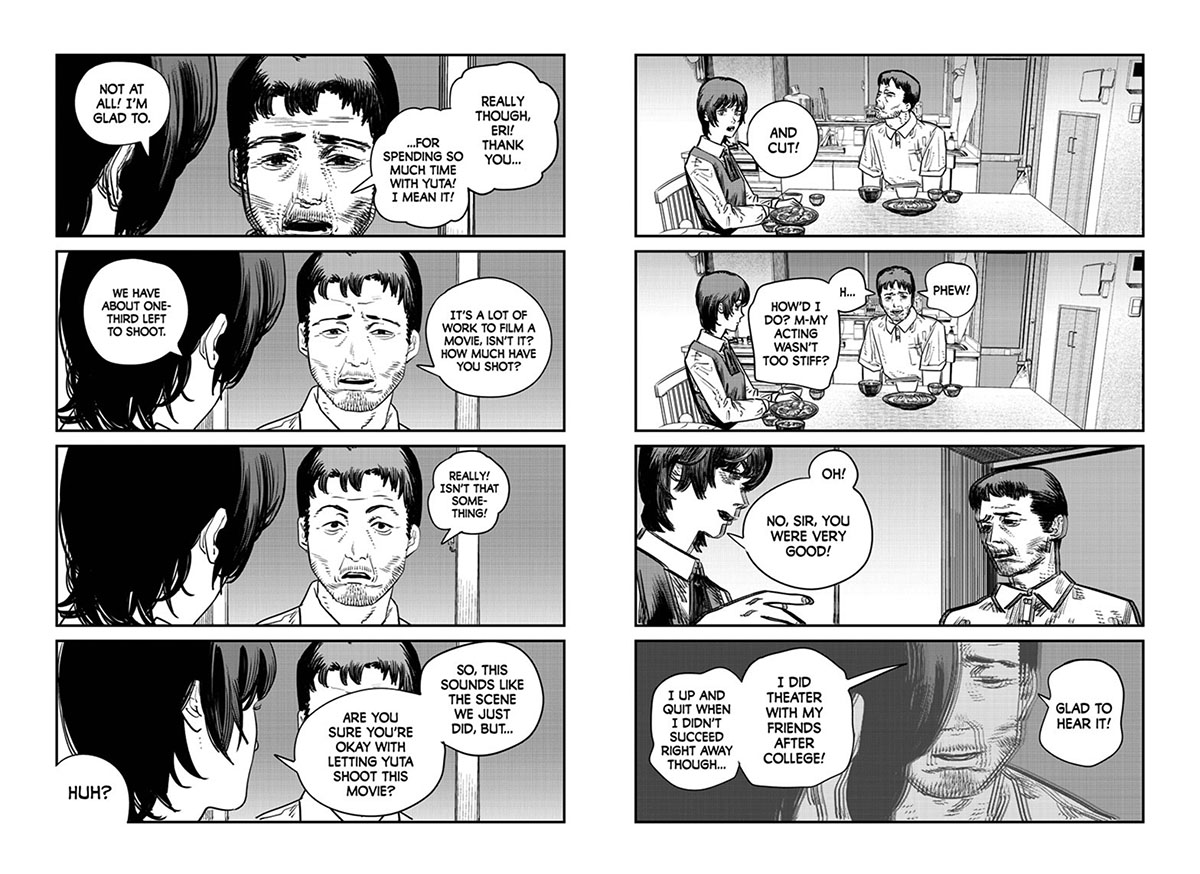 It also really gives some insight into how the process of making the movie about Yuta's mom might have gone.
07:40 David briefly mentions two Alan Moore works, From Hell (with Eddie Campbell) and Watchmen (with Dave Gibbons) and their strong 9-panel grids, and their 18-panel double page spreads.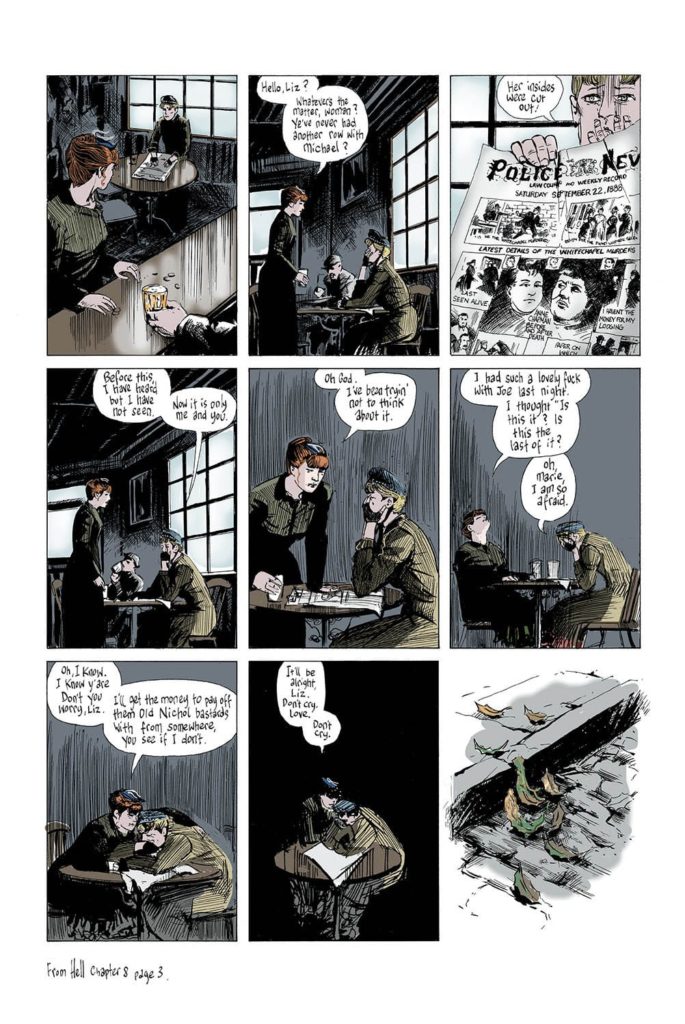 What's really unique about these works, is that the 9 panel grids hit that rhythm that I was talking about up talk, that drumbeat, so when a page does have panels that break the grid, you realize just how important those panels are.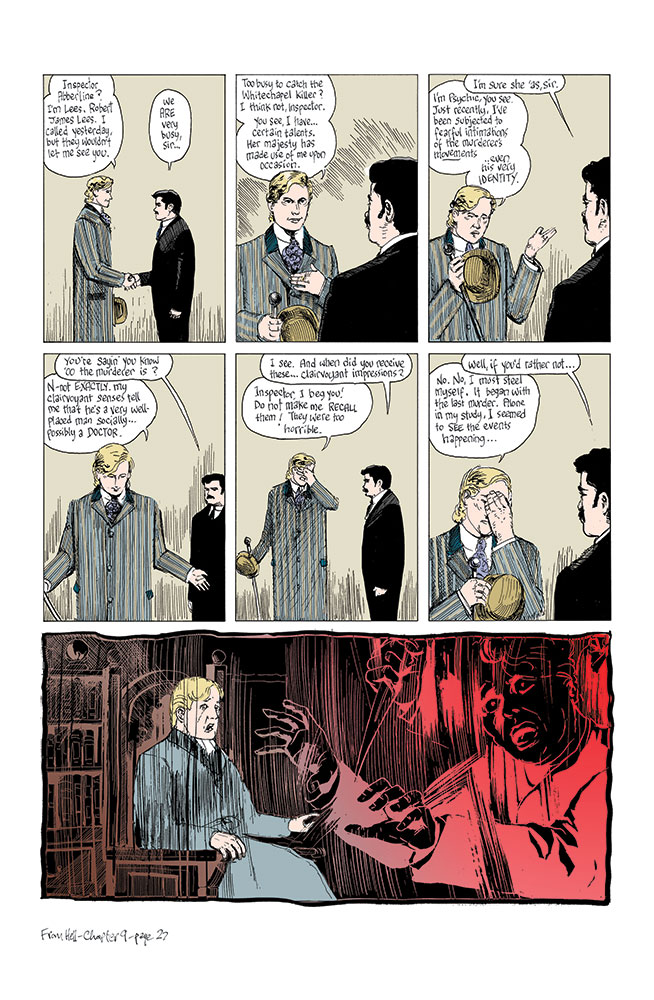 ---
12:00 I wasn't kidding, there are SPOILERS.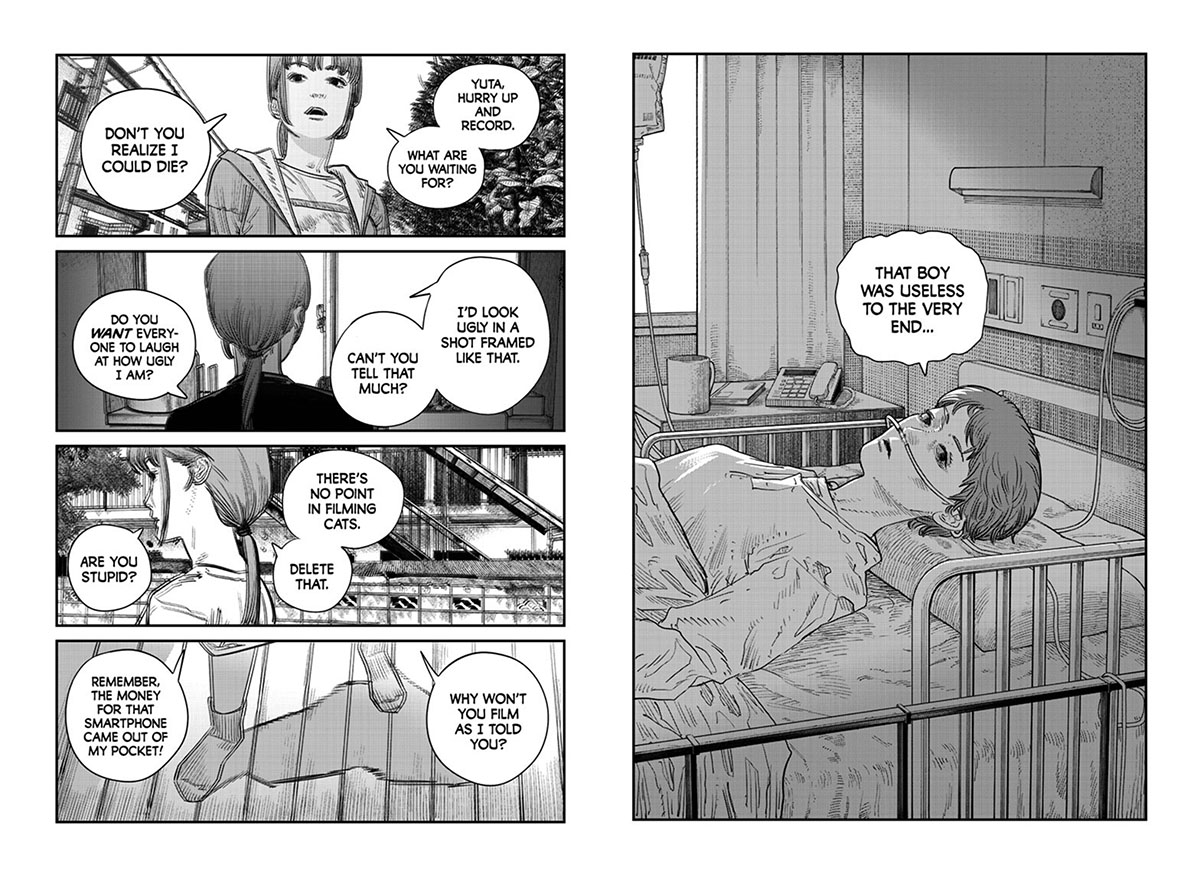 ---
17:10 "Including a pinch of fantasy is really important…"
---
19:50 David mentioned Asteroid City, the newest Wes Anderson movie that I sadly missed seeing in theatres, but it's on deck for at-home soon.
21:00 Rand Corpopration + Saucer People + (Reverse) Vampires
22:50 Speaking of Reverse Vampires, as Chip mentions, Vampire Backwards is ERI PM AV, or Eri at night in the AV room. This is actually an amazing catch by Chip, I didn't get it. I feel like we should have dwelled on this longer, good catch Chip.
24:10 David mentions the light novel writer NisiOisiN (Nisio Isin). He's best known in English for the Monogatari series of light novels (spawning and anime and manga too), and that series is now 28 volumes long and (maybe?) done. It's available in English from Vertical, as are basically every other book that he's done. He also did the Juni Taisen Zodiac War, xxxHOLIC: anotherHOLIC, and Death Note: Another Note novels.
I… am not going to dig into this. It's too much to summarize. Here's the Wikipedia link, sorry, but you're on your own. Or you can ask David about it on Bluesky.
25:45 Yeah here's the ending, sorry! So what do you think, was Yuta "added in in post" as Deb says?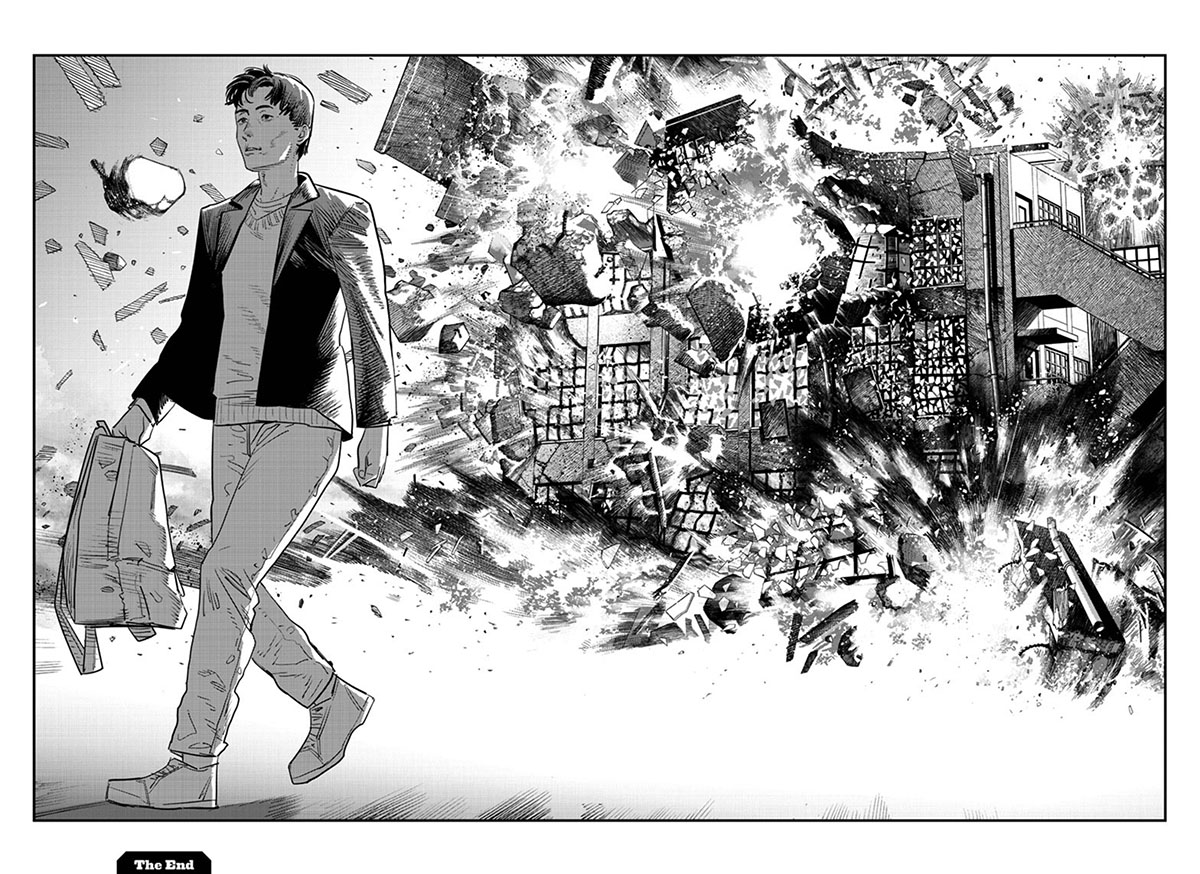 27:18 So yeah, the Angouleme exhibition on Tatsuki Fujimoto was honestly incredible, truly incredible. Here's a few quick photos to give you a sense of the 'movie theatre' vibe, with each of the 'theatres' being dedicated to a different work.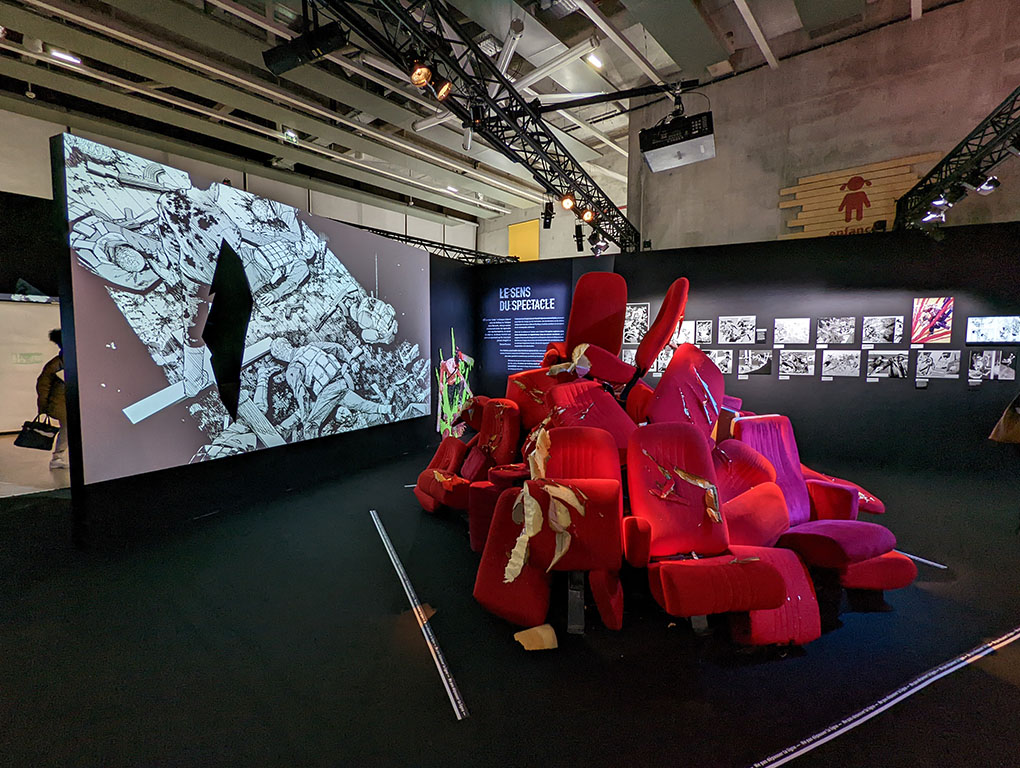 One day we'll be able to post the interview with the curator that we did? Shout-out to Frederico Anzalone, it was an amazing exhibition.
31:50 Yeah we're all a bit older than the current zeitgeist of manga commentators, and we all (save for the Very Outgoing Chip) don't tend to do too much video stuff. It's why there's no video version of the podcast for example. But I think that's where the real attention is right now, and kudos to the folks making it work.
Speaking of which, the shift to video that bankrupted journalism is a real thing, Facebook lied and really, really fucked over journalism as a profession. While Conover is talking about comedy in that tweet thread, the same thing happened to most media outlets who "pivoted to video" and ended up destroyed after. It's brutal and the $40m fine they received was bullshit.
But at least Chip gave us CHIPCLASS.
And shout-out to Omnibus Collector.
37:30 Yeah, it's a weird-rare manga that's MEAANT to be read on a screen, in landscape orientation, as double-page spreads. But this is definitely one of those books. In particular, Deb mentions the spread on pages 192-193, with characters looking past one another in ultra-widescreen.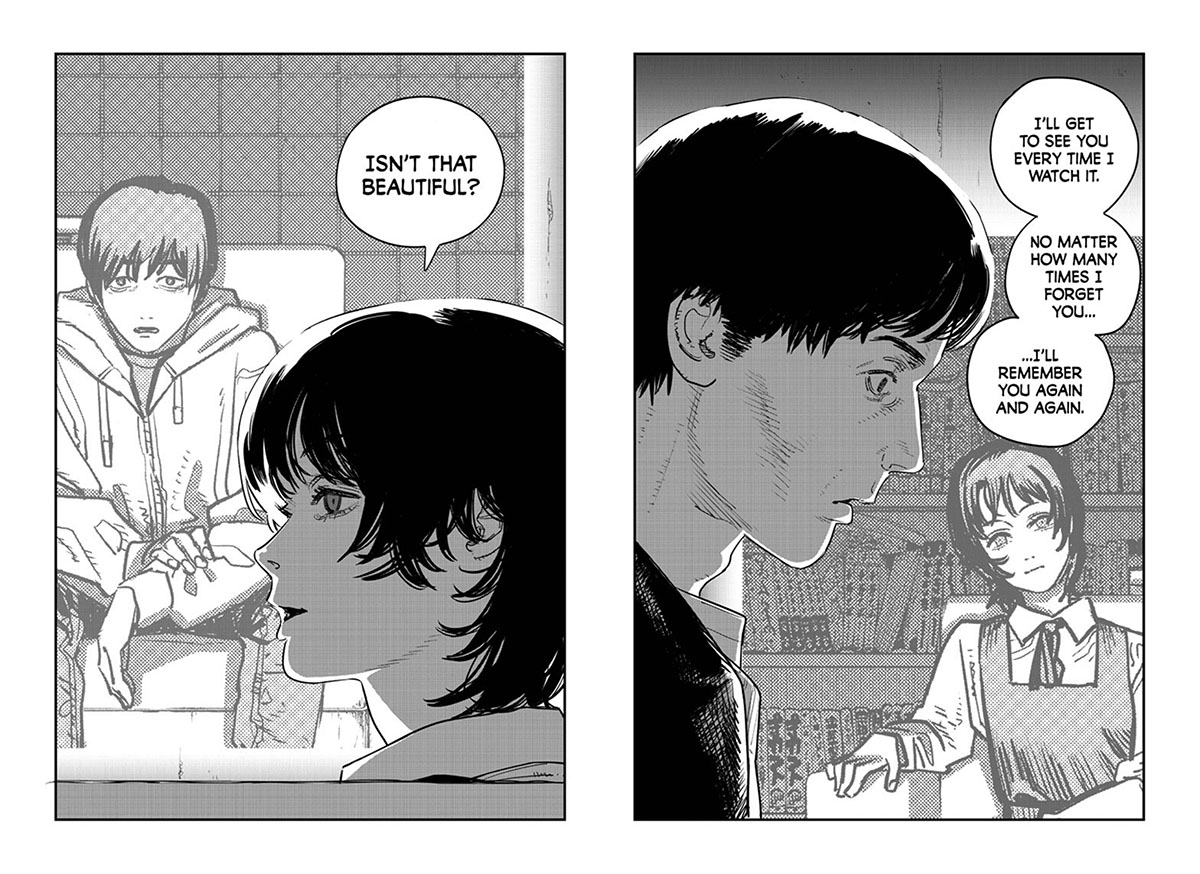 41:45 This year's winner for the Eisner Award for best manga? Shuna's Journey, by Hayao Miyazaki. You can check out a preview on the First Second Books website.
42:58 Honestly a little shocked that David wasn't aware of the "Five Timers Club" series of sketches on Saturday Night Live. They were always so mindblowing, seeing all of these legendary creators in the same sketch, and continuing the tradition over the years. Luckily some kind soul has made a whole playlist of them on Youtube, starting with, I think the very first one? With Tom Hanks.
Top comment on that Tom Hanks one at the start? "The fact that he had hosted SNL 5 times before Philadelphia, Forrest Gump, Toy Story etc came out, is crazy to me." Also Conan is in it! Playing "Sean."
That is, in fact, crazy.
44:00:
"[Goodbye Eri] is the kind of thing I will send around to my comics creator friends, as a great example of comics."

Chip Zdarsky, Mangasplaining
45:30 So I done messed up! I actually meant to say Eddie Campbell's The Fate of the Artist, and I got it confused with Eddie Campbell's slightly fictionalized autobiography, Alec: How to be an Artist. The good news, though, is that The Fate of the Artist has recently been reprinted by Top Shelf along with a new work, The Second Fake Death of Eddie Campbell. And it's on Kindle too! And even better, the Alec Omnibus, collecting all of Eddie Campbell's Alec stories including How to Be an Artist, is also in print, and also from Top Shelf, and is FREE if you have Kindle/Comixology Unlimited. Anyway, good stuff in those about making art, and making comics.
And that's a great way to end this episode, and go into some MORE recommendations.
---
46:25 The Break
---
We're jumping right into Shout-Outs this week!
David gives a shout-out and lets us know that Shin Kamen Rider is now available on Amazon Prime, and perhaps other streaming services?
He also recommended this comic on ITCH.IO, Fighting Storm, a 'tribute' to Kamen Rider, by Aleksis "Sarracenian" and Brian Naughton.
Deb shouts out the manga Emanon, by Shinji Kaijo and Kenji Tsuruta. The fourth and final volume has just been published by Dark Horse, meaning the series is now complete and you can get it in print and digital. Kenji Tsurita also illustrated the series' Wandering Island and Spirit of Wonder, also from Dark Horse.
And then Deb mentions the women's MMA fighting series Teppu, by Moare Ohta, digital-first from Kodansha, as she thinks David might dig it.
Chip shouts out the documentary Underrated, about basketball player Steph Curry.
Christopher shouts out Barbie, the big screen adaptation of the beloved childhood icon. It's a great movie.
Then we all go kinda nuts recommending pop-culture comedy remakes from the nineties. Honestly the two Brady Bunch movies are absolutely fantastic, as we have discussed multiple times on this podcast, But the two Aadams Family movies are sooo, so good too. Here's a little bit of that.
I love the idea that we'll do a movie event at a convention one day, and it's just going to be The Brady Bunch Movie instead of like, Akira or Slam Dunk or Blue Giant. Maybe we'll tack on one episode of M*A*S*H too.
And that's this week in Mangasplaining! This episode is also available wherever you get your podcasts, so please subscribe and leave a review, so others can discover our show.
Also, if you'd like to get the latest episode delivered straight to your inbox along with exclusive interviews, articles and new chapters of manga you can't read anywhere else, subscribe to our Substack newsletter. See what you're missing at Mangasplaining Extra!
Next week on Mangasplaining:
Get ready for our episode on Nejishiki, by Yoshiharu Tsuge.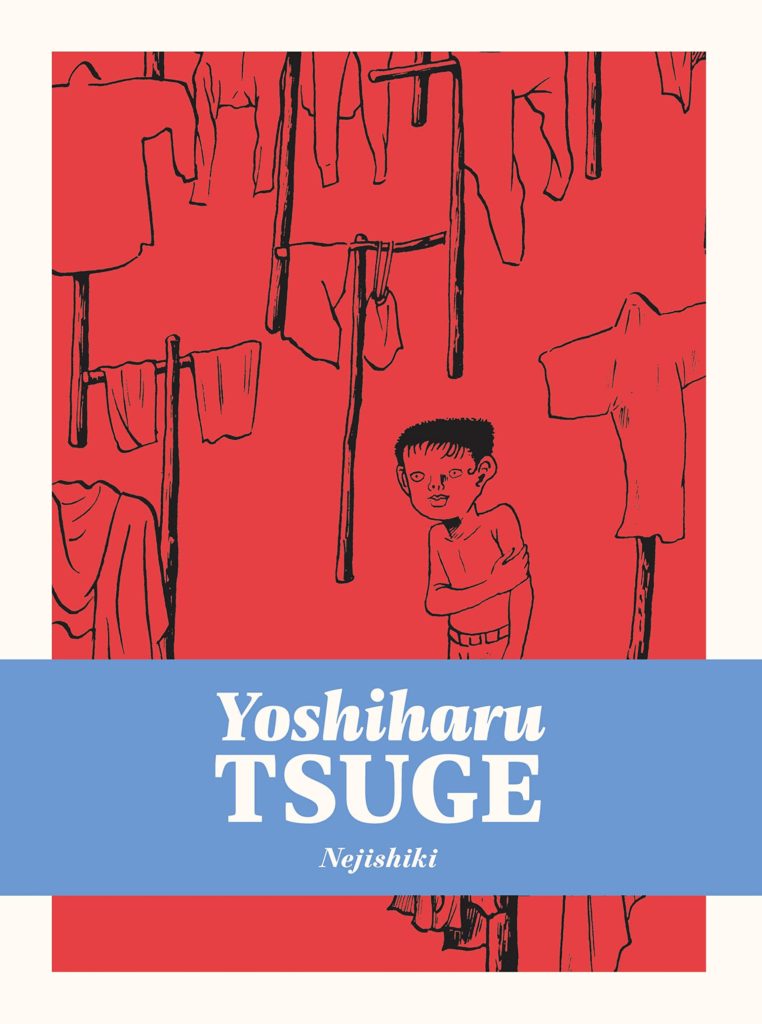 Thanks so much for listening! Please support your local comic and manga specialty shop when purchasing these books, and you can find one near you at comicshoplocator.com. You can also check your local library for print and digital lending options, they have TONS of manga! Finally, thanks to D.A.D.S. for their musical accompaniment for this episode.
---